YAMABIKO CORPORATION develops, manufactures and sells outdoor power equipment (e.g. trimmers, chain saws), agricultural machinery (e.g. pest control equipment, sloop mower), industrial machinery (e.g. generators, welders) in Japan and overseas. The overseas sales occupy about 60% of their total sales. For outdoor power equipment, it has the top share in Japan and a large share in the US. Its strengths are unique production technology, a variety of product line-ups, and an excellent technical support system.
【1-1 Corporate history】
YAMABIKO CORPORATION started as a joint holding company established in December 2008 through a merger between KIORITZ CORPORATION (listed in the first section of the Tokyo, Osaka and Nagoya Stock Exchanges), which dealt with agricultural machinery in Japan and outdoor power equipment overseas, and Shindaiwa Corporation (listed in the second section of the Tokyo Stock Exchange), which dealt with outdoor power equipment and industrial machinery globally. In October 2009, YAMABIKO CORPORATION established its current business entity by a merger through absorption of both KIORITZ and Shindaiwa. KIORITZ CORPORATION was established in 1947 in Tokyo and originally called KIORITZ AGRICULTURAL EQUIPMENT CORPORATION. It has been a leading company in both agricultural equipment business through which they developed "Japan's first speed sprayers" and outdoor power equipment business through which they developed "Japan's first motorized backpack trimmers" and "the world's first handheld power blowers". Furthermore, since its establishment, it has been focusing on self-development of engines for outdoor power equipment. The accumulative number of engines produced in 2008, before the merger, was about 40 million. Shindaiwa Corporation was established in 1952 in Hiroshima and was originally called Asamoto Precision Manufacturer. It developed "Japan's first electric chain saws" for the outdoor power equipment business, and manufactured and sold engine generators and engine welders for the industrial machinery business. Its strength was high technological development capabilities, as can be seen in the development of the world's first mixed fuel 4-cycle engine. In the late 1990s, with growing concern about global warming caused by greenhouse effect gas, and as engine's emission gas control became stricter in the West, especially in the US, research and development expenses increased to comply with the new regulations. In the 2000s, the medium and small-sized companies that could not afford these expenses went through rapid industry restructuring on a global scale in the outdoor power equipment industry. Moreover, the business environment became further uncertain due to a flood of cheaper products from newly emerging countries and diversification of customers' needs. Under these circumstances, the two companies concluded a business and capital alliance agreement in May 2007 on the premise of future business integration in order to strengthen the vitality to survive and win the intensifying competition. In December 2008, YAMABIKO CORPORATION was established as a joint holding company to achieve better efficiency and expansion for all its businesses including development, manufacturing, logistics, sales and management. In October 2009, YAMABIKO CORPORATION conducted an absorption-type merger of KIORITZ and Shindaiwa and became the current business entity. The company name "YAMABIKO" derives from the mountain god, "Yamabiko". Its corporate philosophy is to "create the bridge that bonds people and nature with the future". This expresses the Company's willingness to contribute to the conservation and improvement of the nature and environment.
【1-2 Corporate philosophy, etc.】
YAMABIKO Group's corporate philosophy is formed from three elements: "Essence", "Purpose of Existence" and "Code of Conduct". "Essence", which incorporates both "Purpose of Existence" and "Code of Conduct", expresses in a single word what YAMABIKO Group aims to be as a company, and the essence of its corporate activities. "Purpose of Existence" sets out the role and responsibilities of YAMABIKO Group in society, and makes a commitment to this. "Code of Conduct" defines the attitude of each YAMABIKO Group employee in relation to their work.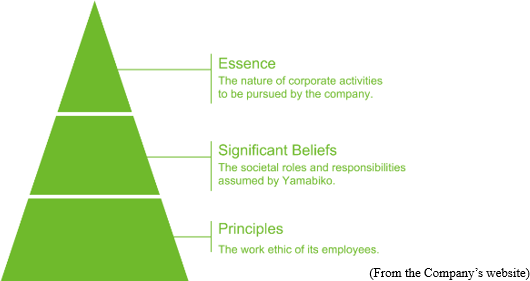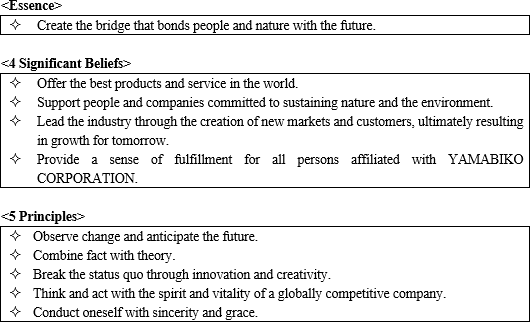 In addition, the Company established 14 detailed measures that augment the Code of Conduct to facilitate the implementation of business activities in accordance with the corporate philosophy. President Nagao disseminates messages that are based on "Essence", "Purpose of Existence" and "Code of Conduct" at various occasions. They are also making daily efforts so that the corporate philosophy would lead to each employee's actual activities in each workplace.
* Profile of President Yoshiaki Nagao
President Yoshiaki Nagao was born in February 1953 (Age 65). Since his childhood, he enjoyed "creation" such as building plastic models. When he was in the middle school, his interest grew in automobiles, especially those made in the US. He majored in "combustion engineering" in graduate school, where he studied engines. He began working at KIORITZ CORPORATION in April 1978. At KIORITZ, he worked at the research department. He was involved with research and development of various engines, especially chain saws engines, under the corporate culture that supported the employees' spirit to find and work on the issues of their interest. Instead of focusing on his research only in the lab, he went out to the mountains and interviewed woodsmen who were the users of their products to hear opinions and identify the demands in detail. After working in the technology area for most of his time at KIORITZ, he was appointed as President and CEO of ECHO Incorporated, an affiliate of KIORITZ in the US in February 2006. His focus at ECHO Incorporated was to observe the actual situation of the emission gas control regulations in the US, to find measures to meet the regulations, and to enhance the users' satisfaction. During the merger process of KIORITZ and Shindaiwa, he facilitated fast and drastic organization of the local sales routes. He recalled, "It was an important step to diversify my work". After the establishment of YAMABIKO CORPORATION, he managed to implement smooth integration as a board director / managing officer / industrial machinery division officer in Hiroshima where the head office of Shindaiwa Corporation was located. In June 2011, he was appointed CEO and President of YAMABIKO CORPORATION.
【1-3 Market environment】
Although no detailed statistics about the outdoor power equipment market is available, it is known that the largest market is in North America including the US, followed by Europe. In Japan, about 1 million outdoor power equipment/tools are sold per year. The indicators that may impact the Company's trend in the earnings include "number of housing start", "commodity price", and "crude oil price" for the overseas market and "rice price" for the Japanese market. The company recognizes that there are two global manufacturers of outdoor power equipment in Europe (Germany and Sweden).
【1-4 Business contents】
1. Segment YAMABIKO Group operates businesses in three sectors: Outdoor power equipment, Agricultural machinery and Industrial machinery. These three segments are reported.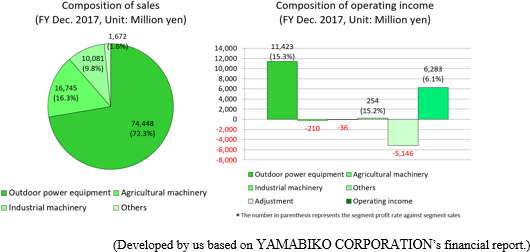 "Outdoor power equipment business"
YAMABIKO CORPORATION manufactures and sells handheld or backpack-style forestry and landscape maintenance machinery powered by small internal combustion engines. The main products include chain saws, trimmers, power blowers, hedge trimmers, etc. In Nov. 2014, the company acquired "Belrobotics SA," a Belgian venture company, which develops, manufactures, and sells robotic mowers for professional use. (In Jan. 2017, Belrobotics SA was renamed "Yamabiko Europe SA" for the purpose of enhancing sales in Europe.) Based on the accumulated experiences and know-how and excellent development capabilities that meet the customers' needs, YAMABIKO CORPORATION continues to produce high performance, highly durable and high-quality engines.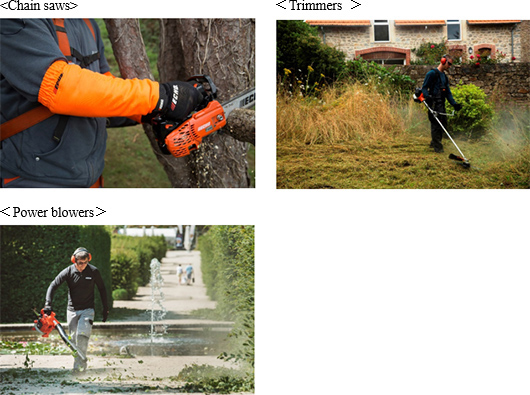 (Gasoline engine system)
The engines for outdoor power equipment such as chain saws and trimmers are mainly 2-stroke gasoline engines. As described later, the Company's excellent capability to develop engines is one of their most important features/strengths. Brief information concerning the Company's engines is provided below because knowing the gasoline engine system and characteristics of each engine type helps to understand the business of the Company, Basically, a gasoline engine generates power by moving the piston down with the combustion of gasoline through the following 4 steps.

Reciprocating motion of the piston is converted into revolution by a crankshaft. The rotating motion turns the rotating shaft of axel of a car or revolving shaft of a chain saw. The gasoline engine is largely categorized in two types (2-stroke engine and 4-stroke engine), depending on the number of reciprocating motions by piston to complete "1 cycle" of the 4 steps.
"2-stroke engine"
One power cycle is completed by 2-stroke. In other words, a power is generated by "1 piston reciprocating motion, 1 crankshaft revolution". First stroke (piston moving up): "Intake" and "compression" of air-fuel mixture occur. Second stroke (piston moving down): Piston moves down due to the "expansion" of air-fuel mixture and "exhaust" occurs later.

"4-stroke engine"
One power cycle is completed by 4-stroke. A power is generated by "2 piston reciprocating motions, 2 crankshaft revolutions". First stroke (piston moving down): "Intake" of air-fuel mixture occurs. Second stroke (piston moving up): "Compression" of air-fuel mixture occurs. Third stroke (piston moving down): Piston rapidly moves down as a result of "expansion". Fourth stroke (piston moving up): Combusted gas is "exhausted".

The advantage of the 4-stroke engine is the easy control of intake and exhaust. However, its structure is complicated compared with a 2-stroke engine, because the intake/exhaust valves of a 4-stroke engine are installed at the cylinder head, while intake and exhaust of a 2-stroke engine occur at the port that is located on the body of the cylinder. Because of this structure, the weight of a 4-stroke engine is heavier than a 2-stroke engine. On the other hand, a 2-stroke engine has a larger ratio of burning engine oil and fuel in order to make smooth piston motion and blow-by of air-fuel mixture. This means it releases more harmful substances in the exhaust gas as compared with a 4-stroke engine. However, because of its simple structure and smaller number of parts, the 2-stroke engine can be smaller and lighter. The overhaul is also easier for the same reasons. Therefore, a 2-stroke engine is the most appropriate engine for outdoor power equipment.
"Agricultural machinery business"
YAMABIKO CORPORATION manufactures and sells pest control equipment for Japan and agricultural harvesting equipment for North America. Its major products include pest control equipment (speed sprayers, mounted equipment for cropland pest control, power sprayers), sloop mower, soy and potato harvesters, etc. YAMABIKO CORPORATION's technological strengths in this business segment are KIORITZ's blowing, spraying, and pumping technology as well as technology to create small and light equipment. These technological capabilities have been built up over many years at KIORITZ.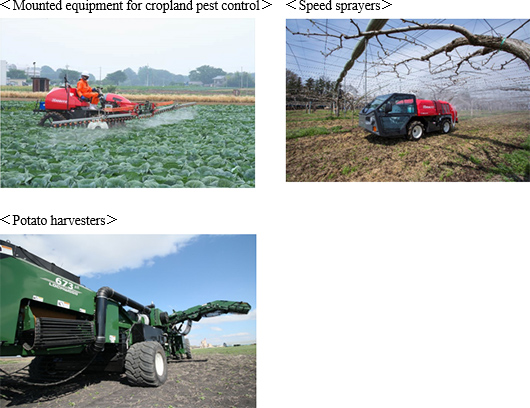 "Industrial machinery business"
YAMABIKO CORPORATION manufactures and sells equipment for construction, civil engineering and iron works. Its major products include generators, welders, lighting equipment, cutting machines and high-pressure washers. Technological strengths in this business segment are established by long years of R&D which began at the time when YAMABIKO CORPORATION started business as Shindaiwa, and such strengths can be found in alternator designing capability improved by their efforts for alternative current motor development, as well as technologies for electronic control and noise prevention.

"Others"
The Company manufactures and sells accessories and the parts for after purchasing service for various machines and equipment. The profitability in this segment is the highest in all segments.

2. Brand
YAMABIKO CORPORATION was established based on the integration of two companies. The products of both companies are well recognized both in Japan and overseas for many years. Therefore, YAMABIKO CORPORATION maintains the brand names as KIORITZ, Shindaiwa, and ECHO. YAMABIKO CORPORATION is proactively investing in marketing as well as exploring new sales routes to enhance its brand values.

3. Development structure
Each business segment is working on development with a focus on the following priority issues.

The exhaust gas regulations are expected to be further tightened in the future. Therefore, addressing them is of paramount importance. In addition, the Company is conducting research on control technology in the field of electronic control.
4. Production structure
The Company has 3 plants (Yokosuka, Morioka, and Hiroshima) and 4 production related subsidiaries in Japan and a total of 8 production related subsidiaries in the USA, Belgium, China and Vietnam.
5. Sales route and sales methods
The Company supplies its products in over 90 countries for about 28,000 stores. More than 60% of the sales are from overseas sales.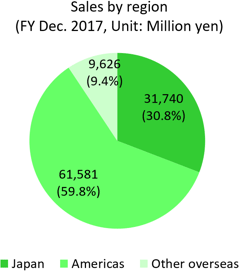 <Domestic market>
7 sales subsidiaries were merged into YAMABIKO JAPAN CO., LTD in April 2017. YAMABIKO JAPAN CO., LTD sells the products to distributors, Zen-Noh (National Federation of Agricultural Cooperative Associations), home improvement retailers, and construction machinery rental companies, etc. Through them, the products are supplied to the end users including farmers/foresters, companies in the construction, civil engineering and iron industries and landscapers. *For the purposes of unifying the management system and managing business assets in an integrated manner, the company integrated sales subsidiaries, which had been separated by region. The company aims to streamline managerial resources, strengthen its selling capability, and improve customer services. The Company presents their products in exhibitions in collaboration with dealers and distributors and facilitates sales through demonstration and test drive. Furthermore, the Company accompanies dealers to visit end users to understand their needs and utilize the information for product development.
<North American market>
ECHO Incorporated Group, one of the Company's subsidiaries, sells the products to The Home Depot (*) and other distributors, through which the products are supplied to the end users such as landscapers, homeowners, farmers/foresters, and companies in the construction/civil engineering industry. *The Home Depot The Home Depot, Inc. is the world's largest home improvement retailer and construction products and services. It was established in 1978. Sales in 2016 were US$100,900 million (approx. \10.6 trillion) and net income was US$8,600 million (approx. \960 billion). It has over 2,200 stores in the US, Canada and Mexico. It is listed on the New York Stock Exchange. (Excerpted from the company's website) The Home Depot classifies their products into GOOD, BETTER and BEST in accordance with the quality. It is only YAMABIKO CORPORATION that supplies the high-quality BEST products to The Home Depot. This is one of the proofs that the Company's products are highly reputed in the North American market. In the Central and South American market, ECHO Incorporated, one of the Company's subsidiaries, sells the products to the distributors of each country, and then, the products are supplied to the end users through dealers. In Europe, Asia and other areas, YAMABIKO CORPORATION sells the products to the distributors in each country. The overseas dealers display the products by brand, and salesperson conducts person-to-person sales while understanding the needs of the end users. The home improvement retailer also displays the products by type and price. The end users purchase the products based on the needs, budget and image they have from advertisement, etc.
【1-5 Characteristics and strengths】
(1) Unique production and technological capabilities and vertically integrated production
The most important characteristics and strengths of the Company are the "unique production and technological capabilities and vertically integrated production capabilities". Their mainstay 2-stroke engines that are mounted to the outdoor power equipment are manufactured by an integrated production system solely by the Company from development, procurement of aluminum, molding, parts production, processing to assembly, which is said to be unique anywhere in the world. The power sources for the products of agricultural machinery and industrial machinery are also engines, but they are mostly procured externally. The Company solves various issues with their unique technologies including iron plating and electric discharge processing. This is resulting in the quality improvement and production capacity improvement of the Company. Specifically, the Company has established the following technologies.
<Example 1: Iron plating>
Plating is a surface covering method in which the surface of a metal is covered by a thin layer of another metal. For engine production, inside of the cylinder should be plated to avoid abrasion caused by friction with a piston. The conventional method is to use chrome plating from durability and cost perspectives. However, chrome plating gives negative impact on the environment. Its production efficiency is also low. Therefore, there was an increasing demand for different materials for plating. The Company has been working on "iron plating" since 1978 to reduce environmental load. Initially, they could produce only hundreds per day. However, as a result of improved productivity, enhanced plating precision, and reduction of environmental load, the Company now has the iron plating technology that does not require finish processing. Their technology has drastically smaller environmental load. Furthermore, their daily production capacity increased significantly, reaching thousands. The Company holds 5 patents related to iron plating.
<Example 2: Electric discharge processing>
As described above, a 2-stroke engine requires a smaller number of parts and has a simpler structure as compared to a 4-stroke engine. Therefore, it is most suitable for the "handheld" and "backpack-style" outdoor power equipment. However, it releases some fuel mixed gas. In order to respond to the increasingly strict exhaust gas regulations globally, the Company was faced with a challenge to control the flow of the fuel mixed gas for efficient burning. In order to achieve it, the Company explored the production methods to modify the internal shape of the cylinder (by installing a wall between the fuel mixed gas passage and internal shape of the cylinder). A "wall" can be created by die-casting (*), but it requires a horizontal hole to lead the fuel mixed gas to a combustion chamber. With die-casting, it was impossible to create a horizontal hole. It was also difficult to carry out machining due to small space in the chamber. The Company came up with the idea of using "electric discharge processing (*)" to create a form while taking advantage of die-casting. Although electric discharge processing enabled to create complicated forms, it was costly due to long processing time and high electrode consumption. The Company conducted research on processing conditions for a large volume production and developed designs of special electrode form. As a result, it succeeded in producing a large volume of products, by shortening processing time, saving personnel, lowering the cost of electrode and enhancing efficiency. Having obtained three patents related to electrode processing, the Company has established the unique technology that cannot be imitated by other companies.
(*) Die-casting Die-casting is one of the metal mold casting methods. By injecting melted metal in a metallic mold, a large amount of casting with high precision can be produced within a short period of time. It enables to create a thin product at low cost.
(*) Electric discharge processing Electric discharge processing is a machine processing method to remove a part of the surface of a non-processed workpiece through repeated electrode discharge at short cycles between electrode and the non-processed workpiece. It enables to cut out complicated outline on extremely hard steel.
With "advanced capabilities for creation" such as the above-mentioned technologies, the Company not only complies with exhaust gas regulations but also responds to various needs including weight reduction, enhancing durability and cost reduction. It succeeded in developing and mass-producing "a light weight and highly durable 2-stroke engine that meets the exhaust gas regulations". While many companies in the world are forced to leave the industry because they cannot address these issues, YAMABIKO CORPORATION continues to make further development as a leading manufacturer.
(2) Unique research and development capabilities for each business segment
The Company's capability to address environmental issues is high. The Company possesses one of the highest number of US Environmental Protection Agency (EPA)-accredited engines in the world. Furthermore, not only for outdoor power equipment, the Company also has unique research and development capabilities for the agricultural machinery and industrial machinery. Based on the technological capacities that have been accumulated by KIORITZ and Shindaiwa for many years, the Company is further brushing up the capabilities.
(3) Extensive product lineup and expansion of sales network and domestic services network
The Company has an extensive lineup of products that meet various needs of the customers in each of the three business segments. It also currently supplies the products to about 28,000 stores in more than 90 countries across the world. As a result of merging KIORITZ and Shindaiwa, YAMABIKO CORPORATION's product lineup and sales network were further expanded. With the aim of improving the satisfaction level of diversifying users, the company established "Yamabiko Service Shop" inside Japan in 2013, and is operating service systems for maintenance, repair a failure, etc., which are not offered by competitors, throughout Japan. The number of affiliated shops is 422 as of Mar. 2018.
(4) Excellent technical support system
The Company also provides excellent technical support in order to enhance credibility of the products and strengthen the relationships with distributors and dealers. It has offered 154 service schools in 17 countries from April 2015 to December 2017.
(5) High product share
By demonstrating the above-mentioned characteristics and strengths (1) to (4) in an integrated manner, the Company is becoming highly competitive at a global level. For the outdoor power equipment business, the Company has the top market share (more than 30%) in Japan and is ranked high in North America, the largest market.
【1-6 Return on Equity (ROE) Analysis】

The estimated net income margin for this term is 4.33%. In the Medium-term Management Plan, the company aims to achieve ROE of 10% or over in FY December 2019.