WELLNET CORPORATION (2428)
Kazuhiro Miyazawa, President
| | |
| --- | --- |
| Company | WELLNET CORPORATION |
| Code No. | 2428 |
| Exchange | TSE 1st |
| Industry | Service |
| President | Kazuhiro Miyazawa |
| HQ Address | 1-1-7 Uchisaiwaicho, Chiyodaku, Tokyo |
| Year-end | June |
| URL | |
Share Price
Shares Outstanding
Market Cap.
ROE (actual)
Trading Unit
¥2,471
9,552,346 shares
¥23,603 million
11.5%
100 shares
DPS (Est.)
Dividend Yield (Est.)
EPS (Est.)
PER (Est.)
BPS (actual)
PBR (actual)
¥66.00
2.7%
¥133.30
18.5x
¥856.21
2.9x
* Stock price as of the close on September 3, 2015. Number of shares outstanding at the end of the most recent quarter excludes treasury shares.
Fiscal Year
Net Sales
Operating
Profit
Current
Profit
Net Profit
EPS
Dividend (¥)
June 2009
3,881
593
629
308
3,785.99
1,200.00
June 2010
4,541
597
546
2,591
23,030.08
2,200.00
June 2011
5,343
775
849
365
3,642.42
1,600.00
June 2012
6,254
1,198
1,278
728
72.63
2,000.00
June 2013
6,866
1,393
1,420
759
75.64
25.00
June 2014
7,600
1,473
1,488
913
92.52
47.00
June 2015
8,888
1,637
1,520
938
96.74
50.00
June 2016 (FCST)
9,600
2,000
1,920
1,260
133.30
66.00
* From fiscal year June 2012, a change in the accounting procedure to a method of displaying sales by subtracting a part of cost of sales of the online business was adopted and data prior to this period was adjusted to reflect this change.
* Estimates are those of the Company. A 100 for 1 stock split was implemented on July 1, 2012.
EPS is calculated based on the post-stock split number of shares, assuming undertaken at the beginning of the fiscal year.
We present this Bridge Report on WELLNET CORPORATION featuring the review of its earnings results for the fiscal year June 2015 and the interview with President Miyazawa.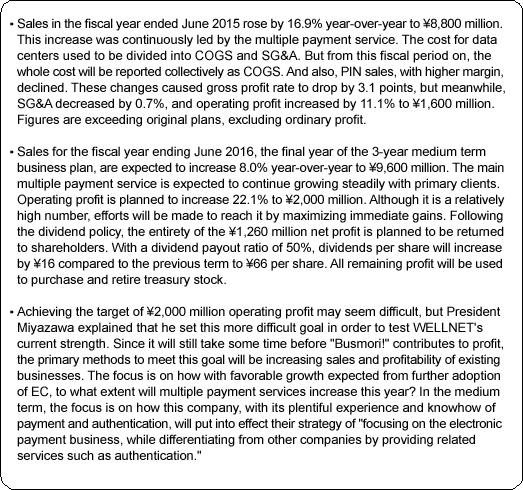 WELLNET provides electronic payment settlement system for sales business operators selling various products and services.
With the key concepts of "real time" and "one stop," WELLNET offers a "convenient direct sales platform" to provide (1) its customers (i.e. the purchaser of service and goods) with the convenience of purchasing whatever they want at any time and from any place, and (2) its sales business operators (i.e. WELLNET's direct customers) with the their capability of "maximizing sales opportunities" in selling products and services over the Internet.
The multiple payment service, which is WELLNET's core business, has been implemented by a wide range of clientele including major Japanese airlines and express bus companies, in addition to major mail-order businesses. Ever since its inception, WELLNET has endeavored to maintain the spirit of taking on new challenges which is engrained in its corporate DNA.

 

<Corporate History>

WELLNET CORPORATION got its start as a subsidiary of a gas and fuel merchant called Ichitaka Takahashi Co., Ltd. in Hokkaido for the purpose of developing new businesses.
At the time of its inception, utility bill payment services at convenience stores had already begun. However the Company began preparations for the expansion of payment settlement services to include mail order catalog sales.
WELLNET developed an integrated seamless "convenience store consigned bill payment settlement service" that included the functions of printing and mailing of invoices, and bill payment information processing which could be used 24 hours a day, 365 days a year. This system quickly spread amongst product and service merchants because it was distributed free of charge and enabled them to dispense with making large outlays to develop their own payment settlement systems.
Furthermore, WELLNET developed a system that allows customers to avoid having to print out paper copies of invoices and allows for customers to make real time connections for electronic invoices and payments, which is the system currently used widely. The system's ability to eliminate development costs and to allow customers make electronic payment settlement connections with convenience stores and other payment outlets without the need to sign agreements has contributed to its strong reception and numerous implementations by airlines and bus companies, in addition to boosting WELLNET's earnings. In 2004, the Company listed its shares on the JASDAQ market.
Thereafter, WELLNET has expanded the provision of its "multiple payment service" to include large companies such as Amazon, Yahoo! Shopping, Rakuten Auction, and low cost carrier (LCC) airlines. In addition, the Company has also focused its attention upon developing applications for the rapidly growing electronic ticket service market including a cellphone ticketing service, which has many good track records.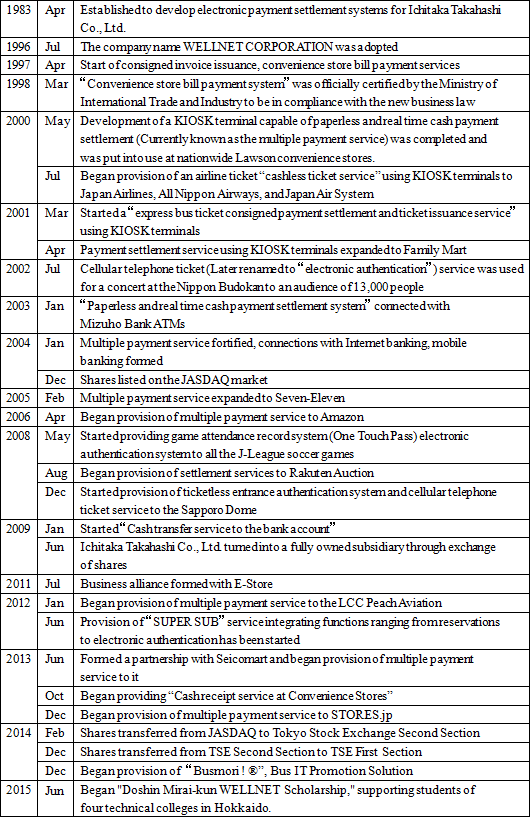 <Market Conditions>

According to the Ministry of Economy, Trade and Industry's report entitled FY 2014 Research on Infrastructure Development in Japan's Information-based Economy Society (E-Commerce Market Survey) issued on May 29, 2015), the Japanese electronic commerce market (B to C) for consumers rose by 12.8% year-over-year to ¥11.2 trillion in 2013. Compound average growth rate (CAGR) from 2010 to 2014 is 13.2%.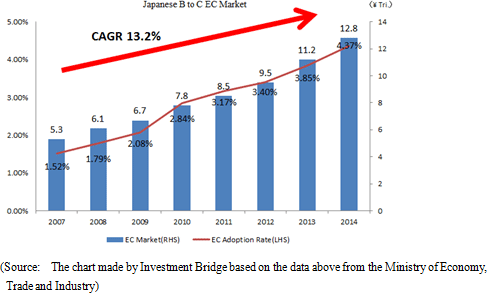 The rate of EC adoption (What is the share of e-commerce amongst all the transactions?) is still only 4.37% for the sale of goods, but as the above graph for 2013 indicates it is growing steadily.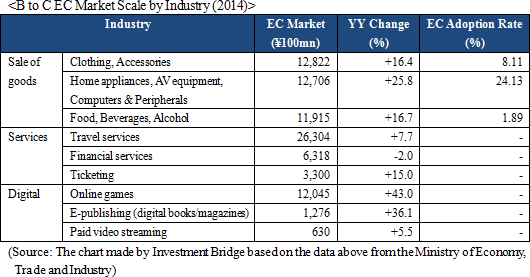 <Business Description>

With the key concepts of "real time" and "one stop," WELLNET offers a "convenient direct sales platform" to provide (1) its customers (i.e. the purchaser of service and goods) with

the convenience

of purchasing whatever they want at any time and from any place, and (2) its sales business operators (i.e. WELLNET's direct customers) with the their capability of "

maximizing sales opportunities

" in selling products and services over the Internet.

WELLNET business is comprised of the three main segments of (1) multiple payment services, (2) online business, and (3) electronic authentication services.

 

(1) Multiple Payment Services

"Accounted for 95% of total sales or ¥8,442 million (FY6/15)"

 

 

Since WELLNET provides the necessary software free of charge, merchants to whom systems are provided can significantly reduce their system development expenses.
The Company derives its commission income (sales volume) from initial setup fees, basic monthly fees, commissions per each transaction, etc. In addition, initial investments required by the merchants are kept low because fees are based on the dual system of fixed and variable rates.

 

① E-Billing (Electronic Payment) Service

Unlike conventional billing, e-billing can make settlements without creating and sending invoices. Customers can pay bills using cash at KIOSK terminals interconnected WELLNET server, POS registers and ATMs, in addition to online banking, credit cards, electronic money, etc.

 

<How to use each of the methods>

◎ KIOSK Terminals
Consumers input a bill payment code issued at the time of purchase of products or services over the Internet into a kiosk terminal. After making sure that everything of the purchase provided on the screen of the terminal is correct, the customer presses the "Confirm" button, and a bar code invoice is printed out at the terminal. The customer takes the invoice to the cash register and makes payment.

◎ POS Register and ATMs
There is a function at POS registers that allows customers to use ten keys shown on the touch panel display to electronically input invoice numbers to pay bills using cash or bank account cards. After checking everything shown on the display is correct, the customer presses the "Confirm" button and makes payment. A similar process is available for payment in cash or by cash card using bank ATMs.

 

<Advantages and Characteristics>

The ability to create invoices and payment receipts, eliminating the mailing process and reducing costs, and the provision of one-stop bill payment services that allows real-time electronic invoice and bill payment functions by connecting to only a single company, i.e. WELLNET.

Merchants have no need to develop various systems for each bill payment channel (Convenience stores, banks, post offices, etc.), and can easily provide various settlement methods to customers by entering into an agreement with WELLNET.

WELLNET provides information processing module free of charge.

WELLNET develops and implements the most up-to-date payment systems, eliminating the need for merchants to develop their own systems.

WELLNET's systems account for various changes including late charges, additional purchases or other factors in "real time" to ensure that the most up-to-date payment can be made.

This payment service was launched in May 2000, and has a good track record since, as it has been introduced by major domestic airlines, major express bus companies, electrical power companies, mail order companies, etc., as described below.

 

② Billing (Payment/Invoices at Convenience Stores) Services

A: Convenience store bill payment service
WELLNET's bar code payment invoice issuance system and accounts receivable recovery via convenience store consigned bill payment service. WELLNET's bar code payment invoice system available at convenience stores and post offices uses an internally developed payment receipt issuance and payment information processing software called "ConPay Kun" to allow merchants to easily print out invoices and receipts, easily process payment information and make ledger notes of payment receipt.
Payment information is transmitted on the next business day after the payment is made (For payment at post offices, two business days), and automatically makes ledger notes of the payment.
Currently, bills for mail order sales, fuel expenses, various membership fees, etc. can be paid in arrears using this system.

 

<Advantages and Characteristics>

Payments can be made 24 hours a day, 365 days a year at nationwide convenience stores (Available at 16 different convenience store chains as of December 2014), relieving bill paying customers from the need to rush to post offices and banks during normal business hours.

The packaged software "ConPay Kun" is provided free of charge, allowing merchants to begin operating the payment systems within short time after application.

Merchants can print out their own bill payment receipts, and avoid leakage of customer information because the payment information is based on numeric bar code information only.

 

B: Consigned Invoice Issuance Service
WELLNET provides total comprehensive bill payment issuance and payment settlement support services including consigned bar code invoice payment printing and mailing functions, payment confirmation, and payment ledger note.
In particular, its bill payment services are used commonly for payment of services that do not entail shipment of goods (gas bills, various membership fees).
In addition, automatic payment and other information receipt services (Invoice issuance, payment service packaged software "Tokoro Kun") are also provided.

 

③ Cash transfer service to the bank account

This service allows merchants to use the Internet to efficiently make payments to customers for reasons such as refunds for cancellations. WELLNET operates a dedicated website that allows consumers to use an ID received from the merchant and to input their own bank account information for merchants to make payments to.

 

<Advantages and Characteristics>

The ability of consumers to input their own bank account information and automatic processing of this information allows merchants to reduce their work load by eliminating the need to input account information.

Increase customer satisfaction by allowing merchants to make payment of refunds within the same day.

Eliminates the need for merchants to develop their own refund systems.

Eliminates the need to retain bank account information of customers and reduces the risk of leakage of personal information.

 

④ Cash receipt (Transfer) service at Convenience Stores

As with the Cash transfer service to the bank account, this service concerns refunds when consumers cancel an order from a merchant. Unlike the Cash transfer service to the bank account, this service requires no bank account.
The consumer inputs a cash pickup number and ID (provided by the merchant) into a Lawson convenience store "Loppi" multimedia terminal, which issues a cash exchange ticket, and this cash exchange ticket can be exchanged for cash at the register.

 

<Advantages and Characteristics>

Merchants can avoid risks related to possessing customer bank account data

Cost reduction due to no handing charges of postal transfers or bank transfers

Smooth refunds with no risk of errors in handling bank account information

 

⑤ Other Services

Multiple payment services can be customized to match the needs of individual merchants and consigned operational support services can also be provided.

 

(2) Online Services Business

"Accounted for 6.6% of total sales or ¥500 million (FY6/14)"

 

① PIN Online Sales Service

An online service linking WELLNET servers to POS registers and KIOSK terminals at convenience stores for the sale of cellular telephone, international telephone, electronic money and other prepaid cards. The ability to buy prepaid cards online eliminates the need to go to stores in advance to make purchases.

 

② Prepaid Gift Card Sales Service

Gift cards are sold at the Gift Card Mall installed in convenience stores. By activating the PIN at the POS register, the gift card becomes usable for purchasing games or music.

 

<Advantages and Characteristics>

Online sales eliminate the need to physically stock cards in advance.

Stocking of stock cards right at the time of sale contributes to greatly improved cash flow and preventing opportunity losses resulting from a shortage of inventory.

The easier adjustment in the volume and lineup of cards is among many other advantages of online systems.

 

③ Various Application Services

The kiosk terminals located at convenience stores allow users to fill out various applications for Japanese character proficiency tests, English language proficiency tests, university entrance examinations, and other various application forms. The terminals provide one-stop comprehensive services by allowing for not only application but also payment of these various applications.

 

(3) Electronic Authentication Services

"Accounted for 0.6% of total sales or ¥43 million (FY6/14)"

 

① Electronic Ticket Service

A system that allows two dimensional codes displayed on smartphones and other cellular telephone displays to be used as tickets.
When combined with the multiple payment service, the system allows customers to complete the entire process of application, purchase, and receipt of tickets electronically over their smartphone and other cellular telephones and personal computers.
When consumers complete the multiple payment service over the Internet for tickets reservations, they will receive an email at their cellular telephone. By accessing the url listed in the email, they can acquire a two dimensional code which can be used in place of a ticket for entrance to the event.

 

<Advantages and Characteristics>

Eliminates the need to issue and mail physical tickets, coupons, and membership cards.

The ability to provide reservations and issue tickets online allows promoters of an event to sell tickets until the last minute before the event.

The paperless solution is more environmentally friendly.

Electronic records of event participants allows for easy use of entrance data for marketing purposes.

 

WELLNET has translated QR code for airline ticket into practical applications for the first time in Japan. Subsequently, it has bountiful track records in large-sized entrance authentication system for spectator sports events, etc.

 

② "SUPERSUB" Service

An online ticket solution that provides one-stop, comprehensive services ranging from ticket issuance, payment, and authentication functions.
This system eliminates the need for merchants to develop individual systems that connect to servers, allowing for easy use by not only merchants but also individuals holding events.
This system was launched in June 2012 aiming at increasing the number of customers, in addition to the existing large clients such as airlines and bus companies, based on its efficient and low-cost strategy.

 

<Advantages and Characteristics>

Event organizers can create web pages for their events as to their ticket reservation, application and sales, simply by entering basic information relating to the events such as ticket pricing, location, date of the event, etc. into the registration page (Currently only available to PCs).

Simply linking the above web pages to the organizer's event page will enable the launch of ticket sales.

Customers seeking to participate in an event can purchase tickets via PCs, smartphones, and cellular telephones.

Both e-tickets and paper tickets printed at convenience stores can be used. The tickets use QR codes and special applications will be used for authentication of these codes for entry to events. The system allows for smooth operations at events through accurate authentication. It is also possible to use just paper tickets, in which case the authentication application is unnecessary.

The tickets use QR codes and special applications will be used for authentication of these codes for entry to events. The system allows for smooth operations at events through accurate authentication.

Similar to multiple payment services, this service provides a multitude of various payment settlement methods.

The system can be launched within three weeks from application for ticket through installment of the system to the sales of tickets.

There are no initial costs or basic monthly fees. In exchange, a commission of 5% of ticket sales is collected to help keep operational costs extremely low.

 

Not only for permanent facilities, this system is suitable for limited time events, concerts, lectures, seminars, regional events, parties, reunions and other events that range from 10 to 5,000 attendants.

 

 

The ROE of WELLNET is at a high level, above the market average. With leverage over 2 times (capital ratio of 38.2% previous year), this may appear to be the reason, but in the case of WELLNET, it is because deposits received as a payment agent are cross posted as cash and deposits and current liabilities. Considering this, the financial situation is extremely stable, and that high net profit margin is the main reason for the high ROE.

 

<Characteristics and Strengths>

①Strong Track Record of Implementations, Strong Customer Base

WELLNET's multiple payment service has developed a highly favorable reputation for its ability to eliminate development expenses at the time of their implementation and the need to form contracts with each payment institution. WELLNET's service has been introduced to the leading companies in each industry as described below.
One of WELLNET's largest assets is the highly favorable reputation received from airlines and bus companies for their system's real time capabilities.
It is this strong customer base that lies at the core of its highly favorable reputation, which is considered to be an important "invisible asset".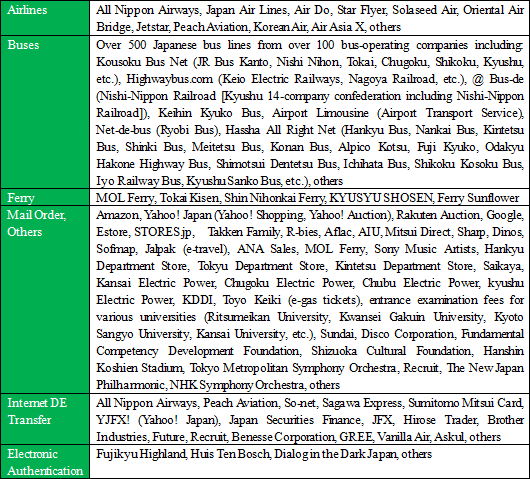 ②Corporate DNA: Always Taking on New Challenges

E-Billing Service, Billing Service, various money transfer services, cellular telephone ticket service and other services and systems developed by WELLNET, in almost all the cases, represent the first applications of their kind to be commercialized within Japan.
Furthermore, the above implementation examples of systems are validation of their superiority. As WELLNET is not an affiliate or subsidiary of a large company, it started out without large amounts of business resources, including money, people and assets.
Despite this fact, the spirit of "always taking on new challenges" engrained in the corporate DNA of WELLNET allowed it to become the "de facto standard setter" in electronic bill payments.

President Miyazawa believes that the meaning and appeal of business is "to continue to believe in your own ability, to envision and take on the risk of developing mechanisms that would be convenient to have, and to provide them in tangible, readily available forms."
Moreover, in our interview, Mr. Miyazawa also said that "the reason for our Company to exist is to come up with systems that only we can create."

Since WELLNET is a small company with less than 80 employees, keeping up the spirit of taking on new challenges engrained in its corporate DNA and the ideal represented in its corporate principle of "WELLNET Alete" (which will be described below) seem to be vital to the company's existence.

 

 
Fiscal Year June 2015 Earnings Results

 

The multiple payment service led an increase in sales and profit. Original plans were exceeded.

Sales rose by 16.9% year-over-year to ¥8,800 million. This increase was continuously led by the multiple payment service, supported by the expanding EC market.
The cost for data centers used to be divided into COGS and SG&A. But from this fiscal period on, the whole cost will be reported collectively as COGS. And also, PIN sales, with higher margin in online business, declined. These changes caused gross profit rate to drop by 3.1 points, but meanwhile, SG&A decreased by 0.7%, and operating profit increased by 11.1% to ¥1,600 million. Excluding ordinary profit, figures are exceeding original plans for both sales and profit.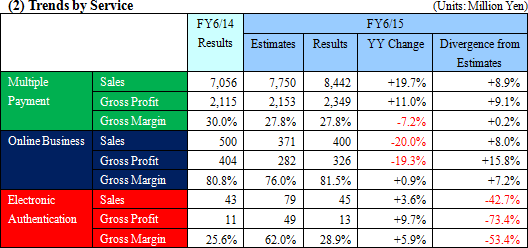 <Multiple Payment Service>

The multiple payment service kept showing strong growth, with a rapid increase in the C to C market in particular, supported by the expansion of the electronic commerce (EC) market.
Results were favorable with WELLNET's primary clients, which include major airlines, low cost carriers, and regular bus companies. Ferry operators which promote implementation of non-face-to-face payment also showed favorable growth.
The adoption of online university entrance examinations also contributed to market expansion. 75% of universities with online exams use WELLNET's system.

 

<Online Business Service>

Sales of prepaid PIN online electronic money (for social networking services and online games) declined.
On the other hand, the new gift card service, where customers activate their PIN with POS (charging money at the register at convenience stores, etc.) showed steady growth.

 

<Electronic Authentication Service>

"Busmori ! ®", a bus IT promotion project, which was eagerly developed by WELLNET, has launched its services.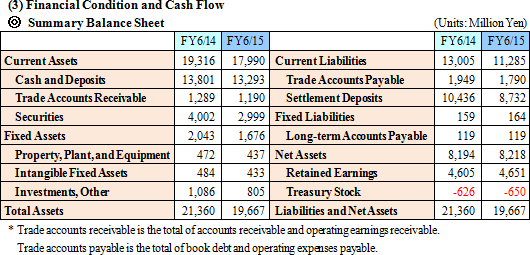 Decreases in cash and deposits and trade receivables caused current assets to decrease by ¥1,300 million from the end of the previous fiscal year. Cash and deposits include ¥8,700 million in settlement deposits related to payment services, which is posted as current liabilities and to be transferred to merchants the following month. Settlement deposits related to payment services decreased by ¥1,700 million.
Fixed assets decreased by ¥300 million, and total assets decreased by ¥1,600 million to ¥19,600 million.
With regards to liabilities, settlement deposits related to payment services decreased, leading to a ¥1,700 million decrease in current liabilities. Total liabilities decreased by ¥1,700 million.
Net assets increased slightly.
As a result, the equity ratio grew by 3.4% to 41.6% compared to 38.2% at the end of the previous fiscal year.
(However, when calculating without settlement deposits related to payment services from assets and liabilities, equity ratio was 74.7% at the end of the previous fiscal year, and 74.8% at the end of this fiscal year.)

 

 

Decrease in settlement deposits related to payment services led to a negative operating cash flow. Repayment of term deposits led to a smaller minus for investment cash flow, but free cash flow became negative. Increase in dividends paid led to a significantly more negative financing cash flow.
Cash position decreased.

 

(4) Topics
①Reservation, payment, and printing Keikyu bus tickets now available at convenience stores

Starting March 23, 2015, in collaboration with Keikyu Corporation, Keikyu Limousine Bus and Keikyu Express Bus tickets can now be reserved, paid for and printed at convenience stores.

[Service Overview]
When purchasing Keikyu Limousine Bus and Keikyu Express Bus tickets, previously it was necessary to use the Keikyu bus reservation site or reserve by phone, but with the introduction of this service, even without a telephone or computer it is possible to reserve, pay for, and have tickets printed using convenience store kiosks.
Currently this service is available at three chains: Lawson, Mini Stop and Circle K Sunkus.

 

②Convenience store payments are now available for payment of winning bids on Yahoo! Auctions

Starting June 3, 2015, in collaboration with Yahoo! Corporation convenience store payment services can be used for multiple payment service payments of winning bids on Yahoo! Auctions, the largest Internet auction site in Japan.

[Service Overview]
The multiple payment service is an electronic billing and payment service that does not require paper bills or individual contracts with financial institutions or agencies.
With this introduction of the multiple payment service, paying for Yahoo! Auctions using Internet banking or credit cards can easily made at convenience stores throughout Japan 24-hours a day, 365 days a year as one option with Yahoo! Kantan Kessai.
The addition of paying at convenience stores as an option should increase convenience for sellers and buyers.

[How Payment Works]
The buyer selects the product they wish to purchase on Yahoo! Auctions, and after winning the bidding can pay the auction bid at convenience stores throughout Japan as one option with Yahoo! Kantan Kessai.
Currently this service is available at Lawson, Family Mart, Circle K Sunkus, Mini Stop, Daily Yamazaki, Three F, and Seiko Mart.

 

③Began ¥100 million scholarship for four technical colleges in Hokkaido

Entered into an agreement with the Hokkaido Shimbun Press Social Welfare Fund and four national technical colleges in Hokkaido to establish the " Doshin Mirai-kun WELLNET Scholarship," providing ¥100 million in scholarships for technical college students in Hokkaido.
The largest scholarship ever to target technical college students, the goal is to provide long-term support to students facing financial difficulties.
Since WELLNET was listed on the Tokyo Stock Exchange First Section in December 2014, it has looked for an opportunity as a corporate citizen to pay back Hokkaido and contribute to stimulating the Hokkaido economy. Through employment of technical college students, WELLNET learned that many students are in difficult financial situations and cannot pay tuition, or have to spend all their time working to pay for tuition and living expenses, limiting the time the can spend studying and leading to repeating school years or being expelled.
With the idea to establish a fund to support these students financially and provide an environment where they can focus on their studies, four technical colleges in Hokkaido agreed, and with cooperation from the Hokkaido Shimbun Press Social Welfare Fund that has fund management experience and knowhow, this scholarship system was established.

Remittance to the students is made by "Cash transfer service to the bank account," which was developed jointly by WELLNET and Sumitomo Mitsui Banking Corporation.

[Name] Doshin Mirai-kun WELLNET Scholarship
[Targets] Students at four technical colleges in Hokkaido (Hakodate, Tomakomai, Kushiro, Asahikawa)
[Funds] ¥100 million
[Selection Process] A selection committee composed of technical college teaching staff will inspect student applications, the college president will make recommendations to the Doshin Social Welfare Fund, and the fund evaluation committee will make the final decision.
[Aid Details]
  Emergency aid: When tuition cannot be paid due to sudden death of guardian or other reasons, the necessary amount of aid will be provided.
  Standard aid: Based on the student's financial situation, aid will be given periodically for annual tuition and living support

 

 
Fiscal Year June 2016 Earnings Estimates

 

Both sales and profit increase planned. 100% of the ¥1,200 million net profit will be returned to shareholders.

Sales this year, the final year of the 3-year medium term business plan, are expected to increase 8.0% year-over-year to ¥9,600 million. The main multiple payment service is expected to continue growing steadily with primary clients such as airlines and bus companies.
Operating profit is planned to increase 22.2% to ¥2,000 million. Although it is a relatively high number, efforts will be made to reach it by maximizing immediate gains.
Following the dividend policy of the 3-year medium term business plan, the entirety of the ¥1,260 million net profit is planned to be returned to shareholders.
With a dividend payout ratio of 50%, dividends per share will increase by ¥16 compared to the previous term to ¥66 per share. All remaining profit will be used to purchase and retire treasury stock.

 

(3) Progress Report of the 3-Year Medium Term Business Plan
①"Busmori !"Bus IT Promotion Project

As introduced in the previous report, the "Bus IT Promotion Project" that forms the biggest point of this plan has been released as "Busmori!" and for the first run has been implemented as of December 19, 2014 by the Chuo Kosoku Bus Shinjuku to Matsumoto line, jointly managed by Keio Dentetsu Bus Co., Ltd. and Alpico Kotsu Co., Ltd.
To increase the number of users, a commercial aired in Nagano Prefecture (July 13-26, 2015), as well as other local promotions such as bus wrap advertising in Nagano and Nara. The number of downloads for "Busmori! Navi" increased significantly from 1,321 as of May 15, 2015 to 6,431 as of August 9, 2015.

 

②Data Center Transfer

To fulfill one main theme of "kaizen" to improve profitability, the data center transfer for improved system stability and cost performance was completed in June 2015.

 

③System and Governance Creation for Achieving Growth Scenario

In addition to speedy and powerful business development and kaizen under direct management of the president, WELLNET has introduced active hiring of young employees and employees with necessary skills from outside the company, as well as success-based stock options.

 

 
Interview with President Miyazawa
 

President Miyazawa spoke about future plans for Busmori!, his ideas on the next medium-term plan, and other subjects.

 

<Busmori!>

Buses are an important form of transportation for communities, and will never go away completely. They also have great social importance. I believe that bus services have long-term business potential.

The advantage of our company is our strong connection with over 100 bus companies. Since the switch from printing paper tickets to electronic tickets can be carried out at variable cost, there are also major benefits to bus companies.

In particular, apart from intercity express buses, many local bus companies except those in large urban areas are facing a difficult business environment, and this IT switch can help support them and stimulate the local community. After building experience with intercity express buses, we will expand to the local bus market.

Using IT can improve convenience and help increase profitability for companies in a variety of markets, not just buses. We will aim to become a company with even greater meaning to society.
<Next Medium-term Business Plan>

We have just begun discussions, and there are two main points.

First is cultivating the next generation of income sources. Continuing to plant the DNA of this company to always be creating new things. An important point is how many employees like that can be trained.

Second is improving existing businesses. We have started visualization and numerical conversion of cost structures. Since this will make periodic checks possible, it will be possible to maintain and improve profitability by having each employee be aware when dealing with it.

The scholarship system for four technical colleges in Hokkaido is a big step towards acquiring skilled employees. Training will be carried out with the goal of employees being useful three to five years later. We are planning to expand this program from Hokkaido to all technical colleges in Japan in the future.

There was a greater response than anticipated to this system, and it also was meaningful in building a relationship of trust with an important stakeholder in the community.

One of my duties as president is to create an environment where the company can grow. I cannot speak on specifics right now, but various plans are proceeding.
<Other>

We will continue operating the company while keeping shareholders in mind. Capital cost has been included in the compensation evaluation standards for directors. Due to its relation with the number of shares issued, buying back treasury stocks must be carried out flexibly, but dividends will be carried out according to shareholders' wishes as much as possible.

New standards are being made focusing on productivity and creativity for employee evaluations for management and above, and are planned for implementation next year.

The trend towards paperless electronic payments should continue to expand in various areas. Opportunities for us will expand along with that trend. Please keep an eye on WELLNET as it continues to grow.
 

Achieving the target of a 22% increase to ¥2,000 million operating profit this year, the final year of the 3-year medium term business plan, may seem difficult, but President Miyazawa explained that he set this more difficult goal in order to test WELLNET's current strength.
Since it will still take some time before "Busmori!" contributes to profit, the primary methods to meet this goal will be increasing sales and profitability of existing businesses. The focus is on how with favorable growth expected from further adoption of EC, to what extent will multiple payment services increase this year?
In the medium term, the focus is on how this company, with its plentiful experience and knowhow of payment and authentication, will put into effect their strategy of "focusing on the electronic payment business, while differentiating from other companies by providing related services such as authentication."

 

 

<Reference : 3-Year Medium-Term Business Plan>

 

◎ 3-Year Medium-Term Business Plan Growth Strategy

The two wheels supporting growth are: ① Establishing a business scheme to support the next generation, and ② Kaizen (expanding functions, improving system stability, increasing cost-effectiveness=building a strong corporation).

 

◎ Structure and Governance to Achieve Growth Scenario

In order to quickly and powerfully proceed with the two wheels of the growth strategy ("business development" and "kaizen"), related projects will be carried out under direct supervision of the CEO.
In addition to active recruitment of young employees, necessary personnel who share ideals will be sought outside of the company as well in order to develop a structure to accomplish WELLNET's goals, with stock options and other policies effective to increase motivation for meeting goals.

Renewed effort is also being put into employee education, with the WELLNET Alete, which defines the raison d'être of the company and action guidelines for employees, and which has been implementing effective governance.
(Alete is a Greek term for "virtue," "superior being," or "predominant being.")

 

WELLNET Alete

Contributing to the society by creating "mechanisms that are convenient to have"

Proposing and spreading those "mechanisms" throughout the world

Allocating profit to employees, shareholders and investments in the future

WELLNET Employee Alete

To avoid the pitfalls of stereotypes. I will think freely.

Thinking for one's self, proposing the best solution.

Promoting open discussions, while clearly defining the factors of "who" will do "what" by "when."

Repeating the process of validation and improvement.

Making honest, accurate and quick reports.

Conducting business after documenting services to be provided and compensation to be received.

Non-acceptance of entertainment and gifts.

 

◎ Numerical Targets

Strategic investment will be carried out in the first and second years, with a goal of ¥2,000 million operating profit for fiscal year June 2016, the final year of the plan.
The initial target for fiscal year June 2014 was ¥1,450 million, but the results surpassed the target and reached ¥1,470 million.
This demonstrates how the entire company is working together to reach its targets.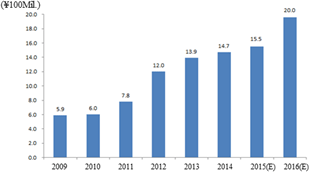 ◎ Return to Shareholders

◯ Return 100% of Profits During Midterm Business Plan to Shareholders

Adequate amounts of cash on hand will be maintained as a source for maintaining the Company's credibility, fortifying core businesses, and developing new business. But with adequate financial soundness already achieved, WELLNET will return an even higher level, that is, 100% of profits to its shareholders during its midterm business plan period. Specifically, the following two measures will be implemented.

 

A) With the exception of special factors, WELLNET will endeavor to achieve a stable and high level of dividend payment with the target payout ratio established in the midterm business plan to be raised from 33.3% to 50%.




B) 100% of profits are expected to be returned to shareholders with after-tax profits left remaining after paying dividends expected to be used for the acquisition and retirement of treasury shares.
With the exception of treasury shares owned to be used as stock for sale and for "J-ESOP" (Japanese Employee Stock Ownership Plan), newly acquired treasury shares will either be retired or used as shares for stock options issued as performance-based compensation.

 

◯ Return On Equity Target: 15% (FY6/16)

WELLNET seeks to raise its return on equity (ROE) and earnings per share (EPS), in addition to steadfastly promoting a growth strategy, strengthening its earnings, increasing its dividends and acquiring and retiring treasury shares.

 

Disclaimer

This report is intended solely for information purposes, and is not intended as a solicitation to invest in the shares of this company. The information and opinions contained within this report are based on data made publicly available by the Company, and comes from sources that we judge to be reliable. However we cannot guarantee the accuracy or completeness of the data. This report is not a guarantee of the accuracy, completeness or validity of said information and or opinions, nor do we bear any responsibility for the same. All rights pertaining to this report belong to Investment Bridge Co., Ltd., which may change the contents thereof at any time without prior notice. All investment decisions are the responsibility of the individual and should be made only after proper consideration.

Copyright(C) 2015, All Rights Reserved by Investment Bridge Co., Ltd.