Mobile Factory, Inc. (3912)
President
Yuji Miyajima
| | |
| --- | --- |
| Company | Mobile Factory, Inc. |
| Code No. | 3912 |
| Exchange | TSE 1st Section |
| Industry | Information, Communication |
| President | Yuji Miyajima |
| Address | 1-24-2 Higashi-gotanda, Shinagawa-ku, Tokyo |
| Year-end | December |
| URL | |
Share Price
Number of shares issued
(excluding treasury shares)
Total market cap
ROE (Actual)
Trading Unit
¥1,576
9,433,906 shares
¥14,868 million
24.9%
100 shares
DPS (Est.)
Dividend Yield (Est.)
EPS (Est.)
PER (Est.)
BPS (Actual)
PBR (Actual)
¥16.50
1.0%
¥54.70
28.8 times
¥389.09
4.1 times
* The share price is the closing price on July 27. The number of shares issued was obtained by subtracting the number of treasury shares from the number of outstanding shares as of the end of the latest quarter. ROE and BPS are the values as of the end of the previous term.
Fiscal Year
Net Sales
Operating
        Income
Ordinary
    Income
Net Income
EPS
DPS
Dec. 2013 (Actual)
1,553
139
139
68
33.40
-
Dec. 2014 (Actual)
1,540
211
212
118
58.08
-
Dec. 2015 (Actual)
1,751
314
305
185
40.03
20.00
Dec. 2016 (Actual)
2,072
611
611
411
87.29
27.00
Dec. 2017 (Forecast)
2,486
761
747
516
54.70
16.50
* The forecasted values were provided by the company.
* It adopted consolidated accounting from FY ended December 2015. From FY ended December 2016, net income is profit attributable to owners of the parent. Hereinafter the same shall apply.
* In November 2014, it implemented a 50-to-1 stock split. In October 2016, it implemented a 2-to-1 stock split. In July 2017, it implemented a 2-to-1 stock split.

This report contains the overview of Mobile Factory, which is listed on the First Section of the Tokyo Stock Exchange, overview of the performance for the first half of the FY ending December 2017, the outlook for the full fiscal year, and interview with President Miyajima.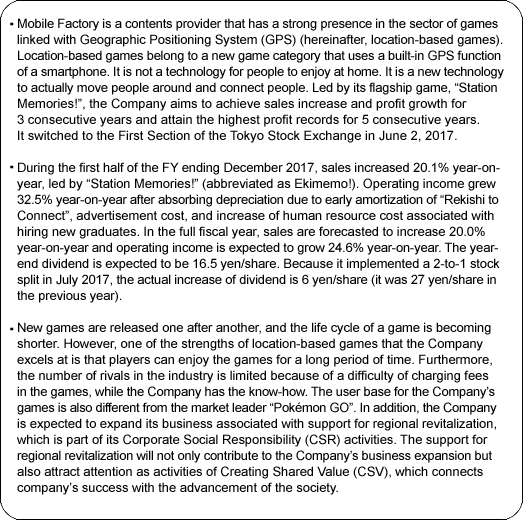 The Company's two main pillars are the Social Apps Service led by location-based games and the Contents Service that provides contents such as ringtones, fortune telling, etc. The Contents Service, for which the Company has over 10 years of experience, is a stable profit source, and the Social Apps Service, for which the Company has established its unique style, is the driving force of its growth. The Group companies include the Company and its 100% subsidiary, G1dash, Inc., which deals with development and operation of social apps.
Its management philosophy is "To make the people of the world happy through the things we create." The brand message is "Take your experiences with you".

 
Corporate history
In October 2001, it was founded as Mobile Factory, Ltd. and began provision of ringtone service. The ringtone business had expanded, and in April 2003, it became a stock company and changed its name to Mobile Factory, Inc. After that, the Company grew its contents business by adding services for mobile phones such as wallpaper, decoration mail, fortune telling, etc.
Provision of the Social Apps Service began in December 2009. In March 2011, it released a location-based game titled "Eki Dash" (GREE platform). This game triggered the Company's dramatic growth. In October 2011, it entered into the Smart Novel (dating simulation game for males) industry. In December 2011, it released a location-based game titled "Eki Dash PLUS" on the GPS service platform "Colopl" operated by Colopl, Inc. In June 2014, it released a location-based game titled "Station Memories!". In May 2014, it began a business partnership with Fuji Television Network, Inc. (current Fuji Games, Inc.) and released iOS and Android versions of "Station Memories!" in November 2014.
In March 2015, the Company began stock listing in the Mothers section of the Tokyo Stock Exchange. In October 2015, it concluded a partnership agreement with Iwate Prefecture. In June 2017, it switched to the First Section of the Tokyo Stock Exchange.

 

Business contents
Sales composition ratio for the FY ended December 2016 was 61% for the Social Apps Service and 39% for the Contents Service. While the Social Apps Service offers free-to-play games but charges money for in-game items, the Contents Service charges a monthly flat-rate fee (there are some exceptions). Also, the Group companies apply both the own-company model (distribution under its name) in which services are directly offered to the users through a platform and the OEM model (distribution under other companies' names) in which business partners under the OEM contracts provide services through a platform. While usage charges are recorded in the sales for the former, usage charges excluding platform fees (50% to 70% of the usage charges) are recoded in the sales for the latter.

 

Social Apps Service

Social apps require social interaction (e.g. collaborating, competing) between players. The Company distributes location-based games and Smart Novels through SNS platforms (i.e. GREE, Mobage, mixi, Colopl) and app market (i.e. App store, Google play). Part of illustration and scenario development are outsourced, but system development is carried out internally.

For location-based games, the Company offers 3 games, namely, "Station Memories!" which is the Company's most focused service, "Eki Dash Series" (i.e. Eki Dash and Eki Dash PLUS) and "Rekishi to Connect" (which was released on March 15, 2017). "Eki Dash Series", released in March 2011, is a long-run product. It has 3 elements: competition element in which the players compete to seize nearby stations, life-log element in which the locations that the players actually visited are logged, and collection element in which the players collect seized stations, train lines and titles. "Station Memories!", which was released in June 2014, pursued the excitement of collecting stations, in addition to the fun of fighting to seize stations in "Eki Dash Series".

 

 

Meanwhile, the Company's new original product, "Rekishi to Connect" is a game based on the Japanese history and to fight for lands across Japan using location information with unique "Ijin" (a great figure), as if in the Sengoku era. The players can collect historical heritage that they actually visited or grow "Ijin" which are the characters in the motif of historical heroes. Also, the Company offers Smart Novels (e.g. "Tadaima! Uchi
Kanojo", "Ore No Kanojo Ga Futaritomo Kawaisugiru!"), although their contribution to profit seems to be small. They are healthy love-comedy scenario games targeting men in their 10s to 30s, especially those who read magazines aimed at teenage boys.

Through the own-company model, the Company offers "Eki Dash PLUS" (Colopl, App Store, Google Play), "Station Memories!" (Colopl), Smart Novels (GREE/Mobage). Through the OEM model, it offers "Station Memories!" (App Store, Google Play) and Smart Novels (App Store, Google Play) in partnership with Fuji Games, Inc.

 

Contents Service

For the Contents Service, the Company mainly offers contents such as ringtones through services operated by communication carriers. For ringtones provision, it has "Newest Songs Unlimimted Downloads", through which users can download unlimited number of ringtones in the range of J-POP, Western music, special effects sound, sound of music box, and theme songs for animation (own-company model). It also offers "RecoChoku Melody" in partnership with RecoChoku Co., Ltd. (OEM model) targeting smartphones and feature phones. Users can download unlimited ringtones from 100 yen (excluding tax) to 300 yen (excluding tax) per month.

One of the Company's strengths is high-quality sound developed internally as well as its system and know-how to add the sound from dramas, movies or TV commercials while they are still popular. The creation of ringtones' sound sources and development and operation of websites are managed internally (there are some exceptions). Other than ringtones, it offers an all-you-can-get service for stickers and melodies at a fixed rate. Since the launch of the service in May 2004, it has gained over 10 years of experience. By incorporating effective advertisement methods by the moment, it has been increasing users. Although the number of fee-paying members is on the decrease, the profitability is still high, because products are, in principle, developed internally and the profit of the remaining players is high.

The Social Apps Service is given a priority for the distribution of management resources.

 

 
1H of Fiscal Year December 2017 Earnings Results

 

Sales increased 20.1% year-on-year and operating income grew 32.5% year-on-year, led by "Station Memories!" (hereinafter "Ekimemo!").

Sales increased 20.1% year-on-year to 1,179 million yen, led by "Ekimemo!" (iOS/Android versions) to which measures to enhance the users' active rates made a considerable contribution. Operating income grew 32.5% year-on-year to 396 million yen after absorbing depreciation due to early amortization of "Rekishi to Connect", advertisement cost, and increase of human resource cost associated with hiring new graduates. Although 13 million yen was recorded in non-operating expenses as expenses for public stock offering associated with the shift to the First Section of the Tokyo Stock Exchange, tax burden ratio decreased (34.3% to 30.9%). As a result, net income was 264 million yen, up 34.3% year-on-year.

 

 

In the field of the Social Apps Service, it hosted a collaboration event for "Ekimemo!" with TV animation and other companies' IP contents and organized a photo contest using a related app, "Station Memories! Odekake Camera". To commemorate the third anniversary of "Ekimemo!" in June, it also offered a 3rd anniversary campaign with various activities. The number of Daily Active Users (DAU) (the number of users who used the service per day) also increased as a result of activating dormant users. Furthermore, for "Eki Dash Series", it took measures to enhance the efficiency of events and also to promote the continuous use of the app. Meanwhile, it discontinued promotion of "Rekishi to Connect" which did not meet the internal standards of Key Performance Indicator (KPI).
In the field of the Contents Service, "StaMelo: Stamp & Melody Torihodai" operated by "App Pass" which is an all-you-can-get app by SoftBank Corp. continued to show steady growth. "StaMelo" is a service in which the users can download unlimited stickers to be used on communication apps such as LINE and popular music (about 30,000 music). It also has a function to help the users easily transfer or set the stickers or ringtones.

 

 

Although sales marked a record high, operating income decreased from the previous quarter.

In the midst of continuous increase of DAU, "Ekimemo!" showed healthy performance, partially thanks to the 3rd anniversary events, and the Contents Service also grew firmly. As a result, sales increased 18.6% year-on-year and operating income grew 14.1% year-on-year. On the other hand, compared with the previous quarter, operating income decreased 25.7% due to the increase of amortization cost of "Rekishi to Connect" (from 7 million yen to 50 million yen) and increase of advertisement cost (from 71 million yen to 86 million yen).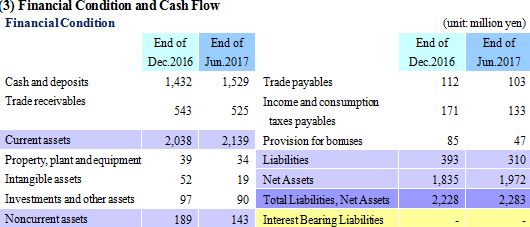 Total assets as of the end of the first half of the FY were 2,283 million yen, an increase of 54 million yen from the end of the previous FY. Cash and deposits and net assets increased, reflecting good earnings results and a surplus of cash flow. Meanwhile, noncurrent assets (contents in progress, etc.) decreased as a result of early amortization of "Rekishi to Connect". Equity ratio was 86.4% (82.3% at the end of the previous FY).

 

 

The Company secured 221 million yen of Free Cash Flow, out of which, 124 million yen was returned to shareholders as dividends.

 

 
Fiscal Year Ending December 2017 Earnings Estimates

 

There is no change in the forecast for the full fiscal year. Both sales and operating income are expected to increase 20.0% and 24.6% year-on-year, respectively.

Sales will be 2,486 million yen, up 20.0% year-on-year. Led by "Ekimemo!", sales from the Social Apps Service will be 1,681 million yen, up 33.6% year-on-year. The Company will improve the functions of "Ekimemo!" to raise the players' loyalty and intensify its promotion. The Contents Service is also expected to have healthy growth thanks to the increase of platforms.

As for income, the Company will increase investment and promotion costs for "Ekimemo!" as described above. But it will control the other costs to achieve the forecasts.

The year-end dividend is estimated to be 16.5 yen/share. Because it implemented a 2-to-1 stock split in July 2017, the dividend will be equivalent to 33 yen/share, an actual increase of 6 yen/share (it was 27 yen/share in the previous FY).

 

 

(2) Activities for the second half

For the Social Apps Service, the Company will improve the functions of "Ekimemo!" to raise the users' loyalty and significantly intensify the promotion to increase users. Improvement of functions includes a large-scale update on "Ekimemo!" by adding strategy elements as well as a main story in which some characters appear with full voices. Promotion includes spin-off activities such as spin-off serial cartoon and 3rd anniversary café. On the other hand, for "Eki Dash Series" and "Rekishi to Connect", the Company will ensure to distribute resources in accordance with profit. The development of new products is also under way.

Meanwhile, for the Contents Service, the Company began distribution of "StaMelo: Stamps and Melodies Torihodai" through "au Smart Pass" (KDDI Corporation) in July 2017. This has contributed to revenue growth in the first half of the FY. The Company is planning to make it the main pillar of the Contents Service.

 

Collaborative event between Nara Prefecture's "Kiki/Man'yo Project" and "Ekimemo!" (June 29, 2017 to November 6, 2017)

This is a collaborative event between Nara Prefecture and "Ekimemo!", offering a digital stamp rally in which participants visit various sightseeing spots in Nara Prefecture. Nara Prefecture, where "Kojiki" and "Nihon Shoki" were written and many Man'yo poems were created, is promoting the "Kiki/Man'yo Project" with a concept of using historic materials such as Kiki and Man'yoshu to help people rediscover the fascination of Nara. In this event, participants visit locations associated with Kiki and Man'yo through the collaboration between "Kiki/Man'yo Project" and "Ekimemo!". They can obtain items of the game, once they register their locations in the target stations or spots within Nara Prefecture and complete missions. A limited version of special stories is also released, and the participants who use the target facilities within the event period will receive Ekimemo! original goods or Kiki/Man'yo special goods.

 

Tie-up campaign between the movie "Fireworks, should we see it from the side or the bottom?" and "Ekimemo!" (July 10, 2017 to September 30, 2017)

This is a tie-up campaign between "Ekimemo!" and the movie "Fireworks, should we see it from the side or the bottom?" which will be released on August 18 (Original: Shunji Iwai, Production: Shaft, Distributed by Toho). During the event period, participants can collect limited-lines of wallpapers or items of the game, once they register their locations at the designated stations that are nearest from various fireworks events across Japan. The Company will also make a draw from the participants who completed the missions. The winner will receive the movie's official goods.

 

 
Interview with President Miyajima
 

We visited the Company's head office, near Gotanda Station, to interview President Yuji Miyajima and learn the special features of the Company to share the information on the first edition of the Bridge Report "Mobile Factory"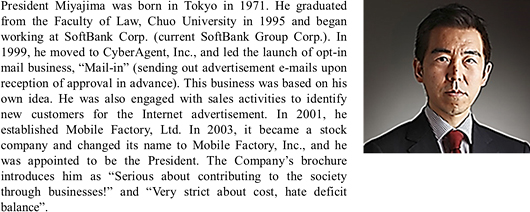 After graduating from the university and working at SoftBank and CyberAgent, he founded a company.
First of all, we would like to ask you about the background of founding your company. You started a business after working at tough companies such as SoftBank and CyberAgent. Do you think the experiences at these companies have been useful for you to grow your company to be a public-listed company on the First Section of the Tokyo Stock Exchange?

 

What I leaned at Softbank is "to sweat on your brain". It was my second year at SoftBank. Mr. (Katsuya) Kawashima, who was working at Nomura Securities earlier (current Co-Chief Operating Officer and Senior Executive Vice President of SBI Holdings, Inc.) became my immediate supervisor, and he was my mentor. What he taught me is "to sweat on your brain".

As a sales person, I visited my clients, and my sales performance was already within top 3 in the first year. Because it was root sales, the frequency of visiting clients was very important. Sales performance was determined by the amount of sweat by visiting clients. The more frequently I visited my clients, the more I received orders. Therefore, my results were good. I had a very hungry spirit. I would visit my clients 5 times, while the others visit twice.

However, during my second year, when Mr. Kawashima became my supervisor, he opened my eyes. "You are missing an important point of making efforts", he said. "With your current working style, if the next sales person who takes over your work does not work as hard as you, the sales will drop." "That is not a true work. The true work is to establish a system where the next person who takes over your work can achieve the sales 10 times more than what you are making now." "That is the true work."

 

To the second-year employee? I remember that SoftBank was growing in the fields of computer software distribution and computer related books at that time and had a top market share in Japan in both fields.

 

His words made sense to me. I was in charge of a major OA equipment trading company and a major office equipment manufacturer. After I established a system, sales increased almost 10-fold, as Mr. Kawashima said. No matter how much efforts I made, I would not be able to achieve 10-fold sales increase without the system. The system has reproducibility. I realized that is the true work. It was hammered into my head. Even if a superstar staff member demonstrates an excellent performance, if the performance suddenly drops after the person resigns, it is not good for the company. We should not rely on individual skills. Instead, we should win by a system. It will lead to continuous winning. Since then, I always try to run businesses based on this philosophy. That is why, in the turbulent game industry, Mobile Factory always maintains black in figure (black in figure from the second year after it was established). Although the sales scale is not necessarily large, the profit level is high in proportion to the sales scale, because we operate the company based on the philosophy of "winning through the system".

 

I see. Your company's 2 pillars are the Social Apps Service and Contents Service. It seems that the Contents Service is in the shadow of the Social Apps Service. I suspect that the Contents Service has relatively high profitability, because it is a withered service in a good sense and there are not many competitors. It is a good example of a pattern of "winning through the system".

 

The sales from the Contents Service, which we had been offering from the feature phone times, are still 800 million yen for the entire fiscal year. Because the Contents Service can be calculated using data, we are making an investment based on ROIC, etc. to ensure that profit is made. We are gaining profit of the remaining players.

 

After Softbank, you moved to CyberAgent. We heard that, at CyberAgent, you launched an opt-in e-mail system "MAIL-in" and also experienced various tasks such as media sales and management of media spot.

 

For the opt-in e-mail system, I read books and articles written in the USA as references. I sort of followed Mr. (Masayoshi) Son's time machine management style. Not only the opt-in e-mail system, but many latest Internet business models were introduced in the USA. I studied them. The opt-in e-mail business was the best match with my idea, and I saw a growth opportunity in it. Because of merger, the company's name changed, but Ergo-brains (current United, Inc.) began around that time. Their service started slightly earlier than CyberAgent.

At CyberAgent, I learned about the Internet industry and Internet advertisement business in general. The early stage of Mobile Factory was, in a way, built on the network and knowledge that I gained at CyberAgent. Among the listed companies, I owe a lot to Mr. Usami of VOYAGE GROUP (Shinsuke Usami, President & CEO of VOYAGE GROUP) and others. Thanks to their partnerships at an early stage, we could build our revenue base. Having business partnerships was necessary for us, because our main business was OEM supply (distribution of the partners' brands) of ringtones at that time. For example, we distributed ringtones using the brands of MyID (former VOYAGE GROUP), CA Mobile (a subsidiary of CyberAgent), and Ateam (Ateam, Inc.). We still distribute the ringtones through them. It is based on the network I built at CyberAgent.

Mr. Kawashima hammered the "Ways to think work" into my head, and I gained "network", "knowledge" and "experiences" to survive the Internet industry at CyberAgent. "Ways to think work" is to use your brain. Because of differences in ability in "people", the business performance may fluctuate if we rely on people. However, once a system including computerization is built, a consistent performance is achievable. "Human connections" is the largest gain for me from CyberAgent.

 
Establishment of Mobile Factory, making a bet for the growth of the Mobile market
You established Mobile Factory, Ltd. in October 2001, on the foundation of invaluable experience at SoftBank and CyberAgent.

 

When I launched the mobile opt-in e-mail business at CyberAgent, the Yahoo stock became 100 million yen/share and made a sensation. At that time, it was difficult to compete in the field of computer without capital because it was a portal-site era and major portal sites such as Yahoo and Excite already existed. On the other hand, in the mobile phone field, spread of "iMode" just began, and ringtones were gradually getting attention. Because it was an early stage of mobile phones, their screens were low-quality compared with computers. But users were satisfied with mobile phones. In a sense, it was a small Internet, although there were not so many people who were using mobile phones thinking that way. I thought I could compete in the mobile phone field even if my financial resources were limited. This is why I chose mobile phone business.
I wanted to create a company that would produce many services for mobile phones like a factory. There is a future for mobile phones. With this in mind, I named my company, Mobile Factory. As I thought, there was a future in the mobile phone industry. Thinking back now, there were about 45 million mobile terminals that were connected to "iMode", making NTT DOCOMO the largest wireless Internet service provider in the world at that time.

 

But the time you founded the company overlapped with the time of IT bubble burst. Did you not struggle to put your business on track?

 

Yes, the Japanese economy then was bad. Stock prices were horrible, too. It was not a smooth start for us. Our own funds were only 12 million yen. We launched a limited company with 3 million yen. Our office was located in an abandoned school building that had been converted into a rental office space by Arakawa Ward Office. The rent was 10,000 yen per month. We began our mobile business after system development, which was outsourced.

However, we could not sell our product at all. At CyberAgent, I had been selling advertisement of 10 million yen a month. So I was confident. But I could not sell even 100,000 yen of our products. It was only then that I realized that I had been able to sell ad spots simply because I was an employee of a brand company called CyberAgent and selling well-known ad spots such as Yahoo! and goo. I could not sell even 100,000 yen of Yuji Miyajima products. It put a dent in my pride as the top-notch salesperson at SoftBank, too.

 

It is amazing that your company survived.

 

It was the distribution system of ringtones that saved us. At that time, we were also selling a system to download ringtones. We sold cards that had ID number and our website's URL (ringtone melody cards, "Melo Pre"). People who purchased the cards could access the website and download ringtones by entering the ID number on the card. As a ringtone website, it had a lot of music. Our product was the ringtone card with ID number. At that time, there were many cases where downloading a ringtone was used as an incentive. For example, a ringtone was given as a reward for answering a survey or a ringtone was a gift to the customers at mobile phone shops. There was a strong demand for ringtones as an incentive for an action related to mobile phones. I guess it is like current Amazon gift cards.

Itochu Corporation was selling a similar service at a price 10 times higher (price per card) than us, but their service was sold more. You understand, right? My company was a limited company and there was only one employee. To avoid system failures, buyers would choose Itochu, even if their service was more expensive. It makes them feel safer. No one wanted to buy my company's service.

 

After experiencing tough time, your company reached the current status. Did anything trigger a giant leap?

 

A breakthrough was the Premium Incentive Show ("Tokyo International Premium Incentive Show" hosted by Business Guide-Sha, Inc."). It is a trade fair for prizes campaign, premium products, novelty products for PR, other sales promotion gifts, etc. There was a contest during the Show to choose the best product by votes. Our company's product (ringtone distribution system) received the semi-grand prize. It was a very happy incident that the product was recognized by many. The semi-grand prize helped us receive an order from NTT DOCOMO Marunouchi branch. At that time, NTT DOCOMO was giving away various free gifts to customers. NTT DOCOMO bought our ringtone cards as part of the gifts. It was a major order that was worth millions of yen. I believe we sold 70,000 to 80,000 cards at a price of 30 to 50 yen per card. NTT DOCOMO could recover the cost from the packet communication charges to download ringtones. JEANS MATE also bought our product.

 

Receiving the semi-grand prize pulled you back from the brink of disaster.

 

Without the semi-grand price at the Premium Incentive Show, my company went under, because sales were dismal until then. I managed to make appointments with potential clients, but they never bought my products. When I look back, I am really grateful for NTT DOCOMO and JEANS MATE to have taken a risk of using my product, though they might not have particularly thought that they were taking a risk... For them, 3 million yen to purchase a product might be trivial as sales promotion costs. However, thanks to this sales performance, our sales rapidly increased. Before this incidence, I thought "I could sell because of my sales capacity", but, in reality, I could not sell any. After this incidence, however, when I explained to my potential customers that my products were used by NTT DOCOMO and JEANS MATE, the products were sold surprisingly well. Especially they were sold well among the other branches of NTT DOCOMO. The good reputation at the Marunouchi branch spread through DOCOMO shops across the country by word of mouth, and we received orders one after another. The largest order was several tens of millions of yen (hundreds of thousands of cards) from NTT DOCOMO Kyushu. With a surprising amount of orders, the company quickly turned to black figures. I believe that the surplus was about 20 million yen. In the first year, it was about 10 million yen of deficit. I could not receive my salary for about 13 months. In the second year, however, the business got on the track. We continued to use the 10,000 yen-rental-office for 2 years until its limit. I am very severe with expenses. My parents failed with their business (management of a beauty salon) and my mother died with debt. From their experience, I knew the distress of having deficit and failing to return debt. So I tried to keep the cost down as much as possible.

The winning of the award is a fond memory. Even today, I still remember how ecstatic I was. The other venders' booths were shiny and polished, while ours was made from scratch by ourselves. It was around the 9th months since the founding of the company, and I had only 0.45 million yen of funds left. We could only last 4 more months or so, and we spent 0.3 million yen for the exhibit. It was the largest decision in the midst of the shortage of funds.

 
Expansion of business fields through OEM business of mobile contents
After having a narrow escape with the ringtone distribution system, it looks like your company steadily established the system to operate as a company. You could benefit from the expansion of the mobile phone market, as you anticipated in the beginning, through contents development and expansion of OEM business partners using network. After that, your company began to offer the Social Apps Service and is continuing to expand businesses together with the Contents Service. The Social Apps Service is a driving force of the growth with your company's unique field of location-based games. Meanwhile, the Contents Service, as you mentioned earlier, supports the business performance as a plain but stable source of income.

 

Yes, the Contents Service is now a stable source of income. It was not my intention to gain profit of the remaining players in the beginning, though. There are many companies that have left the ringtone business. But the demand is surely there. It does not require much marketing cost. The volatility of the game business is high. But our company can generate stable profit thanks to the revenue base from the Contents Service.

 

For the Social Apps Service, your location-based games are long-run hits. Do you think activities like promotion and campaigns are producing good results?

 

Our activities are leading us to results to some extent. But our achievement is mostly due to characteristics of location-based games. Players can enjoy location-based games for a long time, compared with role-playing games or puzzle games. This is because of a logbook function. Players can keep logs of their locations in the game. In other words, the location-based games are something between tools (traveling) and game. Therefore, it is a type of game that players can enjoy for a long period of time by its nature. Location-based games, however, are difficult to monetize. There were companies that were dealing with location-based games, other than us, but I guess not many of them could gain profit from them. Among the location-based games, Pokémon GO is overwhelmingly strong. Other location-based games that are producing profit may only be Colopl's platforms.

 

You are saying, "It is difficult to monetize". What is the image of location-based games in comparison with the other games?

 

Normally, paying ratio (ratio of paying users to active users) is about 3%. The amount that paying users spend is very high. It is a heavy charging for the users. On the other hand, for our games, although the daily average revenue per user is small, paying ratio is much higher than the other companies' games. High continuation rate is another characteristic of our games. Users of most of the games quit within 3 months. Only around 10% or less usually remain at 3 months. I believe, for most of the games, active user rate drops to 5 to 10% within 1 month. Our company's games have much higher continuation rates.

 

 

I see. I have countless more questions, but the time is up. Thank you so much for your polite and detailed responses. We learned your company's strengths as well as part of your experiences and your thoughts which form the foundation for your business execution. Finally, please give messages to investors, shareholders and users.

 

I have a strong desire to deliver excitement to users through our services. Recently, we incorporated story elements in the games, which is the most highly demanded category to bring fun to users. In the future, we will create contents and services that are useful to the society and provide "additional impression" to users. Currently, we are working hard to develop a new title. I cannot tell you the contents here, but please look forward to it.

Also, on June 2, 2017, we shifted our shares' listing from in the Mothers section of Tokyo Stock Exchange to the First section of Tokyo Stock Exchange. This is thanks to many people like you who support us. I would like to express my sincere appreciation. We will continue striving to expand our scale and enhance our corporate value to respond to your expectations. Your continuous support is highly appreciated.

 

Thank you so much. We would like to wish you and Mobile Factory continued success and development.

 

 
 

New games are released one after another, and the life cycle of a game is becoming shorter. However, the strength of location-based games that the Company excels at is that players can enjoy the games for a long period of time. Furthermore, while the Company has know-how, rivals are limited because charging in this type of games is a challenge. The user base for the Company's games is also different from the market leader "Pokémon GO". In addition, the Company is expected to expand its business associated with support for regional revitalization, which is part of their corporate social responsibility (CSR) activities.
The Company is participating in the "Regional Tourism Promotion Consortium (hereinafter "RTPC")" which was established in March 2016 by H.I.S. Co., Ltd. as a founder. The purpose of RTPC is to provide one-stop solution for digital tourism promotion with a focus on regional revitalization by H.I.S. Co., Ltd. in collaboration with various companies. In October 2015, before the launch of RTPC, the Company concluded a partnership agreement with Iwate Prefecture to provide support for regional activation. The support for regional revitalization will not only contribute to the Company's business expansion but also attract attention as activities creating shared value (CSV), which connects company's success with advancement of the society. This is an example of implementation by the Company on how it is "serious about contributing to the society through businesses!", which was quoted earlier in this report to introduce President Miyajima.
For information, CSV is a business concept that was first introduced in Harvard Business Review in 2011 by Professor Michael E. Porter at Harvard Business School. It is receiving attention as a new movement to establish business values and competitiveness by realizing social values.

The progression rates against the forecasts for the full fiscal year were 47.4% (47.4%, in the same period last year) for sales, 52.1% (49.0%, in the same period last year) for operating income, 51.2% (49.1%, in the same period last year) for ordinary income, and 51.3% (47.9%, in the same period last year) for net income. Considering the fact that the Company's business performance tends to be stronger in the second half of the fiscal year, the profit was much better than the forecasts by absorbing the impact of early amortization of "Rekishi to Connect".

 
<Reference: Regarding Corporate Governance>

 

◎ Corporate Governance Report

Updated on June 5, 2017

Basic policy

The Group companies recognize that establishing the corporate ethics based on legal compliance is the highest priority in order to respond to trust and expectations from the customers, shareholders and entire society and maximize the corporate value. To achieve it, the Company will strengthen risk management and supervision functions and elevate soundness and transparency of the management to contribute to development of the economic society.

 

<Reasons for Non-compliance with the Principles of the Corporate Governance Code (Excerpts)>
Supplementary principle 4-1-2

In the mobile contents industry, to which the Company belongs, progress of technological innovation is rapid, and the service contents are evolving every day. Under this circumstance, publishing a mid-term to long-term business plan may hinder the Company's flexibility to respond to environmental changes, etc. and, as a result, may impede our growth. Therefore, it does not publish the mid-term to long-term business plan.

 

<Disclosure Based on the Principles of the Corporate Governance Code (Excerpts)>
Principle 1-4

The Company may hold shares of other listed companies as strategic shareholdings, if it determines that they will contribute to maintaining or improving their corporate value such as strengthening partnerships. At this point, the Company does not hold any shares of other listed companies.


Principle 1-7

The Company examines if the transactions are rational or not, before it engages in transaction with related parties. Furthermore, with a focus on the appropriateness of the transaction conditions compared with the other transactions, the Company makes it a requirement to obtain an approval for the transaction at a Board of Directors meeting.

 

Disclaimer

This report is intended solely for information purposes, and is not intended as a solicitation for investment. The information and opinions contained within this report are made by our company based on data made publicly available, and the information within this report comes from sources that we judge to be reliable. However we cannot wholly guarantee the accuracy or completeness of the data. This report is not a guarantee of the accuracy, completeness or validity of said information and opinions, nor do we bear any responsibility for the same. All rights pertaining to this report belong to Investment Bridge Co., Ltd., which may change the contents thereof at any time without prior notice. All investment decisions are the responsibility of the individual and should be made only after proper consideration.

Copyright (C) 2017 Investment Bridge Co., Ltd. All Rights Reserved.