Representative
director
Takahiro Sugawara
| | |
| --- | --- |
| Company | Eltes Co., Ltd. |
| Code No. | 3967 |
| Exchange | TSE Mothers |
| Industry | Information and communications |
| Representative director | Takahiro Sugawara |
| Address | Kasumigaseki Building 6F, 3-2-5 Kasumigaseki, Chiyoda-ku,Tokyo |
| Year-end | February |
| URL | |
Share Price
Number of shares issued
(excluding treasury shares)
Total market cap
ROE (Actual)
Trading Unit
¥1,412
5,130,000 shares
¥7,243 million
2.0%
100 shares
DPS (Est.)
Dividend yield (Est.)
EPS (Est.)
PER (Est.)
BPS (Actual)
PBR (Actual)
-
-
¥7.81
180.8 times
¥322.52
4.4 times
*The share price is the closing price on October 18. ROE and BPS are the actual values as of the end of the previous term.
Fiscal Year
Net Sales
Operating
Income
Ordinary
Income
Net
Income
EPS
DPS
Feb. 2015 (Actual)
649

-151

-153

-118

-
0.00
Feb. 2016 (Actual)
960
135
131
88
23.96
0.00
Feb. 2017 (Actual)
1,379
183
170
104
23.13
0.00
Feb. 2018 (Actual)
1,608
71
71
31
6.27
0.00
Feb. 2019 (Forecast)
1,800
100
100
40
7.81
0.00
*The forecasted values are from the Company.
*From the FY 2/18, net income is profit attributable to owners of the parent. Hereinafter the same shall apply.
*1:100 stock split in July 2016; 1:2 stock split in June 2017 (EPS adjusted retroactively).

 

In this bridge report, we will provide a company profile of Eltes Co., Ltd, along with its financial results for the first half of term ending Feb. 2019, the forecast for the term ending Feb. 2019, and the interview with president Sugawara.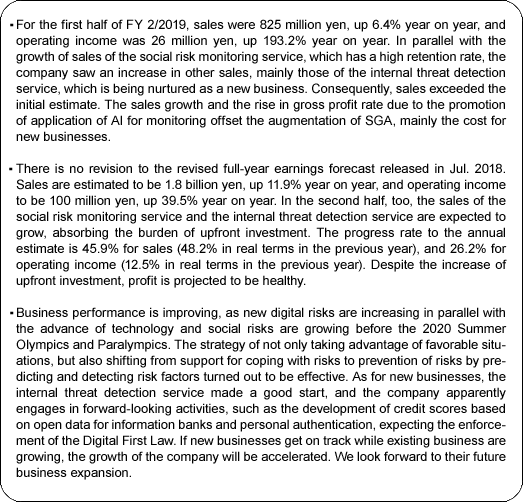 The corporate ethos of Eltes is "to create a social infrastructure that manages risk." While technology is advancing as social media have been distributed and digital devices have evolved, convenience has improved, but a variety of risks are emerging. The company aims to create reliable, safe social infrastructure so that enterprises and society can utilize technology in a healthy manner by preventing risks with the company's big data analysis technology and consultation service specializing in risk detection. Under this corporate ethos, Eltes operates the social risk business, in which the company detects risk factors early with a system in operation 24 hours a day, 365 days a year and offers consultation services for initial response to a crisis and reputation enhancement. On the other hand, it is nurturing risk intelligence businesses, including internal threat detection, prevention of financial crimes, safety management for events, and digital credit investigation. Eltes offers services to over 400 client companies, mainly leading ones, and has signed contracts for over 600 brands. Its group companies include two consolidated subsidiaries: Eltes Security Intelligence Co., Ltd., which collects and analyzes risk information, and Eltes Capital Co., Ltd., which invests in venture firms in the digital analysis field. The company calls risks emerging as adverse effects of technological advancement "digital risks," and, among them, risks arising out of social media, including SNS, "social risks."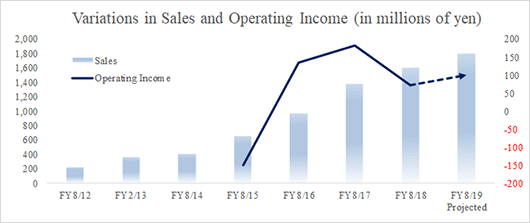 【Business contents】
The business of Eltes can be roughly classified into the social risk business and new businesses under development. The new businesses include an internal threat detection service for detecting the leakage of information, in-company misconduct, etc., measures for preventing financial crimes by discovering unauthorized access, remittance, etc. with its personal authentication technology, an event safety service for predicting sabotage at large-scale events by gathering and analyzing publicly available information and using them for security plans, and the credit score service for investigating digital credits. As new technologies are developed, the company launches new risk control services.
Social risk business
Eltes offers two services: "social risk monitoring" and "social risk consulting." In social risk monitoring, AI and specialized analysts monitor and analyze the postings in social media, including SNS, such as Twitter and online bulletin boards 24 hours a day, 365 days a year, and if there is a sign of any risk, they immediately notify clients and give advice about how to cope with it, to support the clients' risk management. The company offers this service based on an annual contract for "the initial fee plus a monthly fee." Clients adopt this service for preventing risks, so their contract period tends to be long. Accordingly, this business earns recurring revenue from accumulated contracts (the company also offers temporary contracts for coping with emergencies, including the outbreak of a crisis, which produce high gross profit). In social risk consulting, the company supports the initial response to a crisis and the subsequent recovery of reputation.
Other services (the internal threat detection service, measures against financial crimes, the event safety service, digital credit investigation, and investment in venture firms)
Eltes offers the internal threat detection service, in which the company collects PC log data and detects a sign of information leakage or the like, the service of preventing financial crimes, in which the company discovers unauthorized use, remittance, etc. by utilizing "VizKey," the big data visualization technology of Real Systems (Estonia), the event safety service, in which the company detects a sign of sabotage or the like for a large-scale event by utilizing OSINT*note and investigating credits, a service of checking credits based on information in social media and digital credits for eliminating antisocial forces, and invests in venture firms in the digital analysis field. In the internal threat detection service, the original AI-based behavior analysis system and specialized analysts discover potential risks from "people" by checking the access to file servers, the history of browsing websites, email records, and other in-company log data. With the approach of predicting and avoiding potential internal misconduct risks in advance, Eltes supports the development of advanced risk management systems. As for the service of preventing financial crimes, the misconduct detection tool of Eltes has been adopted by Seven Bank. As for the event safety service, the company monitored risks, such as terrorism threats in the Internet, at the Ise-Shima Summit in May 2016. *Note: OSINT It stands for "Open Source INTelligence." A professional field of gleaning confidential information by collecting and analyzing open sources (publicly available information).
Developing an application using Cybernetica's personal identification technology "SplitKey"
Cybernetica is based in Estonia, a country with developed ICT and an advanced e-Government that incorporated a national ID system early on, after which Japan's Social Security and Tax Number system was modeled. Cybernetica is an ICT company that has made great achievements in e-Government projects, such as developing electronic voting software, and establishing the e-Government's base system "X-Road," a security system linked with government agency databases. The company formed a business tie-up with Cybernetica in March 2017, and started developing an app (a unified personal authentication system in EC services) based on "SplitKey" in January 2018. Strong security is essential for services such as internet banking and internet trade, but when using multiple services, it becomes more difficult to manage IDs and passwords. This application relieves the user of this burden and serves as a platform to connect one user with multiple online services. It can also detect cases of identity theft by applying big data analyzed by AI to logs gathered through the application. In addition to developing its own unique solutions, the company plans to adopt the application to be used in Social Security and Tax Number authentication and anticipates the widespread use of this safe and secure a personal identification system.
Main clients
Shiseido, NTT Docomo, Marubeni, Isetan Mitsukoshi Holdings, Mazda, Isuzu, ANA, JAL, Konica Minolta, Seven-Eleven Bank, Persol, Asahi, Daiichi Sankyo Healthcare, Suntory, Itoen, Tokyu Real Estate Holdings, etc. (in no particular order).
First half of Fiscal Year February 2019 Earnings Results

Sales grew 6.4% year on year, and operating income was 26 million yen, up 193.2% year on year.
Sales were 825 million yen, up 6.4% year on year. The sales of social risk monitoring, which has a high retention rate, were 437 million yen, accounting for over 50% of total sales, and others sales, mainly those of the internal threat detection service, were 63 million yen, exceeding those in the previous term (55 million yen). On the other hand, the sales of social risk consulting were 325 million yen, as more clients shifted from the measure of coping with a crisis after its outbreak to social risk monitoring for preventing risks, but this is within the assumed range. Consolidated sales exceeded the initial estimate. As for profits, gross profit rate rose 5.4 points to 63.6%, thanks to sales growth and the increase in the AI coverage ratio in risk monitoring (from "manpower" to "AI"). Operating income expanded from 8 million yen to 26 million yen, as the augmentation of SGA due to the investment in human resources and new businesses was absorbed. One of the reasons why the result fell below the estimate is the increase in cost for tests and research as R&D activities progressed. A net loss was posted, because a loss on valuation of investment securities of about 20 million yen was posted in extraordinary loss and tax expenses grew (corporate income tax, etc.: from 9 million yen to 27 million yen). The loss on valuation of investment securities is attributable to the investment in venture firms, and the company dealt with it with reference to various accounting standards.

(2) Investment situation
This time, appraisal loss related to investment in venture firms was posted, but the objective of the investment is not merely to pursue capital gain, but to exert business synergy, adopt new technologies, acquire know-how, and so on. Accordingly, the company invests in (1) enterprises that possess products or solutions for which Eltes could form a tie-up, (2) enterprises that could expand services, and (3) enterprises that have knowledge in the fields unfamiliar to Eltes and could contribute to the development of services for the Eltes group as the basic investment policy. At present, the company invests in enterprises in the big data and blockchain fields, such as enterprises that can analyze in-company chats, marketing automation-related enterprises, fintech-related enterprises, crypto currency-related enterprises, blockchain-related firms, securities/settlement system-related enterprises, accelerator-related funds, tech funds, content funds, etc.

The total assets as of the end of the first half were 1,860 million yen, up 58 million yen from the end of the previous term. Cash and deposits account for 66.8% of total assets (68.2% as of the end of the previous term). Equity ratio was 86.5% (89.1% as of the end of the previous term).

Operating CF increased year on year from negative 70 million yen to positive 64 million yen, due to the improvement in fund efficiency after the collection of accounts receivable, the decrease in the payment amount of corporate income tax, etc. Due to the investment in venture firms, the decline in the collected security deposit amount, etc., investing CF became negative 97 million yen, but the company coped with it by increasing long-term debts and issuing shares by exercising share acquisition rights. The increase of debts indicates the good relationships with financial institutions, which introduce an increasing number of projects to the company.
Fiscal Year February 2019 Earnings Estimates

There is no revision to the full-year forecast. Sales and operating income are estimated to grow 11.9% and 39.5%, respectively, year on year.
Sales are projected to be 1.8 billion yen, up 11.9% year on year. The sales of existing businesses are estimated to grow, thanks to the effects of accumulated contracts for the social monitoring service and the increase of clients through the enhancement of proposal-based marketing targeted at potential clients. The sales of new businesses, including the internal threat detection service, are forecasted to grow, due to the increase in demand for the prevention of information leakage and workstyle security. Operating income is forecasted to be 100 million yen, up 39.5% year on year. Although costs will augment due to the upfront investment in the above mentioned new businesses, the increase of sales staff in the social risk business, the enrichment of training for improving quality, the fortification of in-company security systems, etc., the company will offset it by sales growth and the improvement in profitability of the risk monitoring service through the increase in ratio of AI. On Oct. 15, Sumitomo Mitsui Trust Bank, Limited acquired 3.24% of outstanding shares of Eltes via off-market trading, and became the third largest shareholder. From now on, Eltes will offer technologies and services to the bank, and cooperate in achieving innovations for advancing services related to the collection and utilization of digital data and trust, and enhancing convenience, and so on.
Interview with President Sugawara
The company is operating management of digital risk of client companies by making full use of big data analysis technologies specialized in risk detection. But what is big data analysis technology specialized in risk detection? How will this technology be utilized in the future? There are many things we do not understand well. Therefore, we visited the company's head office in Kasumigaseki and interviewed President Sugawara.

Mr. Sugawara established Eltes, Co., Ltd. in 2004, while studying at the University of Tokyo, Faculty of Economics. The company has been carrying out digital risk countermeasure projects focusing on issues arisen from every reaction to a new technology such as an Internet bulletin board, a blog and SNS. After getting listed on the Tokyo Stock Exchange Mothers in November 2016, it is also expanding its business in the risk intelligence field by establishing a strategic subsidiary specialized in social risks such as terrorism and crime. The company is expanding its business domain in the field where it has strengths.
【Aiming to Become the Chief Digital Risk Officer of the Japanese Society】
Your company's sales are growing steadily, centered on social risk monitoring.
President Sugawara: This is due to the fact that more clients are working on risk prevention. For a while, our business was focusing on social risk consulting, which was responsive to the risks that surfaced after a crisis occurred. However, as clients using the preventive service of our company increase, our social risk monitoring business is growing. This is like an increasing number of clients take care of their teeth on a daily basis to prevent a cavity, instead of going to a dentist after developing a cavity. For the current term (FY 2/2019), the sales from the social risk monitoring business are expected to exceed the sales from the social risk consulting business.

In addition to taking countermeasures at the time of occurrence of risks, you are moving one step forward and putting efforts into prevention. It seems that the fact that your company's recognition is increasing is also on the background. How are you pioneering clients? Also, how many clients do you have?
President Sugawara: Basically, we ask potential clients to participate in seminars, etc. and approach them after the seminars. These days, we are also receiving an increasing number of referrals from Dentsu Co., Ltd. (ownership ratio 2.46%, the fourth largest shareholder as of the end of February 2018), which is our capital alliance partner, NTT Com Online Marketing Solutions Co., Ltd., and SOMPO Holdings Co., Ltd. In August, Mitsui Sumitomo Trust and Banking Co., Ltd. became our third largest shareholder. We will carry out business cooperation to realize innovations including integration and utilization of digital data, advancement of services in the trust-related services and the improvement of convenience through provision of technologies and services. Currently there are about 400 business partners, but contracts are established by brand, so the actual number of contracts is about 600. Initially, our main clients were from the food and eating out industries, but the clients from the financial industry are increasing to perform countermeasures against unauthorized remittance and information leakage. We can say that our customers are expanding from B2C companies to B2B companies. We charge 400,000 yen per month per company. When the internal threat detection service is added, the monthly fee becomes about 1 million yen per company. If a company has 2 brands, the fee is 2 million yen per company.
You are saying that the existing partners who have excellent clients are playing a role in performing sales activities. You have more sales capability than the seeming manpower. From technical perspective, we heard that your company's strengths are "data analysis technology and consulting specialized in risk detection."
President Sugawara: Digitization is progressing rapidly. In the past, corporate risk management was a job of people who were familiar with laws, but it is becoming increasingly difficult to undertake appropriate risk management without understanding digital and technology. In our case, our strengths are to have a lot of data, knowledge and skills on risk analysis, including data that customers have, by entering the field of digital risk early. General data, especially social media, are an open source, so you can collect as much as you want. However, they are useless unless you know what kind of data are at risk for customers. Our strength is the accumulation of teaching data that are the accumulation of data that will become risks to customers. The risk field and risk analysis have good compatibility with AI, and I think that AI should be utilized in these fields. But if you do not have many customers, the teaching data, meaning risk examples, will be limited, and AI cannot be used. AI can identify a sign of risk by cross-checking a lot of data gathered from social media, etc. with answers of the teaching data (risk cases). However, for that, AI needs to learn a lot of teaching data. Since we have many customers, we are gathering and accumulating a lot of data. That is why we can make full use of AI's capabilities.
I see. Now we understand what you mean by "We have a lot of data as well as knowledge and skills on risk analysis."
President Sugawara: This is a story when I talked with an audit corporation. There are about 3,000 listed companies, but there are only about 100 cases of dressed data, etc. in 10 years. I mentioned earlier that "Risk analysis is a field with good compatibility with AI, and AI should be utilized." But it is actually very difficult to use AI to identify risks of accounting fraud with only 100 cases of data. Because we have been providing services since 2007, we have a lot of data of risk cases. That is why we could quickly introduce AI in our work, when AI started to popularize. So, many customers tell us they have a lot of data, but they do not know what to do with them. Because they do not have a lot of incidence data, namely data of risk cases, they do not know what to do. For example, a bank has a lot of data from security cameras, but it does not have the data of "bank transfer scam," so they cannot use the data of security cameras. By combining the data on behavior patterns of bank transfer scam, we can make use of the data of security cameras. Our strength is the fact that we have plenty of data such as what kind of words become risks when they are written in SNS. In other words, we can cross-check the answers. Without that ability, it is not possible to judge which is bad or not bad.
Since you explained without using difficult words, we understand what you mean by "big data analysis technology specialized in risk detection" and your advantage little by little. We wonder, though, if other companies will catch up in the future.
President Sugawara: I think there is a possibility. Since more data gather where AI has been first assembled, I think that our superiority of outpacing the other companies will not change. I believe that there are not many companies that provide risk management services using technologies like AI. In order not to overlook the signs of risk, it is necessary to match a huge number of answers, and AI is the best technology for it. The world of AI suits big data very much. In order to make full use of AI, we must be strong in terms of technology. Our subsidiary is engaged in the detection of risk information such as terrorism and crime, but, for example, we have to stop intrusion of even just one terrorist. Not just terrorism. Cyber-attack is the same. It is necessary to check all data because a sample inspection is not enough. With AI, we can process all data accurately in a short time. So, even companies in the risk-management industry with proven track records will have a tough time, if they are weak against technology and data. Incidentally, we were also a venture company. It was not that we originally knew that this kind of world would come, but it opened up as we progressed. We have been redefining our business domains according to the business environment and the trend of the world until now. Each time, I feel the importance of redefining the business. The railroad industry declined for a while in the United States, and I heard that it was because "the industry considered themselves as a railway business operator." If they were able to switch its business concept to the logistics business rather than staying with the railway business, they might have been able to develop continuously. It will be difficult to grow if you limit your own definition by yourself.
【Future development】
How is your company going to grow using the strengths?
President Sugawara: Since we have been expanding our business domains in response to the digital risks associated with evolution of new technologies, our trend is sort of reactions to technology development. Our business started with providing countermeasures against the risks arising from reactions developed by search engines like Google, and developed to include social media countermeasures, and, recently, it encompasses sharing economies, crypto currency exchange business and so on. Also, as digitization progresses in the world, risk management also progresses digitally, and it is getting harder to detect risks without using technologies. Initially we began communications with our clients through Public Relations Department that manages corporate reputation, but we expanded our communication channels to the Information Systems Department, etc., focusing on digitization, and we are doing well. From now on, new technologies will be born and new digital risks will be born. Hence, new growth opportunities will be born.
As new technologies are born and digital data also increase, new growth opportunities will be generated. You are saying that your company will capture those opportunities as you have been successful. You also explain that your company aims to solve new social issues derived from digital risk.
President Sugawara: As for solving social issues, there is a debate on what are social issues in the first place. Since we are bringing an identity authentication technology that can be applied to e-Government from the Republic of Estonia, we would like to tackle social issues using this technology. In the next National Assembly, the "Digital First Bill" which unifies the administrative procedures of companies and individuals into electronic applications in principle is scheduled to be deliberated. Once the bill is established and enforced, identification will be done on the Internet, and people will be able to change addresses and establish corporations using smart phones and PCs. It is said that we will not need to attach documents such as residence certificate for identity verification. The trend is that "government will also be digitized." Although it is different from e-Government, there are some government agencies that are aggressively incorporating digitization in the use of information on the Internet, etc. in order to increase effectiveness and efficiency. For example, when the Labor Standards Inspection Office cracks down companies with terrible working conditions, it is more efficient to look them up on the Internet in advance. Also, at the consumer agency where I once lectured, the use of the Internet is becoming a common practice. For this reason, we have an increasing number of government projects. They are also ministries and agencies that collect and provide open data as part of countermeasures against terrorism.
There is a possibility of e-Government-related business in the future, but currently, by using the strengths in the social risk field, your company is already having increasing transactions with government agencies. As new businesses, your company is also working on developing services such as internal threat detection, financial crime prevention, event safety, and digital credit research. What is the status?
President Sugawara: Internal threat detection is a service that can respond to various needs including information leakage, internal fraud, hidden excess overtime and mental health by analyzing internal data such as log data. Acquisition of clients, such as manufacturers with advanced technical information, is going well. Data to be analyzed are also being expanded. Internal fraud, etc. are likely to cause Internet Flaming, so in many cases, countermeasures against internal fraud and Internet Flaming are introduced in a set. However, in order to provide this service, it is necessary for the data to be managed within the company. Small and medium enterprises often do not have the data, but if they use IT asset management tools etc., we can work on partnership with venders of these tools, because they manage the data. So, our business is bearing fruits.
Your company explains sales by breaking them down into Social risk consulting, Social risk monitoring, and Others. The steady rise in internal threat detection is reflected in sales of Others. How about financial crime countermeasures?
President Sugawara:Some financial institutions are taking financial crime countermeasures based on identity authentication technology. It is a type of service that will not grow greatly in itself because it is a highly specialized service for specific businesses, but it will become a gateway to other business transactions. This technology can also be applied to e-Government as well. We brought it from Estonia as I mentioned earlier. Basically, e-Government is centered on distributed database and identity authentication. Even in the event of a financial crime, if the identity authentication data are as firm as in Estonia, you can quickly identify criminals by using this technology. Because there are various patterns for detection, we can specify the criminals using this technology, even if there is no identify authentication in place like in Japan. For example, you can specify cases that control multiple names from one IP (terminal such as a personal computer). If one person logs in with multiple names, it is doubtful, isn't it? It is a tool that can detect it. There are many other ways to use it.
The development of identity authentication technology must be very competitive, but your company's authentication technology introduced from Estonia already has a track record at the government level. This must be your company's strength. While it is being used, it will also evolve further. Since it already has pipes with government offices, we would like to expect further business development related to e-Government. How about event safety and digital credit survey?
President Sugawara: For event safety that uses facial authentication technology, etc., we are working on early commercialization while taking advantage of alliances with other companies. Digital credit investigation to analyze credit information based on open data provides two services, namely, anti-social check and personal evaluation in social media. We are making achievements, as we successfully introduced these services to a logistics company that has a foundation throughout the country. Personal evaluation is an individual credit investigation. In China, credit investigation using social media is progressing. The Alibaba Group is offering a payment method based on a smartphone, called "Alipay," and it has become a routine payment method. Alipay has a credit score function called "sesame credit." In addition to payment history with Alipay, the users need to enter academic qualifications, employment history, asset conditions such as automobiles and houses, and relationships. The scores are open and used for credit examination, etc. The scores are ranging from 350 to 950 points, and if it is over 700 points, it will be easier for loans to pass. As we live in such an era, our company will use our approach to conduct personnel evaluation (credit score) using data on social media and anti-social data.
Your company will provide that scores to the companies, and they will use the scores for business.
President Sugawara: You are right. It is like a business style of J. Score, Co., Ltd. With data analysis by AI, you can decide whether to extend loans, interest rates, or lower or raise the loan limit depending on the data. Japanese companies are lagging behind China and GAFA with such services, but there are many companies that want to find a company like us, combine data and make use of them in financing business. Therefore, the demand is strong. It is a service leading to the Information Bank, which the Ministry of Internal Affairs and Communications is focusing on and is under deliberation.
That is very interesting. As you said the internal threat detection service is growing steadily, the result of the new businesses will gradually appear in the figures from the next term.
President Sugawara: Although this term is an extension of the past, the demand for monitoring will increase, I think that we can expect new businesses next fiscal year. We will also focus on R&D and sales activities, taking into account the Digital First Bill and Information Bank. I think I can tell you more about them later. We are considered as "e-Government brand," but in the present situation, I think that a lot of people are not so sure about it.
It is difficult to explain what kind of things an "e-Government brand" company would do.
President Sugawara: For example, once the Digital First Bill is enacted, basically papers will be gone. We will not need a residence certificate or a certificate of seal. It will sweep the paper out of the government office, as it considers digital tools as major tools and paper as a supporting tool. The key is My Number, so in order for the e-Government to function, My Number should be widely used. But currently, it is not popular, hence it is not a good business. For this reason, we will use the identity authentication technology from Estonia to develop a service for "identity authentication based on company's ID as a key." Because it is connectable with My Number, it will be linked with My Number in the future.
I see. The key to establish an e-Government is My Number, and safe and secure identity authentication is essential to fully utilize My Number. You are saying that in preparation for the age of e-Government in the near future, you are working on identity authentication corresponding to corporate ID, etc. and polishing the technology. Moreover, your company's identity authentication technology is actually used in the e-Government of Estonia. It is the only technology with actual experience, and that is the strength.
President Sugawara: You are right. There are many overseas IT companies in Estonia and software development is very popular there. It is also the country where the headquarters of NATO's cyber defense center is placed. Electronic voting has already been introduced because of this authentication technology. With the establishment of the Digital First Law, Japan will also experience digitization and move forward towards the realization of e-Government. So please look forward to it. Of course, even though the bill passes, it will not be immediately reflected in our business performance. However, accumulating data, having a lot of data, and accumulating knowledge and skills in advance will become our strength. Even in risk management arising from sharing economy and crypto currency, the results will gradually become apparent.
Since Estonia was once at the mercy of Russia, German, etc. and is still being exposed to the threat of Russia, their technology must have been polished. It seems that government offices are paying attention to your company as to the risk data that are the key points together with technology. Because there is currently no e-Government, we cannot immediately understand even if your company works in the field of e-Government. However, based on your talk, we have an impression that your company is filling the outer moats in order to realize e-Government related business.
President Sugawara: With the current situation, it may be difficult for the investors to imagine specifically what the "e-Government related" business means. The investors may be feeling that "I would like you to explain specifically how your business is profitable." From now on, we should be able to speak more specifically little by little including numerical aspects, and I feel that we also need to devise ways of explaining our businesses.
【Message to Shareholders and Investors】
You are saying that "We recognize the importance of showing the results." We are looking forward to future developments. At last, please give a message to shareholders and investors.
President Sugawara: With the penetration of smart devices and the development of SNS, the risks arising from the reactions such as Internet Flaming and damage to corporate values are becoming important management themes. Also, as technology and digitization progresses rapidly, such as cashless, sharing economy, crypto currency, information banks, and e-Government, many risks are also arising. Meanwhile, in preparation for the Tokyo Olympics and Paralympic Games in 2020, it is necessary to make full use of data and technology for social safety management. Our company is working on sustainable growth and maximizing shareholder value, while responding to these social demands. We will always seek out new business domains and pursue pioneering management, while flexibly identifying the world's trend. Therefore, please pay attention to the future of Eltes!
Your company has expanded its business domain in response to the digital risks which were generated every time when a new technology was developed, which means your company is responding to the social needs, and therefore, your business is contributing to CSR. It is also a creative shared value (CSV) that aims at simultaneously solving the problem to be addressed and the solution of social issues. Thank you very much for your detailed explanation over many hours. We wish for the success and development of President Sugawara and Eltes Co., Ltd.
Business performance is improving, as new digital risks are increasing in parallel with the advance of technology and social risks are growing before the 2020 Summer Olympics and Paralympics. The strategy of not only taking advantage of favorable situations, but also shifting from support for coping with risks to prevention of risks by predicting and detecting risk factors turned out to be effective. As for new businesses, the internal threat detection service, which detects not only the leakage of information and in-company misconduct, but also overtime work for contributing to the reform of ways of working, made a good start, and the company is steadily proceeding with activities for credit scores, etc. based on open data for personal authentication and information banks while expecting the enforcement of the Digital First Law. If new businesses get on track while existing business are growing, the growth of the company will be accelerated. In addition, it is expected that the company will not only offer its services, but also cooperate with clients in achieving innovations, as can be seen from the case of collaboration with Sumitomo Mitsui Trust Bank. We would like to see how favorable factors will contribute to business performance.
<Reference: Regarding Corporate Governance>

Basic policy
We believe that by improving the efficiency of management while also enhancing its soundness, transparency, and compliance, corporate value will rise over the long term, enabling us to return profits to many stakeholders, including shareholders. In order to enhance management soundness, transparency, and compliance, we believe it is important to build an organizational structure that can respond swiftly and flexibly to changes in the business environment while also improving corporate governance. We conduct management in an efficient manner based on the views of shareholders, who are also owners of the company.
<Reasons for Non-compliance with the Principles of the Corporate Governance Code (Excerpts)>
We adhere to all of the basic principles.
Disclaimer
This report is intended solely for informational purposes, and is not intended as a solicitation to invest in the shares of this company. The information and opinions contained within this report are based on data made publicly available by the Company, and comes from sources that we judge to be reliable. However we cannot guarantee the accuracy or completeness of the data. This report is not a guarantee of the accuracy, completeness or validity of said information and or opinions, nor do we bear any responsibility for the same. All rights pertaining to this report belong to Investment Bridge Co., Ltd., which may change the contents thereof at any time without prior notice. All investment decisions are the responsibility of the individual and should be made only after proper consideration.
Copyright (C) 2018 Investment Bridge Co., Ltd. All Rights Reserved.