WELLNET CORPORATION (2428)
President
Kazuhiro Miyazawa
| | |
| --- | --- |
| Company | WELLNET CORPORATION |
| Code No. | 2428 |
| Exchange | JASDAQ |
| Industry | Service |
| President | Kazuhiro Miyazawa |
| HQ Address | Uchisaiwaicho 1-1-7, Chiyodaku, Tokyo |
| Year-end | June |
| URL | |
Share Price
Shares Outstanding
Market Cap.
ROE (actual)
Trading Unit
¥1,248
10,038,146 shares
¥12,528 million
9.8%
100 shares
DPS (Est.)
Dividend Yield (Est.)
EPS (Est.)
PER (Est.)
BPS (actual)
PBR (actual)
¥40.00
3.2%
¥79.70
15.7x
¥794.46
1.6x
* Stock price as of the close on August 29, 2013. Number of shares outstanding at the end of the most recent quarter excludes treasury shares.
| | | | | | | |
| --- | --- | --- | --- | --- | --- | --- |
| Fiscal Year | Net Sales | Operating Profit | Current Profit | Net Profit | EPS | Dividend (¥) |
| June 2009 | 3,881 | 593 | 629 | 308 | 3,785.99 | 1,200.00 |
| June 2010 | 4,541 | 597 | 546 | 2,591 | 23,030.08 | 2,200.00 |
| June 2011 | 5,343 | 775 | 849 | 365 | 3,642.42 | 1,600.00 |
| June 2012 | 6,254 | 1,198 | 1,278 | 728 | 72.63 | 2,000.00 |
| June 2013 | 6,866 | 1,393 | 1,420 | 759 | 75.64 | 25.00 |
| June 2014 FCST | 7,500 | 1,450 | 1,430 | 800 | 79.70 | 40.00 |
* From fiscal year June 2012, a change in the accounting procedure to a method of displaying sales by subtracting a part of cost of sales of the online business was adopted and data prior to this period was adjusted to reflect this change.
* Estimates are those of the Company. A 100 for 1 stock split was implemented on July 1, 2012.
EPS is calculated based on the post stock split number of shares, assuming undertaken at the beginning of the fiscal year.
We present this Bridge Report on WELLNET CORPORATION reviewing its earnings results for the fiscal year June 2013 and forward looking corporate strategies.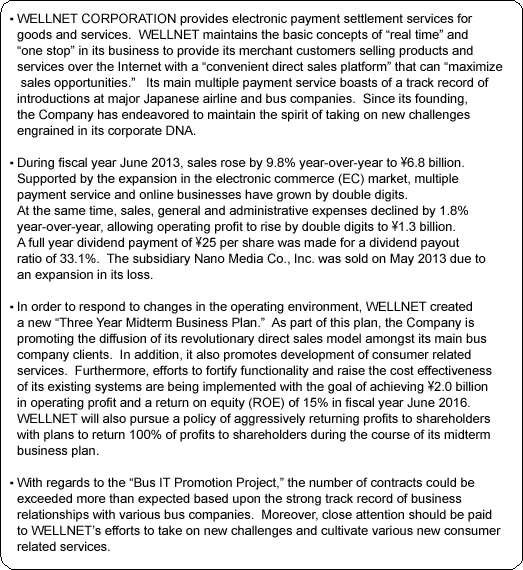 WELLNET provides electronic payment settlement services for merchants selling various products and services. Based on the key concepts of "real time" and "one stop", the Company provides "convenient direct sales platforms" to merchants that "maximize their opportunities for sales" by allowing consumers to make purchases "conveniently" at any time and from any place without any restrictions. The main multiple payment service has been implemented by major Japanese airline and bus companies, in addition to large mail order catalog merchants. Ever since its founding, WELLNET has endeavored to maintain the spirit of taking on new challenges which is engrained in its corporate DNA.

 

<Corporate History>

WELLNET CORPORATION got its start as a subsidiary of a gas and fuel merchant called Ichitaka Takahashi Co., Ltd. in Hokkaido for the purpose of developing new businesses. At the time of its founding, utility bill payment services at convenience stores had already begun. However the Company began preparations for the expansion of payment settlement services to include mail order catalog sales.

WELLNET developed an integrated "convenience store consigned bill payment settlement service" that included the functions of printing and mailing of invoices, and bill payment information processing which could be used 24 hours a day, 365 days a year. This system quickly became widely diffused amongst product and service merchants because it was distributed free of charge and allowed them to avoid having to make large outlays to develop their own payment settlement systems.

Furthermore, WELLNET is currently developing systems that allow customers to avoid having to print out paper copies of invoices and allows for customers to make real time connections for electronic invoices and payments. Furthermore, the system's ability to eliminate development costs and to allow customers make electronic payment settlement connections with convenience stores and other payment outlets without the need to sign agreements has contributed to its strong reception and numerous implementations by airline and bus companies, in addition to boosting WELLNET's earnings. In 2004, the Company listed its shares on the JASDAQ market.

Thereafter, WELLNET has expanded the provision of its "multiple payment service" to include large companies such as Amazon, Yahoo! Shopping, Rakuten Auction, and low cost carrier (LCC) airlines. In addition, the Company has also focused its attention upon developing applications for the rapidly growing electronic ticket service market including a cellular telephone ticket service, having many good track records.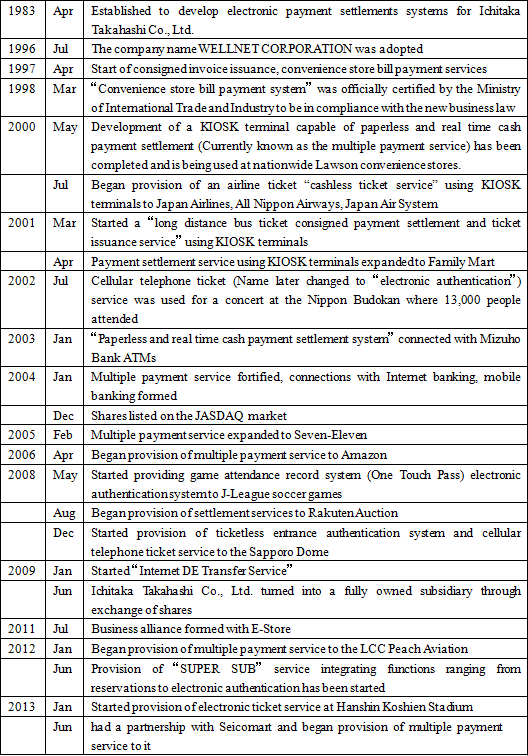 <Market Conditions>

According to the Ministry of Economy, Trade and Industry's report entitled "2011 Facilitation of the Japanese Information Society and Economy" (Market report about electronic commerce issued on August 28, 2012), the Japanese electronic commerce market (B to C) for consumers rose by 8.6% year-over-year to ¥8.5 trillion in 2011. This also translates to an average annual growth rate of about 10% over the period from 2007, when the market was only ¥5.3 trillion in size, to 2011.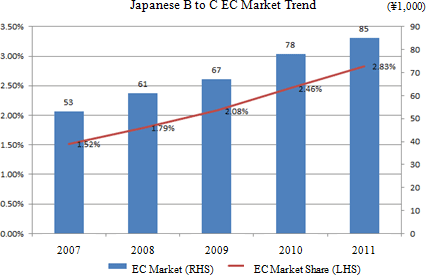 (Source: Ministry of Economy, Trade and Industry)

 

According to Nomura Research Institute data announced on November 21, 2012, the major information technology (IT) related markets are expected to grow by an average annual growth rate of 11.1% year-over-year from 2012 to 2017, with the size of the market growing to ¥17.3 trillion in 2017 from ¥10.2 trillion in 2012.

At the same time, the Ministry of Economy, Trade and Industry cites that while the diffusion rate of EC (The amount of transactions conducted over the Internet as a percentage of all commercial transactions) is still small at only 2.83%, EC transactions are expected to grow by 10% on an average per year for the foreseeable future.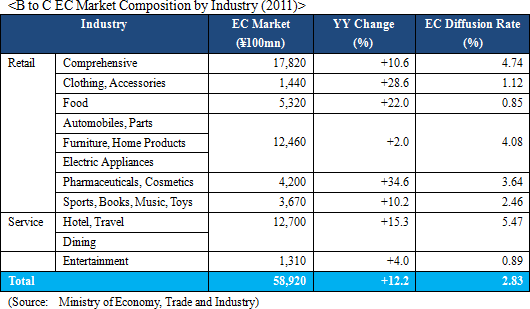 <Business Descriptions>

WELLNET maintains the basic concepts of "real time" and "one stop" in its businesses to provide its customers selling products and services over the Internet with a "convenient direct sales platform" that has the capability of "maximizing sales opportunities" and enables consumers to make purchases at any time and from any place.

WELLNET business is comprised of the three main segments of 1) multiple payment services, 2) online business, and 3) electronic authentication services.

 

(1) Multiple Payment Services

"Accounted for 89.6% of total sales or ¥6,154 million (FY6/13)"

 

SaaS: Software as a Service, software of which only the portion that is required by the customer can be used. The service provided is called software provision.

 

Because WELLNET provides the necessary software free of charge, merchants to whom systems are provided are able to reduce their system development expenses by large margins. The Company derives sales from fees received for the initial setup, monthly usage fees, and commissions per each transaction. In addition, initial investments required by the merchants are reduced because fees are based on both a fixed and variable rates.

 

①Billing Services

A: Convenience store bill payment service
WELLNET's bar code payment invoice issuance system and accounts receivable recovery via convenience store consigned bill payment service. WELLNET's bar code payment invoice system available at convenience stores and post offices uses a internally developed payment receipt issuance and payment information processing software called "ConPay Kun" to allow merchants to easily print out invoices and receipts, easily process payment information and make ledger notes of payment receipt. Payment information is transmitted on the next business day after the payment is made (For payment at post offices, two business days), and automatically makes ledger notes of the payment. Currently, bills for mail order sales, fuel and other expenses can be paid using this system.

 

<Strengths and Characteristics>

Payments can be made 24 hours a day, 365 days a year at nationwide convenience stores (Available at 16 different convenience store chains as of June 2013), allowing bill paying customers to avoid having to rush to post offices and banks during normal business hours.

The packaged software "ConPay Kun" is provided free of charge, allowing merchants to begin operating the payment systems within one month of application.

Merchants can print out their own bill payment receipts, and avoid leakage of customer information because the payment information is based on numerically coded bar code information.

 

B: Consigned Invoice Issuance Service
WELLNET provides total comprehensive bill payment issuance and payment settlement support services including consigned bar code invoice payment printing and mailing functions, payment confirmation, and payment ledger note. In particular, its bill payment services are used commonly for payment of services (gas bills, various membership fees) which do not entail shipment of goods. In addition, automatic payment and other information receipt (Invoice issuance, payment service packaged software "Tokoro Kun") services are also provided.

 

②E-Billing Service

E-billing service differs from billing service in that the invoice creation and mailing functions are replaced by interconnected kiosk terminals, POS registers, ATMs, and Internet banking systems to allow customers to pay bills electronically using cash or credit cards.

 

<Various Usages>

◎ KIOSK Terminals
Consumers input bill payment code numbers issued at the time of purchase of products or services over the Internet into kiosk terminals. After confirming details of the purchase provided on the screen of the kiosk, a bar code invoice is printed out at the kiosk for the customer to use to make payment at cash registers.

◎ POS Register and ATMs
There is a function at POS registers that allows customers to use touch panel displays to electronically input invoice numbers to pay bills using cash or bank account cards. The same process is also available using bank ATMs.

 

<Strengths and Characteristics>

The ability to create invoices and payment receipts, simplify the mailing process and reducing costs, and the provision of one stop bill payment services that allows real time electronic invoice and bill payment functions by connecting to only a single company.

Merchants are not required to develop various systems for each bill payment channel (Convenience stores, banks, post offices), and can easily provide bill payment settlement services to customers by entering into an agreement with WELLNET.

WELLNET provides information processing module free of charge.

WELLNET develops the most up to date payment systems, eliminating the need for merchants to develop their own systems.

WELLNET's systems account for various changes including late charges, additional purchases or other factors in "real time" to ensure that the most up to date payment can be made.

This payment service was launched in May 2000, and has been introduced by many major domestic airline, bus, power, and mail order companies.

 

③Internet DE Transfer Service

This service allows merchants to use the Internet to efficiently make payments to customers for refunds and cancelations. WELLNET operates a website that allows consumers to input their own bank account information for merchants to make payments to.

 

<Strengths and Characteristics>

The ability of consumers to input their own bank account information and automatic processing of this information allows merchants to reduce their work load by eliminating the need to input account information.

Increase customer satisfaction by allowing merchants to make payment of refunds within the same day.

Eliminates the need for merchants to develop their own refund systems.

Eliminates the need to retain bank account information of customers and reduces the risk of leakage of personal information.

 

④Other Services

Multiple payment services can be customized to match the needs of individual merchants and consigned operational support services can also be provided.

 

(2) Online Services Business

"Accounted for 9.2% of total sales or ¥629 million (FY6/13)"

 

①PIN Online Sales Service

An online service linking WELLNET servers to POS registers and KIOSK terminals at convenience stores for the sale of cellular telephone, international telephone, electronic money and other prepaid cards. The ability to buy prepaid cards online eliminates the need to go to stores in advance to make purchases. At the same time it contributes to improved cash flow of merchants because it eliminates the need to physically stock cards, and prevents opportunity losses resulting from a shortage of inventory. Furthermore, the ability to stock a wider range of cards and the ability to easily make changes are other advantages of online systems.

 

②Various Application Services

The kiosk terminals located at convenience stores allow users to fill out various applications for Japanese character proficiency tests, English language proficiency tests, university entrance examinations, and other various application forms. In addition, they provide one stop comprehensive services by also allowing for payment of various applications.

 

(3) Electronic Authentication Services

"Accounted for 1.2% of total sales or ¥81 million (FY6/13)"

 

①Electronic Ticket Service

A system that allows two dimensional codes displayed on smartphones and other cellular telephone displays to be used as tickets. When combined with the multiple payment service, the system allows customers to apply, purchase and receive tickets electronically over their smartphone and other cellular telephones and personal computers. When consumers complete the multiple payment service over the Internet for tickets reservations, they are sent an email to their cellular telephone. By accessing the url listed in the email, they can acquire a two dimensional code which can be used in place of a ticket for entrance to the event.

 

<Strengths and Characteristics>

Eliminates the need to issue and mail physical tickets, coupons, and membership cards.

The ability to provide reservations and issue tickets online allows promoters of events to sell tickets until just before the events are held.

The ability to avoid issuing paper helps to protect the environment.

Electronic records of event participants allows for easy use of entrance data for marketing purposes.

 

WELLNET has translated QR code for airline ticket into practical applications for the first time in Japan. Subsequently, it has bountiful track records in large -sized entrance authentication system for the J-League and the Sapporo Dome.

 

②"SUPERSUB" Service

An online ticket solution that provides one stop, comprehensive services ranging from ticket issuance, payment, and authentication functions.

This system eliminates the need for merchants to develop individual systems that connect to servers, allowing for easy use by not only merchants but also individuals holding events.

In addition to airline and bus companies, and other large existing customers, this system was launched in June 2012 and targets an expansion in the number of business users through its efficient operation and low cost.

 

<Strengths and Characteristics>

Basic information relating to events such as ticket pricing, location, date of commencement, and other information can be input into the registration page to create pages for the event ticket reservation, application and sales. (Currently only available to PCs)

A link to this ticket page can easily be affixed to the event page for the launch of ticket sales.

Customers seeking to participate in an event can purchase tickets via PCs, smartphones, and cellular telephones.

The tickets use QR codes and special applications can be used for authentication of these codes for admittance to events. The system allows for smooth operations at events through accurate authentication.

Similar to multiple payment services, this service provides a multitude of various payment settlement methods.

The system can be launched within three weeks from application for ticket sales.

There are no initial costs or monthly operating fees. In exchange, a commission of 5% of ticket sales is collected to help keep operational costs low.

Not only for permanent facilities, this system has applications for limited time events, concerts, lectures, seminars, regional events, parties, reunions and other events that range from 10 to 5,000 attendants.

 

 
Characteristics and Strengths
 

①Strong Track Record of Implementations, Strong Customer Base

WELLNET's multiple payment service has developed a highly favorable reputation for its ability to eliminate development expenses at the time of their implementation and the need to form contracts with each payment institution. In addition it has become the leading company within the industries described below. One of WELLNET's largest assets is the highly favorable reputation received from airline and bus companies for their system's real time capabilities. It is this strong customer base that lies at the core of its highly favorable reputation, which is considered to be a "non-visible asset".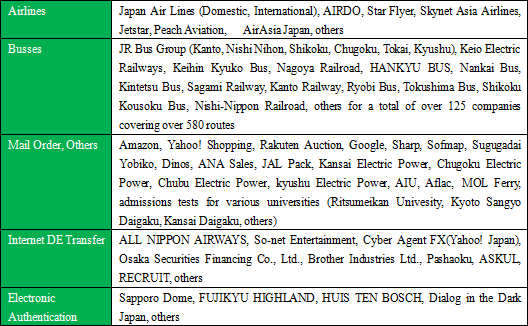 ②Corporate DNA: Always Taking On New Challenges

Invoice issuance service, consigned bill collection services, multiple payment service, cellular telephone ticket service and other services and systems developed by WELLNET represent the first applications of their kind to be commercialized within Japan. Furthermore, the above implementation examples of systems are validation of their superiority. As WELLNET is not an affiliate or subsidiary of a large company, it started out without large amounts of business resources, including money, people and assets. Despite this fact, the spirit of "always taking on new challenges" engrained in the corporate DNA of WELLNET allowed it to become the "de facto standard" of electronic bill payments.

President Miyazawa believes that the meaning and appeal of business is "to continue to believe in your own ability, to envision and take on the risk of developing structures that would be convenient to have, and to provide them in concrete forms." In addition, Miyazawa also states that "the reason for our Company to exist is to come up with systems that only we can create."

Because WELLNET is a small organization with less than 80 employees, the maintenance of the spirit of taking on new challenges engrained in its corporate DNA and as reflected in the corporate principle of "WELLNET Alete" is vital to the company's existence.

 

 
Fiscal Year June 2013 Earnings Results

 

Favorable Trends in Online Services, Multiple Payment Services Contribute to Higher Sales, Profits

Sales rose by 9.8% year-over-year to ¥6.8 billion. On the back of growth in the electric commerce market, the multiple payment services and online business rose by double digits. At the same time, a 1.8% year-over-year decline in sales, general and administrative costs allowed operating profit to rise by double digits to ¥1.3 billion. A full year dividend of ¥25 per share will be paid for a 33.1% dividend payout ratio. The subsidiary Nano Media Inc. was sold in May 2013 because of an increase in the margin of its losses.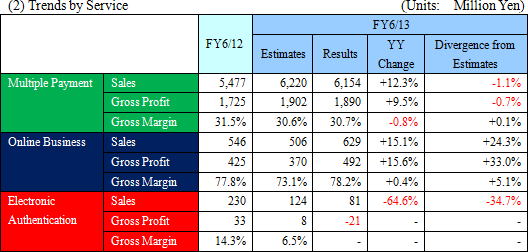 <Multiple Payment Service>

Supported by an expansion in the electric commerce market, the multiple payment service business grew strongly. With regards to the main customers of airline companies, Peach Aviation and other low cost carriers introduced it. Sales to bus companies also rose strongly. In addition to increasing the convenience of customers of merchants, the ability of "Internet DE Transfer" to raise the efficiency of the refund process has been regarded highly and allowed the number of users to grow by a large margin of 1.6 times.

 

<Online Business Service>

Sales of PIN online electronic money used for social network systems and online games declined. A new service called "POSA" has been launched in line with growth in the gift card market, and has gotten off to a good start.

 

<Electronic Authentication Service>

Provision of electronic ticket service to J-League soccer games has concluded. Expansion in sales of "SUPER SUB" packages providing one stop capabilities ranging from reservation, settlement, ticket issuance and entrance authentication is being promoted, and in a series.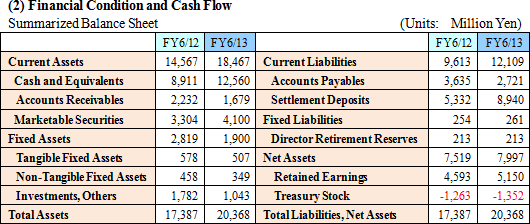 Increases in cash and equivalents, and marketable securities allowed current assets to rise by ¥3.9 billion. At the same time, fixed assets declined by ¥0.7 billion due to the sale of Nano Media. Consequently, total assets rose by ¥2.9 billion. With regards to liabilities, settlement deposits rose due to an increase in sales, contributing to the ¥2.4 billion increase in current liabilities. Total liabilities rose by ¥2.5 billion. Consequent to these changes, the capital ratio declined by 4% points from the previous term to 39.2%.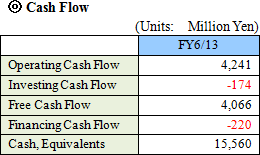 A year-over-year comparison is not made because the previous term used consolidated earnings and the current term uses non-consolidated earnings. Notably, WELLNET recorded large net cash inflows into operating and free cash flows.

 

(3) Topics
◎ Sale of the Subsidiary Nano Media

On May 13, 2013, the subsidiary Nano Media Co., Inc. was sold through a stock exchange with Oak Capital. Nano Media had been turned into a subsidiary to fortify and leverage each companies' mobile computing knowhow, human resources and other business resources, strengthen and expand Nano Media's business realms, maximize corporate value, and derive synergies from each other. However the expansion in Nano Media's losses led to the decision to sell the company's stock to Oak Capital.

 

◎ Treasury Shares Retirement

During the board of director's meeting held on August 14, 2013 and in accordance with Article 178 of Corporate Law, retirement of treasury shares was completed on August 30, 2013.


The number of shares retired: 1,401,900 (Equal to 12.18% of total shares issued)


Number of shares issued after retirement: 10,100,000


Number of treasury shares remaining after retirement: 61,854

 

 
Fiscal Year June 2014 Earnings Estimates

 

Estimates Call for Higher Sales, Profits, Expect to Return 100% of ¥0.8 billion in Net Profits to Shareholders

On the back of expectations of continued strong sales of multiple payment services to airline and bus companies, sales are expected to rise by 9.2% year-over-year to ¥7.5 billion. Along with the start of the "Bus IT Promotion Project," promotional expenses are expected to occur and contribute to an increase in sales, general and administrative expenses. However the higher sales are expected to absorb these higher expenses and allow operating profit to increase. In line with the dividend policy as defined by the new three year midterm business plan, WELLNET is expected to return all of the ¥0.8 billion in net profit called for in its estimates during the coming term. WELLNET is expected to increase its dividend by ¥15.00 per share to ¥40.00 for a dividend yield of 50% (Compared with 33.1% in the previous term), with the remaining ¥0.4 billion expected to be used to retire treasury shares.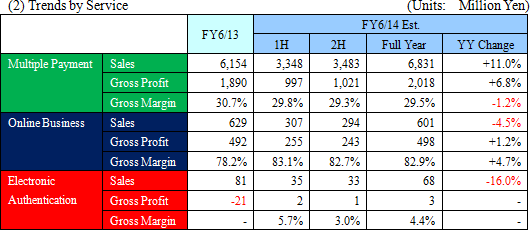 Three Year Midterm Business Plan (Fiscal Year June 2014 to 2016)
 

In August 2010, the previous midterm business plan (From June 2011 to 2015) was announced. However, in order to respond to changes in the operating environment, a new "three year midterm business plan" was created.

 

①Validation of Previous Business Plan

With regards to the various strategies of the previous business plan, a review of its progress has been provided by WELLNET below.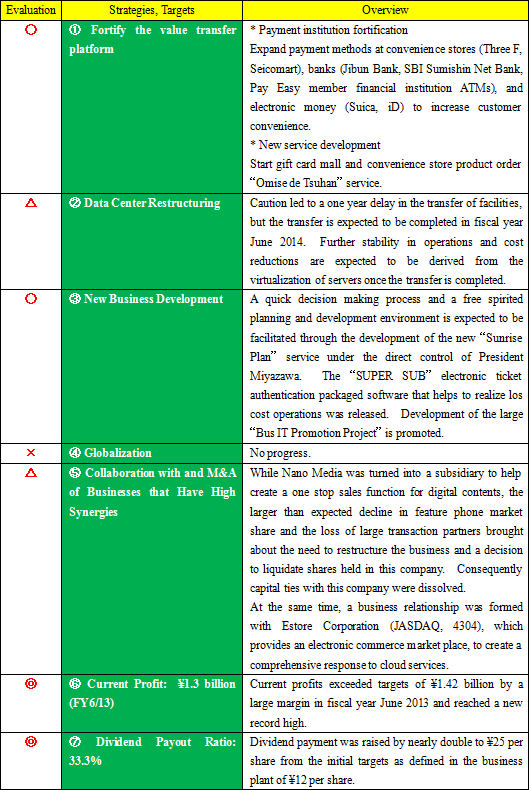 ②Business Environment and Strategies

WELLNET has been able to grow earnings by leveraging its superior competitive standing in the electronic commerce market business domain, which continues to grow.

The Company will continue to take on new challenges including the development of new businesses and to promote further growth in its current business models due to the realization that business models have lifecycles and therefore inevitably grow obsolete. WELLNET will objectively evaluate its endeavors through constant "visualization"

"A scheme that enables customers to directly connect with value creators for the transaction of products and services that can be conducted anywhere and at any time" is believed to be the essence of IT.

Continued profit growth can be achieved through the expansion of peripheral business realms and with convenient and advanced settlement platforms as its core.

 

③Forward Looking Growth Strategies (Business Development, Improvement)

Major strategies supporting growth during the next three years include can be divided into the following two factors:
① Establish future business models
② Improvement
Specific measures for these two factors are outlined below.

 

Next Generation Business Model Development

① Promote revolutionary sales model in conjunction with bus companies

WELLNET in March 2001 introduced the first long distance bus ticket reservation and purchase service operating 24 hours a day at convenience stores. Currently over 100 bus companies have subscribed to this ticket service for several hundreds of routes. Furthermore, a track record and knowhow in cellular telephone tickets for the airline industry and event tickets for Sapporo Dome, have been cultivated.

As the culmination of this knowhow and expertise, a large scale comprehensive model for inter-city high-speed buses is being developed. The market for inter-city high-speed buses is estimated to be worth between ¥1 to ¥1.5 trillion. This is a revolutionary service that has greatly increased the convenience of the ticketing function for both bus companies and their customers. In order to cultivate new demand, a new system is expected to be released by the spring of 2014. This system allows customers searching and booking bus tickets to get safely and securely to their destination. At the same time, this system helps bus companies to realize efficient inventory control in real time to increase opportunities to book sales. WELLNET will conduct promotions and marketing in close cooperation with bus companies with which it has developed a long standing relationship of trust.

② Development, Provision of Consumer Services

The core settlement services have become the mainstream fee payment collection model for merchants. In addition, a convenient bill payment system provided in the form of a smartphone application that takes into consideration the needs of consumers is expected to begin being provided from summer of 2014.

 

Improvement (Functionality fortification, operational stability,
increases in value)

③ Value Transfer Platform Function Fortification (Existing service fortification)

WELLNET is developing methods of transferring funds other than to bank accounts in addition to its current "Internet DE Transfer Service" which allows instant refunds to be made to customers' bank accounts.

The ability to transfer funds other than to bank accounts will increase the range of monetary transfers.

The addition of new functions to the multiple payment service is expected to lead to an expansion in the consigned bill payment services.

④Increase in System Operation Stability, Value for Money

The amount of data processed at data centers has grown tremendously in recent years. And because WELLNET's services boast of real time processing capabilities, the ability to operate systems stably is very important. Therefore, creating an internal structure with the ability to realize "stable operations" and "operational cost reductions" at the Sapporo office is an important issue. Specifically, the "cost structure analysis system" developed during the past two years will be used to visualize capital investment efficiency and cost analysis, promote automated and optimized operations, and consolidate services as needed.

 

④Structure to Achieve Growth Scenario

In order to quickly and effectively promote the two main growth strategies of "business development" and "improvement", all related projects will fall under the direct responsibility of President Miyazawa.

WELLNET will facilitate a structure that will enable it to achieve its goals by hiring new staff "who can share our vision" and by aggressively leveraging younger staff.

Stock options and other measures will be used to raise the motivation of staff to achieve its goals.

"WELLNET Alete" has been established as a course of action for staff and a reason for existence of the Company, along with the implementation of an effective governance system.
(Alete is a Greek term for "virtue," "superior being," or "predominant being.")

WELLNET Alete

Contributing to society by creating "mechanisms that are convenient to have"

Proposing and spreading those "mechanisms" throughout the world

Allocating profit to employees, shareholders and investments in the future

WELLNET Employee Alete

To avoid being held back by stereotypes and to think freely

Thinking for one's self, proposing the best solution

Promoting open discussions, while clearly defining the factors of "who" will do "what" by "when."

Repeating the process of validation and improvement.

Making honest, accurate and quick reports.

Conducting business after documenting services to be provided and compensation to be received

Non-acceptance of entertainment and gifts
⑤Numerical Targets of the Three Year Midterm Business Plan
◎ Operating Profit Target: ¥2.0 billion in FY6/16

Profit growth declined temporarily as investments in important measures including the "Bus IT Promotion Project" were made during the first and second year of the midterm business plan.

WELLNET will endeavor to establish a foundation so that its operating profit target of ¥2.0 billion (43% growth over fiscal year June 2013) can be achieved in fiscal year June 2016, the final year of the midterm business plan.
 

With regards to M&A, there are currently no concrete targets. However, WELLNET will take on any projects that it deems to be favorable in growing earnings.

 

◎ Return 100% of Profits During Midterm Business Plan to Shareholders

Adequate amounts of cash on hand will be maintained as a source for funding fortification of core businesses and development of new businesses to maintain the Company's credibility. But with adequate financial soundness already achieved, WELLNET will return an even higher level of 100% of profits to its shareholders as defined in its midterm business plan. Specifically, the following two measures will be implemented.

A) With the exception of special factors, WELLNET will endeavor to achieve a stable and high level of dividend payment with the target payout ratio established in the midterm business plan to be raised from 33.3% to 50%.

B) 100% of profits are expected to be returned to shareholders with net profits left remaining after paying dividends expected to be used for the acquisition and retirement of treasury shares.

With the exception of treasury shares owned to be used as stock for sale and for "J-ESOP" stock trust, newly acquired treasury shares will either be retired or used as shares for stock options issued as performance based compensation.

 

◎ Return On Equity Target: 15% (FY6/16)

WELLNET seeks to raise its return on equity and earnings per share, in addition to steadfastly promoting a growth strategy, strengthening its earnings, increasing its dividends and acquiring and retiring treasury shares. As called for by the three year midterm business plan (FY6/16), an ROE target of 15% has been established.

 

 
 

The opportunities for WELLNET to expand its business and earnings are expected to increase on the back of the growth in the electronic commerce market of 8% to 10% anticipated in the near term. Furthermore, the contribution from the "Bus IT Promotion Project" to be launched within this year is greatly looked forward to. Recent problems that have occurred at small to medium sized tour bus operators is expected to lead to an increase in credibility and business of the larger long distance bus companies. Against this backdrop, the ability to cultivate new customers through the use of IT is an important topic for bus companies. With regards to the contracts, after successful results of this project can be confirmed, the formation of contracts with bus company customers is expected to proceed at an even faster pace. In addition to services provided to traditional customers, progress in the development of new consumer related services leveraging WELLNET's experiences and knowhow in keeping with the Company's spirit of taking on new challenges, should be watched closely.

 

Disclaimer

This report is intended solely for information purposes, and is not intended as a solicitation to invest in the shares of this company. The information and opinions contained within this report are based on data made publicly available by the Company, and comes from sources that we judge to be reliable. However we cannot guarantee the accuracy or completeness of the data. This report is not a guarantee of the accuracy, completeness or validity of said information and or opinions, nor do we bear any responsibility for the same. All rights pertaining to this report belong to Investment Bridge Co., Ltd., which may change the contents thereof at any time without prior notice. All investment decisions are the responsibility of the individual and should be made only after proper consideration.

Copyright(C) 2013, All Rights Reserved by Investment Bridge Co., Ltd.