Yasuhiko Okamoto
President
| | |
| --- | --- |
| Company | LIKE Co., Ltd. |
| Code No. | 2462 |
| Exchange | Tokyo Stock Exchange, First Section |
| Industry | Service |
| President | Yasuhiko Okamoto |
| HQ Address | Umeda Hankyu Building Office Tower 19F, Kakudamachi 8-1, Kita-ku, Osaka-shi |
| Year-end | May |
| Home Page | |
Share Price
Shares Outstanding
(excluding treasury shares)
Market Cap.
ROE (Act.)
Trading Unit
¥2,172
18,834,349 shares
¥40,908 billion
12.3%
100 shares
DPS (Est.)
Dividend Yield (Est.)
EPS (Est.)
PER (Est.)
BPS (Act.)
PBR (Act.)
¥20.00
0.9%
¥74.62
29.1x
-
-
* Stock price as of the close on January 18, 2018. Number of shares at the end of the most recent term excluding treasury shares.
*ROE is the actual value from the previous term.
| | | | | | | |
| --- | --- | --- | --- | --- | --- | --- |
| Fiscal Year | Sales      | Operating Profit | Current Profit | Net Profit | EPS(¥) | DPS(¥) |
| May 2014 | 14,951 | 303 | 374 | 259 | 28.29 | 30.00 |
| May 2015 | 18,067 | 470 | 502 | 331 | 36.13 | 30.00 |
| May 2016 | 31,844 | 953 | 1,426 | 1,795 | 195.33 | 40.00 |
| May 2017 | 40,051 | 1,524 | 2,493 | 810 | 86.53 | 36.00 |
| May 2018 Est. | 47,000 | 1,780 | 3,250 | 1,400 | 74.62 | 20.00 |
* Estimates are those of the Company. From FY5/16, the definition for net profit has been changed to net profit attributable to parent company stockholders (Abbreviated as parent net profit).
* FY5/18 EPS reflects the change made after a 2 for 1 stock split was conducted in September 2017.

This Bridge Report presents details of the first half of fiscal year May 2018 earnings results and full fiscal year May 2018 earnings estimates for LIKE Co., Ltd.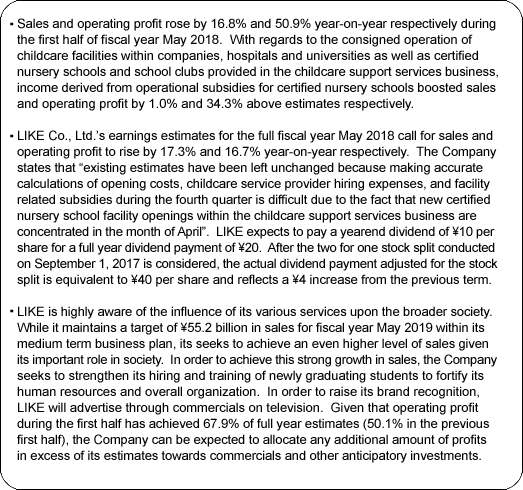 Based upon its corporate motto of "Planning the Future - Leveraging Human Resources to Create the Future," LIKE endeavors to create a corporate group structure that is capable of providing vital services at all stages of life in the operating realms of child and nursing care, human resources and other services.

 

<Business Segments and LIKE Group Companies>

LIKE's business segments are divided into the comprehensive human resources services business, which includes human resources dispatch, business process consignment, dispatched worker for employment and job placement, hiring and training support services, the childcare support services business, which includes consigned operation of public and private childcare facilities, the nursing care services business, which includes nursing facility operations, and the multimedia services business, which includes cellular telephone carrier shop operations.

The LIKE Group is comprised of the holding company LIKE Co., Ltd., three consolidated subsidiaries and one non-equity accounting method affiliate. The consolidated subsidiaries include LIKE Staffing, which provides worker dispatch and business process consignment services to cellular telephone shops within its comprehensive human resources services business, LIKE Kids Next Co., Ltd and its subsidiary LIKE Academy which provides consigned childcare and public childcare operations (i.e. licensed nurseries), and LIKE Care Next Co., Ltd., which provides nursing care facility operation services. In addition to these, a joint venture company called Career Design Academy Co., Ltd., has been created to provide corporate training services with LIKE Staffing Co., Ltd. and T-GAIA Co., Ltd. (Tokyo Stock Exchange, First Section, Stock code: 3738) providing 20% and 80% of the capital, respectively.

 

 

LIKE's medium term business plan calls for sales and current profits of ¥55.2 and ¥3.5 billion, respectively, to be achieved in fiscal year May 2019. Based upon its corporate motto of "Planning the Future - Leveraging Human Resources to Create the Future," LIKE endeavors to create a corporate group structure that is capable of providing vital services that are required at all stages of life in the three operating realms of child care, nursing care, and human resources. Furthermore, its business plan is progressing smoothly and both sales and current profits are trending ahead of schedule.

 

<Shareholder Benefit Program>

LIKE offers a shareholder benefit program including issuance of QUO Card prepaid cards in value of ¥1,000 to holders of between 100 and 500 shares and ¥2,000 to holders of between 500 and 2,000 shares as of the term end in May. Also, discounts on admission to nursing care facilities operated by Sunrise Villa amounting to ¥300,000 (valid for one room per ticket, until the end of August 2018) will be given to holders of over 100 shares.

 

 
First Half of Fiscal Year May 2018 Earnings Results

 

Sales and Operating Profit Rise by 16.8% and 50.9%, Year-On-Year

Sales rose by 16.8% year-on-year to ¥22.221 billion. Sales of the comprehensive human resources services and childcare support services businesses rose by 19.0% and 19.3% year-on-year, respectively, and sales of the nursing care services business steadily rose by 5.6% year-on-year.

With regard to profit, increases in one-off subsidies received for the childcare support business (3.9% point improved) and improvement in the occupancy rate in the nursing care services business (0.8% point improved) allowed cost of sales margin to improve by 1.2% points on a consolidated basis. Higher labor costs (Up from ¥0.902 to ¥1.002 billion) and hiring expenses (Up from ¥386 to ¥491 million) accompanying the growth in sales were recorded, but synergies derived between the different Group companies allowed sales, general and administrative expense to sales ratio to decline by 0.1% point. Consequently, operating profit rose by 50.9% year-on-year to ¥1.208 billion. An increase in facility operation subsidies from ¥156 to ¥537 million contributed to growth in non-operating income.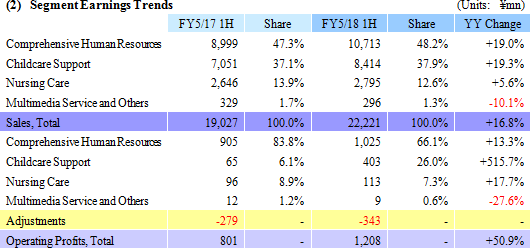 Comprehensive Human Resources Services Business

Sales and operating profit rose by 19.0% and 13.3% year-on-year to ¥10.713 and ¥1.025 billion, respectively. Amidst growing demand for workers in all industries and job categories due to the chronic labor shortage, LIKE's business model has allowed workers of various experience levels to gain employment and contributed to an 18.9% year-on-year rise in dispatched workers contracts. Furthermore, the strong demand for consigned operations in the client workplace allowed consigned workplace contracts to rise by 21.1%. At the same time, workers seeking employment opportunities as dispatched workers for employment placement and job placement contracts declined by 36.2% year-on-year. By industry, job seeking workers in consigned operation schemes that leverage workers of various work experience levels dispatched to the cellular communications, internet subscription call centers, logistics and apparel industry applications rose by 17.0%, 22.1%, 67.3% and 27.6% year-on-year, respectively.

 

 

Childcare Support Services Business

Sales and operating profit rose by 19.3% and 515.7% year-on-year to ¥8.414 billion and ¥403 million, respectively. Collaboration with LIKE Staffing and improvements in compensation to childcare service providers contributed to increases in new hirings and improvement in existing staff retention rates. Despite opening costs arising from four new certified nursery school facilities, subsidies for nursery school facility operations rose and contributed to the large increase in operating profit. At the end of the first half, the number of children to whom services were provided stood at 8,691, and the number of consigned and publicly operated facilities stood at 167 and 157 units, respectively.

 

Nursing Care Services Business

Sales and operating profit rose by 5.6% and 17.7% year-on-year to ¥2.795 billion and ¥113 million, respectively. Outsourcing of hiring tasks to LIKE Staffing contributed to fortification of nursing care provider staff number and to improvements in service quality. Due to a strong demand, 33 new rooms were added through the renovation of the Sunrise Villa Fujisawa Hatori (Fujisawa City, Kanagawa Prefecture) and occupancy rates remained at virtually full occupancy of 97.3% at the end of the first half.

 


Fiscal Year May 2018 Earnings Estimates

 

Full Year Estimates Remain Unchanged, Call for Sales and Operating Profit to Rise by 17.3% and 16.7% Year-On-Year

The Company states that "existing estimates have been left unchanged because making accurate calculations of opening costs, childcare service provider hiring expenses, and facility related subsidies during the fourth quarter is difficult due to the fact that new certified nursery school facility openings within the childcare support services business are concentrated in the month of April."

LIKE expects to pay a yearend dividend of ¥10 per share, for a full year dividend payment of ¥20. After the two for one stock split conducted on September 1, 2017 is considered, the actual dividend payment adjusted for the stock split is equivalent to ¥40 per share and reflects a ¥4 increase from the previous term. LIKE maintains targets of a consolidated dividend payout ratio of greater than 35%, and payments of dividends twice a year, at the ends of both the first half and full year.

 

 

Comprehensive Human Resources Services Business

The securing of human resources is an important management issue for companies in all industries. LIKE has highly flexible solutions responding to the needs of job seeking workers including the ability to propose job matching services which cover a wide range of diversified clients and provide flexible working conditions including three day work weeks and shorter working hours. At the same time, the Company endeavors to increase the working population by leveraging the unique knowhow of its Group to turn inexperienced workers into fully contributing workers, raising the job retention rates by close follow up after employment, and by providing classroom and on the job training led by experienced staff. Also, skill evaluation and training will be applied to workers from overseas, whose numbers are expected to grow in the future, in order to quickly turn them into productive resources.

 

 

Childcare Support Services (167 Consigned Childcare Facilities, 157 Public Childcare Facilities)

The intensifying problem of children unable to gain access to childcare (due to severe shortages of childcare providers and facilities) has become an urgent societal issue. In addition to efforts implemented to secure childcare providers and increase childcare facility numbers, LIKE endeavors to grow both sales and profits and become Japan's number one childcare support services business operator by providing high quality childcare support services.

 

Increase in Childcare Facilities

With regards to the consigned operation of childcare facilities, the LIKE Group will review various projects from its long list of customers and select the most promising projects with the strongest potential to yield high levels of profitability. At the same time, LIKE seeks to create new childcare facilities that will continue to be chosen by parents even after the problem of children who cannot gain entrance to publicly operated nursery school or preschools is resolved. In addition, efforts will be conducted to fortify childcare service contents. LIKE maintains a target of operating 20 new certified nursery school facilities (four were newly opened during the first half) within fiscal year May 2018.

 

Securing Childcare Providers

Knowhow regarding hiring and post hiring training of childcare providers accumulated by LIKE Staffing will be leveraged to strengthen the hiring capability and retention rates of childcare providers. Specifically, knowhow will be shared through personnel exchange, matching will be strengthened, and training contents will be shared within the Group.

Moreover, LIKE has joined the non-profit organization "Iku-Boss Kigyo Domei" (Literally "Childcare Conscious Boss Corporate Alliance") in February 2016 as part of its efforts to facilitate an environment that makes working easier for parents and childcare providers. "Iku-Boss" is a concept that calls for companies to create a work environment with a favorable work-life balance, allowing for support of both career and private lifestyles while at the same time allowing workers to realize results in the workplace and enjoying their private life (Non-profit Organization Fathering Japan).

 

Nursing Care Services (21 Facilities, 1,156 Rooms)

LIKE pursues the provision of high quality nursing care services that are highly differentiated, and seeks to secure adequate nursing care providers. LIKE also seeks to differentiate its services by stationing nursing care providers at its facilities 24 hours a day, and collaborates with medical institutions for end-of-life nursing care to become the nursing care facility operator of choice. Collaboration will also be conducted with LIKE Staffing to turn inexperienced workers into productive nursing care providers as part of its efforts to secure adequate nursing care staff numbers, and to raise the working population by improving job retention rates. In addition, LIKE is fortifying its training program contents for workers from overseas in light of the "Technical Training Law" and "Revised Immigration Law" implemented on November 28, 2016.

Moreover, renovations conducted at the Sunrise Villa Fusjisawa Hatori facility in June 2017 contributed to an increase of 33 new rooms.

 

 
 

LIKE is highly aware of the influence of its various services upon the broader society. While it maintains a target of ¥55.2 billion for fiscal year May 2019 within its medium term business plan, LIKE seeks to achieve an even higher level of sales given its important role for society. In order to achieve this strong growth in sales, the Company seeks to strengthen its hiring and training of newly graduating students to fortify its human resources and overall organization. In order to raise its brand recognition, LIKE will advertise through commercials on television. Given that operating profit during the first half have achieved 67.9% of full year estimates (50.1% in the previous first half), the Company can be expected to allocate any additional amount of profits in excess of its estimates towards commercials and other anticipatory investments.

 

 
<Reference: Regarding Corporate Governance>

 

◎Corporate Governance Report

Updated on August 28, 2017

Basic Policy

Our company aims to be a corporate group that is indispensable to society at any stage of life with a group mission of "... planning the future - Developing people and creating the future -" and recognizes the initiatives for corporate governance as an essential management task. For its realization, we make use of our holding company structure and consolidate the compliance system in the holding company so that executives, employees and service users of our group can take fair and efficient actions at all times, and attempt to strengthen corporate governance of the whole group by centralizing the functions of the holding company by the management of the entire group.

1. Ensuring the rights and equality of shareholders
We take appropriate measures so that the rights of shareholders, including the voting rights at the general shareholders meeting, are substantially ensured.
2. Appropriate cooperation with stakeholders excluding shareholders
On the basis of our group mission, we will continue to enhance our corporate value by acting in good faith with all stakeholders including service users, clients, shareholders and employees, keeping in mind the Code of Conduct and principles of action.
3. Appropriate disclosure of information and ensuring transparency
We will make appropriate disclosure of information based on laws and ordinances and actively provide non-financial information and information other than the information disclosed based on laws and ordinances.
4. Responsibilities of the Board of Directors and others
The board of directors formulates the basic policy and strategies for the management of the group and manages and supervises the business firm. It operates as a body that supervises the management decision-making in the entire group and the business execution by the board of directors. In addition, the independent outside director works to strengthen the management discipline and increase the transparency further.
5. Dialogue with shareholders
We put importance on dialogue with shareholders to maximize the corporate value of the group, and respond to requests for dialogue from shareholders at any time. The dialogue with shareholders is carried out by the department in charge of IR, executives in charge of IR and the management executives as necessary.

 

<Disclosure Based on the Principles of the Corporate Governance Code (Excerpts)>
Principle 5-1

Our company has designated a director and established a department, both of which are in charge of overall IR activities for our corporate group, in order to encourage constructive dialogue with shareholders.


Our company exerts ourselves to disclose information in a fair, timely, and proper manner in accordance with "Disclosure Policy" that we have set forth to organize our basic ideas.


Our company discloses Disclosure Policy on our website (https://www.like-gr.co.jp/ir/policy.html).


The details of our IR activities are as described in the second section of "Implementation Status of Policies regarding Shareholders and Other Stakeholders" in this report.

 

Disclaimer

This report is intended solely for information purposes, and is not intended as a solicitation to invest in the shares of this company. The information and opinions contained within this report are based on data made publicly available by the Company, and comes from sources that we judge to be reliable. However we cannot guarantee the accuracy or completeness of the data. This report is not a guarantee of the accuracy, completeness or validity of said information and or opinions, nor do we bear any responsibility for the same. All rights pertaining to this report belong to Investment Bridge Co., Ltd., which may change the contents thereof at any time without prior notice. All investment decisions are the responsibility of the individual and should be made only after proper consideration.

Copyright(C) 2018 Investment Bridge Co., Ltd. All Rights Reserved.