Hisashi Yoneyama, President
| | |
| --- | --- |
| Company | AP COMPANY CO., LTD. |
| Code No. | 3175 |
| Exchange | Tokyo Stock Exchange 1st Section |
| Industry | Retail |
| President | Hisashi Yoneyama |
| HQ Address | KDX Shiba-Daimon Building, Shibadaimon 2-10-12, Minato-ku, Tokyo |
| Year-end | March end |
| Home Page | |
Share Price
Shares Outstanding
Market Cap.
ROE (actual)
Trading Unit
¥1,460
7,352,665 shares
¥10.735 billion
30.5%
100 shares
DPS (Est.)
Dividend Yield (Est.)
EPS (Est.)
PER (Est.)
BPS (actual)
PBR (actual)
¥0.00
-
¥145.12
10.1x
¥460.90
3.2x
* Share price as of close on November 16, 2015.
| | | | | | | |
| --- | --- | --- | --- | --- | --- | --- |
| Fiscal Year | Sales      | Operating Profit | Ordinary Profit | Net Profit | EPS (¥) | Dividend (¥) |
| March 2012 | 8,320 | 415 | 462 | 218 | 36.45 | 0.00 |
| March 2013 | 11,387 | 705 | 784 | 430 | 63.46 | 0.00 |
| March 2014 | 15,793 | 1,025 | 1,243 | 675 | 90.95 | 0.00 |
| March 2015 | 19,235 | 1,268 | 1,493 | 906 | 122.07 | 0.00 |
| March 2016 (Est.) | 22,576 | 1,581 | 1,779 | 1,076 | 144.86 | 0.00 |
* Estimates are those of the Company.
This Bridge Report presents information regarding the business and growth strategy of AP COMPANY and also excerpts from an interview with President Hisashi Yoneyama.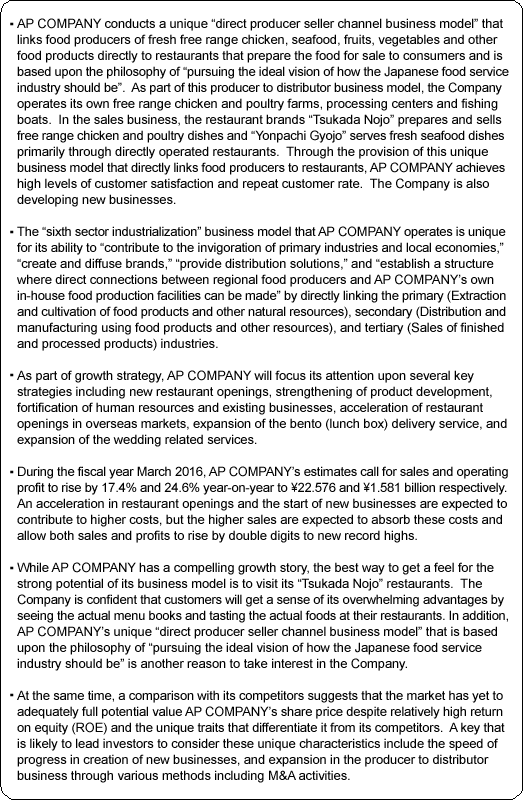 AP COMPANY conducts a "direct producer seller channel business model" that provides fresh free range chicken and poultry and seafood directly to restaurants through an integrated distribution program that directly links producers to distributors and is based upon the philosophy of "pursuing the ideal vision of how the Japanese food service industry should be". The producer to distributor business includes the direct operation of poultry farms and processing centers by AP COMPANY, in addition to direct operation of fishing boats. In the sales business, "Tuskada Nojo" Japanese style pubs (Izakaya) which sell primarily free range chicken and poultry dishes, and "Yonpachi Gyojo" izakayas which sell fresh seafood dishes are the main restaurants and are primarily operated directly by AP COMPANY. Through the provision of this unique business model that directly links food producers to restaurants, AP COMPANY is able to achieve high levels of customer satisfaction and repeat usage. The Company is also developing new businesses.

 

<Corporate History>

President Hisashi Yoneyama established AP COMPANY as a private company for the production of restaurants in October 2001 and thereafter rapidly expanded the business. At the time, Mr. Yoneyama realized that there were various difficult issues confronting "izakaya" Japanese style pubs arising from conditions within the food distribution structure and food producers. Therefore he sought to not only simply operate izakaya restaurants but also to help rectify these issues. Subsequently, Mr. Yoneyama decided to avoid simply purchasing food products from distributors and went directly to the producers due to the benefits to both food producers and consumers of creating a "direct producer seller channel business model" and to realize reforms to Japan's restaurant industry. This became the main mission of AP COMPANY and the "direct producer seller channel business model" has become a huge differentiating characteristic of the Company.

First, Mr. Yoneyama worked diligently to create a relationship of trust with poultry farmers raising good tasting free range chicken, and in February 2006 he created a limited liability company called AP Farm as a subsidiary in Nichinan City, Miyazaki Prefecture. Along with the establishment of this subsidiary, a directly operated poultry farm was also constructed and in-house free range chicken production was started.

In addition to being able to reduce purchasing prices by large margins, the creation of this business model was also able to improve the business environment for producers by resolving the issues of a shortage of successors and by creating new employment opportunities within the poultry farming business. Consequently, President Hisashi Yoneyama has been able to validate the ability of this business model to change Japan's food industry by linking "consumers directly to producers". As part of this process, Mr. Yoneyama realized the importance of acting as a bridge linking the two parties and conveying the conditions that food producers were facing to consumers. Therefore he became even more strongly committed to realizing the "producer to distributor business".

AP COMPANY launched its "Nichinan City, Miyazaki Prefecture Tsukada Nojo" izakaya brand serving free range chicken directly sourced from poultry farmers in August 2007. Furthermore, the Company launched its "Yonpachi Gyojo" fresh seafood izakaya brand in July 2011. In addition to being able to provide delicious foods at reasonable prices through the participation in both the production and distribution processes, AP COMPANY has been successful in gaining brand recognition for various types of chicken raised in throughout Japan by highlighting them on their menu. This unique business model has also contributed to increases in repeat usage by customers and a rapid expansion in sales. The successes of this business model also enabled AP COMPANY to list its shares on the Mothers Section of the Tokyo Stock Exchange in September 2012, and to transfer to the First Section in September 2013.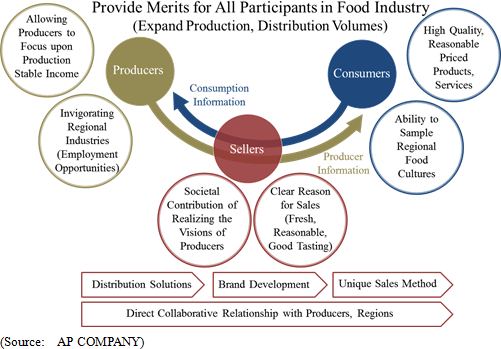 AP COMPANY provides an original training program to instill these highly important values in all of its full and part-time staff.

 

<Business Description>
◎ Being Conscious of Issues Surrounding the Food Industry

AP COMPANY identifies the following points as key issues within the food industry which need to be resolved.

 
The food industry in broad terms is identified to amount to ¥100 trillion in market size. However various traditional practices of the agricultural and fishing cooperatives and multiple layers and tangible and intangible restrictions of the distribution structure led to a disconnection between agriculture, fishing and other operators within primary industries and retail stores, restaurants and other operators in tertiary industries.
Therefore, trading companies, wholesalers, and others entities operating within the wholesale market to provide distribution services grew excessively and at the expense of producers, who were faced with low pricing, and consumers, who were forced to pay high prices for products.
Due to the low prices paid to operators in agriculture for products, the agriculture industry is facing the problems of a severe aging of industry workers and a lack of successors, which in turn is contributing to the abandonment of many farms.
In addition, there are numerous highly attractive farm and seafood products which are not shipped outside of the regions where they are produced due to a lack of capital, production volumes and distribution structure. Provision of the ability to distribute these products on a nationwide basis throughout Japan will help resolve the issues faced by both producers and consumers.

 

◎ Business Model

With the mission of resolving these issues by "pursuing the ideal vision of food and eating", AP COMPANY seeks to "invigorate primary industries (Agriculture and fishing)", and "raise the quality and reduce prices of products and services provided". At the same time, the Company will integrate the functions of food production (Primary industry), distribution (Secondary industry) and sales (Tertiary industry) by deploying a "producer to seller directly linked business model" as part of the sixth sector industrialization movement.

 

(*) Sixth Sector Industrialization
"In general, the term sixth sector industrialization refers to efforts to comprehensively promote the primary industry which includes agriculture and fishing, secondary industry which includes manufacturing, and tertiary industry which includes retail services, and leveraging regional natural resources to create new value addition. In the case of AP COMPANY, the term secondary industry is used to describe the distribution services industry. The term sixth sector is derived from the addition of 1 plus 2 plus 3, or the multiplication of 1 by 2 by 3, of the primary, secondary and tertiary industries.

 

Characteristic 1: Creating an In-House Food Production Structure and Collaborting with Regional Producers

In addition to forming direct collaborative relationships with seafood producers and other regional producers with food products that have strong competitive potential, AP COMPANY is also conducting its own in-house production of poultry and cultivation of fish (Chicken farming and processing, fixed net fishing) through subsidiaries established in the local markets.

With regards to the traditional distribution structure where numerous wholesale companies operate, opportunities for face-to-face meetings between the actual producers and sellers of food products are few and far between. However, in AP COMPANY's business model, producers and sellers of food products meet directly and there are many opportunities for full- and part-time workers to gain a deeper understanding of the conditions of the food producers.

Through these opportunities, AP COMPANY staff are able to gain a stronger understanding of the difficult conditions faced by food producers and the hard work that goes into growing and cultivating food products. In turn, staff can describe the conditions of how the poultry and other food products that are served at AP COMPANY restaurants are grown to customers with confidence. In addition, the food producers can get important feedback on "how, where and by whom the food products they grow and cultivate are consumed" to be used in the production of foods in the future.

 

Characteristic 2: Distribution Solutions

AP COMPANY also proposes solutions to issues in the distribution structure that can lead to a reduction in costs and a shortening of delivery times, allowing for food products to reach end users in fresher condition. Also, processed product solutions are proposed to utilize fish and other products which previously went unused.

 

(*) Unused Fish
Proposals to utilize fish which are too small for commercial sale, or fish varieties which are unrecognized by consumers as a means of increasing product value and raising income of fishing company operators.

 

Characteristic 3: Brand Creation, Diffusion

With the goal of gaining a better understanding for regional food cultures, specialized food products, food production methods and the philosophies of the food producers, information about the food producing regions and the food products themselves are listed in the restaurant menu books as a means of increasing value addition of the experiences of customers dining at AP COMPANY restaurants. Also, the Company can create an even stronger brand through this deeper understanding of the overall business cycle gained by its participation in the various production processes for foods.

 

Characteristic 4: Invigoration of the Primary Industry, Regional Economies

Based on the goal of conducting integrated operations spanning food production, distribution and sales to provide food products at appropriate pricing levels and on a sustained basis, AP COMPANY seeks to create a business environment where stable and adequate levels of income are provided to the food producers, which in turn will create new employment opportunities within the primary industries and contribute to invigoration of regional economies.

 

◎ Business Segments

AP COMPANY's business can be divided into the two main business segments of the production and distribution, and the sales businesses.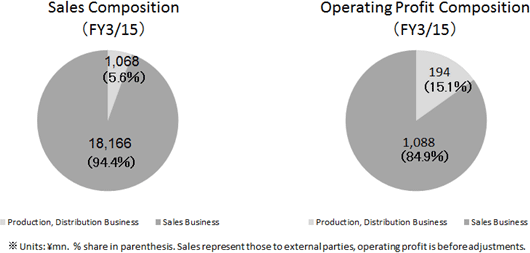 <Production, Distribution Business>

As part of the "direct producer seller channel business model", production and processing of poultry, seafood, fruit and vegetables are conducted. These food products are supplied to AP COMPANY's own directly operated restaurants and to restaurants licensed by AP COMPANY, in addition to sales to restaurants and stores outside of the AP COMPANY Group.

 

① Poultry Production, Distribution

A subsidiary was established in Nichinan City, Miyazaki Prefecture in 2006 for the production of "Miyazaki Free Range Chicken" at its own farms. In 2007, a processing plant was constructed. And in 2010, a baby chicken center was integrated with the poultry processing plant to establish an integrated manufacturing structure. In addition, this knowhow was leveraged for the start of production and sales of "Shintoku Free Range Chicken" (Hokkaido) from 2011 and "Kuro Satsuma Chicken" (Kagoshima) from 2012.

 

② Fresh Fish Cultivation, Distribution

By leveraging the "morning catch delivery service" to deliver fish and other seafood which were caught in the morning to restaurants by the same evening, AP COMPANY is expanding the direct transactions between fishermen and fishing cooperatives and end users that do not pass through wholesale markets. A subsidiary called Project 48 Co., Ltd. was established in Nobeoka City, Miyazaki Prefecture in 2011 for the joint operation with the local fishing cooperative of fixed net fishing business. In addition, AP COMPANY acquired a license to participate in fruit auctions at the Ota Market, enabling it to make direct purchases of fruits. In addition, the Company has also established direct channels with fruit farmers across the nation.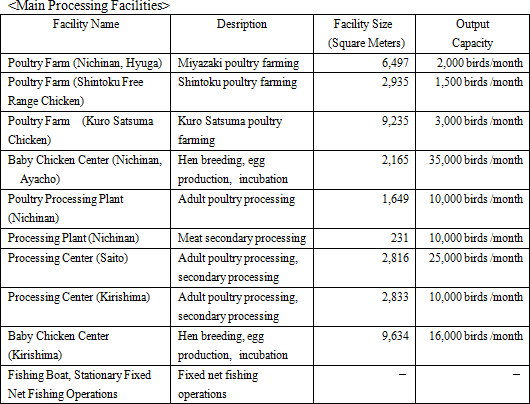 <Sales Business>

The sales business is comprised of the two restaurant brands of "Tuskada Nojo" restaurants that serve free range chickens raised at AP COMPANY's own farms, and "Yonpachi Gyojo" restaurants that serve fresh seafood cultivated by fishermen from around Japan. The average pricing per customer is about ¥4,000 and the restaurants are operated primarily around the Tokyo metropolitan region.
Furthermore, it operates home meal replacement stores as part of its sales channel diversification strategy.

 

<Characteristics and Strengths>
1. Unique Sales Methods

The unique sales methods employed at Tsukada Nojo and AP COMPANY's other restaurants are a strong distinguishing characteristic of its unique sales method. Based upon consumer psychology analysis results that show "service that exceeds expectations to provide customers with excitement and satisfaction leads to high repeat ratios by customers", the ability to provide customers with freedom in the service that staff offer to customers within a set budget leads to high repeat business.

The repeat rate refers to "the number of customers that pay return visits to restaurants relative to the total number of customers visiting the restaurant." (In order to measure the frequency with which customers who become fans of AP COMPANY's restaurants bring friends with them on their return visit, AP COMPANY places a greater emphasis on the number of groups visiting the restaurant.)

Some of President Yoneyama's thoughts regarding the unique sales promotion methods used to differentiate AP COMPANY restaurants from his book "Atypical New Restaurants" are provided below.

 

* "Value Addition Provision Talk"

Restaurant staff act on behalf of AP COMPANY to convey the important values of "food producers." AP COMPANY is able to accurately convey conditions and issues confronting food producers to customers because of its own direct participation in the process of food production. It is also this process of conveying information that is considered to be an important "value added service".
The conveying of information to customers visiting AP COMPANY restaurants is considered to be an overwhelming differentiating factor and a "reason for customers to visit its restaurants," enabling it to become the "restaurant of choice.

Example: This is our speciality, charcoal-grilled free-range chicken. Fresh free-range chicken raised at our company's poultry farm is cooked rare, which is the most delicous degree of doneness. First, savor the delicous flavor of the chicken by itself, and then enjoy it together with our home-made yuzu kosho (a blend of citrus and peppers.)

This fish is known as "dark sleeper," and is a famous fish of the Sanriku Coast. Although not well-known in the Kanto region, this delicious fish is a favorite of locals. Enjoy the sublime flavor of fresh dark sleeper that has been simmered.

 

* "Teppan (Iron Plate) Jab"

In order to gain repeat usage of customers, AP COMPANY seeks to provide them with "exciting" experiences and services which they have not experienced at other restaurants. This sales promotion method is known as "teppan (Iron plate) jab" within AP COMPANY. (Jab to knock the customer out with an overwhelmingly exciting experience.)

Example: When the menu item called "Jittoko Sumibiyaki" is provided, staff inform customers that the dish should be eaten with "yuzu kosho green Japanese citrus pepper sauce. Staff then inform customers that they should try the dish with red pepper sauce after they have eaten some of the dish. Staff also explain to customers that the "Jitokko Sumibiyaki" it is not designed to be eaten cold. So they then suggest that the dish can re-warmed and eaten with Nichinan citrus vinegar. Once the customer has finished the dish, staff take the hot plate upon which it is served away to be used to cook fried rice using the juices from the "Jittoko Sumibiyaki".

The idea of serving the dish with red Japanese citrus pepper sauce in addition to the green Japanese citrus pepper sauce was suggested by a part-time staff. Based upon this idea, product development staff conducted an extensive nationwide search for the best food ingredients to be used for this dish.

In this manner, the ideas of our part-time staff have been leveraged to "develop delicious food products to be enjoyed by customers" and are used to provide value added services including the conversations between staff and customers. Restaurant managers create an environment in restaurants where staff can actively propose ideas such as this to create a unique experience that differentiates the restaurants.

 

2. Training Program
◎ Endeavors to Diffuse Corporate Philosophy

Based upon these sales methods of "value added conversations" and "iron plate jabs", AP COMPANY seeks to "pursue the ideal vision of how the Japanese food service industry should be" as its basic corporate philosophy to be understood and ingrained through training of both its full- and part-time staff. In order to gain the understanding of this philosophy by its staff, AP COMPANY boasts of a unique training program.

Because there were no staff who were able to lead the training efforts initially, the Company relied upon external trainers to lead its initial training efforts. However, there were some shortcomings in the use of external trainers as most did not have the experiences working in the food industry. In response to this problem, President Yoneyama hired an outside consultant to establish training knowhow within the Company. Currently, AP COMPANY boasts of 33 staff who serve as training leaders.
There are limitations as to how far President Yoneyama can diffuse the corporate philosophy, mission, and the goals of AP COMPANY. Therefore restaurant manager class staff have been cultivated to serve as training leader to be able to lead training classes of between 100 to 200 staff. Furthermore, a goal of restaurant staff is to become a training leader. A reason for the enhanced training system of AP COMPANY is its bountiful training materials and the realism of its training based upon the participation in various parts of the food production process.

Based upon the "direct producer seller channel business model" and AP COMPANY participation in the primary, secondary and tertiary industries, AP COMPANY seeks to teach its staff about "invigorating the primary industries and regional economies", "resolving issues in the secondary industries", and "the value of life", in addition to techniques to interface with customers. Its training course is also filled with materials designed to establish a sense of empathy amongst its staff.

For example, newly hired staff are sent to Miyazaki Prefecture for two to three weeks of training during the third year of work. Free range chickens are prepared for shipment at four to five months after hatching. And at the meat processing plant they are cut into three parts. Many of the staff attending the processing plant cry at the sight of the actual processing of the chickens. Subsequent to this moving experience, they take a much more serious and deeper consideration of the sacrifices needed to provide food to consumers. In turn, these same staff begin to ponder the question of "what exactly is their role in this process", and they gain a new sense of appreciation for animals and plants provided as delicious meals for consumers.

Scenes of this training program are recorded to be shown to newly hired full- and part- time staff. Thereafter, staff are taught about their role in restaurants. Through these experiences, newly hired staff are taught the corporate philosophy, vision, and mission. At the same time, they also gain an understanding of the motivation and philosophies of food producers, which are then explained in the course of providing various foods to customers.

 

◎ Advantages of M&A

This training program is also a vital tool in the strategy of conducting aggressive M&A activities. In order to succeed in M&A, "the ability to discover superior M&A targets" and "implement M&A at appropriate pricing" is an important factor. However, another important factor is the ability to implement effective post merger integration (PMI) in order to extract synergies from any M&A activities.

Obstacles to integration need to be validated in the early stages of M&A activities to secure solid integration effects from M&A activities. Furthermore, management structure integration needs to be promoted after M&A is conducted. Consequently, PMI is an important theme that will determine whether or not management can overcome differences in corporate cultures.

Normally, employees of companies being taken over in M&A activities generally suffer a decline in motivation. However, in the case of AP COMPANY, the training program plays an important role in "gaining an understanding for and diffusing corporate philosophies" to achieve a common mindset that will help unite the group and mobilize the strengths of both companies.

 

2. Recruiting Part-Time Staff

While the shortage of part-time workers in the food service industry is severe, AP COMPANY has been far more successful in securing human resources than its competitors. AP COMPANY also endeavors to raise employee satisfaction in addition to customer satisfaction. As part of the hiring process, AP COMPANY places emphasis on whether or not an applicant can gain understanding and empathy for its corporate philosophy and mission. Therefore, the Company conducts "employment support seminars" for potential new part-time staff. Part-time staff are taught about job searching and how to be prepared for work in this seminar. In addition, they are also given referrals to jobs. The fact that job seekers have worked at "Tsukada Nojo" is considered to be a positive factor by other companies considering employment of former AP COMPANY staff, because of its rigorous training program. Consequently both potential workers and other companies seeking to hire former AP COMPANY staff consider employment at AP COMPANY to be a positive.

In addition, AP COMPANY also conducts an award program for staff who propose good ideas as a means of increasing overall staff motivation and cultivating skills of each individual staff. This program is highly regarded amongst student workers. These programs allow AP COMPANY to avoid having to raise hourly pay by large margins to attract and hire part-time staff, and they have contributed to a relatively long employment retention period of 1.9 years and stability in its work force.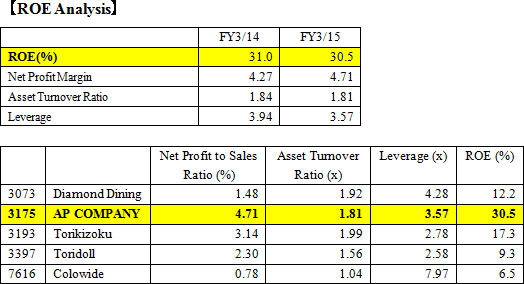 AP COMPANY's return on equity stood at a high 30.5%, which is far superior to its competitors. While leverage is a bit high, the profitability of AP COMPANY also remains high compared with its peer group.

 

 
 

AP COMPANY is endeavoring to strengthen its existing businesses even further, while at the same time cultivating new businesses as part of its overall growth strategy.

 

<Existing Businesses>
① New Restaurant Opening Structure

AP COMPANY had a target of 40 new restaurant openings during fiscal year March 2015, but the actual number of restaurants opened fell shy of target by 14 restaurants to 26. As part of its efforts to fortify its new restaurant opening function, the Company headhunted new restaurant opening staff and strengthened its overall human resources capability, dividing the new restaurant development department into two parts to promote more effective new restaurant development activities.

 
 

② Product Development Structure

AP COMPANY staff stationed around the country are dispatched to discover new and interesting food products. These staff stationed locally have access to various food cultures unique to the local regions in which they live and work, and they are constantly gathering information on new food products as part of the process of developing attractive new food menu development.

 

③ Human Resources Hiring

AP COMPANY seeks to become a "comprehensive food marketing company" based upon its unique sixth sector industrialization business model and to exceed the conventional boundaries of food service by cultivating new business realms. Therefore, it is necessary for the Company to hire staff with the proper mindset and to secure highly skilled human resources as part of its efforts to fortify its overall work force. Furthermore, new business will be started based upon this sixth sector industrialization business model in the realms of food services, electronic commerce (EC), external sales, bento (lunch) boxes, bridal services and in overseas markets as well. At the same time, AP COMPANY will provide diversified career paths to its staff as a means of attracting human resources.

 

<New Businesses>
① Accelerate Facility Openings in Asia

In July 2012, a subsidiary called AP COMPANY International Singapore was established. In October of the same year, the first "Bijin Nabe (Japanese Beauty Collagen Hot Pot) Restaurant Tsukada Nojo" restaurant was opened in Singapore. During the coming three years AP COMPANY International Singapore plans to open 16 new restaurants and achieve sales of Singapore $25.00 million (Approximately ¥20.00million). AP seeks to provide authentic Japanese cuisine along with heartwarming Japanese hospitality services. The sale of various foods from around Asia in Singapore will contribute to improvements in incomes of participants in agriculture and promote employment opportunities in agriculture, thereby invigorating the primary industry in Asia.

As of January 1, 2016, AP COMPANY will acquire four restaurants operated by the EN Holdings PTE LTD and its three group companies (Hereafter called EN Group). Along with this acquisition, AP COMPANY will accelerate its restaurant opening strategy in Singapore. In addition, AP COMPANY has signed a licensing agreement with a local company to open three "Bijin Nabe" restaurants in the Philippines, marking a start to the expansion of its operating territory in Asia.

 

② Restaurants to Open in the United States

AP COMPANY will open authentic Japanese restaurants in the United States, where the popularity of Japanese food is high, to help educate the US consumer market on real and delicious tasting Japanese cuisine. In fall 2015, "Nojo San Francisco" is scheduled to open in San Francisco, and in January 2016 "Tsukada Farm Hawaii" is expected to open in Hawaii. This development also marks the start of AP COMPANY's advance into other markets outside of Asia. As mentioned above, the ability to offer staff opportunities to work in overseas markets is yet another strong point of AP COMPANY's hiring strategy to attract highly skilled staff.

 

③ Bridal and Wedding Services Started

In September 2015, the French restaurant "Tycoon Continental" was opened in Yokohama to provide wedding after party services. Strengths of the "direct producer seller channel business model" will be leveraged to provide high quality foods at reasonable prices. The provision of usage of existing restaurant facilities for after wedding dinners and parties will be expanded as a means of increasing the utilization rates and earnings derived from existing restaurant facilities.

 

④ Bento Box Delivery Services

From July 2014, a bento box (Lunch box) delivery service called "Obento Labo" began operations. The strength of product development based upon Tsukada Nojo food menus have been leveraged in this bento box delivery service.

 

 

Currently, AP COMPANY is focused on the provision of its high quality bento box lunches to medical institutions and pharmaceutical companies operating within the 23 wards of Tokyo ranging in prices between ¥1,200 to ¥3,000 per bento box. Repeat usage and word of mouth introductions are on the rise, contributing to an increase in new customers. As of end fiscal year March 2015, the total number of customers stood at 579, with the number of repeat customers at 326 or over half of the total.
In the future, efforts to fortify processing facilities, expand targeted customers (General companies and BtoC business), and strengthen logistics facilities will be made to expand the delivery area, with sales and operating profit expected to reach ¥3,315 and ¥384 million respectively in fiscal year March 2018.

 

⑤ External Sales, Electronic Commerce Services
◎ External Sales

Based upon the bento box delivery service targeting corporate clients, AP COMPANY is also considering the expansion of this service to include external sales to individual users. Also, certain products chosen from the restaurant menu including "Tsukada Nojo Secret Miso Sauce" and "Tsukada Nojo Zukadama Pudding" are being developed as products to be sold outside of the restaurants.

 

◎ Electronic Commerce Service

AP COMPANY is also considering the provision of online sales services for agricultural products. Similar to the delivery bento box service, it is considering the potential to create a brand that leverages the production and sales of its products.

 

 
Interview with President Hisashi Yoneyama
 

We interviewed President Hisashi Yoneyama about his future vision for AP COMPANY and his message to investors.

 

<Endeavoring to Become a Comprehensive Food Marketing Company>
AP COMPANY maintains the corporate philosophy of "pursuing the ideal vision of how the Japanese food service industry should be", and it conducts a highly unique "producer to seller directly linked business model" with goal of revolutionizing Japan's food industry. Therefore, we need to hire an ever larger number of highly skilled staff to help us grow our business.
Unfortunately the food service industry suffers from a lack of popularity by students and other potential workers. Students with strong potential to become highly skilled staff seldom consider working in agriculture and other primary industries or in restaurants where final products are sold to consumers. Instead, they more commonly choose to work in manufacturing, distribution, information and other intermediary industries.
While the bulk of our Company's sales are still derived from the sales business segment, our business portfolio is expected to change as we endeavor to realize our future vision of becoming a "comprehensive marketing company for foods."
Consequently, new businesses in the realms outside of the food service applications are expected to expand, creating the need for an even greater number of highly skilled staff.
For example, it will become necessary to offer alternative career paths to various staff including restaurant managers who obtain first-hand information about consumers needs so that they can leverage this information and knowledge in food production and other realms.
Recently, a student turned down the offer to join a major food product manufacturer and instead chose to join AP COMPANY to work in the realm of food production. Also, we boast of a large number of staff who graduated from the Tokyo University of Agriculture who have chosen to work at our Company because of the potential that our corporate philosophy holds to revolutionize the food industry.
<On Deployment of New Businesses>
Because food materials are comprised of various parts, the ability to maintain various channels other than just the food service business will allow for use of a greater portion of food materials and to reduce both losses and costs. The steady expansion of the bento box delivery service is an example of this multiple channel strategy that holds strong potential.
With regards to the overseas business, "Japanese food" which is in strong demand in overseas markets, has yet to be represented accurately by Japanese restaurants that already exist in overseas markets. Therefore, AP COMPANY should be able to fill this gap by introducing this "direct producer seller channel business model" into overseas markets to provide authentic and delicious Japanese foods. Consequently, the experiences accumulated in Japan will act as a strong advantage in the deployment of our business in overseas markets.
With regards to the wedding and bridal services, we have the ability to custom tailor our menus to satisfy both the bride and groom and their families by preparing French and other foods that use food products native to the regions where they grew up. This is a strong differentiating factor of AP COMPANY's "pursuit of good foods" through its nationwide network of food producers.
<Message to Investors>
I recognize that one of our main issues is how effectively we can change the evaluation of our Company by the market as merely an "izakaya" Japanese pub restaurant operator. Consequently, we are reforming our business portfolio to gain recognition as a company that is more than just a simple restaurant operator.
Based upon this recognition, we are primarily focusing our efforts in top-line growth and corporate scale expansion rather than securing or improving profitability.
While we had been focused primarily upon the expansion of our restaurant network as the highest priority in our existing business, our newer businesses including the bento box delivery service is ramping up steadily. And because other services are also showing signs of strong future growth potential, we expect to restrain the pace of new restaurant openings in the existing business from the coming term onwards, so that we can focus more of our efforts upon the development of these new businesses.
In addition to achieving even greater growth in our new businesses, we will also focus upon improving the quality of our restaurants in our existing business.
The knowhow in the realm of diversified sales channels cultivated within our Japan business will be leveraged in overseas markets to promote "sixth sector industrialization" around the world. Along with the growth in the scale of our Company, we will also aggressively promote M&A activities.
Therefore we ask for the continued support and understanding of investors in our intermediate to long term efforts to "pursue the ideal vision of how the Japanese food service industry should be."
Fiscal Year March 2016 Earnings Estimates

 

AP COMPANY's earnings estimates call for sales and operating profit to rise by 17.4% and 24.7% year-on-year to ¥22.576 and ¥1.581 billion respectively during fiscal year March 2016. While an expansion in new restaurant openings and the ramping up of new businesses are expected to contribute to a rise in costs, the higher sales are expected to absorb these costs and allow profits to rise by double digits. Consequently, both sales and profits are expected to rise to new record highs.

 

(2) Topics
Announcement of a Stock Buyback
AP COMPANY announced its plan to undertake a stock buyback amounting to a maximum number of 150,000 shares and a value of ¥260 million as part of its flexible capital strategy to make more effective use of capital.

 

 
 

As mentioned above, the best way to get a feel for the strong potential of AP COMPANY's business model is to visit a "Tsukada Nojo" restaurant to see its "value added communication with customers" and its "iron plate jab" sales methods in practice. While this type of service may not be welcomed by all customers, viewing the menu books and tasting the actual foods at their restaurants is likely to give visitors a better understanding of the overwhelming advantage of the Company's differentiation strategy. In addition, AP COMPANY's unique "direct producer seller channel business model" that is based upon the philosophy of "pursuing the ideal vision of how the Japanese food service industry should be" is another reason to take interest in the Company. In spite of the relatively high return on equity (ROE) and other factors that differentiate it from its competitors, a comparison with its competitors suggests that the market has yet to adequately value AP COMPANY's share price. A key that is likely to lead investors to consider these unique characteristics of the Company includes the speed of progress in creation of new businesses and expansion in the producer to distributor business including M&A activities.

Disclaimer

This report is intended solely for the purpose of providing information, and is not intended as a solicitation to invest in the shares of this company. The information and opinions contained within this report are based on data made publicly available by the Company, and comes from sources that we judge to be reliable. However, we cannot guarantee the accuracy or completeness of the data. This report is not a guarantee of the accuracy, completeness or validity of said information and or opinions, nor do we bear any responsibility for the same. All rights pertaining to this report belong to Investment Bridge Co., Ltd., which may change the contents thereof at any time without prior notice. All investment decisions are the responsibility of the individual and should be made only after proper consideration.

Copyright(C) 2016, Investment Bridge Co., Ltd. All Rights Reserved.