MUGEN ESTATE Co., Ltd. (3299)
Shinichi Fujita, President
| | |
| --- | --- |
| Company | MUGEN ESTATE Co., Ltd. |
| Code No. | 3299 |
| Exchange | TSE 1st Section |
| Industry | Real Estate |
| President | Shinichi Fujita |
| HQ Address | Nihonbashi Hama-cho 3-19-3, Chuo-ku, Tokyo |
| Year-end | December |
| Homepage | |
Share Price
Shares Outstanding
Market Cap.
ROE (actual)
Trading Unit
¥2,146
11,005,000 shares
¥23.616 billion
36.1%
100 shares
DPS (Est.)
Dividend Yield (Est.)
EPS (Est.)
PER (Est.)
BPS (Actual)
PBR (Actual)
¥38.00
1.8%
¥354.04
6.1x
¥996.46
2.2x
*Stock price as of close on March 31, 2016. Shares outstanding is taken from the most recent earnings announcement documents.
ROE and BPS are actual data taken from the most recently ended fiscal year.
| | | | | | | |
| --- | --- | --- | --- | --- | --- | --- |
| Fiscal Year | Sales | Operating Profit | Current Profit | Net Profit | EPS | DPS |
| December 2010 | 11,317 | 659 | 526 | 263 | 31,88 | 2.00 |
| December 2011 | 11,423 | 308 | 109 | 45 | 5.53 | 2.00 |
| December 2012 | 12,877 | 605 | 382 | 225 | 27.25 | 2.00 |
| December 2013 | 20,830 | 2,254 | 1,974 | 1,127 | 136,55 | 4.00 |
| December 2014 | 30,175 | 3,465 | 3,076 | 1,759 | 181.76 | 17.00 |
| December 2015 | 45,706 | 6,123 | 5,573 | 3,382 | 308,31 | 32.00 |
| December 2016 Est. | 58,397 | 7,425 | 6,632 | 4,185 | 354,04 | 38.00 |
* Estimates are those of the Company. Earnings until fiscal year December 2011 are non-consolidated, and those thereafter are consolidated.
* A 500 for 1 stock split was performed on March 26, 2014. EPS and dividends have been adjusted to reflect this stock split.
From fiscal year December 2016, the definition for net Profit has been changed to net profit attributable to parent company shareholders (Abbreviated as Parent Company Net Profit).

 

We present this Bridge Report reviewing the fiscal year December 2015 earnings results of MUGEN ESTATE Co., Ltd.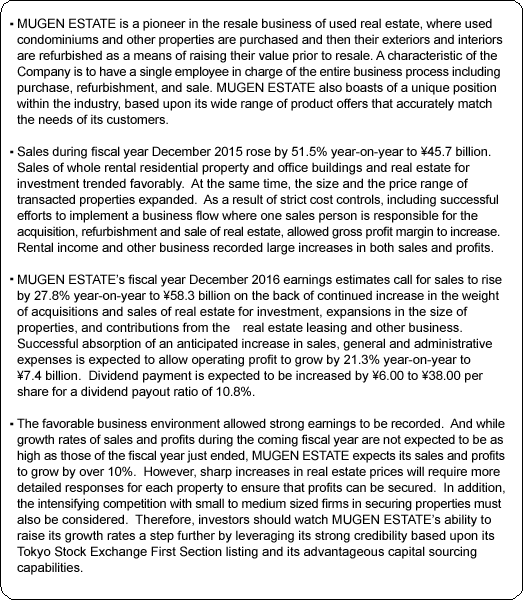 MUGEN ESTATE is a pioneer in the resale business of used real estate, where used condominiums and other properties are purchased and then their exteriors and interiors are refurbished as a means of raising their value prior to resale. A characteristic of the Company is to have a single employee in charge of the entire business process including purchase, refurbishment, and sale. MUGEN ESTATE also boasts of a unique position within the industry, based upon its wide range of product offers that accurately match the needs of its customers.

 

<Corporate Profile>

Susumu Fujita, currently the Chairman of MUGEN ESTATE, founded the Company in 1990 for the acquisition of used condominiums to be refurbished for resale to first time purchasers. This marked the start of the used condominium refurbishment business. Amidst the expansion of the used condominium market, MUGEN ESTATE has been able to carry on without outside capital by cultivating staff on its own to achieve steady growth. The subsidiary FUJI HOME Co., Ltd. was established in 1997 to provide refurbishment services. The Company has been able to overcome various difficulties including the Lehman Shock and the Great East Japan Earthquake, and listed its shares on the Mothers Market of the Tokyo Stock Exchange in June 2014, and on the first section of the Tokyo Stock Exchange in February 2016.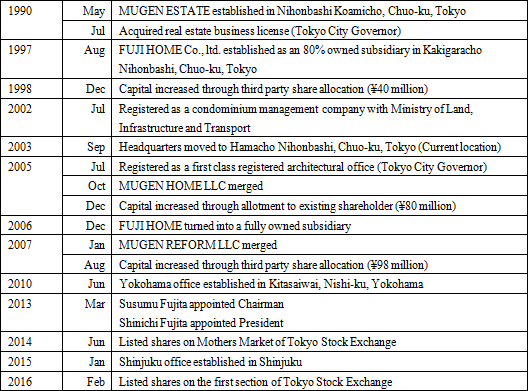 <Corporate Philosophy>

The corporate philosophy is reflected in its name "MUGEN" ("Dream comes true"; Japanese word) and calls for "the pursuit of ideals, realization of dreams." MUGEN ESTATE's goal is to help customers realize their own dreams by owning a house of their own, while also striving to realize dream through ongoing growth of the Company and of its employees.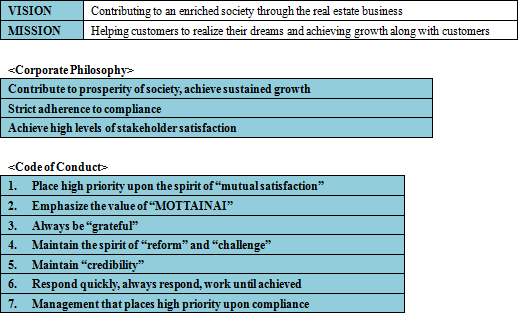 <Market Environment>

Expanding Market for Refurbished and Used Residential Properties

The Ministry of Land, Infrastructure and Transport announced the "Total Plan for Renovating Existing Homes" in March 2012 with a view to double the size of the refurbished and used residential property market. Based upon the goal of achieving a shift in the focus from the newly constructed residential property market to the used residential property market where used residential properties are refurbished to improve their quality and functions, the used residential property refurbishment market is expected to double its current size to ¥20 trillion by 2020.

As part of such measures, "efforts will be made to quickly structure the market from the consumers' point of view so that consumers can safely purchase used residential properties and carry out refurbishment. At the same time, MLIT will also promote comprehensive efforts to cultivate companies and people who shall be responsible for providing attractive refurbished and used residential properties that respond to the diverse needs of consumers, and with the goal of promoting improvements in quality and increasing liquidity of used residential properties."

 

Attractive Real Estate Market in Tokyo Metropolitan Region
Continued Favorable Conditions for the Used Condominium Market:

The used condominium market in the Tokyo and surrounding metropolitan region grew by 81% over the 10-year period from 2003 to 2013 for an annual growth rate of approximately 6%. This growth owed to overall lessened hesitation among consumers for purchasing a used condominium resulting from the sense of security gained through the fact that consumers could see the actual used condominium prior to purchase, through which they could picture better how their life would be at home. Expansion of loans offered by financial institutions, and the comparatively low pricing of refurbished used condominiums relative to new condominiums were other factors contributing to the growth. While a rebound from the rush to purchase ahead of the consumption tax hike in 2014 contributed to a drop in demand, demand in 2015 recovered to the levels seen in 2013.
At the same time, the market of whole rental residential properties and office buildings as real estate for investment is expected to remain highly active given the growing interest in real estate investment by affluent people and individual investors within Japan, and from overseas in view of the Tokyo Olympics and Paralympics to be held in 2020.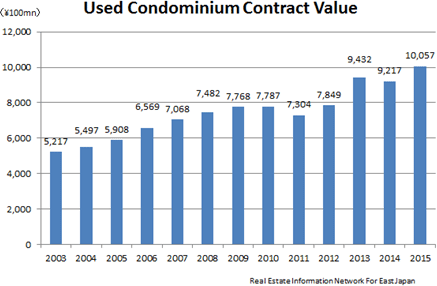 Household Numbers in The Tokyo Metropolitan Region On The Rise:

While a contraction in the total population of Japan arising from declining birth rates appears to be unavoidable at present, the National Institute of Population and Social Security Research estimates that the number of households in the Tokyo metropolitan region will continue to grow until peaking in 2025.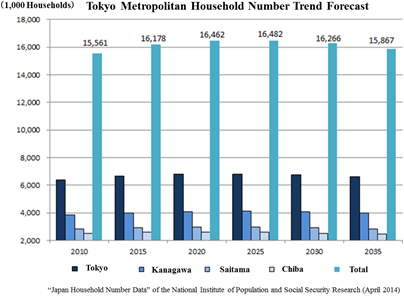 Growing Interest of Overseas Investors:

The interest of foreign investors in real estate investments in the Tokyo metropolitan region is rapidly increasing as the price of residential real estate in Tokyo remains low relative other major cities in Asia and around the world, and also because the capitalization rates are also highly attractive.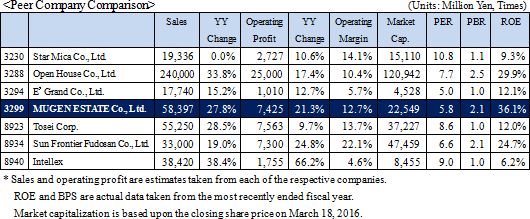 Comparing with peer companies, MUGEN ESTATE's ROE is the highest and its PBR is second behind to the largest player, Open House. On the other hand, PER is still in low level. Improvement of its awareness and promotion of understanding on its growth strategy are desired

 

<Business Description>

MUGEN ESTATE's business is divided between the two segments of "real estate -trading" and "real estate leasing and other" businesses, with the real estate trading segment business accounting for about 96% of total sales during fiscal year December 2015. The Company plans to promote efforts to expand its earnings deriving from the real estate leasing and other business segment.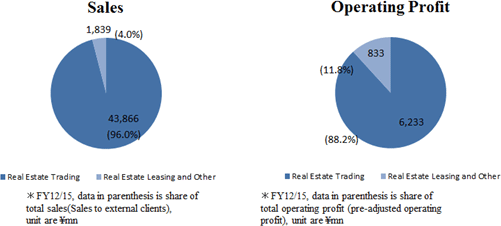 <Real Estate Transaction Business>
Sales and Operating Profit of ¥43.866 and ¥6.233 Billion in FY12/15

The real estate trading business segment includes the three services of real estate resale, interior and exterior refurbishment and construction, and real estate distribution with the main service being the resale of real estate.

 

◎ Purchases and Resale Business

The Company purchases used condominiums for sectional ownership, real estate for investment, and detached housing properties in the Tokyo Metropolitan Areas, including Tokyo, Kanagawa, Saitama and Chiba. To increase their value, the Company then has the subsidiary FUJI HOME, and some others, refurbish them in accordance with their age, space, layout, location and management condition.

Main Value Addition Activities


Refurbishment of exteriors and interiors

Improve management conditions of buildings

Restoration of wear and tear caused by age

Leasing of vacant rooms

Collection of unpaid rent

After having increased real estate values as "real estate for resale" through any of the activities, the Company then sells to first time purchasers, individual investors, and small to medium sized companies.

 

 

The purchase and sale of real estate is performed by real estate brokers, but some of the transactions are undertaken by FUJI HOME in order to obtain a feel for the diversifying needs of customers and market trends. In order to respond quickly and accurately to the needs of customers, MUGEN ESTATE maintains a diverse lineup of condominiums for sectional ownership, real estate for investment (rental condominiums, apartments and office buildings) and detached housing. Properties are divided into two categories of real estate for investment and real estate for residence. Real estate for investment are properties purchased by investors for the purpose of deriving returns, which include whole rental condominium complexes, offices and apartment buildings, as well as condominiums for sectional ownership and others. The average price for real estate for investment is between ¥100 to ¥200 million.

Real estate for residence are properties purchased by consumers for the purpose of living in them, which include detached housing in addition to its main item of condominiums for sectional ownership. They are bought primarily by first time purchasers and their prices are mostly in the ¥20 to ¥30 million range. MUGEN ESTATE sold over the course of fiscal year December 2015, 227 units of real estate for investment and 375 units for residence.

MUGEN ESTATE boasts of a unique business process where one sales person is responsible for the acquisition, refurbishment and sale of real estate. Furthermore, the Company's sales staff visit real estate brokers such as Mitsui No Rehouse, Nomura Real Estate Urban Net Co., Ltd., Sumitomo Real Estate Sales Co., Ltd., Tokyu Livable Co., Ltd. and others in the Tokyo metropolitan region to obtain information about real estate for sale by both individuals and corporations. By visiting these real estate companies, sales staff are able to obtain real estate information on superior properties that have yet to be released through public channels.

After obtaining information on real estate for sale, analysis is conducted regarding the properties' potential for increased value and resale at higher prices after renovation and refurbishment. If MUGEN ESTATE finds that there is that potential, then they acquire the properties and then outsource the task of refurbishment to a subcontracting company under the supervision of its subsidiary, FUJI HOME.

An analysis of the potential customer base specific to the location of the property is conducted by sales staff to determine the price and other needs of the customers, and in some instances a three bedroom used condominium maybe converted into a two bedroom condominium and other refurbishments are undertaken to raise the attractiveness of the property (Refurbishments are conducted with a view to the end sale price and ensuring profitability on the sale).

Sales staff responsible for purchasing the real estate adhere to standards established by the Company. These internal standards are comprised of various factors including specific balance between acquisition price and management fees, proximity to train stations and no properties requiring bus rides, and other specific information known internally as the "12 purchase conditions," which have been developed over the history of the Company's operations and are effective as a context for the conduct of its business. At the same time, this standard developed on MUGEN ESTATE's own unique knowhow also serves to support less experienced sales staff in making the correct analysis and purchase of real estate. In addition, sales staff consult with their managers and superiors to obtain appropriate advice on how to carry on their business process. And while high commission involved in sales activities for condominiums tends to lead sales staff to act discretionally in general in the industry, MUGEN ESTATE maintains a culture of team work, where sales staff consult
each other for advice and superiors lead their subordinates in the right direction on the business process. Furthermore, MUGEN ESTATE pays its sales staff commissions, not based upon the resale value but upon the profit derived from the resale as a means of reducing the risk of excessive purchases and leftover inventories that many of its competitors suffer.

In recent years, the interest of overseas investors, especially those in Taiwan, in acquiring Japanese real estate has increased, and the number of real estate brokers specialized in dealing with overseas investors is growing. Against this backdrop, sales to overseas investors is on the rise. The share of real estate for investment sales derived from overseas investors rose from 11.7% in fiscal year December 2013 to 20.6% in fiscal year December 2015.

 

◎ Interior and Exterior Refurbishment Business

The subsidiary FUJI HOME conducts refurbishment of both the interiors and exteriors of purchased used real estate. FUJI HOME boasts of bountiful knowhow in refurbishment services based upon over 500 refurbishment projects conducted through accurate surveys and analysis of real estate properties by its highly skilled staff, including first class registered architects. Orders from MUGEN ESTATE currently account for over 90% of FUJI HOME's total orders, but it is endeavoring to expand orders from external clients.

 

◎ Brokerage Business

Information about real estate purchased for resale by MUGEN ESTATE is handled by FUJI HOME. In addition to the company website, they also puts it up on other portal sites for used real estate information operated by other companies. Furthermore, they also provide mediation services for MUGEN ESTATE in their acquisition of real estate properties. Also, synergies with the Company's real estate resale business can be realized by gathering accurate information about the needs of used real estate purchasers.

 

<Real Estate Leasing and Other Business>
Sales and Operating Profit of ¥1.839 and ¥833 Million Recorded in Fiscal Year December 2015

Optimization of the sales function of the real estate resale business is being pursued.

 

◎ Leasing Business

Real estate purchased as investment properties and as fixed asset properties are leased to end users. In principle, real estate is purchased with the objective of sales. However, renting and leasing is used as a means of deriving income until the properties are sold.

 

◎ Property Management Business

Management services for leased real estate that have been acquired as investment properties and fixed asset properties are conducted. Improvement in the management of structures, restoration of wear and tear caused by age, leasing of vacant rooms, collection of outstanding rent, and other measures are implemented as part of a strategy of increasing the value of properties and improving the return on real estate for investment. In some cases, property management services are maintained even after the real estate for investment is sold at the request of purchasers.

 

<Management Strategy>

The "Three S's" designed to collateralize sustained growth and establish a sound earnings foundation.

 

MUGEN ESTATE promotes a growth strategy to become a "dominant player in the Tokyo and surrounding metropolitan region" and is focused upon used real estate including not only condominiums and detached housing units, but also office buildings to become the company with the largest sales in the resale real estate business in the region. As a means of differentiating its business from its competitors, MUGEN ESTATE has chosen not to open offices in regions outside of Tokyo and the surrounding regions, and in principle will not deal in used real estate in regions outside of Tokyo Metropolitan area.

 

<Characteristics and Strengths>
① Management Leveraging Synergies

In addition to the above mentioned real estate resale service, MUGEN ESTATE also performs real estate rental, real estate refurbishment, real estate distribution, and real estate management services. The knowhow developed in its various businesses based on the results of the many years of operation is leverage to be able to respond flexibly to changes in the market and derive various synergies between its various businesses.

 

② Diverse Product Lineup and Unique Positioning

With regards to the core real estate resale business, MUGEN ESTATE boasts of a strong information gathering capability based upon its network in the used real estate market in the Tokyo and the surrounding metropolitan region, which has enabled the Company to develop a diverse lineup including condominiums for sectional ownership, real estate for investment (whole rental condominium complexes, offices and apartment buildings) and detached housing, and to respond quickly and accurately to customers' needs. In addition, MUGEN ESTATE has developed a strong reputation amongst real estate brokers for its ability to respond to all of the information gathered from them. Returning to those real estate brokers upon completion of rendering resale properties creates a benevolent cycle where the Company gains preferential treatment in the gathering of information on superior real estate.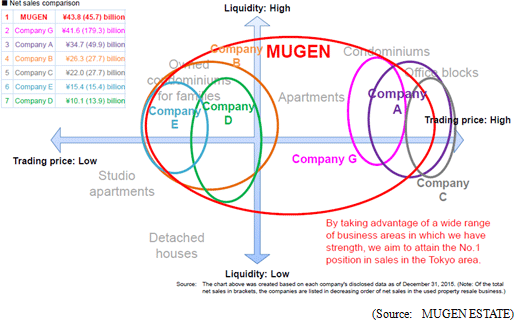 As illustrated in the above diagram, MUGEN ESTATE has carved out a unique position within the real estate refurbishment industry through the creation of a diverse product lineup.

 

③Strength of High Levels of Professional Skills

The information gathering, investment decision making, property management, technological response and other capabilities are all part of MUGEN ESTATE's high levels of professional skills and allow the Company to provide superior properties to the market.

 

 
Fiscal Year December 2015 Earnings Overview

 

Strong Growth Boosts Sales, Profits to Record Highs on Strong Demand for Investment-type Properties

Sales rose by 51.5% year-on-year to ¥45.7 billion on the back of continued favorable sales of whole rental residential-type property and office buildings and other investment-type properties. At the same time, the size and pricing of properties sold expanded. As a result of strict cost controls, including successful efforts to implement a business flow where one sales person is responsible for the acquisition, refurbishment and sale of real estate, allowed gross profit margin to exceed initial expectations. Also, sales and profits of the real estate leasing and other business also rose by large margins.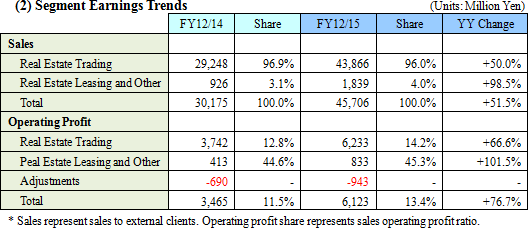 Both Business Segments Trended Strongly

Aggressive activities to acquire investment-type properties allowed sales of the real estate leasing and others business segment to rise.The business is growing steadily as the table revenue base.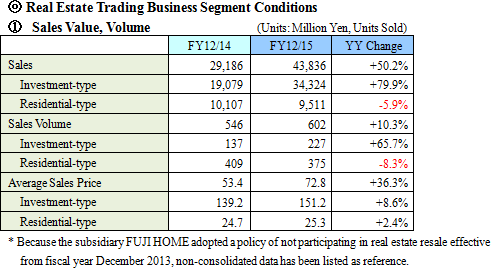 Both sales value and volume of investment-type properties rose strongly. The number of large whole real estate properties for investment priced at over ¥0.5 billion rose by eight from the previous term to 13 in the current term. This expansion in the number of large properties is a result of a deliberate strategy of the Company. The number of retail stores and compartmentalized ownership condominiums sold also grew. In addition, skills of the marketing staff are steadily improving as knowhow developed in the real estate acquired for resale business is disseminated and shared.
At the same time, increases in acquisition of investment-type properties for resale contributed to declines in both sales value and volume of residential-type properties compared with the previous term.

By geographic region, Tokyo accounts for over half of the market and MUGEN ESTATE has decided to focus upon aggressively developing responses for favorable properties in the Tokyo and surrounding prefectures.

And while the share of sales to overseas investors purchasing investment-type properties in Japan declined from 24.7% in the previous fiscal year to 20.6% in the current fiscal year in value terms, sales to overseas investors on a volume basis rose from 15.3% to 20.3% over the same period, a reflection of the continued strong demand from overseas investors. Furthermore, the average price of investment-type properties purchased by overseas investors exceeded the overall average at ¥153 million.

 

 

Because the used real estate business is noted for being vulnerable to trends in the economy, tailored inventory control is implemented to be able to make adjustment to match changes in the business environment.

The data shown in the above table is the average number of days from the decision to purchase used real estate to the booking of sales, known as the "business cycle." The average business cycle for investment and residential type real estate were 160 and 165 days respectively during fiscal year December 2014. The average business cycle was 222 and 173 days respectively for investment and residential types real estate in 2015 as the average size of real estate properties rose.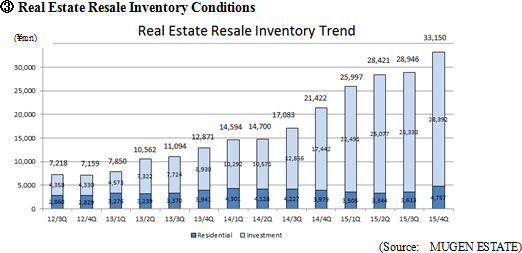 Favorable business conditions contributed to continued aggressive acquisition of investment-type properties. Deliberate efforts were conducted to expand inventories of residential real estate at the end of the term.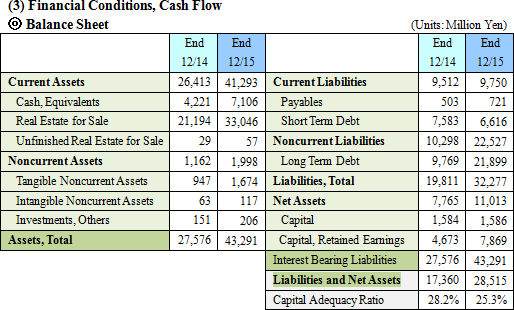 An increase of ¥11.8 billion in real estate for sale arising from aggressive acquisitions and a rise of ¥2.8 billion in cash and equivalents contributed to a ¥14.8 billion increase in current assets from the end of the previous term. Increases in noncurrent assets on the back of a ¥0.7 billion rise in tangible assets (Land and structures) contributed to a ¥15.7 billion rise in total assets to ¥43.2 billion. Sourcing of capital for acquisition of real estate contributed to a ¥11.1 billion rise in interest bearing liabilities and a ¥12.4 billion increase in total liabilities to ¥32.2 billion. Net assets rose by 3.2 billion to ¥11.0 billion due to the increase in retained earnings resulting from profits. Consequently, capital adequacy ratio declined by 2.9% points from 28.2% at the end of the previous term to 25.3% at the end of the current term.

 

 

Despite strong gains in profits, higher growth in inventories than in the previous term contributed an expansion in the net outflow of operating cash flow. Increases in acquisition of tangible assets also contributed to an expansion in the net outflow of investing cash flow.

The net inflow of financing cash flow expanded on the back of a rise in long term debt and despite the disappearance of income from derived from the equity financing conducted during the previous term. Cash position also rose.

 

(4) Topics
◎ Move of Listing to the Tokyo Stock Exchange First Section Market, Financing Implemented

MUGEN ESTATE moved its shares from the Mothers Market to the First Section Market of the Tokyo Stock Exchange on February 5, 2016.
This move has contributed to an improvement in MUGEN ESTATE's property sourcing and its competitive capabilities due to subsequent improvements in MUGEN ESTATE's reputation amongst financial institutions and its strengthened funding capabilities.
Along with this move, funds were raised through a third party placement of shares with an overallotment.

 

 

Payments were received on February 4, 2016

 

 

Payment was received on February 22, 2016.
The total number of shares issued after the third party placement is 12,175,500.

 

◎ Contract to Become an Official Partner of "Yokohama F-Marinos" J1 League Soccer Team Signed

A contract to become an official partner of "Yokohama F-Marinos" of the J1 League (Japanese Professional Soccer League) has been signed.
This agreement is expected to help widen the brand recognition of MUGEN ESTATE not only in the Yokohama area, but across a wide part of the Tokyo and surrounding Kanto region where the Company is implementing an "area dominant" business strategy. This move is also expected to help raise the Company's corporate value over the medium to long term.
The contract runs for three years from February 1, 2016 to January 31, 2019.

 

Fiscal Year December 2016 Earnings Estimate

 

Fifth Consecutive Year of Increases in Sales, Profits Expected, Both Expected to Rise to Record Highs

MUGEN ESTATE's fiscal year December 2016 earnings estimates call for sales to rise by 27.8% year-on-year to ¥58.3 billion on the back of a continued increase in the sales of acquisitions and sales of real estate for investments, expansions in the size of properties, and contributions from the real estate leasing and other business. Successful absorption of an anticipated increase in sales, general and administrative expenses is expected to allow operating profit to grow by 21.3% year-on-year to ¥7.4 billion.

Dividend payment is expected to be increased by ¥6 to ¥38.00 per share, for a dividend payout ratio of 10.8%.

 


 

Along with the promotion of an area dominant strategy, MUGEN ESTATE will also fortify its product lineup to include smaller properties located on the first floor of buildings which can be used as retail space for Chinese investors.
In addition, the Company will maintain its comprehensive business flow where one sales person is responsible for the entire process of acquisition, refurbishment and sale of real estate. At the same time, various efforts will be implemented including strict enforcement of internal rules and standards, quick sharing of problems, strengthening of screening process for large properties, and establishment of a structure that can consistently secure profits.

 

 
Interview with Marketing Staff
 

As explained earlier in this report, MUGEN ESTATE maintains a unique and comprehensive business flow process where one sales person is responsible for the entire process of acquisition, refurbishment and sale of real estate.
This comprehensive business flow is both a strength and characteristic of the Company.
Therefore, we interviewed three marketing staff, including young, middle and marketing director, to learn more about the training process that enables MUGEN ESTATE to implement this comprehensive business flow and to ascertain what the important points that enable marketing staff to advance their skills.

 

<Seeing as Many Properties as Possible>

Newly hired marketing staff are brought along to see properties and observe the acquisition, refurbishment and sale process conducted by more senior staff. The Company believes that the process of viewing as many properties as possible is a crucial part of training new staff.
By observing the process of acquisition to resale conducted by senior marketing staff, new staff can learn about acquisition pricing, increasing the value of properties, cost management, sales pricing and how to realize profits in the sale of properties.

A second year staff told us that "the ability to handle the entire process is an attractive point and was a key factor in my decision to join MUGEN ESTATE ". He further stated that "I was able to realize the satisfaction and joy of selling a property I had worked on" through the help of senior staff and through the formation of team units.

 

<Establishing Own Unique Work Styles Important>

Another important factor in helping less experienced marketing staff to develop their professional skills is to allow them to "establish their own unique work styles" based upon their experiences observing the processes conducted by senior staff.

These efforts will help marketing staff to cultivate skills in specific areas including price range, type of properties and other traits that are a part of their "own unique work style" and act as differentiating factors.
Because sourcing routes of properties to be acquired are very important, staff also rely upon phone communications and unannounced visits. As a result of the increased credibility and recognition of MUGEN ESTATE derived from its listing, the process of cultivating information about properties to be acquired has become more effective.

The top performing marketing staff of MUGEN ESTATE have all developed their "own unique work styles", and the Company recognizes that there is no set pattern for success.
Therefore, a strength of MUGEN ESTATE is its marketing structure that is highly flexible and allows for unique and diverse work styles, unlike most Japanese companies which operate in a highly patterned "cookie cutting" fashion.

 

<Strong Teamwork>

While most real estate companies dispatch marketing staff alone, MUGEN ESTATE dispatches less experienced staff along with senior marketing staff. Furthermore, the culture of teamwork has been firmly established at MUGEN with marketing staff actively providing feedback and advice to each other.
The positive effects of this teamwork are yet another unique trait of MUGEN ESTATE .

 

 
 

Strong earnings results were recorded on the back of the favorable business environment. And while growth rates of sales and profits during the coming fiscal year are not expected to be as high as those of the fiscal year just ended, MUGEN ESTATE expects its sales and profits to grow by over 10%. At the same time, increases in real estate prices have necessitated detailed responses for each acquisition to ensure that an appropriate level of profits can secured on each property. In addition, intensifying competition from smaller to medium sized competitors is another consideration.
Improvements in credibility of MUGEN ESTATE and its ability to source funds are also factors that will help the Company to continue to grow and should be considered by investors.

Disclaimer

This report is intended solely for information purposes, and is not intended as a solicitation to invest in the shares of this company. The information and opinions contained within this report are based on data made publicly available by the Company, and comes from sources that we judge to be reliable. However, we cannot guarantee the accuracy or completeness of the data. This report is not a guarantee of the accuracy, completeness or validity of said information and or opinions, nor do we bear any responsibility for the same. All rights pertaining to this report belong to Investment Bridge Co., Ltd., which may change the contents thereof at any time without prior notice. All investment decisions are the responsibility of the individual and should be made only after proper consideration.

Copyright(C) 2016, Investment Bridge Co., Ltd. All Rights Reserved.