WILLPLUS Holdings Corporation (3538)
President
Takaaki Naruse
| | |
| --- | --- |
| company | WILLPLUS Holdings Corporation |
| Code No. | 3538 |
| Exchange | TSE 2nd Section |
| Industry | Retail business (Commerce) |
| President | Takaaki Naruse |
| Address | 5-13-15 Shiba, Minato-ku, Tokyo |
| Year-end | End of June |
| URL | |
Share Price
Number of shares issued
Total market cap
ROE (Actual)
Trading Unit
¥2,440
4,775,840 shares
11,653 million
19.4%
100 shares
DPS (Est.)
Dividend Yield (Est.)
EPS (Est.)
PER (Est.)
BPS (Actual)
PBR (Actual)
¥12.50
1.0%
¥164.82
14.8times
¥898.79
2.7times
*The share price is the closing price as of October 10. The number of shares issued is as of the end of September 2017. ROE is the figure of the previous term. BPS is the figure of the end of the most recent quarter.
A 2-for-1 share split to be conducted on October 31, 2017. DPS is the figure after the split.
Fiscal Year
Net Sales
Operating
       Income
Ordinary
      Income
Net
    Income
EPS     
DPS     
Jun. 2015 (Actual)
19,072
705
673
416
113.00
00.00
Jun. 2016 (Actual)
21,093
886
866
492
122.40
21.50
Jun. 2017 (Actual)
23,567
1,209
1,197
743
161.41
24.00
Jun. 2018 (Forecast)
24,824
1,231
1,221
759
164.82
12.50
*The forecasted values were provided by the company. A 2-for-1 share split was conducted on April 1, 2017. EPS and DPS have been recalculated retrospectively. Net income is profit attributable to shareholders of the parent. Hereinafter the same applies.

This Bridge Report introduces the overview of WILLPLUS Holdings Corp., future strategies, and an interview with President Naruse.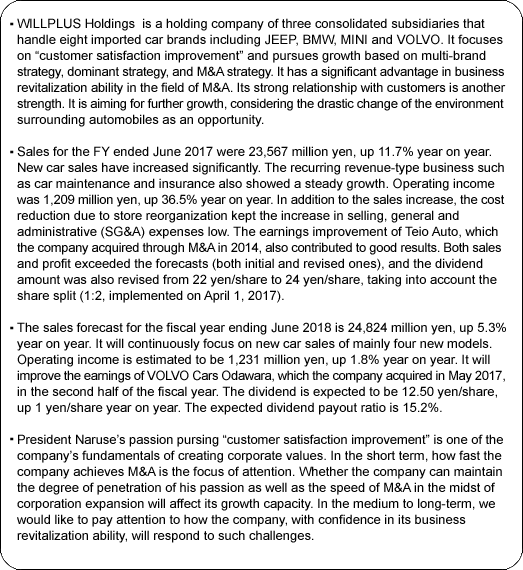 WILLPLUS Holdings is a holding company of three consolidated subsidiaries that handle eight imported car brands including JEEP, BMW, MINI and VOLVO. It focuses on "customer satisfaction improvement" and pursues growth based on multi-brand strategy, dominant strategy, and M&A strategy. It has a significant advantage in business revitalization ability in the field of M&A. Its strong relationship with customers is another strength.
It is aiming for further growth, considering the drastic change of the environment surrounding automobiles as an opportunity.

 
1-1 Corporate history
In January 1997, the father of Mr. Takaaki Naruse, President and Representative Director, established an imported car dealer, "Sunflower C J" in Kitakyushu city, Fukuoka prefecture. It was the first official Chrysler dealer in western Japan.
In October 2004, President Naruse acquired all of the company's shares and started business activities as WILLPLUS group.
Although it was a small dealer with a few staff including President himself, it achieved excellent results compared with other dealers across Japan in selling Chrysler cars and was highly valued. As a result, in 2005, the Chrysler official store in Ota-ku, Tokyo was given to the company, which became an opportunity for the company to conduct business in Tokyo. In 2006, it opened another store in Kurume city, Fukuoka prefecture and began the dominant strategy in Tokyo and Fukuoka.

Aiming to become the "Only one, Number One" in the imported car sales industry, the company was promoting the multi-brand strategy to handle multiple imported car brands in certain sales areas. In order to achieve the aim, the company needed to have separate companies for each brand to have an agreement with each importer. Therefore, it established WILLPLUS Holdings Corp. in October 2007 to flexibly execute acquisition of dealership by optimal allocation of management resources and prompt management decision making.

In parallel with the establishment of the holding company, Fukuoka Chrysler Co., Ltd. (3 stores) and Four Pillars, Co., Ltd. (1 store) became its wholly owned subsidiaries, and the company began the M&A strategy. In July 2008, it acquired all shares of CHECKER MOTORS CORPORATION (4 stores) which is an authorized dealer of FIAT/Alfa Romeo and all of the stores became its wholly owned subsidiaries. In July 2009, Chrysler Japan Co., Ltd. gave the business of Chrysler/Jeep/Dodge Setagaya and Chrysler/Jeep/Dodge Yokohama to the company, and, in September 2009, one of its subsidiaries, Willplus Motoren Corporation acquired the businesses of BMW (2 stores) and MINI (2 stores) to begin handling BMW and MINI cars.

Furthermore, in April 2014, it acquired ownership of VOLVO's authorized dealer, Teio Auto Corporation (5 stores) to make it a wholly owned subsidiary. Through such aggressive M&A actions, it has been expanding the business by implementing the dominant strategy and multi-brand strategy and expanding shares in existing brands.
In March 2016, the company got listed on the TSE JASDAQ market, succeedingly on the TSE Second Section in September 2017.

 
1-2 Corporate Vision, Management Philosophy
The company defines its mission as follows: "We propose

lives with imported cars

, share

richness, pleasure and joy

with more customers and continue to endeavor to bring a

warm smile

to the face of everyone involved."

 

 

The company bases its business on "Customer satisfaction improvement," and it is trying to instill this philosophy in every employee.

 
1-3 Environment surrounding the company
◎Domestic car market in which the share of imported cars continues to rise.

The domestic car market is on a declining trend due to declining birthrate and aging population, prolonged period to hold a car due to improvement of car performance, and change in consumer style and taste (It is said that young people have less interest in cars than before.).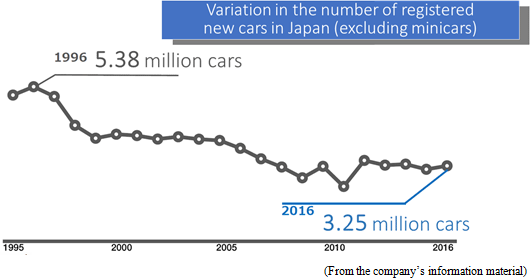 Meanwhile, the number of registered new imported cars has been continuously rising since the Lehman Shock, and the imported car market in Japan continues to expand. The share of imported cars in the passenger car market in Japan (excluding minicars) marked a record high of 9.1% in 2016.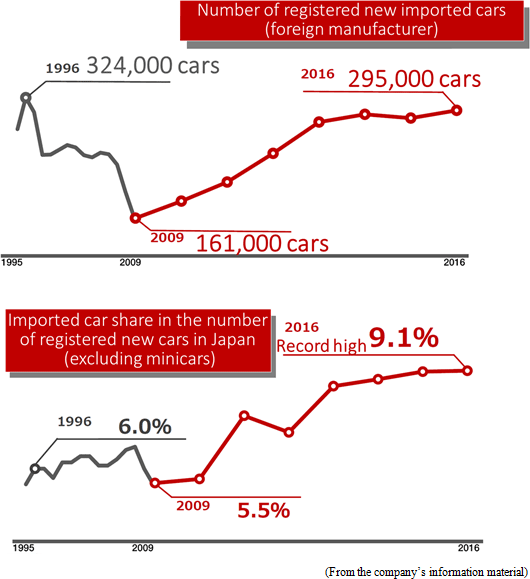 One of the major factors contributing to this rise of the share is the promotion of aggressive sales expansion measures by imported car manufacturers in the Japanese market.

Imported car manufactures produce many attractive products such as hybrid vehicles, electric vehicles, plug-in hybrid vehicles, diesel cars, etc. that are equipped with various eco-friendly technologies and unique and excellent designs.

Furthermore, while domestic manufactures are focusing on development and sales of popular models such as minivans and wagons in the shrinking market with no comprehensive product lineup, imported car manufactures offer a wide range of cars in terms of price, size, and type. It seems that providing a wide variety of lineup has won the support of users who are seeking diversity and more attractive cars.
In addition, proactive investment in Japan, including the development and expansion of sales networks, is also resulting in increased market share in Japan.

According to the company's survey, German imported cars with worldwide popular manufactures such as Mercedes, Volkswagen, BMW, Audi and Porsche occupy about 30% of the market share of imported cars in Japan. Cars from the USA and from Italy occupy about 20% and 70% of the market share of imported cars, respectively.
Although imported car share in Japan is increasing, the share level is still lower than in the other countries, and imported car manufactures will continue to focus on expansion of sales and market share in the Japanese market.

 

◎ Importers and Imported Car Dealers

In the imported car market, importers (dealers of imported cars in Japan based on import agency right from a foreign vehicle manufacture) conclude a dealer agreement with selected car dealers that have excellent sales performance and creditworthiness. In general, the importer is a locally incorporated company and a wholly owned subsidiary of an imported car manufacture.

Currently, in Japan, imported cars of major 22 manufactures are sold at about 1,700 stores that are operated by authorized dealers.
In the case of famous German manufactures, about 80 dealers operate about 190 stores. The average number of stores per dealer is about two to three, which is not many. Most of them are small to medium-sized companies.
Under these circumstances, importers are intending to consolidate its capital in order to strengthen their sales capacity in the Japanese market and streamline their sales system.
Because of excellent sales results, M&A deals such as business transfer are often brought in to the company by importers. Thus, the company is having the favorable wind at its back for promoting the M&A strategy that the company places as the core of its growth strategies.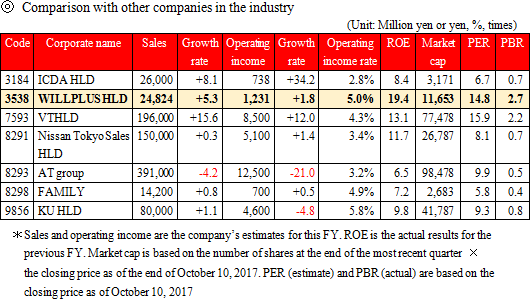 Although the company's sales and market capitalization are in the lower rank, its high profitability is striking as indicated by second-placed operating income rate and the first-placed ROE.
As for the stock price valuation, its PER and PBR, along with VT Holdings, are outstandingly higher than the other companies.

As described in
4. Interview with President Naruse
, the company wants the investors to understand not only its business expansion simply as an imported car dealer but its high business revitalization ability on M&A.
As the market evaluation on these points progresses as a result of raising awareness and promoting understanding of the company, the level of valuation will become higher.

 
1-4 Business contents
◎ Overview

Under WILLPLUS Holdings Corp., which is a holding company, there are three consolidated subsidiaries that deal with imported new and used cars sales, car maintenance and agency business of non-life insurance.
As of the end of June 2017, it deals with eight brands.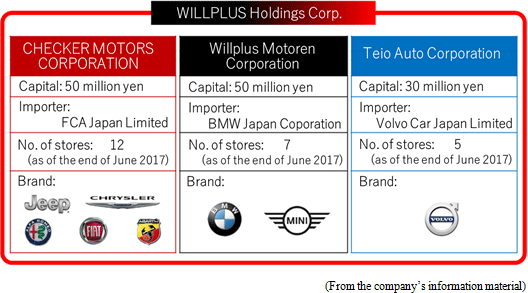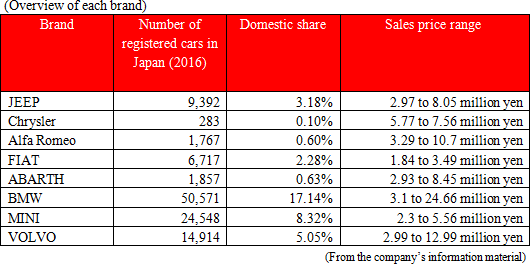 ◎ Items (Business Contents)

The company deals with new cars, used cars, retail, maintenance and other 5 items.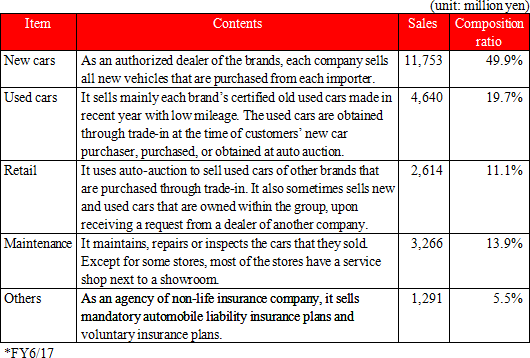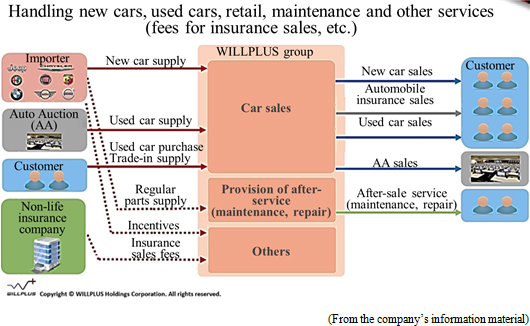 Although new car sales business is the core of its businesses, the company also focuses on used car sales. Furthermore, it is also laying weight on strengthening relationships with the customers by providing services such as car maintenance and car insurance sales that the customers need after purchasing cars.
"Increase in sales volume = Expansion in flow-type revenue" is leading to expansion of recurring revenue, which is a stable income, by "increase in the number of cars maintenance cases, increase in the number of insurance subscribers".
Especially, the company's new voluntary insurance subscription rate was 36.1% in the fiscal year ended June 2017. This is well above the national average of 17.6%, and its continuation rate is also high.
"Maximizing profit when selling one car" is what the company is most proud of.

 

◎ Status of stores and number of stores

The number of stores as of the end of June 2017 is 24: 13 in Fukuoka, 11 in Tokyo/Kanagawa.

 

1-5 Characteristics and strengths
◎ Three growth strategies

The three strategies, namely, "Multi-brand strategy," "Dominant strategy" and "M&A strategy" are the ones that have been supporting and will be supporting the growth of the company.

 

"Multi-brand strategy: Expansion of profit and standardization of sales cycle"

By handling multiple brands without relying on a specific brand, the company is trying to level out the impact of the sales cycle which is generated by the difference in the timings of launching new models among brands.
Furthermore, the company positions the brands that have more than 10,000 newly registered cars every year in Japan as major brands and the brands that have 1,000 to 10,000 newly registered cars as niche brands. It is trying to level out the sales for the major brands and make the niche brands highly profitable by improving the sales share.

 

 

"Dominant strategy: Improving share in the same trade area and maximizing profit"

The company is making efforts to increase market share by designating cities with a population of 1 million people and their surrounding cities as specific areas and promoting intensive store opening and attracting customers within the same trade areas. The company is also improving productivity and maximizing profit by efficient staffing among stores.

Today, the company designates Tokyo, Kanagawa and Fukuoka that are top in the domestic ranking of imported cars (passenger cars) in terms of the number of registered new cars and number of vehicles owned as the specified areas. Both the numbers of both registered new cars and vehicles owned continue to increase in existing areas, as the company thinks that further growth is possible by deep cultivation of the market.

 

"M&A Strategy: Accelerating speed and business revitalization ability"

M&A is an important measure for accelerating the multi-brand strategy and dominant strategy.
Starting with acquisition of Four Pillars Co., Ltd. in October 2007 (it was integrated with CHECKER MOTORS CORPORATION after acquisition), the company has implemented four M&A projects to date. After acquiring a group of stores, trading areas and new brands by M&A, the company is opening up new stores around the areas to complement and expand the business, and the company has 8 brands and 24 stores so far.

As a brand strategy, there are more than 10 targeted brands among the top 22 imported car sales brands, and multiple projects are in process.
Furthermore, as a future store opening strategy, in addition to Tokyo, Kanagawa, and Fukuoka, the company is investigating and examining government-designated cities (cities specified by government ordinance among the cities with a population of 500,000 or more) and core cities with a population of over 400,000 as the candidates to open new stores.

From the viewpoint of "Buying time," many companies are currently positioning M&A strategies as the core of their growth strategies. There is no question that "finding out good projects" and "executing at an appropriate price" are important for successful M&A. But what is more important is the process after M&A, namely, "PMI (Post Merger Integration)" to generate the synergistic effect as planned.
Even if M&A is conducted, there is an endless list of cases where the M&A projects fail due to lack of preliminary verification against comprehensive constraints, etc. and differences in corporate culture.

Under these circumstances, the investors should pay attention to the "Business revitalization ability" of the company.
At the time of acquiring four companies, the company had a deficit or generated extremely low profit, but in all cases, it succeeded in boosting profitability up to the ordinary income rate of 4 to 5% within the maximum of three years.
Sharing the philosophy including "pursuing customer satisfaction improvement" and clarifying the evaluation standard such as "respecting the challenge to the utmost" are the essences of successful M&A, and if they are executed, the company believes that it will surely make a big change. The company has great confidence in its business revitalization ability.

 

◎ Assets of excellent customer relationship

The company has customers who actually have various transactions with the company. In addition, many of its customers have very strong relationships with the company as a result of the "customer satisfaction improvement" policy that the company pursues.
In addition to wealthy people who are traditional customers of imported cars, as the price range of imported cars is expanding, the number of users who change from domestic cars to imported cars is increasing, and the company is feeling more confident in the spread of the customer base.
This customer base and strong relationships can be extremely important "invisible assets" for its future growth as the environment surrounding cars changes dramatically.

 
1-6 Shareholder return
The company plans to continue a stable dividend with a target payout ratio of around 15%.
In addition, it is implementing a shareholder benefit program to increase the appeal of investing in the company's stock.
For each shareholder holding 1 unit (100 shares) or more recorded in the register of shareholders as of the end of June every year, QUO cards of 1,000 yen are awarded.

 
1-7 ROE analysis

 

Although it does not set target figures, the company recognizes ROE and ROA as important management indicators.
As mentioned above, the company has realized higher ROE than the other companies in the same industry.
Although the net income margin for the current fiscal year is expected to be 3.06%, which is slightly lower than the previous fiscal year, a substantial increase in total assets and capital is not expected at this moment, and a high level of ROE is anticipated during this fiscal year.

 

 
Fiscal Year June 2017 Earnings Results

 

Sales of new cars were favorable and revenue and profit increased in double-digit. They also exceeded the plan.

Sales increased to 23,567 million yen, up 11.7% year-on-year. New car sales have greatly expanded. The recurring revenue-type business such as car maintenance and insurance also showed a healthy growth.
Operating income was 1,209 million yen, up 36.5% year on year. This was because SG&A expenses recorded only a marginal increase as a result of increase in sales, reorganization of stores and cost reduction. Improved earnings of Teio Auto, which the company acquired by M&A in 2014, also contributed to this good performance.
Both sales and profit exceeded the estimates (both initial and revised ones), and the dividend amount was revised from 22 yen/share to 24 yen/share, taking into account the share split (1:2, implemented as of April 1, 2017).

 

 

Sales of new cars, mainly JEEP and MINI, were satisfactory.
Sales of used cars of Alfa Romeo, FIAT, ABARTH and BMW grew year-on-year.
Incentives from the manufacturers increased as a result of excellent new car sales performance.
Others (insurance sales etc.) also increased.

 


JEEP, mainly Renegade and Wrangler, showed healthy sales performance.

Sales of new cars of Alfa Romeo and FIAT continued to struggle, but used car sales were on a recovery trend.

Sales of ABARTH remained the same level as those of the previous year as all the dealers began to handle them.


As for BMW, gross margin increased, and the performance is improving this year compared to the previous fiscal year.

As for MINI, sales of new cars increased due to popularity of the remainder-setting type loans, but sales of used cars decreased.

Incentive from the manufacturers increased as a result of excellent new car sales performance.


As for VOLVO, a ratio to sales for the middle-class cars or above such as the 60 series and XC 90 increased, and the gross profit margin tends to increase.

Sales and gross profit of car maintenance increased due to an increase in managed customers.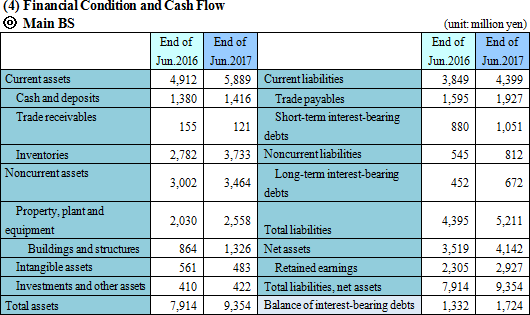 Total assets increased by 1,439 million yen from the end of the previous term to 9,354 million yen due to increases in inventories as well as in the numbers of buildings and structures as the number of stores increased.
Total liabilities increased by 816 million yen from the end of the previous term as a result of increased trade payables and long-term debts.
Net assets increased by 622 million yen from the end of the previous term due to an increase in retained earnings.
As a result, the equity ratio declined 0.2 points from 44.5% at the end of the previous fiscal year to 44.3%.

 

 

The surplus of operating CF decreased due to an increase in inventories.
As the acquisition of property, plant and equipment increased, the deficit of investing CF expanded, and free CF turned negative.
As the proceeds from long-term debts increased, the surplus of financing CF expanded.
The cash position has improved.

 

 

◎ Acquisition of VOLVO business

As of May 1, 2017, one of its consolidated subsidiaries, Teio Auto Corporation acquired the VOLVO dealer business of Sun Garage Co., Ltd. (Odawara City, Kanagawa Prefecture). This is the first M&A after the group got listed.
The company believes that this acquisition will not only expand the business of the VOLVO brand handled by Teio Auto but also contribute to promoting the dominant strategy in Kanagawa prefecture as a base for the VOLVO brand to enter the Kanto region.
Sales of VOLVO Cars Odawara store in the fiscal year ended April 2016 was 888 million yen.
The company obtained the assets such as new cars, car maintenance parts, tools, equipment and fixtures, etc. and employees through this acquisition.

 

 

The company continues to be the top among the dealers that sell the cars of the FCA brands.
Although the company was on the sixth place for VOLVO, it believes that it will be ranked up further by the acquisition of VOLVO Cars Odawara.

 

◎ Expansion of the recurring revenue-type business

The company is making efforts to accumulate stable income by expanding the recurring revenue-type business. The new insurance subscription rate of voluntary insurance, which is one of the main products of the recurring revenue-type business, marked a record high of 36.1% in the fiscal year ended June 2017, steadily rising from 27.1% in the fiscal year ended June 2015 and 32.5% in the fiscal year ended June 2016. It is well above the national average of 17.6%.
The company is aiming to exceed the 40% mark during this fiscal year.

 

 
Fiscal Year June 2018 Earnings Estimates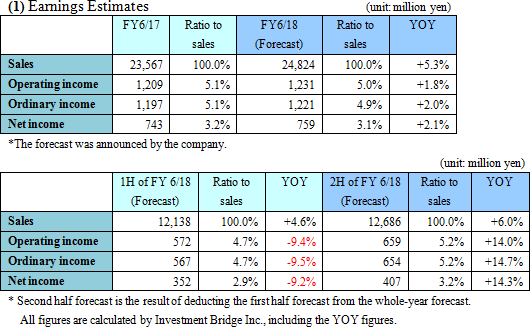 Increase in sales and profit

Sales are estimated to be 24,824 million yen, up 5.3% year on year. The company will continue to focus on new car sales of mainly the four new models.
Operating income is estimated to be 1,231 million yen, up 1.8% year on year. The revenue of VOLVO Cars Odawara will also grow in the second half.
The company plans to pay dividends of 12.50 yen/share, an increase of 1 yen/share year on year. The estimated dividend payout ratio is 15.2%.

 

(2) Major activities

◎ Basic strategy
The company will continue to promote its group's strategies, namely, "multi-brand strategy," "dominant strategy," and "M&A strategy".

◎ Further expansion of the recurring revenue-type business
The recurring revenue-type business such as car maintenance and insurance sales after the cars are sold is bringing in stable income as well as leading to establish strong relationships with the customers. Thus, the company aims to further expand this business during this fiscal year.

◎ Focusing on new car sales
Because used cars can be sold nationwide on the Internet, there is a high possibility that no relationship is established with the customers after the sales. On the other hand, because new cars are often sold within a certain sales area, it is possible to establish continuous relationships with the customers for further services such as car maintenance, insurance sale, or selling replacement cars at the time of purchasing their old cars.

◎ New store opening plans
In September 2017, Alfa Romeo Setagaya and FIAT/ABARTH Setagaya reopened after renovation. The first floor is a showroom space exclusively for Alfa Romeo and the second floor for FIAT/ABARTH, each with the latest CI. In addition, by providing a maintenance facility next to the store, the company can offer a one stop service to all customers.
Also in September 2017, among the independent dealer stores, the company renovated VOLVO Cars Fukuoka-Minami, which boasts the top used car sales for a third consecutive year nationwide, with the latest CI and reopened it under as "VOLVO Car Fukuoka-Minami".

◎ New models
The company will launch the following new models with 4 brands.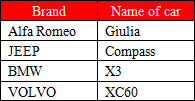 JEEP Compass underwent the first full model change in 10 years.
In addition, VOLVO XC 60 underwent the first model change in 8 years. It has greatly improved the safety, traveling performance and design.
The company anticipates that this will help gain new customers and respond to the demand for replacing cars.

 

 
Interview with President Naruse
 

We interviewed President Naruse about the strengths and advantages of the company, future strategies and messages to the investors.

 

Q: "What are the differences and advantages of your company compared with other companies in the same industry?"

A: "Efforts to maximize profit and improve customer satisfaction are the major factors to differentiate us from other companies."

 

One of the distinct characteristics of our company is our effort to "maximize profit." In the world of car sales, it is generally considered that "new car sales" is the mainstream and the other businesses are the accompanying businesses. We certainly have a high track record of new car sales, but, at the same time, we are working hard for the used car sales business which is one of our strengths as well as the other businesses such as car maintenance and insurance sales. Our new subscription rate of voluntary insurance greatly exceeds the national average and is marking the record high, which show our efforts on these businesses.
It is our strength to maximize the profit when we sell one car by firmly managing these auxiliary works, and the other companies are not quite able to imitate us.

Another big difference with other companies in the same industry is that we thoroughly pursue "customer satisfaction improvement".
In addition to sales representatives, we have staff called advisors who can serve customers with abundant knowledge of car maintenance. We are also promoting a reform to encourage auto mechanics who are usually working at a repair shop to proactively communicate with the customers. Although it is still in the trial stage, some stores already have designated an auto mechanic in charge of customers and offer full support in combination with sales representatives.
When you hear "customer satisfaction improvement," you may imagine that we provide something that customers desire. But that is not always the case.
For example, we do not deliver cars to the houses of the customers who purchased cars from us. Instead, we ask the customers to come to our shop and perform a delivery ceremony. With sincere appreciation to the customers who purchased cars from us, we send them off with all the staff available.
Such sense of specialty impresses our customers, improves the customer satisfaction in a true sense, and deepens the relationship between us.

Our strength is that we have enough investment and systems to pursue "maximizing profit" and "customer satisfaction improvement," and they are the sources of our competitive advantage to other companies.

 

Q: "Please tell us your thoughts on human resource development, which will play a key role for your company's growth."

A: "Evaluation standard that emphasizes customer satisfaction and creation of an environment which encourages our employees to challenge themselves are leading to higher motivation and better business performance."

 

We incorporate an evaluation system that emphasizes the length and depth of the relationships with our customers as professionals.
Conventionally, "the number of cars sold" was an important evaluation point. But now, for example, Key Performance Indicators (KPIs) to assess long-term relationships with our customers (e.g. "replacement rate") are our evaluation standard. This way, we adopt a mechanism that promotes awareness of customer satisfaction improvement among all of our employees.
Furthermore, we encourage our employees to challenge themselves without fear of change or failure. I think creating the environment is my major role. Very gladly, as creation of such an environment makes progress, our employees' awareness has improved, which is leading to our business expansion.

 

Q: "How do you view your future growth strategies and the future of your company?"

A: "In the short term, we will thoroughly promote the M&A strategy to scale up our business, and in the medium to long-term, we will evolve to the company that can deal with changes by effectively utilizing important assets of customer relationship."

 

First of all, we will pursue the scale-up by thoroughly implementing our current M&A strategy for about three years from now.
After acquiring brands that will contribute to expanding sales among the top brands, we will expand our sales areas with a solid track record of sales performance, expand the shares within the brands and within the area, and secure our position as the market price leader at the national level and raise profitability.
At the same time, we will further improve the productivity of the stores. In addition to sales of new and used cars, we will improve our performance by efficiently selling multiple products such as car maintenance and insurance sales.

However, if we look at a slightly longer span like a decade from now, we are imagining ours company to be completely different.
Car sharing, electric cars, and automatic driving cars will surely be widespread, and the role of the Internet will become even more important.
Under these circumstances, there may be a major change in the way cars are sold, and we may not need actual stores to sell cars.
Also, companies in the field of car manufacturing such as Tesla, Google, and Apple are expected to play an extremely huge role.
Thus, there are many uncertainties and ambiguities in the future world of car sales. Although it is not easy to clearly foresee the future, the key to flexibly respond to such a dramatic change is "how many customers can we manage?"

Fortunately, as a result of our previous efforts, we have been able to keep our customers with extremely strong relationships.
If we effectively use this asset, we will be able take various initiatives with newcomers.
We are steadily preparing for upcoming major changes in the market and the competitive environment while prudently going forward with possible future scenarios in mind.

To that end, I personally believe it is also essential to further change our employees' awareness.
Our mission as employees is to evolve as a wide-ranging consultant that can fully support all things involved in cars, not just car sales. To perform this mission, we are always striving to reform our consciousness.
The key is "customer satisfaction improvement" also in that sense.
We will pursue improvement of customer satisfaction and make effective use of important assets of customer relationship to evolve into the company that can deal with changes.

 

Q: "Finally, please give your message to the shareholders and investors."

A: "Just like customer satisfaction improvement, we focus on 'improvement of shareholder satisfaction and investor satisfaction'. We would love your support for us, the company that adopts to large environmental changes and continue to grow by making full use of our business revitalization ability and excellent customer assets from the mid to long-term perspective."

 

As stated in the corporate vision, we aim to provide pleasure to our customers. We have grown to this point with emphasis on passion and heat, and will continue to grow.
I am strongly aware that it is my responsibility to firmly reach the figures that we promised as a listed company, and just like the "customer satisfaction improvement" that we are most conscious of, we will focus on the "improvement of shareholder satisfaction and investor satisfaction".

Concerning M&A that is positioned as one of our core strategies, although our profitability may temporarily decline depending on the situation of the acquiring party, I am confident that we can improve the profitability again if we have a maximum of three years using our "business revitalization ability" which is our strong point. So, I would appreciate your understanding.
Also, we hope our shareholders and investors will not see us as a mere car dealer. We hope you will understand that our high business revitalization ability through M&A, which cannot be found in other companies in the same industry, will lead us to great growth.

It is expected that the environment surrounding car sales will change dramatically in the future, but we consider it as an opportunity, adapt to this change by making full use of "business revitalization ability" and "excellent customer assets" and pursue growth. We would appreciate your support to us from a mid to long-term perspective.

 

 
 

President Naruse who pursues "customer satisfaction improvement" says "I like cars, but I like people more."
Even now, he feels delighted to be in touch with customers directly, and at the opening of a new store, the president himself becomes a guidance officer at the parking lot. Such passion seems to become one of the sources of creating the company's corporate value.
In the short term, it is noteworthy how fast M&A projects will be realized. Whether the company can maintain the level of penetration of his passion as well as the speed of M&A in the midst of corporation expansion will affect its growth capacity.
In the mid to long-term, we would like to pay attention to how the company, with big confidence in its business revitalization ability, will respond to the challenges.

 

 
<Reference: Regarding Corporate Governance>

 

◎ Corporate Governance Report

Last update date: Sep. 29, 2017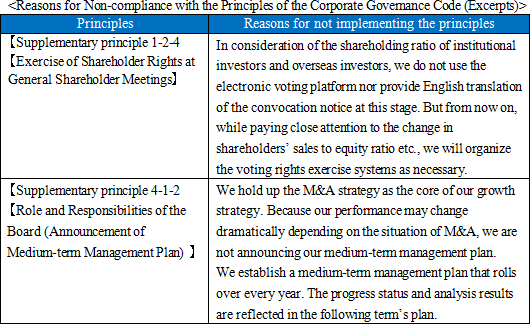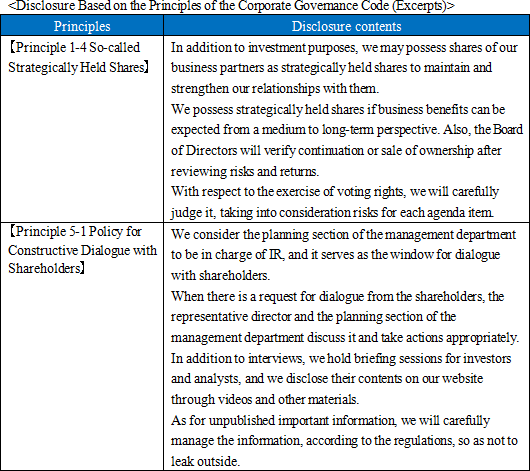 Disclaimer
This report is intended solely for information purposes, and is not intended as a solicitation to invest in the shares of this company. The information and opinions contained within this report are based on data made publicly available by the Company, and comes from sources that we judge to be reliable. However, we cannot guarantee the accuracy or completeness of the data. This report is not a guarantee of the accuracy, completeness or validity of said information and or opinions, nor do we bear any responsibility for the same. All rights pertaining to this report belong to Investment Bridge Co., Ltd., which may change the contents thereof at any time without prior notice. All investment decisions are the responsibility of the individual and should be made only after proper consideration.
Copyright(C) 2017 Investment Bridge Co., Ltd. All Rights Reserved.