WILLPLUS Holdings Corporation (3538)
President
Takaaki Naruse
| | |
| --- | --- |
| company | WILLPLUS Holdings Corporation |
| Code No. | 3538 |
| Exchange | TSE 1st Section |
| Industry | Retail business (Commerce) |
| President | Takaaki Naruse |
| Address | 5-13-15 Shiba, Minato-ku, Tokyo |
| Year-end | End of June |
| URL | |
Share Price
Number of shares issued
Total market cap
ROE (Actual)
Trading Unit
¥1,376
9,601,120 shares
13,211 million
19.4%
100 shares
DPS (Est.)
Dividend Yield (Est.)
EPS (Est.)
PER (Est.)
BPS (Actual)
PBR (Actual)
¥12.50
0.9%
¥82.41
16.7times
¥898.79
3.1times
*The share price is the closing price as of February 9. The number of shares issued is as of the end of December 2017. ROE and BPS are the figures from the previous term.
A 2-for-1 share split was conducted on November 1, 2017. PBR has taken the split into account.
Fiscal Year
Net Sales
Operating
       Income
Ordinary
      Income
Net
    Income
EPS     
DPS     
Jun. 2015 (Actual)
19,072
705
673
416
56.50
00.00
Jun. 2016 (Actual)
21,093
886
866
492
61.20
10.75
Jun. 2017 (Actual)
23,567
1,209
1,197
743
80.71
12.00
Jun. 2018 (Forecast)
24,824
1,231
1,221
759
82.41
12.50
*The forecasted values were provided by the company. 2-for-1 share splits were conducted on April 1 and November 1, 2017. EPS and DPS have been recalculated retrospectively. Net income is profit attributable to shareholders of the parent company. Hereinafter the same applies.

This Bridge Report introduces the overview of WILLPLUS Holdings Corporation's first half of fiscal year June 2018 earnings results and more.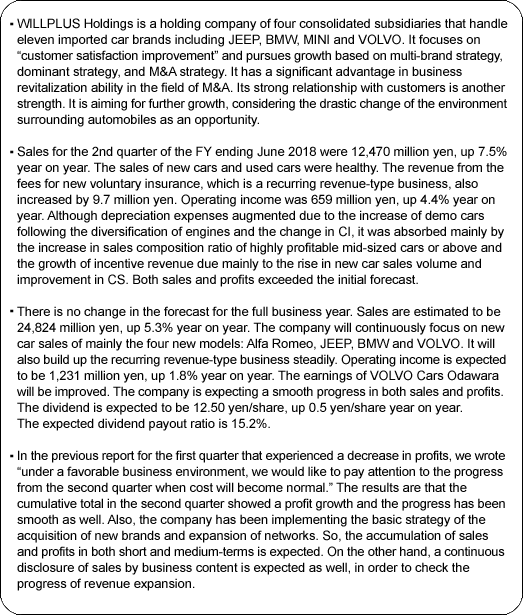 WILLPLUS Holdings is a holding company of four consolidated subsidiaries that handle eleven imported car brands including JEEP, BMW, MINI and VOLVO. It focuses on "customer satisfaction improvement" and pursues growth based on multi-brand strategy, dominant strategy, and M&A strategy. It has a significant advantage in business revitalization ability in the field of M&A. Its strong relationship with customers is another strength.
It is aiming for further growth, considering the drastic change of the environment surrounding automobiles as an opportunity.

 
1-1 Corporate history
In January 1997, the father of Mr. Takaaki Naruse, President and Representative Director, established an imported car dealer, "Sunflower C J" in Kitakyushu city, Fukuoka prefecture. It was the first official Chrysler dealer in western Japan.
In October 2004, President Naruse acquired all of the company's shares and started business activities as WILLPLUS group.
Although it was a small dealer with a few staff including President himself, it achieved excellent results compared with other dealers across Japan in selling Chrysler cars and was highly valued. As a result, in 2005, the Chrysler official store in Ota-ku, Tokyo was given to the company, which became an opportunity for the company to conduct business in Tokyo. In 2006, it opened another store in Kurume city, Fukuoka prefecture and began the dominant strategy in Tokyo and Fukuoka.

Aiming to become the "Only one, Number One" in the imported car sales industry, the company was promoting the multi-brand strategy to handle multiple imported car brands in certain sales areas. In order to achieve the aim, the company needed to have separate companies for each brand to have an agreement with each importer. Therefore, it established WILLPLUS Holdings Corp. in October 2007 to flexibly execute acquisition of dealership by optimal allocation of management resources and prompt management decision making.

In parallel with the establishment of the holding company, Fukuoka Chrysler Co., Ltd. (3 stores) and Four Pillars, Co., Ltd. (1 store) became its wholly owned subsidiaries, and the company began the M&A strategy. In July 2008, it acquired all shares of CHECKER MOTORS CORPORATION (4 stores) which is an authorized dealer of FIAT/Alfa Romeo and all of the stores became its wholly owned subsidiaries. In July 2009, Chrysler Japan Co., Ltd. gave the business of Chrysler/Jeep/Dodge Setagaya and Chrysler/Jeep/Dodge Yokohama to the company, and, in September 2009, one of its subsidiaries, Willplus Motoren Corporation, acquired the businesses of BMW (2 stores) and MINI (2 stores) to begin handling BMW and MINI cars. The company has been expanding the business by implementing the dominant strategy and multi-brand strategy and expanding shares in existing brands, through the aggressive M&A actions, such as the acquisition of the VOLVO's authorized dealer, Teio Auto Corporation (5 stores), to make it a wholly owned subsidiary in April 2014 and acquisition of VOLVO Cars Odawara in May 2017.
In March 2016, the company got listed on the JASDAQ market of TSE, the Second Section of TSE in September 2017, and the First Section of TSE in February 2018.

 
1-2 Corporate Vision, Management Philosophy
The company defines its mission as follows: "We propose

lives with imported cars

, share

richness, pleasure and joy

with more customers and continue to endeavor to bring a

warm smile

to the face of everyone involved."

 

 

The company bases its business on "customer satisfaction improvement," and it is trying to instill this philosophy in every employee.

 
1-3 Environment surrounding the company
◎Domestic car market in which the share of imported cars continues to rise.

The domestic car market is on a declining trend due to declining birthrate and aging population, prolonged period to hold a car due to improvement of car performance, and change in consumer style and taste. (It is said that young people have less interest in cars than before.)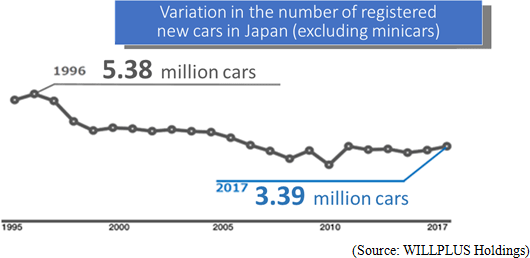 Meanwhile, the number of registered new imported cars has been continuously rising since the Lehman Shock, and the imported car market in Japan continues to expand. The share of imported cars in the passenger car market in Japan (excluding minicars) remains above the 9% level.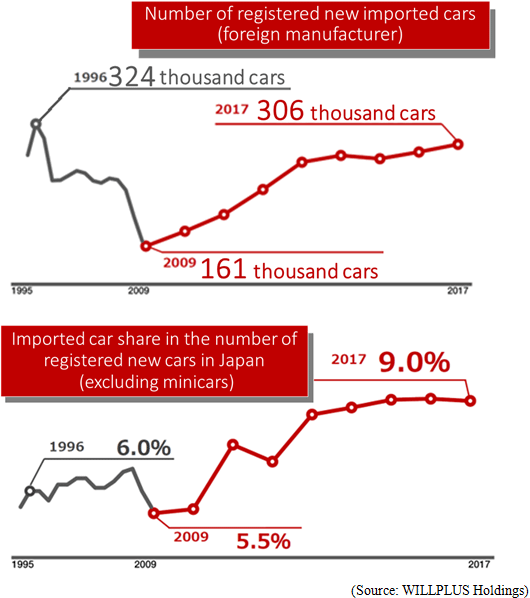 One of the major factors contributing to this rise of the share is the promotion of aggressive sales expansion measures by imported car manufacturers in the Japanese market.

Imported car manufactures produce many attractive products such as hybrid vehicles, electric vehicles, plug-in hybrid vehicles, diesel cars, etc. that are equipped with various eco-friendly technologies and unique and excellent designs.

Furthermore, while domestic manufactures are focusing on development and sales of popular models such as minivans and wagons in the shrinking market with no comprehensive product lineup, imported car manufactures offer a wide range of cars in terms of price, size, and type. It seems that providing a wide variety of lineup has won the support of users who are seeking diversity and more attractive cars.
In addition, proactive investment in Japan, including the development and expansion of sales networks, is also resulting in increased market share in Japan.

In addition, non-tariff barriers, such as the requirement of new certification procedures in Japan and regulatory measures pursuant to the Radio Law and exhaust gas, have been the causes of the rising cost in importing cars, but increasing possibilities of relaxation and abolition of non-tariff barriers by the Economic Partnership Agreement (EPA), Free Trade Agreement (FTA) and others will decline cost of imported cars and support the company in expanding its share.

According to the company's survey, share in sales of imported passenger cars of German, which owns worldwide popular manufactures such as Mercedes, Volkswagen, BMW, Audi and Porsche, is 36.8%. The same number of USA and Italy is 25.2% and 70.9% respectively.
Although imported car share in Japan is increasing, the share level is still lower than these countries, and imported car manufactures will continue to focus on expansion of sales and market share in the Japanese market.

 

◎ Importers and Imported Car Dealers

In the imported car market, importers (dealers of imported cars in Japan based on import agency right from a foreign vehicle manufacture) conclude a dealer agreement with selected car dealers that have excellent sales performance and creditworthiness. In general, the importer is a locally incorporated company and a wholly owned subsidiary of an imported car manufacture.

Currently, in Japan, imported cars of major 22 manufactures are sold at about 1,700 stores that are operated by authorized dealers.
In the case of famous German manufactures, about 80 dealers operate about 190 stores. The average number of stores per dealer is about two to three, which is not many. Most of them are small to medium-sized companies.
Under these circumstances, importers are intending to consolidate its capital in order to strengthen their sales capacity in the Japanese market and streamline their sales system.
Because of excellent sales results, M&A deals such as business transfer are often brought in to the company by importers. Thus, the company is having the favorable wind at its back for promoting the M&A strategy that the company places as the core of its growth strategies.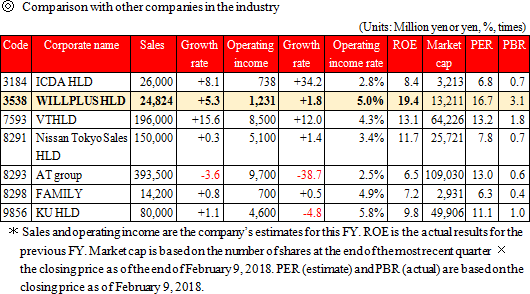 Although the company's sales and market capitalization are in the lower rank, its high profitability is striking as indicated by second-placed operating income rate and the first-placed ROE.
As for the stock price valuation, its PER and PBR, along with VT Holdings, are outstandingly higher than the other companies.

The company wants the investors to understand not only its business expansion simply as an imported car dealer but its high business revitalization ability on M&A.
As the market evaluation on these points progresses as a result of raising awareness and promoting understanding of the company, the level of valuation will become higher.

 
1-4 Business contents
◎ Overview

Under WILLPLUS Holdings Corp., which is a holding company, there are three consolidated subsidiaries that deal with imported new and used cars sales, car maintenance and agency business of non-life insurance.
It deals with 11 brands, including 3 brands to be handled from 2018.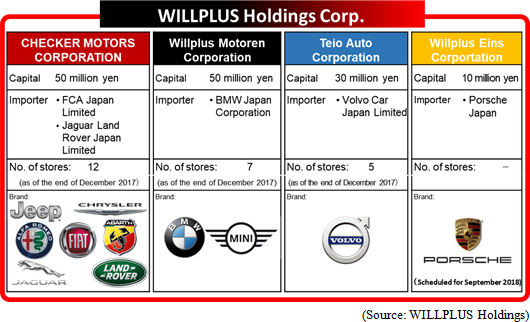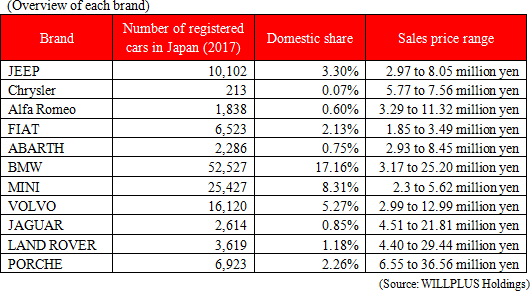 CHECKER MOTORS CORPORATION's domestic share in new car sales of 5 brands (JEEP, Chrysler, Alfa Romeo, FIAT and ABARTH) was ranked 1st in 2017.
The market share of MINI that Willplus Motoren Corporation deals with was ranked 6th.
The market share of VOVLO that Teio Auto Corporation deals with was ranked 6th.

 

◎ Items (business contents)

The company deals with new cars, used cars, retail, maintenance and other.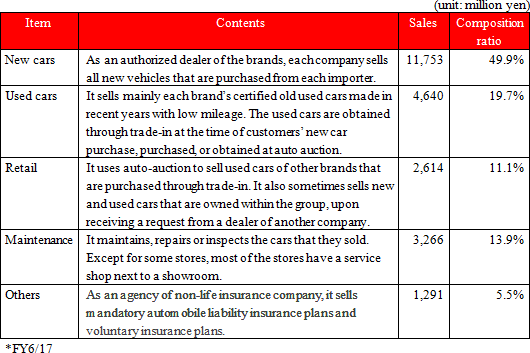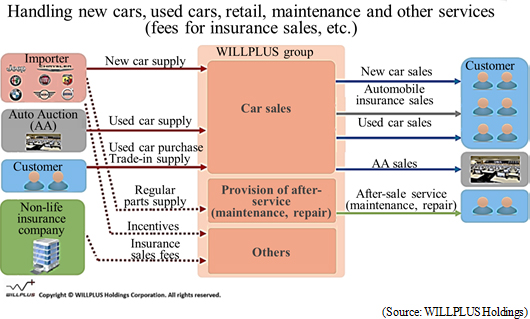 Although new car sales business is the core of its businesses, the company also focuses on used car sales. Furthermore, it is also laying weight on strengthening relationships with the customers by providing services such as car maintenance and car insurance sales that the customers need after purchasing cars.
"Increase in sales volume = Expansion in flow-type revenue" is leading to expansion of recurring revenue, which is a stable income, by "increase in the number of cars maintenance cases, increase in the number of insurance subscribers".
Especially, the company's new voluntary insurance subscription rate was 36.1% in the fiscal year ended June 2017. This is well above the national average of 17.6%, and its continuation rate is also high.
"Maximizing profit when selling one car" is what the company is most proud of.

 

◎ Status of stores and number of stores

The number of stores as of the end of December 2017 is 24: 13 in Fukuoka, 11 in Tokyo/Kanagawa.

 

1-5 Characteristics and strengths
◎ Three growth strategies

The three strategies, namely, "Multi-brand strategy," "Dominant strategy" and "M&A strategy" are the ones that have been supporting and will be supporting the growth of the company.

 

"Multi-brand strategy: Expansion of profit and leveling out of sales cycle as well as improvement in customer acquisition"

By handling multiple brands without relying on a specific brand, the company is trying to level out the impact of the sales cycle which is generated by the difference in the timings of launching new models among brands.
Furthermore, the company positions the brands that have 10,000 or more newly registered cars every year in Japan as major brands and the brands that have 1,000 to 9,999 newly registered cars as niche brands. It is trying to level out the sales for the major brands and make the niche brands highly profitable by improving the sales share.

 

 

In addition, as a major feature of this strategy, it develops a complex store by combining multiple brands in the same premises to improve its capacity to attract customers and increase management efficiency.

 

"Dominant strategy: Improving share in the same trade area and maximizing profit"

The company is making efforts to increase market share by designating cities with a population of 1 million people and their surrounding cities as specific areas and promoting intensive store opening and attracting customers within the same trade areas. The company is also improving productivity and maximizing its profit by efficient staffing among stores.

Today, the company designates Tokyo, Kanagawa and Fukuoka, the top areas in the domestic ranking of imported cars (passenger cars) in terms of the numbers of registered new cars and vehicles owned, as specified areas. The numbers of both registered new cars and vehicles owned continue to increase in existing areas, as the company thinks that further growth is possible by deep cultivation of the market.

 

"M&A Strategy: Accelerating speed and business revitalization ability"

M&A is an important measure for accelerating the multi-brand strategy and dominant strategy.
Starting with acquisition of Four Pillars Co., Ltd. in October 2007 (it was integrated with CHECKER MOTORS after acquisition), the company has implemented seven M&A projects to date. After acquiring a group of stores, trading areas and new brands by M&A, the company is opening up new stores around the areas to complement and expand the business, and the company has 11 brands and 24 stores so far.

As a brand strategy, there are more than 9 targeted brands among the top imported car sales brands, and multiple projects are in process.
Furthermore, as a future store opening strategy, in addition to Tokyo, Kanagawa, and Fukuoka, the company is investigating and examining government-designated cities (cities specified by government ordinance among the cities with a population of 500,000 or more) and core cities with a population of over 400,000 as the candidates to open new stores.

From the viewpoint of "Buying time," many companies are currently positioning M&A strategies as the core of their growth strategies. There is no question that "finding out good projects" and "executing at an appropriate price" are important for successful M&A. But what is more important is the process after M&A, namely, "PMI (Post Merger Integration)" to generate the synergistic effect as planned.
Even if M&A is conducted, there is an endless list of cases where the M&A projects fail due to lack of preliminary verification against comprehensive constraints, etc. and differences in corporate culture.

Under these circumstances, the investors should pay attention to the "Business revitalization ability" of the company.
At the time of acquiring four companies, the company had a deficit or generated extremely low profit, but in all cases, it succeeded in boosting profitability up to the ordinary income rate of 4 to 5% within the maximum of three years.
Sharing the philosophy including "pursuing customer satisfaction improvement" and clarifying the evaluation standard such as "respecting the challenge to the utmost" are the essences of successful M&A, and if they are executed, the company believes that it will surely make a big change. The company has great confidence in its business revitalization ability.

 

◎ Assets of excellent customer relationship

The company has customers who actually have various transactions with the company. In addition, many of its customers have very strong relationships with the company as a result of the "customer satisfaction improvement" policy that the company pursues.
In addition to wealthy people who are traditional customers of imported cars, as the price range of imported cars is expanding, the number of users who change from domestic cars to imported cars is increasing, and the company is feeling more confident in the spread of the customer base.
This customer base and strong relationships can be extremely important "invisible assets" for its future growth as the environment surrounding cars changes dramatically.

 
1-6 Shareholder return
The company plans to continue a stable dividend with a target payout ratio of around 15%.
In addition, it is implementing a shareholder benefit program to increase the appeal of investing in the company's stock.
For each shareholder holding 1 unit (100 shares) or more recorded in the register of shareholders as of the end of June every year, QUO cards of 1,000 yen are awarded.
Also, in the occasion of changing the market from JASDAQ (standard) to the Second Section of TSE, the company offered commemorative shareholder benefits only in December 2017 in order to express appreciation to shareholders.

 

 

Although it does not set target figures, the company recognizes ROE and ROA as important management indicators.
As mentioned above, the company has realized higher ROE than the other companies in the same industry.
Although the net income margin for the current fiscal year is expected to be 3.06%, which is slightly lower than the previous fiscal year, a substantial increase in total assets and capital is not expected at this moment, and a high level of ROE is anticipated during this fiscal year.

 

 
First Half of Fiscal Year June 2018 Earnings Results

 

Increased sales & operating income

Sales for the 2nd quarter of the FY ending June 2018 were 12,470 million yen, up 7.5% year on year. The sales of new cars and used cars were healthy. The revenue from the fees for new voluntary insurance, which is a recurring revenue-type business, also increased 9.7 million yen.
Operating income was 659 million yen, up 4.4% year on year. Although depreciation expenses augmented due to the increase of demo cars following the diversification of engines and the change in CI, it was absorbed mainly by the increase in sales composition ratio of highly profitable mid-sized cars or above and the growth of incentive revenue due mainly to the rise in new car sales volume and improvement in CS.
Both sales and profits exceeded the initial forecast.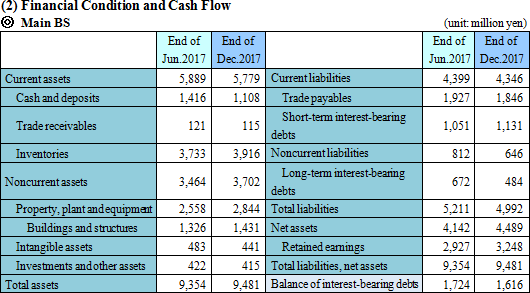 Due to the drop in cash and deposits, etc., current assets decreased by 109 million yen from the end of the previous term. Noncurrent assets grew 237 million yen due to an increase in property, plant and equipment such as store interior facilities associated with store renewal, and total assets rose by 127 million yen to 9,481 million yen.
Total liabilities declined by 219 million yen to 4,992 million yen due to a decrease in borrowings.
Net assets increased by 346 million yen to 4,489 million yen due to the growth of retained earnings.
As a result, the equity ratio declined by 3.0 points from 44.3% at the end of the previous fiscal year to 47.3%.

 

 

Operating CF turned positive due to an increase in profits, etc. The decrease in purchase of property, plant and equipment reduced the deficit of investing CF. The same result was observed for free CF. With no proceed from the long-term debt like the one in the previous term, financial CF turned negative.
The cash position has declined.

 

(3) Topics

◎Acquisition of new brands
A total of 3 brands have been newly added to the line-up. These brands are JAGUAR/LAND ROVER ranking 12th in the imported car ranking with 6,233 new car registrations in 2017, and 11th ranked PORCHE with 6,923 new car registrations.


JAGUAR/LAND ROVER
The company plans to acquire "Jaguar Land Rover Shonan" from Ivy Auto Corporation on April 1st, 2018.
Consequently, the multi-brand strategy by the new brand will be expanded. Also, the dealer network in the Kanagawa area will expand from 4 bases to 7 bases and the dominant strategy will become even more powerful.


PORCHE
In November 2017, the 100% subsidiary "Willplus Eins Corportation" was established as the authorized dealer of PORSCHE JAPAN KK.
PORSCHE Center Koriyama (tentative name) is to be opened around September 2018.
It will be the second store as PORSCHE in the Tohoku area. WILLPLUS Holdings will be advancing in the area for the first time. The store widely covers the Tohoku area centered on Fukushima Prefecture.

 

Fiscal Year June 2018 Earnings Estimates

 

No change in earnings forecast. Increase in sales and profits

There is no change to the earnings forecast. Sales are estimated to be 24,824 million yen, up 5.3% year on year. The company will continue to focus on new car sales of mainly the four new models: Alfa Romeo, JEEP, BMW and VOLVO. The company will build up the recurring revenue-type business steadily. Operating income is estimated to be 1,231 million yen, up 1.8% year on year. The revenue of VOLVO Cars Odawara will also grow. The company is expecting a smooth progress in both sales and profits.
The company plans to pay dividends of 12.50 yen/share, an increase of 1 yen/share year on year. The estimated dividend payout ratio is 15.2%.

 

 
 

In the previous report for the first quarter that experienced a decrease in profits, despite an increase in sales, we wrote "under a favorable business environment, we would like to pay attention to the progress from the second quarter, when cost will become normal." The results are that the cumulative total in the second quarter showed a profit growth and the progress has been smooth as well.
Also, the company has been implementing the basic strategy of the acquisition of new brands and expansion of networks. So, the accumulation of sales and profits in both short and medium-terms is expected.
On the other hand, a continuous disclosure of sales by business content is expected as well, in order to check the progress of revenue expansion.

 

 
<Reference: Regarding Corporate Governance>

 

◎ Corporate Governance Report

Last update date: September 29, 2017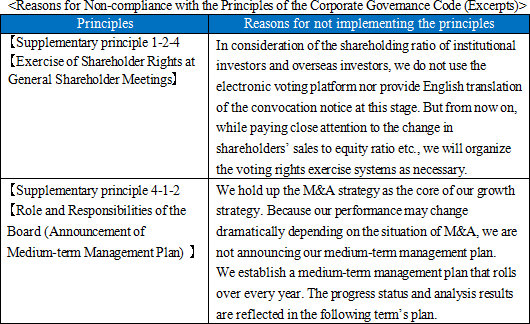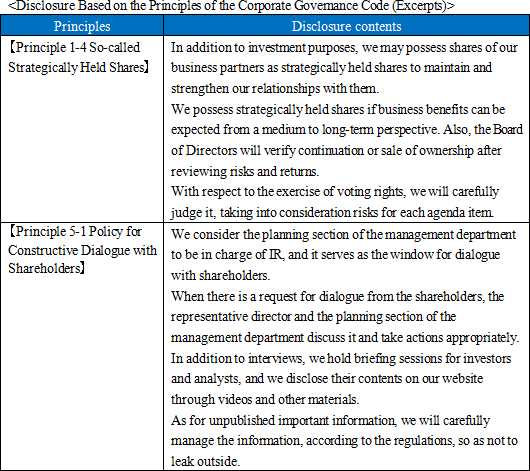 Disclaimer
This report is intended solely for information purposes, and is not intended as a solicitation to invest in the shares of this company. The information and opinions contained within this report are based on data made publicly available by the Company, and comes from sources that we judge to be reliable. However, we cannot guarantee the accuracy or completeness of the data. This report is not a guarantee of the accuracy, completeness or validity of said information and or opinions, nor do we bear any responsibility for the same. All rights pertaining to this report belong to Investment Bridge Co., Ltd., which may change the contents thereof at any time without prior notice. All investment decisions are the responsibility of the individual and should be made only after proper consideration.
Copyright(C) 2018 Investment Bridge Co., Ltd. All Rights Reserved.