Kunihiro Tanaka,
President
| | |
| --- | --- |
| Company | SAKURA Internet Co., Ltd. |
| Code No. | 3778 |
| Exchange | Tokyo Stock Exchange Mothers |
| Industry | Information and communication |
| President | Kunihiro Tanaka |
| HQ | Sakaisuji Honmachi Bldg. 1-8-14 Minami-Honmachi, Chuo-ku, Osaka |
| Year-end | March |
| URL | |
Share Price
Shares Outstanding
(excluding Treasury stocks)
Market Cap.
ROE (Actual)
Trading Unit
608Yen
8,677,489 shares
5,276 Million Yen
16.2%
100 shares
DPS (Est.)
Dividend Yield (Est.)
EPS (Est.)
PER (Est.)
BPS (Actual)
PBR (Actual)
5.00Yen
0.8%
57.62Yen
10.6times
365.80Yen
1.7times
* Stock price as of the close on 10/28. Number of shares at the end of the most recent quarter excluding treasury stocks. ROE, BPS based on previous term's results.
| | | | | | | |
| --- | --- | --- | --- | --- | --- | --- |
| Fiscal Year | Sales | Operating Profit | Current Profit | Net Profit | EPS | Dividend |
| March 2010 (Actual) | 7,812 | 748 | 723 | 567 | 12,906.39 | 1,000.00 |
| March 2011 (Actual) | 8,584 | 1,225 | 1,194 | 572 | 13,202.24 | 1,000.00 |
| March 2012 (Actual) | 9,164 | 873 | 808 | 556 | 64.13 | 5.00 |
| March 2013 (Actual) | 9,482 | 867 | 812 | 479 | 55.20 | 5.00 |
| March 2014 (Estimate) | 11,000 | 1,000 | 820 | 500 | 57.62 | 5.00 |
* Estimates are those of the company. In October 2011 a stock was divided into 200 stocks.

 

This Bridge Report provides details of SAKURA Internet and its first half fiscal year March 2014 earnings results.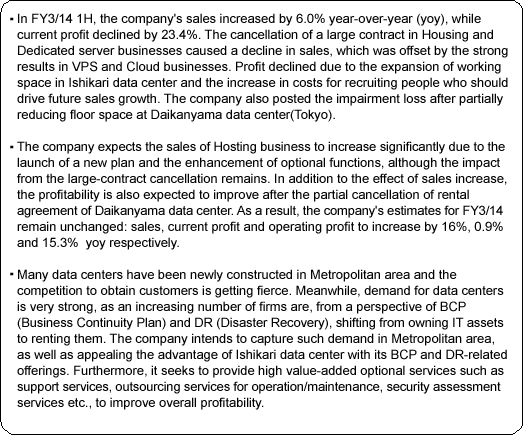 The company operates data centers in three areas; Tokyo (Nishi-Shinjuku, Higashi-Shinjuku, Daikanyama), Osaka (Dojima) and Hokkaido (Ishikari) and deals with housing service, providing space for servers to be installed, power supply and network lines, and Hosting service, providing server environment (computer resources) on internet. While many hosting service providers depend on external infrastructure (data center facilities), the company seeks for high profits by owning their own infrastructure (source for price competitiveness). It manages to raise utilization rate and to lower the risk of fixed costs (risk of owning infrastructure) by using the same infrastructure for housing service.

 

Business overview

The company's business is divided into Housing service (hereafter just 'Housing'), Hosting and Other associated services (such as consulting on domain acquisition and server construction). The shares of these three businesses in total sales of FY 3/13 were 32.8%, 58.2% and 9.0% respectively. The company's Housing mainly deals with rack-lending (one customer possesses one rack), but at the data center in Ishikari, they are lending out space for large-scale use as well. Ishikari data center also provides remote housing and offsets its handicap of being in remote location by doing all physical work on behalf of its users. On the other hand, Hosting is divided into physical hosting, where the company lends out physical servers (providing both dedicated servers and rental servers), and virtual hosting (providing both cloud and VPS services), where the company creates various virtual machines (VM) on physical servers and provides services by VM unit.

 

 

Virtual hosting is divided into dedicated servers, where one customer possesses one physical server ('SAKURA Dedicated server'), and rental servers, where typically several customers use one physical server. Dedicated servers offer high flexibility in server configuration and software in use. On the other hand, while rental servers are under more constrained environment compared to dedicated servers, users are not responsible for their maintenance. Rental servers are divided into 'SAKURA Rental server', which are mainly used by individuals, and 'SAKURA Managed server', which are rented out to smaller companies and SOHOs.
Meanwhile, virtual hosting is divided into VPS (Virtual Private Server) service ('SAKURA VPS'), which can provide high flexibility similar to a dedicated server at low cost similar to a rental server by using virtualization technology, and Public Cloud IaaS ('SAKURA Cloud). The latter, unlike the former, enables the company to adopt pay-as-you-go tariff or to increase/decrease resources flexibly. On the other hand, although the former is unable to provide as high flexibility as the latter, it has a cost advantage. As for the company, 'SAKURA Cloud' needs a larger investment than 'SAKURA VPS' but its unit price is higher.

 

Characteristics and Strengths

The company's main strengths are 1) one of the largest IT infrastructures in Japan, 2) a consistent in-house system which covers from development to operation/support, 3) top-class customer base and brand value in Japan.

 

One of the Largest IT Infrastructures in Japan

The company's backbone network (nucleus part of network), boasting one of the largest scale in Japan, has connections to leading IXs in Japan (connection points to interconnect networks such as several internet service providers and academic networks) and multiple major ISPs (internet service provider) in Tokyo, Osaka and Hokkaido, and achieves high availability (low risk of system failure) and overwhelming traffic transmission capabilities. Also, the company maintains the largest communication line capacity as a domestic operator and the total bandwidth for external connections is 284 Gbps which is top-class as a data center operator. Its data centers are also connected each other with a large capacity of more than 1Gbps.

 

A Consistent In-house System from Development to Operation/Support (In-House Data Centers and Internal Value Chain)

As mentioned earlier, while many hosting service provider depend on external infrastructures (data center facilities), the company maintains its own infrastructure and manages to raise the utilization rate and lower the risk of fixed costs (risk of owning infrastructure) by using the same infrastructure for housing service. In addition, the company has its own development/ operation/support capabilities (handles all the necessary processes to provide services internally) in order to deal with various needs flexibly. Each data center has installed an uninterruptible power supply system and an engine generator, capable of supplying power in the event of a disaster. For the security purpose, the company adopted card key authentication system. Furthermore, its data centers have been built by the earthquake-resistant construction method which can withstand the shock of major earthquakes and have achieved a high level of capabilities required for data centers.

 

Top-Class Customer Base and Brand Value with Successful Risk Diversification

The company, with its motto of 'providing services with high quality and cost performance', has started its business in the infancy of internet era, and since then it has been focusing on providing simple services with high cost performance and versatility and enhancing its service line-up to deal with a wide range of needs (from the start-up business to the operation of major sites). As a result, it is highly recognized among IT engineers for operating high quality data centers with low costs, which are utilized widely from individuals to companies (unlike many of its rival companies which are highly dependent on limited number of large customers, the company's customer base is mainly comprised of smaller customers, enabling the company to diversify risks.

 

Customer Composition

The table below shows the company's 'customer composition by fee scale' as of the end of September 2013. As you can see, the company has built up risk-diversified customer base without depending on limited number of large customers (customers paying less than ¥1 million per month account for 68% of its customer base). For now, the number of these low-value customers has been increasing significantly and the company seems to have added more start-up firms to its customer base. The company's PR activities, such as various promotional events held to enhance its 'SAKURA' brand and customer engagement, participation in external events, etc., also contribute to the expansion of customer base. However, these start-up firms tend to switch to a new operator as they step up their businesses. Therefore, the company tries to develop high value-added optional services or schemes enabling easy upgrade to superior services.

Looking at the number of customers paying more than ¥1 million per month by business sector, those in IT-related business rank at the top. The company has acquired high-quality customers in game/application business, which tends to have big swings in performance and therefore become cost-conscious. After starting operation of Ishikari data center in November 2011, which achieved high flexibility and scalability as well as low cost (impractical for data centers located in urban areas), the company's potential has increased significantly, and it now focuses on developing new markets such as public offices, local governments and enterprise companies through the partnership with Sojitz group.

 

1H of Fiscal Year March 2014 Earnings Results

 

In 2Q of FY3/14, sales increased 0.2% from the previous quarter to ¥2.478 billion. Sales in housing and dedicated server slumped after the cancellation of a large contract, which was absorbed by the increased sales in Rental server and VPS/Cloud. Operating profit decreased by 14.8% qoq to ¥175 million. While SG&A dropped by ¥14 million thanks to a decrease in provision for bad debts (¥24 million down), depreciation expense increased by ¥16 million qoq due to functional enhancement of hosting service, boosting cost of sales by ¥48 million. Net profit for the quarter shrank by 33.8% to ¥70 million, as the company posted the impairment loss after partial cancellation of rental agreement for Daikanyama data center.

 

 

Sales of Housing declined by 2.2% qoq to ¥776 million, hit by the cancellation of a large housing contract at Tokyo data center. As for Hosting, sales of dedicated server dropped by 3.4% to ¥656 million. Although sales of 'SAKURA Dedicated server' provided by Ishikari data center expanded by ¥22 million, cancellation of contracts for the previous service and the dedicated server 'Platform' depressed the sales by ¥45 million. While the churn rate has improved due to a good performance of Ishikari data center, a unit price seems to be declining further. On the other hand, sales of Rental server increased by 3.9% to ¥537 million. 'SAKURA Rental server' and 'SAKURA Managed server' pushed up sales by ¥15 million and ¥4 million respectively. Sales of VPS/ Cloud also increased by 9.9% to ¥286 million, helped by strong sales of 'SAKURA VPS' (up ¥14 million) and 'SAKURA Cloud' (up ¥10 million). After 3Q of FY 3/14, monthly sales of VPS/Cloud are expected to be over ¥100 million.

 

Efforts to Enhance VPS/Cloud Business

VPS/Cloud provides existing services only and its monthly sales are expected to be more than ¥100 million after 3Q. The company has enhanced its service contents in September and October this year, but the effect of the enhancement has not been reflected in its earnings estimates. New services include; enabling users of 'SAKURA VPS' to upgrade easily to 'SAKURA Cloud', adopting Windows Servers and Service Level Agreement (SLA) for 'SAKURA Cloud' in order to capture needs from corporate customers, and introducing a time charge system.
Users typically shift from VPS to Cloud in accordance with their business growth in order to reinforce resources of their infrastructure, and, during that process, tend to switch to services offered by competitors. To prevent this, the company has enhanced its cloud service plans and introduced a service to upgrade easily from VPS to cloud. It also focuses on PR activities such as holding promotional events, participating in external events, etc. in order to increase brand awareness and to enhance customer engagement.

 


 

Sales Up 6.0% from Previous Term and Current Profit Down 23.4%

Sales increased by 6.0% yoy to ¥4.952 billion. Rental server and VPS/Cloud recorded double digit growth, but total sales missed the initial target due to a drop in sales of housing (the influence from the cancellation of a big contract) and dedicated server. Operating profit decreased by 19.1% yoy to ¥380 million. An increase in depreciation expenses due to the expansion of Ishikari data center as well as a boost of labor costs put pressure on the profit. However, newly recruited engineers have contributed to a recent order increase by accompanying marketing staff for customer visits.

 


 

Total asset as of the end of 1H was ¥13.244 billion, up ¥730 million from the end of previous term. At the debit side, balances of buildings, leased assets and construction in progress increased on the back of the enhancement of data center facilities and the purchase of machinery. At the credit side, the company recorded extra payments associated with capital investment and the larger short-term debts.

 

Status of Capital Investment at Ishikari Data Center

The site of Ishikari data center is sizable, which allows 8 data centers to be built. Currently, two buildings (data center building 1 and 2) have completed construction. Building 1 is capable of installing 500 racks and the space for 250 racks has already been utilized under a long-term large housing contract. The remaining 250 racks are utilized for the company's own hosting service. The data center's profitability has been improving on the back of growth in cloud-related services and it recorded a net profit in FY 3/14 1Q, only 17 months after its opening, which is earlier than expected. As of the end of September 2013, the utilization rate of racks in the available space was 80.7%. Building 2 has the same floor space as building 1, but its capacity has been increased 20% by the downsizing of equipments and the improvement of integration technology, enabling 600 racks to be installed. Currently, the space for 120 racks is utilized as an office for the company's major client and the space for 360 racks is utilized as a storehouse. The company has invested about ¥1.4 billion to develop the remaining space for 120 racks, which is scheduled to be ready by the end of November 2013. Even after the start of operation of building 2, the data center is expected to maintain its profitability as a whole.

 

 
Fiscal Year March 2014 Earnings Estimates

 

No Change in FY3/14 Earnings Estimates: Sales up 16.0% yoy and Current Profit up 0.9% yoy

The company expects that the cancellation of a large contract will still hit the sales of Housing, but the new hosting plan and the enhancement of optional functions will significantly contribute to sales increase. In addition to sales growth, the partial cancellation of the rental agreement of Daikanyama data center will also help to push up its profitability.
Full-year sales are expected to increase by 16.0% yoy to ¥11 billion. Weak sales in Housing will be offset by the strong growth in Rental serve and VPS/Cloud. Although the sales of dedicated server are likely to decrease, the final result should be in line with the company's estimates. Operating profit is expected to increase by 15.3% yoy to ¥1 billion. Higher profitability in 2H will help to maintain the operating profit margin similar to the previous term. Current profit is expected to increase only 0.9% because of the possible increase in financial expense. Total capital investments will be ¥5 billion, of which ¥3 billion will be allocated to Ishikari data center and ¥2 billion to the existing data centers. Depreciation expense is likely to increase to ¥1.85 billion, up around ¥300 million compared to the previous term. Year-end dividend payment is scheduled to be ¥5 per share.

 

(2) Business Environment and Future Plans

Business Environment

Many data centers have been newly constructed in Metropolitan area, mainly in 23 wards (there were concerns for imbalance between supply and demand in this area which was called 'Year 2013 problem'). As a result, an increasing number of users have moved to new data centers and existing ones are forced to lower charges to obtain new users. On the other hand, since the Great East Japan Earthquake in 2011, more firms have changed their IT strategies from owning their own assets to utilizing external facilities in the perspective of BCP/DR, boosting demand for data centers with high communication abilities in Metropolitan area.

 

Ongoing Plans

From 2H of FY3/14, the company has ramped up its efforts to: 1) improve services at data centers to face intensified competition in Tokyo area, 2) enhance hosting services, 3) strengthen sales promotion activities.

 

Service Improvement at Data Centers in Tokyo Area (Floor Space for Rent only)

The company plans to provide services in accordance with demand-supply situation at each data center. It partially cancelled the rental agreement of Daikanyama data center in September 2013 after losing a large contract in Housing. On the other hand, Higashi-Shinjuku data center, although its facilities are old, provides housing services as well as dedicated servers, rental servers, and VPS (started services in October 2013). The company intends to improve profitability by offsetting sales decline in Housing with other services. It is planning to provide new hosting services at Nishi/Higashi-Shinjuku data centers in order to capture demand for higher communication abilities.

 

Enhancement of Hosting Services

The company launched a new plan for Windows users in 1H of FY3/14 to respond to infrastructure needs from non-IT companies. It continues to launch other new plans and to add optional facilities in future to improve its competitiveness in VPS/Cloud business. The new service for Windows users is now available for users of 'SAKURA Dedicate server' and 'SAKURA Cloud' and will be available for 'SAKURA VPS' users by the end of this term.
In addition, with the anticipation of an increase in new customers and a rise in unit price, the company is now planning to provide high-end and security-related services for 'SAKURA VPA' as well as to develop a platform for 'SAKURA VPS' and 'SAKURA Cloud' (to promote upgrade from 'SAKURA VPS' to 'SAKURA VPS' ).

 

Strengthening of Sales Promotion Activities

The company encourages its IT engineers to accompany sales staff when visiting customers so that they can propose appropriate solutions to various issues faced by the customers on the spot, which it believes to lead to the acquisition of larger customers. Furthermore, it tries to obtain smaller users by increasing opportunities to connect IT engineers with users, such as participating in events and workshops for IT engineers or holding seminars on the company's services, etc.

 

 
 

In Metropolitan area, new construction and expansion of data centers have been active and the company's data centers in this area are facing tougher competition than expected. Meanwhile, Ishikari data center continues to show strong performance in Hosting on the back of growing needs for BCP/DR and the widespread use of cloud computing. Comparing the company's earnings for 1H FY3/14 to its initial estimates, while sales fell below the estimate due to lower-than-expected performance of data centers in Tokyo, operating profit beat the estimate thanks to better-than-expected earnings recovery at Ishikari data center.
The company intends to keep high communication abilities of data centers in Tokyo area to capture needs from users who shift from owing IT assets to renting them. At the same time, it appeals the advantage of Ishikari data center with its DR-related offerings (Ministry of Internal Affairs and Communications provides tax breaks to firms moving their servers to outside of Metropolitan area). Moreover, the company tries to boost firm-wide profitability by raising average sales per customer, which should be achieved by providing high value-added optional services such as support service, outsourcing service for operation/maintenance, security assessment etc. Although it may be difficult to achieve these goals in 2H, we are still interested in results.

Disclaimer

This report is intended solely for information purposes, and is not intended as a solicitation to invest in the shares of this company. The information and opinions contained within this report are based on data made publicly available by the Company, and comes from sources that we judge to be reliable. However we cannot guarantee the accuracy or completeness of the data. This report is not a guarantee of the accuracy, completeness or validity of said information and or opinions, nor do we bear any responsibility for the same. All rights pertaining to this report belong to Investment Bridge Co., Ltd., which may change the contents thereof at any time without prior notice. All investment decisions are the responsibility of the individual and should be made only after proper consideration.

Copyright(C) 2013 Investment Bridge Co., Ltd. All Rights Reserved.