Kunihiro Tanaka,
President
| | |
| --- | --- |
| Company | SAKURA Internet Co., Ltd. |
| Code No. | 3778 |
| Exchange | Tokyo Stock Exchange Mothers |
| Industry | Information and communication |
| President | Kunihiro Tanaka |
| HQ | Sakaisuji Honmachi Bldg. 1-8-14 Minami-Honmachi, Chuo-ku, Osaka |
| Year-end | March |
| URL | |
Share Price
Shares Outstanding
(excluding Treasury stocks)
Market Cap.
ROE (Actual)
Trading Unit
572Yen
8,677,489 shares
4,964 Million Yen
10.6%
100 shares
DPS (Est.)
Dividend Yield (Est.)
EPS (Est.)
PER (Est.)
BPS (Actual)
PBR (Actual)
5.00Yen
0.9%
38.03Yen
15.0times
401.53Yen
1.4times
* Stock price as of the close on 4/28. Number of shares at the end of the most recent quarter excluding treasury stocks. ROE, BPS based on previous term's results.
| | | | | | | |
| --- | --- | --- | --- | --- | --- | --- |
| Fiscal Year | Sales | Operating Profit | Current Profit | Net Profit | EPS | Dividend |
| March 2010 (Actual) | 7,812 | 748 | 723 | 567 | 12,906.39 | 1,000.00 |
| March 2011 (Actual) | 8,584 | 1,225 | 1,194 | 572 | 13,202.24 | 1,000.00 |
| March 2012 (Actual) | 9,164 | 873 | 808 | 556 | 64.13 | 5.00 |
| March 2013 (Actual) | 9,482 | 867 | 812 | 479 | 55.20 | 5.00 |
| March 2014 (Actual) | 10,045 | 736 | 633 | 353 | 40.73 | 5.00 |
| March 2015 (Est) | 10,450 | 690 | 550 | 330 | 38.03 | 5.00 |
* Estimates are those of the company. In October 2011 a stock was divided into 200 stocks.

 

This Bridge Report provides details of SAKURA Internet and its fiscal year March 2014 earnings results.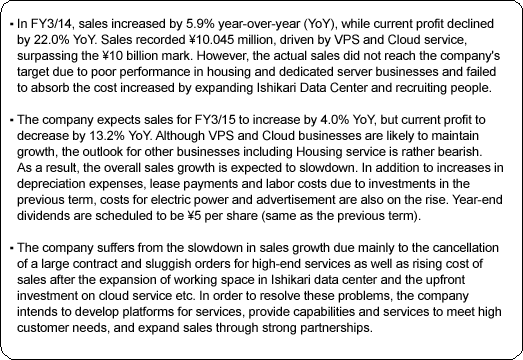 The company operates data centers in three areas: Tokyo (Nishi-Shinjuku, Higashi-Shinjuku, Daikanyama: renting space), Osaka (Dojima: renting space) and Hokkaido (Ishikari: owning land and building). Its main businesses are housing service, which provides space for servers to be installed, power supply and network lines, and Hosting service, which provides server environment (computer resources) on the Internet. Although many hosting service providers depend on external infrastructure (data center facilities), the company seeks for higher profits by owning their own infrastructure (driver of price competitiveness). It manages to raise utilization rate and to lower the risk of fixed costs (risk of owning infrastructure) by using the same infrastructure for housing service.

 

Business overview

The company's business is divided into co-location service ('co-location' hereafter), Hosting and other associated services (such as consulting on domain acquisition and server construction). The shares of these three businesses in total sales of FY 3/14 were 29.9%, 59.9% and 10.2% respectively. Co-location mainly deals with housing (rack-lending: one customer possesses one rack), as well as lending out space for large-scale users at Ishikari Data Center. The data center also provides remote housing services and is offsetting its handicap of being in a remote location by doing all physical work on behalf of its users. On the other hand, hosting is divided into physical hosting, where the company lends out physical servers (providing both dedicated servers and rental servers), and virtual hosting (providing both cloud and VPS services), where the company creates various virtual machines (VM) on physical servers and provides specific services for each VM.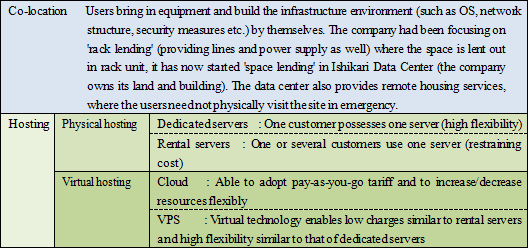 Physical hosting is divided into dedicated servers, where one customer possesses one physical server ('SAKURA Dedicated server'), and rental servers, where typically several customers use one physical server. Dedicated servers offer high flexibility in server configuration and software in use. On the other hand, rental servers have to be used under the more constrained environment compared to dedicated servers, but users are not responsible for their maintenance. Rental servers are divided into 'SAKURA Rental server', mainly used by individual users, and 'SAKURA Managed server', typically rented out to smaller companies and SOHOs.
Meanwhile, virtual hosting is divided into VPS (Virtual Private Server) service ('SAKURA VPS'), providing high flexibility similar to that of a dedicated server at low cost similar to that of a rental server by using virtualization technology, and Public Cloud IaaS ('SAKURA Cloud'). The latter, unlike the former, enables the company to adopt pay-as-you-go tariff or to increase/decrease resources flexibly. While the former is unable to provide as high flexibility as the latter, it has a cost advantage. For the company, 'SAKURA Cloud' needs a larger investment than 'SAKURA VPS', but its unit price is higher.

 

 
Mid-term Business Plan (FY3/13-FY3/15)
 

In the ongoing mid-term business plan, the company seeks to gain new competitive advantages by enhancing 'IT infrastructure', 'technology', 'services' and 'sales'. Its business targets are: sales growth of 10% YoY or more, gross profit margin of 30% or more, current profit margin of 10% or more.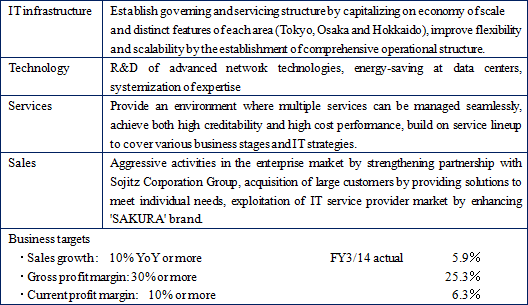 The company lowered the quantitative targets for sales and profits, as it failed to achieve targets for FY3/14 due to disappointing results in housing and dedicated server businesses. For FY3/15, the company aims to achieve sales of ¥10.45 billion or more (original target was ¥12.5 billion or more) and current profit of ¥550 million or more (originally ¥1,250 million or more). It will focus on establishing solid managerial foundation to sustain growth and optimizing costs in order to put its business back on track for growth in FY3/16 and later.

 

Fiscal Year March 2014 Earnings Results

 

Sales Up 5.9% YoY, while Current Profit Down 22.0% YoY

Sales increased by 5.9% YoY to ¥10.045 billion. VPS/Cloud recorded strong growth because of the company's well-received services for their high flexibility and superior cost performance, and sales of rental server also increased thanks to newly acquired users. However, operating profit decreased by 15.0% YoY to ¥736 million. Sales missed the initial target of ¥11.0 billion as a result of poor performance in housing and dedicated server and failed to absorb the increase in operating expense (¥693 million), mainly due to higher depreciation and lease expenses (¥212 million) as well as higher labor costs after recruiting new engineers, marketing and sales staff (¥186 million). Net profit declined by 26.2% YoY with an increase both in financial expense and impairment loss.
Depreciation and lease expenses jumped up after Building 2 of Ishikari Data Center started operation in December 2013. The company leased all the equipment to be used in the center.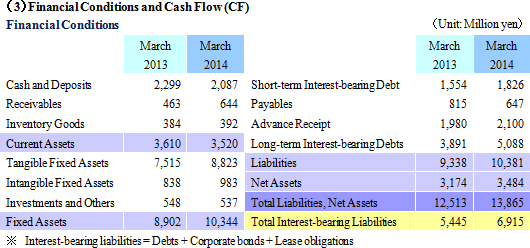 ∗Overview of Ishikari Data Center

The site of Ishikari Data Center is sizable, which allows 8 data centers to be built, and currently two buildings (Data Center Buildings 1 and 2) have completed construction. Building 1 is capable of installing 500 racks and the space for 250 racks has already been utilized under a long-term housing contract. The remaining 250 racks are now utilized for the company's own hosting and remote-housing services. The Building started operation in November 2011 and recorded the first net profit in April 2013, only 18 months after its opening. The main drivers were the strong growth in cloud-related services (larger sales per rack) and superior power efficiency (able to save costs for keeping servers cool because of its location in cold district). As of the end of March 2014, the utilization rate of racks in the available space was 89.3%, which is pretty high as a data center.

Meanwhile, Building 2, which started operation in December 2013 with the same floor space as Building 1, has expanded its capacity by downsizing equipments and improving integration technology and is now capable of installing 600 racks. Currently, the space for 240 racks is being provided for its customers (120 racks for hosting service and 120 racks for remote housing service) and the remaining space for 360 racks is utilized as a storehouse.

 

 
Fiscal Year March 2015 Earnings Estimates

 

Estimated Sales Up 4.0% YoY while Current Profit Down 13.2% YoY

Outsourcing of IT infrastructure, stronger demand for BCP/DR and penetration of cloud and other new services will serve as a tail wind for sales growth, while a severe price competition intensified by the rush of data center construction in the Tokyo Metropolitan area is likely to be a headwind. Therefore, the company intends to sustain sales growth and optimize costs by enhancing highly profitable hosting service, planning/developing high value-added services to meet strong customer needs, and strengthening sales promotion with partners to increase the number of end users.

The company expects sales to increase by 4.0% YoY to ¥10.45 billion. Although the outlook for housing service and other businesses is rather bearish, VPS and Cloud businesses are expected to maintain strong growth. However, operating profit is likely to decrease by 6.4% YoY to ¥690 million due to an increase in various costs, namely depreciation and lease expense, labor cost (these are related to the investments in the previous term), electric power costs (due to fare hike), advertising and promotion costs (due to more aggressive marketing activities in outbound business). Current profit is expected to decline by 13.2% YoY to ¥550 million with higher financial expense.

Year-end dividends are scheduled to be ¥5 per share (same as the previous term). Dividend payment ratio is estimated to be 13.1%.

 

 
 

The company's business is basically categorized into the machinery and equipment industry, bearing a heavy burden of fixed cost but achieving high marginal profitability. At the same time, it is a stock-driven business, which can generate stable earnings and high profitability by acquiring more contracts. Reviewing the company's current business environment from this perspective, stock-driven business has taken off smoothly by providing its 'VPS service', which is widely recognized as top brand in Japan, to increasing number of start-up companies. However, the building-up of stocks is not so successful due mainly to the subdued order levels for high-end services and the cancellation of a large contract. In addition, the break-even point is getting higher on the back of ever-increasing fixed cost as a result of upfront investments in Ishikari Data Center (expansion of operating space) and in cloud services, offsetting an increase in marginal profit.
Until recently, the company has been focusing on marketing for inbound business and has not engaged in follow-up activities to retain customers. Therefore, its customers in VPS business tend to switch to competitors as they shift to cloud services in the course of their business expansion. Meanwhile, housing business has always been the cause for rising cost of sales, because massive upfront investment is required in this business to secure adequate space in advance. Furthermore, the company failed to differentiate itself or to provide high value-added services by simply lending out space to users.
However, developing platforms for services should make a shift to high-end services easier and enable connections between services, which should help to meet customers' needs when they switch to upper-grade services. In addition, providing a comprehensive product lineup and advanced functions should drive up the value of its services. Furthermore, by establishing win-win relationships with partners, the company can enhance its sales capabilities and reach a wider range of customers. We expect further progress to be made in the company's three business targets: to develop platforms for services, to provide capabilities & services to meet high customer needs, and to expand sales through stronger partnerships.

Disclaimer

This report is intended solely for information purposes, and is not intended as a solicitation to invest in the shares of this company. The information and opinions contained within this report are based on data made publicly available by the Company, and comes from sources that we judge to be reliable. However we cannot guarantee the accuracy or completeness of the data. This report is not a guarantee of the accuracy, completeness or validity of said information and or opinions, nor do we bear any responsibility for the same. All rights pertaining to this report belong to Investment Bridge Co., Ltd., which may change the contents thereof at any time without prior notice. All investment decisions are the responsibility of the individual and should be made only after proper consideration.

Copyright(C) 2014 Investment Bridge Co., Ltd. All Rights Reserved.