SAKURA Internet Co.,Ltd.(3778)
Kunihiro Tanaka,
President
| | |
| --- | --- |
| Company | SAKURA Internet Co., Ltd. |
| Code No. | 3778 |
| Exchange | Tokyo Stock Exchange Mothers |
| Industry | Information and communication |
| President | Kunihiro Tanaka |
| HQ | Sakaisuji Honmachi Bldg. 1-8-14 Minami-Honmachi, Chuo-ku, Osaka |
| Year-end | March |
| URL | |
Share Price
Shares Outstanding
(excluding Treasury stocks)
Market Cap.
ROE (Actual)
Trading Unit
940Yen
8,677,489shares
8,156Million Yen
13.9%
100shares
DPS (Est.)
Dividend Yield (Est.)
EPS (Est.)
PER (Est.)
BPS (Actual)
PBR (Actual)
10.00Yen
1.1%
67.99Yen
13.8times
456.05Yen
2.1times
* Stock price as of the close on June 19, 2015. Number of shares at the end of the most recent quarter excluding treasury stocks.
ROE, BPS based on previous term's results.
| | | | | | | |
| --- | --- | --- | --- | --- | --- | --- |
| Fiscal Year | Sales | Operating Profit | Current Profit | Net Profit | EPS | Dividend |
| March 2011 (Actual) | 8,584 | 1,225 | 1,194 | 572 | 13,202.24 | 1,000.00 |
| March 2012 (Actual) | 9,164 | 873 | 808 | 556 | 64.13 | 5.00 |
| March 2013 (Actual) | 9,482 | 867 | 812 | 479 | 55.20 | 5.00 |
| March 2014 (Actual) | 10,045 | 736 | 633 | 353 | 40.73 | 5.00 |
| March 2015 (Actual) | 10,576 | 964 | 857 | 516 | 59.52 | 10.00 |
| March 2016 (Est) | 12,000 | 1,050 | 880 | 590 | 67.99 | 10.00 |
* Estimates are those of the company. Move to Consolidated Accounting from FY3/16

 

This Bridge Report provides details of SAKURA Internet's fiscal year March 2015 earnings results.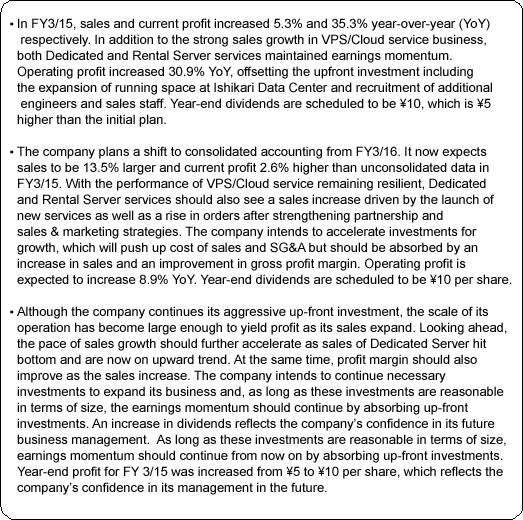 The company operates data centers in three areas: Tokyo (Nishi-Shinjuku, Higashi-Shinjuku, Daikanyama: renting space), Osaka (Dojima: renting space) and Hokkaido (Ishikari: owning land and building). Its main businesses are 1) housing service, which provides space for servers to be installed, power supply and network lines, and 2) hosting service, which provides server environment (computer resources) on the Internet. While many hosting service providers depend on external infrastructure (data center facilities), the company seeks for higher profits by owning their own infrastructure (driver of price competitiveness). It manages to raise utilization rate and to lower the risk of fixed costs (risk of owning infrastructure) by using the same infrastructure that provides housing service.

 
Business overview
The company's business is divided into housing service, hosting service, and other services including domain acquisition and line/network related services. The share of these businesses in total sales of FY3/15 were 25.4%, 66.0% and 8.6% respectively (equipment sales business was traditionally included in other services, however, starting from FY3/15 part of its services highly related to main services have been moved either to 'Housing' or 'Dedicated Server' businesses. Therefore, the company has made some adjustments and disclosed the revised sales of FY3/14 in accordance with this new classification.)

 

Housing Service

This service includes lending out space within the company's data centers to customers who can install their own communication equipment as they like, together with lines and electric power supply for Internet connection. Although the company used to focus on 'Rack-lending' (plus lines and power supply), it started 'Space-lending' (large scale housing) upon the full operation of Ishikari Data Center, where it owns its land and buildings.

 

Hosting Service

It is divided into 'Physical hosting' which includes Dedicated and Rental Server services and 'Virtual hosting' which includes VPS and Cloud services.

 

Dedicated Server Service

This service is to provide a physical server owned by the company to a customer for its own use ('SAKURA Dedicated server'). It gives more freedom to its user than rental server service as the user can choose its own server configuration or install any software as it likes.

 

Rental Server Service

It consists of two types of services: one is to provide physical server owned by the company to multiple customers for their shared use ('SAKURA Rental Server') and the other is to provide an individual server for one user (SAKURA Managed server'). Users are subjected to some restrictions in terms of server configuration and software installation, but are able to significantly reduce their work burden as they can leave server maintenance to the hands of the company's professionally skilled staff.

 

VPS/Cloud Service

This service is to create multiple virtual servers on physical servers by using virtualization technology, each of which can be used as a dedicated server. There are mainly two services: 'SAKURA VPS' provides one virtual server to a single user, whereas 'SAKURA Cloud' allows a single customer to use multiple servers and any network configuration. The latter enables the company to adopt pay-as-you-go tariff and provides better cost performance and more flexibility than physical (dedicated and rental) servers.

 

 
Fiscal Year March 2015 Earnings Results

 

Sales Up 5.3% YoY, Current Profit Up 35.3% YoY

Sales increased 5.3% YoY to ¥10,576 million. Although the sales of Housing service (hereinafter just 'Housing') plunged 13.8% YoY to ¥2,687 million, sales of VPS/Cloud surged by 56.5% YoY to ¥1,919 million and Rental server also recorded sales increase of 9.1% YoY to ¥2,366 million. Sales of Dedicated server has turned to an upward trend and increased 0.6% YoY to ¥2,697 million.

Operating profit rose to ¥964 million (up 30.9% YoY). In addition to an increase in depreciation & lease expenses with the additional service equipment and the expansion of Ishikari Data Center, repair (maintenance) expenses for the Data Center surged due to the expansion of its running space and labor costs also increased after recruiting more engineers in accordance with the company's business strategy. These up-front investments were absorbed by sales increase, pushing down the ratio of cost of sales by 1.7 pp. In spite of increases in recruiting and educational expenses, payment charges, as well as labor costs (increased number of sales staff in accordance with the company's strategy), overall SG&A only recorded the modest increase of 4.8% YoY.

Compared to the company's earnings estimates, sales of all the services achieved the initial and revised estimates. Better than expected sales, lower electric power costs by more efficient use, better timing for investments, unification of equipment and containment of costs collectively contributed to better operating & other profits than initial and revised estimates. At the start of the fiscal year, the company expected ¥10,450 million for sales, ¥690 million for operating profit, ¥550 million current profit and ¥330 million for net profit.

 

 

As of the end of March 2015, sales arising from customers paying monthly fee of less than ¥100 thousand consisted 53.3% of overall sales, which suggests the share of sales from low-value customers is very large. Meanwhile, the company's customer composition does not concentrate on any particular industry sectors. Looking at quarterly data, the number of customers with monthly fee of more than ¥10 million has built on solid growth, while the number of low-value customers increased rapidly.
One of the reasons the company managed to acquire a large number of low-value customers is its Rental server, which is available at only ¥500 per month for each customer. In fact, monthly sales of Rental server business is more than ¥200 million now and accounts for a large part of overall sales. As the company provides Housing mainly to large-value customers, the sales of this business tend to plunge in the event of any cancellation of contracts. In contrast, Rental server, mitigating risk by diversification, contributes as a stable source of revenue (with its cancellation rate as low as about 1.1%) and plays an important role to enhance the portfolio.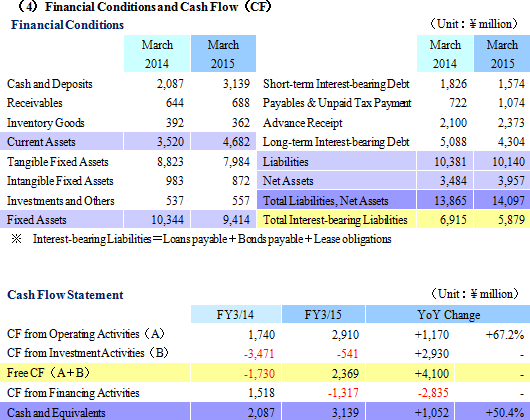 Review of Mid-term Business Plan
Review of Mid-term Business Plan: FY3/13-FY3/15
The company has successfully expand its business focusing on data center business as a sole driver of growth, but failed to achieve its earnings targets: sales growth of 10% or more, gross profit margin of 30% or more, current profit to sales ratio of 10% or more. Although some progress has been made on each of the key issues, the company did not move into action on many of the projects until the final year of this business plan and the execution speed and driving force for these projects remain an issue.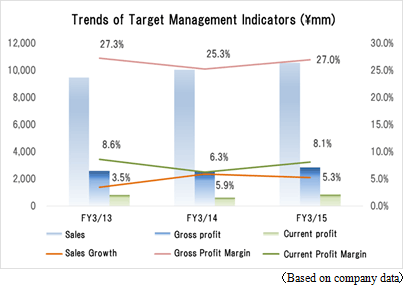 Important Issues and Progress

SAKURA Internet set forth four important issues: 1) IT infrastructure, 2) Technology, 3) Services, and 4) Sales. On each of these issues, the company has taken the following actions:

As for 'IT infrastructure', the company introduced measures to save line utilization costs in the midst of increasing traffic at Ishikari Data Center and has launched services for multi-region to seek different opportunities. In the area of 'Technology', it conducted a test on a power-saving system using direct-current circuit if it is available for commercial use and also worked cooperatively with METI for the establishment of 'high-temperature superconductive direct-current power transmission system'. It also made further progress in automating its operation in order to reduce operational costs. Meanwhile, the company attained some progress in 'Services' by introducing a platform enabling combined usage of cloud and physical servers, launching new plans and services continuously, upgrading service functions, improving the control panel, reinforcing service line-up through partnership and so on. With regard to 'Sales', it is now taking steps to further expand sales, including event-planning to acquire potential customers, follow-up services for existing customers, implementation of partner scheme, and support for start-up businesses.


 

 
Business Outlook and Fiscal Year March 2016 Earnings Estimates
 

(1)Business Outlook

Market Landscape(Domestic data center market)

According to a research company, domestic market for data center is expected to grow by an average of 6.6% per year from 2013 to 2018 and more companies will shift from operating their own data centers to outsourcing this function. In particular, cloud, mobile, social, big data, 2020 Olympic and Paralympic Games in Tokyo, IoT (Internet of Things), and 4K are likely to be the key drivers for the market growth.

 

 

Key Challenges for Future and Actions to be Taken

The company points out four key challenges to maintain competitive advantage in a growing market, namely 1) sales growth, 2) enhancement of service/technology/operation, 3) optimization of costs and 4) reinforcement of organization and human resources. It intends to meet these challenges by speeding up PDCA cycle by mainly using measures that achieved tangible results in the previous term.

In order to achieve 'sales growth', the company will take measures such as enhancement of sales & marketing, M&A/alliance, and penetration into global market. In the area of sales & marketing it specifically focuses on stronger partnership, promotions for new and existing customers and measures to increase the number of enterprise/large-value customers. As for 'enhancement of service/technology/operation', the company will work on the sophistication and speed-up of development process, enhancement of service line-up and functions to satisfy customer needs, introduction of platforms and integration of services, R&D to maintain competitive advantage in a mid-and-long term perspective and interconnection of value chain. With regard to 'optimization of costs', the company intends to promote energy-saving, pursue power saving/automation, achieve economy of scale to reduce costs, aggregate equipment to lower management costs and increase purchasing power. Finally, in order to achieve 'reinforcement of organization and human resources' it will focus on recruiting top-class personnel, fostering skilled human resources, providing appropriate incentive in the form of appropriate rewards, improving working environment and strengthening collaboration between organizations.

By tackling above-mentioned challenges, the company hopes to accelerate growth and double overall sales (compared to FY3/15) within a few years. In this process, it also seeks to achieve its earnings targets --- sales growth of 10% or more, gross profit margin of 30% or more and current profit to sales ratio of 10% or more.

 

 

Move to Consolidated Accounting from FY3/16; Sales and Current Profit Up 13.5% and 2.6% from Unconsolidated Data in F3/15

The company expects sales to reach ¥12 billion which is 13.5% larger than the previous term on a non-consolidated basis. Along with the consistently strong performance in VPS/Cloud service (current mainstream virtual hosting), Dedicated and Rental server services (traditional physical hosting) should see a sales increase thanks to the launch of new services as well as a rise in orders after expanding partnership or strengthening sales & marketing strategies

In terms of profits, as a result of the aggressive investment on data center facilities and service equipment in FY3/14 and FY3/15, electric power cost, maintenance cost, line cost, depreciation and lease expenses are all likely to increase. In addition, labor cost for engineers is also likely to rise. These all factors should push up the cost of sales by 11-12% YoY. Gross profit margin, however, is expected to improve by 1 pp or more. Furthermore, an increase in labor cost for sales & marketing staff and depreciation expense should boost SG&A by around 24% YoY, which is likely to be absorbed by a rise in gross profit. As a result, operating profit is expected to increase 8.9% YoY to ¥1,050 million.

Although current profit is likely to increase only by 2.6% YoY to ¥880 million, net profit should grow by 14.2% YoY to ¥590 million due to lower effective tax rate and other reasons.
Year-end dividends are scheduled to be ¥10 per share. The company's basic dividend policy is to boost share price by securing sustainable growth and solid profitability, while maintaining consecutive dividends payment.

 
 

In FY3/15, sales hit a new record high, and operating & current profits reached the second-highest level ever. Now the company's key growth driver is VPS/Cloud service, which needs a heavy up-front investment, as the service has to be delivered within a few minutes upon application. In addition, the continued expansion of data centers pushed up the depreciation expense until FY3/14. Although the company made further up-front investment in FY3/15, VPS/Cloud service generated significantly higher profit as the initial investment at the start of the service is now fully depreciated. Meanwhile, sales of Dedicated Server service hit bottom and is now on upward trend, which seems to have boosted marginal profit of overall services.
The company plans to continue necessary investments, including M&A, for business expansion. As long as these investments are reasonable in terms of size, earnings momentum should continue in the coming years by absorbing up-front investments. Year-end dividends for FY 3/15 were increased from ¥5 to ¥10 per share, which seems to reflect the company's confidence in its future business management.

Disclaimer

This report is intended solely for information purposes, and is not intended as a solicitation to invest in the shares of this company. The information and opinions contained within this report are based on data made publicly available by the Company, and comes from sources that we judge to be reliable. However we cannot guarantee the accuracy or completeness of the data. This report is not a guarantee of the accuracy, completeness or validity of said information and or opinions, nor do we bear any responsibility for the same. All rights pertaining to this report belong to Investment Bridge Co., Ltd., which may change the contents thereof at any time without prior notice. All investment decisions are the responsibility of the individual and should be made only after proper consideration.

Copyright(C) 2015 Investment Bridge Co.,Ltd. All Rights Reserved.