SAKURA Internet Co.,Ltd.(3778)
Kunihiro Tanaka,
President
| | |
| --- | --- |
| Company | SAKURA Internet Co., Ltd. |
| Code No. | 3778 |
| Exchange | First Section, TSE |
| Industry | Information and communication |
| President | Kunihiro Tanaka |
| HQ | Sakaisuji Honmachi Bldg. 1-8-14 Minami-Honmachi, Chuo-ku, Osaka |
| Year-end | March |
| URL | |
Share Price
Shares Outstanding
(excluding Treasury stocks)
Market Cap.
ROE (Actual)
Trading Unit
1,249yen
34,709,956shares
43,353million yen
13.2%
100shares
DPS (Est.)
Dividend Yield (Est.)
EPS (Est.)
PER (Est.)
BPS (Actual)
PBR (Actual)
2.50yen
0.2%
16.42yen
76.1times
127.46yen
9.8times
* Stock price as of the close on October 27, 2015. Number of shares outstanding at the end of the most recent quarter excluding treasury stocks.
| | | | | | | |
| --- | --- | --- | --- | --- | --- | --- |
| Fiscal Year | Sales | Operating Profit | Current Profit | Net Profit | EPS | Dividend |
| March 2012 (Actual) | 9,164 | 873 | 808 | 556 | 64.13 | 5.00 |
| March 2013 (Actual) | 9,482 | 867 | 812 | 479 | 55.20 | 5.00 |
| March 2014 (Actual) | 10,045 | 736 | 633 | 353 | 40.73 | 5.00 |
| March 2015 (Actual) | 10,576 | 964 | 857 | 516 | 59.52 | 10.00 |
| March 2016 (Actual) | 12,086 | 976 | 822 | 553 | 15.95 | 2.50 |
| March 2017 (Est.) | 14,500 | 1,060 | 860 | 570 | 16.42 | 2.50 |
* Estimates are those of the Company. Starting in FY 3/16, "net income" is presented as "net income attributable to owners of parent" (The same applies to all other "net income" described hereinafter).
* Switch to consolidated accounting from FY3/16. In September 2015, conducted 4-for-1 stock split.

 

This Bridge Report provides details of SAKURA Internet's earnings results for the fiscal year March 2016.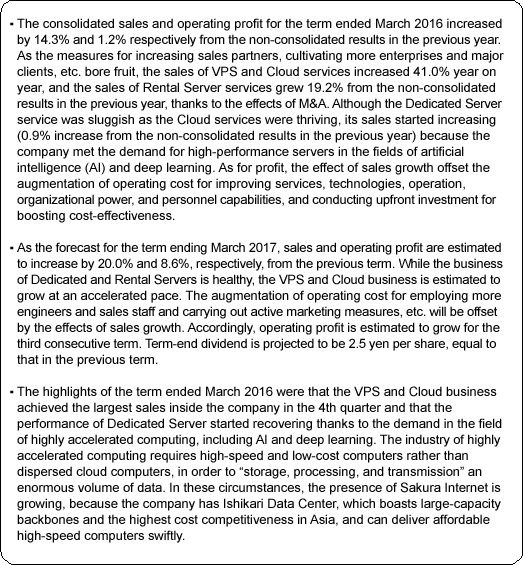 The Company operates data centers in three areas: Tokyo (Nishi-Shinjuku, Higashi-Shinjuku and Daikanyama: all are renting space), Osaka (Dojima: renting space), and Hokkaido (Ishikari; owned land and building). Its main businesses include housing service, which provides space for servers to be installed, power supply and network lines, and hosting service, which provides server environment (computer resources) on the Internet. While many hosting service providers depend on external infrastructure (data center facilities), the Company seeks for higher profits by owning their own infrastructure (driver of price competitiveness). It manages to raise utilization rate and to lower the risk of fixed costs (risk of owning infrastructure) by using the same infrastructure in providing housing service as well.

 
Business overview
The Company's business is divided into housing service, hosting service, and other services including domain acquisition and line/network related services. The share of these businesses in total sales of the term ended March 2016 were 21.3%, 68.2% (Dedicated Server: 22.5%, Rental Server: 23.3%, and VPS and Cloud: 22.4%), and 10.4%, respectively.

 

Housing Service

This service includes lending out space within the Company's data centers to customers who can install their own communication equipment as they like, together with lines and electric power supply for Internet connection. Although the Company used to focus on 'Rack-lending' (plus lines and power supply), it started 'Space-lending' (large scale housing) upon commencement of the full operation of Ishikari Data Center, where it owns its land and buildings.

 

Hosting Service

It is divided into 'Physical hosting' which includes Dedicated and Rental Server services and 'Virtual hosting' which includes VPS and Cloud services.

 

Dedicated Server Service

This service is to provide a physical server owned by the Company to a customer for its own use ('SAKURA Dedicated server'). Although use of this service involves some burdens of server maintenance, etc., which require expertise, it gives more freedom to its user than rental server service as the user can choose its own server configuration or install any software as it likes.

 

Rental Server Service

It consists of two types of services: one is to provide physical server owned by the Company to multiple customers for their shared use ('SAKURA Rental Server') and the other is to provide an individual server for one user ('SAKURA Managed server'). Users are subjected to some restrictions in terms of server configuration and software installation, but are able to significantly reduce their work burden as they can leave server maintenance to the hands of the Company's professionally skilled staff.

 

VPS/Cloud Service

This service is to create multiple virtual servers on physical servers by using virtualization technology, each of which can be used as a dedicated server. There are mainly two services: 'SAKURA VPS' provides one virtual server to a single user, whereas 'SAKURA Cloud' allows a single customer to use multiple servers and any network configuration. The latter enables the Company to adopt pay-as-you-go tariff and provides better cost performance and more flexibility than physical (dedicated and rental) servers.

 

 
Fiscal Year March 2016 Earnings Results

 

Sales and profit grew 14.3% and 7.2%, respectively, from the non-consolidated results for the previous term (hereinafter called "year on year")

Sales increased by 14.3% year on year to 12,086 million yen. As the measures for increasing sales partners, cultivating enterprises and major clients, etc. bore fruit, the sales of the VPS and Cloud business grew 41.0% year on year, while the sales of Rental Server rose 19.2% year on year thanks to the effects of M&A, etc. The sales of Dedicated Server, which had been on a downward trend, turned to an increase as the company seized the demand for high-speed servers in the AI and deep learning fields (0.9% year-on-year increase).

Operating profit increased by 1.2% to 976 million yen. The effects of sales growth offset the augmentation of operating cost for improving services, technologies, operation, organizational power, and personnel capabilities, and conducting upfront investment for boosting cost-effectiveness. As for operating cost, cost of sales augmented by 12.5% year on year to 8,688 million yen, because variable expenses, such as the maintenance cost for service equipment and charges for lines, increased, the company employed more engineers (19 additional development engineers and 27 additional operational engineers), and the cost for temporary sales equipment rose. SG&A augmented by 28.3% year on year to 2,421 million yen, because depreciation (for the operation of new in-company systems) increased, the company employed more sales staff and engineers for in-company system development (11 additional sales staff members for sales promotion, etc. and 6 additional development engineers; recruitment was enhanced by increasing the rate of personnel introduction charges), sales promotion activities, including advertisement and promotional events, were actively conducted, and the expenses for developing and supporting new services, including IoT-related ones, augmented.

As reversal of allowance for doubtful accounts was no longer posted while the commission for the market shift to Tokyo Stock Exchange was posted, ordinary profit decreased by 4.2% year on year to 822 million yen, but net profit grew 7.2% year on year to 553 million yen, due to the decline in effective tax rate.
As for dividends, term-end dividend is estimated to be 2.5 yen per share (four-for-one share split was conducted in September 2015, and so virtually, the dividend is 10 yen per share, which is equal to that in the previous term).

 

 

Due to the investment, debts, etc. for Building 3 of Ishikari Data Center, which is to be completed in December 2016, term-end total assets increased 4,490 million yen from the previous term (non-consolidated) to 18,588 million yen. In the debit side, cash and deposits rose through fund procurement for Building 3 of Ishikari Data Center, construction in progress was posted as the construction of the Building 3 was commenced, and tangible fixed assets grew due to the expansion of the floor space of Building 2, the installation of more service equipment, etc. In the credit side, debts augmented mainly through the fund procurement for the Building 3 and lease obligations grew due to the expansion of the floor space of Building 2. Current ratio, ratio of fixed assets to (equity capital + fixed liabilities), and equity ratio are 101.9%, 99.1%, and 23.8%, respectively.

 

 

The company secured an operating cash flow of 1,547 million yen, although it decreased from the previous term due to the augmentation of tax payment (from 173 million yen to 424 million yen) and the increase in accounts receivable due to the growth of sales from cloud services and the introduction of installment payment plans for Dedicated Server. On the other hand, investment cash flow was minus 2,550 million yen, due to the payment of the fee for construction commencement for Building 3 of Ishikari Data Center, etc. Most of the services of this company are based on advance payments, but the rapidly growing cloud service is based on the payments after offering the service, due to its characteristics. (Because of credit card payments, fees are paid two months later than those for other services.) Since the initial cost for using a dedicated server is large for users, the company introduced a system for paying the initial cost with 12 monthly installments, in June 2015.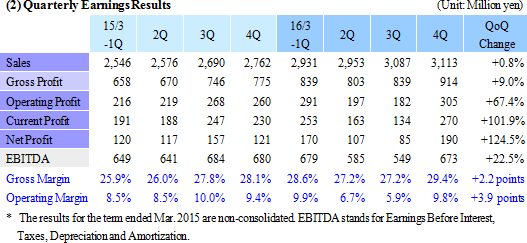 In the 4th quarter, the short-lived boom of sales of equipment ebbed and so the sales of the Housing service declined 13.7%, but the VPS and Cloud business saw a 10.7% increase in sales, and the sales of the business of Dedicated and Rental Servers, too, rose. As for profit, gross profit improved due to the decline in sales of equipment, whose profit margin is low, and SG&A dropped due to the decrease of advertisements, promotional events, etc. Accordingly, operating profit ratio increased considerably from 5.9% in the 3rd quarter to 9.8% in the 4th quarter.

In April 2015, Sakura Internet acquired Joe's Cloud Computing, Inc. as a subsidiary, as it operates the Hosting service mainly based on Rental Server, and offers several services, including SSL, server certificate issuance, and domain acquisition. It contributed to both the consolidated sales and profit for the term ended March 2016. The sales of Joe's Cloud Computing were 78 million yen in the 1st quarter, 74 million yen in the 2nd quarter, 76 million yen in the 3rd quarter, and 73 million yen in the 4th quarter.

 

 
Primary missions and results in the term ended March 2016
Managerial indices
The managerial indices and goals emphasized by Sakura Internet are a sales growth rate of over 10%, a gross profit margin of over 30%, and an ordinary profit ratio of over 10%. Since the business of Sakura Internet incurs large fixed cost and small variable cost, it put the utmost importance on sales growth rate. In the term ended March 2016, sales growth rate exceeded 10% (14.3% increase) for the first time in 7 terms. Because of upfront investment, etc., neither gross profit margin nor ordinary profit ratio reached a target value, but gross profit margin is growing - the gross profit margin for the 4th quarter was 29.4%, up 2.2 points from 27.2% for the 2nd and 3rd quarters. On the other hand, ordinary profit ratio was sluggish, due to the increase in depreciation (a monthly increase of about 10 million yen from April 2015) through the operation of new in-company systems, etc.
In the term ending March 2017, the company plans to make efforts to improve gross profit margin and ordinary profit ratio while placing prime importance on sales growth rate.

 

Fiscal Year March 2017 Earnings Estimates and Future Outlook

 

Sales and operating profit estimated to grow 20.0% and 8.6%, respectively, year on year.

Sales are estimated to increase 20.0% to 14.5 billion yen, due to the expansion of the number of new orders through the enhancement of partnership and sales measures. As for the performance of each service, the sales of the VPS and Cloud services are estimated to keep growing, and the business of Dedicated and Rental Servers is projected to be healthy. Operating profit is estimated to rise 8.6% to 1,060 million yen. As cost of sales will augment over 18% year on year due to the increases in variable cost, depreciation, lease charges, labor cost for engineers, etc., SG&A expenses centering on advertisement and personnel expenses, is estimated to increase over 30%, but it will be offset by sales growth.
As for the new business of highly accelerated computing (service specializing in high-performance computation in the fields of AI, deep learning, etc.), the burden of upfront investment was fully taken into account, but its sales were estimated to be still small.

As for dividends, term-end dividend is estimated to be 2.5 yen per share on a par with the previous term.

 

 
 

The highlights of the term ended March 2016 were that the VPS and Cloud business achieved the largest sales inside the company in the 4th quarter and that the performance of Dedicated Server started recovering thanks to the demand in the field of highly accelerated computing, including AI and deep learning. The industry of highly accelerated computing requires high-speed and low-cost computers rather than dispersed cloud computers, in order to "storage, processing, and transmission" an enormous volume of data. In these circumstances, Sakura Internet is enhancing its presence, because the company has Ishikari Data Center, which boasts large-capacity backbones and the highest cost competitiveness in Asia, and can deliver affordable high-speed computers swiftly.
In the deep learning modeled after the human brain, computers extract characteristics from an enormous volume of data, recognize and categorize events. It is forecasted that deep learning will be applied to automatic driving, medical diagnosis, etc., producing business opportunities worth 500 billion dollars (about 54 trillion yen) in 10 years. The growth of business of accumulating and processing a huge amount of data like deep learning would be advantageous to Sakura Internet. Several projects are already underway, and the company is striving to create new business by forming business alliance with users and utilizing their respective strengths. Since these projects assume as a precondition that users possess advanced skills and novel technologies, it is necessary to distinguish the genuine from the fake. However, once the projects are commenced, Sakura Internet will be able to grow its revenue in parallel with the increase of data in the expanding market, and engage in research and development.

Disclaimer

This report is intended solely for information purposes, and is not intended as a solicitation to invest in the shares of this company. The information and opinions contained within this report are based on data made publicly available by the Company, and comes from sources that we judge to be reliable. However we cannot guarantee the accuracy or completeness of the data. This report is not a guarantee of the accuracy, completeness or validity of said information and or opinions, nor do we bear any responsibility for the same. All rights pertaining to this report belong to Investment Bridge Co., Ltd., which may change the contents thereof at any time without prior notice. All investment decisions are the responsibility of the individual and should be made only after proper consideration.

Copyright(C) 2016 Investment Bridge Co.,Ltd. All Rights Reserved.