SAKURA Internet Co.,Ltd.(3778)
Kunihiro Tanaka,
President
| | |
| --- | --- |
| Company | SAKURA Internet Co., Ltd. |
| Code No. | 3778 |
| Exchange | First Section, TSE |
| Industry | Information and communication |
| President | Kunihiro Tanaka |
| HQ Address | Sakaisuji Honmachi Bldg. 1-8-14 Minami-Honmachi, Chuo-ku, Osaka |
| Year-end | March |
| URL | |
Share Price
Shares Outstanding
(excluding Treasury stocks)
Market Cap.
ROE (Actual)
Trading Unit
¥994
34,709,956shares
¥34.502 billion
13.2%
100shares
DPS (Est.)
Dividend Yield (Est.)
EPS (Est.)
PER (Est.)
BPS (Actual)
PBR (Actual)
¥2.50
0.3%
¥16.42
60.5times
¥127.46
7.8times
* Stock price as of the close on October 26, 2016. Numbers of share outstanding at the end of most recent quarter excluding treasury stocks.
| | | | | | | |
| --- | --- | --- | --- | --- | --- | --- |
| Fiscal Year | Sales | Operating Profit | Current Profit | Net Profit | EPS | Dividend |
| March 2013 | 9,482 | 867 | 812 | 479 | 55.20 | 5.00 |
| March 2014 | 10,045 | 736 | 633 | 353 | 40.73 | 5.00 |
| March 2015 | 10,576 | 964 | 857 | 516 | 59.52 | 10.00 |
| March 2016 | 12,086 | 976 | 822 | 553 | 15.95 | 2.50 |
| March 2017 Est. | 14,500 | 1,060 | 860 | 570 | 16.42 | 2.50 |
* Estimates are those of the Company. Starting in FY 3/16, "net income" is presented as "net income attributable to owners of parent" (The same applies to all other "net income" described hereinafter).
* Switch to consolidated accounting from FY3/16. A 4 for 1 stock split was performed in September 2015.

 

This Bridge Report presents SAKURA Internet's earning results for the first half of fiscal year 2017, together with a forecast for the full fiscal year.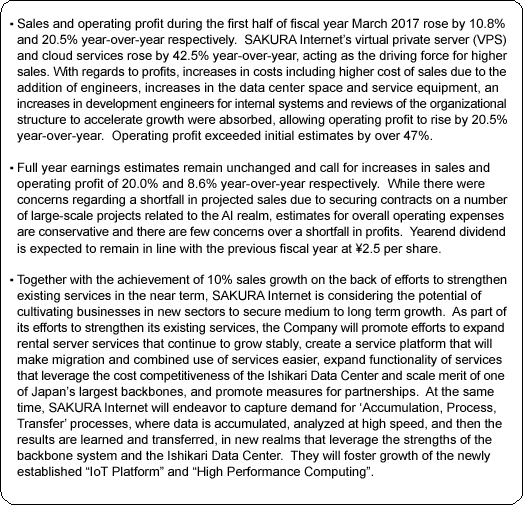 The Company operates data centers in three areas: Tokyo (Nishi-Shinjuku, Higashi-Shinjuku and Daikanyama: all are renting space), Osaka (Dojima: renting space), and Hokkaido (Ishikari; owned land and building). Its main businesses include housing service, which provides space for servers to be installed, power supply and network lines, and hosting service, which provides server environment (computer resources) on the Internet. While many hosting service providers depend on external infrastructure (data center facilities), the Company seeks for higher profits by owning their own infrastructure (driver of price competitiveness). It manages to raise utilization rate and to lower the risk of fixed costs (risk of owning infrastructure) by using the same infrastructure in providing housing service as well.

 

<Corporate Vision>

SAKURA Internet has established the following missions, visions and values as part of its corporate philosophy and to become a valuable partner to all of its stakeholders.

 

Corporate Mission: Mission

We will contribute to the expansion of possibilities for people and businesses, and to the realization of a future filled with creativity and wonder by using the Internet made possible through our data center services.
| | |
| --- | --- |
| Corporate Vision: | What We Want to Become |
| Service | Provide high quality, low cost IT platform and innovative and interesting Internet services |
| Infrastructure | Realize scale merit and flexibility combined with a highly cost competitive IT infrastructure |
| Technology | Pursue implementation of valuable services and advanced technologies that contribute to growth of the Internet |
Corporate Value:      Values We Uphold as Important

Ongoing innovation that produces high quality services


Excellent operations that support high levels of cost performance


High quality communication that is the foundation for all activities

 

<Corporate History>

SAKURA Internet Co., Inc. was founded in August1999 with a goal of providing rental server and dedicated server services. In October of the same year, the Company constructed data centers in Osaka (Chuo-ku, Osaka City) and Tokyo (Toshima-ku, Tokyo) and started housing service. SAKURA Internet's shares listed on the Tokyo Stock Exchange Mothers Market in October 2005. In February 2008, SAKURA Internet established a joint venture company (An affiliated company accounted for by the equity-method) with Sojitz Corporation, and in February 2011 they approved Sojitz's TOB to strengthen capital ties (Becoming a consolidated subsidiary) and signed a new services partnership contract. In November of the same year, SAKURA Internet constructed Japan's largest class of suburban large-scale data center in Ishikari-shi, Hokkaido. In April 2015, the Company acquired and turned Joe's Cloud Computing Inc., a service provider that mainly provides rental server services and hosting, SSL server certificate issuance, domain acquisitions and other services, into a subsidiary.

 

<Business Overview>

The Company's business is divided into housing service, hosting service, and other services including domain acquisition and line/network related services. The share of these businesses in total sales of the term ended March 2016 were 21.3%, 68.2% (Dedicated Server: 22.5%, Rental Server: 23.3%, and VPS and Cloud: 22.4%), and 10.4%, respectively.

 

Housing Service

This service includes lending out space within the Company's data centers to customers who can install their own communication equipment as they like, together with lines and electric power supply for Internet connection. Although the Company used to focus on 'Rack-lending' (plus lines and power supply), it started 'Space-lending' (large scale housing) upon commencement of the full operation of Ishikari Data Center, where it owns its land and buildings.

 

Hosting Service

The hosting service is divided into two categories: physical hosting and virtual hosting. The physical hosting services include dedicated server services and rental server services. The virtual hosting services include virtual private server (VPS) services and cloud services.

 

Dedicated Server Service

This service offers the exclusive use of SAKURA Internet's own physical servers ('SAKURA Dedicated Server'). While burdens associated with the specialized knowledge required for server maintenance and other tasks arise, the ability to establish the customers' own servers, unlimited restrictions on software installation and other features allow for greater flexibility compared to rental server services. Sales of dedicated servers have decreased along with the spread of virtual servers for cloud, VPS and other services. However, functional merits of stable performance, ability to use high-performance database storage, cost advantage of being able to limit cost increases with expansion in scale compared to cloud services, and renewed interest in utilization of high-speed processing required in the artificial intelligence (AI) realm made possible by the implementation of new services have contributed to increases in customers using cloud (virtual servers) and dedicated servers (physical servers).

Furthermore, SAKURA Internet started a new service in February 2012 as a competing product to cloud services. Physical servers can be utilized just like the cloud, while performance and security associated with the use of virtualization technologies is far superior to the normal cloud in every way (While the pricing for the smallest service plan remains unchanged, service specification has been increased to over double previous levels). There are no limits to the number of units, multiple unit construction is possible and the application process can be completed in as little as 10 minutes.

 

Rental Server Service

It consists of two types of services: one is to provide physical server owned by the Company to multiple customers for their shared use ('SAKURA Rental Server') and the other is to provide an individual server for one user ('SAKURA Managed server'). Users are subjected to some restrictions in terms of server configuration and software installation, but are able to significantly reduce their work burden as they can leave server maintenance to the hands of the Company's professionally skilled staff.

 

Virtual Private Server (VPS), Cloud Service

This service is to create multiple virtual servers on physical servers by using virtualization technology, each of which can be used as a dedicated server. There are mainly two services: 'SAKURA VPS' provides one virtual server to a single user, whereas 'SAKURA Cloud' allows a single customer to use multiple servers and any network configuration. The latter enables the Company to adopt pay-as-you-go tariff and provides better cost performance and more flexibility than physical (dedicated and rental) servers.

 

 
Priority Issues and Activities in Fiscal Year March 2017
 

Vision (Positioning of Each Service)

SAKURA Internet will focus its attention on dedicated servers and rental servers that are expect to undergo steady growth and see relatively high profitability as their base road, and efforts will be made to develop VPS and cloud as the driving force for further growth. Also, efforts were begun last year to develop IoT and AI realms as medium to long term growth drivers given the expectations of explosive growth in these markets in the coming 3 to 5 years.

 

Efforts in New Fields Expected to Become Drivers of Growth over the Medium Term

According to the Ministry of Internal Affairs and Communications' "2014 White Paper on Information and Communication", there were 1.6 billion units of terminals connected to the Internet in the form of PC, smart phones, tablets and other digital devices as of 2009 with 900 million units of IoT related devices. And by 2020, the number of PC, smart phones, tablets and other digital devices is expected to grow to 7.3 billion units, compared to an expansion in IoT related devices to 26 billion units. SAKURA Internet will leverage its strengths of ease of use and competitive pricing to capture demand for data centers created by this increase in devices connected to the Internet. Specifically, the Company plans to emphasize IoT applications not in industrial fields but commerce (Catering to consumers and life-styles), with special attention being paid to startup and small to medium sized companies offering easy entry services in addition to support and promotion of commercial applications. SAKURA Internet does not identify any specific solutions and will leverage key concept of "open", which befits the Internet, through collaborations with various companies to raise their presence.

At the same time, SAKURA Internet as a platformer supporting technology in the fields of AI and deep learning will work towards the accumulation of knowhow via collaboration with companies possessing technologies and knowhow. It will also leverage its own technology and knowhow to provide inexpensive and high firepower computing. The key for the Company is to secure an advantageous position by achieving results.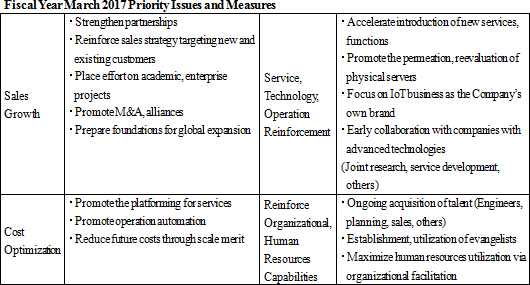 First Half of Fiscal Year March 2017 Earnings

 

Sales, Operating Profit Rose 10.8%, 20.5% Year-Over-Year

Sales rose by 10.8% year-over-year to ¥6.523 billion. While fierce competition in housing services generated by increases in data centers in metropolitan areas resulted in a 5.8% year-over-year decline, VPS and cloud services grew at a strong rate of 42.5% year-over-year on the back of new customer acquisition and increases in usage by existing customers, and rental server services also rose by 5.8% year-over-year. With their dedicated servers, SAKURA Internet was able to absorb decreases in users of older services with the acquisition of users for newer services, resulting in a 1.2% increase year-over-year. Furthermore, SAKURA Internet's increased emphasis on other businesses including domain acquisition service and SSL acquisition service (Server certificate acquisition representative for personal domains) in recent years allowed sales to rise by 14.4% year-over-year.

With regards to profits, increases in the number of engineers combined with higher depreciation costs, increases in lease costs related to expansion of the data center floor space and increases in service equipment contributed to a 6.9% year-over-year increase in cost of sales. A rise in sales, general and administrative expenses caused by increases in engineers working on internalization of backbone systems and revisions of operations (Customer support costs were transferred from cost of sales to sales, general and administrative expenses) was successfully absorbed and allowed operating profit to rise by 20.5% increase year-over-year to ¥588 million. Higher interest expenses and losses on valuation of investment securities were absorbed to allow net profit to rise by 14.8% year-over-year to ¥318 million.

 

Divergence from Estimates

Revisions to some services resulted in inability to realize spot sales of related equipment and caused sales to fall slightly below estimates. At the same time, lower cost of sales resulting from the inability to realize spot sales combined with conservative estimates for anticipatory expenses, advertising, electricity, and other operating expenses and allowed profits at every level of the income statement to significantly exceed initial estimates.

 

 

At the end of the first half of fiscal year March 2017, total assets rose by ¥218 million compared to the end of the previous fiscal year to ¥18.806 billion. While cash equivalents decreased due to interim payments for construction of Building 3 of the Ishikari Data Center, intangible assets rose on the back of system development and acquisition of Gehirn Inc. to become a subsidiary. Increases in leases accompanying increases in net assets and services were recorded, while interest-bearing liabilities decreased due to repayment of loans. Capital adequacy ratio rose to 24.8% at the end of the first half from 23.8% at the end of the previous fiscal year.

Furthermore, the construction of Building 3 of the Ishikari Data Center is progressing smoothly, with completion and hand over planned for December 2016 and start of operations expected in March to April 2017 (Full operation is expected to begin from summer 2017). While depreciation expenses from this new facility began to appear from January 2017, initial depreciation burden is small.
The burden centered on servers is expected to increase after full scale operation.

 

 
Fiscal Year March 2017 Earnings Estimates

 

Sales and Ordinary Profit Expected to Rise by 8.6% and 20.0% Year-On-Year

SAKURA Internet's earnings estimates call for sales to grow by 20.0% year-on-year to ¥14.5 billion in the full fiscal year. The Company expects continued high growth rates for VPS and cloud related services, and steady progress in dedicated server and rental server services. Given the "challenging plans" (according to President Kunihiro Tanaka) in the second half of the fiscal year for existing business realms and numerous large-scale orders and sales plans within the AI field, there are concerns over the potential for a fall short of estimates.

Operating profit is expected to rise by 8.6% year-over-year to ¥1.06 billion. 18% year-on-year increases in cost of sales due to increases in variable costs, lease costs, depreciation and increases in the number of engineers, and a rise of over 30% in sales, general and administrative expenses due to advertising, labor and other expenses are expected to be absorbed by higher sales. Furthermore, profits are not expected to be influenced by potential delays in booking of orders as sales because the contributions from highly profitable large projects have not been included in these estimates. Yearend dividend payment is expected to remain in line with the previous fiscal year's level at ¥2.5 per share.

 

 

Investment Plans

SAKURA Internet plans to make total capital investments of ¥9.0 billion. Of this total, ¥4.3 billion is expected to be spent on data centers (Building 3 of the Ishikari Data Center, ¥3.0 billion, ¥1.2 billion on facilities of the Ishikari Data Center other than Building 3, and ¥0.1 billion on other facilities), ¥4.0 billion on server and network devices, ¥0.1 billion on IoT related applications, and ¥0.6 billion on others applications (Systems, others). In addition, while ¥4.3 billion is earmarked for (Building 3 of the Ishikari Data Center, ¥1.3 billion of this has already been spent during fiscal year March 2016.

 

Human Resources Plan

While hiring for engineers has been completed for the time being, ongoing hiring of personnel is deemed to be necessary to secure future growth and 37 new hires, including 8 new graduates, are anticipated in fiscal year March 2017. Furthermore, the number of employees at the end of the first half rose by 41 from the end of the previous fiscal year to 380 employees (The number of engineers rose by 32, sales and sales promotion declined by 1, management decreased by 1, and staff at Joe's Inc. and Gehirn Inc. increased by 1 and 10 persons respectively).

 

 
 

SAKURA Internet's existing services will drive sales growth and will act as the source of profits in the near term, while new growth realms are being developed to serve as drivers of medium to long-term growth. In either segment or term, the strength of the Company lies in the cost competitiveness of its Ishikari Data Center, which is the largest of its kind in Asia and with scale merits derived from one of Japan's largest backbone systems. In AI and deep learning fields, which are widely recognized to be new growth fields, it is essential to maintain an environment that allows for accumulation of data and high speed analysis and transfer of learned materials. Therefore, superiority of SAKURA Internet's ability to quickly establish low cost, high performance servers is unchallenged in the AI and deep learning growth realms. As already explained previously with regards to IoT platforms, a strength of the Company is its ability to offer communication modules, communication environments and cloud platforms as packages sold at low prices. When considering only the communication environment, the Company is able to offer customers usage fees that are in the tens of yen, compared to hundreds to thousands of yen offered by its competitors. Moreover, competition from overseas cloud vendors with regard to high performance computing has already become fierce, and as far as electricity costs are concerned, Japan can hardly beat its rivals on the U.S. West Coast. However, handling of consumer data can cause problems about data ownership and compliance and, in this respect, maintaining data centers within Japan can offer advantage.

Together with the aforementioned strengths, the gradual permeation of the SAKURA Internet brand amongst IT companies and ventures is reflected in the growing numbers of "SAKURA's Business Partners" registrations and joint development partners for IoT platforms. Therefore, SAKURA Internet can be expected to see strong future development.

Disclaimer

This report is intended solely for information purposes, and is not intended as a solicitation to invest in the shares of this company. The information and opinions contained within this report are based on data made publicly available by the Company, and comes from sources that we judge to be reliable. However we cannot guarantee the accuracy or completeness of the data. This report is not a guarantee of the accuracy, completeness or validity of said information and or opinions, nor do we bear any responsibility for the same. All rights pertaining to this report belong to Investment Bridge Co., Ltd., which may change the contents thereof at any time without prior notice. All investment decisions are the responsibility of the individual and should be made only after proper consideration.

Copyright(C) 2017 Investment Bridge Co.,Ltd. All Rights Reserved.