SAKURA Internet Co., Inc.(3778)
Kunihiro Tanaka,
President
| | |
| --- | --- |
| Company | Sakura Internet Inc. |
| Code No. | 3778 |
| Exchange | First Section, Tokyo Stock Exchange |
| Industry | Information and communication |
| President | Kunihiro Tanaka |
| HQ Address | Sakaisuji Honcho Bldg. 9fl 1-8-14 Minami Honjo, Chuo-ku, Osaka City, Japan |
| Year-end | March |
| URL | |
Share Price
Shares Outstanding
(Less treasury stock)
Market Cap.
ROE (Act.)
Trading Unit
¥855
37,620,256shares
¥32.165 billion
9.1%
100shares
DPS (Est.)
Dividend Yield (Est.)
EPS (Est.)
PER (Est.)
BPS (Act.)
PBR (Act.)
¥2.50
0.3%
¥14.09
60.7x
¥202.26
4.2x
* Stock price as of the close on April 27,, 2017. Outstanding shares as of most recent quarter end, shares issued excluding treasury stock.
| | | | | | | |
| --- | --- | --- | --- | --- | --- | --- |
| Fiscal Year | Sales | Operating Profit | Current Profit | Net Profit | EPS (¥) | DPS (¥) |
| March 2014 | 10,045 | 736 | 633 | 353 | 40.73 | 5.00 |
| March 2015 | 10,576 | 964 | 857 | 516 | 59.52 | 10.00 |
| March 2016 | 12,086 | 976 | 822 | 553 | 15.95 | 2.50 |
| March 2017 | 13,961 | 1,018 | 804 | 548 | 15.74 | 2.50 |
| March 2018 Est. | 19,300 | 1,050 | 870 | 530 | 14.09 | 2.50 |
* Estimates are those of the company. As of March 2016, the definition of net profit has been changed to net profit attributed to parent company shareholders (Applies to the whole report)
* Fiscal year March 2016 represents consolidated data. A four for one stock split was conducted in September 2015.

 

This Bridge Report presents Sakura Internet's earning results for fiscal year March 2017, along with estimates for fiscal year March 2018.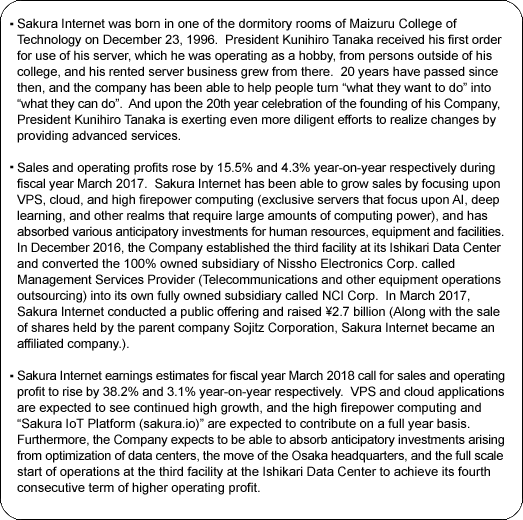 Sakura Internet operates data centers located in Tokyo (Nishi Shinjuku, Higashi Shinjuku and Daikanyama, all using rented floor space), Osaka (Dojima, using rented floor space) and Hokkaido (Ishikari, owned land and buildings) to provide internet based hosting services for server environments (Computer resources), and server installation space for housing services, electrical and network circuits and other services. While many hosting service companies tend to outsource their infrastructure (Data center facilities), Sakura Internet owns its own infrastructure, allowing them to pursue higher profitability (A source of price competitiveness) and utilization of this infrastructure for their housing services allows for reduced risk of fixed costs through the ability to increase utilization rates (Infrastructure possession risk).

 

<Business Description>

Sakura Internet's business is divided into housing, hosting, other services including domain and SSL acquisition (Certification for unique domain acquisition outsourcing), with each these services accounting for 18%, 69% (Exclusive servers, rental servers and VPS Cloud accounting for 22%, 21% and 26% respectively) and 13% respectively.

 

Housing Service Business

Within their data center, Sakura Internet provides space for customers to freely install their own telecommunication equipment, together with rental of necessary circuits and power supplies for Internet connections. The renting of installation space for "rental rack" units (Also offering circuits, power supply and other equipment) is the core service of this business. However, the Company also began providing a "rental space" (Large-scale housing) services with the start of operations of their Ishikari Data Center, where real estate is owned by the Company.

 

Hosting Service Business

The hosting service is divided into the physical hosting of dedicated server services, rental server services, virtual hosting of virtual private server (VPS) and cloud services.

 

Dedicated Server Service

This service offers the exclusive use of Sakura Internet's own physical servers ('Sakura's Dedicated Server'). While burdens associated with the specialized knowledge required for server maintenance and other tasks arise, the ability to establish the customers' own servers, unlimited restrictions on software installation and other features allow for greater flexibility compared to rental server services. Sales of dedicated servers have decreased along with the spread of virtual servers for cloud, VPS services. However, functional merits of stable performance, ability to use high-performance database storage, cost advantage of being able to limit cost increases with expansion in scale compared to cloud services, and renewed interest in utilization of high-speed processing required in the artificial intelligence (AI) realm made possible by the implementation of new services have contributed to increases in customers using cloud (virtual servers) and exclusive servers (physical servers).

Furthermore, Sakura Internet started a new service in February 2012 as a competing product to cloud services. Physical servers can be utilized just like the cloud, while performance and security associated with the use of virtualization technologies is far superior to the normal cloud in every way (While the pricing for the smallest service plan remains unchanged, service specification has been increased to over double previous levels). There are no limits to the number of units, multiple unit construction is possible and the application process can be completed in as little as 10 minutes.

 

Rental Server Service

This service provides the use of Sakura Internet's own physical servers and abundant functions, which are maintenance free. They offer services for the use of one physical servers ('Sakura's Managed Server'), as well as the shared use of one physical server with a number of customers ('Sakura's Rental Server'). While there are set conditions on the server set-up and the installation of software, Sakura Internet is able to considerably decrease the burden of work required of users as the specialized knowledge needed for maintenance of the servers is handed by Sakura Internet.

 

Virtual Private Server, Cloud Service

A service that leverages virtualization technologies that allows customers to establish multiple virtual servers on a physical server, allowing them to be used individually like exclusive servers. Sakura Internet offers a basic virtual server service with a single contract ("Sakura's VPS"), as well as a contract that allows for the application and set-up of numerous servers that can be charged by the day or by the hour ('Sakura's Cloud'). They offer greater flexibility and excel in cost performance compared to physical servers (Dedicated server services or rental server services).

 

 
Fiscal Year March 2017 Earnings

 

Sales Growth Seen in VPS, Cloud, High Firepower Computing (Dedicated Servers), Anticipatory Investments Absorbed

Sales rose by 15.5% year-on-year to ¥13.961 billion. New client acquisition and increased usage by existing clients allowed sales of VPS and cloud service to rise by 36.1% year-on-year, along with a 10.1% increase in sales of dedicated servers on the back of growth in high firepower computing. The consolidation of NCI Corporation contributed to an increase in sales of other services.

With regard to profit, higher cost of sales resulting from increases in both the number and compensation of engineers, higher depreciation arising from the Ishikari Data Center and service equipment, and increases in leases were absorbed and allowed gross profits to rise by 23.0% year-on-year. Higher sales, general and administrative expenses arising from changes in commission classifications associated with structural reorganization, and increases in subsidiary staff and internal system development engineers were also absorbed allowing operating profit exceed the previous level of ¥1.0 billion recorded in fiscal year March 2011 for the first time. The decline in ordinary profit is attributed to increases in expenses arising from the public offering (Including the over allotment for public offering to third party placement) and interest payments.

The number of employees at the end of the term rose by 156 from the end of the previous term to 495. The number of sales and marketing staff rose by 3 (Decline of 2 managerial level sales and marketing staff), and the number of subsidiary employees rose by 92 (Of which NCI accounted for 81).

 

 

(2) Financial Conditions and Cash Flow

At the end of the current term, total assets rose by ¥7.417 billion from the end of the previous term to ¥26.005 billion. This increase is attributed in part to a rise in cash and equivalents on the back of ¥2.723 billion in capital raised from the issuance of 2,910,300 shares, the addition of a third facility and expansion of the second facility at the Ishikari Data Center, and increases in tangible assets including investments for servers and network equipment. At the same time, liabilities increased due to a rise in debt for investments in the third facility at the Ishikari Data Center and leases for servers and network equipment. Net assets also rose due to the public offering of shares. Consequently, capital adequacy ratio rose from 23.8% at the end of the previous term to 29.3% at the end of the current term.

 

 

The capital procured from the public offering will be used for capital investments for artificial intelligence server services (High firepower computing), working capital for IoT realm module related work, and capital investments in network equipment amounting to ¥2.311 billion, ¥254 million and ¥158 million respectively. In addition to the public offering, the sale by Sojitsu led to a decline in shareholdings from 40.2% (53.2% including indirect holdings of 12.9%) to 28.1% (No indirect holdings), changing Sakura Internet's relationship from the parent company to an affiliated company. And while the capital relationship has been reduced, both companies maintain strong working relationships and collaborative work will continue to be conducted.

 

 

Profit before taxes and adjustments, and depreciation charges of ¥796 million and ¥1.598 billion respectively contributed to an increase in net inflow from operating activities from the previous term to ¥1.852 billion. At the same time, capital investments to expand capacity output at the second facility and addition of the third facility at the Ishikari Data Center, and the introduction of equipment related to orders for supercomputing projects booked during the third quarter contributed to an expansion in the net outflow of investing activities from the previous term to ¥5.410 billion. Payments for these capital investments were made from funds procured from the public offering and debt.

Moreover, the total amount of capital investments made in the Ishikari Data Center amounted to ¥4.3 billion. As a result of these investments, the capacity of the first, second and third facilities at the Ishikari Data Center are currently 500, 600 and 1,924 racks respectively. In addition, the addition of new third facility was undertaken in fall and therefore depreciation from buildings and structures were only booked from the fourth quarter.

 

 

※ Supercomputer Project

Sakura Internet booked an order for the outsourced operation of a supercomputer project jointly conducted by the National Institute of Advanced Industrial Science and Technology (AIST) and the High Speed Development of Advanced Materials Technology Research Association (Hi-Mat) during the third quarter. Sakura Internet's high firepower computing infrastructure has been chosen for use in this supercomputing system conducted by the National Institute of Advanced Industrial Science and Technology (AIST) and the High Speed Development of Advanced Materials Technology Research Association (Hi-Mat).

With regard to this supercomputing system, the high levels of energy efficiencies achieved at the Ishikari Data Center and changes in the needs and awareness of "customers seeking to use rather than own" are factors that led to the successful capture of this order. Sakura Internet began providing services for 1,024 servers from April 2017, with five year total sales expected to reach ¥2.1 billion. This service provision is expected to be equivalent to 32,768 core, or 1153 peta-flops, which is the unit of measurement for computer processing. One peta equals 1,000 trillions, and makes possible 1,000 trillion floating point arithmetic calculations per second.

 

 
Fiscal Year March 2018 Earnings Estimates

 

Sales and Operating Profits Expected to Rise 38.2%, 3.1%

Sakura Internet's earnings estimates call for sales to rise by 38.2% year-on-year to ¥19.3 billion during the coming term. Because of high growth in VPS and cloud services derived from expansion in the market, high firepower computing sales are expected to expand and the start of provision of "Sakura IoT Platform (sakura.io)" on a user fee basis. In addition, NCI Corporation, which was consolidated in the fourth quarter of the previous fiscal year, will make a contribution throughout the year (the scale of the project with annual sales around 2 billion yen)
Operating profit is expected to also rise by 3.1% to ¥1.050 billion. Despite increases in depreciation and lease fees arising from the increase in server network capacity and the full scale start of the third facility at the Ishikari Data Center, and booking of cost of sales and sales commissions from IoT modules, increases in workers numbers and their compensation initiated during the previous term, the move of the Osaka headquarters and the cost of sales and sales, general and administrative expenses associated with NCI are expected to contribute to a 41.0% year-on-year rise in operating expenses to ¥18.250 billion.

Capital investments of ¥5.7 billion are expected to be made. Of this total, data center, server network, IoT, office, and other related investments are expected to amount to ¥1.6 billion (Ishikari 1st, 2nd and 3rd facilities and others amount to ¥0.5 billion, ¥0.3 billion and ¥0.8 billion), ¥3.5 billion, ¥0.1 billion (Others and module acquisition amount to ¥1.0 billion), ¥0.3 billion and ¥0.2 billion respectively.

 

 

While sales of housing services is expected to trend sideways, sales of the others category including IoT (A ¥1.5 billion increase) and security product related services are expected to expand by 2.1 times year-on-year. The contribution of high firepower computing (A ¥0.55 billion rise) is expected to allow sales of existing services including dedicated servers to rise by 23.0% year-on-year. Moreover, an expansion in the VPS, cloud market is expected to allow sales to rise by 32.2% year-on-year, and sales of rental servers to rise by 10.4% year-on-year. Furthermore, the subsidiary NCI will begin contributing to earnings on a full year basis since it was consolidated from the fourth quarter of the term just ended.

 

(2) Efforts in FY3/18 to Realize Vision for Growth

Sakura Internet's basic policy to realize growth calls for the pursuit of and focusing of resources upon growth markets. According to Company documents, the Japanese data center market is expected to grow by an average of 16.8% per annum from 2015 to 2020. In addition, efforts are being made to realize growth opportunities in the realms of IoT and artificial intelligence, with the number of products connected to the Internet expected to rise to 53.0 billion, and the amount of digital data to expand by 40 fold by 2020. At the same time, computing capability is expected to rise to be able to replicate the capability of the human brain by 2025 (Ministry of Internal Affairs and Communications "2014, 2015 Telecommunications White Paper").

Consequently, changes in the core functions of data business models in all realms and industries are expected to undergo change, with all industrial needs for data being handled by data centers. Therefore, Sakura Internet is focusing its investments in the realms of IoT and artificial intelligence and its Ishikari Data Center, which will serve as infrastructure for these realms. Moreover, efforts will be made with regard to M&A and to realize synergies within its Group to achieve growth.

 

Investments in Growth Realms: IoT

Sakura Internet's IoT service called "Sakura IoT Platform (sakura io)" targets commercial and consumer related wide realm IoT applications rather than industrial narrow realm IoT applications where the goal is to improve and optimize manufacturing efficiencies. According to the Ministry of Internal Affairs and Communications "2016 Telecommunications White Paper", consumer applications including devices have reached 5.0 billion units in 2015 and is expected to expand by over 15% per year over the five years until 2020. Sakura Internet believes that "demand in the consumer realm differs from the industrial realm in that it is steadily expanding and changes are more dramatic"

 

Characteristic: "Sakura IoT Platform (sakura io)" Service of Comprehensive, Low Priced Services to "Connect", "Store", "Use"

Sakura Internet IoT service called "Sakura IoT Platform (sakura.io)" is a platform that allows for communications to be conducted. Specifically, systems necessary for data communication environment (Communication module, infrastructure) for data transmission and data storage and processing are provided comprehensively. The ability to cover both data collaboration and the heavy burden of development for IoT application is a strength of this service. In other words, the ability to "connect", "store" and "use" are provided in a comprehensive and low cost service. In the near term, data will be aggregated in a closed system, but over the longer term data can be monetized through the creation of a "data exchange" system that allows users to freely exchange data (Open data).

 

Fees: ¥60 per Communications Module per Month

Following on the heels of the "Sakura IoT Platform α" launched from April 2016, the "Sakura IoT Platform β" was launched in November 2016, with service being officially started from April 2017. The fee for this service, excluding the modules required for communications (¥8,000 per unit) which need to be purchased, is a low ¥60 per communication unit per month including platform usage fees (LTE network connection). Other data storage fees (Light plan is ¥50 per month) are also required but the Company is currently providing this service for free. In the case of cellular carriers (MNO), connection fees for smartphones to the LTE network cost a higher amount of several thousands of yen per month. Some mobile virtual network operators (MVNO) make low volume data communication services available at a cheaper rate of several hundreds of yen per month, but the need for several billions of connections to devices over IoT makes this a heavy burden for this service. Sakura Internet's service is built to "support various communications platforms" and allows users to connect to multiple devices on a limited function and data volume basis.

 

Leveraging Strengths, Commercialization Achieved with Partners, Expansion of Sales Accelerated

Partnerships are formed for device and service development and for sales channels, with collaboration fortified with various partners. From April 2017, jig.jp Co., Inc. (Sabae City, Fukui Prefecture) and the "Tsutsuji Bus" service of Sabae City in Fukui Prefecture have jointly developed a system that allows for visualization of the bus user data (Through the provision of "Sakura IoT Platform β"). "Tsutsuji Bus" has already implemented use of an operation management system, but the development cost of introduction of new functions to this existing system is large. Therefore, the decision to develop a new system for the visualization of user data using "Sakura IoT Platform" has enabled them to create a system at low cost.

 

Investment in High Growth Realms: High Firepower Computing

The target of high firepower computing includes applications that require large amounts of calculating resources for large amounts of data. Specifically, these applications include artificial intelligence, machine learning, measurement analysis, and video editing, and require high performance computing in large volumes. Therefore, Sakura Internet's strengths of "speed, reasonable pricing, reliability, and immediate access" can be leveraged in these applications. Moreover, efforts in this realm are expanding from game and application creation in the information technology industry to applications in education including universities and public research institutions and to other industries outside of information technology. A hit movie (Movie editing) was edited using Sakura Internet's services, and the joint operation of the "Basic Technology for Ultra Advanced Material Ultra High Speed Development Project" conducted by the National Institute of Advanced Industrial Science and Technology (AIST) and High Speed Development of Advanced Materials Technology Research Association (Hi-Mat), and the development of systems which automatically estimates the repair cost for damaged vehicles by Mitsui Sumitomo Insurance Co., Ltd. have been conducted using the Company's high firepower computing services.

 

Strengthening Start-Up Support

Sakura Internet's provision of infrastructure and knowhow, and joint development of services are contributing to growth in new business opportunities. Their services are also provided to support entrepreneurs, service developers and students. As part of this strategy, a new facility was established in February 2017 in Fukuoka where start-ups are very active. And in April 2017, Fukuoka Chisho Co., Ltd., and Aparman Real Estate Technology jointly launched the joint public and private sector start-jp support facility "FUKUOKA growth next".

 

"Growth Vision"

Sakura Internet expects to realize growth by focusing upon both its existing businesses and new growth realms. With regard to existing businesses, the rental and dedicated server businesses are sources of stable growth, and additional sales are expected to be derived in the VPS and cloud realm services which are deemed to be future growth segments. In addition, the Company also expects to grow sales over the medium to long term through new efforts in the realms of IoT and artificial intelligence. Furthermore, Sakura Internet will also provide platforms which are deemed to be critical in data access and future potential services such as data exchange.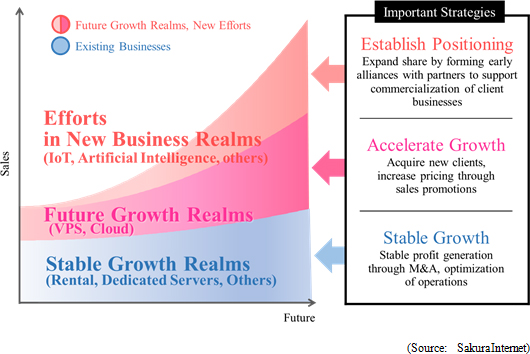 President Kunihiro Tanaka views that Sakura Internet is now within reach of securing the "business resources needed for future growth (People, facilities, capital)" as it celebrates its 20th year of operations. With regard to securing "people", efforts have been made to fortify hiring through measures designed to create an improved work environment implemented three years ago. These measures to create an improved wok environment have been viewed as critical for improving the long term retention rate of employees, led to increased hiring of workers introduced by existing staff, and raised the staff loyalty. With regard to "facilities", the third facility at the Ishikari Data Center has been completed. The Ishikari Data Center boasts of highly efficient power consumption which is estimated to be only 50% of its other data centers in urban areas. Because of the large volume and high speed data processing needed for IoT and artificial intelligence applications, the Ishikari Data Center with its high computing power at low pricing will become an ever more important presence in the market going forward. In addition, the trend for consolidation and restructuring in the data center due weak economic conditions is beginning to subside as the successful companies are now strengthening their position within the remaining market. Consequently, Sakura Internet is now seizing the opportunity to acquire benefits of being a survivor in the market. In March 2017, the Company conducted a public offering to source capital required to secure growth opportunities.

Sales and operating profit growth of 15.5% and 4.3% were achieved during fiscal year March 2017, and Sakura Internet estimates call for sales and operating profit to grow by 38.2% and 3.1% year-on-year during fiscal year March 2018. However, a key issue for the growth of sales is the ongoing anticipatory investments. IoT and artificial intelligence realm demand is expected to continue to grow until 2020 and Sakura Internet seeks to establish itself as the defacto standard by providing infrastructure necessary for these new realms. And while the anticipated growth in profit in fiscal year March 2018 is low, this growth will mark the fourth consecutive term of higher profits. Also, Sakura Internet will continue to keep a close watch on the critical issue associated with sales of anticipatory investments and implement stable dividends based upon its anticipation of profit growth.

Disclaimer

This report is intended solely for information purposes, and is not intended as a solicitation to invest in the shares of this company. The information and opinions contained within this report are based on data made publicly available by the Company, and comes from sources that we judge to be reliable. However we cannot guarantee the accuracy or completeness of the data. This report is not a guarantee of the accuracy, completeness or validity of said information and or opinions, nor do we bear any responsibility for the same. All rights pertaining to this report belong to Investment Bridge Co., Ltd., which may change the contents thereof at any time without prior notice. All investment decisions are the responsibility of the individual and should be made only after proper consideration.

Copyright(C) 2018 Investment Bridge Co.,Ltd. All Rights Reserved.