Tokuyama Corporation (4043)
Hiroshi Yokota President and Executive Officer
| | |
| --- | --- |
| Company | Tokuyama Corporation |
| Code No. | 4043 |
| Exchange | TSE 1st Section |
| Industry | Chemicals |
| President and Executive Officer | Hiroshi Yokota |
| Address | FRONT PLACE AKIHABARA, 1-7-5, Sotokanda, Chiyoda-ku, Tokyo |
| Year-end | End of March |
| URL | |
Share Price
Number of shares issued
Total market cap
ROE (Actual)
Trading Unit
¥2,726
69,934,375shares
¥190,641million
15.6%
100 shares
DPS (Est.)
Dividend Yield (Est.)
EPS (Est.)
PER (Est.)
BPS (Actual)
PBR (Actual)
¥50.00
1.8%
¥388.15
7.0times
¥1,961.21
1.4x
*The share price is the closing price on November 8th. The number of shares issued and BPS are values for the second quarter of the fiscal year Mar.2019, and ROE are values for the previous term.
Fiscal Year
Net Sales
Operating
Income
Ordinary
Income
Net
Income
EPS
DPS
Mar. 2014 (results)
287,330
20,270
14,965
10,218
29.37
6.00
Mar. 2015 (results)
302,085
19,530
12,920

-65,349

-187.85

0.00
Mar. 2016 (results)
307,115
23,071
17,725

-100,563

-289.10

0.00
Mar. 2017 (results)
299,106
39,720
33,998
52,165
147.78
0.00
Mar. 2018 (results)
308,061
41,268
36,196
19,698
259.81
30.00
Mar. 2019 (estimates)
328,000
38,000
34,000
27,000
388.15
50.00
*The forecast is from the company. Net income is profit attributable to owners of the parent. Hereinafter the same applies.
On Oct. 1, 2017, Tokuyama Corporation changed its trading lot from 1,000 shares to 100 shares, while conducting 1-for-5 reverse split. DPS is total annual dividend taking mergence in consideration. EPS as well as DPS has not been recalculated retroactively.

This report outlines the overview of Tokuyama Corporation for the Second Quarter of the Fiscal Year Mar.2019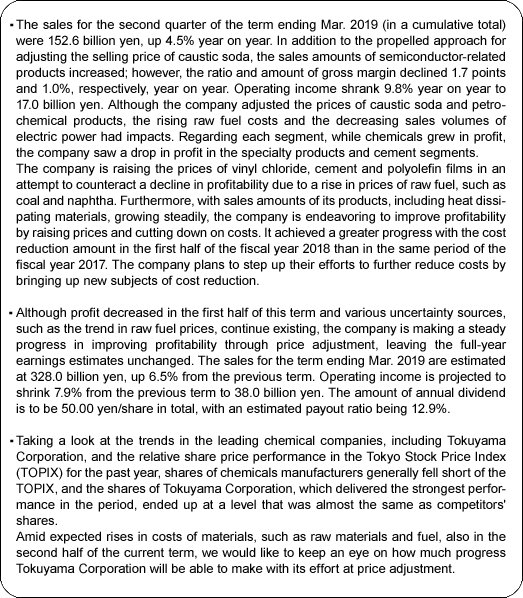 Tokuyama Corporation is a chemical manufacturer, which produces basic chemicals used for a variety of applications, including soda ash and caustic soda; semiconductor-related products, including polycrystalline silicon; cement, whose production volume is the 4th largest in Japan; materials for eye glasses, generic medicine ingredients, etc. It was founded in 1918. Its major strengths include cutting-edge products created with a wide array of unique technologies and the competitiveness of Tokuyama Factory, which has accumulated and integrated technologies in an advanced manner.
【1-1 Corporate history】
In 1918, the founder Katsujiro Iwai established "Nippon Soda Industry Co., Ltd." with the aim of producing soda ash (sodium carbonate), which is a raw material for glass, inside Japan. The company is still the only Japanese manufacturer that keeps manufacturing soda ash. In 1938, it started producing cement with the wet method from the byproducts in the soda ash manufacturing. After the Second World War, it grew the inorganic business, and during the rapid economic growth period, it expanded the petrochemical business handling vinyl chloride, polypropylene, etc. After the two oil shocks, it entered the high added value field, including electronic materials and fine chemicals. In 1984, the company launched the polycrystalline silicon business, which is now ranked in the top 3 in the world. In 1985, it started producing aluminum nitride powder, which is used for cooling down electronic parts, with its original reduction-nitridation method. Since then, the company has expanded its business domains, including the fields of living and medicine handling materials for eye glasses, dental apparatus, etc., and environment and energy. The revenue of the polycrystalline silicon business of "Tokuyama Malaysia," which is a consolidated subsidiary established in Malaysia in 2009, dropped considerably due to the market downturn. Then, significant impairment losses were posted in the term ended Mar. 2015 and the term ended Mar. 2016, and no dividends were paid. To cope with that situation, the company procured funds by issuing class shares in May 2016, for the purpose of "reconstructing its financial base." Under the vision of "new foundation," the company produced and announced the 5-year Medium-Term Management Plan "Cornerstone of the Group's Revitalization," and is working on important projects for reforming its corporate culture, redeveloping business strategies, etc. In the term ending Mar. 2018, it paid a dividend for the first time in 4 terms.
【1-2 Corporate ethos, etc.】
Tokuyama Corporation thoroughly revised its "corporate ethos" and "course of action," which were enacted in 1989, and set the "Tokuyama's vision" for new foundation, composed of "mission," "aspirations," and "values," when designing the Medium-Term Management Plan "Cornerstone of the Group's Revitalization" in 2016. In order for Tokuyama Corporation, which commemorated the 100th anniversary of establishment in 2018, to build the "Cornerstone of the Group's Revitalization" and achieve sustainable growth for the coming 100 years, it is necessary to clarify its missions and aims. Corporate activities,ranging from business strategies, are mostly linked to this vision.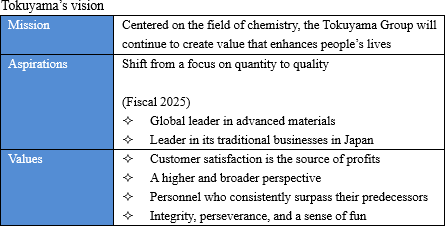 【1-3 Business Description】
The business segments are "chemicals," "specialty products," "cement," "life & amenity," and "others." (The first four segments are to be reported.)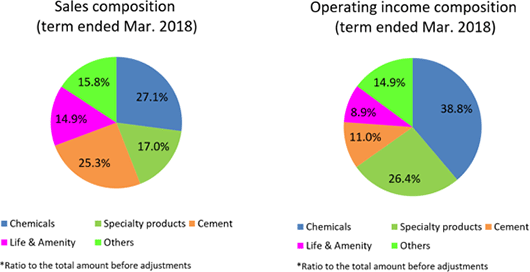 ◎ Chemicals
<Outline and major products>
Tokuyama Corporation handles basic chemicals that are indispensable for a broad range of applications in each industry, such as soda ash, caustic soda, and calcium chloride. The company also operates business efficiently, for example, by using the chlorine and hydrogen produced during the process of manufacturing caustic soda for producing polycrystalline silicon. With the goal of "becoming a company that will be chosen by customers forever," the company strives to offer products and services that satisfy the needs of individual customers in a stable and timely manner.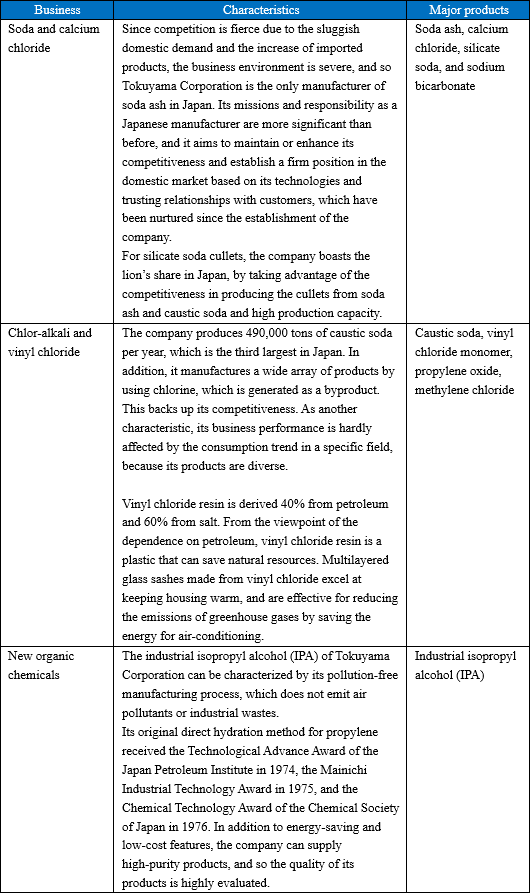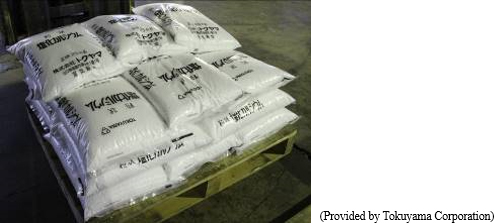 <Basic policy and measures>
By offering basic chemical materials and services that have high quality and cost competitiveness and satisfy the needs of customers, the company aims to contribute to the business growth of each customer and the stable, continuous increase in revenue for its core business.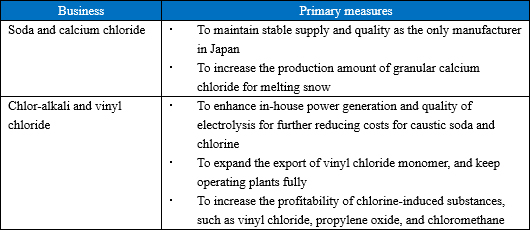 ◎ Specialty products
<Outline and major products>
Tokuyama Corporation handles products in a broad range of fields, including energy, electronics, and the environment. For high-purity polycrystalline silicon used for semiconductors, the company has a remarkable share in the world. In addition, fumed silica, which is produced from byproducts, is used for silicone rubber, copier's toner, etc. Aluminum nitride, which is excellent in heat release, is used for energy-saving products, such as inverters and LEDs, in addition to semiconductor manufacturing equipment, and high-purity chemicals for the electronic industry are used for producing semiconductors, liquid crystal panels, etc.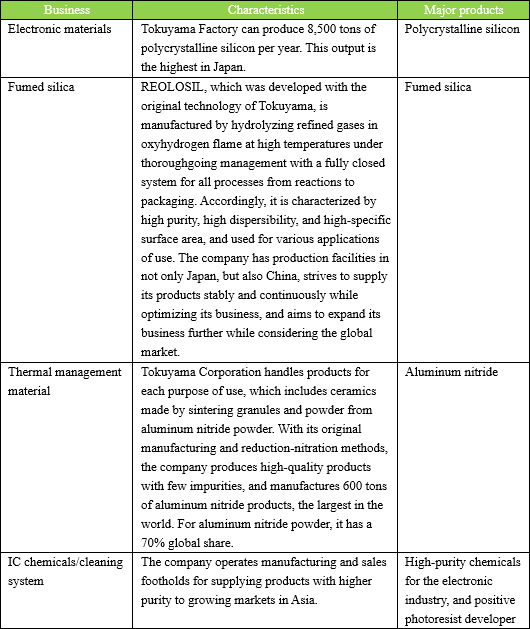 <Basic policy and measures>
To expand its business and revenue by supplying products that will be chosen by customers forever and proposing newly developed products.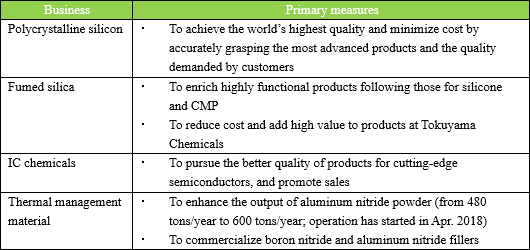 A wide array of semiconductor-related products that are indispensable for manufacturing semiconductors, such as polycrystalline silicon, for which the company has a 30% global share, and aluminum nitride for dissipating heat, are the cutting-edge materials created by combining a variety of element technologies, which have been developed and accumulated by the company for many years, and all of them are outstandingly competitive in the world.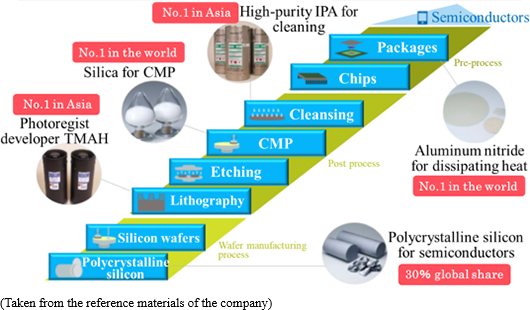 In the semiconductor manufacturing field, more minituarized and three-dimensional semiconductors are being developed rapidly, as the capacity of semiconductors is increasing and their size is shrinking. The "high-purity polycrystalline silicon for semiconductors" and "high-purity chemicals for the electronic industry" of Tokuyama Corporation are ultrahigh-purity materials for which impurities and residues, which would worsen yield, have been reduced to the maximum degree, and highly evaluated by semiconductor manufacturers, which are developing more minituarized and three-dimensional products. In addition, Tokuyama's heat dissipating materials, which are indispensable for the stable operation of semiconductors, are highly evaluated. As the power devices for in-vehicle apparatus, industrial equipment, and electric railways are having higher output and smaller size, the demand for heat-dissipating materials is growing rapidly. Tokuyama Corporation supplies heat-dissipating materials with high thermal conductivity and an extremely small amount of impurities developed with its original reduction-nitridation method, such as aluminum nitride powder and ceramics, and boron nitride. As shown in the above figure, the company plans to create larger business opportunities and meet demand by supplying a wide array of cutting-edge products rather than only specific products, which are used in the process of manufacturing semiconductors from raw materials.
◎ Cement
<Outline and major products>
In 1938, Tokuyama Corporation started this business for the purpose of utilizing the byproducts generated at Tokuyama Factory. The cement and related products, such as cement solidifying agents, produced at Nanyo Plant of Tokuyama Factory are used as ready-mixed concrete and secondary concrete products for constructing structures, ports, bridges, roads, etc. that support housing, buildings, and lifelines for the living of people. The company receives a large amount of wastes, including waste plastics and ash from the combustion of household garbage, from the inside and outside of the company, and uses them as raw materials and thermal energy for manufacturing cement, contributing to the development of a resources recycling society.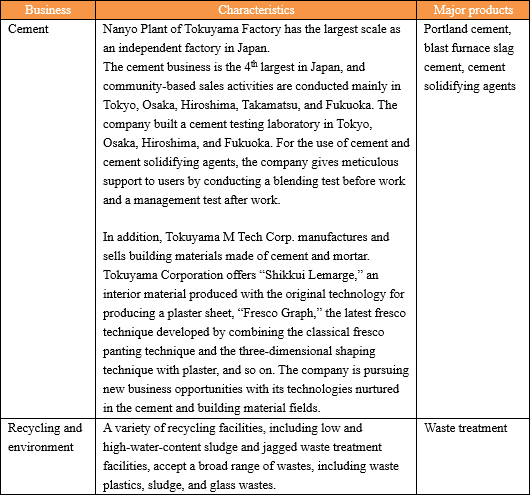 <Basic policy and measures>
The company will develop optimal systems for manufacturing, selling, and distributing products while flexibly responding to the changes in the business environment. It aims to enhance its competitiveness by maximizing the revenue from waste treatment by expanding export and reducing costs.

Tokuyama New Caledonia, which was acquired in Jun. 2013, has recorded substantial positive operating income and cash flow for 4th consecutive year. It also serves as an exporter of clinker (chunks generated during the cement manufacturing process, from which cement is produced through pulverization), contributing to the increase in the revenue of the cement section. In the mid to long-term, domestic demand will inevitably shrink due to the decline in population. Accordingly, the company will increase sales amounts by securing stable importers, improve the operation rate of cement factories, and accept more wastes, while discussing and proceeding with the operation of overseas pulverization plants following those of Tokuyama New Caledonia.
◎ Life & amenity
<Outline and major products>
This segment is constituted by the fine chemical and NF businesses operated by Tokuyama Corporation, and ion exchange membranes, dental materials, clinical testing systems, polyolefin films, resin sashes, etc. developed, manufactured, and sold by group companies. In the fine chemical business, the company handles mainly materials for eye glasses, generic medicine ingredients and intermediates, which were developed with its organic synthesis technology. In the NF business, the company manufactures and sells films that block water, but allow air and moisture to penetrate. Its overseas group companies include Shanghai Tokuyama Plastics, which manufactures and sells breathable films for disposable diapers, whose demand is growing rapidly in emerging countries, including China.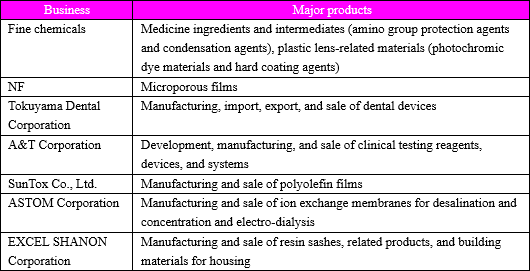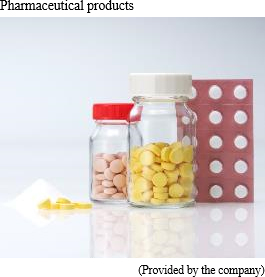 <Basic policy and measures>
The company will secure an advantageous position inside and outside Japan, by establishing and fortifying customer-oriented development, manufacturing, and sales systems. It aims to expand its business, to contribute to the improvement of the living and health (quality of life) of people.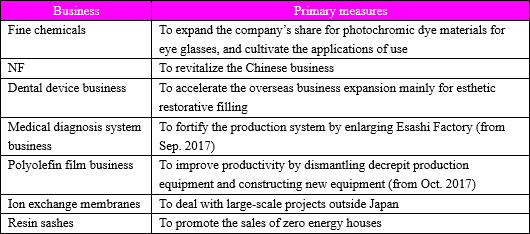 In this segment, the company concentrates on the development of photochromic dye materials. Photochromic dye materials are resin materials that change colors from colorless to gray, brown, etc., when illuminated by sunlight (ultraviolet rays), and return to the colorless state when the illumination stops. Recently, the usage for sports-wear and driving wear has spread, the awareness of harmful ultraviolet rays has grown, and the cases of eye diseases, such as glaucoma, have increased due to aging population. In these circumstances, the use of photochromic dye materials is increasing. The products of Tokuyama Corporation are characterized by "plenty of color variation based on the three primary colors: red, blue, and yellow," "rapid coloration and de-coloration speeds," "sufficient coloration performance even at high temperatures in the summer," "excellent durability," and "the capability of blocking over 99% of ultraviolet rays." The company will advertise these characteristics, aim to expand its share by meticulously meeting customer needs about product specifications and enriching its product lineup, improve visibility, and cultivate new applications of use by utilizing its product features, such as the blocking of ultraviolet rays.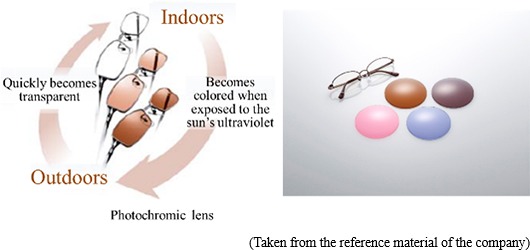 ◎ Others
This is the segment other than the segments to be reported: "chemicals," "specialty products," "cement," and "life & amenity," and includes overseas distributors, transportation business, and real estate business.
【1-4 Research and development】
Under the R&D slogan of "creating helpful value for living with chemical technology," the company engages in R&D with the aim of (1) conducting R&D for customer-oriented business, (2) creating an only-one, No.1 technology by improving unique technologies and fusing them with new technologies, and (3) creating original products while emphasizing customer needs based on its technologies. Tokuyama Corporation aims to carry out R&D for cutting-edge materials by utilizing its unique technologies for synthesizing inorganic and organic materials, increasing purity, inducing crystallization and deposition, controlling powder, and sintering materials, which have been nurtured by the company as a chemical manufacturer while expecting the aging of society and the drastic growth and diffusion of environmentally friendly and ICT technologies, and by fusing these technologies with new technologies. As R&D facilities in western and eastern Japan, the company has a "development center (Tsukuba Research Lab)" in Tsukuba City, Ibaraki Prefecture, and an "analysis center (Tokuyama Comprehensive Institute)" in Shunan City, Yamaguchi Prefecture. The development center Tsukuba Research Lab is developing cutting-edge technologies from the medium to long-term viewpoint and analysis technologies as basic technologies, conducting R&D in the dental material field, which is characterized by composite materials, and the organic fine chemical field, which is targeted at high value-added products. The analysis center (Tokuyama Comprehensive Institute) located in Tokuyama Factory is a foothold for R&D in the Tokuyama district. There are some significant merits, such as the synergy of the development group in the Tokuyama district and various R&D teams and the easy exchange of information with the manufacturing section.
【1-5 Competitors】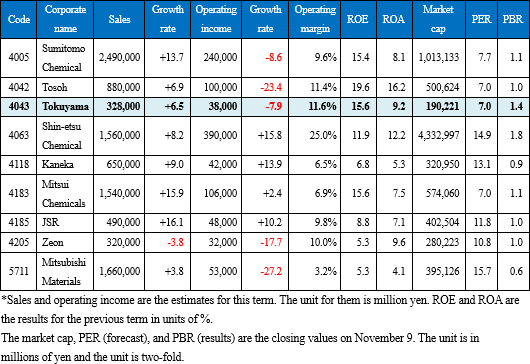 Compared with competitors, sales are small, but it boasts high profitability with double-digit operating margin, and its shares are evaluated at medium level.
【1-6 Characteristics and strengths】
① Cutting-edge products created with a variety of unique technologies
By fusing new technologies with unique technologies for synthesizing organic and inorganic materials, increasing purity, controlling powder, inducing crystallization and deposition, sintering, electrolysis, refining, reprocessing resources, and so on, which have been accumulated and polished for many years, Tokuyama Corporation has developed cutting-edge products, including inorganic chemicals, cement, silica, silicon, aluminum nitride, high-purity chemicals for semiconductors, lens materials, ion exchange membranes, films, resin, sensor materials, and dental materials. For example, the company possesses an original reduction-nitridation technology for producing aluminum nitride powder, which is broadly used as a heat-dissipating agent. Its aluminum nitride powder, which has an extremely low amount of impurities, boasts a 70% global share because of its high competitiveness. At present, its purity is at the world's highest level. The company started producing polycrystalline silicon for the purpose of utilizing the hydrogen and chlorine generated at its electrolysis plant, and it is now ranked in the world's top three. It can be said that its broad, profound technological base helped realize these achievements.
② Competitiveness of Tokuyama Factory, which has integrated and accumulated technologies in an advanced manner
Tokuyama Factory is indispensable for manufacturing products with its unique technologies at low cost and supplying them to customers around the world. It has one of the greatest port infrastructures in Japan and an in-house generation plant, with the following characteristics:

With the in-house power generation plant, whose output is the 8th largest in Japan, it can use electric power at competitive cost.

Factories for producing inorganic and organic chemicals, cement, electronic materials, etc. are integrated, so as to utilize raw materials, products, by-products, and wastes mutually.

The company has achieved zero emissions by using its wastes at a cement kiln (used for sintering cement). It also receives wastes from external enterprises in the Shunan industrial complex, making a social contribution for the environment.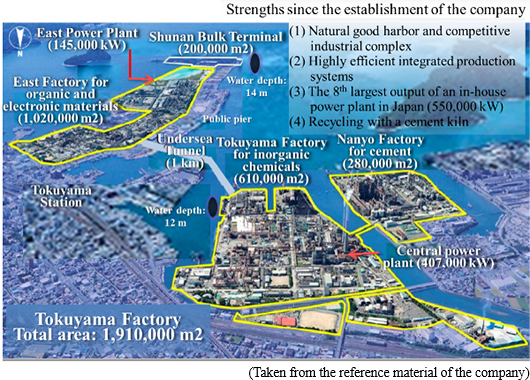 Since it has a natural harbor with a water depth of over 10 m, where large shipping vessels can be docked, it is possible to carry in and out large amounts of raw materials and products. The highly efficient production and supply systems integrated and accumulated sophisticatedly at Tokuyama Factory boost the competitive advantage of Tokuyama Corporation.
Second Quarter of the Fiscal Year March 2019 Earnings Results

Although sales increased thanks to the price effect, profit decreased due to the rising raw fuel costs.
Sales were 152.6 billion yen, up 4.5% year on year. In addition to the propelled approach for adjusting the selling price of caustic soda, the sales amounts of semiconductor-related products increased; however, the ratio and amount of gross margin declined 1.7 points and 1.0%, respectively, year on year. Operating income shrank 9.8% year on year to 17.0 billion yen. Although the company adjusted the prices of caustic soda and petrochemical products, the rising raw fuel costs and the decreasing sales volumes of electric power had impacts. Regarding each segment, while chemicals grew in profit, the company saw a drop in profit in the specialty products and cement segments. The company is raising the prices of vinyl chloride, cement, and polyolefin films in an attempt to counteract a decline in profitability due to a rise in prices of raw fuel, such as coal and naphtha. Furthermore, with sales amounts of its products, including heat dissipating materials, growing steadily, the company is endeavoring to improve profitability by raising prices and cutting down on costs. It achieved a greater progress with the cost reduction amount in the first half of fiscal year 2018 than in the same period of fiscal year 2017. The company plans to step up their efforts to further reduce costs by bringing up new subjects of cost reduction.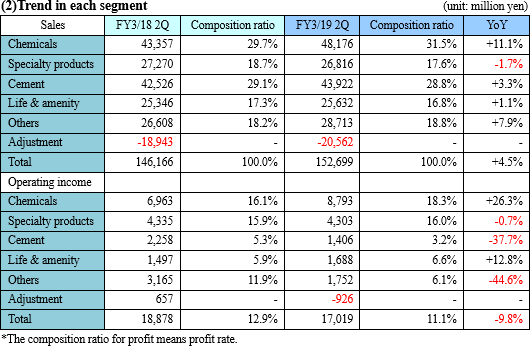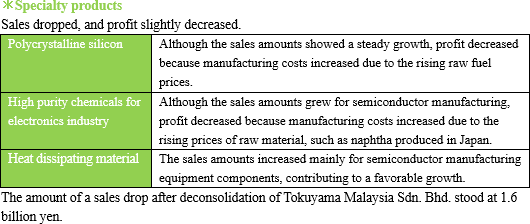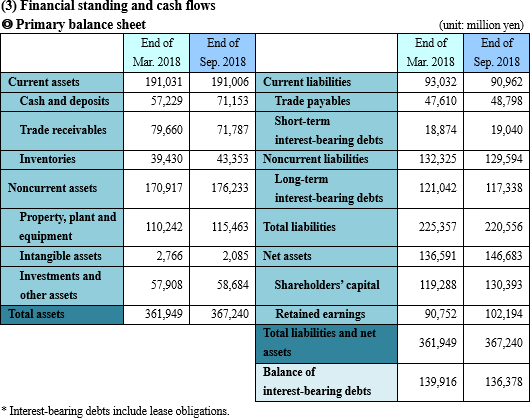 Current assets haven't changed much from the end of the previous term. Total assets were 367.2 billion yen, up 5.2 billion yen from the end of the previous term due to an increase of machinery, transportation equipment, and land. Total liabilities were 220.5 billion yen, down 4.8 billion yen from the end of the previous term, due to a decrease in long-term interest-bearing debts. Net assets rose 10.0 billion yen to 146.6 billion yen due to an increase of retained earnings. As a result, equity ratio rose by 2.4 points from the end of the previous term to 37.1%. DE ratio fell from 1.1 at the end of the previous term to 1.0. By the end of March 2021, the final year of the medium-term management plan, the company aims to have an "interest-bearing debt of 120 billion yen, an equity capital of 140 billion yen, cash and deposits of 80 billion yen, and a DE ratio of 0.9."

The surplus of operating CF shrank because there was no longer loss on transfer of business, which the company incurred in the same period of the previous year. The deficit of investing CF widened further because there was no longer income from sale of shares of subsidiaries, which the company earned in the same period last year. The free CF remained in surplus. The deficit of financing CF narrowed as there was no longer expenditure due to redemption of corporate bonds. The cash position declined.
Fiscal Year March 2019 Earnings Estimates

Earnings estimates are left unchanged. Sales growth and profit decline are estimated.
Although profit decreased in the first half of this term and various uncertainty sources, such as the trend in raw materials and fuel prices, continue existing, the company is making a steady progress in improving profitability through price adjustment, leaving the full-year earnings estimates unchanged. Sales are expected to be 328 billion yen, up 6.5% year on year. The company will proceed with price adjustments of caustic soda, petrochemical products, etc. this term, and sales volumes will increase. Operating income is forecasted to be 38 billion yen, down 7.9% year on year. There will be an increased number of shipments of semiconductor-related products, as well as price adjustments for cement, petrochemical products, and caustic soda, but profits are expected to fall due to increased costs of raw materials and fuel, more active investment including R&D expenses. The exchange rate is estimated to be 110 yen to 1 USD. It is assumed that the price of domestic naphtha will rise from 51,100 yen/Kl in the previous term to 54,000 yen/Kl. The total dividend will be 50.00 yen/share. The estimated payout ratio is 12.9%.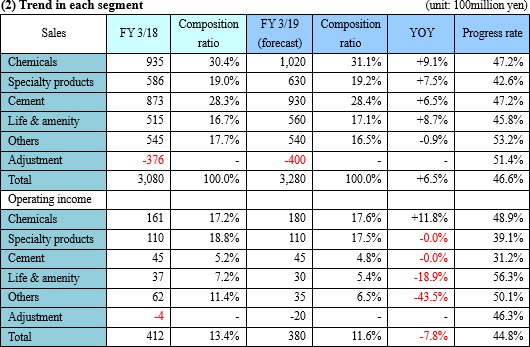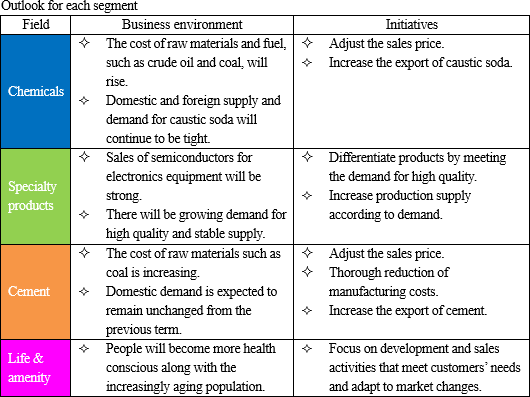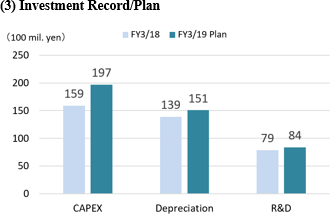 Investments for the current term included maintenance updates and increases in R&D. R&D and expansion and sales promotions account for about half of the total investments. Major growth investment projects include increased production of aluminum nitride powder and granules, strengthening TMAH production, strengthening the port infrastructure of Tokuyama factory, quality improvements for semiconductor related materials, and construction of the 2nd factory of Taiwan Tokuyama. Among others, the company has high hopes for aluminum nitride and the semiconductor photoresist developer TMAH. If judged to be strategically important, the company may choose to use the 20 billion yen set aside for investments according to the medium-term management plan.
The improvements of the Medium-Term Management Plan "Cornerstone of the Group's Revitalization"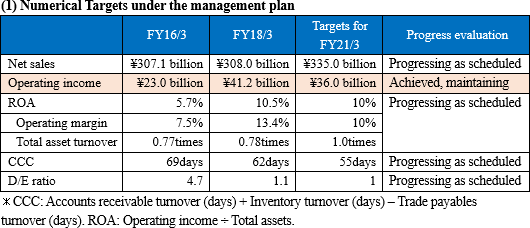 Operating income covered the decrease in sales price (-6 billion yen) with the transfer of Tokuyama Malaysia (+9.6 billion yen), increases in sales volume (+8.4 billion yen), and cost reductions at the Tokuyama factory, etc. (+ 6.1 billion yen). Operating income recovered rapidly over a 2-year period, rising from 23 billion yen to 41.2 billion yen. Also, ROA exceeded 10%, which indicates the realization of a "strong Tokuyama." Improvements have been made mainly due to the shortening of the CCC inventory turnover period. The company is self-evaluating to see if other items are also progressing as planned in order to achieve the objective. It is possible that the company will invest more into growth in the future, but for the time being, they will remain vigilant and focus efforts on adjusting sales prices and improving basic units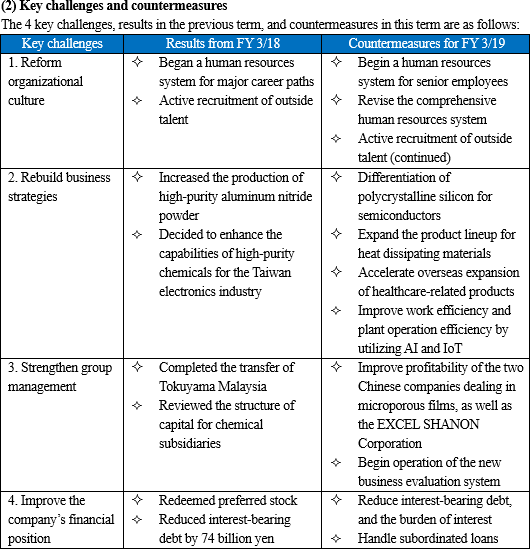 (3) Business initiatives
As part of the key challenge "Rebuild business strategies," the company aims to be "a global leader in the growth business, and a top competitor in Japan in the traditional business."
Growth business
In the ICT field, which is the company's main focus, uncertainty about the future exists due to multifarious factors, including postponement of investment in plant and equipment by semiconductor manufacturers, and stagnant order placement for semiconductor manufacturing equipment; however, demand for ICT-related materials continue to be huge. Thus, the company will further sophisticate its products, which are competitive on a global basis, in order to take in the enormous demand without fail. The following is a list of products and their initiatives.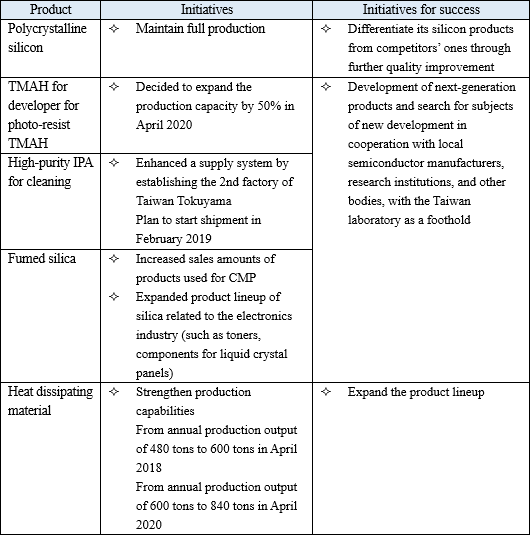 Regarding the heat dissipating material out of the products listed in the above table, the company will expand the business area through product lineup expansion based on the unique technologies that it possesses, since effective heat management is crucial for electric vehicles/hybrid electric vehicles, and various power devices.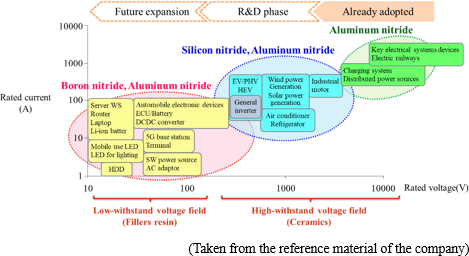 (4) Financial strategy
The company conducted a conversion of a subordinated loan of a total of 60.0 billion yen on September 20, 2018. A reduction in financing costs and new contract conditions have allowed the company to pay back the loan before the maturity date with cash on hand, without performing equity financing, as long as certain criteria (*) are satisfied after a period of 5 years has elapsed since the conversion. Criteria (*) (1) Shareholder's equity of over 179.2 billion yen (which is a build-up of over 60.0 billion yen since the end of Mar. 2018), and (2) DE ratio of 0.9 or below Although the company considers that it is necessary to build up shareholder's equity, it is possible to fulfill the criteria so long as the current profit level is maintained; therefore, the priorities of the applications of funds, which are in order of (1) investment in business growth, (2) returns to shareholders, and (3) securing funds for paying back the subordinated loan, will not be affected at all.
Taking a look at the trends in the leading chemical companies, including Tokuyama Corporation, and the relative share price performance in the Tokyo Stock Price Index (TOPIX) for the past year, shares of chemicals manufacturers generally fell short of the TOPIX, and the shares of Tokuyama Corporation, which delivered the strongest performance in the period, ended up at a level that was almost the same as competitors' shares. Amid expected rises in costs of materials, such as raw fuel, also in the second half of the current term, we would like to keep an eye on how much progress Tokuyama Corporation will be able to make with its effort at price adjustment.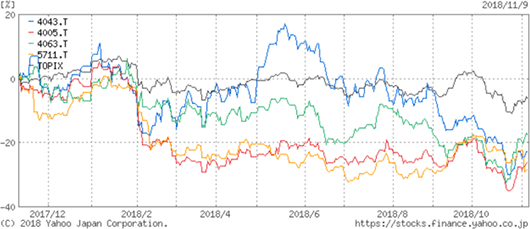 Relative share prices (one year) Blue: Tokuyama Corporation; Red: Sumitomo Chemical Co., Ltd.; Green: Shin-Etsu Chemical Co., Ltd.; Yellow: Mitsubishi Materials Corporation; Black: TOPIX
<Reference1: the Medium-Term Management Plan "Cornerstone of the Group's Revitalization">
The company was forced to pass its dividend as it recorded heavy impairment losses in the terms ended Mar. 2015 and Mar. 2016. Needing a new driver for profit growth, the company drew up the 5-year Medium-Term Management Plan entitled "Cornerstone of the Group's Revitalization" in May 2016 under the vision of "New foundation." With this plan, the company is tackling various important issues such as reforming its corporate culture and reconstructing business strategies.
(1) Outline of the Medium-Term Management Plan: "Cornerstone of the Group's Revitalization"
① Assessment of the present state

The company has its business base in nonorganic and organic chemistry. Having endured the oil crisis of the 1970s, it has since been constantly growing its businesses by expanding into the field of specialty chemicals and overseas expansion.

While the profitability of specialty product business increased during the second half of the 2000s, its general-purpose product business centered on chemicals and cement suffered a profitability decrease due to the shrinking domestic market.

Since its founding, the company has always enjoyed its high-efficiency factories and one of the best in-house power generation capacities in Japan. On the back of these qualities, it has built a business based on chemicals and cement, and also been nurturing new fortes in the field of specialty chemicals such as high-purification, powder control, organic and nonorganic synthesis, crystal precipitation, and sintering

On the other hand, the company was not able to successfully relay its technological prowess built up through the specialty chemicals business onto business expansion, apart from the polycrystalline silicon for semiconductors. Therefore there was a blank period in its creation of new businesses.

In 2009, its net interest-bearing debts practically decreased to the no-debt level; however it swelled rapidly due to the fundraising for its massive investment into its Malaysian business and its financial structure deteriorated drastically, marking a D/E ratio of 4.7 in FY 2015.
Assessing its present state like this, and with the shrinking of domestic general-purpose product market for its traditional businesses and slowdown of growth rate of its electronic materials business forecast, the company believes it is essential to create a new driver for profit growth by overcoming the points listed below.
"Overconfidence and dependence on Tokuyama Factory" "Inward and passive posture spread among employees" "Corporate governance" "Uncertainty surrounding the strategic direction of the Group and each department"
② Management policies
With the "Tokuyama's vision" below, the company will place changing its business culture and a fundamental overhaul of business operations as its core business strategies, and aim to achieve these by FY 2025.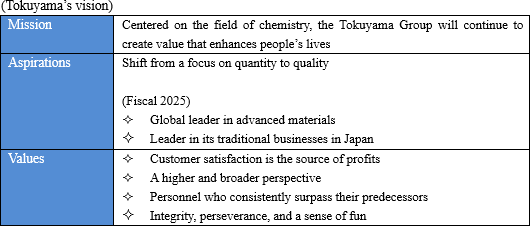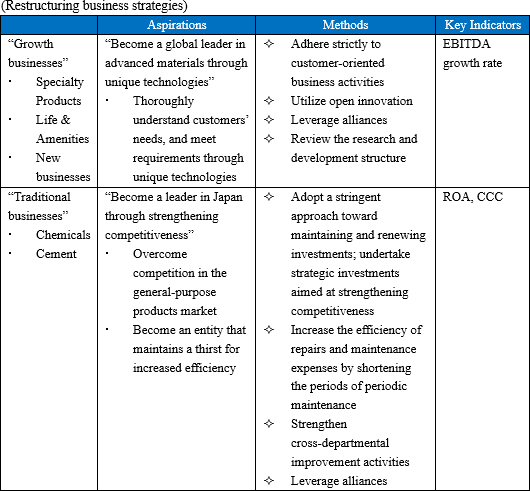 (Drivers for growing businesses) In the growing businesses, the company endeavors to utilize its unique technologies nurtured in the cutting-edge areas to develop products to respond to the society's needs. ICT and healthcare are the prospective fields. In the ICT field, the company will expand the production line of aluminum nitride for heat-dissipating materials, put boron nitride production into operation, and increase production of polycrystalline silicon. In the healthcare field, the dental equipment and diagnostic medicines will occupy the company's core business, while seeking further growths and not ruling out the possible M&A. (Cross-departmental cost reduction activities) The company will perform non-conventional, cross-departmental approaches and strategic capital investments to reduce the costs of principal items such as raw material and fuel, repair costs and logistics costs. The company aims to reduce company-wide cost by 4 billion yen by 2020. (Research & development) To achieve the expansion of existing businesses and expand into the new business fields to utilize its unique technologies, the company will change its R&D structure so it is more in line with the general customer needs. Also it will embrace a more outward-looking R&D, involving a higher ratio of R&D personnel from operations department and group companies rather than from within. (Capital investment plan and setting strategic investments) The company plans to spend a cumulative total of 96 billion yen on capital investments from 2016 to 2020 (5 years). Of the total, 26% will be earmarked for new business extensions such as responding to demands for refinement of polycrystalline silicon and enhancing the heat-dissipating materials, to lay down a stronger foothold. At the same time, the 20 billion yen strategic investment will be set aside to expand the growth businesses and strengthen the competitiveness of traditional businesses, with the breakdown of 65% towards the traditional businesses and 35% for the growing businesses.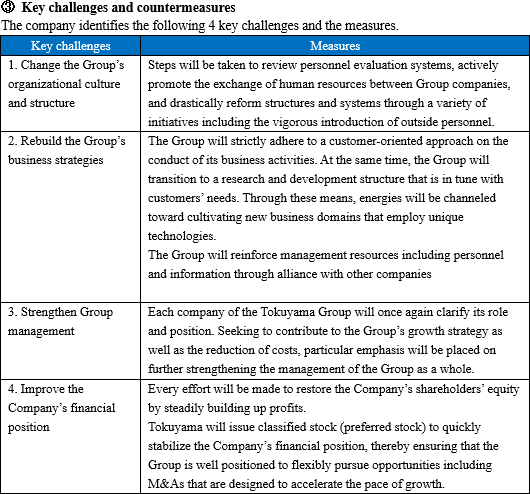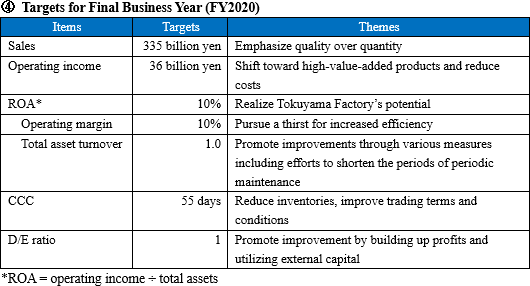 (2) Progress of the Medium-Term Management Plan: "Cornerstone of the Group's Revitalization"
① Outcome of works on key challenges and future measures
< 1. Change the Group's organizational culture and structure >
The company regards this as the most important point of its resurgence. During the term ended Mar. 2017, the company engaged itself in activities such as the in-house dialogues initiated by the president, revision of the core personnel management system, and human resources development through the lectures given by external experts. In the future, it will continue with its activities to further realize its visions, while at the same time endeavor to perform the revision of its regular personnel management system, reform the human resources development system, and hire external talents actively.
< 2. Rebuild the Group's business strategies >
The company aspires to become the world leader in its growing business field and the Japan's leader in its traditional business field. During the term ended Mar. 2017, the company worked to a) improve profit by resuming operations of the plants for polycrystalline silicon for semiconductors, increasing the production of aluminum nitride, transferring equity of its businesses in polycrystalline silicon for solar panels and gas sensor business, rationalizing soda ash and PVC businesses, and operating full-capacity for electrolysis, b) improve operation rate by increasing cement export, c) commence the cross-departmental cost reduction activities "BRIGHT II" at Tokuyama Factory, and d) further the PDCA management regarding its financial indicators and key challenges. In the future, it will attempt to achieve quality differentiation and increased production by responding to the miniaturization of polycrystalline silicon for semiconductors, and increase the capacity for producing its high-purity chemicals for electronics industry (IPA, developing solution). The company can exert its competitive advantage sufficiently when responding to the miniaturization, and it will put a further effort to expand this domain. Additionally, it will strive to expand its business domains with speed by restructuring the R&D system and open innovations.
< 3. Strengthen Group management >
In the past, the positioning of its group companies was somewhat unclear within the group. The group is now poised to clarify the contributions required of its operational subsidiaries in the group's growth strategies firmly assisted by the mother company in the personnel front, and the contributions, positioning and roles required of its functional subsidiaries through the cost reduction activities carried out in collaboration with Tokuyama Factory. During the term ended Mar. 2017, the company made significant progresses including the re-examination of its business positions and raisons d'etre, transferring some shares of FIGARO Engineering Inc. (subsidiary), making the decision to transfer Tokuyama Malaysia, the renewal of SunTox Co., Ltd. (subsidiary), and the factory extension of A&T Corporation (subsidiary). In the future, the group will endeavor to unify the operations of its mother company and the subsidiaries in both capital and personnel, and improve profits at two Chinese companies dealing in the microporous films and EXCEL SHANON Corporation. The transfer of Tokuyama Malaysia was completed on May 31st, 2017.
< 4. Improve the Company's financial position >
The company will work towards the recovery of own capital through building up profits and the early stabilization of its financial base. During the term ended Mar. 2017, the company was able to achieve strengthening of its financial base through issuance of type-A shares, reduction of interest-bearing debts by 30.1 billion yen, and a 3.06% reduction (improvement) of the D/E ratio. In the future, the company will work towards a further reduction of interest-bearing debts, relief of an interest burden, and capital maintenance by building up operational profits. On June 14th 2017, the acquisition and repayment of the type-A shares were completed.
② Capital investment
During the term ending Mar. 2018, 20.7 billion yen is appropriated, in contrast to 17.3 billion yen of the term ended Mar. 2017, of which 7.8 billion yen is earmarked for the extension and sales promotion investments in the current term, while during the previous term this was 6.2 billion yen. The company will continue investing in projects such as the quality improvement of semiconductor related materials, the increased production of aluminum nitride powder, the introduction of the cutting-edge facility for polyolefin films at one of its subsidiaries SunTox Co., Ltd., and the extension of Esashi factory at another subsidiary A&T Corporation.
③ Research and development
The high-level of R&D activities will be maintained at 7.5 billion yen (previous term) and 9.0 billion yen (current term).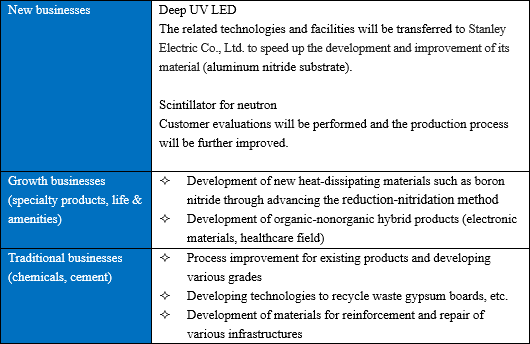 <Reference2: Regarding Corporate Governance>

◎Corporate Governance Report
Last update date: Jun. 25, 2018 <Basic approach> We have defined our Tokuyama group's significance of existence, in our lately enacted "Tokuyama Vision", as "Creating useful value on life through chemistry". We will contribute in people's happiness and development of society via continuously providing new values created by using the chemical technology Tokuyama group has been cultivating. Creating new values and providing it continuously will only be possible with trust and cooperation of the shareholders, customers, customers, employees, and stakeholders of the local community, and we understand that this is associated with the continuous company growth and improving corporate value in the mid-long term. To make it happen, we interpret Corporate Governance as an important issue on management and we aim to enrich our Corporate Governance. As a basic principle, grounded on corporate governance code, we aim to make effort to secure shareholders' rights and equality, to maintain strengthening and independency of board meetings' supervisory function, to make quick decision and make responsibilities for conduct of affairs clear, to secure appropriate disclosure of information and transparency, and to make a constructive communication with all the shareholders. <Reasons for Non-compliance with the Principles of the Corporate Governance Code> This report complies with Japan's Corporate Governance Code before the revision in June 2018. We plan to prepare reports in conformity with the revised governance code around October 2018. <Disclosure Based on the Principles of the Corporate Governance Code (Excerpts)>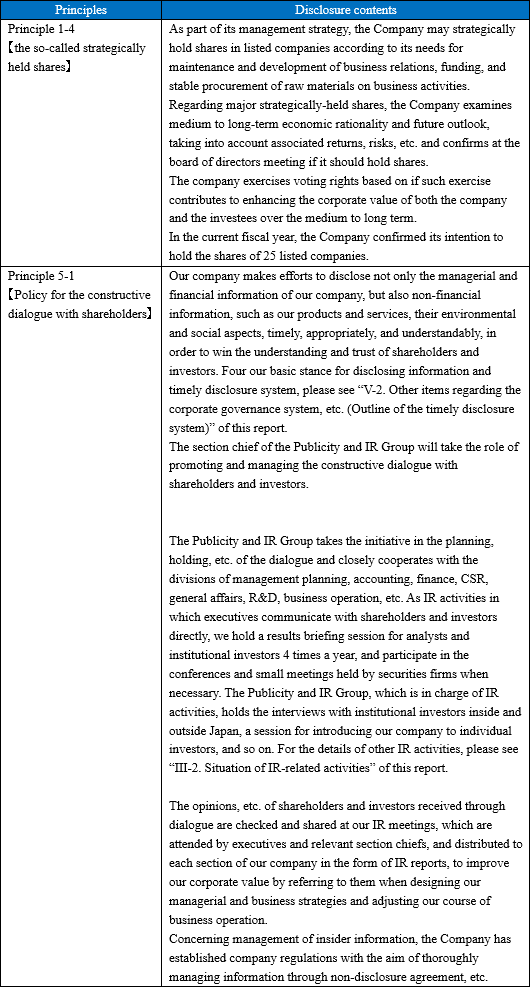 Disclaimer
This report is intended solely for information purposes, and is not intended as a solicitation to invest in the shares of this company. The information and opinions contained within this report are based on data made publicly available by the Company, and comes from sources that we judge to be reliable. However, we cannot guarantee the accuracy or completeness of the data. This report is not a guarantee of the accuracy, completeness or validity of said information and or opinions, nor do we bear any responsibility for the same. All rights pertaining to this report belong to Investment Bridge Co., Ltd., which may change the contents thereof at any time without prior notice. All investment decisions are the responsibility of the individual and should be made only after proper consideration.
Copyright(C) 2018, All Rights Reserved by Investment Bridge Co., Ltd.