Kimiaki Tanaka,
President
| | |
| --- | --- |
| Company | ZEON CORPORATION |
| Code No. | 4205 |
| Exchange | TSE 1st Section |
| Industry | Chemicals |
| President | Kimiaki Tanaka |
| HQ Address | Marunouchi 1-6-2, Chiyoda-ku, Tokyo |
| Year-end | March |
| URL | |
Share Price
Shares Outstanding
Market Cap.
ROE (actual)
Trading Unit
¥1,117
226,789,968 shares
¥253.324 billion
11.7%
1,000 share
DPS (Est.)
Dividend Yield (Est.)
EPS (Est.)
PER (Est.)
BPS (actual)
PBR (actual)
¥14.00
1.3%
¥74.96
14.9x
¥783.11
1.4x
* * Share price as of closing on Nov. 14, 2014. Number of shares outstanding as of most recent quarter end, does not include treasury shares.
| | | | | | | |
| --- | --- | --- | --- | --- | --- | --- |
| Fiscal Year | Net Sales | Operating Income | Ordinary Income | Net Income | EPS | Dividend |
| March 2009 | 268,857 | 2,936 | 3,848 | 2,478 | 10.50 | 9.00 |
| March 2010 | 225,878 | 9,319 | 9,448 | 5,020 | 21.26 | 6.00 |
| March 2011 | 270,383 | 35,295 | 33,623 | 18,303 | 78.77 | 10.00 |
| March 2012 | 262,842 | 32,123 | 31,487 | 19,127 | 82.75 | 11.00 |
| March 2013 | 250,763 | 23,696 | 25,212 | 14,750 | 63.81 | 12.00 |
| March 2014 | 296,427 | 29,901 | 32,561 | 19,650 | 85.15 | 13.00 |
| March 2015 Est. | 310,000 | 25,000 | 25,000 | 17,000 | 74.96 | 14.00 |
* Estimates are those of the Company.

 

This Bridge Report provides a review of ZEON CORPORATION's first half fiscal year March 2015 earnings results and fiscal year March 2015 earnings estimates.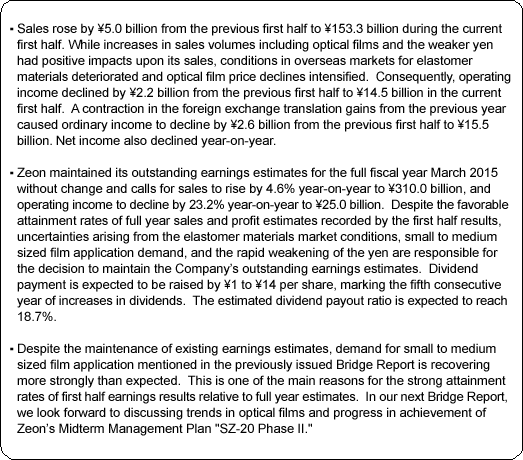 ZEON CORPORATION is a petrochemical manufacturer that maintains numerous products with large share of the global markets including synthetic rubber used in automobile parts and tires, synthetic latex used in surgery-use gloves, and other products. The Company's strengths include its creative technology development function, research and development structure, and high earnings generation capability. Many of the products and materials manufactured by Zeon are used in a wide variety of products including automobile parts and tires, rubber gloves, disposable diapers, cellular telephones, liquid crystal televisions, perfumes and other products commonly used in everyday life. The Zeon Group is comprised of the parent company, 57 subsidiaries and 10 affiliated companies. Zeon also has manufacturing and marketing facilities in 17 countries around the world.

 

 

(Company Name and Management Vision)

The company name "Zeon" is derived from the Greek word for earth "geo" (phonetically pronounced "zeo" in Japanese) and the English word reflecting eternity "eon," and reflects the Company's principle of

"deriving ingredients from the earth and perpetually contributing to human prosperity"

through the development and application of creative technologies. (Zeon's original name "Geon," used at the time of its establishment, was derived from the trademark acquired for the vinyl chloride resin "Geon" from the Goodrich Corporation (then called B.F. Goodrich Company) in the United States, with which it had capital and collaborative technological agreements. The company name was changed to "Zeon" when the capital agreement was dissolved in 1970.)

 

(Corporate History)

Zeo was established as a joint venture company formed by the Furukawa Group companies Nippon Light Metal Co., Ltd., Furukawa Electric Co., Ltd., and Yokohama Rubber Co., Ltd. in April 1950 to acquire and use the vinyl chloride resin technology from B.F. Goodrich Chemicals Co. In 1951, Goodrich acquired 35% of the shares of Zeon for full-scale technological and capital partnership, and in 1952 mass production of vinyl chloride resin began in Japan for the first time. In 1959, Goodrich transferred synthetic rubber manufacturing technologies to Zeon, which, in turn, started Japan's first mass production of synthetic rubber. Manufacturing facilities were also expanded to match the growing demand for tires and other automobile parts. In 1965, use of the Company's unique technology called Geon Process of Butadiene (GPB) for the efficient manufacture of butadiene (main ingredient in synthetic rubber) from C4 fraction was begun.

Goodrich transferred its specialty synthetic rubber business to Zeon along with the shift in its main business focus toward vinyl chloride resins, and capital ties were dissolved in 1970. Along with these changes, the Company name was changed from Geon to Zeon in 1971.

Also in 1971, Zeon developed a unique technology called Geon Process of Isoprene (GPI) and began using it to manufacture ingredients including high-purity isoprene, petroleum resins, and synthetic perfume ingredients from C5 fraction.

After entering the 1980s, Zeon aggressively launched new businesses in various fields including photoresists and other information materials, and medical related applications in addition to its main synthetic rubber business.

In 1984, production of hydrogenated nitrile rubber Zetpol®, which currently has top share of the worldwide market, began at the Takaoka Plant.

In 1990, manufacture of synthetic cyclo-olefin polymer resin (COP) ZEONEX®, which is the main product of the specialty material business using the GPI method to extract and synthesize products, was started at the Mizushima Plant.

In 1993, Zeon entered China with its electronics materials business.

In 1999, Zeon Chemicals L.P. (Consolidated subsidiary in the United States) acquired the special rubber business of Goodyear Tire & Rubber Company of the United States to become the world's top manufacturer of specialty rubber.

In 2000, Zeon discontinued production of vinyl chloride resins at the Mizushima Plant, and thus withdrew from the Company's founding business.

In 2002, ZeonorFilm® was launched as a liquid crystal display (LCD) use optical film.

Zeon Chemical Singapore Pte. Ltd., and Zeon Korea Co., Ltd. were founded, in 2010 and 2011 respectively, as part of the strategy to fortify Zeon's global production and sales structure.

In March 2013, a takeover bid of TOHPE CORPORATION was completed and TOHPE became a fully owned subsidiary.

In September 2013, the plant for S-SBR in Singapore was completed and started commercial operation.

 

(Business Description)

Zeon's main products use different forms of carbon heat extracted from naphtha, which is extracted by distillation of crude oil. The following substances are extracted in the order of carbon monoxide gas (C1), ethylene (C2), propylene (C3) by heating naphtha.

Zeon uses butadiene extracted in the GPB method developed in-house from C4 fraction after extracting propylene (C3), isoprene monomer (IPM) extracted from C5 fraction using the GPI method, high-boil monomer (HB), dicyclopentadiene (DCPD), and 2-butyne as raw materials to be processed into synthetic rubber, synthetic latex and various other materials.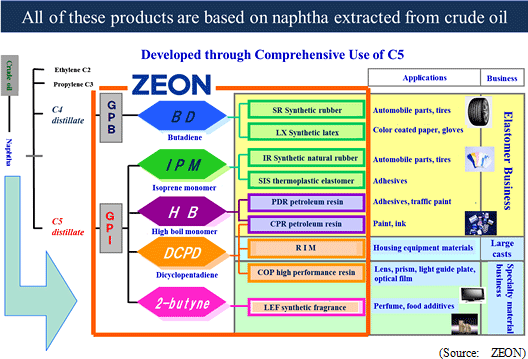 Zeon's business can be divided into three segments: 1) the "elastomer business," where manufactured basic materials are sold to customers; 2) the "specialty material business," where basic materials are submitted to primary processing for sale to customers as processed materials, and 3) the "other business."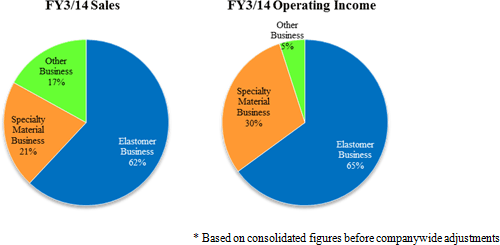 <Elastomer Business>

Elastomers are "high molecular compounds that have rubber-like elastic properties," an example of which is Synthetic rubber. As described in the corporate history section of this report, in 1959 Zeon became the first company in Japan to mass-produce synthetic rubber, which became the foundation underlying all of Zeon's businesses. This business can now be divided into synthetic rubber, synthetic latex, and chemical products (Petroleum resins, thermoplastic resins) businesses.

 

①Synthetic Rubber Business

<Example of product: Tires>
Zeon provides the world's leading tire manufacturers with the world's highest-quality synthetic rubber for use in tires. Among the various types of synthetic rubber manufactured are styrene butadiene rubber (SBR), which promotes superior abrasion resistance, aging resistance and mechanical strength properties, butadiene rubber (BR), which includes a superior balance between elasticity, wear and low-temperature properties, and isoprene rubber (IR), which features similar high levels of quality, consistency and other properties as natural rubber.

In the future, the characteristics of SBR will be further refined for use in low-fuel-consumption S-SBR as demand is expected to rapidly expand, and capacity is expected to be increased along with the Singapore plant, which started operation in September 2013. Consequently, supply capacity rose during the first stage by 30,000 to 40,000 tons per year in September 2013, and is expected to rise in the second stage from the second half of 2016 by another 30,000 to 40,000 tons from the current level of 55,000 tons per year.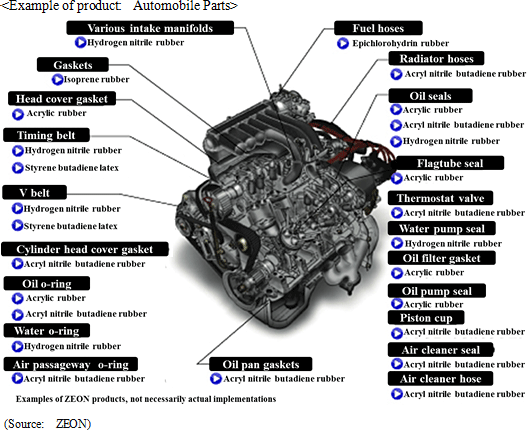 Radiator hoses, fuel hoses, fan belts, oil seals, and various other car engine parts use specialty synthetic rubber that has superior oil resistance and heat deterioration resistant qualities. Zeon is the world's number one manufacturer of specialty synthetic rubber and features high quality levels and high market share of specialty synthetic rubber automobile parts. In particular, Zeon's Zetpol® hydrogenated nitrile rubber timing belts display superior heat and oil resistance and claims approximately 70% share of the worldwide fan belts market.
Furthermore, a new version of Zetpol® has vastly improved the performance of products using the original versions of Zetpol®.
Products using the new version of Zetpol® are heat resistant at temperatures that exceed the limits for the original version of Zetpol® by 15 degrees centigrade, thereby extending the life of seals and gaskets, and are in strong demand for use in next generation bio-fuel engines. Furthermore, the new version of Zetpol® is well suited to extruded processing which is being leveraged to expand its usage in various hoses. Products using Zetpol® have also been well received by customers, and are being used increasingly as a replacement material for expensive rubber in Japan, Asia, Europe and North America.
Commercial production of the new Zetpol® started in November 2012 at Zeon's Kawasaki Plant and reached full-scale production in 2013.

 

②Synthetic Latex Business

Synthetic latex is basically synthetic rubber dispersed in water to form liquid rubber and is used to manufacture gloves, processed paper, textile processing, adhesives, paints, cosmetic puffs and other products. Zeon has close to 90% share of latex used in cosmetic puffs.

 

③Chemical Products Business

Zeon uses its unique in-house GPI method to turn C5 fraction into adhesive tapes, hot melt adhesive use materials, traffic paint binder and a wide variety of other products.

 

<Specialty Material Business>

Research and development activities are being promoted for the "realization of an advanced information society," "conservation, storage, and creation of energy," and "improvements in quality of life." Furthermore, specialty materials produced by Zeon are used in "information materials," "energy materials," and "medical devices," which are targeted as three key business areas.

 

①Information Materials

Cyclo-olefin polymer resins extracted and synthesized from C5 fraction using GPI methods are thermoplastics developed using Zeon's own unique technologies and include the commercial products ZEONEX® and ZEONOR®.

ZEONEX® leverages its superior optical properties for use in compact lenses for cameras used in cellular telephones, and as optical parts used in printers, optical pickups, and mirrors. ZEONOR® leverages its high transparency, transfer capabilities, and heat resistance to be made into transparent general use engineering plastics for use in lighted panels, automobile parts, containers, discs and a wide range of applications.

ZeonorFilm® optical film is made from cyclo-olefin polymer resin using the world's first melt extrusion manufacturing process for applications in LCD televisions, and is used in smartphones, tablet PCs, and is expected to be used in digital signage and a wide range of other products in the future.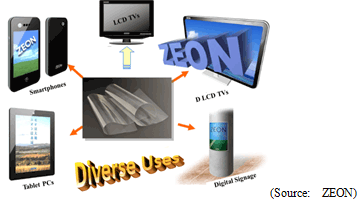 In addition, Zeon develops and manufactures "diagonally-stretched optical film." Conventional three dimensional television screens allow viewers to see images in three dimensions when both eyes are horizontally aligned, but when their eyes are not aligned the screen appears dark and the images are unclear. In contrast, the new film allows viewers a much wider range of viewing positions with clarity of the three-dimensional images being maintained even when the viewers' eyes are not horizontally aligned.

The use of organic EL in reflective light protective film is progressing, and demand for small- to medium-sized flat panel display applications is expected to grow in the future. In addition to the current plants in Takaoka and Himi (an annual output of 15 million square meter for diagonally-stretched optical film in total), the construction of a new plant in Tsuruga, Fukui Prefecture was completed in October 2013.

ZEOCOAT® applied organic insulation film is also used in cellular telephones, smartphones, and LCD televisions. ZEOCOAT® was successful in improving both the picture quality and reliability of displays because of its high transparency, extremely low water absorption and low gas generation properties. In the future, Zeon will aggressively expand its marketing efforts for organic EL displays because they can be made thinner than LCD displays, and to thin membrane transistors using new semiconductors and insulating materials for flexible displays.

 

②Energy Materials

Materials will be provided for use as positive and negative binders in lithium-ion batteries, functional layer (heat-resistant separator), binders, and sealing agents.

Currently, lithium-ion batteries are used in cellular telephones, laptop PCs, and as energy sources for other mobile equipment. In addition, the rapid diffusion of smartphones is creating demand for large-capacity applications. Furthermore, lithium-ion batteries are being used in hybrid cars, plug-in hybrid cars, electric vehicles, smart grid and other industrial applications because of their lightweight, compact size and large energy storage capacity. At the same time, deterioration in battery life when used in high-ambient-temperature conditions is a major issue.

Zeon is conducting efforts to advance the function of lithium-ion battery binders, and has been successful in developing a water related functional binder that contributes to greatly extending the life span of positive terminal use binders. Positive and negative binders, functional layer (heat-resistant separators), and sealing agents are important in ensuring the "safety," extending the "life span," and "increasing the battery capacity" so that batteries can be used more widely in hybrid cars.

Focused upon the future potential of lithium-ion batteries, Zeon has implemented various measures at an early stage including the creation of a strategy to realize the energy material business vision in 2020 that entails goals of "acquiring the top share of the lithium-ion battery binder market," contributing to the diffusion and expansion of new functions for rapid charging automobile use applications, and proposing specialty materials that can be used to realize next generation batteries.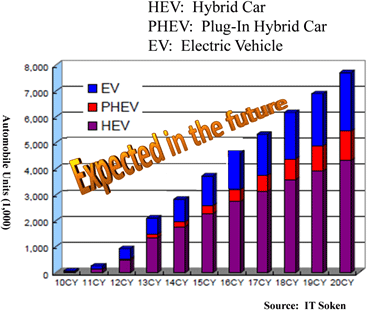 ③Medical Device

The medical device market is relatively well insulated from fluctuations in the economy, and is anticipated to grow with the aging society in Japan and expansion in developing countries. Furthermore, medical equipment and sales companies are subject to strict laws and regulations, and they need to submit approval applications to regulatory bodies. In addition, the need to develop relationships with healthcare professionals is critical and the subsequent high barriers to entry make this a highly attractive market.

Along with the start of development of artificial kidneys in 1974, Zeon aggressively promoted its medical device business. In 1989, a subsidiary called Zeon Medical Inc. was established to conduct development, manufacturing, sales and all other functions of the medical field for the Zeon Group. Zeon has shown bountiful development track record with "offset balloon catheter" as a means of differentiation in the gallstone removal process with Japan's first biliary covered stent "Zeostent Covered" in the area of digestive system products, and the world's smallest diameter "XEMEX IABP Balloon PLUS" as a device to aid the heartbeat at times of cardiac infarction in the area of circulatory products.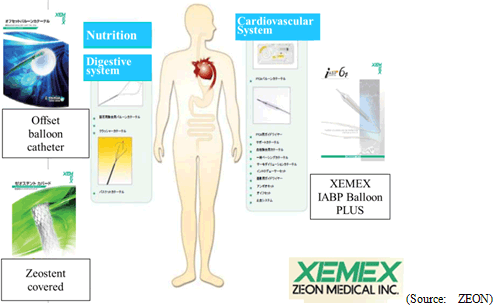 Currently Zeon is focusing efforts upon development of devices that eliminate gallstone pain by removal of gallstones. Zeon has a lineup of products that can remove gallstones ranging from extremely large stones to sludge and sand with products such as Xemex Crusher Catheter, Xemex Basket Catheter NT, Xemex Balloon Catheter B, and others and has a 50% share of the gallstone removal market.

 

④Petrochemical Products Business

Zeon deals in specialty chemicals including synthesized fragrances used in foods, fragrances and cosmetics that use ingredients derived from C5 fraction, and solvents and vegetation conditioning agents. The Company also holds the world's top share of the ecological synthesized fragrances, and provides a wide range of specialty products including ingredients for intermediary bodies used in medical and agricultural chemicals, fluorocarbon replacement solvents, cleaning agents, urethane expanding agent, and functional ether agents.

 

 New Specialty Materials Development: 

Aggressive research and development activities have allowed Zeon to launch various new materials into the market, but particularly high expectations are placed upon "single-wall carbon nanotubes (CNT)".

 

①What is Single Wall CNT?

In 1993, Sumio Iijima, Ph.D., head of the Applied Nanotube Research Center of the National Institute of Advanced Industrial Science and Technology (AIST), discovered a roll shaped molecular structure that was able to form a beehive lattice of carbon atoms for the first time in the world, which he named "Carbon Nanotubes (CNTs)." CNTs can be divided largely into single-walled and multiple-walled CNTs. Multiple-walled CNT is relatively easy to manufacture and applied development is being promoted within Japan for commercial applications.

 

 

At the same time, single wall CNT exhibits the following properties:
-  20 times stronger than steel
-  10 times more heat conductive than copper
-  Half as dense as aluminum
-  10 times the electron mobility of silicon
Consequently single-walled CNT is superior to multiple-walled CNT because it is "lightweight but highly flexible" and has "extremely high electric and heat conductivity" properties. CNT is believed to have applications as an electrical conductivity assistance agent in lithium-ion batteries, as transparent conductive film used in electronic paper and ultra-thin touch panel because of its high elasticity and strength, and as a heat dissipating material. And because of its ability to absorb a wide spectrum of light, practical applications of single-walled CNT are being promoted in the area of electromagnetic wave absorbing materials for use in a wide range of fields including energy, electronics, structural materials, and specialty materials.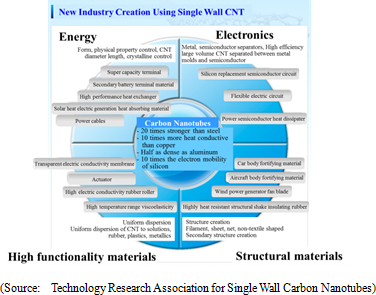 Currently, single-walled CNT has several major issues including high levels of impurities, low levels of productivity and high manufacturing costs, which are about several tens of thousands to hundreds of thousands of yen per gram.

 

②ZEON's Efforts and Position

Against this backdrop, the AIST and five companies, namely Zeon, NEC Corporation, Toray Industries, Teijin Limited, and Sumitomo Precision Products Co., Ltd., jointly established the "Technology Research Association for Single-Walled Carbon Nanotubes" technological consortium in May 2010. The consortium aims at establishing technologies that are necessary for the commercialization of new products using single-walled CNT developed in Japan with its numerous superior qualities in response to the worldwide social demands to realize a low-carbon society.

Using the synthesizing technology developed by Dr. Kenji Hata (Ph.D.) of the AIST as a base, the above-mentioned consortium has been conducting research and development for mass production and application development for compound materials at a validation plant that was established in December 2010 on the premises of the Tsukuba Center of the AIST. Among the main reasons that the AIST Nanotube Applied Research Center selected Zeon to become its partner were the impressive track record and results obtained by Zeon's Managing Director Kohei Arakawa, as a researcher in CNT research and development. Furthermore, the fact that the consortium director is Zeon President Furukawa reflects the importance of Zeon in this project to realize commercial applications of single-walled CNT.

 

③Future Endeavors

The technology necessary for mass production called super growth process is close to being established. Currently, the Tsukuba validation plant is able to produce 600 grams per day, and a decision to construct new facilities within the Tokuyama Plant in May 2014 has been made. Mass production is expected to start from the second half of 2015.

Zeon is the only company in the world that has established mass production technologies for single-wall CNT, and requests for product samples have been received from about 100 Japanese and foreign companies in addition to those within the consortium mentioned above. Consequently, shipments of samples have already begun. Moreover, Zeon has already begun to propose practical applications of this product.
At the same time, single-wall CNT is a type of nanomaterial that is extremely small in size and takes the form of textile. Therefore, there are some fears that it may have some impact upon biological processes depending upon its size and shape. Currently, the AIST is conducting standardization of the evaluation process, and activities for the OECD endpoint measurement are being conducted, with global standardization and legal and regulatory aspects being considered.

 

<Other Business>

Large formation processing using the ingredient dicyclopentadiene (DCPD) is used to conduct reaction injection molding (RIM) and RIM compound fluid processes.

 

 
Characteristics and Strengths
 

1. World's Leading Creative Technology Development Capability

The GPB method used to manufacture butadiene from C4 fraction is the most important development in Japan's postwar history of chemicals, and is provided to 49 plants in 19 different countries around the world including America and Korea.
In addition, the Mizushima Plant is the world's only plant extracting high-purity isoprene and petroleum resin from C5 fraction and basic ingredients used in synthesized fragrances manufactured using the GPI method created by Zeon, and is a completely unique technology which is not provided to other companies.

These two technologies represent the creative technological capabilities that are among the strengths of Zeon. They also are highly regarded by customers around the world and have received numerous awards within Japan and in overseas markets. With regard to technologies, Zeon has received 48 awards since 1960 for its GPB and GPI methods, in addition to 26 awards since 1982 for its environment conservation and safety efforts.

 

2. High Profit Margins

While Zeon ranks below other chemical manufacturers as shown in the graph below in terms of sales, it enjoys one of the highest operating income margins within the industry.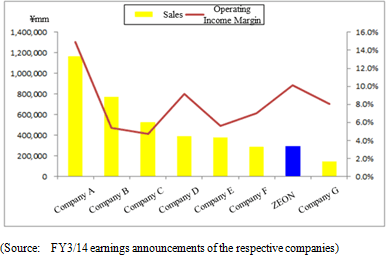 Zeon seeks to develop and provide products in niche markets that can be differentiated and avoids general-use products. Furthermore, the Company can manufacture products such as synthetic rubber that match the needs of customers at the molecular structure level because of their superior extraction and synthesizing technologies. In particular, the GPI method is Zeon's own unique technology and allows it to manufacture materials from C5 fraction that are unique and cannot be duplicated by other companies. This ability to differentiate its products allows Zeon to achieve high levels of profitability.

 

3. High Worldwide Share

Zetpol®, ZEONEX®, and ZEONOR® are representative of the products born from Zeon's highly creative technologies, which have allowed it to acquire high shares of worldwide markets. In addition to these products, Zeon also maintains the world's top share in "leaf alcohol" used in cosmetics and food flavorings, "polymerization method toner" printer toner manufactured using suspension polymerization method, and "ZEORORA®" used in semiconductor etching gas.

 

4. Research and Development Structure that Continues to Yield Creative Technologies

Zeon seeks to conduct research and development activities based upon its basic corporate philosophy of "developing creative technologies in special fields of strength that enables Zeon to contribute to society by generating the world's leading businesses."

The "Comprehensive Research Center," the Company's main research facility, is located in Kawasaki City, Kanagawa Prefecture. But because of the potential for more efficient research and development activities to be conducted closer to the manufacturing sites, Zeon has also established the Precision Optical Research Center and Medical Research Center at the Takaoka Plant, and the Chemical Product Research Facility at the Yonezawa Plant. In addition, research groups have been established in overseas markets including the United States and United Kingdom.

Researchers must never be satisfied with current conditions, and should always be reminded of the threat that their competitors pose in their research activities. Furthermore, Zeon bases its valuation on a positive point awarding system that places high priority upon speed and creativity. R&D expenses were formerly measured as a percentage of sales, but for the future it has established an annual value amount of ¥12.0 billion as an investment budget to ensure that stable research and development activities can be maintained in the future.

 

 
First Half Fiscal Year March 2015 Earnings Results

 

Optical Film Demand Strong, Weak Overseas Market Conditions Contribute to Higher Sales, Lower Profits

Sales rose by ¥5.0 billion from the previous first half to ¥153.4 billion in the current first half. Increases in sales volumes of optical film and a weakening in the yen of approximately 5% contributed to ¥6.6 and ¥2.2 billion increases in sales. However, weakness in overseas market conditions for elastomer materials and downward pricing pressures upon optical films for television applications contributed to a ¥3.8 billion decline in sales.
Operating income declined by ¥2.2 billion from the previous first half to ¥14.5 billion during the current first half. Increases in sales volumes and foreign exchange contributed to ¥0.3 and ¥2.2 billion increases in operating income, while pricing factors contributed to a ¥3.8 billion decline in operating income. A ¥0.7 billion year-on-year contraction in foreign exchange translation gains contributed to a ¥2.6 billion year-on-year decline in ordinary income to ¥15.6 billion and a decline in net income.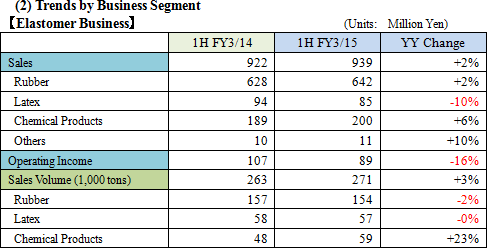 Sales Grow, Profits Fall, Operating Income Margin Fall by 2.1% Points from 11.6% to 9.5%
Synthetic rubber sales volumes declined, with domestic sales and exports of general-use rubber falling by 2% and 8% respectively. In addition to weak sales of tires within Japan, weakness in overseas markets contributed to these declines. At the same time, specialty rubber rose by 4% year-on-year, with both domestic sales, exports and sales of overseas subsidiaries trending favorably. Specialty rubber enjoyed increases in their share of sales to 34% and 57% in volume and value terms respectively, compared with 32% and 54% respectively in the previous term. Increases in sales of low priced latex products and sideways trend in sales volumes contributed to the decline in sales. Favorable trends in petroleum resin products combined with contributions from increases in capacity at the Thailand plant to boost both sales volumes and values of chemical products. Deterioration in overseas market conditions, high materials prices, and a ¥0.7 billion increase in depreciation from the Singapore plant contributed to a 16% year-on-year decrease in operating income.

 

 

Sales grew, while profits declined. Operating income margin declined by 3.7% points from 16.4% in the previous first half to 12.7% in the current first half. Sales of aroma chemical products and lithium-ion rechargeable battery materials rose by 10% and 19% year-on-year respectively, while sales of electronic materials and toner fell by 4% and 14% year-on-year respectively within the specialty chemicals division. Optical film and COP resin rose by 14% and 11% within the specialty resin division. While sales volumes increased, declines in pricing contributed to a 16% year-on-year decline in operating income.

 

 

Both sales and profits rose, with operating income margin rising 1.3% points from 2.8% in the previous first half to 4.1% in the current first half. The trading company subsidiary saw increases in transactions of Tokyo Zairyo Co., Ltd. products.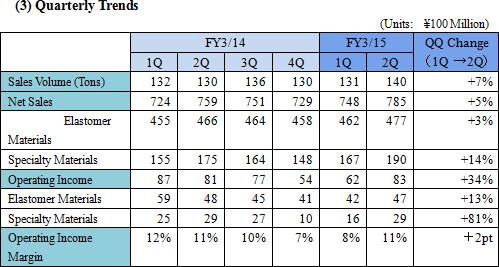 Sales grew while profits fell on a year-on-year basis. However, on a quarterly basis, both sales and profits grew. With regards to sales, growth in sales volumes contributed positively by ¥4.0 billion and pricing and foreign exchange contributed negatively by ¥0.2 and ¥0.1 billion to sales respectively. With regards to operating income, higher sales volumes and restraint in cost of sales contributed positively by ¥1.5 and ¥0.6 billion respectively, while pricing and foreign exchange contributed negatively by ¥0.2 and ¥0.1 billion respectively, allowing a recovery to the levels recorded during the first and second quarter of the previous term.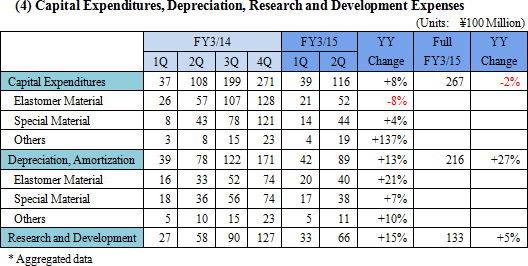 Capital expenditure during the first half centered upon optical films for televisions, the second line at the Singapore plant, and carbon nanotube facilities at the Tokuyama plant attained 43% of the full year projections. Full year depreciation achievement rates for depreciation and research and development during the first half reached 41% and 49% respectively.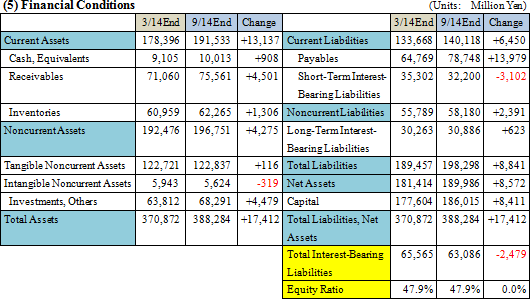 Higher sales contributed to increases in cash and equivalents, accounts receivables, and inventories and caused current assets to rise by ¥13.1 billion from the end of the previous fiscal year. Capital investments and depreciation grew by ¥11.6 and ¥8.9 billion respectively, causing tangible noncurrent assets to rise by ¥0.1 billion over the same period. Investments rose by ¥4.4 billion and total assets grew by ¥17.4 billion from the end of the previous fiscal year. Increases in accounts payables contributed to a ¥8.8 billion rise in total liabilities. Net assets rose by ¥8.5 billion on the back of an increase in retained earnings. Consequently, equity ratio remained in line with the previous fiscal year end at 47.9%. Total interest-bearing liabilities fell by ¥2.4 billion.

 

 
Fiscal Year March 2015 Earnings Estimates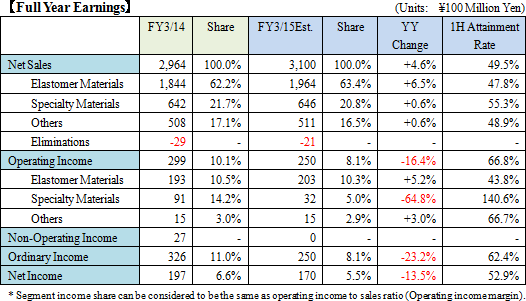 No Changes in Estimates, Sales Expected to Rise, Profits to Decline

Overseas market conditions for elastomer materials suffered a worse than expected deterioration. In the specialty material business segment, the adjustments in applications for small to medium sized optical films that started during the fourth quarter of the previous term had been expected to continue for a prolonged period but is now undergoing a stronger than expected recovery at the current point in time.
While attainment rates of full year profits achieved thus far have been favorable, the future outlook for the elastomer business remains uncertain, and there is potential for weakness in demand for small to medium sized applications of optical film during the fourth quarter (January to March). In addition, the impact from foreign exchange is difficult to predict given the rapid weakening in the yen. Based upon these factors, Zeon has decided to maintain its outstanding earnings estimates but may consider revisions in the near future. A one yen increase in the dividend payment to ¥14 per share is planned, and would mark the fifth consecutive term of increases in dividends and yield a dividend payout ratio of 18.7%.

 

 
Progress in Achievement of the "New Midterm Management Plan SZ-20 Phase II"
 

President Kimiaki Tanaka describes the progress in achieving the "New Midterm Management Plan SZ-20 Phase II" below.

 

"New Midterm Management Plan SZ-20 Phase II" (Covering fiscal years March 2015 to 2017)
◎Concept
The global market environment is confronted by various issues including "globalization and growth of emerging markets," "information technology trends and the spread of the information society," "sustainability of the environment and energy resources," in addition to other problems such as the declining population, persistent low economic growth, continued high electric utility prices, and declines in Japan's competitive standing in the world. Against this backdrop and in reflection of Zeon's inability to achieve all of the targets of its previous Management Plan, the Company has created the "New Midterm Management Plan SZ-20 Phase II." Zeon will implement this Plan to increase its corporate value while at the same time basing its activities upon its corporate philosophy and basic CSR policy, and while placing an emphasis upon speed, dialogue, and social contribution as important values to uphold.
◎SZ-20 Phase II Positioning
In order to realize the vision of the corporate vision and goals that Zeon seeks to achieve by 2020 of "¥500.0 billion in consolidated sales," the New Plan will focus attention upon expanding sales of the specialty materials division by operating plants overseas and stabilizing manufacturing processes in its second stage.
And while the corporate vision that Zeon seeks to achieve by 2020 entitled "Zeon Realizing the Future Today through the Power of Chemistry" remains unchanged, the New Plan focuses upon the concept of "change" as a means of achieving this vision. Fundamental reviews of conventional thinking and methodologies will be conducted to promote fundamental "changes" in the company during the coming year.
◎SZ-20 Phase II Basic Strategy

◎Elastomer Business
◆Progress in S-SBR at Singapore Plant
Based upon the outlook for a rapid expansion in demand for S-SBR used in energy conserving automobile tires, operations at the expanded manufacturing facilities of the Singapore plant were started in September 2013. The Singapore Plant is responsible for mass production of four main products, and products manufactured at the Tokuyama Plant have been transferred to the Singapore Plant. Full-scale shipments to main customers have also begun.
The Tokuyama plant conducts mass production of specialty grade products and is used as a pilot plant for test manufacture and mass production of new products.
In response to growing demand, a decision to add a second line has been made, with the construction expected to be completed in January 2016 with production expected to begin from April of the same year.
◆Progress in Upgrading Temperature Resistance of Zetpol® '
In response to the demands for increased functionality of materials used in automobiles, commercial production has started at a new line added at the Kawasaki plant with the goal of expanding the range of biodiesel resistant Zetpol
®
.
Use in seals and gaskets for lubricating oil applications started.
◆Progress in Nipol® AR (Acrylic Rubber)
The Zeon Group's share of the global acrylic rubber market has risen to 30% through the integration of Tohpe Corporation's business.
A global manufacturing and research structure has been established through the addition of the Kawasaki plant, comprehensive development center, Kurashiki plant, Kentucky plant and Kentucky research center. Currently, market validation of new products (Ultra-temperature resistant, secondary vulcanization process elimination, and vulcanization speed adjustment grades) has been promoted.
Expansion in fuel conserving turbocharger systems used by automobiles is contributing to an increase in heat resistant acrylic rubber hose demand. In response to this growing market, Zeon seeks to differentiate its product by developing and introducing new products.
◆Business Structure Reform Conditions
Production of ethylene within Japan is contracting, and butadiene sourcing is becoming increasingly difficult.
At the same time, ongoing efforts to optimize product lineup, review manufacturing structure, and develop responses to conditions within the raw materials sourcing environment will be implemented to leverage the manufacturing capability for synthetic rubber.
◆Glove Use NBR Latex
Increases in the demands for safety and sanity in the medical realm are contributing to increased demand for gloves. In addition, demand for thinner and more tear resistant gloves is growing due to the need for easier to use and safer gloves.
In response to these needs, Zeon announced on June 30, 2014 that it has developed the second generation of thin membrane, high durability glove use NBR latex called Nipol
®
LX560 on the back of its first generation Nipol
®
LX550L. This new product enables gloves with a membrane thickness of 0.055 mm to pass European and North American tearing tensile strength standards (Over 6N).
Development of a third generation of product has already been started.
◆Polyisoprene Rubber Emulsion (E-IR)
Because "polyisoprene rubber emulsion (E-IR)" synthetic rubber used in surgical gloves can prevent protein allergies caused by natural rubber materials, sales have grown by over 10%and are expected to continue to grow at similar rates.
Expansion of existing facilities was completed in October 2013, and sales are expected to expand to 500 tons per year in 2014.
Further expansion of manufacturing facilities and the addition of new plants will be considered in response to continued growth in demand going out to the year 2020.
◆Overseas Deployment of the C5 Chemical Business
Zeon's Mizushima Plant is the only facility in the world with extracting capabilities for high purity isoprene and petroleum resins derived from C5 fraction and synthetic fragrance raw materials manufactured using GPI methods developed by Zeon, which are proprietary and not shared with any other companies.
Zeon will use its isoprene extraction technology to deploy its business overseas. Demand in Asia is expected to grow by between 5% to 6% in applications for adhesive tapes, elastic film, traffic paint and others.
Using elastic film that maintains the characteristics of thin and low odor, and that eliminate front-end processes, Zeon is expected to cultivate new usages in paper diaper applications, which are expected to grow by about 6% year-on-year.
◎Specialty Material Business
◆Basic Strategy
Based upon comprehensive uses of C5 fraction as differentiating materials, development of products in the three key realms of "information technology use materials," "energy use materials," and "medical devices" will be promoted that have the ability to realize highly advanced information technology applications, conserve energy, save energy, create energy and improve quality of life.
◆Information Technology Materials: ZeonorFilm®
With regards to the flat panel display market (FPD), the markets for large FPD applications and unfinished products, called open cell, are growing. Therefore, ZeonorFilm
®
, with its low hygroscopic nature, temperature resistance, and dimensional stability, can be leveraged in these growing applications.
Increases in production capacity of retardation film for liquid crystal televisions has been moved forward and mass production is expected to begin from February 2015 (Previously expected to be started in April).
In addition, development of various viewing panel applications with the characteristics of viewing angle compensation, anti-reflection, sunglass readability and other features are being conducted in the realm of small to medium sized optical film applications.
◆Information Technology Materials: Implementations, Electronic Uses
Development of new etching gas for nitride film is being conducted.
This technology will enable the support of implementations in precise semiconductor manufacturing and is the result of successful research and development conducted jointly with IBM.
◆Energy Use Materials
In the lithium ion battery market, applications are expanding from uses in personal computers to automobiles, and the markets are growing. Zeon's battery use materials sales are benefitting from an expansion in product applications and the market is expanding at a more rapid pace than had been previously expected.
Zeon will leverage its leading technologies in the binder business to realize large capacity applications.
◆Medical Devices
Growth had been gradual until the previous term, but "SZ-20 Phase II" expects higher growth to be achieved.
"Offset balloon catheters" were introduced to the market in July 2014.
◆Carbon Nanotubes
"Super growth carbon nanotubes" manufactured through the super growth process allows for the manufacture of products with maximum length, high purity and carbon fiber properties that are different than competing products.
Zeon maintains a large advantage with regards to the previously mentioned carbon nanotube (CNT) business. And in order to respond to market needs, Zeon has announced its decision on May 15, 2014 to facilitate manufacturing plants for high quality single walled carbon nanotubes at its Tokuyama plant using the super growth method derived from technologies validated for mass production by the AIST. Mass production is expected to begin from the second half of 2015.
And while the 2020 sales target of ¥500.0 billion does not include sales from the CNT business, Zeon seeks to achieve this target through fusion of the rubber materials of the specialty material businesses and other existing businesses, and through the fortification and creation of new businesses.

 

◎Improving Cost Competitiveness

Zeon maintains a goal of raising its cost competitiveness by a large margin. Consequently, ongoing efforts including top-down approach using "Daicel type manufacturing reforms" and a bottom-up "ZΣ activities" approach for cost reductions will be implemented. "ZΣ activities" are expected to contribute to cost reductions of between ¥5.0 to ¥6.0 billion per year.

 

◎Cultivating a Corporate Culture

Zeon realizes that it needs to cultivate a new corporate culture based upon "visualization" in order to achieve its "vision for 2020."
Consequently, it maintains the following three concepts.

 

◎Earnings Targets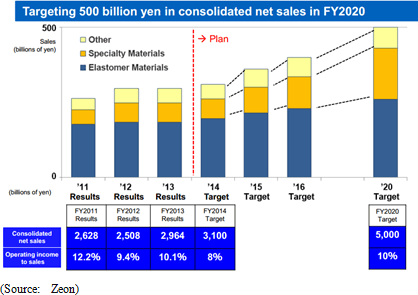 As identified in the "SZ-20" Plan, Zeon maintains goals of "consolidated sales of ¥500.0 billion and operating income margin of 10%" in its "SZ-20 Phase II" Plan.

In addition to the promotion of these business strategies and internal activities, Zeon and its employees will pursue the concepts of "speed," "dialogue," and "societal contribution" in the process of achieving its goals.

 

 
 

The reasons for the maintenance of existing earnings estimates include the influence of foreign exchange upon profits (Operating income can be expected to be boosted by ¥3.0 or ¥4.0 billion should the exchange rate trend at ¥110 or ¥115 per US Dollar respectively during the second half) and numerous other uncertainties that currently exist. However, Zeon believes that the potential for upward revisions to full year earnings is strong given the attainment rates of the first half earnings already achieved. Consequently, close attention should be paid to the third quarter earnings announcement expected to be made in the latter half of January 2015. At the same time, the addition of a second manufacturing line at the Singapore plant can be expected to contribute to future growth in Zeon's earnings. Another factor to keep close watch upon is progress in the start of mass production of carbon nanotubes.

 

Disclaimer

This report is intended solely for information purposes, and is not intended as a solicitation to invest in the shares of this company. The information and opinions contained within this report are based on data made publicly available by the Company, and comes from sources that we judge to be reliable. However we cannot guarantee the accuracy or completeness of the data. This report is not a guarantee of the accuracy, completeness or validity of said information and/or opinions, nor do we bear any responsibility for the same. All rights pertaining to this report belong to Investment Bridge Co., Ltd., which may change the contents thereof at any time without prior notice. All investment decisions are the responsibility of the individual and should be made only after proper consideration.

Copyright(C) 2015, All Rights Reserved by Investment Bridge Co., Ltd.