Takemoto Yohki Co., Ltd. (4248)
Emiko Takemoto, President
| | |
| --- | --- |
| Company | Takemoto Yohki Co., Ltd. |
| Stock Code | 4248 |
| Exchange | Second Section, TSE |
| Industry | Chemical (Manufacturing) |
| President | Emiko Takemoto |
| HQ Address | 2-21-5 Matsugaya, Taito-ku, Tokyo |
| Year-end | End December |
| URL | |
Share Price
Shares Outstanding
Market Cap.
ROE (actual)
Trading Unit
¥1,770
5,682,160 shares
¥10.057 billion
15.5%
100 shares
DPS (Est.)
Dividend Yield (Est.)
EPS (Est.)
PER (Est.)
BPS (actual)
PBR (actual)
¥28.00
1.6%
¥137.49
12.9x
¥981.22
1.8x
* Stock price as of closing on September 6, 2016. Number of shares at the end of the most recent quarter excluding treasury shares.
ROE and BPS are from the end of the recent fiscal year.
| | | | | | | |
| --- | --- | --- | --- | --- | --- | --- |
| Fiscal Year | Sales | Operating Profit | Current Profit | Net Profit | EPS(¥) | Dividend(¥) |
| FY12/12 | 9,654 | 632 | 658 | 434 | 84.79 | 4.00 |
| FY12/13 | 10,017 | 757 | 813 | 592 | 115.56 | 5.00 |
| FY12/14 | 11,062 | 877 | 879 | 581 | 112.97 | 19.00 |
| FY12/15 | 12,221 | 1,250 | 1,275 | 827 | 145.65 | 28.00 |
| FY12/16 Est. | 12,380 | 1,202 | 1,186 | 781 | 137.49 | 28.00 |
* Estimates are those of the Company. A 10 for 1 stock split was performed on September 12, 2014 and EPS and dividends have been retroactively adjusted to reflect this split.
We present this Bridge Report reviewing the first half of the fiscal year December 2016 business performance of Takemoto Yohki Co., Ltd.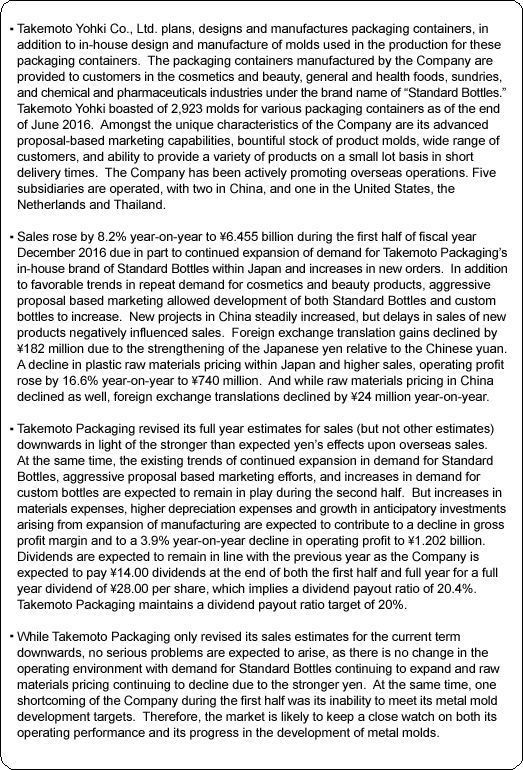 Takemoto Yohki Co., Ltd. plans and designs "Standard Bottles." A "Standard Bottle" is a term to refer to a packaging container when it is planned and designed in-house and, at the same time, when a mold necessary for manufacturing this packaging container is also owned in-house. Takemoto Yohki's primary customers for standard bottles are companies in the fields of cosmetics and beauty, general and health foods, sundries, and chemical and pharmaceuticals. Takemoto boasted of 2,923 molds for various packaging containers as of the end of June 2016. Amongst the unique characteristics of the Company are its high proposal-based marketing capabilities, bountiful stock, wide range of customers, and ability to provide a wide variety of products on a small lot basis in short delivery times. The Company is actively operating business overseas as well. Two subsidiaries are operated in China and one in the United States, Netherland and Thailand.

 

<Corporate History>

Shigeru Takemoto (Grandfather of the current President Emiko Takemoto) started his business under the name of Takemoto Shoten in 1950, amidst the shortages of goods in the post World War II era, for the recycling of glass products. In 1953, Mr. Takemoto converted his business into a limited company and renamed it Takemoto Yohki Co., Ltd. and began manufacturing glass containers. In 1963, Takemoto started dealing in its signature brand "Standard Bottles."

A regional sales office was opened in Osaka in 1980. Masahide Takemoto (Currently advisor to the Company and the father of Emiko Takemoto) took the helm of the Company and explored new markets in the Kansai region, where its main sales had been limited to "custom made" products, with bottle dealers and accessory dealers being separated. In its efforts, the Company leveraged both the "Standard Bottles" and "one stop product provision." The wide range of products allowed the Company to capture demand from customers and expand its sales channels. After the expansion into the Osaka region, a groundbreaking feat back then, the Company further expanded into Fukuoka, Sapporo, and Nagoya regions, and succeeded in building its nationwide sales and service coverage network.


| | |
| --- | --- |
| 1984: | As a means of strengthening its competitive capabilities, Takemoto added the manufacturing function in addition to its trading firm capability, and started plastic container processing and printing along with the opening of the Yoshikawa Plant (Yoshikawa City, Saitama Prefecture). |
| 1996: | Takemoto led the industry by creating a manufacturing and sales subsidiary in China as the starting point of its global strategy. |
| 2004: | Emiko Takemoto was appointed as representative director and president of the Company. The Company is continuing its efforts in increasing its share of the Japanese market and cultivating overseas markets. |
| 12/2014: | Takemoto Yohki Co., Ltd. listed its shares on the Second Section of the Tokyo Stock Exchange. |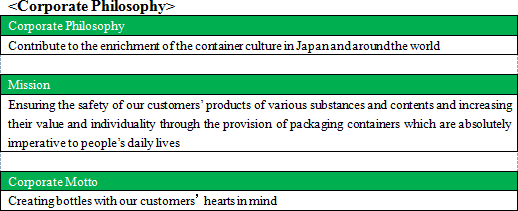 The dream of the company founder of conducting business in China, the birthplace of container culture, through collaborative partnerships with local companies came to fruition with the launch of business there in 1996. The current president Emiko Takemoto also places a high emphasis upon instilling and diffusing both the corporate philosophy and mission in employees through training and various other occasions.

 

<Market Environment>

As demonstrated in the graph shown below, the market value of the shipments of packaging containers has trended sideways in recent years, and the outlook for declines in the Japanese population is expected to limit any increases in demand within Japan in the future.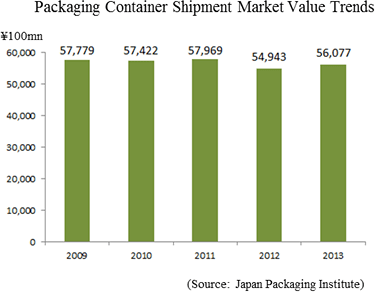 Having said that, demand for the Company's "Standard Bottles" is expected to keep growing due to the following circumstances:

 
Maturing of the consumer market, diversification of consumer tastes and expansion in sales over the Internet have contributed to a shortening of the product lifecycle, signaling the end of the era of "mass production, mass sales" and the start of the era of "high-mix low-volume production."
Furthermore, Takemoto's customers, namely cosmetics and toiletries manufacturers, are undergoing trends that call for "shorter product development periods" and "cost reductions."
Consequently, customers confronted by these trends are expected to rely less on in-house packaging container development and more on Standard Bottle products, which can be procured both on time and in the required volumes.

 

At the same time, companies' shares of the ¥155.8 billion cosmetics and toiletry container market in 2008 were as follows: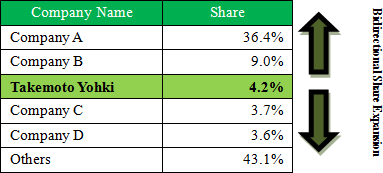 The custom bottle segment of the market, where customers own the rights to and bear the cost of metal molds, is estimated to account for 70% to 80% of the total market, with generic bottle accounting for the remaining 20% to 30% of total market. Furthermore, Takemoto Packaging estimates that its Standard Bottle brand of generic bottles account for about 20% of the total generic bottle segment of the market.

Despite the saturation of the packaging and container market, Takemoto's small share suggests that its potential expansion in the market share is quite large.

 

<Business Description>

Takemoto Yohki Co., Ltd. manufactures and sells containers and accessories such as caps and dispensers, for use by customers in the cosmetics and beauty, general and health foods, sundries, and chemical and pharmaceuticals industries. The Company does not manufacture mere containers to hold substances; it primarily creates high value-added products while paying close attention to design, function, barriers, safety and environmental issues.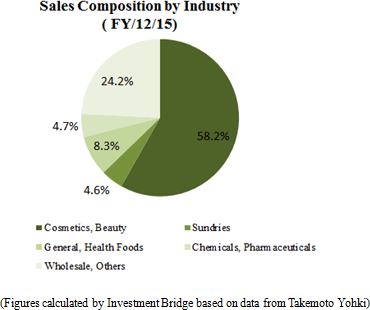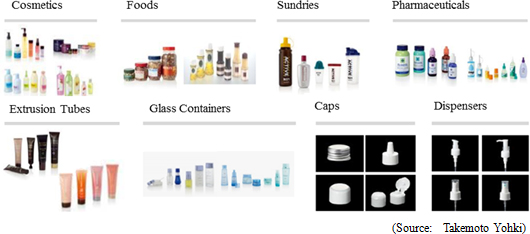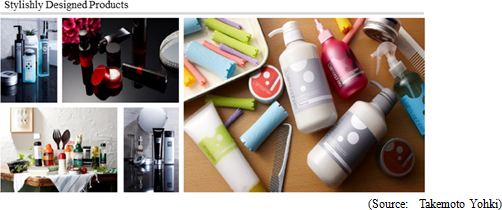 Business Model

When a cosmetics and toiletry product manufacturer customer commissions a container manufacturer to produce a unique and differentiated type of containers, in most cases the container manufacturer is responsible for design and manufacture of custom-made products while the customer shoulders the cost of creating molds. The time and cost of creating molds, however, is usually a heavy burden when sourcing containers because they take as long as three months and as much as several million yen.

In contrast to the above, Takemoto Yohki creates molds in-house on behalf of the customer. Having allowed the customer to choose molds of its preference from a wide range of products, Takemoto manufactures and delivers the products. Therefore, the delivery time and development costs of packaging containers are reduced and customers can purchase only the required amount of containers as needed at the time. In this manner, Takemoto Yohki is able to plan and create its own brand of containers, which it calls "Standard Bottles," through this strategy of creating and owning the molds in-house.

Takemoto owned 2,923 molds as of the end of June 2016 and boasts of the industry's largest collection of molds. At the same time, Takemoto can offer customized products that match customers' needs by using different caps and other accessory parts, and by changing the color and printing used on the Standard Bottle products. Furthermore, the Company maintains inventories of certain products, helping it to realize short delivery times of a wide variety of products in small lots.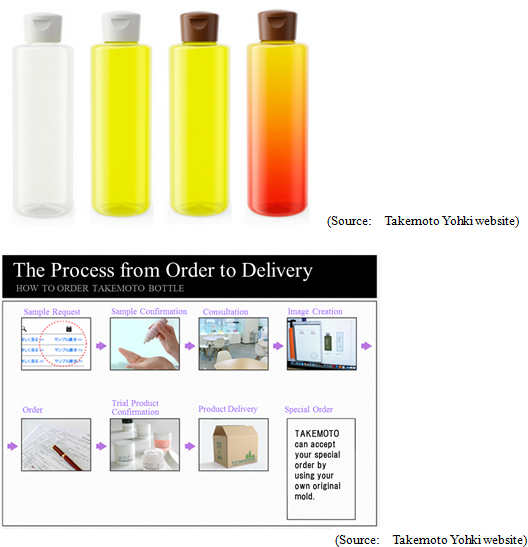 The Company sells its products in Japan, China, the United States, and other regions throughout the world, and the entire Takemoto Yohki group conducted business with 4,648 customers in fiscal year December 2015.

Standard Bottle sales comprise approximately 70% of total sales. In addition, the Company deals in products made from molds manufactured by customers and, as part of its trading firm function, purchases products made by other companies.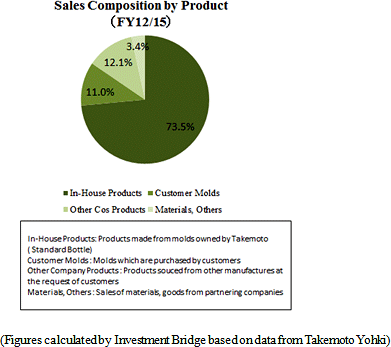 Takemoto Yohki has achieved high ROE.
ROE is considered by the Company to be an "important management benchmark" and it will endeavor to achieve a stable level of 15% or above over the medium term.

 

<Characteristics and Strengths>
① Broad Customer Base

Takemoto Yohki boasts of an extremely wide range of clients with some 4,648 customers within and outside Japan. The stable cash flow derived from this strong customer base enables Takemoto to make sustained investments in product molds. Furthermore, the Company's high quality proposal-based marketing capability contributes to high levels of customer satisfaction and repeat business.

 

② Bountiful Stock of Molds

As explained earlier, the bountiful stock of 2,923 product molds allows Takemoto Yohki to respond flexibly to customers' needs. In addition, the Company is fortifying its product lineup and promoting development of high-value- added container products with design and functionality taken into consideration. At the same time, efforts are being made to reduce investment burden and risks by standardizing, communizing, and miniaturization.

 

③ Flexible Product Supply Structure

Takemoto has built a structure that can supply a wide range of products in small volumes and in short delivery times through its manufacturing network of 6 plants within Japan and 2 in overseas markets. Moreover, new manufacturing technologies are being introduced aggressively with product cost, strength and quality in mind, and in order to respond to customers' needs for customized products.

 

④ "High Levels of Development and Proposal-Based Marketing"

The high levels of development and proposal-based marketing capabilities are the source of the sustained increase in corporate value and contribute to the establishment of a wide customer base. About thirty planning, development and technology staff endeavor to realize various ideas for products, taking material, shape, functionality, and safety into consideration. About 1,000 types of Standard Bottle brand products are on display at the Kappabashi Showroom and reflect the high levels of development and proposal-based marketing capabilities of the Company.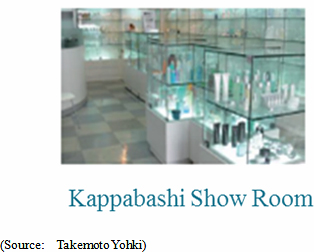 By using its Standard Bottle development foundation and its bountiful stock of molds, the Company has been offering development proposals to customers and providing them with high-quality original molds with low prices and short delivery times. The Company calls such an endeavor "custom bottle innovation" and has been promoting it more aggressively.

 

 
First Half of Fiscal Year December 2016 Earnings Results Overview

 

Expansion in Standard Bottles Demand, Growth in Custom Bottles Contributes to Higher Sales, Profits

Sales rose by 8.2% year-on-year to ¥6.455 billion.
Within Japan, demand for Standard Bottles continues to expand with increases in new projects contributing to growth in sales. Favorable demand from repeat customers of cosmetic product applications and aggressive development proposal based marketing allowed development of both Standard Bottles and Custom Bottles to grow. At the same time, the recent increases in extrusion tube manufacturing capacity made in May 2015 are expected to contribute positively to earnings on a full year basis.
While new projects trended favorably in China, new product sales were delayed. Foreign exchange translation gains declined by ¥182 million due to the strengthening of the yen relative to the Chinese yuan.

Operating profit rose by 16.6% year-on-year to ¥740 million.
This growth in operating profit is attributed to both higher sales within Japan and declines in raw materials costs of plastics.
And while raw materials costs also declined in China, foreign exchange translation declined by ¥24 million.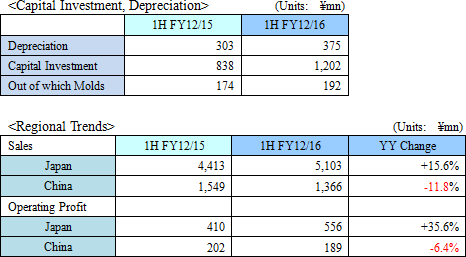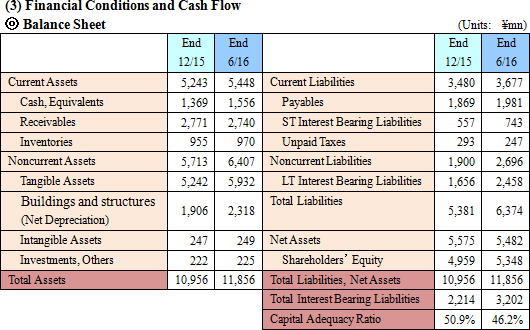 Increases in cash and equivalents allowed current assets to rise by ¥205 million from the end of the previous fiscal year to the end of the first half. Noncurrent assets also rose by ¥694 million over the same period due to growth in tangible assets arising from increases in buildings and structures. Consequently, total assets rose by ¥899 million to ¥11.856 billion.
Growth in both short and long term debt contributed to a rise in total liabilities of ¥992 million to ¥5.482 billion.
Retained earnings grew, but strengthening of the yen contributed to a ¥93 million decline in foreign exchange translation provisions to ¥5.482 billion. Consequently, capital adequacy ratio declined by 4.7% points from the end of the previous fiscal year to 46.2% at the end of the current first half.

 

 

An increase in profits before income tax and other adjustments allowed an expansion in the margin of net inflow of operating cash flow to be recorded.
Increases in tangible assets contributed to expansions in the net outflows of both investing and free cash flows.
An increase in short and long term debts allowed the net outflow of financing cash flow seen in the previous first half to turn to a net inflow during the current first half.
Consequent to these developments, cash position rose by ¥298 million to ¥1.556 billion.

 

(4) Topics
◎ Metal Molds Development Conditions

Takemoto Packaging maintained a library of 2,923 in-house owned metal molds at the end of June 2016.
Some of the metal mold manufacturing processes which had been conducted by the Chinese subsidiary were taken back in-house, and metal mold design standardization and development structure expansion and fortification efforts are being implemented as part of Takemoto Packaging's medium term target of increasing its metal mold development capacity from 230 to 540 from fiscal year December 2015 to 2018.

However, Takemoto Packaging completed only 83 metal molds during the first half of the current fiscal year, about half of its target.
While marketing and manufacturing trended favorably, a number of difficult metal mold development projects were concentrated during the first half, and development management was insufficient.
The Company is expected to implement efforts to achieve its full year target of 325 molds during the full year.

 

 

◎ Takemoto Packaging (Thailand) Co., Ltd. Established as a Subsidiary

As part of the efforts to strengthen marketing activities in Southeast Asia, a sales subsidiary was established in place of the local representative office in Thailand.
Actual marketing activities began from July.

 

◎ Okayama Office Construction Status

Construction of a new plant for production and to raise manufacturing quality of food container products, which are sold in relatively large volumes, in Nagi-cho, Katsuta-gun, Okayama Prefecture is proceeding smoothly.
Currently, the main building structure for the plant has been completed and work on constructing internal sections of the plant is being conducted with full-scale production expected to begin before the end of the year.

 

 
Fiscal Year December 2016 Earnings Estimates

 

Sales Revised Down But Still Expected to Rise, Anticipatory Investments Expected to Cause Profits to Fall

Sales estimates have been revised downwards in light of the potential for lower sales due to foreign exchange translation arising from the strengthening of the yen. However, the assumptions of aggressive development in response to continued expansion of demand for Standard Bottles and increases in custom bottles remain unchanged. Increases in material expenses are expected to contribute to a decline in gross profit margin.
Operating profit is expected to decline by 3.9% year-on-year to ¥1.202 billion due to increases in depreciation and in anticipatory investments to expand production capacity. Takemoto Packaging is expected to pay dividends of ¥14.00 per share at both the end of the first half and full year for a full year dividend of ¥28.00 per share. At this level of dividend payment, dividend payout ratio would be 20.4% and it will exceed the Company's target of 20%.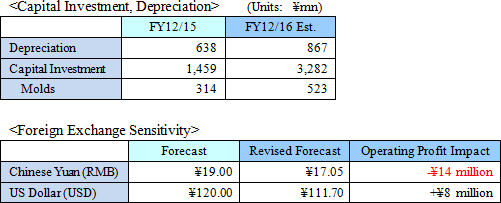 Takemoto Packaging revised its foreign exchange rate forecast assumptions.
Under the current situation, the impact of this revision upon sales is expected to be limited given the marginal amount of sales between Japan and overseas markets.
However, the influence of changes in the Japanese yen relative to the Chinese yuan is fairly large. With regards to the US dollar, while the scale of business of the United States subsidiary is still small, the exchange rate has relatively large impact on the amount paid for raw materials procured within Japan.

 

 
Medium Term Business Plan Achievements
 

Takemoto Packaging maintains the theme of "aggressively taking on new challenges as a development and proposal type bottle packaging manufacturer that is the most sought after company in the world by customers" within its three year Medium Term Business Plan covering the years from 2016 to 2018.

 


 

<Main Points>
Continue to aggressive develop Standard Bottle products, with the number of new metal molds produced expected to rise from 175 in 2015 to 370 in 2018.
With regards to customized bottle manufacture, "new forms," "new designs," "high quality," "mass produced," and "short delivery times" are key themes considered in the construction of Takemoto Packaging's plants.
The Company will also promote "custom bottle innovation." The number of custom bottle molds is expected to be raised from 69 in 2015 to 170 in 2018.
Takemoto Packaging will increase its presence in China based upon the outlook for steady growth in the cosmetic market in China and increase the number of Standard Bottles to the same levels as that in Japan (As of June 2016, the number of molds in China and Japan stood at 829 and 2,094 respectively). Therefore, efforts to increase the speed of development will be implemented.
Takemoto Packaging will also promote a global strategy that includes functions not only in Japan and China, but also in Thailand, Europe, America, India and other countries. Sales in these regions are expected to be increased to about ¥500 million by 2018.
Investments within Japan for plants will be made during 2016, with investments in overseas plants expected to be conducted in 2018.
As an integral part of the current Plan, Takemoto Packaging has designated the coming three years as a period to establish the foundations to ensure continued growth in 2018 and beyond.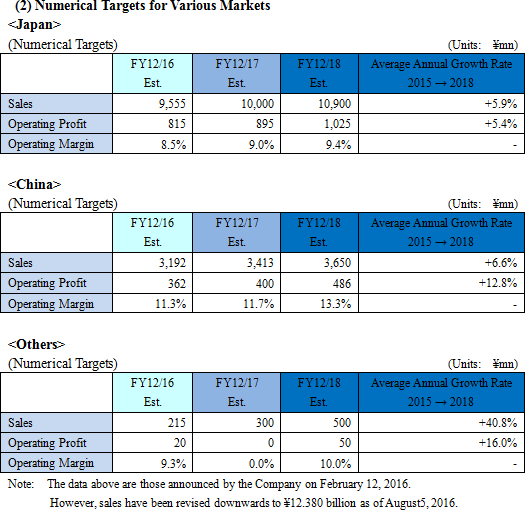 <Main Points>
In Japan: Promote fortification of mass production facilities
In China: Expand sales to maximum potential of current production capacity to raise both capacity utilization rates and profitability.
In the Other Regions: Conduct anticipatory investment, but construction of plants will only be started after a minimum level of sales has been achieved.
 

Takemoto Packaging revised only its sales forecasts downwards for the current term due to the strengthening of the yen relative to the Chinese yuan, and there appear to be no significant issues for the Company given that the environment of continuing growth in Standard Bottle demand is still in play and reductions in raw materials prices due to the strengthening of the yen relative to the dollar is still apparent.
At the same time, a concern is the Company's inability to achieve the target number of metal molds during the first half. Therefore, Takemoto Packaging's ability to develop and manufacture metal molds during the third quarter and beyond needs to be watched closely.

 

 
<Reference: Regarding Corporate Governance>

 

◎ Corporate Governance Report

Takemoto Packaging released its latest Corporate Governance Report on April 5, 2016.

 

<Disclaimer>

This report is intended solely for information purposes, and is not intended as a solicitation to invest in the shares of this company. The information and opinions contained within this report are based on data made publicly available by the Company, and comes from sources that we judge to be reliable. However we cannot guarantee the accuracy or completeness of the data. This report is not a guarantee of the accuracy, completeness or validity of said information and or opinions, nor do we bear any responsibility for the same. All rights pertaining to this report belong to Investment Bridge Co., Ltd., which may change the contents thereof at any time without prior notice. All investment decisions are the responsibility of the individual and should be made only after proper consideration.

Copyright(C) 2016, Investment Bridge Co., Ltd. All Rights Reserved.