Takemoto Yohki Co., Ltd. (4248)
Emiko Takemoto, President
| | |
| --- | --- |
| Company | Takemoto Yohki Co., Ltd. |
| Stock Code | 4248 |
| Exchange | First Section, TSE |
| Industry | Chemical (Manufacturing) |
| President | Emiko Takemoto |
| HQ Address | 2-21-5 Matsugaya, Taito-ku, Tokyo |
| Year-end | End December |
| URL | |
Share Price
Shares Outstanding
Market Cap.
ROE (actual)
Trading Unit
¥1,757
6,264,160 shares
¥11.006 billion
14.5%
100 shares
DPS (Est.)
Dividend Yield (Est.)
EPS (Est.)
PER (Est.)
BPS (actual)
PBR (actual)
¥32.00
1.8%
¥145.12
12.1x
¥1,054.36
1.7x
* Stock price as of closing on September 12, 2017. Number of shares at the end of the most recent quarter excluding treasury shares.
ROE and BPS are from the end of the recent fiscal year.
| | | | | | | |
| --- | --- | --- | --- | --- | --- | --- |
| Fiscal Year | Sales | Operating Profit | Current Profit | Net Profit | EPS(¥) | Dividend(¥) |
| FY12/12 | 9,654 | 632 | 658 | 434 | 84.79 | 4.00 |
| FY12/13 | 10,017 | 757 | 813 | 592 | 115.56 | 5.00 |
| FY12/14 | 11,062 | 877 | 879 | 581 | 112.97 | 19.00 |
| FY12/15 | 12,221 | 1,250 | 1,275 | 827 | 145.65 | 28.00 |
| FY12/16 | 12,799 | 1,259 | 1,279 | 836 | 147.30 | 30.00 |
| FY12/17 Est. | 13,218 | 1,252 | 1,264 | 870 | 145.12 | 32.00 |
* Estimates are those of the Company. A 10 for 1 stock split was performed on September 12, 2014 and EPS and dividends have been retroactively adjusted to reflect this split.
We present this Bridge Report reviewing the first half of fiscal year December 2017 business performance of Takemoto Yohki Co., Ltd.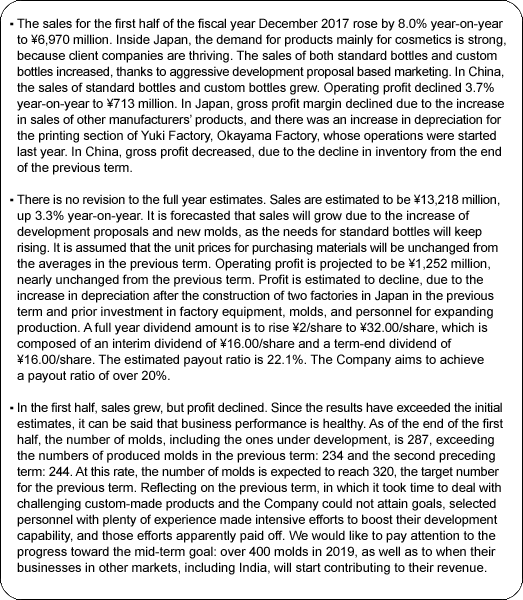 Takemoto Yohki Co., Ltd. plans and designs "standard bottles." A "Standard Bottle" is a term to refer to a packaging container when it is planned and designed in-house and, at the same time, when the mold necessary for manufacturing this packaging container is also owned in-house. Takemoto Yohki's primary customers for standard bottles are companies in the fields of cosmetics and beauty, general and health foods, sundries, and chemical and pharmaceuticals. Takemoto boasted of 3,160 molds for various packaging containers as of the end of June 2017. Amongst the unique characteristics of the Company are its high proposal-based marketing capabilities, bountiful stock, wide range of customers, and ability to provide a wide variety of products on a small lot basis in short delivery times. The Company is actively operating business overseas as well. Two subsidiaries are operated in China and one in the United States, Netherland, Thailand and India.

 

<Corporate History>

Shigeru Takemoto (Grandfather of the current President Emiko Takemoto) started his business under the name of Takemoto Shoten in 1950, amidst the shortages of goods in the post World War II era, for the recycling of glass products. In 1953, Mr. Takemoto converted his business into a limited company and renamed it Takemoto Yohki Co., Ltd. and began manufacturing glass containers. In 1963, Takemoto started dealing in its signature brand "standard bottles."

A regional sales office was opened in Osaka in 1980. Masahide Takemoto (Currently advisor to the Company and the father of Emiko Takemoto) took the helm of the Company and explored new markets in the Kansai region, where its main sales had been limited to "custom made" products, with bottle dealers and accessory dealers being separated. In its efforts, the Company leveraged both the "standard bottles" and "one stop product provision." The wide range of products allowed the Company to capture demand from customers and expand its sales channels. After the expansion into the Osaka region, a groundbreaking feat back then, the Company further expanded into Fukuoka, Sapporo, and Nagoya regions, and succeeded in building its nationwide sales and service coverage network.


| | |
| --- | --- |
| 1984: | As a means of strengthening its competitive capabilities, Takemoto added the manufacturing function in addition to its trading firm capability, and started plastic container processing and printing along with the opening of the Yoshikawa Plant (Yoshikawa City, Saitama Prefecture). |
| 1996: | Takemoto led the industry by creating a manufacturing and sales subsidiary in China as the starting point of its global strategy. |
| 2004: | Emiko Takemoto was appointed as representative director and president of the Company. The Company is continuing its efforts in increasing its share of the Japanese market and cultivating overseas markets. |
| 12/2014: | Takemoto Yohki Co., Ltd. listed its shares on the Second Section of the Tokyo Stock Exchange. |
| 06/2017: | The Company got listed on the first section of Tokyo Stock Exchange. |

 

The dream of the company founder of conducting business in China, the birthplace of container culture, through collaborative partnerships with local companies came to fruition with the launch of business there in 1996. The current president Emiko Takemoto also places a high emphasis upon instilling and diffusing both the corporate philosophy and mission in employees through training and various other occasions.

 

<Market Environment>

As demonstrated in the graph shown below, the market value of the shipments of packaging containers has trended sideways in recent years, and the outlook for declines in the Japanese population is expected to limit any increases in demand within Japan in the future.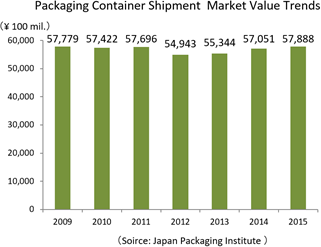 Having said that, demand for the Company's "standard bottles" is expected to keep growing due to the following circumstances:

 
Maturing of the consumer market, diversification of consumer tastes and expansion in sales over the Internet have contributed to a shortening of the product lifecycle, signaling the end of the era of "mass production, mass sales" and the start of the era of "high-mix low-volume production."
Furthermore, Takemoto's customers, namely cosmetics and toiletries manufacturers, are undergoing trends that call for "shorter product development periods" and "cost reductions."
Consequently, customers confronted by these trends are expected to rely less on in-house packaging container development and more on Standard Bottle products, which can be procured at the required time and in the required volumes.

 

At the same time, companies' shares of the ¥155.8 billion cosmetics and toiletry container market in 2008 were as follows: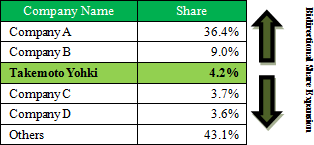 The custom bottle segment of the market, where customers own the rights to and bear the cost of metal molds, is estimated to account for 70% to 80% of the total market, with generic bottles accounting for the remaining 20% to 30% of total market. Furthermore, Takemoto Yohki estimates that its Standard Bottle brand of generic bottles account for about 20% of the total generic bottle segment of the market.

The main customers of Company A and Company B, the top two companies with the largest market shares, are large cosmetics companies which make mold investments on their own. Considering this fact, Takemoto Yohki, focused on its proposal-based marketing capabilities, which have been developed over a long time, as its distinctive strength, has established a mass production structure that delivers products speedily and precisely at a low price, with partner manufacturers. With this structure, the company seeks to expand the sales of products made from molds manufactured by customers.

Takemoto Yohki, a company which possesses both trading and manufacturing capabilities, has an advantage in terms of its product variety while most low market-share companies sell Standard Bottles through trading companies. By realizing cost reduction in development as a manufacturer, the company aims to improve the price competitiveness to increase its market share.
In addition, because standard bottles which require mold investment need continual investment, strong financial capabilities are required. In this aspect, Takemoto Yohki, the only listed company in its industry, holds a major advantage.

In this manner, they are aiming to increase their market share in relation to both upper and lower competitors and it is assumed that their current market share is definitely surging upwards, even more so than their 4.2% in 2008, as shown above.

 

◎ A growing overseas market

The cosmetics market in developing nations, primarily in Asia, is rapidly growing.
In five years, the Chinese market has grown in scale by 50%. It is predicted to exceed that of Japan's by 2017 and India along with other ASEAN countries are expected to experience a high rate of growth as well.
There is a high level of trust in Japanese-made bottles in developing countries which in itself has huge potential for business.

 

<Business Description>

Takemoto Yohki Co., Ltd. manufactures and sells containers and accessories such as caps and dispensers, for use by customers in the cosmetics and beauty, general and health foods, sundries, and chemical and pharmaceuticals industries. The Company does not manufacture mere containers to hold substances; it primarily creates high value-added products while paying close attention to design, function, barriers, safety and environmental issues.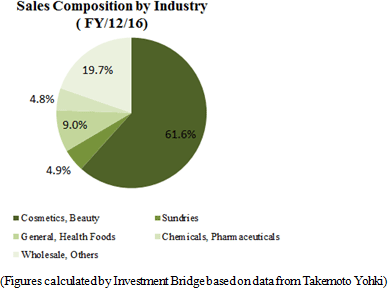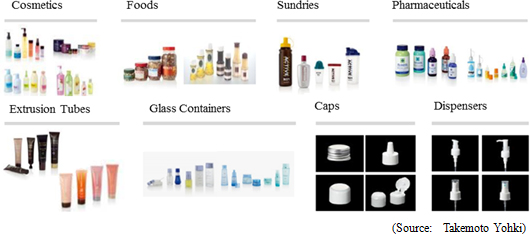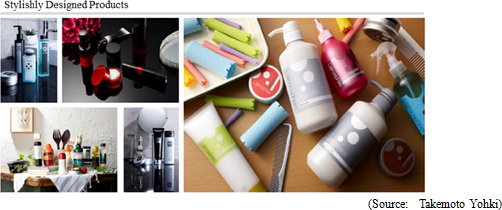 ◎ Business Model

When a cosmetics and toiletry product manufacturer customer commissions a container manufacturer to produce a unique and differentiated type of containers, in most cases the container manufacturer is responsible for design and manufacture of custom-made products while the customer shoulders the cost of creating molds. The time and cost of creating molds, however, is usually a heavy burden when sourcing containers because they take as long as three months and as much as several million yen.

In contrast to the above, Takemoto Yohki creates molds in-house on behalf of the customer. Having allowed the customer to choose molds of its preference from a wide range of products, Takemoto manufactures and delivers the products. Therefore, the delivery time and development costs of packaging containers are reduced and customers can purchase only the required amount of containers as needed at the time. In this manner, Takemoto Yohki is able to plan and create its own brand of containers, which it calls "standard bottles," through this strategy of creating and owning the molds in-house.

Takemoto owned 3,160 molds as of the end of June 2017 and boasts of the industry's largest collection of molds. At the same time, Takemoto can offer customized products that match customers' needs by using different caps and other accessory parts, and by changing the color and printing used on the Standard Bottle products. Furthermore, the Company maintains inventories of certain products, helping it to realize short delivery times of a wide variety of products in small lots.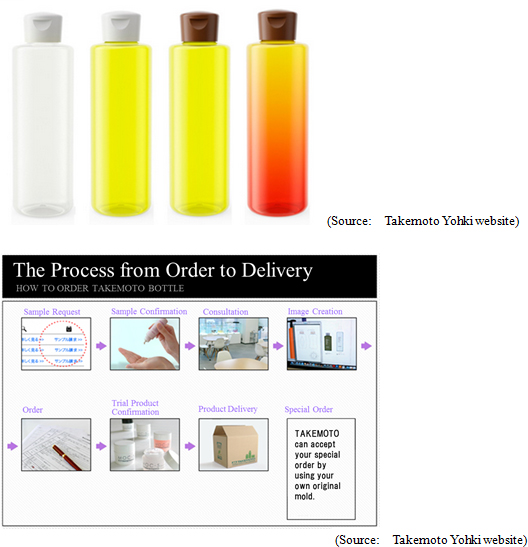 The Company sells its products in Japan, China, the United States, and other regions throughout the world, and the entire Takemoto Yohki group conducted business with more than 4,500 customers in fiscal year December 2016.

Standard Bottle sales comprise approximately 70% of total sales. In addition, the Company deals in products made from molds manufactured by customers and, as part of its trading firm function, purchases products made by other companies.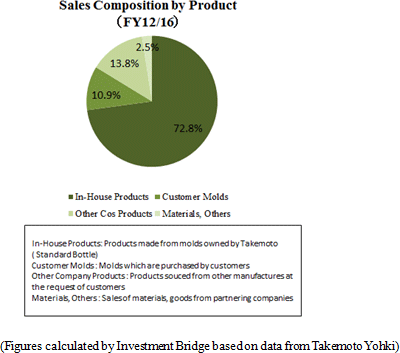 ◎ Production System

They have constructed a cooperative framework with outsourced manufacturers and possess 6 bases in Japan and 2 in China. Since Nov. 2016, Okayama Office has been operating to strengthen Western Japan's product supply system.
Their domestic manufacturing thoroughly meets the needs of their clients, such as small batches and multi-products, short deadlines, stable quality, vast product line, sudden orders, and mass production.
In China, they are concentrating on upgrading their production capabilities and improving their quality.

 

 

Takemoto Yohki has achieved high ROE.
The Company will endeavor to achieve a stable level of ROE 15% or above over the medium term.

 

<Characteristics and Strengths>
① Broad Customer Base

Takemoto Yohki boasts of an extremely wide range of clients with some 4,500 customers within and outside Japan. In addition, no single client contributes more than 10% of the total sales and the stable cash flow secured from this client base enables continuous investment into molds. Furthermore, the Company's high quality proposal-based marketing capability contributes to high levels of customer satisfaction and repeat business.

 

② Bountiful Stock of Molds

As explained earlier, the bountiful stock of 3,160 product molds allows Takemoto Yohki to respond flexibly to customers' needs. In addition, the Company is fortifying its product lineup and promoting development of high-value- added container products with design and functionality taken into consideration. At the same time, efforts are being made to reduce investment burden and risks by standardizing, communizing, and miniaturization.

 

③ Flexible Product Supply Structure

Takemoto has built a structure that can supply a wide range of products in small volumes and in short delivery times through its manufacturing network of 6 plants within Japan and 2 in overseas markets. Moreover, new manufacturing technologies are being introduced aggressively with product cost, strength and quality in mind, and in order to respond to customers' needs for customized products.

 

④ "High Levels of Development and Proposal-Based Marketing"

The high levels of development and proposal-based marketing capabilities are the source of the sustained increase in corporate value and contribute to the establishment of a wide customer base. About thirty planning, development and technology staff endeavor to realize various ideas for products, taking material, shape, functionality, and safety into consideration. About 1,000 types of Standard Bottle brand products are on display at the Kappabashi Showroom and reflect the high levels of development and proposal-based marketing capabilities of the Company.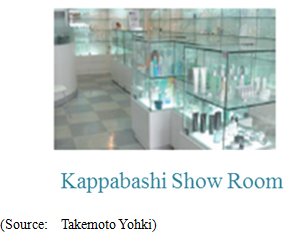 By using its Standard Bottle development foundation and its bountiful stock of molds, the Company has been offering development proposals to customers and providing them with high-quality original molds with low prices and short delivery times. The Company calls such an endeavor "custom bottle innovation" and has been promoting it more aggressively.

 

⑤ Unique Business Model

Their 3 competitive factors of having a broad and vast client base (stable operating CF), abundant mold stock, and high capabilities in developmental proposals produce synergy and have built a business model unique to Takemoto Yohki.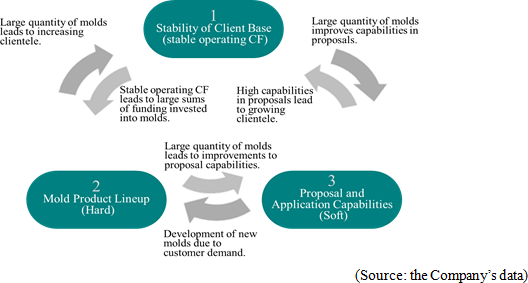 First Half of Fiscal Year December 2017 Earnings Results Overview

 

Sales grew due to the increase in demand for both standard bottles and custom bottles, but profit declined due to the augmentation of depreciation.

Sales were ¥6,970 million, up 8.0% year-on-year.
Inside Japan, the demand for products mainly for cosmetics is strong, because client companies are thriving. The sales of both standard bottles and custom bottles increased, thanks to aggressive development proposal based marketing.
In China, the sales of standard bottles and custom bottles grew, but the yen equivalent declined ¥59 million, due to the yen appreciation and the yuan depreciation.
Operating profit declined 3.7% year-on-year to ¥713 million.
In Japan, gross profit margin declined due to the increase in sales of other manufacturers' products, and there was an increase in depreciation for the printing section of Yuki Factory, Okayama Factory, whose operations were started last year. An increase in price of plastic raw materials caused a decrease in profit (¥3 million).
In China, gross profit decreased, due to the decline in inventory from the end of the previous term. The yen equivalent declined ¥6 million year-on-year due to exchange rate fluctuations. Due to the rising price of plastic raw materials, expenses increased ¥9 million.

The sales in all categories increased thanks to the enrichment of the lineup of standard bottles and the intensification of development proposal based marketing.
Sales based on other manufacturers' products are continuously growing.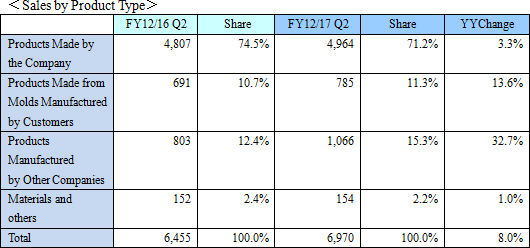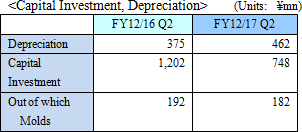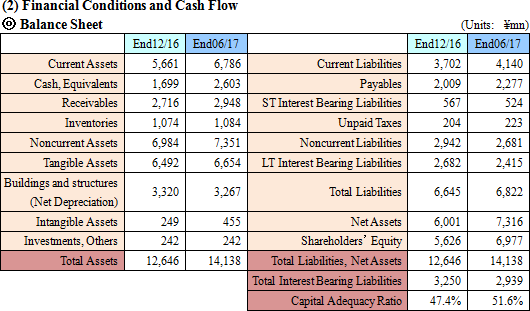 Current assets grew ¥1,125 million from the end of the previous term, due to the increase in cash and deposits through public offering, etc. Noncurrent assets rose ¥366 million from the end of the previous term, due to the growth of tangible assets, including machinery and transportation equipment, and intangible assets, and then total assets increased ¥1,492 million from the end of the previous term to ¥14,138 million.
Total liabilities increased ¥177 million from the end of the previous term to ¥6,822 million, mainly due to the rise in payables.
Net assets grew ¥1,314 million from the end of the previous term to ¥7,316 million due to the increase in capital, capital surplus, and retained earnings.
As a result, capital adequacy ratio rose 8.8% from the end of the previous term to 51.6%.

 

 

The surplus of operating cash flow increased due to the growth of profit and depreciation, etc.
Free cash flow became positive, as the deficit of investing cash flow shrank through the decline in expenditure for acquiring tangible assets.
The surplus of financing cash flow declined, as there were proceeds from issuance of common stock, but there were no longer proceeds from long-term loans payable.
The cash position increased ¥1,047 million from the end of the previous term to ¥2,603 million.

 

(3) Topics
◎ Progress of mold development

The number of molds of the Company is 3,160 as of the end of Jun. 2017.
In Japan, the Company outsources the production of molds to outside manufacturers, but the Chinese subsidiary produces molds by itself.
Currently, the mold development sections in Japan and China are recruiting personnel and standardizing mold designs, while developing more functional molds.
In addition, the Company has worked on the development of molds for the factory in India, which is to be completed at the beginning of 2018.
The Company set a mid-term goal of developing a total of over 400 molds in Japan, China, and other regions in 2019.

 

 

◎ Listed on the 1st section of Tokyo Stock Exchange (TSE)

On Jun. 19, 2017, the Company's stock was listed on the first section of TSE.
Then, the Company increased capital by issuing 500,000 shares through public offering with the deadline for payment being Jun. 16, 2017 and by issuing 82,000 shares through third-party allotment regarding over-allotment.

 

 
Fiscal Year December 2017 Earnings Estimates

 

No revision to the earnings forecast. It is forecasted that sales will grow, but profit will decline.

There is no revision to the earnings forecast. Sales are estimated to be ¥13,218 million, up 3.3% year-on-year. It is forecasted that sales will grow due to the increase of development proposals and new molds, as the needs for standard bottles will keep rising.
It is assumed that the unit prices for purchasing materials will be unchanged from the averages in the previous term.
Operating profit is projected to be ¥1,252 million, nearly unchanged from the previous term. Profit is estimated to decline, due to the increase in depreciation after the construction of two factories in Japan in the previous term and prior investment in factory equipment, molds, and personnel for expanding production.
A full year dividend amount is to rise ¥2/share to ¥32.00/share, which is composed of an interim dividend of ¥16.00/share and a term-end dividend of ¥16.00/share. The estimated payout ratio is 22.1%. The Company aims to achieve a payout ratio of over 20%.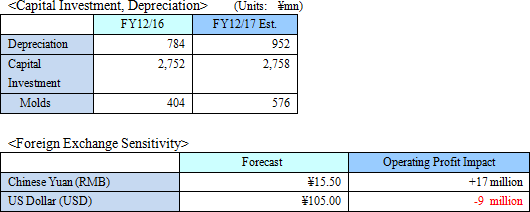 As of now, the international trade of products of the Company is insignificant, and its influence on sales is limited.
With respect to the yuan, the yen equivalent of sales of the Chinese subsidiary is considerable. With respect to the U.S. dollar, the scale of the U.S. subsidiary is small, but its influence on material procurement in Japan is relatively significant.

 

 
Medium Term Business Plan
 

The main goals of the mid-term management plan are to respond to the changing needs of customers to differentiate their products with packaging, have functional containers that lead to to enhancement of value, reduce development risks, and shorten the development period; and then strengthen their design capability, added functions, ability to give proposals for customization, and system for mold development; shorten development and delivery periods; and enrich their product lineup. With these goals, the Company will take the following four measures:

 

 

(1) Review and goal setting
The Company has improved customer satisfaction level and expanded the base for business transactions by enriching the lineup of molds and strengthening the proposal-based marketing capabilities.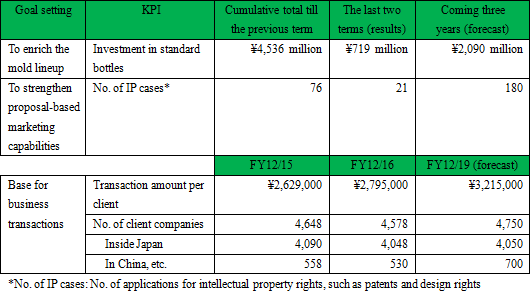 (2) Main theme
◎ Efforts for global business expansion
The Company plans to complete a global production system in three years.

 

 

In Aug. 2016, the Company established TAKEMOTO YOHKI INDIA PRIVATE LIMITED in Ahmedabad, Gujarat, India. In order to meet the demand in India, whose population is expected to be the largest in the world in a decade from 2020, the Company is constructing a new factory with a site area of 23,395 m2 in the industrial park of Sanand in Gujarat, and plans to start operating it in Mar. 2018.

◎ Shortening of processes
In order to meet the needs of customers, the Company focuses on shortening the development and delivery periods.

As for general products, the Company aims to shorten the development period from three months to two months and the delivery time from 40 days to 30 days in Japan, and shorten the development period from five to six months to three to four months and the delivery time from 40 days to 30 days in China.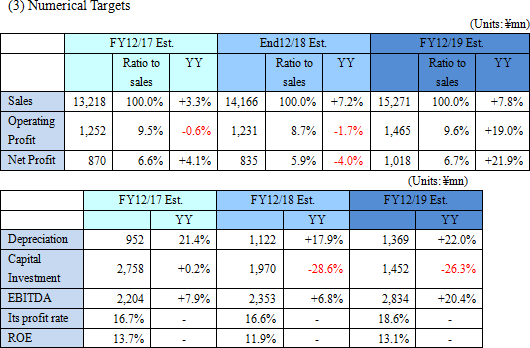 <Major points>

Continue to aggressively develop standard bottle products. As 195 standard bottles were developed in 2016, the Company aims to develop 300 standard bottles in 2019.

As for the production of customized bottles, the Company will expand the factories for customized bottles with the keywords: "new forms," "new designs," "high quality," "mass production support," and "short delivery time"

The Company will also promote "custom bottle innovation." As 39 custom-made bottles were developed in 2016, the Company aims to develop 120 custom-made bottles in 2019.

The Company will also promote a global strategy, not only in Japan and China, but also in Thailand, Europe, U.S., India and other countries.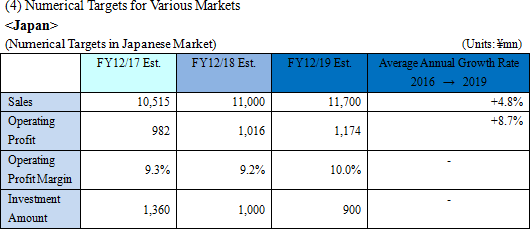 <Major points>

As the assumed exchange rates were revised, the estimate in the Chinese market was revised downwardly, but the performance in local currency is estimated to be healthy.

In 2017, the Company plans to start constructing a factory in India, and start operating it in 2018, contributing to the sales growth in other markets.
 

In the first half, sales grew, but profit declined. Since the results exceed the initial estimates, it can be said that business performance is healthy.
As of the end of the first half, the number of molds, including the ones under development, is 287, exceeding the numbers of produced molds in the previous term: 234 and the second preceding term: 244. At this rate, the number of molds is expected to reach 320, the target number for the previous term.
Reflecting on the previous term, in which it took time to deal with challenging custom-made products and the Company could not attain goals, selected personnel with plenty of experience made intensive efforts to boost their development capability, and those efforts apparently paid off.
We would like to pay attention to the progress toward the mid-term goal: over 400 molds in 2019, and also when their businesses in other markets, including India, will start contributing to their revenue.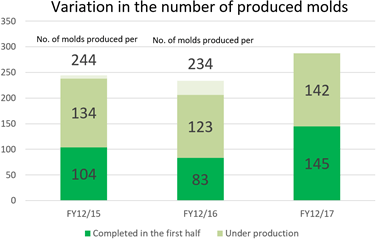 <Reference: Regarding Corporate Governance>

 

◎ Corporate Governance Report

Takemoto Yohki released its latest Corporate Governance Report on March 30, 2017.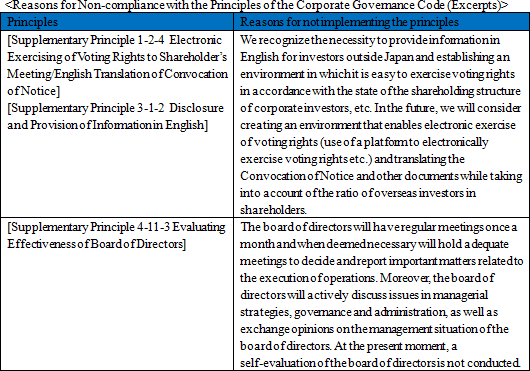 <Disclaimer>
This report is intended solely for information purposes, and is not intended as a solicitation to invest in the shares of this company. The information and opinions contained within this report are based on data made publicly available by the Company, and comes from sources that we judge to be reliable. However we cannot guarantee the accuracy or completeness of the data. This report is not a guarantee of the accuracy, completeness or validity of said information and or opinions, nor do we bear any responsibility for the same. All rights pertaining to this report belong to Investment Bridge Co., Ltd., which may change the contents thereof at any time without prior notice. All investment decisions are the responsibility of the individual and should be made only after proper consideration.
Copyright(C) 2017, Investment Bridge Co., Ltd. All Rights Reserved.