Hiroaki Saito, President
| | |
| --- | --- |
| Company | TAC Co., Ltd. |
| Code No. | 4319 |
| Exchange | 1st Section Tokyo Stock Exchange |
| Industry | Service |
| President | Hiroaki Saito |
| HQ Address | Kanda-Misaki-cho 3-2-18, Chiyoda-ku, Tokyo |
| Year-end | March |
| Homepage | |
Share Price
Shares Outstanding
Market Cap.
ROE (Act.)
Trading Unit
¥358
18,503,932 shares
¥6,624 million
8.6%
100 shares
DPS (Est.)
Dividend Yield (Est.)
EPS (Est.)
PER (Est.)
BPS (Act.)
PBR (Act.)
¥8.00
2.2%
¥29.72
12.0x
¥285.70
1.3x
*Stock price as of close on June 13, 2018. Number of shares outstanding as of most recent quarter end does not include treasury shares.
Fiscal Year
Sales
Operating
Income
Ordinary
Income
Net
Income
EPS (¥)
Dividends (¥)
March 2010
23,991
623
442
40
2.20
17.00
March 2011
24,575
465
283

-244

-
20.00
March 2012
22,578

-606

-530

-799

-
0.00
March 2013
20,999
136
377
977
53.63
0.00
March 2014
20,526
1,034
1,299
816
44.68
1.00
March 2015
19,537
140
404
208
11.24
1.00
March 2016
20,007
605
635
213
11.54
2.00
March 2017
20,440
713
692
490
26.49
4.00
March 2018
20,951
833
735
442
23.93
5.00
March 2019 Est.
21,200
910
880
550
29.72
8.00
*Estimates are those of the Company. The definition for net profit has been changed to net profit attributable to parent company shareholders. (Abbreviated as Parent Company Net profit)

 

We present this Bridge Report reviewing fiscal year March 2018 earnings results and other information about TAC.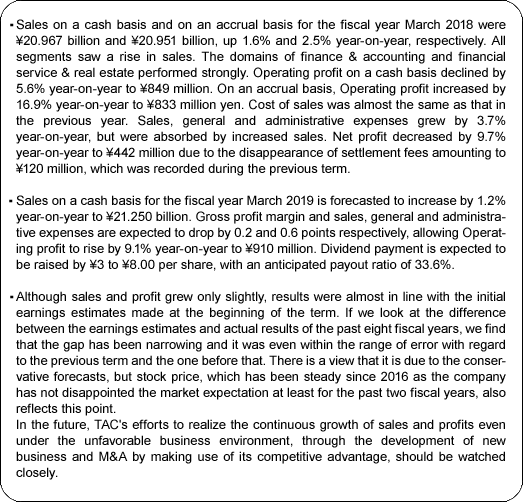 TAC Co., Ltd. is known as the "TAC, The Certification School" where university students and working people come to study to increase their chances of passing tests for various certifications and qualifications. The Company operates schools throughout Japan that educate students and adults in academic fields necessary to pass certification and Public Officer tests to become Certified Public Accountants, Licensed Tax Accountants, Real Estate Appraisers, Certified Social Insurance and Labor Consultant, Bar Examination, Judicial Scriveners and other professional occupations. In addition, TAC also provides various training programs for corporate clients and conducts publishing business as well.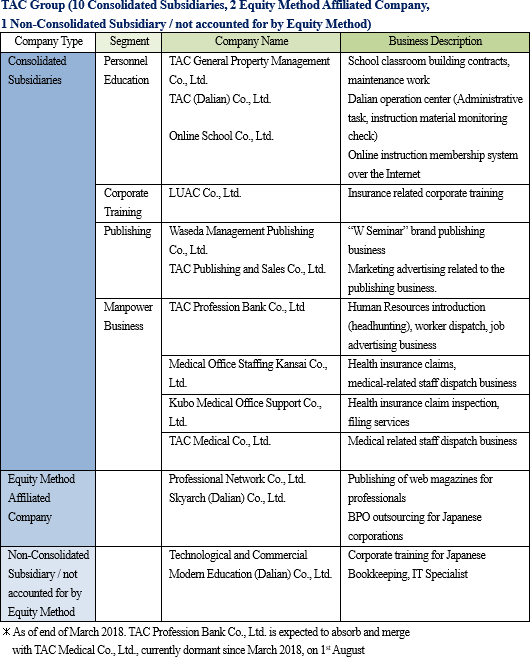 <Corporate History>
TAC was established in December 1980 as a school providing instruction to people seeking to obtain certifications and qualifications through examinations, including courses for the Certified Public Accountant, Bookkeeper, and Licensed Tax Accountant examinations. In October 2001, TAC listed its shares on the Over-The-Counter Market, and later moved its shares to the Second Section of the Tokyo Stock Exchange in January 2003 and then to the First Section in March 2004. TAC acquired KSS Co., Ltd. (formerly known as Waseda Management Publishing), which conducts certification and qualification acquisition support services including the provision of preparatory courses for Bar Examination, Judicial Scrivener, Patent Attorney, Level-1 Civil Service, Special Personnel of the MOFA, in September 2009. Through the addition of this company, TAC has been able to fortify its strengths in the accounting area by adding certification preparatory courses in the legal area, and to round out its service lineup with courses in the Public Officer area. In December 2013, the Company formed a collaborative agreement that included the sharing of capital with Zoshinkai Publishers Co., Ltd. for work in the development of a correspondence course education service for elementary, junior and senior high school students. Furthermore, other M&A activities were conducted in June 2014 to enter into the medical office area.
<Strengths>
(1) Detailed Response to Changes, Revisions in Examination System, Laws
Since the founding of the Company, TAC instructors have made revisions to the text materials used in its courses every year, and this ability to respond to changes and revisions in the examination and legal systems is a distinguishing feature and strength of TAC. For a company like TAC with sales approaching ¥20.0 billion, absorbing the costs of updating text materials on an annual basis is possible. However, new entrants and smaller players in the market have a much more difficult time absorbing the costs of updating teaching materials. Other strengths of TAC include its knowhow and efficiency accumulated over the history of its operations in providing the most updated information to the students of its courses.
(2) Full-Scale Lineup and Active Course Development
TAC has risen to become the top player in the industry through its active efforts to develop courses in new areas, including those targeting university students, and it has become the first company within its industry to list its shares. Along with the acquisition of W Seminar's certification and qualification acquisition support business in 2009, TAC has been able to fortify its weakness in the areas of legal and Public Officer related courses. Consequently, the Company now boasts of a strong business model comprised of the three main cornerstones of accounting (Certified Public Accountant, Licensed Tax Accountant and Bookkeeper), legal, and Public Officer related certification and qualification acquisition support courses.
(3) Providing Innovative Services with a Focus upon Students
Innovative services are yet another strength of TAC. TAC was the first school in the certification and qualification acquisition support services market to introduce educational media and enable students to choose which instructor they would like to study under. This corporate focus upon satisfying the needs of students is reflected in the quality of the text materials offered and has contributed to the establishment of a strong brand reputation as "TAC, The Certification School."

First Half of Fiscal Year March 2018 Earnings Overview
Regarding Sales
Students applying for courses are required to pay tuitions at the time of their initial application (TAC calls these fees tuition advance pre-adjustment sales or sales on a cash basis), which are then booked on the balance sheet as a liability under the title "tuition advance." These tuition advances are then written down and booked as sales in the month that educational services were provided to the student (TAC calls these fees tuition advance pre-adjustment sales or sales on an accrual basis). While sales booked on the income statement are "sales on an accrual basis (tuition advance pre-adjustment sales)", the actual indicator of the sales conditions of the Company in the term are considered to be the "sales on a cash basis (tuition advance pre-adjustment sales)" (The fact that cash and equivalents are influenced strongly by the sales on a cash income is a characteristic that is shared with companies that take orders) and they are deemed to be a leading indicator for actual sales. Therefore, TAC management identifies this "sales on a cash basis (tuition advance pre-adjustment sales)" as a key management indicator.
Regarding Seasonal Characteristics
Examinations for the majority of certification courses are held from the second (July to September) to third quarters (October to December), and core courses, especially those for Certified Public Accountants and Licensed Tax Accountants, fall into the time frame for examinations in the following year. At the same time, all courses fall into the fourth (January to March) and first quarters (April to June). Despite an increase in sales on a cash basis and Account receivable-trade sales during the second and third quarters, tuition advances are written down and booked depending upon enrollment period and gross margin is profoundly influenced because of the booking of a fixed level of expenses every month. In the fourth and first quarters, these tuition advances are then written down and booked as sales in each month, causing gross margin to increase.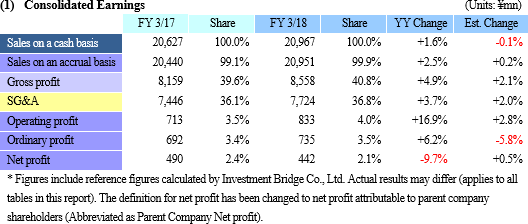 Sales and Profits Grew. Results in line with Earnings Estimates.
Sales on a cash basis and on an accrual basis were ¥20.967 and ¥20.951 billion, up 1.6% and 2.5% year-on-year, respectively. All segments saw a rise in sales. The domains of finance & accounting and financial service & real estate performed strongly. Operating profit on a cash basis declined by 5.6% year-on-year to ¥849 million. On an accrual basis, Operating profit increased by 16.9% year-on-year to ¥833 million yen. Cost of sales was almost the same as that in the previous year. Sales, general and administrative expenses grew by 3.7% year-on-year, but were absorbed by increased sales. Net profit decreased by 9.7% year-on-year to ¥442 million due to the disappearance of settlement fees amounting to ¥120 million, which was recorded during the previous term.



Instruction fees, outsourcing fees for course material creation, rent and other operating expenses rose by 0.5% year-on-year to ¥12.373 billion. But larger sales could not absorb these higher expenses, causing profit to decline.

<Publishing Business>
Higher Sales, Lower Profits
(TAC Publishing)

Real Estate Notary, Certified Social Insurance and Labor Consultant, Small and Medium Enterprise Management Consultant, financial planner, Administrative Scrivener, and bookkeeping saw higher sales.

Travel books and Public Officer saw lower sales.
(W Publishing)

Judicial Scrivener rose slightly from the previous year.

Bar Examination dropped in sales.
<Manpower Business>
Higher Sales, Higher Profits

Manpower Business saw favorable business trends mainly in personnel introduction and temporary staffing due to the overall shortage of human resources in the accounting industry. The Operating profit of TAC Profession Bank marked a record high.

With regards to medical human resources, Medical Office Staffing Kansai Co., Ltd. dropped in sales. TAC Medical Co., Ltd. suspended its business at the end of March 2018, and it will be absorbed by TAC Profession Bank Co., Ltd. on 1st August 2018.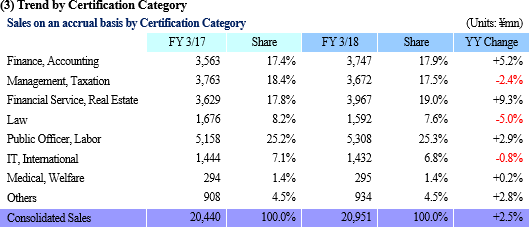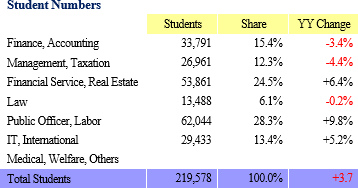 <Market Overview>
The number of official test applicants of the various curricula taught by TAC declined by about 28,000 from the previous year 2.609 million to 2.581 million. It's the first time decrease in three years. (Finance & Accounting Area) The performance of the Certified Public Accounting course was favorable and saw the increase in sales as a whole, as the recruitment situation of successful applicants who took the Certified Public Accountant Examination was healthy, mainly in auditing companies in the accounting industry. The bookkeeping course was healthy, although the number of people taking the 2017 Bookkeeper certification examination (grade 1-3) fell by 7% from the previous year. Sales grew also thanks to "Easy to Understand Bookkeeper," "The Bookkeeping Textbook that Everyone Wanted" and other examination text materials published by TAC Publishing. (Financial Service & Real Estate Area) Real Estate Appraisers, Real Estate Notary, Architects and Building Engineers, and Securities Analysts continued to trend favorably. (Management & Taxation Area) The number of Tax Accounting examination takers continued to fall. Consequently, the sales from the course decreased. (Law Area) The courses for Bar Examination and Judicial Scrivener were sluggish, and caused sales to decline. (Public Officer & Labor Area) The Public Officer course (National Public Employees in the Regular Service and Senior Officials of Local Government course), Teacher's Employment Exam Courses, and Certified Social Insurance and Labor Consultant related courses performed well. The performance of Information, Overseas Area and Medical, Welfare Area remained in line with the previous year's level.

Business Trends by Curriculum Category (Combined Total for both Personal and Corporate Instruction)
<Increases> The Certified Public Accountant, Real Estate Notary, Architect, Financial Planner and CompTIA courses saw increases of 5.5%, 6.1%, 44.4%, 8.5% and 16.6% year-on-year respectively. <Declines> The Bookkeeping Examination, Licensed Tax Accountant, Small and Medium Enterprise Management Consultant, Judicial Scrivener and Public Officer (National Public Employees in the Regular Service and Senior Officials of Local Government course) courses recorded declines of 5.8%, 3.7%, 4.8%, 7.8% and 5.0% year-on-year respectively. As for the courses for corporate clients, sales of correspondence courses for training, for which large orders were received, and in-university seminars rose by 19.5% and 12.2% year-on-year respectively, while the sales of seminars taught at affiliated schools and consigned training fell by 10.9% and 10.8% year-on-year respectively.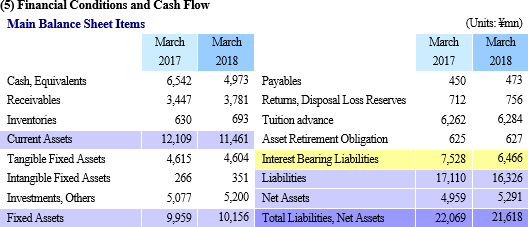 Current assets declined by ¥647 million from the end of the previous fiscal year due to decreases in cash and deposits, etc. At the same time, a rise in investment securities and other accounts contributed to a ¥196 million increase in fixed assets. Total assets dropped ¥451 million from the end of the previous term to ¥21.618 billion. Total liabilities decreased by ¥783 million to ¥16.326 billion on the back of decreases in long and short debt and other accounts. At the same time, a rise in retained earnings allowed net assets to rise by ¥332 million to ¥5.291 billion. Consequently, capital adequacy ratio rose by 2.0% from the end of the previous term to 24.5%.

Increase in allowance for doubtful accounts allowed the surplus of operating cash flow to rise, but purchase of securities caused the deficits of investing cash flow and free cash flow to increase. Repayment of loans caused more net outflow in financing cash flow. Consequently, the cash position decreased.
Fiscal Year March 2019 Earnings Estimates

Sales and Profit Estimated to Grow
Sales on a cash basis is expected to rise by 1.2% year-on-year to ¥21.250 billion. Both gross profit margin and sales, general and administrative expenses are expected to drop by 0.2 and 0.6 points respectively, allowing Operating profit to rise by 9.1% year-on-year to ¥880million. Dividend payment is expected to be raised by ¥3 to ¥8.00 per share, with an anticipated dividend payout ratio of 33.6%.
(2) Medium-to-Long Term Initiatives
TAC has set three themes: "new business development and cost control," "establishment of competitive advantage against competitors," and "promotion of M&A and cooperative partnerships."
◎ New Business Development and Cost Control
*Continuous challenge to new business and area TAC published a series "Everyone Wanted" for 3rd Class Electric Works Specialist, which is one of the major certifications in the field of science in Jan. 2018, to acquire a new customer base and sales outlets (bookstores). In the future, the company also considers developing products such as courses for individuals and training for corporations. In addition, TAC has formed a partnership with Chiba University Hospital for the implementation of "Chiba Hospital Management School" that raises leaders for hospital management. TAC will be in charge of starting up an optional course that will complement the basics of hospital management, and development of teaching materials utilizing the Internet. *Cost control While the cost of various items, mainly personnel expenses, is on a rise, TAC strives to control the cost from both the viewpoints, i.e., the viewpoint of individual expense item and the overall viewpoint, in order to secure a certain amount of profit.
◎ Establishment of Competitive Advantage against Competitors
Over 200,000 participants attend TAC's courses annually, which is the strength of the company. Therefore, TAC aims to increase the corporate brand value by collecting and analyzing the data of participants, reflecting the results in educational contents and programs, and improving services.
◎ Promotion of M&A and Business Partnerships
TAC will continue to actively promote M&A and business partnerships for projects that can generate synergy effects with the TAC Group.
Although sales and profit grew slightly, results were almost in line with the initial earnings estimates made at the beginning of the term. If we look at the difference between the earnings estimates and actual results of the past eight fiscal years, we find that the gap has been narrowing and it was even within the range of error with regard to the previous term and the one before that. There is a view that it is due to the conservative forecasts, but stock price, which has been steady since 2016 as the company has not disappointed the market expectation at least for the past two fiscal years, also reflects this point. In the future, TAC's efforts to realize the continuous growth of sales and profit even under the unfavorable business environment, through the development of new business and M&A by making use of its competitive advantage, should be watched closely.

<Reference: Regarding Corporate Governance>

◎Corporate Governance Report Updated on June 28, 2018

Disclaimer
This report is intended solely for information purposes, and is not intended as a solicitation to invest in the shares of this company. The information and opinions contained within this report are based on data made publicly available by the Company, and comes from sources that we judge to be reliable. However, we cannot guarantee the accuracy or completeness of the data. This report is not a guarantee of the accuracy, completeness or validity of said information and or opinions, nor do we bear any responsibility for the same. All rights pertaining to this report belong to Investment Bridge Co., Ltd., which may change the contents thereof at any time without prior notice. All investment decisions are the responsibility of the individual and should be made only after proper consideration.
Copyright(C) 2018, Investment Bridge Co., Ltd. All Rights Reserved.