Nihon Enterprise Co., Ltd. (4829)
Katsunori Ueda,
President
| | |
| --- | --- |
| Company | Nihon Enterprise Co., Ltd. |
| Code No. | 4829 |
| Exchange | Tokyo Stock Exchange, First Section |
| Industry | Information, Communications |
| President | Katsunori Ueda |
| HQ Address | 1-17-8 Shibuya, Shibuya-ku, Tokyo, Japan |
| Year-end | May |
| Home Page | |
Share Price
Shares Outstanding
Market Cap.
ROE (actual)
Trading Unit
¥288
37,700,000 shares
¥10.858 billion
10.3%
100 shares
DPS (Est.)
Dividend Yield (Est.)
EPS (Est.)
PER (Est.)
BPS (actual)
PBR (actual)
¥2.00
0.7%
¥15.09
19.1x
¥113.88
2.5x
* Share price as of close on April 1, 2014. Shares outstanding at the end of the most recent quarter exclude treasury shares.
| | | | | | | |
| --- | --- | --- | --- | --- | --- | --- |
| Fiscal Year | Sales   | Operating Income | Ordinary Income | Net Income | EPS | Dividend |
| May 2010 | 2,147 | 150 | 173 | 77 | 206.59 | 80.00 |
| May 2011 | 2,370 | 266 | 283 | 168 | 448.23 | 130.00 |
| May 2012 | 2,790 | 304 | 318 | 170 | 451.18 | 130.00 |
| May 2013 | 4,134 | 372 | 391 | 354 | 941.63 | 180.00 |
| May 2014 Est. | 5,000 | 520 | 500 | 569 | 15.09 | 2.00 |
* Estimates are those of the Company. A 100 for 1 stock split was conducted on December 1, 2013.

This issue of the Bridge Report provides details of Nihon Enterprise Co., Ltd. and information pertaining to its third quarter of fiscal year May 2014 earnings results.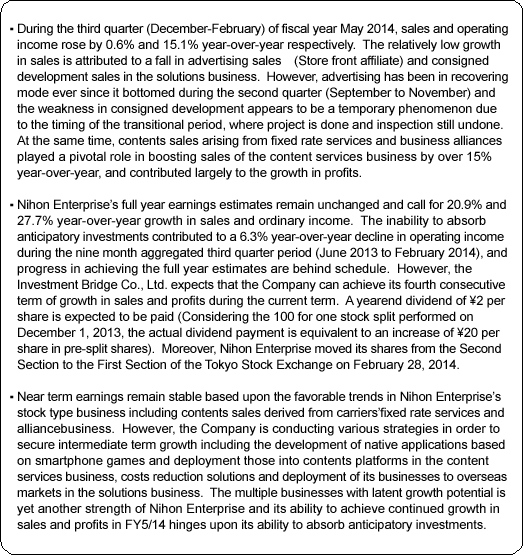 Nihon Enterprise is a "mobile solutions company," with two main business segments including the contents services business, where various contents including lifestyle and traffic information services are created and distributed to smartphones and other mobile devices, and the solutions business segment, where contents creation and operation, system design and implementation, affiliate advertising, reverse auctions, and IP-PBX solutions (Cost reduction) are provided. Furthermore, Nihon Enterprise is also promoting efforts to expand its business into overseas markets, and has been a frontrunner in domestic content provision in China and India.

 

Focus Upon In-House Contents Creation

Nihon Enterprise maintains a strategy of holding ownership of its own contents through in-house creation, which enables the company to differentiate itself from its competitors and to achieve high profitability. This unique business strategy combined with its performance-based content sales model (real affiliates originally developed ) through the cooperation with cellular phone distributors has enabled the company to expand sales of contents.

 

Corporate Group: 7 Consolidated Subsidiaries, 3 Non-Consolidated Subsidiaries

The Nihon Enterprise Group is comprised of seven consolidated subsidiaries including the company Dive Co., Ltd., which provides advertising services, LOUNGE Co., Ltd., which provides music related services, Advanced Traffic Information Services, Corporation (ATIS Corp.), which provides traffic and other information services, 4QUALIA Co., Ltd., which provides web and mobile site development and maintenance services and contents development, Enterprise (Beijing) Information Technology Co., Ltd., which operates cellular phone retail shops in China, Beijing YZH Wireless Net Technology Co., Ltd., which provides mobile contents planning, development and distribution, Rice CZ (Beijing) New media technology Co., Ltd., which provides IT related educational services. The Group also boasts of another three non-consolidated subsidiaries including and One, Inc., which provides voice communications related solution services, Rise MC (Beijing) Digital Information Technology Co., Ltd., which provides mobile content distribution and character licensing services, and NE Mobile Services (India) Private Limited, a local company operating in India (In addition, HighLab Co., Ltd. was established on April 1, 2014 as a 100% owned subsidiary to conduct native application development as part of the mobile content business.)

 

<Growth Strategy>

Efforts responding to changes in the mobile environment accompanying a shift from feature phones to smartphones are being promoted both within and outside of Japan. Within Japan, in response to the new age of smart devices, efforts to expand business fields both in content service business and solutions business, including alliances with cellular phone vendors, provision of in-house contents to mobile communications carrier for their flat rate and unlimited usage services (au Smart Pass, Yahoo! Premium, Sugo Toku Contents), operation of reverse auction as a commercial solution (Nihon Open Market) and IP-PBX solution deployment are being implemented.

In overseas markets, efforts are being made to establish business foundations in China and India, countries which boast of large populations and strong growth potential. As part of these efforts, Nihon Enterprise' s endeavors to promote digital comic distribution and cellular phone sales businesses are progressing smoothly in China (two China Telecom cellular phone retail shops have already opened). Furthermore, the rapid diffusion of smartphones and tablets is acting as a tailwind for the distribution of digital publications (Distribution services using iPad applications was launched in December 2011 through an alliance with India' s lifestyle magazine company called Magna) in India.

 

<Nihon Enterprise Moves to The First Section of the Tokyo Stock Exchange on February 28, 2014>

Nihon Enterprise has created and distributed ring tones, decorative mail, games and other entertainment related contents since the emergence of mobile content industry. In recent years it has expanded the breadth of its services to include traffic information, health care, discount coupons and other lifestyle related information services along with the diffusion of smartphones. As part of its overall capital strategy, the Company first listed on the NASDAQ Japan (Currently known as JASDAQ) market in February 2001, and subsequently moved its listing to the Second Section of the Tokyo Stock Exchange in July 2007. Most recently it moved to the First Section of the Tokyo Stock Exchange on February 28, 2014.

 

Flexible Response to Changes in the Business Environment

Nihon Enterprise was established in 1989 at the time when usage of personal computers was rapidly expanding. The aim of the company was to sell personal computers and to develop and sell software. Thereafter, the emphasis of the Company' s business shifted to sales of cellular and PHS phones based upon the rapid expansion in the mobile communications market. Furthermore, the focus of the Company' s business also shifted from sales of hardware to creation of contents for cellular phones, and the contents development based technologies were leveraged to deploy solutions for corporate clients. These developments enabled Nihon Enterprise to achieve growth in sales and profits for five consecutive terms beginning in fiscal year May 2007. The Company took steps to shift its business focus from conventional feature phones to smartphones at an early stage in fiscal year May 2008 and was once again able to record consecutive terms of growth in sales and profits from fiscal year May 2011. Currently, native application development is being pursued as part of the Company' s strategy of fortifying and expanding its smartphone related business. At the same time, efforts are being made to cultivate cost reducing solutions including the operation of a reverse auction site called "Japan Open Market (http://www.open-markets.jp) and communications services (IP-PBX related services) using high quality softphone functions to be provided to corporate customers. While the full scale contribution to earnings of these services is expected to require more time, the businesses of online digital distribution of comic books adapted from novels and sales of cellular phones in overseas markets (China) is becoming firmly established.

 

Fortification of Businesses Through Appropriate M&A

4QUALIA Co., Ltd., which provides content management system (CMS) and web mobile site development and maintenance services, was turned into a subsidiary of Nihon Enterprise in October 2011. And in December 2011, the traffic information distribution service company, ATIS Corporation, was also turned into a subsidiary. These two companies have made large contributions to the Nihon Enterprise Group' s overall earnings by fortifying the contents lineup, increasing the speed of development, and strengthening the solutions capabilities.

4QUALIA Co., Ltd. boasts of a track record of development work for over 200 public websites. It has also contributed to the Group' s consolidated earnings through its CMS packages that realize simplified web creation. With its in-house web designers, the Company has strengths in web and mobile content development, and its ability to develop contents provided not only to individual consumers but also to corporate customers (Contributions have been made by increasing the development speed, volume and quality of contents provided to smartphones.).

Meanwhile, to provide traffic information, ATIS Corporation was founded in July 1993 as a joint venture of 58 private sector companies and the Tokyo Metropolitan Government. A body of high public utility, ATIS provides both individuals and corporations with information concerning traffic, lifestyle, everyday convenience, entertainment, culture, leisure, among others. ATIS acted as driving forces in recent years for the diversification of information provided by content service businesses. The Corporation is also expected to create synergy with solutions businesses.

In March 2013, "and One' s Co., Ltd.", which provides voice communications related solutions based upon the IP-PBX software "Primus", was turned into a subsidiary of Nihon Enterprise. Using the superior functionality, usability, flexibility and cost effectiveness of "Primus", "and One' s Co., Ltd." has been able to establish a strong track record in development, implementation and maintenance services in the IP-PBX realm within Japan. Furthermore, Nihon Enterprise will leverage "and One' s" voice communications technology to expand its services in the IP-PBX realm.

 

China, India Businesses Gradually Ramping Up

Smart devices have already begun to take the lead in overseas markets as well. According to IDC, a United States research firm, China was the largest smartphone market in 2013 with over 300 million units shipped, followed by the United States with 137 million and the United Kingdom with 35 million. Also, their estimates call for the number of smartphones shipped in China to expand to 457 million (In second and third place are the United States and India with 183 and 155 million units respectively.). Nihon Enterprise is implementing measures to establish its business foundations in both China and India, and is currently promoting specific efforts in the online distribution of comic books adapted from novels as well as sales of cellular phones in China. In addition to fortifying business foundations in China and India, Nihon Enterprise is also expanding its business strategy to cover parts of Southeast Asia and North America.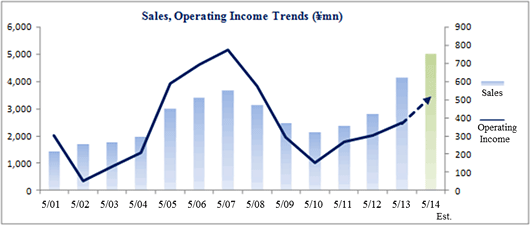 Success of Business Strategies in and outside Japan
 

(1) Japan Business

With regard to the content service business, the focus of Nihon Enterprise' s business is shifting from feature phones to smartphones, and it is strengthening its efforts in the realm of games and other native applications as a means of expanding this business. Furthermore in the solutions business, measures to leverage the advertising (affiliate advertising) services and strengthen cost reduction solutions are being implemented.

 

① Content Services Business

Sales of smartphone related services accounted for 61% of content services sales during the third quarter of fiscal year May 2014 (December to February). In addition to growth in carriers' fixed rate fee services derived from aggressive promotions and fortification of contents, fortified alliances with cellular phone venders was contributed to increase in the number of monthly subscription-based users (With a view to the shift in demand from feature phones to smartphones, Nihon Enterprise has promoted fortification of its responses to the demand for various contents including traffic, healthcare, lifestyle and other information targeting smartphones from an early stage.).

 

 

Fortification of Contents and Aggressive Promotion for Carrier Fixed Rate Services

In the carrier fixed rate services, "Chokotto Game", "Natsume Yujin Chou: Nyanko-Sensei to Asobo", leisure and parking lots information, "Couple Note", were introduced in the second and third quarters in October, November, November and December, and January respectively. And during the fourth quarter, further steps to fortify contents and strengthen promotion are expected to contribute to a further expansion in earnings.

 

 

"Women' s Diary" Targets 3 Million Downloads

The pace of downloads of the free application "Women' s Diary" that supports women' s mental and physical health has been accelerated in March. The original target of two million downloads has been reached in March, and now the Company expects to achieve three million downloads by the end of the fiscal year at its current pace. Nihon Enterprise has been improving environment to release "Women' s Diary" in global market (editions in multiple languages) and to monetize this application.

 

 

Message Application "Fivetalk" Seeks to Achieve 1 Million Downloads

Based upon the increased brand recognition, downloads of the message application for smartphones to send drawings and greeting cards, called "Fivetalk" which was released October 2013 (App Store, Google Play) dramatically grew in March (Rising above 200,000 downloads) and are expected to reach 1.0 million downloads by the end of the fiscal year. "Fivetalk" has come to be viewed as an exciting new application that allows not only text message but also various other forms of communication.

 

HighLab Co., Ltd. Established as a 100% Owned Subsidiary to Conduct Native Application and Other Mobile Content Business

HighLab Co., Ltd. was established on April 1 as a 100% owned subsidiary to conduct native application development and other mobile content business. Native applications differs from existing browser applications, and are run on smartphones and other terminals. Those are downloaded from application markets such as Apple Store and Google Play. Their usability, expressive faculty, design and other features fully leverage the functionality of smartphones and are contributing to a shift from browser applications to native applications. HighLab has taken over the native applications services from Nihon Enterprise, which has established a track record in development and operation in the realms of health support applications, messenger applications, and social community applications, and it will work collaboratively with Nihon Enterprise in the realm of smartphone games (Expand business to include "contents platforms).

The smartphone game market including primarily native applications totaled ¥546.8 billion in 2013, and is expected to grow to over ¥800.0 billion by 2016 (According to CyberZ Inc., Seed Planning, Inc.).

 
Company Name:  
HighLab Co., Ltd.     
Headquarter Address:  
Shibuya 1-17-8, Shibuya-ku, Tokyo
Representative:  
President Kouichi Sugiyama (Managing Director of Nihon Enterprise Co., Ltd.)
Business:
Native applications and other mobile contents
Capitalization:
¥50 million
Established:
April 1, 2014
Fiscal Year End:
May 31
Capital Ownership
100% by Nihon Enterprise
 

Future Business Development Strategy

HighLab was established with the goals of creating hit smartphone games using native applications and a global content platform originating in Japan and holding global appeal.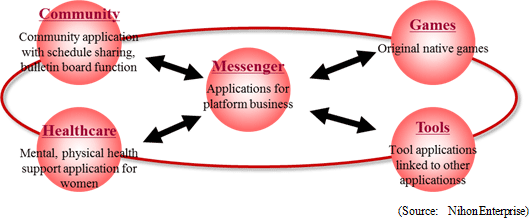 ② Solutions Business

Reach Resolution of Pressing Issues

While sales of advertising (Store front affiliates) for Android devices declined temporarily due to the sales launch of iPhone 5s/c, demand has begun to recover and sales during the third quarter rose over the previous quarter. Therefore, efforts to cultivate new collaborative cellular phone vendors distributors as part of the strategy to expand the total number of affiliated stores will be resumed in the fourth quarter (March to May).

 

 

Reverse Auction Service Expansion

"Profair" has been provided as a reverse auction and quotation collection system on an ASP service basis, and from March "Profair - SP (Software Package)" has been added as an on-premises (operated in user' s data center) system. "Profair - SP" responds to the need for "customization" with the abilities to match the products being procured and for security by being operated "within the user' s own data center." In particular, there is a strong need to maintain information security by operating the system within users' own facilities for materials and equipment used in public works related projects. Therefore, Nihon Enterprise plans to make proposals on cost reduction solutions in response to needs for open and fair order placing procedures by the government and public agencies, regional governments, construction companies and other related parties.

 

Promote Communication Services Using High Quality Softphone to Corporate Clients

Nihon Enterprise is promoting communications services using high quality softphone to corporate clients. Specifically, the Company has begun offering an internal and external telephone call system based upon a single smartphone using "and One' s" IP-PBX software "Primus" in the IP phone services realm. "Softphone" (application for IP phone) can be used regardless of location just like the telephone function in the office, and can reduce the need for fixed line phones by allowing BYOD (Bring your own device). Moreover, the ability to use internal telephone lines at anytime is expected to help increase communication within user companies and institutions.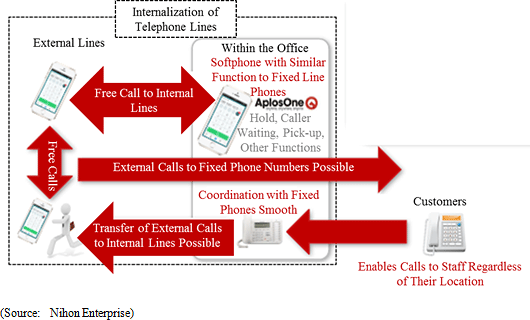 Future Business Deployment Strategy

In addition to the expansion of the above mentioned advertising (Storefront affiliate) and cost reduction (IP phone, reverse auction) solutions, Nihon Enterprise is expected to implement efforts to expand its business through increases in development projects (for Smart devices) and collaborative (Alliance type) models.

 

(2) Overseas (China) Business

Within China, Nihon Enterprise is undertaking two main businesses including the distribution of digital comics and operation of cellular phone sales shops (China Telecom). In the digital comics is the first title "九     鼎     記" has been distributed over the"騰 訊 動 漫" and other platforms, and has achieved over 10 million viewings. Moreover, the second title "歩 歩 生 蓮" has begun its serial publication in magazines (The magazine "漫 品" with 10 million copies published.) in February. With regard to "歩 歩 生 蓮", a digital version is expected to be distributed after a paperback book version is released. In addition, the Company expects to distribute other various digital comic versions of various popular novels after they have been turned into animation.

With regard to the cellular phone shop operations, Nihon Enterprise' s local subsidiary opened its first cellular phone shop "Dongfang Road Shop" in December 2012 and its second shop "Huangjincheng Avenue Shop" in April 2013 (Both shops located in Shanghai City). Nihon Enterprise endeavors to leverage its experience in Japanese style "customer first" service while introducing services that cater to the customs and needs of the local market in their store operations (Because this subsidiary completes its fiscal year at the end of December, provisional accounts as of the end of March are used in the creation of consolidated financial accounts.).

 

Third Quarter of Fiscal Year May 2014 Earnings Results

 

Sales, Operating Income Grew 0.6%, 15.1% Year-Over-Year

Sales rose by 0.6% year-over-year to ¥1.103 billion. A temporary decline in advertising (Storefront affiliate) sales arising from the start of iPhone sales by NTT Docomo and the arrival of the transitional period of project deliveries also contributed to a decline in solutions sales (Consigned development) of 14.5% year-over-year to ¥464 million. However, contents services sales rose by 15.3% year-over-year to ¥638 million due in part to a rise in contents sales arising from alliances and carriers' fixed rate services, in addition to higher sales of traffic and lifestyle information, and games.

With regard to profits, the higher sales of the contents services, which carry higher margins, contributed to a 16.5% year-over-year increase in gross income. The higher sales of the content services business was able to absorb increase in sales, general and administrative expenses arising from aggressive advertising activities and allowed operating income to rise by 15.1% year-over-year to ¥95 million. Sales of marketable securities allowed net income of ¥281 million to be realized.

 


- Sales to Smartphones Continue to Grow -
Expansion in game, lifestyle information based upon contents sales derived from carrier fixed rate services and alliances, and stable trend in traffic information, which accounts for the largest portion of sales.

- Advertising, Overseas Sales Recover -
Strengthening of relationships with existing collaborative partners and cultivation of new collaborative partners allowed sales of advertising to grow from the previous quarter, overseas sales also rose over the previous quarter on the back of the cellular phone sales shop operations in China

 

Aggressive Advertising Spending, Anticipatory Investments Cause 6.3% Drop in Operating Income Despite 9.1% Rise in Revenue

Sales rose by 9.1% year-over-year to ¥3.277 billion during the first three quarters. At the same time, content services business sales rose 18.1% year-over-year to ¥1.831 billion while solutions business sales fell by 0.5% year-over-year to ¥1.445 billion.

In the content services business, contents sales derived from carriers' fixed rate services and alliances rose, allowing sales of traffic information, lifestyle information, digital publications, and games to see gains of 32.3%, 25.6%, 49.7% and 341.7% year-over-year to ¥628, ¥342, ¥169, and ¥102 million respectively.

At the same time, the solutions business was negatively affected by declines in advertising sales and the arrival of the period of project deliveries for solutions (Consigned projects). However, some of these negative factors were offset by increases in sales (Overseas sales: ¥2 → ¥221 million) of the cellular phone sales operations in China conducted in cooperation with China Telecom from the fourth quarter of the previous term.

With regards to profits, the improvement in sales mix contributed to a 2.6% point improvement in cost of goods sold to 51.4% of sales and allowed gross income to rise 15.3% year-over-year. However, aggressive spending on advertising and promotions (Total advertising spending rose by ¥113 to ¥337 million) and higher personnel expense arising from increases in staffing for the cellular phone shops in the solutions business contributed to a 20.6% year-over-year increase in sales, general and administrative expenses to ¥1.335 billion. Consequently, operating income declined by 6.3% year-over-year to ¥255 million. And while non-operating expense deteriorated due to the booking of payment fees, the sale of marketable securities allowed ¥516 million of extraordinary income to be booked and allowed net income to rise by 2.6 times year-over-year to ¥414 million.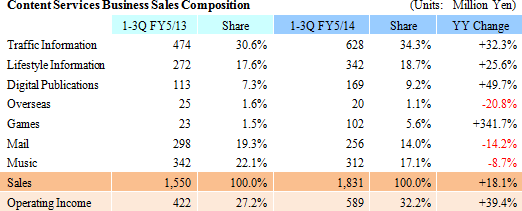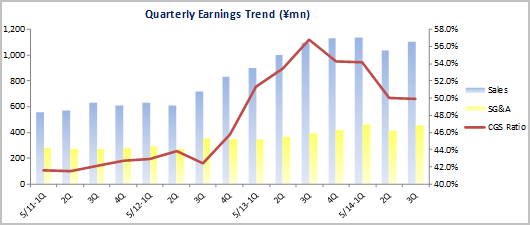 Fiscal Year May 2014 Earnings Estimates

 

Estimates Remain Unchanged, Sales, Ordinary Income Expected to Rise 20.9%, 27.7%

During the fiscal year end, expansion in contents sales arising from carriers' fixed rate services and alliances, and the aggregation effect of contracts are expected to boost sales of the contents service business. At the same time within the solution business sales, increases in sales of advertising and overseas business beginning in the third quarter are expected to continue in the remainder of the year. With regard to profits, improvements in gross margin arising from favorable sales mix and effective advertising and promotional activities are expected to contribute to a further improvement in profitability.

A yearend dividend of ¥2 per share is expected to be paid. Taking the 100 for one stock split and change in trading unit to 100 shares implemented on December 1, 2013, the actual dividend represents a ¥20 increase to ¥200 and marks the second consecutive term of increases in dividends.

 

 
 

Although progress in achieving full year estimates appears to be slightly behind schedule, Nihon Enterprise is expected to be able to achieve its fourth consecutive term of higher sales and profits during the current term. One of the positive influencing factors has been the early response to smartphones and the subsequent increases in sales of contents (Monthly subscription fee increases) derived from the stock business of carrier fixed rate services and from alliances, which are expected to also enable the Company to realize growth in both sales and profits in the next fiscal year May 2015. During fiscal year May 2016, cultivation of new businesses may be required in order to sustain growth, but native applications and game development for smartphones and expansion in contents platforms in the content services business segment, and cost reduction solutions and overseas business in the solutions business segment hold potential for further growth in the future. Therefore, the ability for Nihon Enterprise to successfully absorb anticipatory investments must be watched closely to assess its ability to continue to realize favorable earnings.

 

Disclaimer

This report is intended solely for information purposes, and is not intended as a solicitation to invest in the shares of this company. The information and opinions contained within this report are based on data made publicly available by the Company, and comes from sources that we judge to be reliable. However we cannot guarantee the accuracy or completeness of the data. This report is not a guarantee of the accuracy, completeness or validity of said information and or opinions, nor do we bear any responsibility for the same. All rights pertaining to this report belong to Investment Bridge Co., Ltd., which may change the contents thereof at any time without prior notice. All investment decisions are the responsibility of the individual and should be made only after proper consideration.

Copyright(C) 2014, All Rights Reserved by Investment Bridge Co., Ltd.