Nihon Enterprise Co., Ltd. (4829)
Katsunori Ueda,
President
| | |
| --- | --- |
| Company | Nihon Enterprise Co., Ltd. |
| Code No. | 4829 |
| Exchange | Tokyo Stock Exchange, First Section |
| Industry | Information, Communications |
| President | Katsunori Ueda |
| HQ Address | 1-17-8 Shibuya, Shibuya-ku, Tokyo, Japan |
| Year-end | May |
| Home Page | |
Share Price
Shares Outstanding
Market Cap.
ROE (actual)
Trading Unit
¥256
37,700,000 shares
¥9.651 billion
10.9%
100 shares
DPS (Est.)
Dividend Yield (Est.)
EPS (Est.)
PER (Est.)
BPS (actual)
PBR (actual)
¥3.00
1.2%
¥9.28
27.6x
¥111.20
2.3x
* Share price as of close on July 14, 2014. Shares outstanding at the end of the most recent quarter exclude treasury shares.
| | | | | | | |
| --- | --- | --- | --- | --- | --- | --- |
| Fiscal Year | Sales   | Operating Income | Ordinary Income | Net Income | EPS | Dividend (¥) |
| May 2011 | 2,370 | 266 | 283 | 168 | 448.23 | 130.00 |
| May 2012 | 2,790 | 304 | 318 | 170 | 451.18 | 130.00 |
| May 2013 | 4,134 | 372 | 391 | 354 | 941.63 | 180.00 |
| May 2014 | 4,508 | 335 | 340 | 437 | 11.59 | 3.00 |
| May 2015 Est. | 5,210 | 415 | 430 | 350 | 9.28 | 3.00 |
* Estimates are those of the Company. A 100 for 1 stock split was conducted on December 1, 2013.

This Bridge Report provides details of Nihon Enterprise Co., Ltd. and information pertaining to the fiscal year May 2014 earnings results.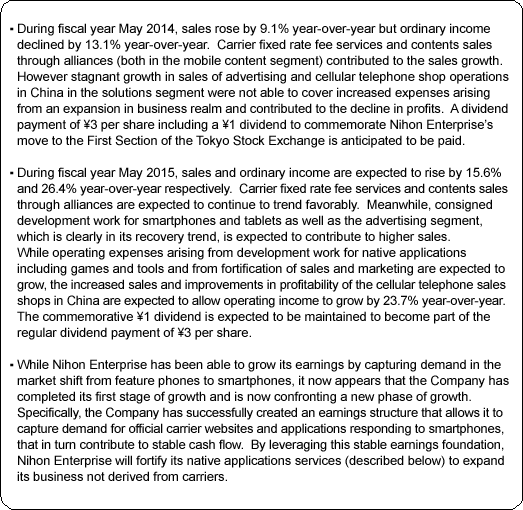 Nihon Enterprise is a "mobile solutions company," with two main business segments including the mobile content segment, where various contents including lifestyle and traffic information services are created and distributed to smartphones and other mobile devices, and the solutions segment, where contents creation and operation, system design and implementation, affiliate advertising, reverse auctions, and IP-PBX solutions (Cost reduction) are provided. Furthermore, Nihon Enterprise is also promoting efforts to expand its business into overseas markets, and has been a frontrunner in domestic content provision in China and India.

 

Focus Upon In-House Contents Creation

Nihon Enterprise maintains a strategy of holding ownership of its own contents through in-house creation, which enables the company to differentiate itself from its competitors and to achieve high profitability. This unique business strategy combined with its performance-based content sales model (real affiliates originally developed) through the cooperation with cellular phone distributors has enabled the company to expand sales of contents.

 

Corporate Group: 7 Consolidated Subsidiaries, 4 Non-Consolidated Subsidiaries

The Nihon Enterprise Group is comprised of seven consolidated subsidiaries including the company Dive Co., Ltd., which provides advertising services, LOUNGE Co., Ltd., which provides music related services, Advanced Traffic Information Services, Corporation (ATIS Corp.), which provides traffic and other information services, 4QUALIA Co., Ltd., which provides web and mobile site development and maintenance services and contents development, Enterprise (Beijing) Information Technology Co., Ltd., which operates cellular telephone retail shops in China, Beijing YZH Wireless Net Technology Co., Ltd., which provides mobile contents planning, development and distribution, Rice CZ (Beijing) New media technology Co., Ltd., which provides IT-related educational services. The Group also boasts of another four non-consolidated subsidiaries including and One, Inc., which provides voice communications related solution services, HighLab Co., Ltd., which conducts native application development as part of the mobile contents business, Rise MC (Beijing) Digital Information Technology Co., Ltd., which provides mobile contents distribution and character licensing services, and NE Mobile Services (India) Private Limited, a local company operating in India.

 

Examples of Contents

"Woman's Diary" is an application featuring women's important physical cycles. It allows women to keep record and manage their menstrual cycle, and provides various health related information and advice including most fertile time, menstrual period, and predicted ovulation day. (AppStore, Google Play)

"Fivetalk" is a messaging application for smartphone that allows users to send "Oekaki" and greeting cards (AppStore, Google Play)

"ATIS Traffic Info" provides unique highway and surface street traffic information, and other information including navigational routing, transfer, delays and other train operational information, parking lot, ferry, weather and other helpful information. (dmenu, au Portal, SoftBank Sugo Toku Contents, au Smart Pass, Yahoo! Premium, Feature Phone)

"Leisure and Parking Lot Information" is a website that provides helpful and high value added information regarding parking lot information for leisure activities (dmenu, au Smart Pass, Yahoo! Premium)
 

With regards to the content service segment, Nihon Enterprise will fortify its earnings structure through the provision of monthly and fixed rate fee subscriptions for smartphones users of carriers' official websites. At the same time, it will operate content platforms that connect "native applications" developed for games, tools, healthcare (lifestyle), and user communities. Within the solutions segment, efforts are being implemented to ensure that growth is seen in the four key realms of development projects (Smart devices), advertising services (Affiliate business), cost reducing solutions (IP telephones, reverse auctions), and collaborative models (Alliance type).

 

<Content Service Segment>

An expansion in provision of applications on monthly and subscription basis, and fixed rate services of carrier authorized websites has allowed the sales to smartphones to account for 65% of the content service segment's sales. At the same time, efforts are being promoted to fortify the earnings foundation of this business.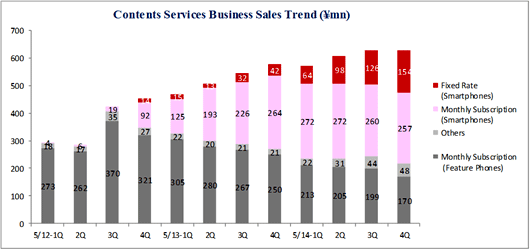 (1) "Contents Platform" Strategy

Nihon Enterprise continues to expand services provisioning via carriers through the promotion of usage and additional introductions of the contents for their fixed rate services. At the same time, the Company will cultivate various "content platforms" for smartphones.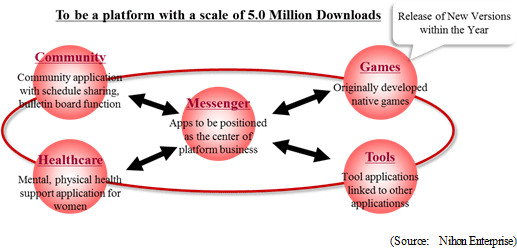 The first step will be to fortify "calling card tools" of games. Applications (Contents) for smartphones can be divided into browser based applications which can be used by various browsers, and native applications which can be downloaded to each terminals by users from application markets including App Store and Google Play. The superior function, usability, visibility, and designs of native applications that leverage the capabilities of smartphones is contributing to a shift from browser-based applications to native applications. Nihon Enterprise boasts of a track record in the development and operations of health care, messenger, community social and other applications, and has entered the realm of native game applications.

 

Main Native Applications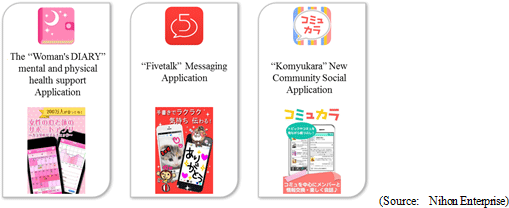 "Woman's Diary" is an application that supports the mental and physical health of female users. "Fivetalk" is a highly unique smartphone messaging application with "Oekaki & Greeting Card Send" that allows art and other forms of communication to be sent in addition to traditional text and it has been well received by the market. "Komyukara" is a community social application that allows friends to form social communities (Groups) for chatting, communicating, and pictures and schedules sharing through the use of a simple calendar and address book functions. All of these applications can be downloaded from App Store and Google Play.

 

HighLab Co., Ltd. Established as a 100% Owned Subsidiary to Conduct Native Application and Other Mobile Contents Business

HighLab Co., Ltd. was established on April 1 as a 100% owned subsidiary strategically to conduct native application development and other mobile contents business. Nihon Enterprise will promote a "contents platform" strategy, as collaborating with the game business that Nihon Enterprise is strengthening its development capability. Moreover, the smartphone game market including primarily native applications totaled ¥546.8 billion in 2013, and is expected to grow to over ¥800.0 billion by 2016 (According to CyberZ Inc., Seed Planning Inc.). Nihon Enterprise is considering a secondary usage strategy for its original content assets as a means of improving its profitability. As part of this strategy, the Company has begun providing an "all you can use" application service called "AppSeru" through XL Axiata, Indonesia's second largest mobile communication carrier (Boasting of 70 million service contracts) to provide localized applications (Including Woman's Diary, A Walk in the Clouds, A Space Odyssey). Furthermore, sales of the original character provided as a creators' stamp over the social network application called "LINE" are growing steadily.

 

(2) China Business

Efforts are being made to fortify the e-book business model (Creation of comics from popular novels), and the first comic "九     鼎     記" has exceeded over 20 million accesses over "騰 訊 動 漫" and other various distribution platforms. In February, the magazine series of the second title "歩 歩 生 蓮" was launched. In the future, Nihon Enterprise will conduct efforts to cultivate businesses that leverage the strength of owning nationwide licenses for the provision of various contents. .Additionally, Nihon Enterprise has launched a new service to localize Japannese games and distribute them in China.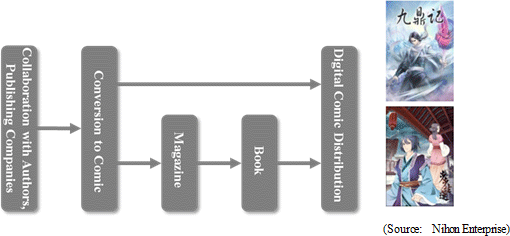 <Solutions Segment>

Efforts are being implemented to ensure that growth is seen in the four key realms of development projects (Smart devices), advertising services (Affiliate business), cost reducing solutions (IP telephones, reverse auctions), and collaborative models (Alliance type).

Amongst these, near term orders for smartphone related development projects are trending favorably, and fortification of collaboration with cellular telephone sales companies has brought about a v-shaped recovery after the decline in demand for advertising services resulting from the launch of sales of iPhone 5s/c by NTT Docomo. Sales support (Improve continuation rates, new user acquisition) of cellular telephone sales companies (Collaborating companies) and efforts to fortify marketing (Raise advertising pricing) to contents providers (Advertisers) were promoted inthe advertising services. In addition to expanding the number of stores and fortifying collaboration with existing stores operated by the existing collaborating companies, Nihon Enterprise will endeavor to cultivate new collaborating cellular telephone sales companies (New transaction partners).

 

 

Cost reducing services that combine features of high quality softphones and smartphones that leverage the technologies of "and One Inc." will be provided to small to medium sized companies as part of the cost reduction solutions services (Phones that can be used as internal phones, and have phone book function). Furthermore, in the reverse auction system, Nihon Enterprise is expected to expand sales from both the buyers and the suppliers in order to invigorate auctions, including the "Profair" quotations collection system. In addition, full scale corporate sales of secure and reliable"Messenger Application" for corporate clients through the use of communication application technologies will be launched. This "Messenger Application" will allow documents with video and visual images to be created, meeting minutes to be created automatically, and boasts of schedule sharing functions and can be customized to meet the specific needs of clients.

In overseas markets, earnings at the cellular telephone sales shops (Two China Telecom affiliated shops) operated in the Shanghai, China declined due to changes in carrier sales strategies in fiscal year May 2014. In response to this decline, Nihon Enterprise has made revisions to its earnings structure that will insulate it from changes in sales strategies of carriers. Specifically, sales to large corporate clients, fortification of accessories sales, and strict cost reductions have been implemented along with optimized allocation of human resources (Reductions in personnel).

 

Fiscal Year May 2014 Earnings Results

 

Carrier Fixed Rate Services and Shop Affiliations Contents Sales Drove Sales 9.1% Higher

Sales rose by 9.1% year-over-year to ¥4.508 billion. Sales of the contents services and solutions segment rose by 15.3% and 2.4% year-over-year to ¥2.469 and ¥2.039 billion respectively. In the content service segment, with expansion in sales of contents through shop affiliations (Increases in monthly subscription members) and carrier fixed rate fee services, traffic information, lifestyle information, e-books and games sales rose by 31.2%, 22.7%, 11.6%, and 373.0% year-over-year to ¥850, ¥459, ¥216, and ¥169 million respectively. In the solutions segment, advertising sales (Shop affiliations) declined by 15.5% year-over-year to ¥679 million due to temporary factors, but sales of consigned development work for smartphones and tablets rose by 2.0% year-over-year to ¥1.075 billion and the contribution from sales of China Telecom affiliated cellular telephone shops which were started in the fourth quarter of the previous fiscal year allowed overseas sales to rise by 136.6% year-over-year to ¥273 million.

 

Anticipatory Investments for New Businesses Including Overseas Businesses, Aggressive Advertising Expenses Impact Profits

An improvement in cost of sales ratio by 2.7% points was derived from higher sales of high profitability carrier fixed rate services, and allowed gross income to rise by 15.5% year-over-year. However operating income declined by 9.9% year-over-year to ¥335 million. Aggressive advertising was conducted for carrier fixed rate services, monthly subscription members, and to acquire native application users, boosting advertising expenses from ¥292 million in the previous term to ¥515 million in the current term. In addition, increased labor expenses for the China cellular telephone shops (¥60 million in labor related expenses, ¥20 million in other store related expense) in the solutions segment, other new businesses, and developmental personnel caused sales, general and administrative expenses to rise by 21.7% year-over-year to ¥1.857 billion. Commission fees paid increased and caused non-operating expenses to rise. The booking of profit on the sale of investment securities of ¥516 million (¥352 million in the previous term) allowed net income to rise by 23.1% year-over-year to ¥437 million.

 

Compared with Initial Estimates

In the solutions segment, temporary halt of sales incentives by carriers in China caused cellular telephone sales units to fall below estimates. Furthermore, the launch of iPhone 5s/c sales by NTT Docomo contributed to a decline in the number of advertisements (Shop affiliations) in Japan acquired to below expectations.

 

Shares Moved to Tokyo Stock Exchange First Section Market on February 28, Dividends to Be Raised by ¥1 to ¥3 Per Share in Commemoration of Move

Nihon Enterprise moved shares from the Second Section to the First Section of the Tokyo Stock Exchange on February 28, 2014. In commemoration of this move, dividend is expected to be raised by ¥1 to ¥3 per share (Actual dividend is ¥0.2 after the stock split is considered).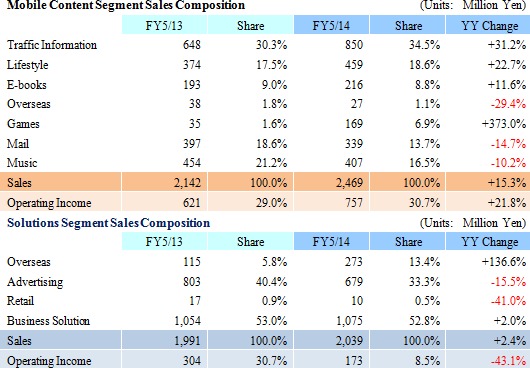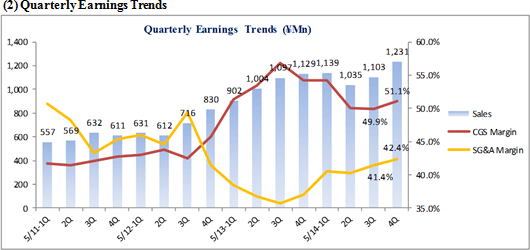 During the fourth quarter (March to May), sales rose by 9.0% from the previous quarter to ¥1.231 billion, but operating, ordinary and net incomes declined by 19.6%, 23.3% and 88.5% from the previous quarter to ¥79, ¥81 and ¥22 million respectively. Advertising (Shop affiliations) underwent a v-shaped recovery and consigned development projects for solutions expanded, allowing the solutions segment sales to rise by 10.3% from the previous quarter. While lifestyle related sales declined, carrier fixed rate services including traffic information and games grew in the content service segment. With regards to profits, an increase in sales of the relatively low profitability solutions segment caused the gross margins to decline, and aggressive advertising and sales promotion activities in the content service segment caused sales, general and administrative expense margin to rise.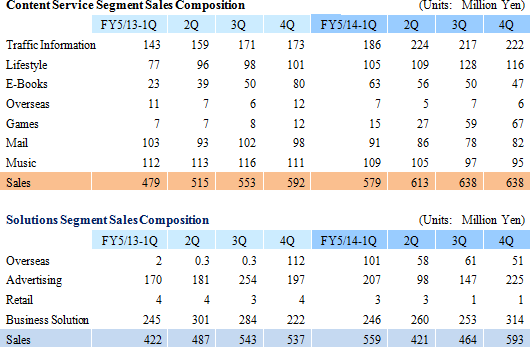 Total assets at the end of the current fiscal year rose by ¥472 million from the end of the previous fiscal year to ¥5.541 billion. While cash and equivalents increased, redemption of long term deposits caused investments and others accounts to decline. At the same time, net assets grew. Nihon Enterprise's financial structure remains healthy with stable levels of positive free cash flow. The lack of any debt allowed equity ratio to rise by 0.4% points in comparison to the previous term to a high level of 75.7% at the end of the term.

 

 

The net inflow of operating cash flow declined due to an increase in working capital including higher tax expenses (Rose from ¥95 to ¥381 million). At the same time, redemption of long term deposits and liquidation of investment securities allowed the net inflow of investing cash flow to rise. A net inflow of ¥606 million in free cash flow was recorded.

 

 

* ROE is an indicator reflective of the three indicators of net income margin (Net income / Sales), asset turnover ratio (Sales/Total assets), and leverage (Total assets/Equity, or the invers of equity ratio). ROE: Net income margin X Asset turnover ratio X Leverage
* Data in the above table are derived from the earnings announcement statement and financial filing reports, and ROE, asset turnover ratio and leverage are calculated using the average of total assets and equity during the term (Adding the values at the end of the previous and current terms and dividing by two. The value for leveage may not necessary be a direct calculation as the inverse of the equity ratio as the equity ratio shown in both the earnings announcement and financial filing reports are calculated using the current term end value.)

 

According to a report issued by the Tokyo Stock Exchange entitled "Earnings Announcement Aggregation," ROE of companies listed on the First Section, Second Section and Mothers Market of the Tokyo Stock Exchange ending their fiscal year in March 2014 for all industries excluding the financials stood at 8.65% (Compared with 4.99% in the previous term), 8.55% for manufacturing (Compared with 4.53% in the previous term), and 8.79% for non-manufacturing companies (Compared with 5.67% in the previous term). Consequently, Nihon Enterprise boasted of an ROE that exceeds the average for the market in fiscal year May 2014, because its net income margin improved on the sale of investment securities, and leverage increased through the expansion in its businesses and M&A activities.

 

 
Fiscal Year May 2015 Earnings Estimates

 

Sales, Ordinary Income Expected to Rise 15.6%, 26.4% in FY5/15

The v-shaped recovery recorded since the second quarter of the fiscal year just ended is expected to continue and to allow sales to rise by 15.6% year-over-year to ¥5.210 billion in fiscal year May 2015. Strength in carrier fixed rate services, advertising and consigned development projects for solutions are expected to contribute to the growth in sales. Operating expenses arising from native application development ,such as games and tool applications, and sales promotional activities are expected to rise (Advertising expenses of ¥600 million anticipated), but the higher overall sales and improved profitability of the cellular telephone shops in China are expected to allow operating income to rise by 23.7% year-over-year to ¥415 million. The decline in net income is expected to be caused by a decline in sale of marketable securities, and a conservative outlook for extraordinary income (Profit on sales of investment securities on June 9, 2014 was ¥331 million and is expected to be booked as an extraordinary income during the first quarter).

 

Normal Dividend Raised by ¥1 to ¥3 Per Share

A normal dividend of ¥3 per share is expected to be paid at the term end. This represents a ¥1 hike in the normal dividend as the commemorative ¥1 dividend paid in the previous term will be maintained as part of the normal dividend payment. Consequently the dividend payout ratio is expected to rise to 32.3% from 25.9% in the previous term. Moreover, Nihon Enterprise views the return of profits to shareholders as a key management issue, and it will return profits to shareholders through dividend payment with a view to its earnings performance, cash flow conditions, profitability, equity ratio, and future capital investment plans. In addition, the Company expects to adopt a dividend strategy that allows for stable levels of dividends to be paid, while at the same time ensuring that adequate capital is secured to fund aggressive deployment of its businesses and to be able to respond to changes in its business environment.

 

 
 

Nihon Enterprise has been able to expand its earnings by accurately capturing the shift in the market from feature phones to smartphones, and it is now ending its first growth phase and about to enter its second growth phase, and fiscal year May 2014 marks this transition point. Specifically, the Company has been able to establish an earnings structure by coming up with responses to capture the demand from smartphones for various applications of carriers' official websites. In the future, cash flow derived from this earnings structure will be used to fortify its native applications services as a means of creating businesses that are not dependent upon carriers. In the realm of games, Nihon Enterprise will pursue a strategy of creating a lineup of lighter games that link to other realms rather than trying to develop megahit games. Nihon Enterprise group, including HighLab Co., Ltd, is moving ahead with improvement of the organization and various cost reducing solutions and expansion in its China business will be key factors determining the Company's business performance during fiscal year May 2015.

 

Disclaimer

This report is intended solely for information purposes, and is not intended as a solicitation to invest in the shares of this company. The information and opinions contained within this report are based on data made publicly available by the Company, and comes from sources that we judge to be reliable. However we cannot guarantee the accuracy or completeness of the data. This report is not a guarantee of the accuracy, completeness or validity of said information and or opinions, nor do we bear any responsibility for the same. All rights pertaining to this report belong to Investment Bridge Co., Ltd., which may change the contents thereof at any time without prior notice. All investment decisions are the responsibility of the individual and should be made only after proper consideration.

Copyright(C) 2014, All Rights Reserved by Investment Bridge Co., Ltd.