Nihon Enterprise Co., Ltd. (4829)
Katsunori Ueda,
President
| | |
| --- | --- |
| Company | Nihon Enterprise Co., Ltd. |
| Code No. | 4829 |
| Exchange | Tokyo Stock Exchange, First Section |
| Industry | Information, Communications |
| President | Katsunori Ueda |
| HQ Address | 1-17-8 Shibuya, Shibuya-ku, Tokyo, Japan |
| Year-end | May |
| Home Page | |
Share Price
Shares Outstanding
Market Cap.
ROE (actual)
Trading Unit
¥268
40,537,700 shares
¥10.864 billion
3.8%
100 shares
DPS (Est.)
Dividend Yield (Est.)
EPS (Est.)
PER (Est.)
BPS (actual)
PBR (actual)
¥3.00
1.1%
¥4.69
57.1x
¥121.21
2.2x
* Share price as of close on October 2, 2015. Shares outstanding as of end of most recent quarter and exclude treasury shares.
| | | | | | | |
| --- | --- | --- | --- | --- | --- | --- |
| Fiscal Year | Sales   | Operating Income | Ordinary Income | Net Income | EPS (¥) | DPS (¥) |
| May 2012 | 2,790 | 304 | 318 | 170 | 451.18 | 130.00 |
| May 2013 | 4,134 | 372 | 391 | 354 | 941.63 | 180.00 |
| May 2014 | 4,508 | 335 | 340 | 437 | 11.59 | 3.00 |
| May 2015 | 5,116 | 189 | 204 | 177 | 4.57 | 3.00 |
| May 2016 Est. | 6,100 | 450 | 470 | 190 | 4.69 | 3.00 |
* Estimates are those of the Company. Effective from fiscal year March 2016, net income reflects that of only the parent company.
* A 100 for 1 stock split was conducted on December 1, 2013.

This Bridge Report provides details of Nihon Enterprise Co., Ltd. and information pertaining to earnings results for the first quarter of fiscal year May 2016.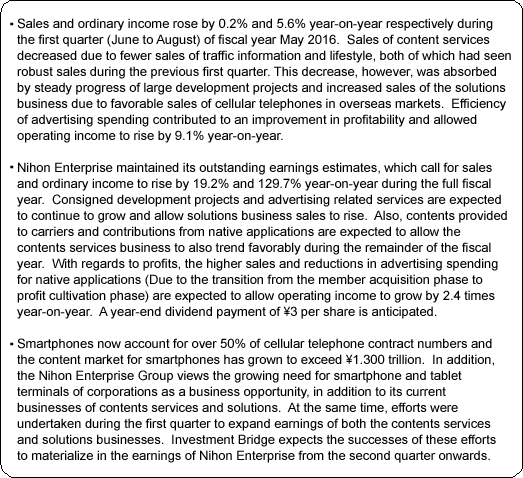 Nihon Enterprise is a "mobile solutions company" with two pillars of business: 1) The contents services business, where various contents including traffic information, entertainment and lifestyle services are created and distributed to smartphones and other mobile devices, and 2) The solutions business, where contents creation and operations, system integration, advertising (in-store affiliate), reverse auctions, IP phones and other business support solutions (Cost reduction) are provided. Furthermore, Nihon Enterprise is also promoting efforts to expand its business into overseas markets and has established a business platform for the provision of Japanese contents in China and India.

Nihon Enterprise listed its shares on the NASDAQ Japan Market (Currently called the JASDAQ Market) of the Osaka Securities Exchange on February 16, 2001. On July 10, 2007, it moved its listing to the Second Section of the Tokyo Stock Exchange, and then to the First Section on February 28, 2014.

 

<Corporate Philosophy>

Nihon Enterprise's employees are committed to maintaining the basic corporate philosophy for eternity by repeatedly learning from the philosophy reflected in its "Mission Statement, Doctrine, and Five Spirits" and "Nihon Enterprise Management Principles." President Katsunori Ueda believes that it is Nihon Enterprise's obligation to maximize "shareholder value" and "make effective use of capital by not wasting a single yen". From the start, President Ueda founded Nihon Enterprise with the strong motivation of "contributing to society through its businesses" and the Company pursues the achievement of this goal. Consequently, the Company seeks to contribute to society by increasing the satisfaction of its users through the provision of convenient information technology equipment and interesting and diverse contents and services.

Based upon the management philosophy of President Ueda, the bulk of the ordinary income earned in the founding year of the Company was donated to the Japan Red Cross Society, various local councils of social welfare and children's institutions., among others. Also, donations were made to the Japan Red Cross Society at the time of the Great East Japan Earthquake to support the victims and the reconstruction efforts in the Tohoku region.

 

Mission Statement

Nihon Enterprise seeks to contribute to society and to promote culture through its activities conducted as a commercial entity.

 

Philosophy

Nihon Enterprise vows to achieve the five commitments listed below and to devote itself unitedly to its operations.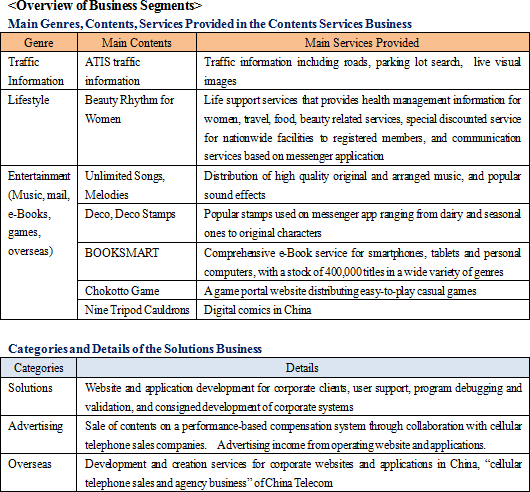 <Corporate Group: 10 Consolidated Subsidiaries, 5 Non-Consolidated Subsidiaries>

The Nihon Enterprise Group has ten consolidated subsidiaries, out of which seven are in Japan and three in China. The seven subsidiaries in Japan are namely: Dive Co., Ltd., which provides advertising services, At The LOUNGE Co., Ltd. which provides music related services, Advanced Traffic Information Services, Corporation (ATIS Corp.), which provides traffic and other information services, 4QUALIA Co., Ltd., which provides web and mobile site development and maintenance services and contents development, HigLab Co., Ltd., which conducts native application development as part of the mobile contents business, and One Inc., which provides voice communications related solutions, and Aizu Laboratory, Inc., which conducts smartphone application planning and development. The three subsidiaries in China are: Enterprise (Beijing) Information Technology Co., Ltd., which operates cellular telephone retail shops in China, Beijing YZH Wireless Net Technology Co., Ltd., which provides mobile contents planning, development and solutions, and Rice CZ (Beijing) New media technology Co., Ltd., which provides IT related educational services.

The Group also maintains five non-consolidated subsidiaries, out of which three are in Japan and two overseas. Those three in Japan are namely: Yamaguchi Regenerative Energy Factory Co., Ltd., which will be established in June 2015 to conduct smart community business, Promote, Inc., conducted a third party placement funding in July 2015 and provides development of applications for smartphones and automated kitting tools, and NE Yin Run Co., Ltd., which was established in October 2015 to provide wholesale services in China. And those two overseas subsidiaries are namely Rise MC (Beijing) Digital Information Technology Co., Ltd., which provides mobile contents distribution and character licensing services in China, and NE Mobile Services (India) Private Limited, a local subsidiary in India.

 

<Features, Strengths>

One of the features and strengths of Nihon Enterprise is its "devotion to development based on non-IP contents". The Company maintains a unique strategy focused upon the development and ownership of its original contents (Intellectual properties) as part of its unique business model for achieving high profitability. This strategy has also enabled the Company to expand sales of its performance-based compensation (Success fees) contents through cooperation with cellular telephone sales companies to conduct affiliate program contents sales (Independently developed in-store affiliates). In addition, these experiences are leveraged in its mobile communications solutions for corporations.

 

Examples of Contents

"Woman's DIARY" is an important specialized application that allows women to manage their physiological cycles. It allows women to record and manage various physiological characteristics including their menstrual cycle, and provides various health related information and advice.

"ATIS traffic information" provides traffic information on highway and local street , finding parking lot, weather, and other helpful information.
 

With regards to the contents services business, Nihon Enterprise will endeavor to fortify its earnings structure through the provision of contents to monthly charged and flat rate carrier official services along with global deployment of "contents platforms" through mutual collaboration with life support applications for women and communication services based on messenger application (native application). At the same time, consigned development for smart devices, business support services, advertising (In-store affiliate) and collaborations (Alliance type) are expected to become growth drivers for expansion of the solutions business.

 

(1) Endeavors in the Contents Services Business
Flat Rate Carrier Services Expand

Applications are provided across the flat rate carrier services including "au Smart Pass (KDDI)", "Sugo Toku Contents (NTT Docomo)", "App Pass (Softbank Mobile)" and "Appli Chou Houdai (Source Next)". The current growth in sales is expected to continue on the back of the addition of contents and through provision of new flat rate services across existing carriers.

 

"Contents Platform" Deployment: Cultivate New Core Businesses

Genre including games (native games), tools (Tool applications which can be used with other applications), healthcare (Mental and physical health support applications for women), and communities (schedule sharing and bulletin board style of community application) will be fortified. At the same time, Nihon Enterprise will pursue synergies (Deploying across "contents platforms" for smartphones) through coordination of these applications with messenger service ("Fivetalk" free chat application).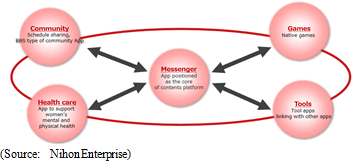 (2) Solutions Business Strategy

The Company will make efforts in expanding the realm of website and application development services (Solutions) provided to corporations and local governments, as well as corporate business process support services. Furthermore, it will work hard to expand solutions for services, etc. geared to local governments in connection with countermeasures to the falling birthrate and preparation for the "My Number" system (Consigned development and operations of applications and systems), and to strengthen in-store affiliates through an increase in the number of stores with "touch points" and the improvement of the advertising value by lowering churn rates.

 

Solutions Realm Expansion

Along with the increase in system investments accompanying the recovery in the economy, the business environment for solutions is favorable. In addition, the arrival of the smart device age has led to an expansion in Nihon Enterprise's business realm and increases in its technological expertise. For example, in recent years IP telephones, smart grid, big data, Internet of Things (IoT) and other trends are on the rise. And from fiscal year May 2015 onwards, regional economy rejuvenation, Tokyo Olympics and Paralympics, the "My Number" system are creating needs for a wide range of services.

 

Strengthening In-store Affiliates

Nihon Enterprise has begun collaborating with cellular telephone sales companies that have strengths in regions outside of the major metropolitan areas, to form in-store affiliates in the Kyushu and Tohoku regions, with affiliates to be established in the Chugoku and Shikoku regions. Currently, the Company is also conducting efforts to expand its business in the major metropolitan regions, where competition is fierce.

Because of a peaking in handset sales being encountered by cellular telephone sales companies, they are seeking ways to acquire new earnings sources and are open to pursuing collaborations. Nihon Enterprise will expand its "touch points" (Stores) by cultivating new collaborative partners, expanding the number of stores managed by existing collaborative partners and improving the performance of weaker stores, in addition to increasing advertising value by reducing the churn rates. Moreover, efforts will be made to strengthen advertising sales for feature phones where competition is not as intense as for smartphones.

 

 
First Quarter of Fiscal Year May 2016 Earnings Results

 

Sales, Ordinary Income Rise 0.2%, 5.6% Year-On-Year

Sales rose by 0.2% year-on-year to ¥1.319 billion during the first quarter. This low growth rate is attributed to a high level of traffic information sales in the previous first quarter and a 7.1% year-on-year decline sales of contents services on the back of a drop in lifestyle related information sales, which largely offset a 7.4% year-on-year rise in sales of the solutions business on the back of acquisition of large development projects and favorable sales of handset terminals in overseas markets.

With regards to profits, while gross income margin declined due to a deterioration in the sales of the solutions business (Still in line with the gross income margin levels recorded during the fourth quarter of fiscal year May 2015), reductions in sales, general and administrative expenses due to lower advertising expenses allowed operating income to rise by 9.1% year-on-year to ¥57 million. However, reductions in subsidies and the booking of interest payments and foreign exchange translation losses during the first half caused the rate of growth in ordinary income to fall below that of operating income at 5.6% year-on-year to ¥60 million. A decline in sales of investment securities (From ¥331 to ¥17 million) caused net profit attributable to parent company shareholders to decline by 88.7% year-on-year to ¥24 million.

 

 

Sales declined by 7.1% year-on-year to ¥601 million. In addition, sales of entertainment rose on the back of favorable trends in games and growth in unique users of the information site specializing in the Japanese women's soccer called "Nadeshiko Fan!!". However, declines in sales of traffic information due to the high level of sales recorded during the previous first quarter and lower sales of lifestyle information in the current quarter contributed largely to the decline in overall sales of the contents services business. In contrast, favorable trends in high profitability games and reductions in advertising spending through optimized advertising activities contributed to a 25.1% year-on-year increase in operating income to ¥181 million.

 

 

Sales of the solutions business rose by 7.4% year-on-year to ¥718 million. Steady progress was achieved in large development projects with a long development time, allowing sales of the solutions category to rise by 84.7% year-on-year, and a sudden increase in sales of handset terminals allowed overseas category sales to rise by 111.6% year-on-year. On the other hand, the strong sales of advertising in the previous first quarter due to strong customer foot traffic through carrier shops contributed to the decline in advertising category sales, but the number of existing collaborative stores in operation increased and cultivation of new cellular telephone sales shops got good results. With regards to profits, the addition of two new consolidated subsidiaries and increases in labor expenses contributed to the decline in operating income.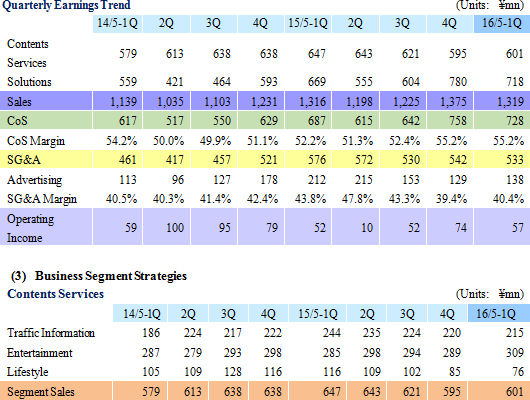 With regards to traffic information category, efforts to acquire new members and to promote long-term usage by existing members were conducted. In the entertainment category, the lineup of contents was fortified by the aggressive introduction of new contents. At the same time, success of efforts in the lifestyle category have begun to appear in the form of favorable trends in women's healthcare sales over "au Smartpass" service and selection of "Fivetalk" messenger application in automobile use applications.

 

Traffic Information

With regards to "ATIS traffic information," the Nihon Enterprise Group will endeavor to acquire new members by investing in advertising that leverages its in-store affiliate (Advertising agency service) operations, and to promote the long-term usage of existing members by pursuing alliances and adding new functions to raise the value addition of this service. Moreover, the subsidiary ATIS CORPORATION operates "ATIS traffic information" service upon the concept of "making going out more convenient and more fun" by smartphone users. Road traffic information, live visual images of traffic congested areas, parking lot search function and other information is distributed across this service with a highly popular function that provides discount coupons that can be used at 200,000 various commercial facilities nationwide and a service called "Everyone's Traffic Report" (SNS). Advanced Traffic Information Services also provides information about large shopping malls and TBS Television's "Next Generation Smart Television" service as part of its wide ranging contents provision service to smartphone users.

 

Entertainment

Nihon Enterprise has achieved success in its aggressive advertising activities and introductions of new contents, as indicated by the favorable trends in usage of its game application called "Chokotto Game" provided across "Sugotoku Contents" (NTT Docomo's flat rate service), which targets light users. In addition, attention garnered during the recently held women's soccer world tournament allowed the Japanese women's soccer website called "Nadeshiko Fan!!" to grow the number of its unique users and began being distributed across "Sugotoku Contents" and "App Pass" (Softbank Mobile). Aside from these developments, the Sugoroku application called "Yowamushi Pedal Sugoroku" based upon the popular television anime called "Yowamushi Pedal", music distribution site "SOUNDSMAERT", and stamp creation application "Stamp Factory" began being distributed over "App Pass."

 

Lifestyle

User's download counts for the "Women's Diary" application for women (An application that allows women to manage their health and various physiological cycles) grew both inside and outside of Japan, along with growth in the number of daily active users. Nihon Enterprise is currently taking the next step towards monetizing this site by pursuing alliances. Also, "Beauty Rhythm for Women", which is an application designed to support women's health management, also trended favorably on the back of advertising introduced into the Company's own operating in-store affiliate. Along with "Women's Diary" an application for younger women, new contents for women who are on various stages of life such as newborn, childhood, puberty, maturity, menopause and old age, are being created. With regards to the messaging application "Fivetalk", which is another cornerstone of the lifestyle category, a new function called "Picture Drawing over Talking Function" has been newly added (June 16, 2015). This application has been selected for inclusion in Toyota Motor's next generation telematics system called "T-Connect" (June 25, 2015) and is expected to be cultivated to become a next generation communication platform.

 

 

Large development project as part of the strategy of expanding the realm of consigned development in the solutions business are trending favorably, along with the start of collaborative work with several partnering companies. With regards to Nihon Enterprise's own operating services, successes are being achieved in the launch of new services and M&A related activities. At the same time, sales measures have been able to achieve success despite the increasingly severe operating conditions for advertising. Sales of cell phonehas doubled compared with the same quarter in the previous year on the back of replacement demand created by the introduction of 4G high speed communications services and strong sales to corporate clients in overseas markets.

 

Solutions

The expansion in information systems investments on the back of the economic recovery is also contributing to an improvement in the consigned development business environment. Steady progress is being made in the development of large project with a long development period, and site creation and operations for web service company and development of large game company smartphone applications are also trending favorably. In addition, the provision of the cloud-based integrated managed service called "Premium Cloud" has been launched on June 18, 2015 in collaboration with the partner IDC Frontier Inc., as an alliance business in the realm of cloud computing and currently, various efforts are being made to cultivate new customers. Provision of the common platform (Cloud SaaS) "Tourism Yubisashi Navigation" to tourism businesses started from August 10, 2015, and operation of the Chiba prefecture's declining birth rate countermeasure site called "Chiba My Style Diary" (Sales expected to be booked from the fourth quarter of the current fiscal year) was conducted from August 20, 2015.

The operating environment for own operating services is highly favorable given the growing needs of various regional government bodies to pursue operational efficiency through the use of applications. Efforts to cultivate various government bodies as new customers for the reverse auction "Profair", and to fortify the functionality of the corporate messaging application "BizTalk" and the Internet phone application "AplosOne" were also conducted during the first quarter. Moreover, Promote, Inc., which provides application site development and automated testing tools for smartphones and tablet terminals, was turned into a subsidiary through the acceptance of a third party placement financing on July 22, 2015 as part of a strategy to expand the sales channels for own operating services and to acquire new products and services for sale.

Promote, Inc. primarily conducts the following three services:

1) Development, sales and maintenance of "automated kitting tools" which can efficiently preinstall various applications and establish customized initial settings as required by individual clients.

2) Development, sales and maintenance of "automated testing tools" which can validate the effectiveness of contents operating in conjunction with multiple operating systems and across multiple handsets.

3) Operation of an engineering service where project managers and application development staff are dispatched to companies is conducted.

 

Nihon Enterprise will pursue synergies with Promote, Inc. to strengthen its consigned development capability and to promote sales of solutions to improve operational efficiency such as "BizTalk" and "AplosOne" by leveraging Promote's ability to pre-install applications prior to shipment of handset products to corporations. The Company will also pursue synergies in the provision of its application sales platform called Mobile Virtual Network Operator (MVNO).

 

Promote, Inc. Overview
| | |
| --- | --- |
| Representative: | Masahiko Morimoto |
| Headquarter Location: | Matsuoka Shibuya Building, 1-17-8 Shibuya, Shibuya-ku, Tokyo, 150-0002 |
| Established Date, Capitalization: | January 2008, ¥40 million |
Business Description:
Provision of automated testing tools (For content functional verification), automated kitting tools for smartphones and digital tablet terminals, testing operations support, consigned development of websites and applications for Android and iOS, and system engineering services.

 

NE Yin Run Co., Ltd. Overview
| | |
| --- | --- |
| Representative: | Katsunori Ueda |
| Headquarter Location: | Shibuya 1-17-8, Matsuoka Building, Shibuya Ward, Tokyo, 150-0002 |
| Established Date, Capitalization: | October 2015, ¥25 million |
Business Description:
Wholesale business, business development support

 

Advertising (Advertising Agency Service)

While the severity in the business environment is intensifying due to increasing competition between carrier products and services, and declines in sales of handsets, Nihon Enterprise is able to increase the operating rates of its store network primarily in the Tokyo and surrounding regions and achieve results in its sales measures. Moreover, the Company has been able to expand the number of affiliated cellular telephone sales stores and increase the advertising value through the provision of meticulous store support (Leads to high continuation rates), and continued its efforts to sell feature phones in addition to smartphones.

 

Overseas

While growth in the cellular telephone market in China is slowing, Nihon Enterprise has been able to double the sales of its handsets on a quarter-over-quarter basis by cultivating replacement demand created by the introduction of 4G high speed communication services and by its efforts to promote sales to corporate clients. Reductions in sales, general and administrative expenses are being promoted through optimization of personnel.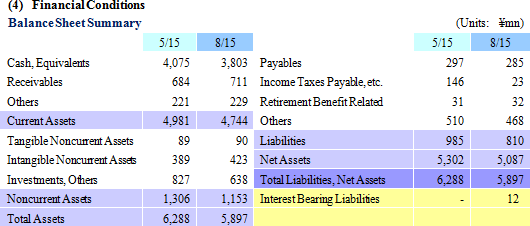 Total assets declined by ¥390 million from the end of the previous fiscal year to ¥5.897 billion at the end of the first quarter of the current fiscal year. Current assets declined on the back of a decline in cash and equivalents arising from income tax and dividend payments. Noncurrent assets contracted due to the sale of investment securities. A drop in income taxes payable, etc. contributed to a decline in liabilities. Net assets also fell from the end of the previous fiscal year due to dividend payment and changes in marketable securities valuations, which offset the booking of net income.

 

 
Full Fiscal Year May 2016 Earnings Estimates

 

Company Full Year Earnings Estimates Unchanged, Call for Sales, Ordinary Income to Rise by 19.2%, 129.7%

Nihon Enterprise's estimates for the full fiscal year May 2016 remain unchanged and call for sales to rise by 19.2% year-on-year to ¥6.1 billion. Sales of the solutions business are expected to rise on the back of contributions from the large development project, collaborative partnerships and M&A activities. At the same time, sales of the contents business are expected to trend strongly due to the contributions of native applications and fortification of contents for flat rate carrier services.

With regards to profits, efforts to strengthen sales of health care and messaging applications are expected to be complimented by reductions in advertising spending as the Company shifts from the member acquisition phase to profit cultivation phase. Combined with the higher sales, operating income margin is expected to improve by a large margin and operating income is expected to grow by 2.4 times year-on-year to ¥450 million. The lack of sales of investment securities this term (Sales of investment securities in the previous fiscal year) are expected to reduce the margin of growth in net profit attributable to parent company shareholders to 7.0% year-on-year to ¥190 million. A dividend of ¥3 per share is expected to be paid at the end of the year.

 

 
 

Smartphones now account for over 50% of cellular telephone contract numbers and the contents market for smartphones has grown to exceed ¥1.300 trillion. In addition, Nihon Enterprise Group views the growing need for smartphones and digital tablet terminals of corporations as a business opportunity in addition to its current businesses of contents services and solutions. At the same time, efforts were undertaken during the first quarter to expand earnings were rewarded by steady gains in sales of games, and results achieved in the women's healthcare applications and messaging application "Fivetalk" in the contents services business. Meanwhile, in the solutions segment favorable sales of consigned development were recorded, along with progress in expanding own operating services and success in the pursuit of collaborative partnerships and M&A activities, and raising store operating rates in the Tokyo Metropolitan Area in AdvertisingInvestment Bridge expects the successes of these efforts to materialize in the earnings results of Nihon Enterprise from the second quarter onwards.

 

Disclaimer

This report is intended solely for information purposes, and is not intended as a solicitation to invest in the shares of this company. The information and opinions contained within this report are based on data made publicly available by the Company, and comes from sources that we judge to be reliable. However we cannot guarantee the accuracy or completeness of the data. This report is not a guarantee of the accuracy, completeness or validity of said information and or opinions, nor do we bear any responsibility for the same. All rights pertaining to this report belong to Investment Bridge Co., Ltd., which may change the contents thereof at any time without prior notice. All investment decisions are the responsibility of the individual and should be made only after proper consideration.

Copyright(C) 2015, All Rights Reserved by Investment Bridge Co., Ltd.