Nakamura Choukou Co., Ltd. (6166)
President
Makoto Inoue
| | |
| --- | --- |
| Company | Nakamura Choukou Co., Ltd. |
| Code No. | 6166 |
| Exchange | TSE Mothers |
| Industry | Machinery (Manufacturing) |
| President | Makoto Inoue |
| Address | 27-27 Tsuruta-cho, Nishi-ku, Sakai-shi, Osaka prefecture |
| Year-end | End of March |
| URL | |
Share Price
Number of shares issued
(excluding treasury shares)
Total market cap
ROE (Actual)
Trading Unit
¥2,080
4,673,900 shares
¥9,684 million
32.5%
100 shares
DPS (Est.)
Dividend Yield (Est.)
EPS (Est.)
PER (Est.)
BPS (Actual)
PBR (Actual)
¥10.00
0.5%
¥215.53
9.7 times
¥1,208.79
1.7 times
* The share price is the closing price on June 24.
The number of shares issued includes the number of shares increased through the public offering and allocation of new shares to a third party conducted in April 2016.
ROE is the value at the end of the previous term. BPS is the value at the end of March 2016.
Fiscal Year
Net Sales
Operating
Income
Ordinary
Income
Net
Income
EPS
DPS
Mar. 2013 (Actual)
4,453

-389

-435

-492

-149.60

0.00
Mar. 2014 (Actual)
3,617

-373

-415

-423

-128.75

0.00
Mar. 2015 (Actual)
5,123
819
926
1,077
327.10
0.00
Mar. 2016 (Actual)
6,836
1,435
1,440
1,221
308.37
10.00
Mar. 2017 (Forecast)
9,400
1,700
1,600
1,000
215.53
10.00
* The values for the term ending Mar. 2017 were estimated by the company.
Net income is profit attributable to the stock owners of the parent company. Hereinafter the same apply.

This report outlines Nakamura Choukou Co., Ltd. and the financial results for the term ended Mar. 2016, and introduces the interview with the president Inoue, etc.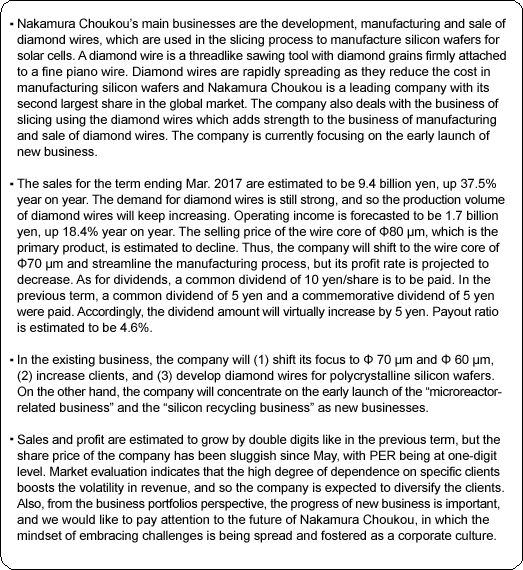 Nakamura Choukou's main businesses are development, manufacturing and sale of diamond wires, which are used in the slicing process to manufacture silicon wafers for solar cells. A diamond wire is a threadlike sawing tool with diamond grains firmly attached to a fine piano wire. Diamond wires are rapidly spreading as they reduce the cost in manufacturing silicon wafers (*) and Nakamura Choukou is a leading company with its second largest share in the global market. The company also deals with the business of slicing using the diamond wires which adds strength to the business of manufacturing and sale of diamond wires. The company is currently focusing on the early launch of new businesses.

 

Wafers (*)
A wafer is a flat functional part that is produced by thinly slicing ingots of electronic materials. It is made of various materials by purpose such as silicon, sapphire, SiC (silicon carbide) and GaN (gallium nitride). Silicon wafers are often used for IC chips and solar cells.

 
1-1 Corporate history
"Nakamura Steel Works" (the predecessor of Nakamura Choukou) was established in October 1954 in Sakai City, Osaka Prefecture as a machine screw manufacturer for sewing machines.
"Nakamura Choukou Co., Ltd." was established in December 1970, which mainly manufactured cutting tools and wear-resistant tools made of cemented carbide. The company switched the main material from cemented carbide to diamond in 1988 and started the development, manufacturing and sale of diamond nozzles (*) in 1993. The company supported the manufacturing innovation for the IT industry and its business expanded. In 2004 after the burst of the dot-com bubble, the company started the research and development for the current main product, diamond wire, whose target was the energy industry and started distributing it in 2010. The company overcame the impact of the financial crisis in 2008 by dealing with not only the manufacture and distribution of diamond wire but also the slicing business. The company was listed on Mothers of Tokyo Stock Exchange in June 2015.

 

Diamond nozzles (*)
A nozzle with sintered diamond at the tip, which is used for mounting electronic components onto a print circuit board. By using diamond, the lifespan of the nozzle, holding capacity of the electronic component, image recognition efficiency and mounting efficiency are improved.

 
1-2 Corporate basic philosophy

1-3 Market environment
The use of renewable energy is promoted globally for the reduction of greenhouse gas emissions causing global warming. Among these kinds of renewable energy, solar power is regarded as effective and the solar battery market is expected to grow steadily both in developed and emerging countries.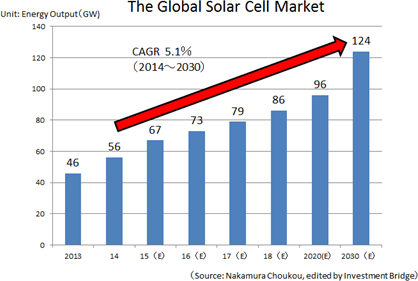 As for the forecast for the production capacity for solar cells in each region, China is placed by far at the top both in production volume and growth rate, while Europe, the U.S. and Japan remained flat.

 
 

Asahi Diamond Industrial Co., Ltd. (6140, First Section of Tokyo Stock Exchange) has the largest global share of diamond wire followed by Nakamura Choukou. Though Japanese corporations lead the global market share, Chinese manufacturers have been rising in recent years.

 

1-4 Business contents
1. Segment

Nakamura Choukou's businesses are consisted of the three segments: Peripheral Business of Electronic Material Slicing, High-precision Equipment and Chemical Fiber Spinning Nozzle Businesses.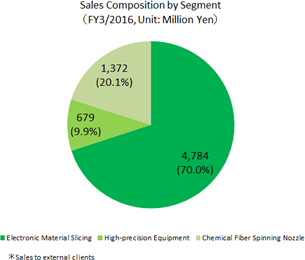 (1) Peripheral Business of Electronic Material Slicing

The development, manufacturing and distribution of diamond wire which is used in the slicing of all kinds of electronic material wafers for solar cells, LEDs, etc.

 

① What is Diamond wire?
◎ Manufacturing Process of Silicon Wafer

Nakamura Choukou's diamond wire is used in the slicing process in manufacturing silicon wafers, which are used for the main part of a solar battery panel, that is, a solar cell.
Silicon wafers are classified broadly into two kinds: single-crystal silicon wafers and polycrystalline silicon wafers. The following are the pros and cons of each kind: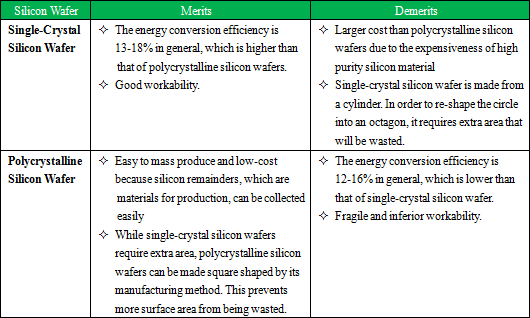 The following is the manufacturing process of single-crystal silicon wafer using Nakamura Choukou's diamond wires.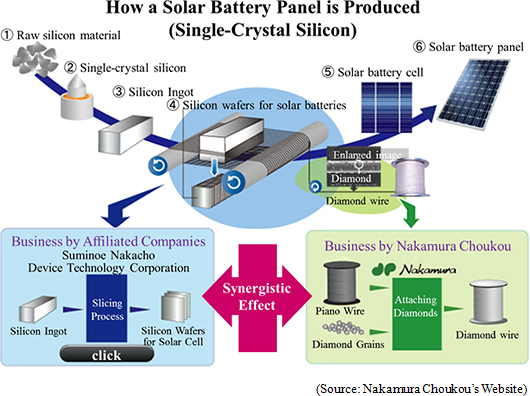 <Extraction of Single-Crystal Silicon>

The material of the wafer, silicon (Si), is found in rocks and needs to be extracted to a high-purity level in order to produce wafers. The silicon material for solar battery cell is considered to require a purity level of over 99.9999%.
The silicon material is melted in a "quartz crucible" at over 1,400 degree Celsius.
After a silicon bar is dipped into the molten silicon, a single-crystal silicon ingot is produced by pulling the bar out of the molten silicon while rotating it.

<Producing the Ingot>

The single-crystal silicon ingot is cut into rectangular shapes according to the required size of the silicon wafer.

<Manufacturing of the Silicon Wafer>

The shaped ingot is sliced using the "diamond wire".
On a slicing process machine, the ingot is sliced by finely lined diamond wires which run over the guide roller at high-speed rotation. 2,000-3,000 silicon wafers are produced in 3-4 hours.

The silicon wafer is completed after washing and quality inspection. After being processed to become a solar cell, it is incorporated as part of a solar cell module.

 

◎ Diamond Wire Overview

There are two methods of slicing silicon wafers; "loose grain method" and "fixed grain method (using diamond wires)".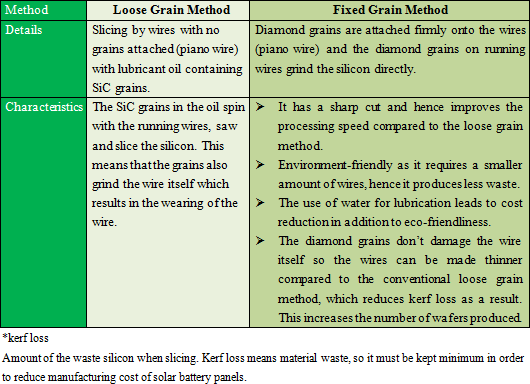 The facts about "improved processing speed," "low running cost," "reduced kerf loss" and "eco-friendliness with a reduced amount of required wires" mentioned above contribute to the expansion of transfer to and the demand for the "fixed grain method" using diamond wires.
Nevertheless, in the current situation the use of the loose grain method dominates about 80% of the market and there is ample room for market cultivation.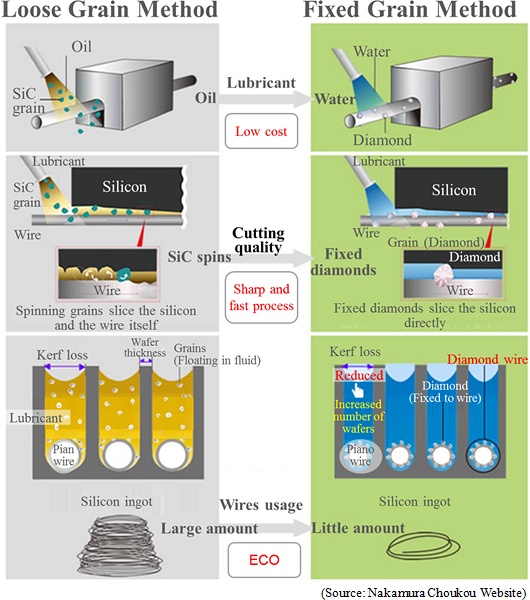 Additionally, Nakamura Choukou is making efforts to further thin the diamond wire since increasing the number of silicon wafers produced from an ingot is an important advantage for wafer manufacturers in terms of production efficiency and cost reduction.
Nakamura Choukou had thinned the diamond wire to Φ(*)80 µm from the conventional standard of Φ100 µm and continues to create Φ70 µm and Φ60 µm diamond wires.

 

(*)Φ
A symbol to indicate the diameter. Phi.

 

The affiliated company, " Suminoe Nakacho Device Technology Corporation," operates the slicing business using Nakamura Choukou diamond wires. (See
Characteristics and strengths
for details)

 

(2) High-precision Equipment Business

The development, manufacturing and sale of high-precision equipment made of hard and brittle materials with high abrasion resistance such as diamond, cemented carbide and ceramic.
The main products are diamond parts used in the engineering machines for manufacturing automobile parts and bearings and diamond nozzles, which are used in industrial machines for mounting electronic parts onto LCD television sets, smartphones, tablets, etc.
In addition to high-precision parts and equipment, the company develops, manufactures and sells the cleaning machines for nozzles of the machines, etc.
In recent years, the company has expanded its field to the development, manufacturing and sale of microreactor systems by combining micro high-precision technologies and device development technologies. The microreactor systems blend and synthesize fluid and gas in the micro environment by continuously and efficiently using chemical reactions. (For details, see 4. Growth strategy).
The company also established Shanghai Nakamura Choukou Trading Co., Ltd. in February 2013. The purposes of this establishment are the expansion of the business in China and the improvement of customer support. These include expansion of trading with Japanese bearing manufacturers, cultivation of suppliers in China, expansion of the cleaning device business and establishment of the diamond wire user support system for the electronic material slicing business.

 

(3) Chemical Fiber Spinning Nozzle Business

The designing, manufacturing and sale of chemical fiber spinning nozzles, the peripheral parts and nozzles and devices for nonwoven fabric.
Nakamura Choukou started the domestic manufacturing of nozzles for chemical fibers (for production of rayon) and has been operating the business as a chemical fiber spinning nozzle manufacturer since its establishment in 1930. The spinning nozzle is a core manufacturing part which determines the quality of nonwoven and carbon fibers. The manufacturing of the nozzles requires delicate technologies in micro punching process and in production of the devices, where Nakamura Choukou has provided for the market's needs with the technologies accumulated for many years in the same specialized industry

 
1-5 Characteristics and strengths
① Price cutting of the diamond wire

Nakamura Choukou thought low cost manufacturing would be essential for a wide distribution of diamond wires and development of the multi-high speed manufacturing device.
The "improvement of manufacturing speed," "cost reduction of manufacturing equipment," "reduction of labor cost by labor saving" and the successful faster diamond attaching process led to the decrease in the price of the diamond wire.
While Chinese manufactures have been rising in recent years, the company continues the effort for low cost manufacturing.

 

② The unique business model with the slicing business

As mentioned above, the affiliated company "Suminoe Nakacho Device Technology Corporation" slices silicon ingots using Nakamura Choukou's diamond wires, manufactures and sales silicon wafers for solar cells.
Suminoe Nakacho Device Technology provides Nakamura Choukou with the results of mass production tests as feedback. Nakamura Choukou then works on the improvement of the diamond wire based on the feedback.
The synergetic effect of "technologies of diamond wire manufacturing" and "technologies of diamond wire usage" the group combines makes it possible to support the client silicon wafers manufacturers in different technological perspectives and the trust from clients has made its market expansion advantageous.
The largest client Longi Group rated Nakamura Choukou's technological supports highly and expanded the trade rapidly.
This kind of business model is unique and makes Nakamura Choukou Group stand out.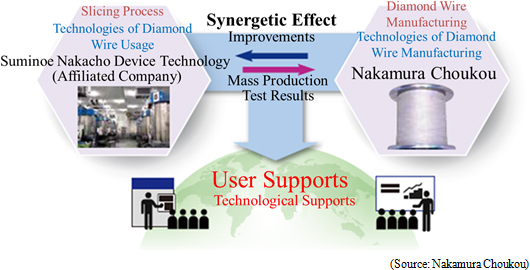 Fiscal Year March 2016 Earnings Results

 

Both sales and income increased due to the bumper sales of diamond wires

The sales were 6,836 million yen, up 33.4% year on year. The sales of diamond wire were in good shape due to steady demand.
SG&A expenses augmented 24%, but it was offset by the increase in gross margin due to sales growth and gross margin rate increase. Operating income was 1,435 million yen, up 75.2% year on year, which exceeded the revised forecast released in February 2016.
The company had planned to refrain from paying dividends, but paid dividends considering the good performance. (a total of 10 yen per share, including a common dividend of 5 yen and a commemorative dividend of 5 yen).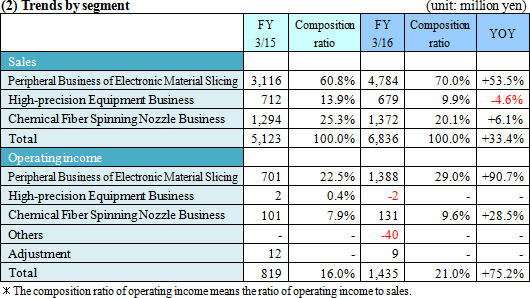 <Peripheral Business of Electronic Material Slicing>
Both sales and income increased.
Firstly, sales to primary customers advanced as planned. With regard to efforts for new customer development, the company produced a certain level of results for expanding the volume of transactions.
Secondly, a series of projects including improvement of production capability was promoted to meet the customer needs which have been rapidly expanded. For example, Izumi Factory 2 (Izumi City, Osaka) was established in January 2016, where operation of production lines has been started one after another. Another new factory was established in Uruma City, Okinawa Prefecture, and its production is scheduled to start in December 2016.

<High-precision Equipment Business>
Decrease in both sales and income.
Sales of machine tools with abrasion resistance steadily grew. On the other hand, the sales of parts for mounting equipment were sluggish because of the delay in the sale of new mounting equipment handled by clients.

<Chemical Fiber Spinning Nozzle Business>
Both sales and income increased.
The delivery of non-woven fabric, nozzles for value-added products, and specially processed products was successful.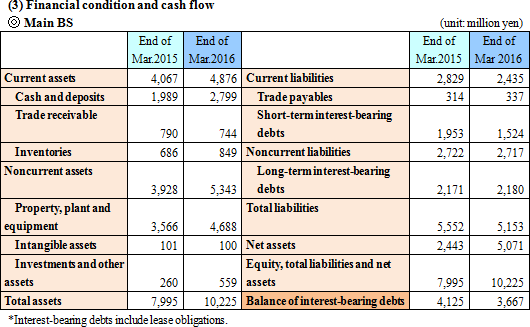 Cash and deposits increased due to income growth and the issuance of new shares through the listing in the stock market, and current assets rose 809 million yen from the end of the previous term. Tangible assets grew 1,415 million yen from the end of the previous term due to expanded property, plant and equipment from capital investments. As a result, total assets increased 2,229 million yen from the end of the previous year to 10,225 million yen.
Total liabilities decreased 398 million yen to 5,153 million yen from the end of the previous year, mainly due to the repayment of short-term debts.
Net assets increased 2,628 million yen to 5,071 million yen from the end of the previous year due to the growth of capital stock, capital surplus and retained earnings.
As a result, equity ratio increased 9 points to 49.6% from the end of the previous term.

 

 

The growth of income, the decline in trade receivables, etc. resulted in an expansion of operating CF.
As the expenditure for acquiring property, plant and equipment augmented, investing CF dropped further and free CF became negative.
Financing CF became positive because of income from the issuance of shares. Cash position rose.

 

 
Fiscal Year March 2017 Earnings Estimates

 

The demand for diamond wire is expected to remain strong, leading to the increase in both sales and income

Sales are estimated to be 9.4 billion yen, up 37.5% year on year. The strong demand for diamond wire is expected to increase the production even further.
Operating income is estimated to be 1.7 billion yen, up 18.4% year on year. The selling price of the core wire of Φ80 µm is estimated to drop. Shift to Φ70 µm and improvement of efficiency of manufacturing process will be promoted. However, operating income ratio is still estimated to decline.
A common dividend is to be 10 yen per share, virtually up 5 yen from the previous term, as the company paid a common dividend of 5 yen/share and a commemorative dividend of 5 yen/share, that is, a total of 10 yen/share, in the previous term. The forecasted payout ratio is 4.6%.

 

(2) Major strategies in each business

For the Peripheral Business of Electronic Material Slicing, competitive power of diamond wire will be strengthened. At the same time, the company will strive to diversify customers to achieve sustainable development.
For High-precision Equipment Business, organizational reform will be carried out as new business is launched. In addition, the company will promote the selection and concentration for adding value to its business.
For Chemical Fiber Spinning Nozzle Business, manufacturing capability will be strengthened with a purpose of expanding the market share. The company will seek a new business model in the field of non-woven fabric.

 

 
 

1. External Environment

As mentioned above, the solar cell market will continue to grow, and it is predicted that the production locations will be mainly in Asia, centering China.
In addition, to improve productivity by slicing wafers thinner (increase the number of wafers produced from one ingot), the thinning need for diamond wires is shifting rapidly from the existing Φ80 µm to Φ70 µm and further to Φ60 µm.

 

2. Business Strategy

In this external and competitive environment, the company will proceed with the following measures.

 

① Shift of focus to Φ70 µm and Φ60 µm

Although Chinese manufacturers have been keeping up with the technology for Φ80 µm, they do not completely meet Φ70 µm requirements. Moreover, Japanese manufacturers have overwhelming advantages at Φ60 µm.
The company will shift the production primarily to Φ70 µm and Φ60 µm to avoid price competition with Chinese companies at Φ80 µm.

 

② Expansion of Customers

Build a stable revenue base by expanding customer segments to leading manufacturers other than Login Group.

 

③ Development of Diamond Wires for Polycrystalline Silicon Wafers

As in the table below, the mainstream products in the solar cell market are polycrystalline silicon wafers because of the price.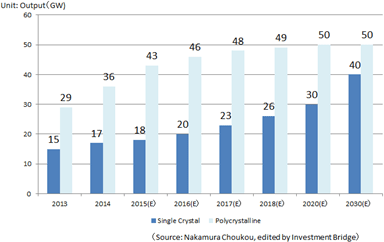 The company has been expanding their sales of diamond wires for single crystal silicon, which enable thinning. Additionally, it is working on introducing the diamond wafer for polycrystalline silicon wafer, which are prone to crack easily and inferior in workability.
The company has been developing and evaluating diamond wires in cooperation with leading panel manufacturers, and started the sales of diamond wires for ongoing assessment in April 2016. Currently, the company has received the request for joint development from other leading panel manufacturers.
The company has been uncovering "diamond wires for polycrystalline silicon" which is an undeveloped area, and intends to expand the market.

 

④ Reinforce the Production Capacity of Diamond Wires

To reinforce the production capacity of diamond wires, the company will establish a new factory in International Logistics Hub Industrial Integrated Area in Uruma City, Okinawa Prefecture, and increase manufacturing equipment.
The production capacity is expected to increase about 30%.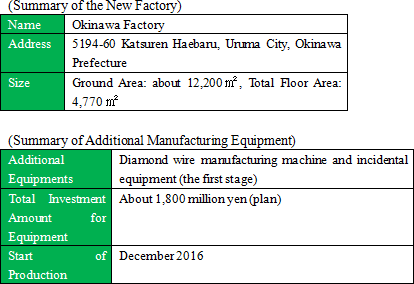 The funds for equipment will be allocated from fund raised from capital increase of public offering and third-party allocation of new shares (total of 460,000 stocks, about 1,900 million yen) implemented in April 2016, as well as own fund.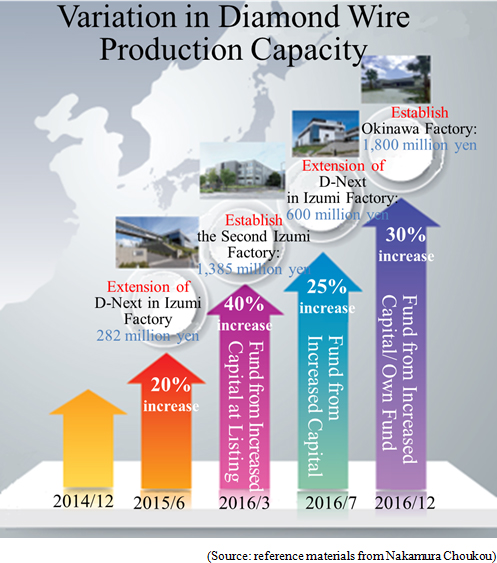 3. New Business

The company is working on early commercialization of 2 new businesses to establish new primary sources of revenue following the diamond wires.

 

① Microreactor Related Business

The conventional technology called "batch method", used in producing chemical goods produces the required chemical goods by combining a variety of raw materials and heating-cooling. However, although this method can synthesize large amounts at a time, there are many challenges including difficulty in mixing thoroughly. It is dangerous, large-scale equipment consume enormous amounts of energy, and produces a large amount of waste products.

On the other hand, flow synthesis technology enables production of chemical goods by joining those flow paths, mixing, heating-cooling and isolation are done in the flows and optimal chemical reactions occur in machinery called microreactor in which a few tens to hundreds µm flow paths are provided. This brings great advantages such as energy-efficiency and improved safety and the social demand for this has been rapidly increasing.

The company has been aiming to commercialize this microreactor system using their mold making technology with nanotechnology which they worked on in the process of research, development and production of diamond nozzles and diamond wires.
In particular, the company has started a joint development for autonomous automatic synthesis equipment, which leads to efficiency in the creation of pharmaceutical products, with the Biomedical Research Division of the National Institute of Advanced Industrial Science and Technology (AIST).

Because the creation of pharmaceutical products requires a large amount of time and effort by human resources at the basic research stage to synthesize several hundred thousand compounds, this creates problems such as lowering the competitiveness of pharmaceutical manufacturers and increasing pharmaceutical prices.
In view of these circumstances, this project aims to provide solutions to these problems by developing an "autonomous synthesis equipment" which can automatically run 24 hours a day, 365 days a year to analyze, design and synthesize candidates for pharmaceutical products.

The "autonomous synthesis equipment" the company is aiming to develop will create candidates for pharmaceutical products in 1/10 of the time of the conventional creation, and will contribute to shortening the time of new drug development and strengthening international competitiveness.
The company will be entrusted with synthesis and research from pharmaceutical companies and public institutions; at the first stage, they will aim for international growth from these entrusted synthesis and research. At the second stage, they will aim to create a pharmaceutical venture through their knowledge integration about drug discovery.

Now, the company has established a new hub and has been strengthening their development systems as well as selecting partners for commercialization.

 

② Silicon Salvage Business

When slicing wafers from silicon ingots, 30-40% of ingots become "waste".
The company had succeeded in utilizing this waste silicon and producing nanosized zeolite. They are currently preparing for the mass production.

Zeolite is a substance that contains silica (silicon dioxide) and alumina (alminium oxide) as major ingredients, with characteristics of porous formation with many holes and has a large surface area, larger than a tennis court per 1 gram.
These characteristics provide "adsorption", "ion exchange" and "catalytic" functions, and are used in various scenarios including the chemical field for treating catalysts to purify automobile emissions, the environmental field as an absorbent for radioactive cesium and the lifestyle field as an antibacterial agent for respirator masks.
In general, there are already micron-size particles in the market but by making nanosized particles, basic performance will increase tremendously and expansion to new usages is anticipated
However, conventional nano particle production methods were high in production cost, and detailed market evaluation has not been progressed.

From this situation, the company has utilized the nanotechnology which they have been developing for a long time like microreactor related business and "pulverization-recrystallization" technique Tokyo University owns and started to develop innovative process to make nanoparticle zeolite. As a result, they have succeeded in producing "nanosized zeolite" which has a diameter 1/100 of the size of ordinary zeolite at a low cost.
(This "pulverization-reclystallization" process is patent pending)

The company received many inquiries as they started pre-mass production in April 2016 and participated in exhibitions in Japan and China.
Currently, they are accelerating scale up for mass production and developing the usage cases for products (strengthen line up). In addition, they have started investing in a facility for medium quantity production.

 

 
Interview with the President Inoue
 

The President Inoue, who studied mechanical engineering in college, joined Sony in 1978. After acquiring "Sony Spirits," which respects the mindset of embracing challenges, the President Inoue accepted the request to enter failing Nakamura Choukou's business, which was run by his father-in-law. While the President Inoue eagerly went to the workplace to inherit the company's technology, he worked with passion and succeeded in diamond processing and the development of a diamond nozzle with engineers in the factory. This greatly expanded their business. Then, he worked towards the low-cost production of diamond wires and silicon wafer production, and grew the company to a global producer of diamond wires.

We asked the president Inoue about "Future Efforts," "His View of the Company's Strength," "A Message for Investors," etc.

 

Q: "Could you tell us your thoughts on future efforts for the diamond wire business and new business?"
A: "We have great potential for expanding our current business. In the meantime, we will eagerly work towards new business to establish a stable revenue structure."
The market share of conventional "Loose Abrasive" to "Fixed Abrasive Grain" using diamond wires is 8 to 2, and even though the shift is progressing, "Loose Abrasive" is still overwhelming.
There is no doubt that the diamond wires are going to be the global standard from the viewpoints of "Improvement of Processing Speed," "Low Running Cost," "Kerf Loss Reduction," and "Environmental Consideration by Reducing the Amount of Wire Usage."
The reason why it still has low market share even now is because of infrastructure limitations. In other words, it requires time and cost to make the necessary investment to introduce slicing equipment, which is capable of utilizing diamond wires. It is one way to remodel equipment so it can use diamond wires, but there are many cases where it is impossible.
The price of diamond wires has been going down, and the shift to "Fixed Abrasive Grain" is going to proceed steadily. Therefore, our company will strive for the cultivation of the remaining 80% of the huge market.
As for polycrystalline silicon wafers, which occupy 70% of silicon wafers for solar batteries, the introduction of diamond wires has progressed through the joint development with silicon wafer manufacturers.
Like this, the current business still has great potential for expanding. However, in light of establishing a stable profit base, we will concentrate on the early launch of two new businesses, the "microreactor-related business" and the "silicon recycling business."
They are both promising businesses. The former would provide a solution to the drop in Japanese pharmaceutical companies' competitiveness, which is Japan's big problem. Thus, it has a significant impact on contributions to society, and I strongly feel it is highly rewarding.
Q: "Could you tell us what you think are your company's strengths and features?"
A: "Our company's greatest strength is adaptability to get over crises, and the mindset to embrace challenges."
Since it was founded in 1954, our company has managed to survive crises with our adaptability, including the collapse of the IT bubble economy, the fall of Lehman Brothers and the recession of the solar battery industry.
For example, at the time of Lehman Brother's fall, the workers who engaged in the main business such as the grinding of diamond tools became world-class engineers in the field of slicing using diamond wires in a year or two. Thus, adaptability is one of our greatest strengths.
In addition, it is not an exaggeration to say that our company's history is a history of challenge, which did not just come from the extension of our conventional work but from the development of diamond nozzles and diamond wires, and the launch of slicing business, etc.
Ever since I joined this company in 1983, I have always believed that "having workers see me challenge myself, and showing them my words, actions, and approaches in the field" are the best shortcut to spread the mindset of embracing challenges throughout the company.
The mindset has been spread considerably, but not completely. I will continue challenging myself to further spread the notion.
Q: "Lastly, please give a message to investors."
A: "We will continue challenging and aiming for even greater heights. I would like you to support us from the medium- to long-term perspectives."
We believe that there are still many business fields where we could be successful. As challengers, we would like to continue working towards creating new business in the future as well.
On the other hand, we understand that what people expect in us the most is fostering our main diamond wire business to become the leading company globally. Therefore, while we concentrate on this, we would like to establish new businesses in the field of medical treatment and environment as soon as possible with positive numbers.
One of our company's problems is considered to be the high degree of dependence on specific clients. Although it cannot be carried out all at once, however, we would like to improve the client portfolio through the introduction of diamond wires not only for single-crystal silicon wafers but also for polycrystalline ones.
Firstly, we will solve the problems of our main business, and then create sustainable growths by establishing other successful business. We will continue challenging and aiming for even greater heights. I would like people to support us from the medium- to long-term perspective.
 

Sales and profit are estimated to grow by double digits like in the previous term, but the share price of the company has been sluggish since May, with PER being at a one-digit level. Market evaluation indicates that the high degree of dependence on specific clients boosts the volatility in revenue, and so the company is expected to diversify clients.
Also, from the viewpoint of business portfolios, the progress in new business is important, and we would like to pay attention to the future of Nakamura Choukou, in which the mindset of embracing challenges is being spread and fostered as a corporate culture.

 

Disclaimer

This report is intended solely for information purposes, and is not intended as a solicitation for investment. The information and opinions contained within this report are made by our company based on data made publicly available, and the information within this report comes from sources that we judge to be reliable. However we cannot wholly guarantee the accuracy or completeness of the data. This report is not a guarantee of the accuracy, completeness or validity of said information and opinions, nor do we bear any responsibility for the same. All rights pertaining to this report belong to Investment Bridge Co., Ltd., which may change the contents thereof at any time without prior notice. All investment decisions are the responsibility of the individual and should be made only after proper consideration.

Copyright (C) 2016 Investment Bridge Co., Ltd. All Rights Reserved.