Evolable Asia Corp. (6191)
President
Hideki Yoshimura
| | |
| --- | --- |
| Company | Evolable Asia Corp. |
| Code No. | 6191 |
| Exchange | Mothers of TSE |
| Industry | Service industry |
| President | Hideki Yoshimura |
| Address | Atago Green Hills Mori Tower, 2-5-1 Atago, Minato-ku, Tokyo |
| Year-end | End of September |
| URL | |
Share Price
Number of shares issued
Total market cap
ROE (Actual)
Trading Unit
¥3,120
16,682,400 shares
¥52,673 million
26.0%
100 shares
DPS (Est.)
Dividend Yield (Est.)
EPS (Est.)
PER (Est.)
BPS (Actual)
PBR (Actual)
TBD
-
¥35.66
87.5 times
¥136.44
times
* The share price is the closing price on February 23. The number of shares issued, ROE and BPS were taken from the latest brief financial report.
* The Company implemented a stock split at 1:300 in December 2015 and 1:3 in August 2016. BPS is calculated assuming that the share split was implemented at the beginning of the Fiscal Year ended September 2015.
Fiscal Year
Net Sales
Operating
Income
Ordinary
Income
Net
Income
EPS
DPS
Sep. 2014 (Actual)
1,451
99
93
44
3.28
0.00
Sep. 2015 (Actual)
2,754
312
305
172
12.56
0.00
Sep. 2016 (Actual)
4,000
618
571
340
22.17
0.00
Sep. 2017 (Forecast)
6,147
1,001
961
594
35.66
TBD
*Forecast is based on the Company's estimate. The Company implemented a stock split at 1:300 in December 2015 and 1:3 in August 2016. EPS is calculated assuming that the share split was implemented at the beginning of the Fiscal Year ended September 2014. Net income is profit attributable to owners of the parent. Hereinafter the same.

This report outlines Evolable Asia Corporation, overviews its financial results for the term ended September 2016, and mentions its financial forecast for the term ending September 2017 and its future strategies.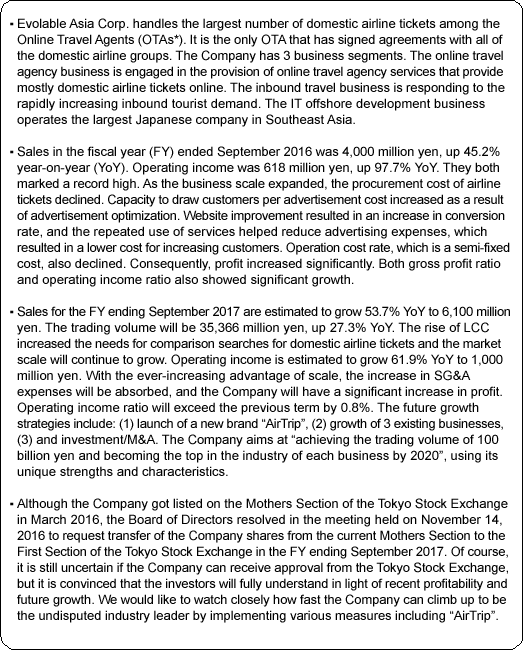 Evolable Asia Corp. is Japan's largest Online Travel Agent (OTA*) in terms of its number of domestic airline tickets handled. It is the only OTA that has signed agreements with all of the domestic airline groups. The Company has three business segments. The online travel agency business segment provides online travel agency services, the largest part of which is online sales of domestic airline tickets. The inbound travel business segment responds to the rapidly increasing inbound tourist demand. The IT offshore development business segment conducts operations that are the largest among those operated by Japanese companies in Southeast Asia. The Company aims at "achieving the trading volume of 100 billion yen and becoming the top in each business segment by 2020", using its unique strengths and characteristics.

 

*OTA (Online Travel Agent):Travel agents that are specialized in providing travel commodities on the Internet.

 
Corporate history
In May 2007, CEO Yoshimura established Tabi Capital Co., Ltd. together with Chairman Oishi to provide online travel agency services.
Since then, the Company has been expanding its product line-up through M&A and business transfers.
In March 2012, the Company began IT offshore development business in Vietnam. Taking this opportunity, in order to clearly show the Company's direction towards the integrated IT business, it changed its name to the current name in October 2013.
In March 2016, it was listed on the Mothers Section of the Tokyo Stock Exchange.

 

 

The Company's name "Evolable Asia" is derived from "Evolve", "Able" and "Asia". It means ever evolving Asia.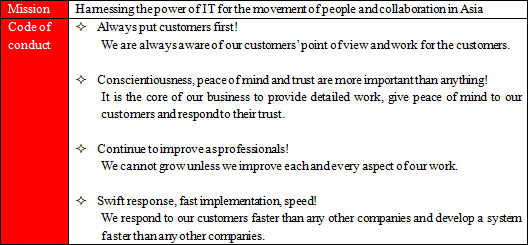 Market environment
◎Online travel commodities sales continue to grow.

The number of airline companies providing domestic flights has increased due to rapid growth of low-cost carriers (LCCs). This has resulted in an increase in OTA users due to growing demand for comparison searches. The trading volume of travel commodities by OTA in the fiscal year 2015 was 2.5 trillion yen with an annual growth rate of 26% since 2011. It is a rapidly growing industry.
This rapid growth is mainly due to the domestic accommodation market. The trading volume of airline tickets is 230 billion yen, an annual double-digit growth rate of 14%.
Following the domestic accommodation industry, the domestic flight ticket market is expected to grow significantly.

 

 

◎Rapid growth of foreign travelers visiting Japan

The scale of the inbound travel market in 2015 showed a significant increase to about 3.5 trillion yen, up 71.5% YoY.
The government announced that the target of the number of inbound foreign visitors would be 40 million in 2020.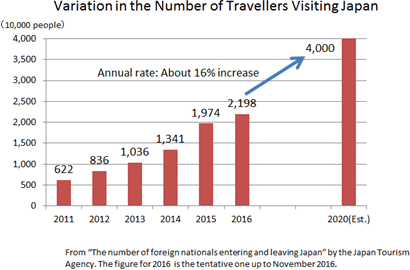 ◎IT offshore development that has a large potential for growth

The outsourcing software development market in Japan is about 10 trillion yen, and the annual growth rate is about 3%. Among them, the offshore development is only about 1% (about 100 billion yen).
In the US, the rate is over 10%, indicating that the Japanese market can grow to the scale of 1 trillion yen (increase from current 1% to 10%).
Actually, the order amount from Japan to Vietnam is increasing at an annual rate of 17.8%.

 
Business contents
The Company's main businesses are online travel agency business, inbound travel business, and IT offshore development business. (The business segments are divided into online travel agency business segment, IT offshore development business segment, and other business segment. The inbound travel business is included in the online travel agency business segment.)
Each business segment is growing based on its unique strengths and characteristics.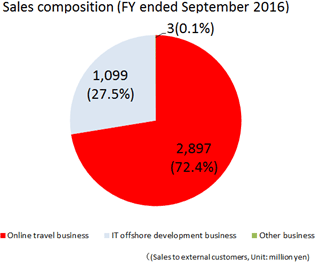 ◎Online Travel Agency Business

The company sells travel commodities such as domestic airline tickets, domestic accommodations, overseas airline tickets, and overseas accommodations online.

 

IATA (International Air Transport Association): The IATA is a trade association of the world's airlines.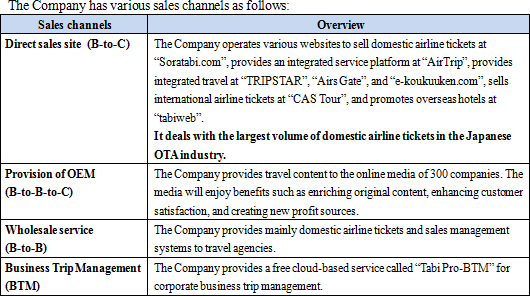 (Strengths of the business)

The Company has the largest trading volume of domestic airline tickets in the Japanese OTA industry.
The agreements with all domestic airline groups, the unique business condition enjoyed only the Company, enable the Company to issue flight tickets. Advantageous procurement prices combined with self-issuing of tickets (no need to outsource) makes its cost competitiveness overwhelmingly strong.
In addition, the Company has "competitive supply routes" based on strong relationships with each airline company resulting from long-term business relationships and security deposits, "diverse sales routes", and "low-cost system development using its own offshore IT development capacity". Because of these factors, the Company has created high barriers to entry.

 

◎Inbound Travel Business

The demand from the inbound foreign travelers is expected to grow. In order to respond to this demand, the Company offers multilingual websites (currently 7 languages) to sell travel commodities directly to inbound travelers online and provide search/reservation engine of domestic travel content (mainly domestic flight tickets) on an OEM basis to the local travel agencies and media operators primarily in the Asian region.
The business partners to which the Company provides OEM is 67 as of the end of the FY ended September 2016.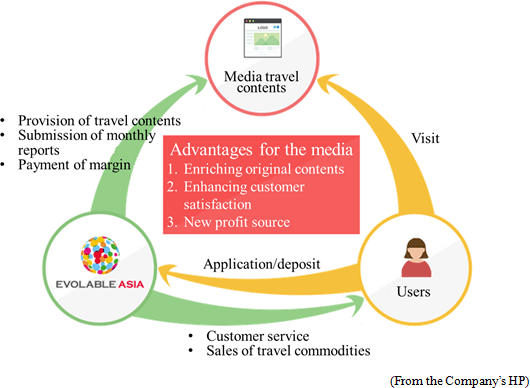 (Strengths of business)

The Company's expertise in OEM provision and its proprietary offshore development allow them to meet customers' needs with inexpensive and speedy development.

 

◎IT offshore development business

The Company hires about 500 skilled engineers in 3 locations (Ho Chi Minh, Hanoi, and Da Nang) in Vietnam.
It offers system development of web services, applications, etc. and business process outsourcing (BPO). The customers are mostly web service providers such as DeNA Travel Co,. Ltd. and GREE, Inc.

 

(Strengths of business)

The Company has recruiting capabilities in Vietnam and expertise in starting development teams.
Against the backdrop of a shortage of IT engineers and rising wages for engineers in Japan, since its establishment in 2012, the Company has grown to have the largest number of employees among the Japanese offshore development companies in Southeast Asia.
The company does not offer entrusted development but is specialized in lab-style development services.
The operation rate is almost 100% because the Company forms a team with dedicated staff members for each customer to reflect the customer's needs on a long-term (in principle, over a year) contract basis and the team operates under respective customer.
In addition, customers are billed engineers' cost from the time of employment. Therefore, there is no risk for the Company in terms of delayed delivery or idle employees.
Because of its stock business model, scale expansion and significant increase in earnings can be expected.

 

 
Fiscal Year September 2016 Earnings Results

 

Significant increase in sales and profit, both of which marked a record high.

Sales were 4,000 million yen, up 45.2% YoY. Operating income was 618 million yen, up 97.7% YoY. They both marked a record high.
As the business scale expanded, the procurement cost of airline tickets declined. Capacity to draw customers per advertisement cost increased as a result of optimizing advertisement. Website improvement resulted in an increase in conversion rate, and the repeated use of services helped reduce advertising expenses, which resulted in a lower cost for increasing customers. Operation cost rate, which is a semi-fixed cost, declined. Consequently, profit increased drastically. Both gross profit ratio and operating income ratio increased significantly.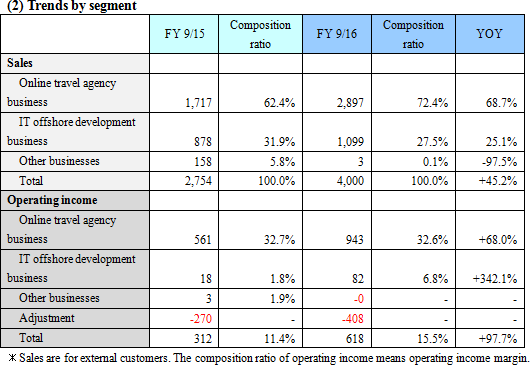 A. Online travel agency business

Both sales and profit grew.

 

(Online travel agency business)
B-to-C service (Operation of websites for direct sales of travel commodities for general consumers through PC and smart phones).
The Company strengthened the search engine marketing (SEM) functions to acquire more customers. The user interface (UI) also improved to increase repeat customers. As a result, users have increased steadily.
The trade volume increased by 81% YoY.


B-to-B-to-C service (Business that provides travel content under brands owned by business partners)
The charge for service use increased thanks to contributions made by providing services meeting the requirements of major customers and enhancing communication with customers to increase the frequency of their service use.


B-to-B services (Wholesale business to other travel agencies)
Trends in the airline industry and policies enforced by business partners affect these services to a certain extent. The Online Travel Agency Business for operators handling domestic airline tickets grew dynamically as a whole, with an increase in the number of domestic air routes in service. As a result, net sales for these services increased strongly.


BTM services (Centralized management of internal approval procedures and arrangements associated with corporate business trips)
These services basically adopt a business model under which net sales expand in a manner that is linked with an increase in the number of corporate customers and a rise in their usage rate. The services achieved growth attributable to initiatives taken by the Company, including the addition of sales people and the identification of existing customers who used the services at a relatively low rate.
The number of new customer companies was 150, out of which a total of 96 companies introduced Company's service in the third and fourth quarters after they were listed on the Mothers Section. This indicates that enhancing recognition and reliability of the Company as a result of getting listed contributes to the increase of customers.

 

(Inbound Travel Business)

There were 67 new companies that receive OEM supply services.

 

B. IT offshore development business

Both sales and profit grew.
An increase in the number of engineers and a rise in the unit cost due to development streamlining contributed to both sales and profit growth.
23 new labs are opened.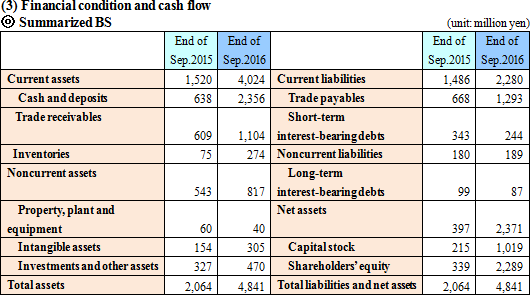 Cash and deposits increased considerably because of capital increase through a public offering. Trade receivables also increased by 400 million yen from the end of the previous term because of business expansion. As a result, current assets increased by 2,500 million yen, and total assets increased by 2,700 million yen from the end of the previous term to 4,800 million yen. Meanwhile, total liabilities increased by 800 million yen from the end of the previous term to 2,400 million yen, due to the increase of trade payables by 600 million yen.
Because of the public offering, capital and capital reserves increased. Retained earnings also increased because of the increase in earnings. Net assets increased by 1,900 million yen from the end of the previous term to 2,300 million yen.
As a result, equity ratio increased significantly from 16.5% at the end of previous term to 47.0%.

 

 

Operating CF increased further because of increased profit.
Investing CF declined further due to acquisition of investment securities and depositing guarantee money. The degree of the increase in free CF dropped.
The income from public offering contributed to significant increase in financing CF, and the cash position improved.

 

(4) Topics
◎ Introduction of a shareholder special benefit plan

In order to express the Company's appreciation to the shareholders for their support and to enhance the attractiveness for the shareholders to keep the Company's shares for the medium to long term, the Company decided to introduce a shareholder special benefit plan. It is on a special website called "Evolable Asia Premium Benefit Club" and was launched on November 15, 2016.

Points are given to the shareholders who are listed or recorded on the shareholders' list as of September 30 and March 31 each year, and who own more than 1 unit (100 shares) of the Company's shares.

(Point earning and redemption program)

Points in accordance with the number of owned shares are given (1 point corresponds to 1 yen).

Points are given twice a year, on September 30 and March 31.

Based on the number of points, the shareholders can choose the gift they want from more than 500 products such as food, appliances, gifts, the Company's original air tickets, on the Company's special website. The shareholders can also donate their points to social contribution activities.

 

If a shareholder's number is recorded 2 or more consecutive times on the shareholders' registry as of September 30 or March 31 every year, the shareholder is considered as "Owning the shares for one year or more" and additional 10% points are given.

Furthermore, as a special benefit from the Company, with 10,000 points, the shareholders can receive domestic airline tickets at a special discount rate that is available exclusively for the Company's shareholders.

"50% discount" from the regular fare up to 2 domestic airline tickets (can be used for a round trip).

Any departure and destination location can be chosen.

If a shareholder owns shares throughout a year, the points are given twice. This means that a total of 4 airline tickets at special discount rate are provided to the shareholder.
Fiscal Year September 2017 Earnings Estimates

 

Significant increase in sales and profit continues.

Sales are estimated to increase 53.7% YoY to 6,147 million yen. Trade volume is estimated to increase 27.3% YoY to 35,366 million yen.
The Internet usage frequency among travelers will further increase, and the market scale is expected to grow continuously.
Operating income will increase 61.9% YoY to 1,001 million yen. With the ever-increasing economies of scale, the increase in SG&A expenses will be absorbed, and the Company will have a significant increase in profit.
Operating income ratio will exceed the previous term's figure by 0.8%.

 

 
 

The Company's future growth strategies include:

(1) establishment of new brands, (2) growth of 3 existing businesses, and (3) investment/ M&A.

 

(1) New brand, "AirTrip"

The domestic airline ticket sales is a huge market of about 1.5 trillion yen, but it has no dominant brand yet that would be equivalent to "Jalan" and "Rakuten Travel" in the online hotel reservation market.
While the combined market share of Jalan and Rakuten is estimated to be about 40% in the online hotel reservation market, in the online domestic airline ticket sales market, even Evolable Asia, the industrial leader among domestic flight OTAs, occupies only 2% of the market share.
Under these circumstances, the Company aims at making "AirTrip" the overwhelming number one brand in the online domestic air ticket market by offering comprehensive services.
"AirTrip" will offer the most cost-saving and most convenient services to the customers.

 
The best profit return to customers in the industry

The Company will reduce the cost to attract customers with the existing web advertisement and focus on returning the profits to customers through points.

2% of the money paid to purchase airline tickets is returned to customers. (4% during opening campaign)

AirTrip points can be used to purchase airline tickets or can be exchanged for frequent flyer miles, gift certificates, points provided by electronic money companies, etc. through G-point.
Pursuing convenience for users

The Company will offer user-friendly services by adding chat support for inquiries, in addition to the conventional web-based, telephone operator-assisted, and e-mail support. It will also incorporate AI automated responses, etc. to help achieve prompt correspondence and reduction in personnel costs.

The Company created an extremely user-friendly UI with smooth and intuitive operability.

 

The Company released the PC version and mobile version of AirTrip in November 2016. AirTrip will be compatible with iOS/Android application and various SNSs to enable access from any devices and services.
The Company positions "AirTrip" as a comprehensive travel service platform. It is planning to expand its business commodities from the current domestic airline tickets to private home accommodation reservation services.
The strengths of "AirTrip" are top performance in the industry's online airline ticket business and extensive customer returns provided for products/services.
As for customer returns, the Company has a policy of securing profit from the sales of domestic airline tickets and, for other commodities, actively returning the profit to customers.

Its marketing strategy is to guide customers from "Soratabi.com", the existing services with customer drawing power, to "AirTrip" offering a high rate of customer returns. Furthermore, it is making efforts to establish the "AirTrip" brand through mass media advertising and word of mouth.
The profit rate will increase because the advertisement costs per airline ticket is larger than the monetary value of points that are returned to customers.

 

(2) Growth strategy of three existing businesses

A. Online travel agency business

"Soratabi.com" will focus on acquiring new customers and guiding them to "AirTrip". Highly profitable "AirTrip" will focus on increasing repeat users.
To achieve those, the Company will make efforts to optimize advertisement measures, develop new advertisement channels, and improve convenience for users on the website.

The Company will also expand the B-to-B market for business trip management.
In the domestic travel agency market of 10 trillion yen, the business demand occupies 16%, out of which, 32% (500 billion yen) is the domestic airline ticket sales market for business trips.
The Company's share is merely around 0.2% of the domestic airline ticket market for business trips, leaving room for substantial growth.
Specific measures include expanding sales partnership to accelerate the expansion of the market. For example, the Company has already established an advisory contract with Hikari Tsushin, Inc. (First section of Tokyo Stock Exchange, 9435).
Apart from airline tickets, the Company is also planning to deal with "a package of Shinkansen (bullet train) tickets and accommodation". It will continue to meet various business trip needs.

 

B. Inbound Travel Business

◎ C-to-C platform for "minpaku" private home accommodation

The Company is aiming to build Japan's best C-to-C platform for private home accommodation, or minpaku.
It will first list special zone minpaku and simple accommodation in line with the progress of legislation, and then offer minpaku built for Japanese by Japanese. It is aiming to develop a Japanese-made platform for minpaku that will be user-friendly for both foreign visitors and Japanese.

 

<Characteristics of the minpaku C-to-C platform>

Equipped with a function to search airline tickets

Linked with the AirTrip point system

Low risk for the accommodation host side with advance credit card settlement

Flexible host acceptance (The system allows settings for sales of each room by the hosts)

Accommodating business use (online receipts, etc.)

Strengthened promotion such as friend referral function and off-line promotion function (paper publications, broadcasting)

The hosts can use their own sales engine.

 

◎ Camper

The Company aims to be No.1 in domestic sales in the camper rental industry.
It is planning to purchase 15 campers during this fiscal year. By 2020, it is planning to have 300 campers.

For the outbound demand, the Company will arrange camper rentals for travelers to the U.S. and Canada.
It is sending the largest number of Japanese travelers (number of nights stayed) to North America as the general agent for El Monte RV, which has the second largest share in the U.S. market. It is making efforts to further increase customers.

For the inbound demand, the Company is planning to grow demand by increasing the recognition of campers and promoting the use of campers as an alternative to short-supply lodging facilities.
It will accept foreign visitors to Japan sent by all El Monte RV agencies around the world as a rental base other than North America. It will also promote sales alliances with large travel agencies in Japan to acquire domestic customers.

 

◎ Multilingual services for domestic flights

In order to increase sales share of domestic flights for foreign visitors, the Company will provide its travel websites with OEM services to the media targeting inbound travelers. It will also establish alliance with overseas OTA providers to target foreign visitors travelling in Japan.

 

C. IT Offshore Development Business

The Company aims to increase the number of lab personnel from 550 in 2016 to 3,000 by 2020.
To achieve this, it will take the following 4 measures.

1) Developing more offices

The Company will optimize 3 offices including Ho Chi Minh City, Hanoi, and Da Nang to make them suitable offices for project implementation. It will reduce expenses and improve performance.
It will also promote development in other locations in Vietnam and other countries.

 

2) Acquiring projects in Europe and the USA.

It aims to acquire projects in the U.S. and Europe from the Silicon Valley office.
The West Coast areas in the USA are facing serious shortages of engineers and sharp increases in salaries, and the demand for IT offshore development is large. The demand is expected to increase even further from now on.

 

3) Improving the capacity of the upstream development process

The Company will strengthen alliances with partners capable of handling the upstream development process. This will allow the overseas transfer of development projects needing requirement definitions in Japan and comprehensive proposals of a development team to companies with no internal system division.

 

4) Developing Japanese-speaking human resources

The Company will improve Japanese language education provided to employees by creating a Japanese language school within the company. It will also promote the referral of Japanese-speaking engineers to Japanese companies in cooperation with partners.

 

(3) Investment/ M&A

During the FY ended September 2016, the Company acquired "El Monte RV Japan", a camper rental company, and also "Rakuda Club", a service provider for domestic accommodation, as subsidiaries. The Company will continue to acquire companies that have synergy with its businesses.

It will also aim to increase the corporate value of the entire Evolable Asia Group by gaining returns from pursuing synergy through cooperation, etc. with invested companies or contributing to faster growth of invested companies.

With the above-mentioned measures, the Company is aiming "

to achieve handling volume of 100 billion yen and to secure the top position in all segments by 2020

".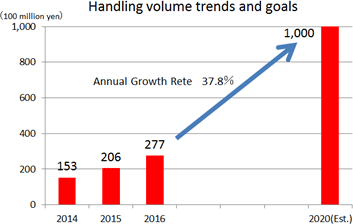 Although the Company got listed on the Mothers Section of the Tokyo Stock Exchange in March 2016, the Board of Directors resolved in the meeting held on November 14, 2016 to request the transfer of the Company share from the current Mothers Section to the First Section of the Tokyo Stock Exchange in the FY ending September 2017. Of course, it is still uncertain if the Company can receive approval from the Tokyo Stock Exchange, but it is convinced that the investors will fully understand the Company's intention from the viewpoint of recent profitability and future growth.
We would like to watch closely how fast the Company can be the undisputed industry leader by implementing various measures including "AirTrip".

 
<Reference: Regarding Corporate Governance>

 

◎ Corporate Governance Report

The Company submitted the latest corporate governance report on Dec. 26, 2016.

<Reasons for Non-compliance with the Principles of the Corporate Governance Code (Excerpts)>
The Company, as a company listed on the TSE Mothers, implements every general principle of the Corporate Governance Code.

 

Disclaimer

This report is intended solely for information purposes, and is not intended as a solicitation for investment. The information and opinions contained within this report are made by our company based on data made publicly available, and the information within this report comes from sources that we judge to be reliable. However we cannot wholly guarantee the accuracy or completeness of the data. This report is not a guarantee of the accuracy, completeness or validity of said information and opinions, nor do we bear any responsibility for the same. All rights pertaining to this report belong to Investment Bridge Co., Ltd., which may change the contents thereof at any time without prior notice. All investment decisions are the responsibility of the individual and should be made only after proper consideration.

Copyright (C) 2017 Investment Bridge Co., Ltd. All Rights Reserved.