Evolable Asia Corp. (6191)
President
Hideki Yoshimura
| | |
| --- | --- |
| Company | Evolable Asia Corp. |
| Code No. | 6191 |
| Exchange | TSE 1st Section |
| Industry | Service industry |
| President | Hideki Yoshimura |
| Address | Atago Green Hills Mori Tower, 2-5-1 Atago, Minato-ku, Tokyo |
| Year-end | End of September |
| URL | |
Share Price
Number of shares issued
Total market cap
ROE (Actual)
Trading Unit
¥2,267
16,919,100 shares
¥38,355 million
16.6%
100 shares
DPS (Est.)
Dividend Yield (Est.)
EPS (Est.)
PER (Est.)
BPS (Actual)
PBR (Actual)
10.00
-
¥52.09
43.5 times
¥163.91
13.8 times
*The share price is the closing price on December 4. The number of shares issued was taken from the latest brief financial report, ROE and BPS were taken from the brief financial report of FY9/17.
Fiscal Year
Net Sales
Operating
Income
Ordinary
Income
Net
Income
EPS
DPS
Sep. 2014 (Actual)
1,451
99
93
44
3.28
0.00
Sep. 2015 (Actual)
2,754
312
305
172
12.56
0.00
Sep. 2016 (Actual)
4,000
618
571
340
22.17
0.00
Sep. 2017 (Actual)
5,534
730
695
420
25.06
7.00
Sep. 2018 (Forecast)
7,050
1,500
-
881
52.09
10.00
*Forecast is based on the Company's estimate. The Company implemented a stock split at 1:300 in December 2015 and 1:3 in August 2016. EPS is calculated assuming that the share split was implemented at the beginning of the Fiscal Year ended September 2014. The Japanese accounting standards were used for FY 9/17. IFRS will be discretionally applied from this term. Net income is profit attributable to owners of parent. Hereinafter the same applies.

This report outlines Fiscal Year September 2017 earnings results and other information about Evolable Asia Corporation.
Evolable Asia Corp. is Japan's largest Online Travel Agent (OTA*) in terms of its number of domestic airline tickets handled. It is the only OTA that has signed agreements with all of the domestic airline groups. The Company has four business segments. The online travel agency business segment provides online travel agency services, the largest part of which is online sales of domestic airline tickets. The inbound travel business segment responds to the rapidly increasing inbound tourist demand. The IT offshore development business segment conducts operations that are the largest among those operated by Japanese companies in Southeast Asia. The last one is the investment business. The Company aims at "achieving the trading volume of 100 billion yen and becoming the top in each business segment by 2019", using its unique strengths and characteristics.
*OTA(Online Travel Agent):Travel agents that are specialized in providing travel commodities on the Internet.
【Corporate history】
In May 2007, CEO Yoshimura established Tabi Capital Co., Ltd. together with Chairman Oishi to provide online travel agency services. Since then, the Company has been expanding its product line-up through M&A and business transfers. In March 2012, the Company began IT offshore development business in Vietnam. Taking this opportunity, in order to clearly show the Company's direction towards the integrated IT business, it changed its name to the current name in October 2013. In March 2016, it was listed on the Mothers Section of the Tokyo Stock Exchange. One year later, in March 2017, it moved to the First Section of the Tokyo Stock Exchange.
【Corporate philosophy, etc.】

The Company's name "Evolable Asia" is derived from "Evolve", "Able" and "Asia". It means an ever evolving Asia.
【Market environment】
◎Online travel commodities sales continue to grow.
The number of airline companies providing domestic flights has increased due to the rapid growth of low-cost carriers (LCCs). This has resulted in an increase in OTA users due to growing demand for comparison searches. The trading volume of travel commodities by OTA in the Fiscal Year 2015 was 2.5 trillion yen with an annual growth rate of 26% since 2011. It is a rapidly growing industry. This rapid growth is mainly due to the domestic accommodation market. The trading volume of airline tickets is 230 billion yen, an annual double-digit growth rate of 14%. Following the domestic accommodation industry, the domestic flight ticket market is expected to grow significantly.
◎Rapid growth of foreign travelers visiting Japan
The number of tourists visiting Japan in 2016 was 24.04 million, up 20% YoY. The government announced that the target of the number of inbound foreign visitors would be 40 million in 2020.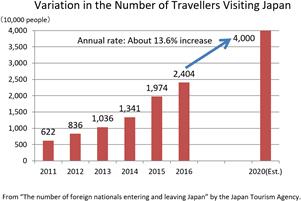 ◎IT offshore development that has a large potential for growth
The outsourcing software development market in Japan is about 10 trillion yen, and the annual growth rate is about 3%. Among them, the offshore development is only about 1% (about 100 billion yen). In the US, the rate is over 10%, indicating that the Japanese market can grow to the scale of 1 trillion yen (increase from current 1% to 10%). Actually, the order amount from Japan to Vietnam is increasing at an annual rate of 17.8%.
【Business contents】
The Company's main businesses are online travel agency business, inbound travel business, IT offshore development business, and investment business. (The reporting business segments are divided into online travel agency business segment, IT offshore development business segment, and investment business segment. The inbound travel business is included in the online travel agency business segment.) Each business segment is growing based on its unique strengths and characteristics.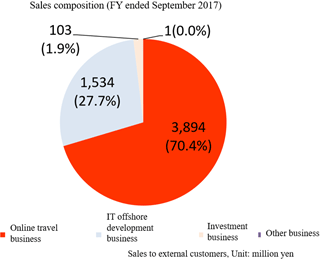 ◎Online Travel Agency Business
The company sells travel commodities such as domestic airline tickets, domestic accommodations, overseas airline tickets, and overseas accommodations online.
*IATA (International Air Transport Association): The IATA is a trade association of the world's airlines.
The Company has various sales channels as follows:
(Direct sales sites)

(Strengths of business)
The Company has the largest trading volume of domestic airline tickets in the Japanese OTA industry. The agreements with all domestic airline groups, a unique business condition enjoyed only by the Company, enable the Company to issue flight tickets. Advantageous procurement prices combined with self-issuing of tickets (no need to outsource) make its cost competitiveness overwhelmingly strong. In addition, the Company has "competitive supply routes" based on strong relationships of trust with each airline company resulting from long-term business relationships, "diverse sales routes", and "low-cost system development using its own offshore IT development capacity". Because of these factors, the Company has created high barriers to entry.
◎Inbound Travel Business
The demand from the inbound foreign travelers is expected to grow. In order to respond to this demand, the Company offers multilingual websites (currently 7 languages) to sell travel commodities directly to inbound travelers online and provide search/reservation engine of domestic travel content (mainly domestic flight tickets) on an OEM basis to the local travel agencies and media operators primarily in the Asian region. In addition to starting Japanese first system collaboration in the domestic airline ticket field with Ctrip.com (the largest travel company in China), the company is promoting partnerships with other Chinese travel agencies.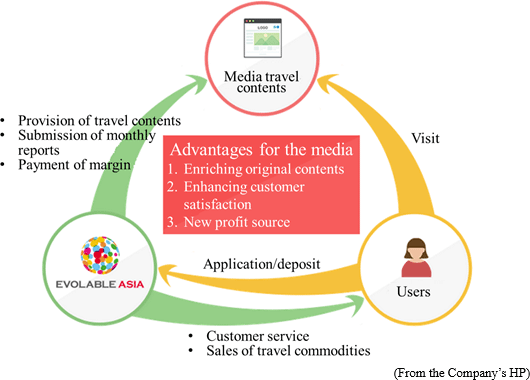 (Strengths of business)
The Company's expertise in OEM provision and its proprietary offshore development allow them to meet customers' needs with inexpensive and speedy development.
◎IT offshore development business
The Company hires about 600 skilled engineers in 3 locations (Ho Chi Minh, Hanoi, and Da Nang) in Vietnam as of March 2017. It offers system development of web services, applications, etc. and business process outsourcing (BPO). The customers are mostly web service providers such as DeNA Travel Co,. Ltd. and GREE, Inc.
(Strengths of business)
The Company has recruiting capabilities in Vietnam and expertise in starting development teams. Against the backdrop of a shortage of IT engineers and rising wages for engineers in Japan, since its establishment in 2012, the Company has grown to have the largest number of employees among the Japanese offshore development companies in Southeast Asia. The company does not offer entrusted development but is specialized in lab-style development services. The operation rate is almost 100% because the Company forms a team with dedicated staff members for each customer to reflect the customer's needs on a long-term (in principle, over a year) contract basis and the team operates under respective customer. In addition, customers are billed engineers' cost from the time of employment. Therefore, there is no risk for the Company in terms of delayed delivery or idle employees. Because of its stock business model, scale expansion and significant increase in earnings can be expected.
◎Investment business
The investment business was established in FY 9/17 as a reporting segment. It is positioned as the fourth business having characteristics of CVC (corporate venture capital). The company will pursue a synergistic effect as well as opportunities for capital gains.
Fiscal Year September 2017 Earnings Results

Significant increase in sales and profit, marking record highs, but both remained below the targets.
Sales were 5,534 million yen, up 38.3% year on year. Operating income was 730 million yen, an increase of 18.1% year on year. Both reached record highs. The trading volume rose 44.0% to 40,116 million yen, marking a record high too. Due to intensifying competition, upfront investment of marketing costs for expanding its market share, and the anticipatory costs associated with preparation for new businesses and M&As, both sales and profits fell short of initial estimates.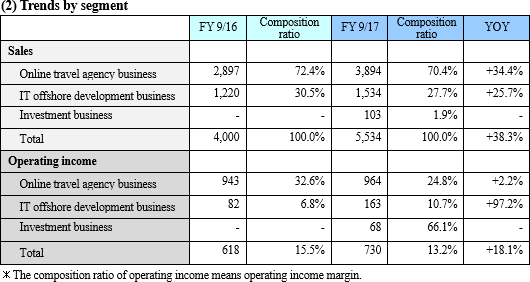 (1) Online travel agency business
Sales and profit grew. (Online travel agency business) *B to C services (operation of a website for directly selling travel commodities to general consumers by PC and smartphone) Users increased steadily, because the company enhanced the measures for reeling in new customers, such as mass marketing, strengthening of SEM, major upgrades to core systems, listing advertisement, and improved UI for increasing repeat customers. *B to B to C services (business of offering travel contents by using the brands of business partners) Sales grew, because the company strengthened development of major business partners and increased communication with clients, for the purpose of offering services that meet the needs of major clients and promoting them to use the company's services more. <New partners> Skyscanner (Mar. 2017), H.I.S (Apr. 2017) *B to B services (business of wholesale to other travel agencies) Some areas were positively affected by trends in the airline industry and the policies of business partners, and as the number of domestic flights increased, the online travel agency industry that handles domestic airline tickets was active and strong. *BTM services (business of managing the in-company procedures for approval for business trips and arranging business trips in an integrated manner) In the business model of the company, sales grow in parallel with the growth of the number of client companies and the rate of utilization. Accordingly, sales grew, because the company increased sales staff and promoted customers who had not used their services frequently to use them.
(2) IT offshore development business
Sales and profit grew. An increase of engineers and a rise in the unit price due to efficiency improvements in development resulted in greater sales.
(3) Investment business
The company expanded investment targets to 22 companies. It sold some shares of Kanzashi Co., Ltd., marking the first instance of exiting from an investment.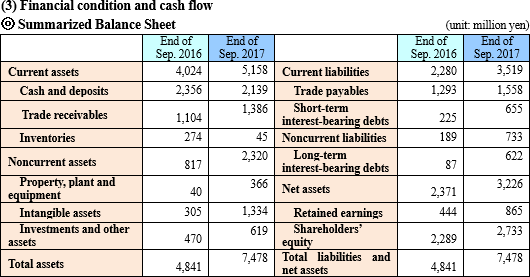 Current assets grew 1,100 million yen from the end of the previous term due to an increase in trade receivables, nearly equal to the amount at the end of the previous term. Noncurrent assets rose 1,500 million yen from the end of the previous term, due to an increase in goodwill and software. Total assets increased 2,600 million yen from the end of the previous term to 7,478 million yen. Total liabilities grew 1,700 million yen from the end of the previous term to 4,252 million yen due to an increase in long-term and short-term debts. Net assets were 3,226 million yen, up 800 million yen from the end of the previous term due to the increase in retained earnings resulting from higher profits. As a result, equity ratio declined 9.8% from 47.0% at the end of the previous term to 37.2%.

The surplus of operating CF shrank due to increases in operational investment securities. The deficit of investing CF augmented due to greater spending for acquiring intangible assets. Free CF became negative. Revenue from issuance of shares in conjunction with the public offering that occurred in the previous term decreased, and the surplus of financing CF shrank. The cash position declined.
Fiscal Year September 2018 Earnings Estimates

Significant increase in sales and profit this term too
The sales revenue is forecasted to be 7 billion yen, up 25.1% year on year. The trading volume is estimated to increase 74.4% to 70 billion yen. The use of internet by travelers is expected to increase even further, and the market will continue to expand. Increases in sales revenue will be relatively lower than those of trading volumes, due to a conservative approach towards the sales mix and pricing. Operating income is projected to increase 48.8% to 1.5 billion yen. Economies of scale will continue to grow, offsetting SG&A expenses and resulting in significantly higher profit. Operating income ratio is expected to rise 3.3% year on year. The dividend is to be 10 yen/share, an increase of 3 yen/share. The estimated payout ratio is 19.4%. The company plans to discretionally apply IFRS from this term, with the aim of expanding corporate value through "strengthening the foundation of group management to accelerate global development" and "improving the international comparability of financial statements on capital markets." Under IFRS, goodwill resulting from M&As is not subject to amortization (intangible assets such as client assets are subject to amortization), which means that the amortization expenses of goodwill will be lower compared to when using the Japanese accounting standards. It also becomes possible to evaluate investment business more effectively, because gains and losses on valuation are recorded based on the fair value of invested shares. Thus, the company concluded that IFRS is more appropriate for evaluating their business structure and development.
Future Growth Strategy and Topics
Up until now, the company's target has been to achieve
"a trading volume of 100 billion yen in 2020, and become the industry leader in each business,"
but considering the accelerated growth of the travel business due to investing in "AirTrip," the recovery of the investment business, the stable growth of stock revenues such as IT offshore development and BTM, the monetization of new businesses such as the camper car business and currency exchange business, and growing economies of scale by implementing M&As, they aim to achieve
"a trading volume of 100 billion yen in 2019,"
one year ahead of schedule.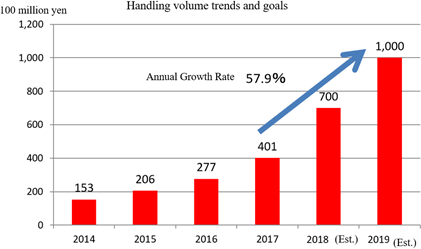 In addition, from FY 9/17, the "investment business" was positioned as the fourth business and a reporting segment. The growth strategies and major recent topics for each business are as follows:
(1) Online Travel Agency Business
1. The comprehensive travel platform "AirTrip"
The domestic airline ticket sales market is a mega market of about 1.5 trillion yen, but it has no truly dominant brands comparable to "Jalan" and "Rakuten Travel" of the online hotel reservation market. While the combined market share of Jalan and Rakuten is estimated to be about 40% in the online hotel reservation market, in the online domestic airline ticket sales market, even Evolable Asia, the industrial leader among domestic flight online travel agents (OTAs), occupies only 2% of the market. Under these circumstances, the company founded the new brand "AirTrip" during the previous term and it is hoping to make this brand the overwhelming leader in the online domestic air ticket market by offering a thorough service. The company offers some of the industry's best customer returns prospects by "focusing on returning the reward points to customers by reducing the customer-attraction expenses through the existing web advertisements", "returning 2% of airfare purchase price to customers", and "reward points earned through AirTrip can be used to purchase air tickets or can be exchanged with various collective loyalty points, frequent flyer miles, gift coupons, etc. via G-Point." Additionally, the chat facility was added to its existing web, telephone and e-mail customer service recently, and the superbly maneuverable user interface with its smooth and intuitive operability helps the company to pursue the better user accessibility. The company aims to offer the highest value for money and the most useful services to customers. The company positions "AirTrip" as a comprehensive travel service platform and has commenced the sales of domestic accommodation booking, overseas air tickets and private home accommodation, in addition to traditional domestic air tickets. It is planning to expand its merchandise range. As the company believes that the strengths of "AirTrip" are the track record as the leader of the online air ticket industry and its thorough customer returns, the company's policy is to secure profits through the sales of domestic airline tickets while actively returning the profits to customers with other merchandise. Through expansion and integration of merchandise, the reward points can be now used across the board; therefore in the domestic accommodation booking services, the company has realized a 7% return, one of the highest in the industry.
«Topics»
◎ Develop active promotion
Improving popularity is essential for brand establishment. * Start of television commercials The company began broadcasting commercials starring a popular comedian in the Sapporo, Fukuoka, and Okinawa areas. The response is very good, and they plan to start airing the commercial in the large Kanto and Kansai markets during this term. * Alliance with the major mail magazine company "MagMag" The largest e-mail magazine company, MagMag Inc., became a subsidiary of the company in Oct. 2017. The company will pursue business synergies with MagMag, including the expansion of "AirTrip" sales channels by utilizing MagMag's e-mail magazine and media. (For details, see the "Investment business" section)
◎ Expansion of merchandise
In Nov. 2017, with the aim of strengthening management of domestic travel products (travel packages) that pair airfare and accommodation together with "AirTrip," the company acquired N's Enterprise Co., Ltd., which specializes in travel packages to Okinawa and Hokkaido, as a subsidiary. N's Enterprise is the exclusive licensing agency for Japan Airlines, and they believe this will greatly contribute to the purchase of domestic tickets from Japan Airlines. The trading volume for N's Enterprise this term (the term ending Sept. 2018) is forecasted to be around 10 billion yen, and the company believes that this will be a big step towards achieving the target trading volume of 100 billion yen in 2019. In addition to their traditional main product, domestic airline tickets, the company will also begin to strengthen sales of overseas airline tickets from this term.
2. BTM (Business Travel Management) Market
The size of the Japanese business travel management (BTM) market is in the region of 6.4 trillion yen and of that, domestic travels and accommodations are said to occupy roughly 1.8 trillion yen. Some studies claim that with the introduction of BTM, business travel expenses can be reduced as much as 10-20% but as the majority of companies are not managing the business travel expenses when it comes to airfares, and this promises to be the area of further growths in the future. Specifically, the company is working to secure more business partners and speed up the market development. Apart from airline tickets, the company is also planning to start selling the "Shinkansen (bullet train) + accommodations" packages. It will continue striving to respond to all business trip needs.
«Topics»
◎ Steady increase of clients
As of the end of Sept. 2017, the number of clients for the BTM business increased by 485 from the end of Sept. 2016 to 1,152. This will lead to stable growth of stock profit.
(2) Inbound Travel Business
The company is poised to introduce various forms and methods of meeting the inbound travel demands such as establishing "minpaku" (private home accommodation) platform, collaboration with overseas travel agencies, currency exchange business, and camper rentals. The company aims to become the domestic leader in the camper rental industry. It is planning to increase its fleet to 300 owned campers by 2020.
«Topics»
◎ Collaboration with Chinese travel agencies
In May 2017, the company concluded a business tie-up agreement with Ctrip.com (China's largest travel agency) that would be the first such agreement in Japan for system collaboration in the domestic air ticket field. In Nov. 2017, the company reached an agreement with Qunar.com (which is operated by the Chinese online travel agency Qunar) regarding a collaboration between Qunar.com's travel search system and Evolable Asia's website for reserving domestic airline tickets. With this system collaboration, Qunar.com will begin offering Japanese domestic air tickets to Chinese travelers with individual arrangements that do not involve group tours or package tours. Through this partnership, Evolable Asia will provide domestic airline tickets for two other major Chinese online travel agencies in addition to Ctrip.com. Also in Nov. 2017, the company began providing domestic airline ticket OEMs for foreigners, mainly Taiwanese people who plan to travel to Japan and who visit the travel reservation website managed by Lion Travel Service Co., Ltd., the largest travel company in Taiwan. The company is steadily building a foundation for providing many types of products, including domestic airline tickets targeted at Chinese travelers, who are expected to increase in the future.
◎ Strengthening and expansion of the currency exchange business
(Install FinTech money exchange machines at company stores) In Nov. 2017, the company conducted capital participation through the third-party allocation of shares from Extech Co., Ltd., which develops its own foreign currency exchange machines equipped with IoT functions and FinTech functions that utilize AI. Extech's exchange machines support a large variety of currencies and languages, and meet the exchange needs of visitors from many different foreign countries. It can be installed in small spaces, and can operate on its own without being attended to. The original machine began operating from Nov. 2017. In the future, the machines will also support electronic currency and virtual currency, and the company aims to install 1,000 units at various hotels, airports, terminal railway stations, and other commercial facilities by 2020. (Collaboration with hotels to provide currency exchange service) Also in Nov. 2017, the company reached an agreement regarding a partnership with Toyoko Inn Co., Ltd., a hotel chain having the largest number of rooms in Japan, with the goal of attracting foreign tourists to Japan. Along with the grand opening of Toyoko Inn Narita, Toyoko Inn's largest hotel (1,384 rooms), both companies will work together and consider introducing electronic payment services and exchange services at the hotel counter, as well as packages that combine both companies' products in order to attract foreign tourists and improve customer satisfaction. The company plans to seek out more hotel partnerships in the future.
◎ Expansion of sales channels for the camper car business
In May 2017, the company began sales at H.I.S. In September, they started up a plan allowing people to experience Japan, and they also signed a contract for the pre-order of domestic camper cars rentals with i.JTB Co., Ltd., which is responsible for the e-commerce business at JTB Group. Also, in October, the company partnered with Times Mobility Networks Co, Ltd., a company in the Park 24 group that provides the nationwide rent-a-car service "Times Car Rentals." In addition to increasing the number of bases near downtown areas and airports for renting and returning camper cars, reservation for camper rentals became possible through the Times Car Rental website. Currently, the company retains 15 vehicles for the camper car business. If the camper car business begins making profits on a monthly basis, they plan to greatly increase the number of vehicles.
(3) IT Offshore Development Business
The Company aims to increase the number of lab personnel from current 800 to 3,000 by 2020. To achieve this, the company promotes four policies such as developing more offices, acquiring projects in Europe and the USA, improving the capacity of the upstream development process, and developing Japanese-speaking human resources. Four new laboratories were opened this term.
(4) Investment Business
From FY 9/17, the investment business was positioned as the fourth business having characteristics of CVC (corporate venture capital). The company will pursue a synergistic effect as well as opportunities for capital gains. They made a lot of investments in the previous term, but the most noteworthy item was the acquisition of MagMag Co., Ltd. as a subsidiary. «Reorganization of MagMag Co., Ltd. into a subsidiary» In Oct. 2017, the company acquired 94,256 shares (ownership of voting rights: 85.7%) of MagMag Co., Ltd. through the acquisition of shares and simple stock exchange. (MagMag company profile) MagMag was founded in 1999 under the company vision "Conveying your message to people who want to hear it." They manage the e-mail magazine service "MagMag" and the online media websites "MAG2NEWS" and "MONEY VOICE." Using its influence as the largest e-mail magazine in Japan with 7.5 million subscribers and 15 million website views per month (3 million unique viewers), and revenue sources including offering paid content in its e-mail magazine and obtaining income from media advertising, MagMag is expanding its business. (Speculated synergistic effects) The company expects to create the following three synergistic effects. 1. Expansion of "AirTrip" sales channels Re-introduce the comprehensive travel platform "AirTrip" to various e-mail magazine subscribers. The company hopes to expand the number of "AirTrip" members from the present 440,000 to 8 million. 2. Establishment of travel media The company will establish specialized travel media that combine MagMag's media capabilities with Evolable Asia's travel products. 3. Improvement of development capabilities Utilizing IT offshore development resources at the Vietnamese corporation Evolable Asia, the company will improve the development capabilities of MagMag. (Future prospects) By utilizing Evolable Asia's subsidiaries to significantly improve system development capabilities, MagMag can accelerate the expansion and improvement of services. In addition, MagMag is expected to achieve substantial profit growth from the next term by providing Evolable Asia's marketing know-how. Also, MagMag aims to make its stock listed in the future.
(5) Other
◎ Collaboration with regional banks In order to strengthen the sales of corporate services, the company entered into a business arrangement with three regional banks: Bank of Yokohama, Shikoku Bank, and Keiyo Bank. Customers of the banks are introduced to IT offshore development projects, Airbnb (for which Evolable Asia has an exclusive contract for developing business related to accommodation facilities), and BTM services. The company will continue to promote collaboration with other regional banks in addition to the three listed above. ◎ Financing with share options The company issued share options to Credit Suisse Group AG through a third-party allotment system. When converted to income, the total for the three-part transaction comes to around 10.1 billion yen. Roughly 8 billion yen will be used to implement large, strategic M&As by the year 2020, and 2 billion yen for brand development costs (raising the popularity of new brands, acquiring new customers, etc.). It is a scheme to suppress dilution by setting the three-part exercise price in stages. The company hopes to accelerate its growth speed through the procurement of funds.
Aggressive and rapid business development continues in all business fields. In particular, the reorganization of MagMag, the largest e-mail magazine in Japan, into a subsidiary and the synergy with it shows promise. According to the company, about 75% of MagMag's e-mail magazine subscribers are over 35 years old, therefore the magazine appears to have a high affinity with domestic business travelers, which account for 60% of domestic flight passengers. This hypothesis still needs to be verified; however we are looking forward to the results. We would also like to continue watching the company's progress after they rescheduled the achievement of 100 billion yen in trading volume one year ahead, in 2019, from the original plan.
<Reference: Regarding Corporate Governance>

◎ Corporate Governance Report
Last updated on Mar. 31, 2017.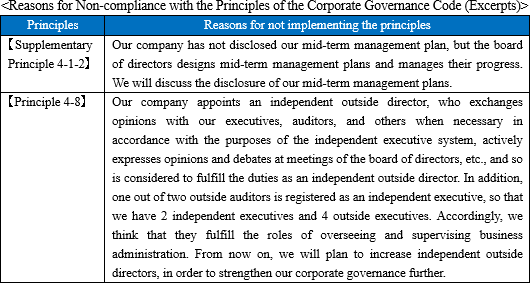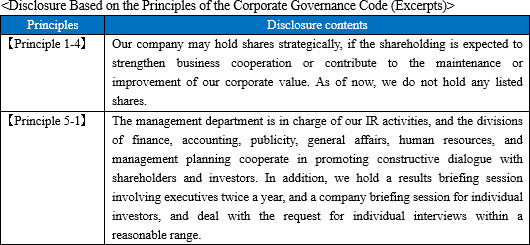 Disclaimer
This report is intended solely for information purposes, and is not intended as a solicitation for investment. The information and opinions contained within this report are provided by our company based on data made publicly available, and the information within this report comes from sources that we judge to be reliable. However we cannot wholly guarantee the accuracy or completeness of the data. This report is not a guarantee of the accuracy, completeness or validity of said information and opinions, nor do we bear any responsibility for the same. All rights pertaining to this report belong to Investment Bridge Co., Ltd., which may change the contents thereof at any time without prior notice. All investment decisions are the responsibility of the individual and should be made only after proper consideration.
Copyright (C) 2018 Investment Bridge Co., Ltd. All Rights Reserved.