President
Yasuyuki Hotta
| | |
| --- | --- |
| Company | KITZ CORPORATION |
| Code No. | 6498 |
| Exchange | TSE 1st Section |
| Industry | Machinery (Manufacturing) |
| President | Yasuyuki Hotta |
| HQ | 1-10-1 Nakase, Mihama-ku, Chiba, 261-8577, Japan |
| Year-end | March |
| URL | |
Share Price
Shares Outstanding
Market Cap.
ROE (actual)
Trading Unit
¥414
109,219,944 shares
¥45,217 million
7.2%
100 shares
DPS (Est.)
Dividend Yield (Est.)
EPS (Est.)
PER (Est.)
BPS (actual)
PBR (actual)
¥10.00
2.4%
¥29.29
14.1x
¥542.41
0.8x
* Share price as of closing on November 13, 2013. Number of shares outstanding as of most recent quarter end does not include treasury shares.
Fiscal Year
Sales
Operating
Income
Ordinary
Income
Net Income
EPS (¥)
Dividend (¥)
March 2010
96,592
6,976
6,248
3,079
27.23
7.00
March 2011
106,059
6,341
5,929
3,063
27.36
7.00
March 2012
108,446
4,638
4,388
2,480
22.71
7.50
March 2013
111,275
6,558
6,521
4,039
36.98
9.50
March 2014 Est.
117,000
5,400
5,300
3,200
29.29
10.00
* Estimates are those of the Company.

 

This Bridge Report presents KITZ CORPORATION's earnings for the first half fiscal year March 2014.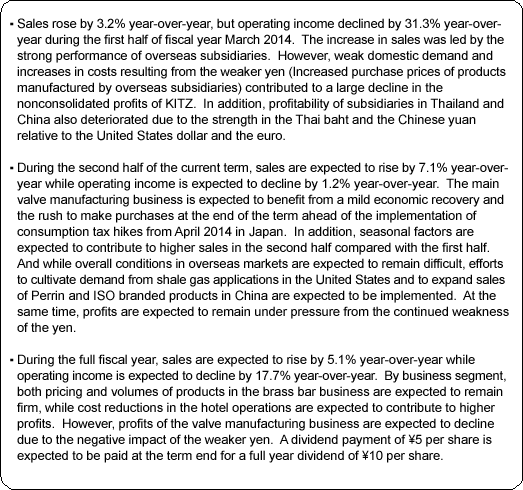 KITZ is a comprehensive manufacturer of valves and other fluid control equipment and devices. While most people are familiar with valves used around "water meters," "gas meters," and "water heaters," few are aware of the applications of KITZ products outside of the home that are provided to customers in a wide range of industries. At the same time, KITZ boasts of a highly efficient integrated manufacturing system that uses bronze, cast iron, ductile cast iron (cast carbon steel with greater strength and ductile characteristics), stainless steel and other materials to manufacture several tens of thousands of different products. In addition to selling brass and other bars to valve makers, KITZ also operates fitness clubs and hotels. KITZ is the number one manufacturer of valves, and the number two manufacturer of brass bars within Japan. The KITZ Group is comprised of 32 companies.

 

<Overview of KITZ's Business Segments>

KITZ's business is divided into the valve manufacturing, brass bar manufacturing, and other business segments. During fiscal year March 2013, each of these segments accounted for 75.9%, 16.1% and 8.0% of total sales respectively.

 

Valve Manufacturing Business

Valves are used to "pass," "stop," and "control the flow" of fluids and gases in various pipe systems (water, air, gas and other substances), and they are used in office and residential facilities, water works facilities, fresh and sewage water facilities, fire prevention facilities, machinery and industrial use manufacturing equipment, and chemical, medical, petrochemical product manufacturing facilities, semiconductor manufacturing facilities, petroleum refining and other industrial complexes, and various other applications. KITZ is one of the leading valve manufacturers in the world with high market shares of corrosion resistant bronze and highly economical brass valves, and high value added ball, butterfly and stainless steel valves. The Company boasts of integrated manufacturing processes including the casting process, and it became the first company in Japan to acquire the "ISO9001 International Quality Standard Certification." With a strong lineup of various types of valves made of various materials, KITZ provides its products to a wide range of fields including facilities in the construction and plant engineering industries, in addition to applications in the environment, energy, and semiconductor realms. The Company is also pursuing a strategy to increase the global cost competitive nature of its products by fortifying its overseas manufacturing facilities. During fiscal year March 2013, overseas sales accounted for approximately 34% of total sales.

 

 

Brass Bar Manufacturing Business

In the brass bars business, KITZ combines copper with zinc to create brass, tin and phosphorous to create phosphor bronze, and nickel and zinc to create nickel silver, which are then used in the dissolution, casting, rolling, pulling, forging, heating, and forming processes to create sheets, strips, pipes, bars, wires and other forms. The KITZ Group's brass bar business is handled by KITZ Metal Works Corporation which uses the raw material of brass to manufacture brass bars sells them. (Brass bars are used not only as materials for valves, but also in the manufacture of water faucets, gas equipment, electrical appliances and other various products.)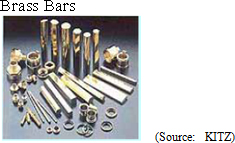 Other

Comprehensive sports fitness club facilities and hotel and restaurant operations are also conducted through one of KITZ's subsidiaries.

 

 

<Corporate History>

KITZ was originally established in January 1951 under the name of Kitazawa Seisakusho Co., Ltd. for the manufacture and sales of various valves, and in April of the same year, the Nagasaka Plant in Yamanashi Prefecture was completed and manufacture of bronze valves was started. In March 1959 a subsidiary called Toyo Kinzoku Co., Ltd. was established for the manufacture of brass bars as raw materials for its valves. In September 1962, the Company name was changed to Kitazawa Valve Co., Ltd. and in October of the same year the Company became the first in Japan to use a brass hot forged press machine in its manufacturing processes and the sale and manufacture of brass forged valves began. Thereafter, the Company expanded its product line-up to include stainless steel materials and the manufacture of stainless steel valves began at its Nagasaka Plant from November 1970.

Since the Company's founding, it has been able to grow by adhering to its motto of "always providing better products, at cheaper prices, and with faster delivery times" in its business foundation. In April 1977, Kitazawa Valve was listed on the Second Section of the Tokyo Stock Exchange, and in September 1984 the Company moved to the First Section. In August 1995, the Company entered the fresh water supply market through its acquisition of Shimizu Alloy Manufacturing Co., Ltd. and its conversion to a subsidiary. The Company also entered the field of semiconductor manufacturing through its introduction of industrial use filters in March 1996.

From 2001 onwards, KITZ started a strategy of "selection and concentration" within its business realms and also focused upon cash flow management. And in November 2001, KITZ acquired the semiconductor manufacturing equipment business of Benkan Group. In March 2004 KITZ acquired the valve business of Toyo Valve Co., Ltd. and combined it with its bar product business to be spun off and established as a separate company called KITZ Metal Works Co., Ltd. From 2005 to 2006, KITZ acquired the copper bar manufacturing business of Kyoto Brass Co., Ltd. as well as the assets of Kichou Shindosho Co., Ltd. as part of its strategy of fortifying its copper bar business. In May 2007, KITZ established a valve manufacturing company in Lianyungang City, China called KITZ Corporation of Lianyungang.

After having recovered from the global recession caused by the "Lehman Shock" in the fall of 2008, KITZ endeavored to fortify its overseas businesses, restructure its domestic manufacturing network, and established the sales subsidiary KITZ Corporati0on of Asia Pacific Pte. Ltd. in 2011 in Singapore. Along with the transfer of the manufacturing division to KITZ in 2012, Toyo Valve Co., Ltd. restarted its business as a specialized sales company. In 2013, the company KITZ Europe GmbH was established to oversee and consolidate the European operations, and the sales agency company Mikuni Engineering (Singapore) Pte. Ltd. in Singapore was acquired and renamed KITZ Valve & Actuation Singapore Pte. Ltd.

Through this process, the KITZ Group has grown to become one of the world's leading valve manufacturers comprised of 32 consolidated subsidiaries around the world. The "KITZ brand" has also become widely recognized as a manufacturer of high quality valves and other products.

 

KITZ Group's Second Medium Term Management Plan (FY3/14 to FY3/16)

The KITZ Group is currently in the course of implementing its Long Term Management Plan "KITZ Global Vision 2020," which is a growth strategy designed to take KITZ to its 70th anniversary in 2020. In light of the results of its First Medium Term Management Plan (FY3/11 to FY3/13), which was profoundly impacted by the Great East Japan Earthquake and the pronounced strengthening in the yen, KITZ has restructured its corporate strategy to be implemented in its second Medium Term Management Plan covering the period to fiscal year March 2014 to 2016.

The Second Medium Term Management Plan entails a strategy designed to break the earnings reliance upon the construction related applications for commercial valves and to improve profitability of industrial valves used in overseas oil and gas projects as a means of improving overall earnings. Consequently, the overall KITZ Group will implement efforts to raise quality in all of its business activities.

 

(1) Second Medium Term Management Plan (FY3/14 to FY3/16)

Through the pursuit of synergies within the KITZ Group and the policy of selection and concentration, KITZ seeks to strengthen its position as a global company by leveraging its Group management resources in growth fields to strengthen its overall corporate structure. Moreover, the Company will pursue further improvements of quality in all of its business activities (Management, development, production, and sales).

 

Improve Earnings Structure: Improve Profitability and Expand Earnings of Industrial Valve Business, Create Business Bases with Multiple Functions

KITZ is endeavoring to improve its earnings structure by reducing its dependency upon commercial valves by expanding earnings and improving profitability of industrial valves. As part of this strategy, KITZ will improve earnings by choosing optimal locations for production of main products and restructuring its product supply structure, in addition to increasing the speed of the management's decision making process by decentralizing the management of overseas operations through a shift in responsibility to overseas bases. Through these moves, overseas bases will provide one-stop capabilities and be responsible for multiple functions including sales, marketing, engineering, inventory management, maintenance and services. Also, KITZ will increase capital investments in and strengthen its research and development function for products in the growth realm of oil and gas, and plant instrumentation markets, in addition to strengthening its ability to conduct markets analysis, M&A, and form alliances for the expansion, complementing and new entry of the business.

 

Group Synergies

Within the KITZ Group, a full review of its competitive strength and creation of its new structure will be conducted in addition to new product launches in the realms of gasoline stations and water works related applications as part of the Group's new business development efforts.

 

Continued Selection and Concentration

Reorganization and integration of the KITZ Group to raise its global competitive capability and reviews of both product line-ups by plant and product supply structure will be conducted to achieve an optimized product supply structure.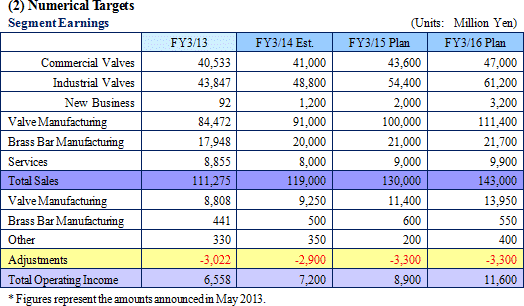 First Half Fiscal Year March 2014 Earnings Results
 

Sales Rise 3.2%, Operating Income Declines 31.3% Year-Over-Year

Sales rose by 3.2% year-over-year to ¥57.380 billion. The weaker yen acted as a tailwind and contributed to higher overseas sales, which helped to cover weaker business performance within Japan by the parent company KITZ. However, operating income declined by 31.3% year-over-year to ¥2.465 billion. In addition to the large decline in profits of the parent company KITZ due to weak demand for valves within Japan and the negative impact of the weaker yen that led to price increases of imported products (Made by subsidiaries), the strengthening of the Thai baht and Chinese yuan against the United States dollar and the euro led to declines in profits of subsidiaries in Thailand and China.
In addition to improvements in foreign exchange translation gains from a loss of ¥71 million in the same period of the previous year to a gain of ¥65 million, sales of marketable securities contributed to a profit of ¥109 million. At the same time, impairment losses declined from ¥105 to ¥25 million, helping to limit the decline in net income to 27.2% year-over-year to ¥1.455 billion.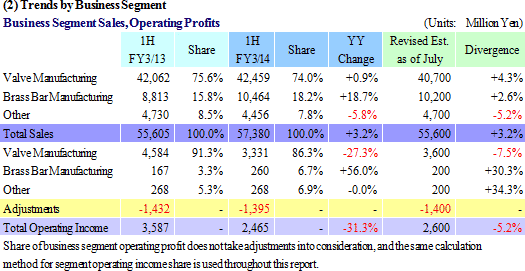 Valve Manufacturing Business: KITZ Encounters Difficult Conditions

Sales rose by 0.9% year-over-year to ¥42.459 billion while operating income declined by 27.3% year-over-year to ¥3.331 billion. Sales within Japan alone fell by 4.3% year-over-year to ¥26.270 billion. The restart of capital investments by large semiconductor manufacturers contributed to a 12.6% year-over-year increase in sales to applications in the semiconductor related industry, and highly active condominium construction led to a 7% year-over-year increase in sales of meter units, connectors, and water supply products. At the same time, actual demand from the construction industry (Fell by 5% year-over-year) for office buildings applications, which use a large amount of fluid control equipment and apparatuses, was weak and excess inventory conditions for commercial valves remained in place. Furthermore, capital investments in the machinery (Down 11% year-over-year) and other industrial applications remained lackluster, and bronze/brass and stainless steel valves sales trended weakly (Machinery and other industrial applications in general saw a sales decline of over 10%).

Overseas sales rose by 10.8% year-over-year to ¥16.189 billion. The weaker yen acted as a tailwind and allowed sales in Asia, North America, and Europe to grow by 7%, 2% and 38% year-over-year respectively. In addition to the stronger yen acting as a tailwind for sales in Asia, fortification of the marketing function of the local subsidiary in Singapore, KITZ Valve & Actuation Singapore Pte. Ltd. , allowed sales in the ASEAN and neighboring regions to rise by 12% year-over-year. Despite the slowing economy and movement to boycott purchases of Japanese products, sales of Perrin (Germany) products in China managed to rise by 10% year-over-year.

With regards to profits, reduction in cost of sales totaling ¥1.02 billion through internalization could not offset other negative factors including decline in sales volumes of highly profitable products within Japan (¥870 million decline), foreign exchange impact (¥780 million decline), increases in materials costs including higher electrolytic copper prices (¥220 million decline), and reviews of pricing strategies within Japan (¥260 million decline).

 

Brass Bar Manufacturing Business: Prices Hiked to Absorb Higher Material Costs, Sales Volume Increase

Brass bar manufacturing, which is the responsibility of KITZ Metal Works Corporation saw strong increases in both sales and operating income of 18.7% and 56.0% year-over-year to ¥10.464 billion and ¥260 million respectively. During the second quarter between July to September, prices of brass bars within Japan remained relatively stable at a 0.8% year-over-year decline to ¥14,877 per ton per month. Against the backdrop of these conditions, KITZ raised the prices of its products by 11% due to the rise in materials costs and sales volumes increased by 9% year-over-year.

 

Other: Improvement in Profitability Allows Hotel Profits to Rise

Sales declined by 5.8% year-over-year to ¥4.456 billion and operating income remained in line with the previous first half at ¥268 million. Declines in the number of members of the KITZ Wellness fitness clubs contributed to a 3.6% year-over-year decline in sales of the fitness club operations. The hotel operations managed by Hotel Beniya also suffered a decline in sales of 5.5% year-over-year due in part to the closure of a highway leading to the hotel in December 2012 resulting from the collapse of the Sasago tunnel. With regards to profits, the lower sales contributed to a 14.5% year-over-year decline in operating income of the fitness club operations, but efforts to reduce costs allowed income of the hotel operations to rise by 22.2% year-over-year.

 

 

On a non-consolidated earnings basis, KITZ sales declined by 4.4% year-over- year to ¥31.288 billion, with sales in Japan falling by 4.6% year-over-year to ¥21.939 billion. While sales of cast carbon steel valves used in plant applications grew by 30% year-over-year, weak demand from the building air conditioning and sanitary equipment applications contributed to an 8% year-over-year decline in sales of bronze/brass valves. At the same time, sales of stainless steel valves used in a wide variety of machinery applications also fell by 8% year-over-year. Overseas sales declined by 3.9% year-over-year to ¥9.350 billion due to weak sales to the United States and the Middle East and despite stronger sales in Asia and Europe resulting from the weaker yen.

Operating income fell by 54.5% year-over-year to ¥908 million. Declines in highly profitable bronze/brass and stainless steel valves were compounded by higher sales, general and administrative expenses including information technology related depreciation an amortization. The improvement in non-operating income is attributed to increases in interest received and dividends from subsidiaries.

 

Trends in Valve Manufacturing Business Subsidiaries

Within Japan, strong demand for products used in meter boxes, condominium water supply and other applications could not offset weaker sales of Toyo Valve Co., Ltd. and subsequently sales and profits declined.

In overseas markets, the weaker yen acted as a tailwind (Contributed to higher profits after foreign exchange translation) and allowed sales of subsidiaries to increase. Sales of the four manufacturing subsidiaries KITZ (Thailand) Ltd., KITZ Corporation of Taiwan, KITZ Corporaiton of Kunshan, and KITZ Corporation of Jiangsu Kunshan rose on the back of the weaker yen, while sales of Perrin (Germany) and KITZ Corporation of America each saw declines of over 20% in local currency terms. KITZ (Thailand) Ltd. and KITZ Corporation of Taiwan incurred declines in profits due to strengthening of their native currencies relative to the dollar and euro.

Due to the resumption of capital investments by major semiconductor manufacturers, KITZ SCT Corporation recorded higher sales and profits. KITZ Metal Works Corporation of Brass Bar Manufacturing Business became similar, too.

 

 

Total consolidated assets rose by ¥3.353 billion from the end of the previous fiscal year to ¥103.325 billion at the end of the first half of the current fiscal year. The valuation of the Group's assets increased due to the weaker yen, and foreign exchange translation accounts declined from a -¥2.849 billion during the previous first half to -¥780 million. Equity ratio stood at 60.4%.

 

 

With regards to cash flow, the decline in profits was compounded by a large increase in tax expense (-¥0.349 to -¥1.876 billion), causing the net cash inflow from operating activities to contract. At the same time, restrain in capital investments primarily for maintenance of existing facilities allowed the cash outflow from investing activities to be reduced. The assumption of long term debt contributed to an increase in liquidity on hand.

 

 
Fiscal Year March 2014 Earnings Estimates
 

(1) Second Half Endeavors, Estimates

Valve Manufacturing Business

Japan: Weak Market Recovery Expected

While latent demand from the recovery efforts of the Great East Japan Earthquake have yet to surface, a rush to purchase products during the fourth quarter ahead of the implementation of a hike in the consumption tax from April 2014 is anticipated. By market, demand from semiconductor related applications is expected to recover during the second half, with demand for products used in water supply related applications expected to trend firmly on the back of strong condominium sales. In addition, sewage application use valves are entering the seasonally strong demand period with progress made in correction of inventories, and gradual recoveries in demand from machinery and construction industry related applications is also anticipated. Orders for short term delivery of valves for processing lines of plants have already been booked and are expected to contribute to sales from the next term forward, and new orders for a large LNG plant project at Toyama Port is also anticipated.

 

ASEAN: Outlook for Thailand, Indonesia Unclear

The economy in Thailand has begun to slow due to the conclusion of the economic stimulus package in 2012 compounded by the negative impact from the completion of recovery efforts for the flooding, and new investments are on the decline. Consequently sales during the second half are expected to be weak. In addition, concerns over the strong sales seen during the first half in Indonesia have arisen due to the instability in the local currency. At the same time, the Singaporean subsidiary KITZ Valve & Actuation Singapore Pte. Ltd. is fortifying its automated valve assembly function and is expected to be able to expand its sales during the second half. Furthermore, KITZ will continue to implement measures to capture orders from projects in various countries in the region.

 

China: Expand Sales of Perrin, ISO Brands

While lingering fears over the potential for a slowing in the economy and boycott of Japanese goods remained in place in China, KITZ expects to leverage Perrin (Germany) and ISO (Spain) brand products, which saw strong sales during the first half, to cultivate new clients.

 

North, South Americas: Capture Downstream Plant Construction Demand for Shale Gas Applications

While demand from the pipe industry in North America remained weak, demand from downstream plant construction for shale gas applications is on the rise. In addition, sales of new copper compound valves which do not contain lead have been started from November in response to revisions to safety regulations relating to fresh water supplies in the United States. At the same time, KITZ aims to develop demands from oil and gas market, and mine market in South American markets.

 

Europe: Overall Demand Remains Weak

While sporadic investments in the Southern Europe region have begun to appear, demand overall remains weak. KITZ EUROPE GmbH will continue coordinate efforts of the three Group companies in Europe to secure profits despite the difficult market conditions.

 

Oil and Gas Market Application Earnings Expand

In the North American market, construction for chemical plants that produce ethylene using shale gas and oil is on the rise, and an increasing number of orders are being booked by Japanese engineering companies (EPC). In light of this changing environment, KITZ expects to step up its efforts to capture business opportunities and expand its sales of cast carbon steel, stainless steel, and ball valves.

 

 

The "T60 three piece trunnion ball valve" (Large valves used in natural gas, petroleum refining, chemicals and other plants) launched by KITZ Corporation of Europe, S.A. in September 2010 has come to be highly regarded by the market. This product has been chosen for use in projects by ExxonMobil Indonesia Ban Yun Yurip in Indonesia, and Audex/Vopak Metionine Tank in Singapore.
A cooperative agreement with GIVA Group of Italy has been formed with a view to business development in upstream (excavation) and midstream (transportation) market applications. KITZ seeks to capture orders leveraging its lineup of high temperature and high pressure valve product lineup.

 

Sale of New Lead Free Product "XA Metal", "XC Metal" Launched in US Market

KITZ and its subsidiary KITZ Metal Works Corporation have jointly developed lead free anticorrosion brass "XA Metal" and "XC Metal" products which boast of high recyclability and cutting performance. Despite the fact that anticorrosion brass "XA Metal" and "XC Metal" products do not use lead, these products are the first of their kind to have achieved high levels of anticorrosion (Superior dezincification, corrosion induced splitting resistance, and erosion and corrosion resistance). Along with the revision of the Safe Drinking Water Act in the United States to become effective from January 2014, copper compound piping related materials that do not contain lead will be required for use in all fresh water applications. KITZ plans on cultivating opportunities in the North American market through the introduction of its new products that conform with this law.
Moreover, erosion and corrosion is known as "holing and pitting corrosion," and describes the chemical and physical processes that fluids use to cause corrosion. These conditions are observed on the inside and curved sections of pipes and are major causes of leakage.

 

Material:  Sales launch: September 2013, Sales target: ¥350 million (FY3/16)
Valves:  Sales launch: November 2013, Sales target: $3.700 million USD (FY3/17)

 

 

Brass Bar Manufacturing Business

While special factors seen during the first half will disappear during the second half, demand is expected to remain strong as the water faucet manufacturers start mass production and as the period of seasonally strong demand from gas related equipment applications starts. In addition, continued strong demand from automobile and stationery related applications is expected to lead to stable sales pricing and volumes.

 

Other

Efforts to increase the number of members through various club visitations, trial usage and other efforts to fortify marketing for fitness clubs will be undertaken, along with implementation of short term courses in swimming and exercising. At the same time, efforts will be made to reduce various expenses. With regards to the hotel operations, occupancy rates are expected to increase on the back of refurbishment of air conditioning and other facilities, and the refurbishment of the Lake Resort Spa "Kiseki No Yu." In addition, reviews of service costs and introduction of new services and products are expected to contribute to improvements in profitability of its various services.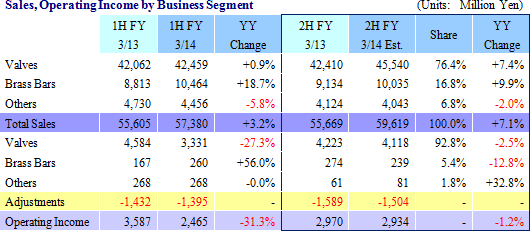 Full Year Sales Expected to Rise 5.1%, Operating Income to Decline 17.7% Year-Over-Year

Uncertainties regarding the future of economies in the ASEAN region and the impact of volatility in foreign exchange rates have already been factored into the downward revision in earnings estimates during the second half. By business segment, continued favorable trends in both pricing and volumes in the brass bar manufacturing business and effective cost reductions in the hotel operations of the other business segment are expected to contribute to increase in profits. However volatility in foreign exchange is expected to impact the valve manufacturing business and reduce its profits. A dividend of ¥5 per share is expected to be paid at the term end (In addition to the ¥0.5 per share increase in dividend paid at the end of the first half, the full year dividend is expected to total ¥10 per share.).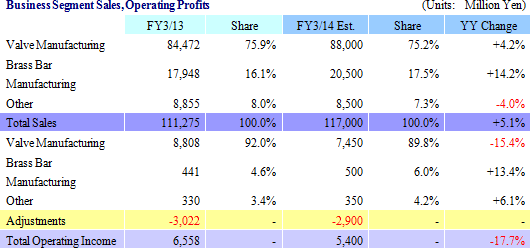 <Topics: Sales of High Pressure Ball Valves for Hydrogen Stations>

The world's first ball valve using a high precision seal structure has been developed, with which KITZ will enter the ultra-high pressure valve market. This business will be promoted by KITZ Corporation, KITZ SCT Corporation and Perrin GmbH on a worldwide basis. This business will target hydrogen fueling stations which are the equivalent of gasoline stations providing fuel to fuel cell vehicles (FCV), of which 19 stations will be established in fiscal year 2013, 100 by 2015, and 1,000 by 2025 within Japan. Germany maintains targets for hydrogen stations of 50 by 2015, 100 by 2017, and 400 by 2023, and the United States targets 68 by 2015. Japanese, European and United States automobile manufacturers are expected to begin sales of fuel cell vehicles from fiscal year 2015, with sales targets of 200,000 in Japan by 2025 and 100,000 in Germany by 2017 (Daimler Benz). The industry has high expectations for demand from hydrogen transportation and home use next generation solar hydrogen station applications. KITZ maintains a sales target for hydrogen station use valves of ¥800 million in fiscal year March 2016.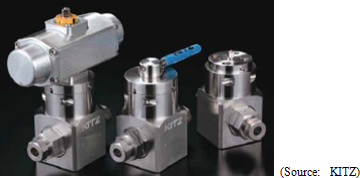 The Second Medium Term Business Plan (From FY3/14 to FY3/16) currently in progress maintains a goal of reducing KITZ's reliance upon commercial valves provided to the construction industry by expanding valves provided to oil and gas industry applications in overseas markets and improving overall profitability. Fortunately in North America, construction of chemical plants producing ethylene and other products using shale gas and oil is on the increase, and the incidence of orders booked by Japanese or affiliates of Japanese engineering companies is on the rise. In addition, the "T60 three piece trunnion ball valve" produced by KITZ Corporation of Europe, S.A. (Spain) has come to be highly regarded by customers, with sales being booked in South America and it has been chosen for use in projects in Indonesia and Singapore (Order values worth ¥50 million each). However, the contribution to earnings near term is expected to be limited, and the speed with which KITZ can cultivate demand for this product will be an important factor in determining its earnings. Therefore, close attention must be paid to the development of business opportunities in upstream (excavation) and midstream (transportation) applications, and sales of hydrogen station use valves.

 

Disclaimer

This report is intended solely for information purposes, and is not intended as a solicitation to invest in the shares of this company. The information and opinions contained within this report are based on data made publicly available by the Company, and comes from sources that we judge to be reliable. However we cannot guarantee the accuracy or completeness of the data. This report is not a guarantee of the accuracy, completeness or validity of said information and or opinions, nor do we bear any responsibility for the same. All rights pertaining to this report belong to Investment Bridge Co., Ltd., which may change the contents thereof at any time without prior notice. All investment decisions are the responsibility of the individual and should be made only after proper consideration.

Copyright(C) 2013 Investment Bridge Co., Ltd. All Rights Reserved.