President
Yasuyuki Hotta
| | |
| --- | --- |
| Company | KITZ Corporation |
| Code No. | 6498 |
| Exchange | TSE 1st Section |
| Industry | Machinery (Manufacturing) |
| HQ | 1-10-1 Nakase, Mihama-ku, Chiba, 261-8577, Japan |
| Year-end | March |
| URL | |
Share Price
Shares Outstanding
Market Cap.
ROE (actual)
Trading Unit
¥578
108,216,005 shares
¥62.549 billion
9.8%
100 shares
DPS (Est.)
Dividend Yield (Est.)
EPS (Est.)
PER (Est.)
BPS (actual)
PBR (actual)
¥13.00
2.2%
¥47.12
12.3x
¥686.47
0.8x
* Share price as of closing on November 17, 2015. Number of shares outstanding as of most recent quarter end does not include treasury shares.
Fiscal Year
Sales
Operating
Income
Ordinary
Income
Parent Company
Net Income
EPS (¥)
Dividend (¥)
March 2012
108,446
4,638
4,388
2,480
22.71
7.50
March 2013
111,275
6,558
6,521
4,039
36.98
9.50
March 2014
117,355
6,470
6,501
3,564
32.63
10.00
March 2015
117,036
6,886
7,581
6,881
63.22
13.00
March 2016 Est.
120,000
8,500
8,100
5,100
47.12
13.00
*Estimates are those of the Company. From fiscal year March 2016, the definition for net income has been changed to net income attributable to parent company shareholders (Abbreviated as Parent Company Net Income).

 

This Bridge Report presents details and analysis of KITZ Corporation's earnings for the first half of fiscal year March 2016.

 
 

KITZ is a comprehensive manufacturer of valves and other fluid control equipment and devices. In valve manufacturing, it ranks highest in Japan, and ranks in the top ten worldwide with a goal to take a seat within the top three in the future. Various materials are used in valves depending upon their application, such as bronze, brass, cast iron, ductile cast iron (Cast steel with greater strength and ductile characteristics), and stainless steel. KITZ assumes integrated production (Casting, processing, assembling, inspecting, packaging, shipping) of products as its fundamental process. The KITZ group is comprised of approximately 30 domestic and foreign subsidiaries. In addition to sales of brass and other bars used to make valves (KITZ is ranked amongst the top manufacturers of brass bars within Japan), KITZ also operates hotels.

 

Corporate Philosophy - KITZ is Dedicated to Sustained Enrichment of Its Corporate Values by Offering Unique and High Quality Products and Services -

"Corporate value" is the "medium to long term shareholder value", and the improvement in "medium to long term shareholder value" requires that KITZ contributes to the sustained growth in profits through the acquisition of its customers' trust. And by improving corporate value, the Company can make various contributions to shareholders, customers, employees, business partners and society, and to contribute to the establishment of a prosperous society. Based upon these assumptions as part of the "KITZ Mission Statement", KITZ seeks to attain new achievements.

 

KITZ's Statement of Corporate Mission

To contribute to the global prosperity, KITZ is dedicated to continually enriching its corporate value by offering originality and quality in all products and services.

 

Action Guide

Do it KITZ Way


Do it True (Sincerity

Honesty)


Do it Now (Speedy

Timely)


Do it New (Creativity

Challenge)

 

Do it True

In relationships between people, what must not be forgotten is to relate to them with sincerity. The pursuit of the essence of things, rather than superficial things. "Do it True" are words that are designed to remind employees of these basic principles when pushing conducting corporate activities.

 

Do it Now

"Do it Now" expresses the image of dynamic employees who lose no time in obtaining information, making prompt decisions, and putting them into practice with certainty.

 

Do it New

"Do it New" expresses the image of employees taking on new challenges in response to changes and leaving conventional ideas behind to express .hidden creativity.

 

<Overview of KITZ's Business Segments>

KITZ's business is divided between the valve manufacturing, brass bar manufacturing, and others, including hotel and restaurant management, business segments. During fiscal year March 2015, each of these segments accounted for 77%, 18% and 5% of total sales and 95.2%, 2.5% and 2.3% of operating income respectively.

 

Valve Manufacturing Business

Valves are used to "pass," "stop," and "control the flow" of fluids and gases in various pipe systems (Water, air, gas and other substances), and they are used in office and residential facilities, water works facilities, fresh and sewage water facilities, fire prevention facilities, machinery and industrial use manufacturing equipment, and chemical, medical, petrochemical product manufacturing facilities, semiconductor manufacturing facilities, petroleum refining and other industrial complexes, and other various applications.

The corrosion resistant bronze and highly economical brass valves, and high value added ball, butterfly and industrial stainless steel valves are used particularly in the field of building residential and office facilities. In Japan these valves are the main products with high market shares. KITZ customers operate within the building facilities, plant and engineering facilities, environment, energy, semiconductor, and other industries. The Company boasts of integrated manufacturing processes including the casting process, and it became the first company in Japan to acquire the "ISO9001 International Quality Standard Certification." The Company also pursues a strategy of increasing the global cost competitive characteristics of its products by fortifying its overseas manufacturing facilities.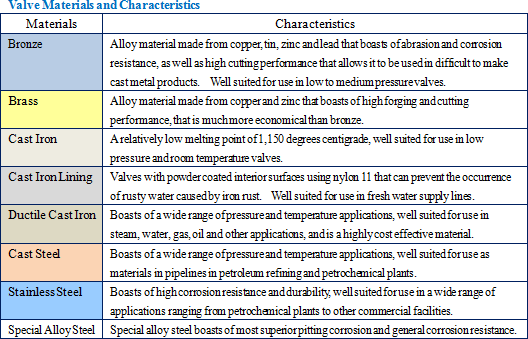 Brass Bar Manufacturing Business

In the brass bars business, KITZ combines copper with zinc to create brass, tin and phosphorous to create phosphor bronze, and nickel and zinc to create nickel silver. These materials are then used in the dissolution, casting, rolling, pulling, forging, heating, and forming processes to create sheets, strips, pipes, bars, wires and other forms. The KITZ Group's brass bar manufacturing business is the operating realm of KITZ Metal Works Corporation and uses the raw material of brass to manufacture brass bars, which it also sells. (Brass bars are used not only as materials for valves, but also in the manufacture of water faucets, gas equipment, electrical appliances and other various products.)

 

Other Business

Resort hotel operations (Suwa City, Nagano Prefecture) are conducted through the subsidiary Hotel Beniya Co., Ltd. Hotel Beniya is located in a highly favorable location close to Suwa Lake (Kohan) with hot spring bathing facilities with views of the sunset and various sized banquet halls. This hotel also boasts of panoramic views from the large public bathing facilities, small to large dining facilities, and conference rooms capable of hosting international conferences and large conventions. In order to focus upon the valve business and reallocate management assets, all of the shares of the 100% owned subsidiary KITZ Wellness Co., Ltd., which operates fitness clubs, were sold to Dunlop Sports Co., Ltd. on October 1, 2014.

 

<KITZ Group>

As a comprehensive valve manufacturer, KITZ maintains extensive nationwide sales coverage through its network of dealers and its own sales offices in the major cities throughout Japan. In overseas markets, KITZ has developed a global sales network with representative offices in India, U.A.E. and Korea, and marketing offices in China, Singapore, Thailand, United States, Germany and Spain. In the area of manufacturing, besides the seven facilities in Japan, overseas there is a manufacturing network of 12 production facilities (China, Taiwan, Thailand, India, Germany, Spain, Brazil) which strives for optimized manufacturing in optimal locations.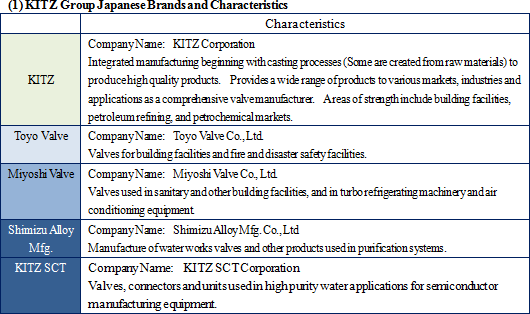 The Japanese valve manufacturing business sells 43% of its products to building facilities applications, 14% to water works related applications (Both fresh and sewage water), 9% to machinery equipment and 12% to semiconductor related applications. In addition, valves are sold to petroleum refining and petrochemical, general chemicals, food, paper, gas, electric power and a wide range of other industry applications. (As of fiscal year March 2015)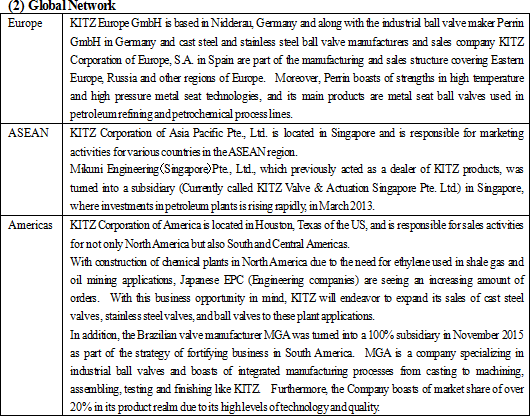 By geographic region, 54% of overseas sales of the valve manufacturing business were derived from Asia (ASEAN and others 36%, China 13% and Middle East 4%), 31% from North America, and 15% from Europe and other regions as of fiscal year March 2015.

 

 

* The data in the table above is based upon figures taken from the official earnings announcement filings, and total assets and capital required to calculate the data above are averages for the term (Using the values at the end of the previous and current terms, and therefore the data listed in the official earnings announcement filings and the data above do not necessarily coincide because they use term end equity ratio).

 

In fiscal year March 2015, the booking of the extraordinary income of ¥2.156 billion from the sales of KITZ Wellness shares contributed to an increase in ROE from 5.70% in the previous term to 9.83% in the current term. When the ad hoc profit from the sales of stocks is factored out, ROE would actually be approximately 8.3% (Assuming the tax rate for profit from the sales of stock is 50%). Improvements in profit margins of the main valve business arising from price increases and cost of sales reductions was the driving force behind the improvement in ROE.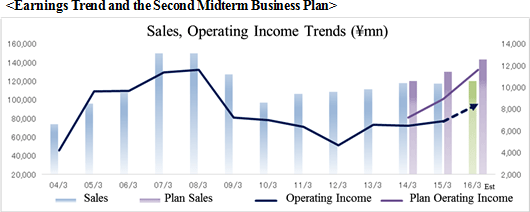 The assumptions of the Second Midterm Business Plan (From fiscal years March 2014 to 2016) included the effects of Prime Minister Abe's economic policies, increases in capital investments in Japan due to the weaker yen and reconstruction demand. However, latent demand failed to surface due to a weak increase in capital investments within Japan and delays in construction projects due to a shortage of workers. Consequently, earnings have trended below plans but KITZ has been able to maintain growth in sales and continued improvements in profitability.

 

 
First Half of Fiscal Year March 2016 Earnings Results

 

Sales, Operating Income Rise 4.4%, 0.5% Year-On-Year

Sales rose by 4.4% year-on-year to ¥60.036 billion. The deconsolidation of KITZ Wellness Co., Ltd. through its sale in October 2014 contributed to a decline in sales of over ¥2.7 billion. However, increases in sales of the main valve business on the back of the weaker yen allowed sales to grow by 10.8% year-on-year.

Operating income rose by 0.5% year-on-year to ¥3.606 billion, and gross income rose by 6.7% year-on-year on the back of reductions in cost of sales arising from economies of scale. Increases in sales, general and administrative expenses (SG&A) arising from higher SG&A of overseas subsidiaries due to the weaker yen, rises in research and development expenses, M&A related expenses and changes to the accounting method for booking of director bonus reserves were absorbed by the higher gross income.

Foreign exchange translation deteriorated from a profit of ¥152 million in the previous first half to a loss of ¥20 million in the current first half, contributing to a 5.4% year-on-year decline in ordinary income to ¥3.444 billion. Despite extraordinary profits resulting from the liquidation of tangible fixed assets (Sale of the former Kyoto Brass Plant property amounting to ¥75 million) and the sales of KITZ G and I Co., Ltd. (Insurance agency business amounting to ¥170 million), net income declined by 2.8% year-on-year.

While KITZ is negative influenced by the effect of the weaker yen's influence upon SG&A of its overseas subsidiaries at the operating income level, the net effect of exchange rate change is very small at the gross income level as the amount of revenue and expense in foreign currency are basically balanced.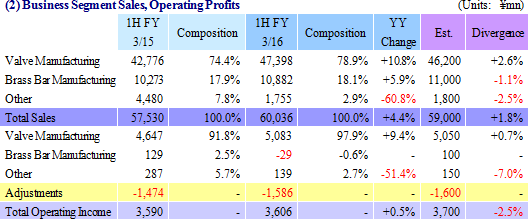 Valve Manufacturing Business

Sales rose by 10.8% year-on-year to ¥47.398 billion, with domestic sales growing by 3.0% year-on-year to ¥28.158 billion. While product deliveries to some projects in the main building facility market were started, demand has not grown as strongly as anticipated and sales grew by only 1% year-on-year. Shipments of stainless steel industrial valves used in machinery equipment, chemical, food, paper and other industry applications rose by 5% to 10% in volume terms on the back of increases in demand created by routine maintenance of facilities (Only a small increase in value terms). Demand is expected to remain strong during the second half. In addition, shipments to the semiconductor manufacturing equipment industry and water works with favorable demand for earthquake resistant applications rose by 10% and 3% year-on-year. However, shipments to the semiconductor industry began to slow during the second quarter.

The weakening of the yen acted as a tailwind to boost overseas sales in yen terms by 24.6% year-on-year to ¥19.239 billion (The actual margin of influence of the yen is about ¥1.5 billion). By geographic region, sales of North America rose by 20% year-on-year and sales of the ASEAN region, which had encountered difficult times in the previous first half and is now beginning to recover, rose by 40% year-on-year. Despite increases in large projects, sales of Europe and other regions declined by 15% year-on-year. At the same time, sales to semiconductor manufacturing equipment applications also grew by 40%.
Operating income rose by 9.4% year-on-year to ¥5.083 billion on the back of cost reduction and economies of scale from the second quarter, which led to improvements in profitability at the end of the first half despite higher SG&A of overseas subsidiaries arising from the weaker yen.

With regards to subsidiaries, sales of KITZ SCT Corporation, which manufactures valves for use in semiconductor manufacturing equipment applications, rose drastically year-on-year. Sales of United States subsidiary also rose with the impact of the weaker yen. In addition, Perrin GmbH secured a profit after encountering difficult operating conditions until recently.

 

Brass Bar Manufacturing Business

Sales rose by 5.9% year-on-year to ¥10.882 billion and an operating loss of ¥29 million (Compared with an operating income of ¥129 million in the previous first half) was recorded. The market within Japan for brass bars trended weakly with shipments declining by 6.0% year-on-year to 14,569 tons per month during the first half of fiscal year 2015. Furthermore, sales volumes declined by 2.2% year-on-year but an increase in product pricing and Hokutoh Giken Kogyo Corporation, which was consolidated from July, allowed sales to grow. However, the sudden decline in the copper market from May onwards caused profitability to deteriorate and contributed to the loss.

 

Other Business

Sales and operating income declined by 60.8% and 51.4% year-on-year to ¥1.755 billion and ¥0.139 billion respectively. The sale of KITZ Wellness in October 2014 was a major factor behind these declines. At the same time, Hotel Beniya Co., Ltd., which operates resort hotel facilities, saw a 1.0% year-on-year increase in sales and an 8.1% decline in operating income.

 

 

Total assets rose by ¥8.167 billion from the end of the previous fiscal year to ¥123.957 billion at the end of the current first half. The third uncollateralized corporate bond was issued to raise ¥10.0 billion in preparation for the redemption of the second uncollateralized corporate bond (¥6.0 billion), contributing to increases in both cash and equivalents and interest bearing liabilities. Capital adequacy ratio declined from 64.2% at the end of the previous fiscal year to 61.1% at the end of the current first half.

 

 

Despite increases in working capital and tax expenses, a net inflow of ¥2.945 billion was secured in operating cash flow. The capital investments primarily for the valve manufacturing business were kept within the margin of operating cash flow.

 

 
Fiscal Year March 2016 Earnings Estimates

 

Full Earnings Estimates Remain Unchanged, Sales, Operating Income Expected to Rise 2.5%, 23.4%

KITZ maintained its outstanding earnings estimates which call for sales to rise by 2.5% year-on-year to ¥120.0 billion. A 4.9% year-on-year rise in sales of the valve business to ¥94.6 billion is expected to absorb the 45.4% year-on-year decline in sales of the other business to ¥3.2 billion arising from the deconsolidation of KITZ Wellness. Brass bar manufacturing business sales are expected to rise by 5.6% year-on-year to ¥22.2 billion on the back of a recovery in the copper market within Japan and increases in materials market pricing. The valve manufacturing business is expected to see increases in overseas sales resulting from recoveries in the North and South Americas, the weaker yen, and a gradual recovery in the building facility market within Japan from the second quarter onwards. Efforts are also being made to strengthen the processed brass bar products within the brass bar manufacturing business through collaboration with Hokutoh GIken Kogyo which was turned into a subsidiary from July.

Operating income is expected to rise by 23.4% year-on-year to ¥8.5 billion. A gradual recovery in the building facilities market and subsequent cost reduction (On a full year basis ¥2.2 billion) arising from economies of scale are expected to combine with the positive influence of the weaker yen to allow valve manufacturing business operating income to rise by 18.9% year-on-year to ¥11.3 billion. Based upon assumptions for stability in market conditions, the brass bar manufacturing business is expected to see a recovery in profitability. A dividend of ¥7 per share is expected to be paid at the end of the term for a full year dividend payment of ¥13 per share.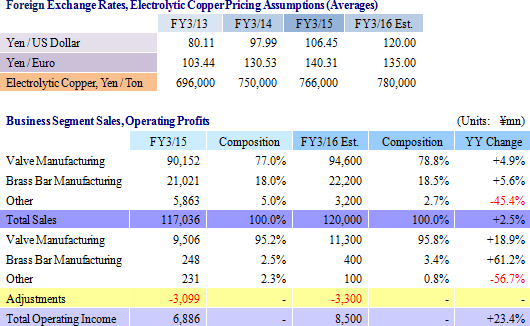 (2) Outlook by Business Segment

Valve Manufacturing Business

In the Japanese market, demand from semiconductor manufacturing equipment manufacturers is slowing but demand from water works related applications remains favorable. Also, the building facility market is beginning to recover and subsequent inquiries from the industrial valves market are on the rise. Deliveries of products in the building facility market have begun to rise from the second quarter. And while demand is not as strong as had been anticipated, conditions remain positive with dealer inventories on the decline (Inventory levels are expected to recover to normal levels during the second half). Seasonal factors are expected to boost demand from the water works market, which is currently benefitting from strong demand for earthquake resistant products, during the second half. Efforts to cultivate demand for products arising from capital investments in the petrochemical realm and from maintenance related applications from the fourth quarter are expected to be implemented in the industrial valve market, which is seeing growth in inquiries. At the same time, the semiconductor manufacturing equipment related applications, which had seen weak trends during the second quarter, are expected to a further slowing from the third quarter onwards.

In overseas markets, the decline in crude oil prices in the Americas arising from adjustments in distributor inventories appear to have bottomed, and new orders have begun to appear. At the same time, delays in public investments in Indonesia, and declines in crude oil prices have contributed to a slowing in private sector demand for products in industrial and construction related applications. Therefore, marketing efforts are being strengthened to capture orders for smaller projects and orders from Japanese building facility construction companies. While demand in Thailand is on the decline, measures are being made to strengthen marketing of the sales subsidiary KITZ Valve & Actuation (Thailand) Co., Ltd. which was newly established in March. Marketing efforts are being promoted to cultivate demand for valve products from building facility applications (Building, condominiums and hotels) despite the restraint in approval of large projects, and declines in industrial investments by regional governments and private sector companies in China. Various efforts are also being promoted to cultivate demand for the three brands of "KITZ," "Perrin," and "ISO" despite the continuing weak conditions in Europe. Furthermore, postponement and delays in projects due to the fear of a prolonged period of weak crude oil prices have begun to appear.

 

Brass Bar Manufacturing Business

In addition to mass production accompanying an increase in automobile related demand, the peak demand season for gas equipment related applications is expected to boost demand above the previous year's level. Furthermore, the favorable trends in water faucet related applications seen during the first half are expected to continue throughout the remainder of the year. Collaboration with Hokutoh Giken Kogyo, which was turned into a subsidiary in July, will be fortified.

 

Other Business

With regards to the hotel business, efforts will be implemented to cultivate demand for parties in the year end and start. These efforts include the creation of special set menu plans, new products, and menus using local ingredients in rest areas of express way. Furthermore, they will also target the growing number of overseas visitors travelling to various regions of Japan.

 

(3) Topics

Acquisition of a Brazilian industrial ball valve manufacturer

Fortify lineup of valves used in hydrogen fueling stations

Successful operational tests of systems for the long term cultivation of farmed red sea bream fish for entry into land fish farming plant market

 

Brazilian Industrial Ball Valve Manufacturer Acquired: Access to Development, Production and Sales Functions in Brazil, A Major Market in South America

MGA, a Brazilian manufacturer specializing in industrial ball valves, was turned into a 100% owned subsidiary in November 2015. MGA boasts of a fully integrated manufacturing structure ranging from casting to machining, assembling, testing and finishing, in addition to high levels of both technology and quality and a sales network that covers all of Brazil. MGA recorded sales and operating income of ¥2.25 billion and ¥0.45 billion respectively (1 Real = ¥31) during its most recently ended fiscal year of December 2014. Going forward, KITZ and MGA will combine their manufacturing technologies to develop and manufacture products adapted to the Brazilian and other South American markets, while at the same time introducing traditional products manufactured by KITZ that match the needs of the local markets.

 

Location:
Founded:
Capitalization:

Federative Republic of Brazil (Rio Grande do Sul)
November 1991
20 Million Real

 

Fortify Lineup of Hydrogen Fueling Station Use Valves

The KITZ Group has developed a full lineup of valve products for use in hydrogen fueling stations including high pressure ball valves, needle valves, and "KITZ CLESTEC-Series" chuck valves. Different versions of these valves have also been developed specifically for use in Japan and in overseas markets where standards are different. Two products including the high pressure hydrogen gas use filter (99MPa) and medium pressure hydrogen gas filter (50MPa) have been developed for the Japanese market. For the overseas markets, one maximum pressure product has been developed in a smaller size based upon similar special metal seat structure as that has been established in the Japanese market. KITZ expects to display the two Japanese market products at the "FC EXPO 2016 (International Hydrogen Fuel Cell Exhibit)" to be held in March 2016. (The unit of Pa (Pascal) for measurement of the valves is 1MPa equals 1.00 million pascals.)

 

Successful Long Term Cultivation and System Operation Testing for Red Sea Bream Fish Bred at On Land Fish Farming Plant

KITZ has successfully completed testing of long term cultivation of red sea bream fish at a plant which has been developed from its efforts to achieve commercialization of new water purification technologies for use in on land cultivation of fish. This in house developed plant is able to purify water through the use of electricity to generate free radicals and allows for cultivation of fish in aquariums based on land. KITZ expects to provide engineering, management and consulting solution services based upon the ability of its plant to be controlled automatically and monitored remotely. This free radical reaction is a type of organic chemical reaction where free radicals are used to decompose hazardous chemical substances, and to eliminate bacteria and odors as well.

 

KITZ Smart Aquaculture - 3 Solutions

Engineering:

Management:

Consulting:

Water purification technology provision, cultivation plant optimization designs
Cultivation plant automation, remote monitoring, cultivation knowhow
Preliminary survey, preliminary planning

 

The above three solutions will make stable production and shipment of high quality farmed fish possible. KITZ expects to launch this new fisheries business in FY 3/2017 and to achieve annual sales of ¥2.0 billion at an early stage.

 

 
 

While the sudden decline in the copper market from May onwards was unexpected, the main valve business continues to trend favorably and allowed first half earnings to remain basically in line with estimates. However, KITZ will implement measures to restrain SG&A expenses due to the weak near term orders seen within and outside of Japan and to achieve its profit estimates during the second half. As reflected by the M&A of MGA and Hokuto GIken, KITZ is steadfastly implementing measures to secure growth over the medium to long term. MGA will act as a base to expand business in South America because of its positioning as a major industrial ball valve manufacturer in Brazil, which boasts of about 50% of both the GDP and population of South America, and its market share of over 20% within Brazil. While KITZ is well aware of the difficulties arising from the weak economy and rising prices within Brazil, the competitive landscape is being made easier as MGA is able to record solid earnings while its rival valve manufacturers are encountering difficulties. KITZ will also benefit from access to development, manufacturing and sales functions of MGA in Brazil, one of the largest markets in South America, in addition to its strong near term earnings. In addition, KITZ will leverage MGA's product development and manufacturing capabilities to introduce its products into the local markets.

At the same time, Hokutoh Giken Kogyo was turned into a subsidiary of KITZ Metal Works Co., Ltd., which conducts the brass bar manufacturing business, and provides brass bar processing (Cutting and brazing processing), water faucet and air conditioning equipment related products. The collaboration between KITZ Metal Works, which also processes materials, and Hokutoh Giken Kogyo, which provides various processing services, will be strengthened as a means of increasing the value addition of the overall brass bar manufacturing business. Moreover, the various endeavors of KITZ including its efforts to produce valves for the promising realm of hydrogen fuel applications and KITZ Smart Aquaculture solutions hold great potential and should be watched closely.

 

Disclaimer

This report is intended solely for information purposes, and is not intended as a solicitation to invest in the shares of this company. The information and opinions contained within this report are based on data made publicly available by the Company, and comes from sources that we judge to be reliable. However we cannot guarantee the accuracy or completeness of the data. This report is not a guarantee of the accuracy, completeness or validity of said information and or opinions, nor do we bear any responsibility for the same. All rights pertaining to this report belong to Investment Bridge Co., Ltd., which may change the contents thereof at any time without prior notice. All investment decisions are the responsibility of the individual and should be made only after proper consideration.

Copyright(C) 2016, Investment Bridge Co., Ltd. All Rights Reserved.