President
Takuya Imaizumi
| | |
| --- | --- |
| Company | GameWith, Inc. |
| Code No. | 6552 |
| Exchange | TSE Mothers |
| Industry | Business Services |
| President | Takuya Imaizumi |
| Address | Roppongi Hills Mori Tower 20F, 6-10-1 Roppongi, Minato-ku, Tokyo |
| Fiscal Year-End | May |
| URL | |
Share Price
Number of Shares Issued
(Excluding Treasury Shares)
Total Market Capital
ROE (Actual)
Trading Unit
¥1,032
17,451,932 shares
¥18,010 million
41.1%
100 shares
DPS (Est.)
Dividend Yield (Est.)
EPS (Est.)
PER (Est.)
BPS (Actual)
PBR (Actual)
-
-
¥35.76
28.9 x
¥147.00
7.0 x
*Share price is closing price as of January 10. Shares issued at the end of the most recent quarter excluding treasury shares. ROE and BPS are based on previous term's results.
Fiscal Year
Net Sales
Operating
Income
Ordinary
Income
Net
Income
EPS
DPS
May 2015 (Actual)
389
127
124
94
6.42
0.00
May 2016 (Actual)
994
330
329
220
13.45
0.00
May 2017 (Actual)
1,581
657
654
465
28.39
0.00
May 2018(Actual)
2,677
1,168
1,168
816
48.73
0.00
May 2019 (Forecast)
3,154
905
904
623
35.76
0.00
*The forecasted values were provided by the company.
*The company conducted a 40-for-1 share split in Mar. 2016, a 50-for-1 share split in Apr. 2017 and a 2 for 1 share split in Feb. 2018. EPS has been retroactively adjusted.

This Bridge Report reports GameWith's financial results for the first half of the term Ending in May 2019 and an outlook for the term ending in May 2019.
GameWith, Inc. ("GameWith") operates a media business, offering game guides, game reviews, community function, and video streaming. By providing articles and functions for playing games, the company attracts clients, and also provides advertisers with advertisement slots to earn revenue.
Mission
"Create a more enjoyable gaming experience." "Get absorbed in games, be connected through games, and focus on games as a business." With this approach, we aim to create a more enjoyable gaming experience.
Vision
"Go for the global gaming infrastructure" For user playing games and for manufacturers developing games, GameWith provides experiences and values which cannot be provided without GameWith and we will be an infrastructure for all the people who are involved in enjoying games. We will advance to not only a media business but also all business areas in order to enjoy playing games more.
[Corporate history]
Originally started in an apartment unit in 2013, GameWith was founded during a time when the game-playing environment was moving from browsers to apps, smartphone games were becoming a sophisticated trend, and the need for game guides was growing. In June 2013, GameWith was established with the purpose of operating a video game information site under the belief that "players will be able to enjoy games more if there is a place where they can get necessary game tips and information." In September 2013, the company's game information portal was released. Initially, it was a simple Q&A site in which users inquired mainly about game tips. In May 2014, GameWith established a full-scale system for producing walk-through articles, after which page views skyrocketed. In September 2015, the company started Game Review, and in September 2016 launched a video streaming for game guides. In March 2017, the company began offering the community function. GameWith, Inc. was listed in the Mothers of Tokyo Stock Exchange in June 2017, four years after its incorporation.
[Business Description]
GameWith acts as an intermediary between players and game companies by commercializing their needs. By providing articles and functions for gaming, the company attracts users and provides sponsors with advertisement slots to earn revenue. Both Internet and Smartphone Advertising markets currently continue to grow strongly.
Primary Services
The four main services offered by GameWith are Game Guide, which provides information to improve the users' game play; Game Review, which is a source of information for finding good games; Community, which enables game players to communicate with one another, and Video Streaming, in which exclusive and talented gamers stream their game play on YouTube. Users attracted to the game tips are led to such services as Game Review, providing opportunities to cross-sell services.
Game Guide
Through its Game Guide service, the company provides articles on game tips, predominantly for smartphone games. Through effective recruitment of players of popular games, training players as writers and methodically producing articles, GameWith developed a robust system for swiftly responding to events and producing high quality, game-related service.
Game Review
The Game Review service offers reviews that can motivate users to start playing different games. When information on a new game is released, the writers of GameWith publish reviews (note: for some games, video is produced in-house) In addition to writing articles to introduce games, the company also provides unique ranking information with quick reporting for rating games as well as a comprehensive game database.
Community
Provides the function to enable gamers to communicate after registering for free membership. It is aimed at increasing enthusiasm about games by connecting players who are playing the same game. The Community service leads to the vitalization of gaming media on the whole and increases its market value; in addition, Community supports game companies by tacitly encouraging gamers to play games for a longer period of time
Video Streaming
Currently, it is used as a means to plan and disseminate attractive service to users through streaming live game-play videos. These webcasters are also selected from the game guide writers employed by the company, or they are the creators who have exclusive management agreements with the company. Since September 2016, the company has been earning advertising revenues by inserting ads in the videos, and also selling the service in which the video performers not only promote the games, but also do sales promotion of products as an advertising commodity.
Earning revenue from online advertisements
GameWith earns revenue by selling advertisement slots for its network or tie-up advertisements utilizing the network to sponsors and advertisement agencies whilst offering service. In network advertisement, GameWith earns revenue by selling its internet advertisement slots, advertisements inside game strategy smartphone applications, as well as advertisement slots in video streaming and game guide apps through its advertisement distribution network. On the other hand, tie-up advertisement is those negotiated mutually with the game providers, and they order these advertisements for an improvement in their app games' recognition and retention rate of their users as part of their promotional activities. In the game reviews, GameWith offers the app games introduction services for free, but the effectiveness of free services like this tends to be restrictive. Therefore, the company also offers various value-added (paying) services such as article ads (including banner ads and game introduction videos), and production, management and operation of gaming guide information. Game providers can expect an improvement in their games' recognition and retention rate of their users by using these value-added services (i.e. ordering GameWith's advertisement services). Incidentally, the company's tie-up advertisement service was only set up in the term ending May 2017 and therefore its sales are still to be reinforced.
The First Half of the Fiscal Year Ending in May 2019 Earning Results
Steady progress for both sales and profit
Sales were 813 million yen, up 32.3% year on year. The breakdown of sales includes network advertisements for the internet and smartphone applications, which rose 3.5% to 464 million, network advertisements for videos, which increased 89.7% to 70 million yen, and tie-up advertisements, which grew 123.9% to 268 million yen. Operating income fell 6.3% year on year to 259 million yen. Strategic investment (total expenditure for business strategies regarding overseas development, new businesses, organizations, and human resources) based on the mid-term business strategy accounted for roughly 60 million yen. Operating income margin was 31.9%, but when excluding the impact of strategic investment, this number rises to 39.2% (45.1% in the previous term).
Operating expenses augmented 64.0% year on year to 553 million yen. The main reason was an increase in personnel-related expenses due to active hiring, which grew to 381 million yen from 215 million yen in the same period of the previous term. The number of staffs at the end of the second quarter (including company executives and temporary employees) increased to 223 from 152 at the end of the previous term (an increase of 71 people).

The progress rate with respect to the full-year forecast is 49.9% for sales, 55.7% for operating income, 55.5% for ordinary income, and 55.9% for net income.
The sales composition ratio of tie-up advertisements rose to 33.0% from 19.5% in the same period last term. The scope of business for network advertisements through videos is still small, but it is steadily growing, and GameWith is building a strong revenue model that is not reliant on just one product.
Network advertisements (internet, smartphone applications)
Although the number of PVs declined, this was offset by record high unit prices that exceeded at the time of special demand. In order to further raise the PV unit price, GameWith will continue to improve advertisement displays and bidding for advertisements, and promote sales of direct-deal advertisements. Meanwhile, the company plans to accelerate overseas expansion, increase the number of game titles it handles, and focus on video-based game strategy guides in order to raise the number of PVs.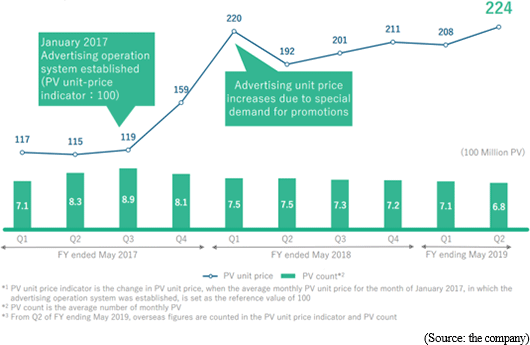 Tie-up Advertisements
GameWith accelerated the development of advertising products and the acquisition of new customers, and sales reached a record high. The company intends to continue aiming for rapid growth by: 1) strengthening the sales organization, 2) increasing the number of tie-up products and product categories, and 3) acquiring more overseas customers. For 1), GameWith is working on building a system to more accurately capture client needs. For 2), the company aims to provide a diverse range of advertising products for game companies looking to further raise awareness and acquire more users, while expanding business to also include categories other than advertisements (such as expanding from promotion to analysis) by enhancing product development. The company will also develop a sales structure that can handle overseas business in addition to their business in Japan, in order to obtain orders from overseas game companies in areas such as Greater China.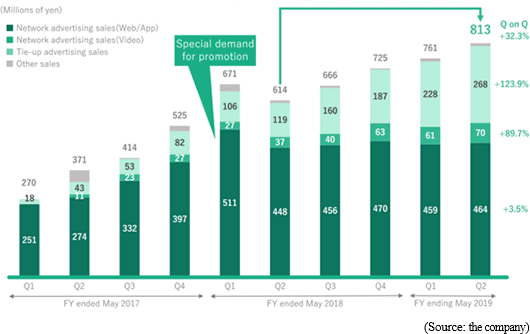 Total assets at the end of the first half were 3,454 million yen. Cash and deposits accounted for 73.1% of total assets, and equity ratio was 83.8% (80.0% at the end of the previous term).

The Fiscal Year May 2019 Earnings Forecasts

Sales expected to rise 17.8% year on year; operating income projected to fall 22.5% due to strategic investment
Driven by tie-up advertisements and network advertisements (videos), sales are expected to increase 17.8% year on year to 3,154 million yen, but operating income will decline 22.5% year on year to 905 million yen due to posting 291 million yen as allowance for strategic investment in overseas development, new businesses, organizations, and human resources. Excluding strategic investment expenses, operating income will grow 2.5% year on year to 1,197 million yen, offsetting the rents (which augmented 43 million yen) and increases in server expenses (which augmented 23 million yen).
4. Mid-term Business Strategy and Progress
[Outline of midterm business strategy]
In the fiscal year ending May 2021, GameWith is aiming for sales of over 5.5 billion yen (over 3.85 billion yen in existing businesses, over 830 million yen in overseas businesses, and over 830 million yen in new businesses). While pursuing stable growth in the domestic media business, which is the company's base of revenue, the company will expand overseas business by focusing on growing business in English-speaking countries, and develop new game-related businesses in other fields besides media.
[Progress]
Regarding overseas development, business was deemed to be feasible in English-speaking countries which is one of the major languages, therefore development has been accelerated. Under new businesses, GameWith released the web comic service "MangaWith," and is also developing a blockchain game called "EGGRYPTO," aiming to release it in spring 2019.
Overseas development
In English-speaking countries, where there is huge potential for growth due to the number of gamers being roughly 8 times that of Japan, the English version of GameWith reached 10 million monthly PVs in the five months since its release in Jul. 2018. According to the company's data (source: Newzoo International B.V.), there are 65 million gamers in Japan, while the number of gamers in English-speaking countries is estimated at 520 million (180 million in North America, 32 million in the UK, 11 million in Australia, and the remaining 269 million spread across various other countries). In these countries, the major gaming platforms are PCs and consoles, as opposed to Japan, where the most popular platform is the smartphone. North America accounts for more than 60% of PVs for the English version of GameWith (specifically, North America accounts for 60.4%, UK 9.3%, Australia 4.3%, and others 26.0%). Although advertisement operation has not yet begun, the PV unit price is about 1.3 times greater than that of the Japanese version (assuming a unit price of 100 in Japan, the English version would be 127). GameWith aims to further increase the unit price. GameWith also released a Taiwanese version of "GameWith" in Dec. 2017, and in May 2018 the company invested in GCUBE ASIA PTE. LTD. (whose headquarters is in Singapore), a company that manages game strategy media for Southeast Asia. The English version of "GameWith" released in July 2018 builds up the structure which can update article qualities thanks to making writers in house, and it has enriched the availability of information for globally popular games. In the future, the company will also focus on acquiring writers for game strategy guides for the English version of "GameWith."
New businesses
Web comic service "MangaWith"
In Dec. 2018, GameWith released the web comic service "MangaWith" for smartphones. MangaWith is a platform service that distributes and sells over 150,000 comic series licensed from more than 100 publishers and agents, such as Kodansha and Shueisha. MangaWith provides functions such as "Store," where users can purchase individual volumes of comic; "Series," where the latest comic chapters are released once per week, free of charge; and "Bookshelf," where users can manage their favorites and comic series purchased at the store. MangaWith is available on smartphones, tablets, and PCs through the web browser, so users are not required to download the application. Features of "MangaWith" include: 1) collaboration with game companies, 2) a capacity to reach young male gamers, and 3) user acquisition at low cost. For 1), publishers and agents can utilize GameWith's expertise in the field of gaming to partner up with game companies. As a first step towards this, the company began providing comic along with game-related items. For 2), GameWith can help other online comic services that struggle to reach young male users to make contact with these user groups through MangaWith. Lastly, for 3), it becomes possible to acquire users at a low cost by increasing access from GameWith, which is proficient in search engine optimization. Using "MangaWith" to create intellectual property for games The goal of MangaWith is to provide an infrastructure for the creation of intellectual property for games by collaborating with game companies and publishing companies. By creating new intellectual property for games through MangaWith, GameWith hopes to create a virtuous circle that contributes to improving the performance of their own business as well.
Blockchain game "EGGRYPTO"
In collaboration with Kyuzan Inc. (Representative: Takumi Takahashi, Bunkyo-ku, Tokyo), GameWith is developing their first blockchain game, "EGGRYPTO," and is planning to release it in spring 2019. Two advantages of "EGGRYPTO" is that it is "free" and "easy." Unlike traditional blockchain games, users can play games for free, and it is easy to learn even for those who are unfamiliar with blockchain games. Also, many traditional blockchain games require pre-purchase of items in order to play the game, which in turn requires creating a wallet (an account specifically for managing the virtual currency) to purchase the items. On the other hand, "EGGRYPTO" is free to start and does not require any pre-purchase of items, so there is no need to create a wallet (charges and fees will still be incurred when buying pre-sale items or making transactions at the marketplace).
Achieving their mission by making the development of blockchain games the new business model
In blockchain games, digital items become assets and games are treated as work. Specifically, decentralized management which is the nature of blockchain makes it possible to own and trade digital items in the game, just like real property. In addition, time spent on the game and activities in the game become digital items that can be traded or sold, and by capitalizing and monetizing these items, users can be proud to consider the game as work. GameWith believes that "because users of blockchain games can capitalize and monetize their efforts, we hope to use this as our new business model in order to achieve our mission to create a more enjoyable gaming experience."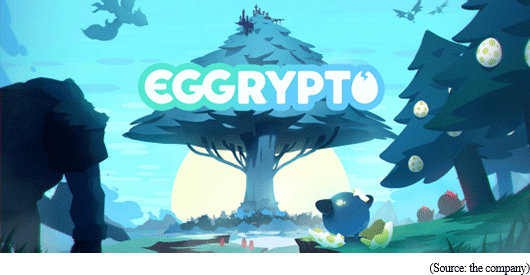 Development of business in English-speaking countries appears to be steady. In these countries, the major gaming platforms are PCs and consoles, as opposed to Japan, where the most popular platform is a smartphone. For these kinds of games, there is a relatively low burden in post-release improvements to the game system or introduction of additional game events based on changes in user preferences. Because of its low update frequency after the game's release, the amount of time that each game contributes to profit may be shorter, but the number of users is roughly 8 times greater than in Japan, and the unit price is high, making it an attractive market. We are also quite interested in the recent release of the online manga service "MangaWith." GameWith's planning and proposal capabilities are proven by the record sales of tie-up advertisements in the first half. If GameWith becomes the bridge connecting game companies to publishers and agents, and new intellectual property for games is made, it creates a virtuous cycle that contributes to improving the performance of GameWith itself. Regarding the blockchain game which is in development and scheduled for release this spring, in addition to profit made on the game itself, we look forward to this game being the catalyst for making blockchain games more popular due to access being "easy" and "free." If the games are successful, it leads to greater business opportunities for GameWith, even if said games are made by other companies.
<Reference: Corporate Governance>

Basic policy
Under the motto "Create a more enjoyable gaming experience," our company is working to establish a system which is robust and transparent, where rapid decision-making is made possible, as well as strengthening our internal control including stricter compliance and risk management, in order to develop a system of business operation to provide an optimal environment for all people and companies involved in gaming. Through these measures, we will strive to further enhance corporate governance and maximize our enterprise value.
<Reasons for Non-compliance with the Principles of the Corporate Governance Code (Excerpts)>
Our company follows all of our corporate governance codes.
<Disclosure Based on the Principles of the Corporate Governance Code (Excerpts)>
[Principle 1-4 The so-called strategically held shares] Our company may hold shares of other companies as a means to maintain or improve our transaction and cooperative relationships. The basic requirement for holding such shares is that these strategically held shares are expected to increase our enterprise value, and they will be considered based on the possibility that they will maintain and strengthen medium to long-term cooperative relationship between the issuing company and our company, facilitate a transactional relationship, and create or develop business opportunities. Regarding the voting rights arising from the strategically held shares, each resolution in question will be considered for its contents and its medium and long-term influences on increasing our enterprise value, and the deciding authority as stipulated in the "Regulations of Administrative Authority" will make the decision, after comprehensively considering if the issuing company 1) possesses the objectives and businesses that are in line with our company's policy for strategically held shares, 2) discloses information of its corporate activities regularly and appropriately, and 3) possesses the business foundation that enables continuous growth. [Principle 1-7 Transactions among parties concerned] When the directors of our company perform a transaction that may constitute a conflict of interests, such a transaction shall be approved by the board of directors in accordance with laws and regulations as well as the rules governing the board of directors, so that such transactions are kept under appropriate observation. Additionally, should such a transaction that may constitute a conflict of interest be performed, the important facts shall be appropriately disclosed pursuant to laws and regulations. [Principle 5-1 Policy on constructive dialogue with shareholders] Our company operates a system that ensures continued constructive dialogue with shareholders from the mid and long-term viewpoints, regarding such matters as corporate governance, business strategies, capital policies, business results and financial condition, and service contents and its risks, in order to maintain the continuous growth of our enterprise values and to build a strong relationship of trust with our shareholders. - Dialogue with shareholders are supervised by the president, while individual interviews are held by the head of corporate planning, in consideration of purposes and effects of such meetings and the attributes of the shareholders, and the attendees for such events are carefully selected including the potential attendance by Representive Director and the executive administrative managers, where the strategies are discussed in depth beforehand. - Our Investor Relations (IR) staff collects necessary information from each section within the company, especially the business and management sections, and develops explanations that are easy to understand through close internal cooperation in order to enrich our dialogue with shareholders. - Our company continues activities to deepen understanding of shareholders regarding management policies, corporate governance, strategies, and the present condition of businesses. - For dialogues with our institutional investors, our company holds individual interviews as well as financial results briefings, held each half term. Additionally, through the page dedicated to shareholders and investors on our website, we disclose information of such events to individual investors as well as hold company information sessions for individual investors. - When the interests and concerns of shareholders emerge through dialogue with them, they will be duly communicated to the management (heads of departments or higher) and are reflected in our business analyses and the examination of our methods of information disclosure. - In the course of dialogue with shareholders, insider information is appropriately controlled in compliance with internal regulations. - Our company has set aside a "silence period" in which we do not engage in dialogue concerning financial results.
Disclaimer
This report is intended solely for informative purposes, and is not intended as solicitation to invest in the shares of this company. The information and opinions contained within this report are based on data made publicly available by the Company, and comes from sources that we judge to be reliable. However, we cannot guarantee the accuracy or completeness of the data. This report is not a guarantee of the accuracy, completeness or validity of said information and or opinions, nor do we bear any responsibility for the same. All rights pertaining to this report belong to Investment Bridge Co., Ltd., which may change the contents thereof at any time without prior notice. All investment decisions are the responsibility of the individual and should be made only after proper consideration.
Copyright(C) 2018 Investment Bridge Co., Ltd. All Rights Reserved.