Toru Kobayashi
Chairman, President and CEO
| | |
| --- | --- |
| Company | OPTEX CO., LTD. |
| Code No. | 6914 |
| Exchange | TSE 1st Section |
| Industry | Electric equipment (manufacturer) |
| President | Toru Kobayashi |
| HQ Address | 5-8-12, Ogoto Otsu, Shiga |
| Year-end | December |
| URL | |
Share Price
Shares Outstanding
Market Cap.
ROE (actual)
Trading Unit
¥928
16,551,424 shares
¥15,359 billion
6.1%
100 share
DPS (Est.)
Dividend Yield (Est.)
EPS (Est.)
PER (Est.)
BPS (actual)
PBR (actual)
¥30.00
3.2%
¥61.63
15.1x
¥1,035.75
0.9x
* Stock price as of the close on August 17, 2012. Number of shares at the end of the most recent quarter excluding treasury shares.
ROE and BPS are based on the actual term end amounts.
| | | | | | | |
| --- | --- | --- | --- | --- | --- | --- |
| Fiscal Year | Net Sales | Operating Profit | Ordinary Profit | Net Profit | EPS (¥) | Dividend (¥) |
| December 2008 | 20,916 | 2,661 | 2,489 | 1,004 | 59.74 | 40.00 |
| December 2009 | 15,124 | 620 | 735 | 332 | 20.07 | 30.00 |
| December 2010 | 17,395 | 1,705 | 1,761 | 981 | 59.30 | 30.00 |
| December 2011 | 18,502 | 1,677 | 1,830 | 1,033 | 62.45 | 30.00 |
| December 2012 Est. | 21,800 | 1,700 | 1,850 | 1,020 | 61.63 | 30.00 |
* Estimates are those of the Company.
This Bridge Report presents OPTEX's earnings results for 1H of the fiscal year December 2012.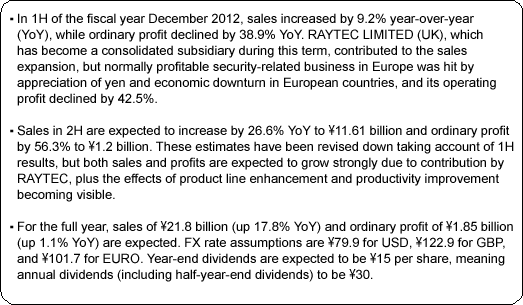 OPTEX is a leading manufacturer of infrared ray sensors mainly for security equipments and automatic doors. The company manufactures and sells security-related products such as outdoor sensors (for which it captures the largest share in the global market), automatic door sensors and environment-related products. It also deals with sensors for industrial equipments through its subsidiary OPTEX FA CO., LTD.
Apart from OPTEX FA CO., LTD., which specializes in FA sensors, the group is comprised of 18 consolidated subsidiaries, including FIBER SENSYS INC. (US), which develops fiber sensor intrusion detection system, and RAYTEC LIMITED. (UK) which manufactures supplemental lights for CCTV, and 2 equity methods affiliates.

 

Business Description

The company is comprised of business segments such as Sensing (security-related, automatic door-related, others), FA, EMS and Others, and conducts business both in domestic and overseas markets through its 17 consolidated subsidiaries and 2 equity method affiliates. By region, Japan accounts for 36.2% of sales, North America 9.8%, Europe 35.2%, Asia 14.1% and other regions 4.6% (based on actual sales of FY12/11).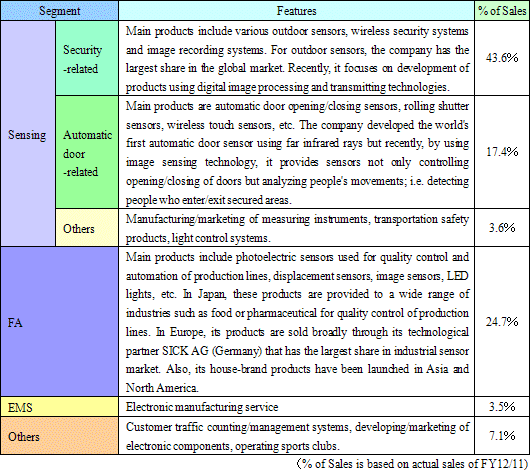 History

OPTEX was established in 1979 and developed the world's first automatic door sensors using far infrared rays in the next year. Back then, most of the automatic doors were using pressure sensitive rubber mats, which contain sensors, and sensors using far infrared rays were very innovative. The company also showed unrivaled abilities in product maintenance and implementation, and captured the largest share in the automatic door sensors market in only three years since its inception. The company expanded operations and listed on the over-the-counter market (equal to listing on JASDAQ) in 1991. Then it listed on the second section of Tokyo Stock Exchange in 2001 and moved to its first section in 2003.
In 2004, the company acquired GIKEN TRASTEM CO., LTD., which dealt with customer traffic/parked car counting and management systems, as a subsidiary. Recently, it has been working on enhancement of solutions based on image processing technologies and high-end security systems. In 2008, it acquired ZENIC INC., which specialized in contracted development of IC/LSI for image processing systems. Furthermore, it acquired FIBER SENSYS INC. (US) in 2010 and RAYTEC LIMITED (UK) in 2012 respectively. The former has abundant experience in high-end security systems (fiber-optics intrusion detection systems) for critical sites in US and Europe. The latter deals with supplemental lighting systems using infrared rays for CCTV installed in high-end security systems for large critical sites.

 

 

※ Operating profit for FY12/12 is expected to grow only by 1.4% YoY due to slump in 1H, but the profit is likely to increase by 56.2% YoY in 2H as a series of new products developed by larger R&D efforts should start to contribute on a full scale.

 

Advantages :Diversified Technologies/Expertise on Sensing and Unique Sensing Algorithm

Physical changes detected by sensors are minimal and normally unperceivable by human. Therefore, to produce precise and consistent sensors, it is essential to build on a number of elemental technologies and expertise, as well as 'algorithms' to control physical changes. The company takes advantage of its technologies/expertise suitable for intended applications and its unique sensing algorithm to secure the largest share in global market.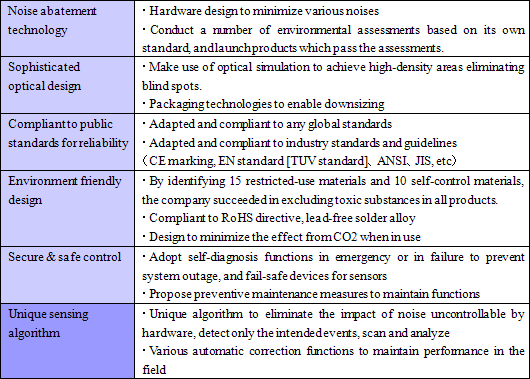 With the corporate motto of "seeking for sustainable growth" , OPTEX is working hard to address four challenges; (1) expanding core businesses, (2) exploiting emerging markets, (3) developing new applications, (4) entering into new business areas.

 

 

(1) Expanding Core Businesses

In order to expand core businesses, the company has been actively launching new products both in low-end commodity products and highly value-added differentiated products. In FY12/12, it is working on the enhancement of product line-up for low-end universal outdoor sensors in security-related business, while tries to expand business for outdoor sensors for large facilities or pipeline leak detectors. Also in automatic door-related business, it has reinforced line-up of sensors for large automatic door OEMs in US and Europe by launching hybrid sensors with high level of safety for sliding doors and sensors for advanced sliding doors. In addition, it has launched a low-priced microwave sensor as a low-end commodity product.
In FA business, the company tries to differentiate its products by focusing on value-added application sensors, such as image, LED light and displacement sensors.

 

(2) Exploiting Emerging Markets : Russia, China, India/Southeast Asia, Latin America

The company set up a local subsidiary in Russia in October 2011 and is now making preparations for local production (you must be in compliant to GOST standard, which is under the management of local police, to manufacture and sell products in Russia). It plans to build the agency network in order to sell products primarily for outdoor critical facilities such as pipelines. In China, the company aims to penetrate into the luxury housing market by enhancing local security, and tries to appeal the past successful installation of its products in China (outdoor detectors for perimeter protection systems for Museum of the Terracotta Army /The Palace Museum and for prisons, sensors to start up CCTV installed in ATM, etc.). In India, the preparation to set up joint venture with a local company is in progress (security is yet to be mechanized in India). Singapore is to be the main business target in Southeast Asia, where the company plans to open a representative office. Furthermore, it prepares to set up a local subsidiary in Brasil to cover the Latin American market to which the company currently exports its products via US.

 

(3) Developing New Applications

The company is now particularly focusing on security lighting business and energy-saving/dimming control business. As for the former, the company achieved high efficiency of surveillance by integrating lighting products provided by RAYTEC (acquired in January 2012) and OPTEX's sensing technologies. For the latter, the company has already launched power-saving lighting systems for parking areas/commercial facilities.

 

Acquisition of RAYTEC and Security Lighting Business

RAYTEC is the world's leading manufacturer of supplemental lights for CCTV for which it maintains about 50 % share in global market. Its main products are infrared dark-field illuminators and visible light LED illuminators for outdoor use in mid-to long-distance, but the company also has a wide range of products to offer. Its products have high affinity for OPTEX's sensing technologies, and the integration of each other's technologies should help to improve efficiency of surveillance. OPTEX continues to focus on its security lighting business, but also seeks for the synergy effect with FIBER SENSYS (manufacturer of fiber-optics intrusion detection systems). RAYTEC's sales are mostly derived from its UK and EU businesses; therefore it has the complementary relationship with FIBER SENSYS, which maintains solid sales performance in North America and Middle East. Including OPTEX's activities in Asia, the group as a whole intends to attract new demand in North America, Asia and Middle East markets.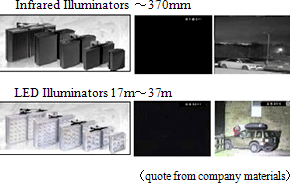 Recently, outdoor long-distance CCTVs have been widely adopted at large critical facilities. To enable precise imaging, these CCTVs are also equipped with acquisition/tracking sensors and supplementary lights for cameras (acquiring/tracking objects precisely with sensors and shedding light on them will improve surveillance efficiency).
% of Sales by region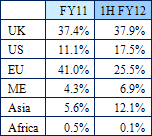 Installation cases

India: Supplemental lights for perimeter protection systems for a broad-area power plant.

Middle East: Supplemental lights for perimeter protection systems for oil facilities in UAE and Kuwait.

Korea: Supplemental lights for perimeter protection systems for broad-area military facilities.

 

Energy-saving/Dimming Control Business

In the domestic market, the company offers "Energy-saving lighting systems for parking areas/commercial facilities" which provide appropriate luminance as-and-when-needed-basis for the outdoor use. Energy-saving lighting systems designed specifically for parking areas can detect approaching cars or people by sensors to open/close gate bars or to brighten LED lights, and are in use at 200 parking areas operated by large parking management companies in Japan. Also, dimming systems with interactive sensors for large offices, large parking areas and commercial facilities (by combining with sensing technologies, significant energy-saving effects are expected) have been tentatively installed in more than 50 domestic companies operating large franchised restaurants, supermarkets, etc.
For now, the company intends to accelerate business expansion by restructuring/enhancing its organization.

 

 

(4) New Business Areas

OPTEX tries to expand applications of sensing systems into various areas to increase mid-term profits, and has started to build up a new business, which deals with human body/object detection systems for critical/large facilities.
One of them is the oil/gas leak detection system using technologies provided by FIBER SENSYS, which detects vibration of pipes caused by leak. Currently, the field test is in progress in New Jersey (North America) using 1 km-long gas pipe and in Columbia (South America) using 27 km-long oil pipelines. The test results will be used in proposals to energy industries in China and Russia.

In Japan, the company has started promoting intrusion detection systems with laser/fiber sensors for critical facilities. The product is used as a customer traffic counting system (manufactured by its subsidiary GIKEN TRASTEM) at Tokyo Sky Tree, which opened in May this year. Needs for these systems are also increasing at shopping malls in emerging countries and the company considers entering into overseas markets.

 

 
1H Fiscal Year December 2012 Earnings Results

 

Ordinary Profit Declined by 38.9% due to Slump in Security-related Business in Europe and Appreciation of Yen

Sales increased by 9.2% YoY to ¥10.18 billion. Strong yen has pushed down revenue by ¥230 million and main European distributors reduced their inventories after the company's hub warehouse started operation in January. As a result, the orders in Europe temporarily decreased leading to sales decline by ¥100 million, but contribution from RAYTEC (¥ 810 million), which has become a consolidated subsidiary from this term, more than offset this.

Operating profit declined by 42.5% to ¥535 million. This is due to changes in the sales mix (marketing areas and product mix changed) and the impact of strong yen, as well as more active investments on human resources and product development than last year, and higher SG&A costs due to additional fixed expense from the acquisition of RAYTEC. The breakdown of additional SG&A costs is as follows; labor costs (¥166 million), various expenses (¥106 million), R&D (¥73 million), and consolidation of RAYTEC (¥260 million). A large drop in quarterly net profit is caused by impairment loss for goodwill of ZENIC INC. (specialize in contracted development/sale of image processing systems) and the tax payment related to this.

Both sales and profits undershot the estimates, due to weak performance of normally profitable security-related business in Europe and the appreciation of yen.

 

 

If yen appreciates against dollar by ¥1, dollar-denominated transactions will push down the company's profit by ¥22 million, while lower production costs as a result of lower purchasing costs for materials (in dollar) will push up operating profit by ¥15 million. As for sterling-denominated transactions, ¥1 appreciation will reduce sales by ¥11 million and operating profit by ¥4 million respectively. Similarly, ¥1 appreciation against Euro will reduce sales derived from Euro-denominated transactions by ¥9 million and operating profit by ¥7 million (the company purchases materials neither in sterling nor in Euro).
During 1H of FY12/12, yen appreciated against dollar, sterling and Euro more rapidly compared to last year, but exchange rate movements of yen against the dollar have been almost in line with the company's assumption, while the yen depreciated against sterling and Euro more moderately than assumed.

 

 

Sensing Business

Sales increased by 15.3% YoY to ¥6.87 billion. Sales derived from security-related business recorded ¥4.88 billion, up by 18.8% YoY. In Japan, products for security companies were the main contributor to the sales increase. As for overseas business, in spite of negative factors such as yen appreciation or economic downturn in Europe, sales increased thanks to acquisition of RAYTEC as well as strong sales performance by FIBER SENSYS (manufacturer of fiber-optics intrusion detection systems) in North America and Asia including Middle East. Sales for automatic door-related business increased by 12.5% YoY to ¥1.73 billion. Domestic sales expanded on the back of the increased number of automatic doors installed. In Europe and US, although overall sales growth slowed, the company's sensor products increased their market share among main automatic door manufacturers (increase of OEM supply), resulting in the ultimate sales growth.
However, profit for the segment (before consolidated adjustment) decreased by 28.1% YoY to ¥360 million. Despite sales increase, OPTEX's profitable products struggled in Europe and put downward pressure on segment profit.

 

FA Business

Sales decreased by 11.7% YoY to ¥2.11 billion. Domestic sales shrunk on the back of lower capital spending by semiconductor, electronic component and LCD related industries. Overseas sales also decreased due to weak demand in Europe hit by debt problems, coupled with LCD related spending cuts in China. In line with sales downturn, segment profit (before consolidated adjustment) also decreased by 58.1% to ¥120 million.

Meanwhile, sales for EMS increased due to shipment growth of car-equipped components.

 



 

Negative cash flow from investment activities expanded due to the acquisition of RAYTEC. The company saved some of its funds for future acquisitions and invested them on securities. During this term, it sold these securities to use the sales proceeds for the acquisition of RAYTEC, hence cash and cash equivalents at the end of 1H FY12/12 decreased to ¥6.18 billion which is ¥340 million lower than the last year end.

 

 
Fiscal year December 2012 Earnings Estimates
 

(1) Outlook for 2H

On the basis of 1H results, the company revised down the earnings estimates for 2H. However, in addition to contribution from RAYTEC, product line-up enhancement and productivity improvement should push up both sales and profits.
Sales are expected to increase by 26.6% YoY to ¥11.61 billion (even excluding RAYTEC, sales are likely to grow by 18.2% to ¥10.84 billion). Despite concerns over the outlook for European economy and further appreciation of yen, security-related sales are expected to grow thanks to the strong product line-up of outdoor sensors, and automatic door-related sales should also increase particularly in overseas, where various types of new sensors with high level of safety have been released. FA related sales declined in 1H, but the orders from a main client SICK AG (Germany) have been solid so far.
The company continues active investments for the future growth, such as new products development to enhance existing business, preparatory actions to exploit emerging markets, new applications development mainly for large facilities. However, sales increase and the launch of new profitable products are likely to push up ordinary profit by 56.3% YoY to ¥1.2 billion.

 

 

(2) Outlook for Full FY12/12

For the full year, sales are expected to reach ¥21.8 billion (up 17.8% YoY) and ordinary profit ¥1.85 billion (up 1.1% YoY). Exchange rate assumptions are ¥79.9 for the dollar, ¥122.9 for the sterling, and ¥101.7 for the Euro. If yen appreciates against dollar by ¥1, full year sales will decrease by ¥50 million, while operating profit will increase by ¥30 million. Against the sterling, ¥1 appreciation will reduce sales by ¥23 million and operating profit by ¥9 million respectively. Against the Euro, it will reduce sales by ¥19 million and operating profit by ¥15 million.
Dividends at the end of 2H are expected to be ¥15 per share, resulting in annual dividends to be ¥30.

 

 

The launch of new products has been partially delayed due to the flood in Thailand last year, but these products are ready for distribution in 2H and the product line-up will be reinforced further. The business environment in Europe, which is the company's core market, continues to be challenging because of economic downturn caused by debt problems and weak currency. Nevertheless, orders from OEM have been just as solid as in US, and the enhancement of product line-up should bring some benefits. Therefore, the company's estimates for 2H factoring in large sales/profit increases sound reasonable.
Mid-term outlook should become even brighter, if the company can produce any meaningful outcomes in security-related business (which has high future growth potential), security lighting business (focusing on energy-saving products) and energy-saving/dimming control business. A favorable turn is expected in 2H.

 

Disclaimer

This report is intended solely for information purposes, and is not intended as a solicitation to invest in the shares of this company. The information and opinions contained within this report are based on data made publicly available by the Company, and comes from sources that we judge to be reliable. However we cannot guarantee the accuracy or completeness of the data. This report is not a guarantee of the accuracy, completeness or validity of said information and or opinions, nor do we bear any responsibility for the same. All rights pertaining to this report belong to Investment Bridge Co., Ltd., which may change the contents thereof at any time without prior notice. All investment decisions are the responsibility of the individual and should be made only after proper consideration.

Copyright(C) 2012 Investment Bridge Co., Ltd. All Rights Reserved.

To see IR related seminars of Bridge Salon, please go to our website at the following URL:

www.bridge-salon.jp/