Toru Kobayashi
Chairman, President and CEO
| | |
| --- | --- |
| Company | OPTEX CO., LTD. |
| Code No. | 6914 |
| Exchange | TSE 1st Section |
| Industry | Electric equipment (manufacturer) |
| President | Toru Kobayashi |
| HQ Address | 5-8-12, Ogoto Otsu, Shiga |
| Year-end | December |
| URL | |
Share Price
Shares Outstanding
Market Cap.
ROE (actual)
Trading Unit
¥1,177
16,551,364 shares
¥19,481 billion
4.7%
100 share
DPS (Est.)
Dividend Yield (Est.)
EPS (Est.)
PER (Est.)
BPS (actual)
PBR (actual)
¥30.00
2.5%
¥75.52
15.6x
¥1,107.53
1.1x
* Stock price as of the close on February 28, 2013. Number of shares at the end of the most recent quarter excluding treasury shares.
ROE and BPS are based on the actual term end amounts.
| | | | | | | |
| --- | --- | --- | --- | --- | --- | --- |
| Fiscal Year |   Net Sales   | Operating Profit | Ordinary Profit |   Net Profit   |   EPS (¥)   | Dividend (¥) |
| December 2009 | 15,124 | 620 | 735 | 332 | 20.07 | 30.00 |
| December 2010 | 17,395 | 1,705 | 1,761 | 981 | 59.30 | 30.00 |
| December 2011 | 18,502 | 1,677 | 1,830 | 1,033 | 62.45 | 30.00 |
| December 2012 | 20,699 | 1,398 | 1,680 | 825 | 49.88 | 30.00 |
| December 2013 Est. | 25,000 | 2,000 | 2,100 | 1,250 | 75.52 | 30.00 |
* Estimates are those of the Company.
This Bridge Report presents OPTEX's earnings results for the fiscal year December 2012.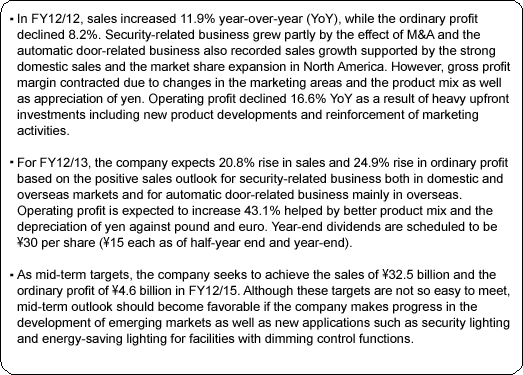 OPTEX is a leading manufacturer of infrared ray sensors for security equipments and automatic doors. The company manufactures and sells security-related products such as outdoor sensors, for which it maintains top share in the global markets, automatic door sensors and environment-related products. It forms a group consisting of 21 subsidiaries and 2 affiliate companies and deals with sensors for industrial equipments through its subsidiary OPTEX FA CO., LTD. Other group companies include RAYTEC LIMITED (UK), which has attained the largest global share (about 50 %) for supplemental lights for CCTV, and FIBER SENSYS INC. (US), which deals with optical fiber intrusion detection systems. The company is also focusing on the development of solutions for large critical facilities (intrusion detection systems).
The group seeks for a synergy effect from FIBER SENSYS which has the strong presence in North America and Middle East, while OPTEX CO., LTD., which has a competitive advantage in Japan and in EU, is strengthening its business activities in emerging markets. RAYTEC, whose sales are mainly derived from UK and EU, is now increasing sales in North America, South America and Middle East.

 

Business Description

The company is comprised of business segments such as Sensing (security-related, automatic door-related, others), FA, EMS and Others, and conducts business both in domestic and overseas markets through its 21 consolidated subsidiaries and 2 equity method affiliates. By region, Japan accounts for 35.1% of sales, North America 10.6%, Europe 34.7%, Asia 14.6% and other regions 4.9% (based on actual sales of FY12/12).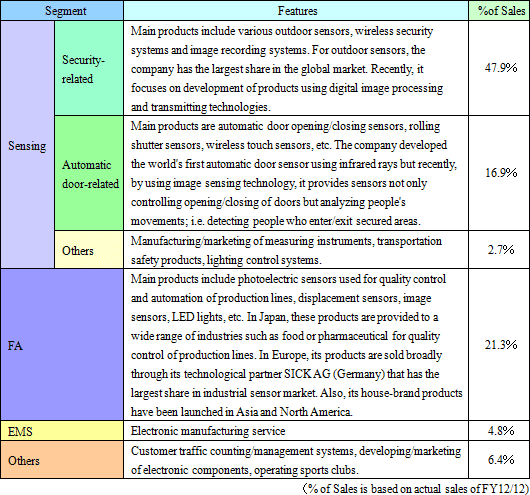 History

OPTEX was established in 1979 and developed the world's first automatic door sensors using far infrared rays in the next year. Back then, most of the automatic doors were using pressure sensitive rubber mats, which contain sensors, and sensors using far infrared rays were very innovative. The company also showed unrivaled abilities in product maintenance and implementation, and captured the largest share in the automatic door sensors market in only three years since its inception. The company expanded operations and listed on the over-the-counter market (equal to listing on JASDAQ) in 1991. Then it listed on the second section of Tokyo Stock Exchange in 2001 and moved to its first section in 2003.
In 2004, the company acquired GIKEN TRASTEM CO., LTD., which dealt with customer traffic/parked car counting and management systems, as a subsidiary. Recently, it has been working on enhancement of solutions based on image processing technologies and high-end security systems. In 2008, it acquired ZENIC INC., which specialized in contracted development of IC/LSI for image processing systems. Furthermore, it acquired FIBER SENSYS INC. (US) in 2010 and RAYTEC LIMITED (UK) in 2012 respectively. The former has abundant experience in high-end security systems (fiber-optics intrusion detection systems) for critical sites in US and Europe. The latter deals with supplemental lighting systems using infrared rays for CCTV installed in high-end security systems for large critical sites.

 


Advantages :Diversified Technologies/Expertise on Sensing and Unique Sensing Algorithm

Physical changes detected by sensors are minimal and normally unperceivable by human. Therefore, to produce precise and consistent sensors, it is essential to build on a number of elemental technologies and expertise, as well as 'algorithms' to control physical changes. The company takes advantage of its technologies/expertise suitable for intended applications and its unique sensing algorithm to secure the largest share in global market.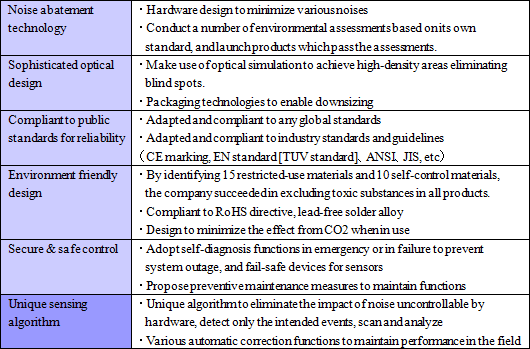 The company's business policy is "to strengthen its competence by doubling its productivity and to achieve its business targets with the highest priority on expanding profits." It then sets the mid-term earnings targets for FY12/15; ¥32.5 billion for sales, ¥4.6 billion for ordinary profit, ¥2.8 billion for net profit and so on. In order to achieve these targets, the company continues to focus on 1) expansion of core businesses, 2) development of emerging markets, 3) exploitation of new applications, and pursues the targets for FY12/13; ¥25 billion for sales, ¥2.1 billion for ordinary profit and ¥1.25 billion for net profit.

 

 

(1) Expanding Core Businesses

The company launched new products both in low-end commodity zone and high value-added differentiated zone in order to reinforce product line-up and to add value. In FY12/12, products for emerging markets such as outdoor sensors, wireless sensor systems for South East Asia (both are security-related products) and microwave sensors (automatic door-related) contributed to the growth in low-end commodity zone. In high value-added differentiated zone, supplemental lighting for CCTV for large critical facilities and outdoor sensors for large facilities were the growth drivers. In the mid zone, sliding door sensors launched in Europe/US markets recorded strong sales in US.
Meanwhile, the company tries to expand sensing area and to improve sensing method through M&A or partnerships in order to meet strong demand for outdoor intrusion detection systems. It acquired RAYTEC in FY12/12 to add illuminators for CCTV to its product line-up (see the table below).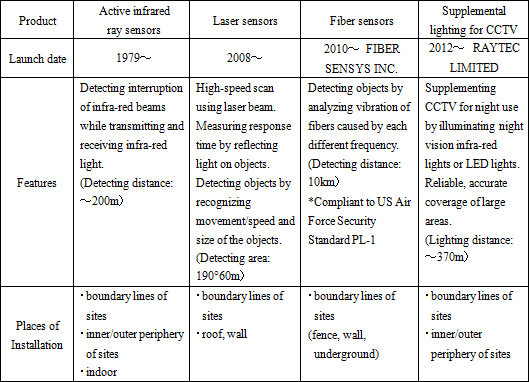 The group's outdoor alarm sensors are highly appreciated for their ability to cover large areas by reliable and accurate technologies. With its broad product line-up, the group's products are being adopted by large critical facilities in many countries.

 

Growth Strategy for Security-related Business

In order to accelerate the penetration of outdoor alarms in overseas, the company tries to develop wireless sensors/alarms which are easier to install. It also intends to enforce the product line-up to provide the most suitable monitoring systems for the double/triple alarm zones and to stimulate demand for sensors and supplemental lighting by launching CCTVs with IP-based detectors. In Japan, with the introduction of new regulation for nuclear power plants, the company tries to increase the installation of alarm systems to in outer periphery of large critical sites. In lighting/dimming control business, it focuses on developing applications to support energy-saving and environmental protection (see 'Exploitation of New Applications' for more details).

 

Growth Strategy for Automatic Door-related Business

OPTEX tries to make its sensors for automatic door/shutters to be 'de facto standard' in the global market, and therefore it intends to meet specific needs in each region. In North America it plans to expand sales of products compliant to its own security standard, while in Europe it tries to promote products compliant to EU unified standard which should be implemented shortly. In East Asia, its strategy is to launch competitive products with security functions to differentiate themselves. In Japan, it focuses on developing new products which meet unique needs from each user/customer and high-security sensors for automatic doors.

 

Growth Strategy for FA Business

The company tries to increase sales of application products in overseas as well as exploiting new demands in emerging markets. As for the domestic business, in addition to forming a partnership with Mitsubishi Electric Corp., it tries to enter into a logistics market (automation of logistics operations is now under way) which should be the next major market beyond existing three (food/pharmaceutical/cosmetics industries). Furthermore, the company is working on expanding sales of its original LED lights.

 

(2) Development of Emerging Markets

OPTEX seeks to achieve ¥3 billion sales in FY12/15 with its security products in Russia, East South Asia, India and South America. It set up local company in Brazil (Sao Paulo) in December 2012 to expand its distribution network not only in Brazil but in overall South American market, which is estimated to be worth about ¥20 billion. It also set up a joint venture in India (estimated market is ¥1 billion) in December 2012. In India, needs for security systems are migrating from manned operations to machine monitoring operations, and the company hopes to capture these needs by developing products best suited to local culture and practice.

 

(3) Exploitation of New Applications

OPTEX is making use of its distribution network to expand sales of RAYTEC's supplemental lighting for CCTV globally. At the same time, it seeks for the synergy effect with its sensor business and introduces RAYTEC's lighting products for facilities with dimming control system to the domestic market.

 

Supplemental Lighting for CCTV

The global CCTV market is expanding rapidly with the annual growth rate of 13% and the company tries to receive the benefit by providing supplemental lighting products which are vital to CCTV. The company's subsidiary RAYTEC LIMITED is a global leading manufacturer in this area with the largest market share of around 50%. Its flagship products include infra-red night vision illuminator for outdoor use in mid-long distance and visible-light LED illuminators, with many other products in its line-up. In US, demand for IP-based CCTV is growing rapidly, and RAYTEC's supplemental security lightings for outer periphery are adopted by military facilities. They are also adopted in South America (by broad area power plants and prisons) and Middle East (by oil-related facilities in UAE and Kuwait).
In Japan, OPTEX has started selling RAYTEC's products as a general agent and is currently focusing on sales promotion targeting critical facilities to improve customers' recognition. Furthermore, it tries to launch IP-based products (linked to computers) through the partnership with Milestone Systems A/S (headquarter in Denmark) which is a global leader in this field.

 

Facilities Lighting with Dimming Control System

The company sells sensor-linked dimming control systems for commercial facilities/large offices in this business. More than 50 companies including major franchised stores, catering companies, supermarkets have already installed these products on trial and are expected to switch to formal installation accordingly. Also, in response to growing replacement demands for mercury lamps, the company has successfully installed these products at 830 existing coin-operated parking lots across Japan. It plans to introduce dimming control systems linked to gate opening/closing for newly opened parking lots.

 

(4) Financial Targets

Fiscal Year December 2012 Earnings Results

 

Sales Up 11.9% and Ordinary Profit Down 8.2% YoY

Sales increased 11.9% YoY to ¥20.699 billion. Sales of security-related business expanded significantly thanks to the contribution from RAYTEC, which became a subsidiary in January. Automatic door-related business also recorded sales growth on the back of strong business in Japan and North America, which helped the sales increase in its mainstream sensing business to ¥13.964 billion (up 16.6% YoY). Furthermore, sales of EMS business grew to ¥1 billion (up 55.4% YoY), mainly supported by industrial equipments, in-vehicle equipments, consumer equipments and medical equipments, and compensated for the sales decline in FA business (due to lower capital spending) and the adverse effect by yen appreciation (pushed down sales by ¥178 million).
Gross profit margin slumped by 2.5 bp YoY to 49.1% as the result of changes in distribution area and product mix, coupled with strong yen (pushed down profit by ¥166 million). Meanwhile, in order to achieve its 'Mid-term Business Plan', the company made various upfront investments, such as new product development and marketing reinforcement, and acquired 100% ownership of RAYTEC (extra ¥526 million for SG&A), resulting in 11.6% increase in SG&A to ¥8.771 billion which suppressed the profits. Operating profit declined 16.6% YoY to ¥1.398 billion, while ordinary profit decreased only 8.2% YoY thanks to the gain in foreign exchange profit (+ ¥151 million compared to - ¥41 million last year). Net profit declined 20.1% YoY to ¥825 million due to increase in income tax deferred (¥147 million compared to ¥20 million last year).

 

Variances from Estimate as of the end of 1H

Sales turned out to be lower than expected which then resulted in lower-than-expected profits. Sensing business and FA business were the main drags on sales growth. In sensing business, security and automatic door-related sales struggled on the back of the prolonged economic downturn in Europe and the strong yen. In addition, sales of sensors for temperature/environmental measuring systems were hurt by sluggish capital spending both in domestic and overseas markets and the appreciation of yen.

 

FX and its Impact on Earnings

 

During FY12/12, ¥1 appreciation against dollar pushed down the company's sales by ¥44 million and pushed up operating profit by ¥26 million. Similarly, ¥1 appreciation against sterling reduced sales by ¥21 million and operating profit by ¥8 million, and against euro the reduction was ¥17 million and ¥13 million respectively (the impact differs dependent on the year).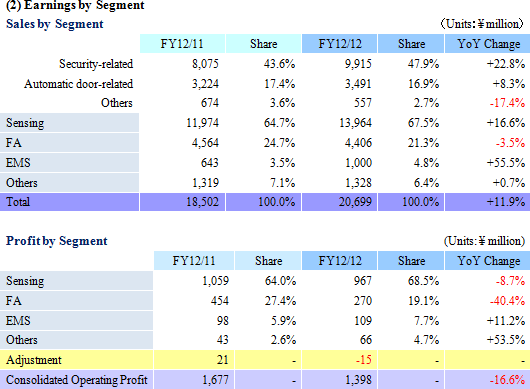 Sensing Business

Sales for FY12/12 were ¥13.964 billion (up 16.6% YoY) and operating profit was ¥967 million (down 8.7% YoY). Security-related sales increased 22.8% YoY to ¥9.915 billion. Domestic sales increased thanks to the contribution by new products for household-use and those for security companies as well as strong sales of outdoor sensors for nuclear power plants. In overseas, sales of relatively profitable products decreased due to weak economic condition in Europe and strong yen, while newly consolidated RAYTEC contributed to the sales growth. RAYTEC recorded sales of ¥1.6 billion and operating profit of about ¥160 million, offsetting the goodwill amortization cost (operating profit margin before amortization was 20%).
Sales of automatic door-related increased 8.3% YoY to ¥3.491 billion. Sales grew both in domestic and overseas markets. In Japan, the number of newly installed automatic doors increased amid of construction demand recovery mainly for commercial facilities, which accelerated the sales growth of automatic door sensors. In overseas, the company's products for automatic doors have been highly appreciated by North American automatic door manufacturers and many of them have adopted them.

 

FA Business

This segment recorded sales of ¥4.406 billion (down 3.5% YoY) and profit of ¥270 million (down 40.4% YoY). Capital spending has been recovering in machine tools and automobile-related industries, but capital spending remained week in electronic components, semiconductors and LCD-related industries, leading to domestic sales decline by 2% YoY. Overseas sales also decreased 4% YoY due to an unfavorable comparison with the previous term when sales to SICK AG (Germany) expanded significantly, accompanied by weak performance in Europe (hit by financial instability) and in China (contained capital spending in LCD-related industries).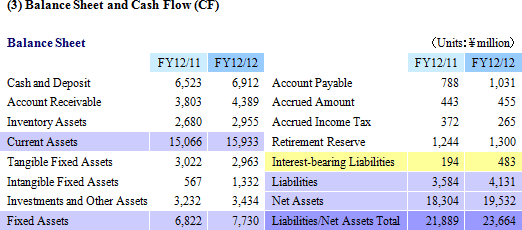 Total assets as of the year end were ¥23.664 billion, increased ¥1.775 billion from the previous term. Most of the growth derived from operating assets, which increased in accordance with the expansion of operation, and the inflated goodwill after the acquisition of RAYTEC. Although interest-bearing liabilities increased as a result of additional short-term loans, the company secures more than ¥ 6.4 billion as net cash and deposit (cash & deposit - interest-bearing liabilities) and is effectively debt-free. It also keeps the high capital ratio of 77.5%.

 

 

Although the total investment has swollen after the acquisition of RAYTEC shares (equivalent of ¥960 million) and the development/manufacturing of new products (costs for mold and additional production line at subsidiaries), the company generated ample operating cash flow and was able to secure free cash flow of ¥269 million. Financial cash flow turned out to be negative after dividend payments, but cash & its equivalents as of the year end increased to ¥6.912 billion (up ¥389 million from the previous term) after recorded ¥433 million as translation adjustments.

 

 
Fiscal Year December 2013 Earnings Estimates

 

Sales and Operating Profit Up 20.8% and 24.9% YoY

Sales are expected to reach ¥25 billion (up 20.8% YoY). Main driver is security-related and automatic door-related sensors for European and Asian markets. Operating profit is expected to increase 43.1% to ¥2 billion, on the back of strong sales and favorable foreign exchange conditions (weaker yen against pound and euro). Growth rate of ordinary profit should be much smaller 24.9% YoY as foreign exchange profits are unlikely to be gained. However, net profit is expected to increase 51.4% to ¥1.25 billion due to decline in tax burden ratio.
Annual dividends are scheduled to be ¥30 (¥15 each for half-year end and year-end).

 

 

During FY12/13, ¥1 yen depreciation against dollar will push up the company's sales by ¥55 million while reducing operating profit by ¥26 million annually. Similarly, ¥1 depreciation against pound will increase sales by ¥23 million and operating profit by ¥7 million, and against euro the increase will be ¥21 million and ¥17 million respectively.

 

 

In FY12/13, sales are expected to expand due to recovery of security and automatic door-related businesses in Europe and strong sales in Asia and the company should be able to improve its product mix. In addition, correction of excessive appreciation of yen against euro and other currencies will help to accelerate growth of operating profit. The company needs to cope with many difficult problems to achieve its mid-term earnings targets for FY12/15 (sales: ¥32.5 billion, ordinary profit: ¥4.6 billion). However, if it makes progress in the development of emerging markets and the exploitation of new applications with market potential such as security lighting and energy-saving lighting for facilities with dimming control functions, the mid-term outlook should be brighter.

 

Disclaimer

This report is intended solely for information purposes, and is not intended as a solicitation to invest in the shares of this company. The information and opinions contained within this report are based on data made publicly available by the Company, and comes from sources that we judge to be reliable. However we cannot guarantee the accuracy or completeness of the data. This report is not a guarantee of the accuracy, completeness or validity of said information and or opinions, nor do we bear any responsibility for the same. All rights pertaining to this report belong to Investment Bridge Co., Ltd., which may change the contents thereof at any time without prior notice. All investment decisions are the responsibility of the individual and should be made only after proper consideration.

Copyright(C) 2013, All Rights Reserved by Investment Bridge Co., Ltd.