Toru Kobayashi
Chairman, President and CEO
| | |
| --- | --- |
| Company | OPTEX CO., LTD. |
| Code No. | 6914 |
| Exchange | TSE 1st Section |
| Industry | Electric equipment (manufacturer) |
| President | Toru Kobayashi |
| HQ Address | 5-8-12, Ogoto Otsu, Shiga |
| Year-end | December |
| URL | |
Share Price
Shares Outstanding
Market Cap.
ROE (actual)
Trading Unit
¥1,551
16,551,094 shares
¥25,670 billion
4.7%
100 share
DPS (Est.)
Dividend Yield (Est.)
EPS (Est.)
PER (Est.)
BPS (actual)
PBR (actual)
¥30.00
1.9%
¥75.52
20.5x
¥1,107.53
1.4x
* Stock price as of the close on May 9, 2013. Number of shares at the end of the most recent quarter excluding treasury shares.
ROE and BPS are based on the actual term end amounts.
| | | | | | | |
| --- | --- | --- | --- | --- | --- | --- |
| Fiscal Year |   Net Sales   | Operating Profit | Ordinary Profit |   Net Profit   |   EPS (¥)   | Dividend (¥) |
| December 2009 | 15,124 | 620 | 735 | 332 | 20.07 | 30.00 |
| December 2010 | 17,395 | 1,705 | 1,761 | 981 | 59.30 | 30.00 |
| December 2011 | 18,502 | 1,677 | 1,830 | 1,033 | 62.45 | 30.00 |
| December 2012 | 20,699 | 1,398 | 1,680 | 825 | 49.88 | 30.00 |
| December 2013 Est. | 25,000 | 2,000 | 2,100 | 1,250 | 75.52 | 30.00 |
* Estimates are those of the Company.
This Bridge Report presents OPTEX's earnings results for 1Q of the fiscal year December 2013.
1Q Fiscal Year December 2013 Earnings Results

 

Sales and Operating Profit Up 8.4% and 128.7% YoY

Sales increased 8.4% YoY to ¥5.5 billion. The trend was firm due to inventory adjustments from construction of the Amsterdam hub warehouse, elimination of reductions in orders received, and the weakening of the yen (+¥422 million).
The security-related business was favorable both domestically and overseas. The automatic door-related business was favorable overseas, but domestic performance was less than expected. Conversely, the FA business performed well domestically but overseas performance was less than expected.

Operating profit increased significantly to ¥544 million. Inventory acquired at low cost during the period of the strong yen was sold during the quarter, improving the cost ratio, and the weak yen added ¥236 million to gross profit.
Regarding costs, an increase in selling, general and administrative expenses and the weak yen contributed to a ¥119 million increase.

 
 

As shown above, for FY12/12, the strong yen negatively impacted profits, but for the current FY12/13, if the yen depreciates by ¥1 against the dollar, it will push up the Company's sales by ¥55 million while pushing down its operating profit by ¥26 million. Against the sterling, the positive impact on its sales and operating profit will be ¥23 million and ¥7 million, respectively. Against the Euro, the same effect will be ¥21 million and ¥17 million.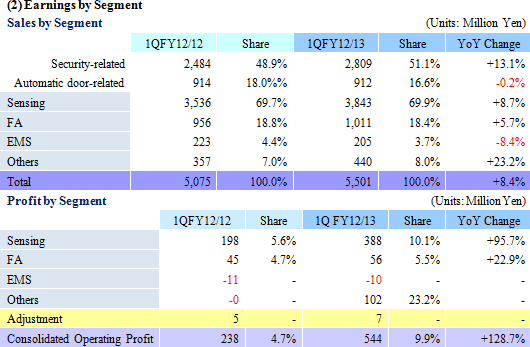 Sensing Business

Sales were ¥3.84 billion (up 8.7% YoY) and operating profit was ¥380 million (up 95.7% YoY).
Security-related business sales were ¥2.8 billion, up 13.1% YoY.
Overseas, outdoor alarm sensors, for which the Company has a large worldwide market share, sold briskly to customers in Europe. Domestically, sales for outdoor sensors for large critical facilities increased.
Automatic door-related business sales were ¥900 million, down 0.2% YoY.
Sales to North American customers moved favorably, but sales to customers in Europe declined. Domestic demand was also less than expected, and reconstruction demand is still not tangible.

 

FA Business

Sales were ¥1.01 billion (up 5.7% YoY) and segment profit was ¥56 million (up 22.9%).
Overseas sales suffered as a result of restricted capital spending from the European fiscal crisis and deceleration of growth in China, but domestic sales increased for photoelectric sensors for the logistics market and LED lights.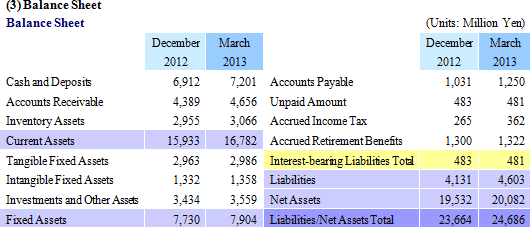 From more activity in business operation, cash and deposits, accounts receivable, and accounts payable all increased. Net assets also increased ¥550 million to ¥20.0 billion as a result of an increase in foreign currency translation adjustments from the weak yen and an increase in other comprehensive income.
The capital ratio decreased slightly to 76.5%, from 77.5% at the end of the previous fiscal year.

 

 
Fiscal Year December 2013 Earnings Estimates

 

Sales and Operating Profit Up 20.8% and 24.9% YoY

No changes to estimates for the full fiscal year.
The main driver for increased sales will be security-related and automatic door-related sensors for European and Asian markets. Operating profit is expected to increase 43.1% to ¥2.0 billion on the back of strong sales and favorable foreign exchange conditions (weaker yen against pound and euro). The growth rate of the ordinary profit should be much smaller at 24.9% YoY as foreign exchange profits are unlikely to be gained. However, net profit is expected to increase 51.4% to ¥1.250 billion due to a decline in the tax burden ratio.
Annual dividends are scheduled to be ¥30 (¥15 each for half-year end and year-end).

 

 
 

In 1Q, the effect of the sudden weakening of the yen appeared to be very strong, but concerning the security-related business, units sold of the Company's main product, outdoor alarm sensors, were on an increasing trend in the European market, suggesting that a true recovery could be underway.
However, it is difficult to say if the automatic door-related and FA businesses are on an increasing trend.
The stock price is rising steadily and has recovered from below a PBR of 1.0x, but a continued recovery can only be guaranteed from a recovery in the automatic door-related business and the FA business. Trends during and after the 2Q must be watched closely.

 

Disclaimer

This report is intended solely for information purposes, and is not intended as a solicitation to invest in the shares of this company. The information and opinions contained within this report are based on data made publicly available by the Company, and comes from sources that we judge to be reliable. However we cannot guarantee the accuracy or completeness of the data. This report is not a guarantee of the accuracy, completeness or validity of said information and or opinions, nor do we bear any responsibility for the same. All rights pertaining to this report belong to Investment Bridge Co., Ltd., which may change the contents thereof at any time without prior notice. All investment decisions are the responsibility of the individual and should be made only after proper consideration.

Copyright(C) 2013 Investment Bridge Co., Ltd. All Rights Reserved.