Toru Kobayashi
Chairman, President and CEO
| | |
| --- | --- |
| Company | OPTEX CO., LTD. |
| Code No. | 6914 |
| Exchange | TSE 1st Section |
| Industry | Electric equipment (manufacturer) |
| President | Toru Kobayashi |
| HQ Address | 5-8-12, Ogoto Otsu, Shiga |
| Year-end | December |
| URL | |
Share Price
Shares Outstanding
Market Cap.
ROE (actual)
Trading Unit
¥1,287
16,550,534 shares
¥21,300 billion
4.7%
100 share
DPS (Est.)
Dividend Yield (Est.)
EPS (Est.)
PER (Est.)
BPS (actual)
PBR (actual)
¥30.00
2.3%
¥96.67
13.3x
¥1,107.53
1.2x
* Stock price as of the close on September 5, 2013. Number of shares at the end of the most recent quarter excluding treasury shares.
ROE and BPS are based on the actual term end amounts.
| | | | | | | |
| --- | --- | --- | --- | --- | --- | --- |
| Fiscal Year |   Net Sales   | Operating Profit | Ordinary Profit |   Net Profit   |   EPS (¥)   | Dividend (¥) |
| December 2009 | 15,124 | 620 | 735 | 332 | 20.07 | 30.00 |
| December 2010 | 17,395 | 1,705 | 1,761 | 981 | 59.30 | 30.00 |
| December 2011 | 18,502 | 1,677 | 1,830 | 1,033 | 62.45 | 30.00 |
| December 2012 | 20,699 | 1,398 | 1,680 | 825 | 49.88 | 30.00 |
| December 2013 Est. | 24,000 | 2,300 | 2,600 | 1,600 | 96.67 | 30.00 |
* Estimates are those of the Company.
This Bridge Report presents OPTEX's earnings results for the first half fiscal year December 2013.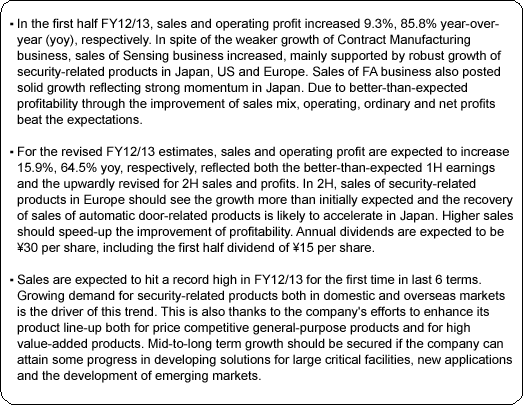 OPTEX is a leading manufacturer of infrared ray sensors for security equipments and automatic doors. The company manufactures and sells security-related products such as outdoor sensors, for which it maintains top share of 40% in the global markets, automatic door sensors, for which it maintains a 30% share of the global markets and a 60% share of the domestic market, and environment-related products. It forms a group consisting of 21 subsidiaries and 2 affiliate companies and deals with sensors for industrial equipments through its subsidiary OPTEX FA CO., LTD. Other group companies include RAYTEC LIMITED (UK), which has attained the largest global share (about 50 %) for supplemental lights for CCTV, and FIBER SENSYS INC. (US), which deals with optical fiber intrusion detection systems. The company is also focusing on the development of solutions for large critical facilities (intrusion detection systems). The group seeks for the synergy effects from FIBER SENSYS and RAYTEC LIMITED, developing solutions for large critical facilities. OPTEX CO., LTD. has a competitive advantage in Japan and in EU, and same applies to FIBER SENSYS in North America centering US, and Middle and Near East, while RAYTEC'sales are mainly derived from UK and EU. In light of the business area, these three companies complement each other, gradually leading to the deployment in Middle East by OPTEX and development in North America, Latin America and Middle East by RAYTEC.

 

Business Description

The company is comprised of business segments such as Sensing (security-related, automatic door-related, others), FA, EMS and Others, and conducts business both in domestic and overseas markets through its 21 consolidated subsidiaries and 2 equity method affiliates. By region, Japan accounts for 35.2% of sales, North America 10.6%, Europe 34.7%, Asia 14.6% and other regions 4.9% (based on actual sales of FY12/12). Overseas sales accounts for up to 65% and sales currency is comprised of yen, dollar, pound and Euro, accounted for 53%, 18%, 13% and 15%, respectively. While China accounts for 55% of production, currency composition for the costs is yen 57%, dollar and pound 43% and settlements in yen for sales and purchases have a majority.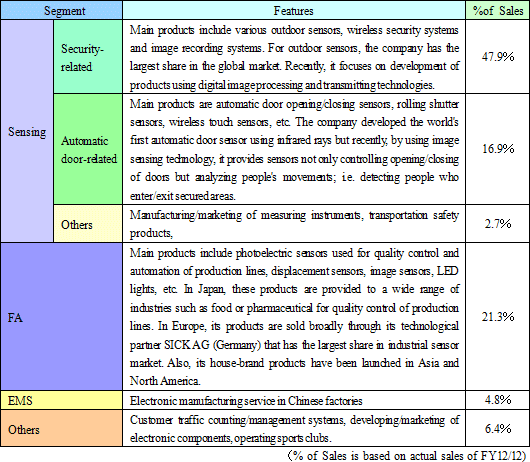 History

OPTEX was established in 1979 and developed the world's first automatic door sensors using infrared rays in the next year. Back then, most of the automatic doors were using pressure sensitive rubber mats, which contain sensors, and sensors using infrared rays were very innovative. The company also showed unrivaled abilities in product maintenance and implementation, and captured the top share in the automatic door sensors market in only three years since its inception (currently, about 60% share in the domestic market). The company expanded operations and listed on the over-the-counter market (equal to listing on JASDAQ) in 1991. Then it listed on the second section of Tokyo Stock Exchange in 2001 and moved to its first section in 2003.
In 2004, the company acquired GIKEN TRASTEM CO., LTD., which dealt with customer traffic/parked car counting and management systems, as a subsidiary. Recently, it has been working on enhancement of solutions based on image processing technologies and high-end security systems. In 2008, it acquired ZENIC INC., which specialized in contracted development of IC/LSI for image processing systems. Furthermore, it acquired FIBER SENSYS INC. (US) in 2010 and RAYTEC LIMITED (UK) in 2012 respectively. The former has abundant experience in high-end security systems (fiber-optics intrusion detection systems) for critical sites in US and Europe. The latter deals with supplemental lighting systems using infrared rays for CCTV installed in high-end security systems for large critical sites.

 

Advantages :Diversified Technologies/Expertise on Sensing and Unique Sensing Algorithm

Physical changes detected by sensors are minimal and normally unperceivable by human. Therefore, to produce precise and consistent sensors, it is essential to build on a number of elemental technologies and expertise, as well as 'algorithms' to control physical changes. The company takes advantage of its technologies/expertise suitable for intended applications and its unique sensing algorithm to secure the largest share in global market.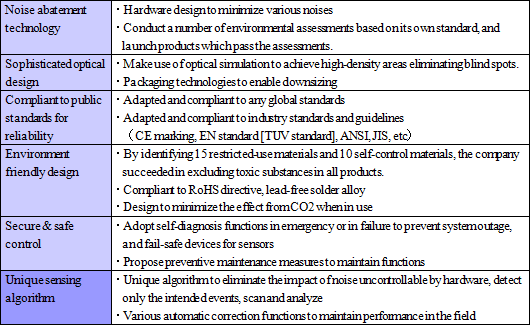 Efforts to Expand Business
 

OPTEX's management policy includes two principles; 1) strengthening its financial soundness by doubling productivity, 2) focusing on attaining planned financial targets with particular priority on profits. For FY12/15, the company seeks to achieve ¥32.5 billion of sales, ¥4.6 billion of ordinary profit, and ¥2.8 billion of net profit respectively. In order to achieve these targets, it is now taking on the four challenges; expansion of core businesses; development of new applications; development of newly emerging markets; entry into new business fields.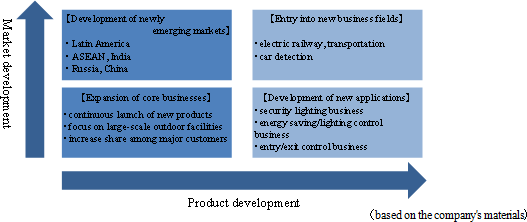 (1) Progress

To expand core businesses, the company has been continuously launching new products and has received constant orders since last term for products for large-scale critical facilities in Japan. Furthermore, it has been expanding OEM transactions with leading automatic door manufactures in Europe and US. As for development of new applications, RAYTEC's security lighting business has recorded strong growth, and energy saving/lighting control business is getting on the right track.

On the other hand, the progress in development of emerging markets has been slower than planned. However, in December 2012, the company established sales companies in India and Brazil and started marketing activities. Meanwhile, the company has started research for car detection technologies seeking for the entry into new business fields.

 

(2) Progress on Business Strategies

①Expansion of Core Businesses - Sensing Business (Security-related & Automatic door-related)& FA Business -

In security-related business, the company is trying to expand orders for high value-added products for large-scale critical facilities in overseas markets and also to expand sales of general-purpose indoor sensors for emerging markets, In Japan, it strives to increase transactions with large-scale critical facilities such as major security companies, nuclear power plants and mega-solar power plants, with which the company has managed to establish new customer relationships.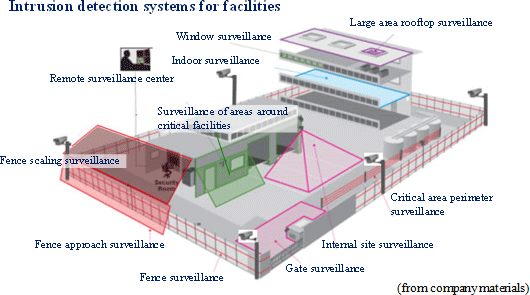 Outdoor security sensors, manufactured by the company's subsidiary FIBER SENSYS, have been adopted for large critical facilities in countries around the world. These products have earned a high reputation for their product/technical capabilities with various product variations and abilities to accurately cover large areas.

 

The company has now obtained 60% share in automatic door-related market in Japan, but has yet to fully develop overseas markets with only 12% and 16% of share in Europe and North America respectively. In Europe, however, the company has steadily expanded OEM supplies to major automatic door manufactures and future outlook is positive. Meanwhile, domestic business environment is improving with the booming of reconstruction demand as well as the recovery of shutter industry market for which the company holds a dominant share of 80%.

In FA business, the company is focusing on expanding its domestic business through the collaboration with Mitsubishi Electric and the expansion of LED business as well as the development of logistics and energy device markets. As for overseas business, it strives to develop markets in China and Brazil and to expand sales of application equipments. Furthermore, it is promoting production innovation by restructuring factories, reforming logistics and reducing costs. It is also considering a move in the direction of China + 1.
OPTEX's FA sensor is competitive because of its high quality and low price. The company maintains its high quality through technical collaboration with SICK GmbH (major manufacturer of control equipments in Germany), in-house development of core technologies and a superior system for quality control. It has also achieved low price by pursuit of appropriate operating profit, fab-less business management and a large-scale production.

 

②Development of New Applications

OPTEX tries to sell RAYTEC's supplemental lighting for CCTV camera across the world by utilizing its own distribution network and seeks for synergy with its sensor business. The company also expands business for lighting in facilities with dimming control system in Japan.

 

Supplemental Lighting for CCTV Camera

The global CCTV camera market, mainly for network cameras, is said to be growing by some 13% annually. OPTEX tries to capture these growth opportunities by supplying supplemental lightings which are indispensable to these cameras. Its subsidiary RAYTEC, the key player in this business, is the No.1 manufacturer in this area and holds 50% share in the global market. Its main products are night-vision infrared rays lighting for outdoor mid-long distance use and visible LED lighting, with a wide range of other products in its line-up. In US, where the demand for IP camera is rapidly expanding, RAYTEC's products are adopted in military facilities used as supplemental lighting for perimeter surveillance. They have also been adopted in Latin America (as supplemental lighting for perimeter surveillance in wide-area power plants and prisons) and Middle East (as supplemental lighting for perimeter surveillance in oil-related facilities in UAE and Kuwait).
In Japan, OPTEX has started selling RAYTEC's products as its sole agent and is now trying to gain recognition among critical facilities. It is also focusing on enabling IP routing (interface with computer through internet protocol) for these products by collaboration with Milestone Systems A/S, the world's largest VMS (= Video Management Software) provider based in Denmark.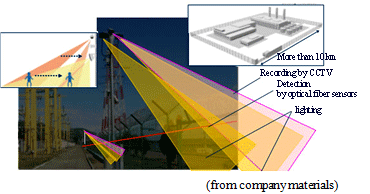 Security systems combined with optical fiber sensors

Pinpoint detection of intruders by long-distance optical fiber sensors, enhancing imaging precision with lighting,

 

Facilities Lighting (with Dimming Control System) Business

In this business, the company provides sensor-linked lighting control systems to commercial facilities and large-scale offices. These lighting systems activate with minimum brightness when no users are present, but brighten up to 100% capacity instantly when people or vehicles come by. The system provides an immediate solution to cases where only some of the lights are activated to save energy in spite of the concerns over safety and security.
These systems are already introduced as a pilot application to more than 50 companies such as major franchises, restaurants and supermarkets, and will sequentially move to permanent adoption. They have also been installed to 830 sites of major existing fee parking lots in Japan to respond to the replacement demand for mercury lamps. Furthermore, lighting control systems interacting with opening/closing of gates will be installed at new parking lots to be opened.

 

③Development of Emerging Markets

The company seeks to achieve sales of ¥3 billion in FY12/15 for the security business in emerging markets (Russia, South-East Asia, India, Latin America). In order to build business bases in these markets, the company established a local subsidiary in Brazil and a joint venture in India (Delhi) respectively in December 2012.

The size of Latin American market is estimated to be ¥20 billion. OPTEX plans to enhance its sales network in this area, by using Brazilian market, where it established its local subsidiary, as a stepping stone to success. The company's target customers are local firms in logistics, resources and transportation-related industries, and it intends to strengthen customer-based marketing. It also focuses on creating new business opportunities based not only on security but on synergy among other group businesses.
The local subsidiary only started actual business activities in April this year, as it took a long time to obtain a visa. However, it had a seemingly good start by taking over some business from North America.

On the other hand, the estimated market size of India is only ¥1 billion and it is imperative for an entrant to this market to contribute to the market growth. The company is willing to take an initiative in Indian security market, which is in the process of shifting from manned guarding to automatic security system, and to provide sensor-based solutions. Furthermore, it will strive to develop products to meet unique local culture and customs and to create new business opportunities.

 

(3) Near-term Earnings Targets

In order to achieve earnings targets for FY12/15, the company will pursue its business strategies; 1) expansion of core businesses 2) development of new applications 3) development of emerging market 4) entry into new business fields, as well as seeking for group synergy.

OPTEX currently has 21 subsidiaries and more than half of them (14 subsidiaries) are foreign-based. They were originally established by local business units in each area and have not added any synergy for the group so far. Therefore, OPTEX has been consolidating distribution rights within the group since last term and now each subsidiary has the right to sell all the products of the group.

 

First Half Fiscal Year December 2013 Earnings Results

 

Sales Up 9.3% yoy and Operating Profit Up 85.5% yoy

Sales for 1H of FY12/13 rose by 9.3% year-on-year (yoy) to ¥11.128 billion. In spite of the weaker growth of Contract Manufacturing business in China and sluggish performance of security-related products in Asia, sales of Sensing business increased by 13.0% yoy, mainly supported by robust growth of security-related products in Japan, US and Europe. Sales of FA business also posted solid growth reflecting strong momentum in Japan.

In terms of profitability, gross profit increased by 17.6% yoy to ¥5.842 billion due to the improvement of sales mix and the correction of yen's appreciation (¥607 million). Operating profit expanded significantly by 85.5% to ¥994 million absorbing the increase in SG&A. An improvement of non-operating profit due to a higher foreign exchange gain (¥35

¥178 million) and the application of tax effect accounting boosted net profit to ¥732 million, which is 2.3 times larger than the same time last year. An increase in SG&A was partly due to higher labor costs and expenses, but the biggest factor was an increase in yen-dominated amounts of overseas costs (¥301 million) in conjunction with the correction of yen's appreciation.

 

Analysis of Variance between Estimates and Actual Results

Sales turned out to be lower than expected due to weaker growth in Contract Manufacturing business in China and Security-related business in Asia. As a result, the share of Contract Manufacturing business, which is less profitable, to the overall sales dropped while the share of relatively profitable Security-related business (outdoor sensors) rose, leading to an improvement of sales mix and a better-than-expected profitability.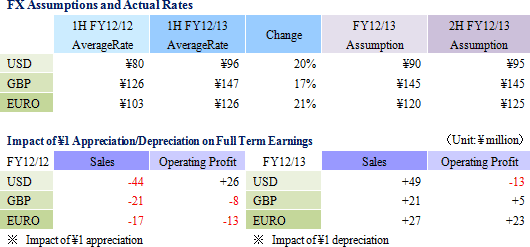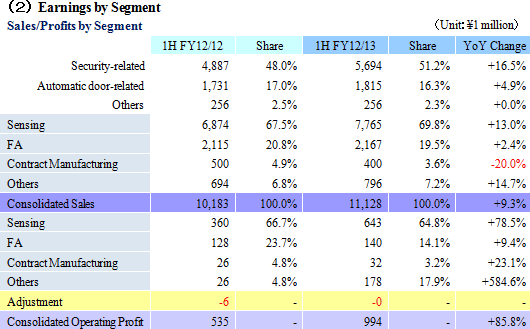 Security-related Business

Sales rose by 16.5% yoy to ¥5.694 billion. Sales expanded significantly in the main European market driven by outdoor surveillance sensors, for which OPTEX holds a high global share. As a result, overseas sales rose by 13% yoy. Furthermore, domestic sales expanded by 33% yoy thanks to robust sales of outdoor surveillance sensors for large critical facilities. In Japan, in addition to strong orders from security companies and an increasing demand from nuclear plants which are to resume operations, sales to mega solar power plants also seem to be rising.

 

Automatic Door-related Business

Sales increased by 4.9% yoy to ¥1.815 billion. While sales in Europe remained almost unchanged, the business in North America recorded a significant sales growth, consequently boosting overseas sales by 18% compared to the previous year. Domestic sales dropped 4% yoy, but are on the upward trend on the back of growing reconstruction demand.

 

FA Business

Sales finished at ¥2.167 billion up 2.4% yoy. Sluggish performance in Europe amid financial concerns and inhibited capital investments in China due to economic slowdown pushed down overseas sales by 6% yoy, but the sales in Japan increased driven mainly by general-purpose photoelectric sensors for the logistics industry.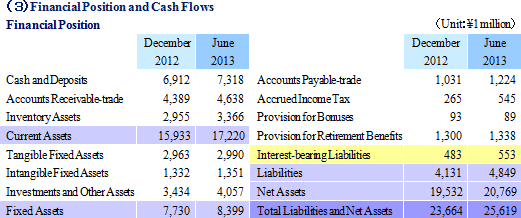 Total assets as of the end of 1H increased ¥1.955 billion from the previous term to ¥25.619 billion. Accounts receivable-trade, inventory assets and accounts payable-trade increased respectively reflecting the robust orders and sales. Furthermore, cash and deposits and investment securities (investment of surplus fund) expanded as cash flow improved in conjunction with higher profits. Capital ratio was 76.3%. The company is virtually debt-free (net cash was ¥6.765 billion), and its solid financial condition with ample liquidity is part of its strength.

Cash flow from operating activities increased 57.5% yoy to ¥1.175 billion. Meanwhile, free cash flow moved from deficit in 1H FY12/12 (-¥358 million) to surplus this term (+¥303 million) due to a decrease in M&A-related spending.

 

 
Fiscal Year December 2013 Earnings Estimates

 

Revised Full-term Earnings Estimates: Sales up 15.9% and Operating Profit up 64.5% yoy

Revised full-term estimates reflect both the better-than-expected 1H earnings and the upwardly revised estimates for 2H sales and profits. In 2H, sales of security-related products in Europe should see larger-than-expected growth and the recovery of sales of automatic door-related products is likely to accelerate in Japan. Higher sales should speed-up the improvement of profitability.
Annual dividends are expected to be ¥30 per share, including the first half dividend of ¥15 per share.

 


 

Sales have been on a downward trend since its peak at ¥22.1 billion in FY12/07, but are expected to hit a record high in FY12/13 for the first time in last 6 terms. In addition to the correction in the value of yen, the growing demand for security-related products both in domestic and overseas markets is the driver of this trend. This is also thanks to the company's efforts to enhance its product line-up both for price competitive general-purpose products and for high value-added products for large critical facilities. The company's success in cultivating new applications for large critical facilities is partly due to enhancement of its product line-up by adding new products (more powerful fiber sensors, lightings for CCTV camera, etc.) through the aggressive M&A. In 2H FY12/13, FA business in Japan is expected to see further growth on the back of an improvement of corporate earnings. Moreover, the pace of recovery of domestic automatic door-related business should accelerate in conjunction with a growing reconstruction demand.
Mid-to-long term growth should be secured if the company can attain some progress in developing solutions for large critical facilities (synergy with fiber sensors and lightings for CCTV camera, etc.), new applications and the development of emerging markets.

 

Disclaimer

This report is intended solely for information purposes, and is not intended as a solicitation to invest in the shares of this company. The information and opinions contained within this report are based on data made publicly available by the Company, and comes from sources that we judge to be reliable. However we cannot guarantee the accuracy or completeness of the data. This report is not a guarantee of the accuracy, completeness or validity of said information and or opinions, nor do we bear any responsibility for the same. All rights pertaining to this report belong to Investment Bridge Co., Ltd., which may change the contents thereof at any time without prior notice. All investment decisions are the responsibility of the individual and should be made only after proper consideration.

Copyright(C) 2013 Investment Bridge Co., Ltd. All Rights Reserved.