Toru Kobayashi
Chairman, President and CEO
| | |
| --- | --- |
| Company | OPTEX CO., LTD. |
| Code No. | 6914 |
| Exchange | TSE 1st Section |
| Industry | Electric equipment (manufacturer) |
| President | Toru Kobayashi |
| HQ Address | 5-8-12, Ogoto Otsu, Shiga |
| Year-end | December |
| URL | |
Share Price
Shares Outstanding
Market Cap.
ROE (actual)
Trading Unit
¥1,644
16,550,534 shares
¥27,208 billion
4.7%
100 share
DPS (Est.)
Dividend Yield (Est.)
EPS (Est.)
PER (Est.)
BPS (actual)
PBR (actual)
¥30.00
1.8%
¥96.67
17.0x
¥1,107.53
1.5x
* Stock price as of the close on November 15, 2013. Number of shares at the end of the most recent quarter excluding treasury shares.
ROE and BPS are based on the actual term end amounts.
| | | | | | | |
| --- | --- | --- | --- | --- | --- | --- |
| Fiscal Year |   Net Sales   | Operating Profit | Ordinary Profit |   Net Profit   |   EPS (¥)   | Dividend (¥) |
| December 2009 | 15,124 | 620 | 735 | 332 | 20.07 | 30.00 |
| December 2010 | 17,395 | 1,705 | 1,761 | 981 | 59.30 | 30.00 |
| December 2011 | 18,502 | 1,677 | 1,830 | 1,033 | 62.45 | 30.00 |
| December 2012 | 20,699 | 1,398 | 1,680 | 825 | 49.88 | 30.00 |
| December 2013 Est. | 24,000 | 2,300 | 2,600 | 1,600 | 96.67 | 30.00 |
* Estimates are those of the Company.
This Bridge Report presents OPTEX's earnings results for the third quarter fiscal year December 2013.
 

OPTEX is a leading manufacturer of infrared ray sensors for security equipments and automatic doors. The company manufactures and sells security-related products such as outdoor sensors, for which it maintains top share of 40% in the global markets, automatic door sensors, for which it maintains a 30% share of the global markets and a 60% share of the domestic market, and environment-related products. It forms a group consisting of 21 subsidiaries and 2 affiliate companies and deals with sensors for industrial equipments through its subsidiary OPTEX FA CO., LTD. Other group companies include RAYTEC LIMITED (UK), which has attained the largest global share (about 50 %) for supplemental lights for CCTV, and FIBER SENSYS INC. (US), which deals with optical fiber intrusion detection systems. The company is also focusing on the development of solutions for large critical facilities (intrusion detection systems). The group seeks for the synergy effects from FIBER SENSYS and RAYTEC LIMITED, developing solutions for large critical facilities. OPTEX CO., LTD. has a competitive advantage in Japan and in EU, and same applies to FIBER SENSYS in North America centering US, and Middle and Near East, while RAYTEC'sales are mainly derived from UK and EU. In light of the business area, these three companies complement each other, gradually leading to the deployment in Middle East by OPTEX and development in North America, Latin America and Middle East by RAYTEC.

 

Business Description

The company is comprised of business segments such as Sensing (security-related, automatic door-related, others), FA, EMS and Others, and conducts business both in domestic and overseas markets through its 21 consolidated subsidiaries and 2 equity method affiliates. By region, Japan accounts for 35.2% of sales, North America 10.6%, Europe 34.7%, Asia 14.6% and other regions 4.9% (based on actual sales of FY12/12). Overseas sales accounts for up to 65% and sales currency is comprised of yen, dollar, pound and Euro, accounted for 53%, 18%, 13% and 15%, respectively. While China accounts for 55% of production, currency composition for the costs is yen 57%, dollar and pound 43% and settlements in yen for sales and purchases have a majority.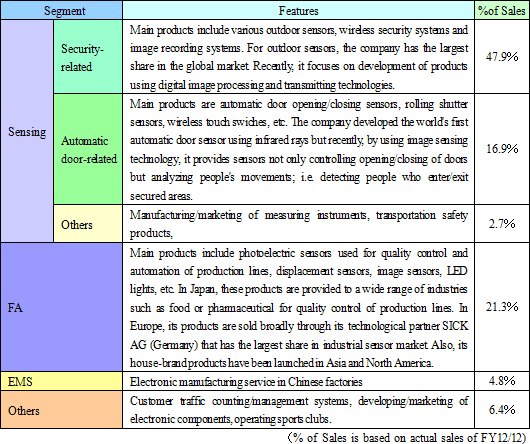 History

OPTEX was established in 1979 and developed the world's first automatic door sensors using infrared rays in the next year. Back then, most of the automatic doors were using pressure sensitive rubber mats, which contain sensors, and sensors using infrared rays were very innovative. The company also showed unrivaled abilities in product maintenance and implementation, and captured the top share in the automatic door sensors market in only three years since its inception (currently, about 60% share in the domestic market). The company expanded operations and listed on the over-the-counter market (equal to listing on JASDAQ) in 1991. Then it listed on the second section of Tokyo Stock Exchange in 2001 and moved to its first section in 2003.
In 2004, the company acquired GIKEN TRASTEM CO., LTD., which dealt with customer traffic/parked car counting and management systems, as a subsidiary. Recently, it has been working on enhancement of solutions based on image processing technologies and high-end security systems. In 2008, it acquired ZENIC INC., which specialized in contracted development of IC/LSI for image processing systems. Furthermore, it acquired FIBER SENSYS INC. (US) in 2010 and RAYTEC LIMITED (UK) in 2012 respectively. The former has abundant experience in high-end security systems (fiber-optics intrusion detection systems) for critical sites in US and Europe. The latter deals with supplemental lighting systems using infrared rays for CCTV installed in high-end security systems for large critical sites.

 


Advantages :Diversified Technologies/Expertise on Sensing and Unique Sensing Algorithm

Physical changes detected by sensors are minimal and normally unperceivable by human. Therefore, to produce precise and consistent sensors, it is essential to build on a number of elemental technologies and expertise, as well as 'algorithms' to control physical changes. The company takes advantage of its technologies/expertise suitable for intended applications and its unique sensing algorithm to secure the largest share in global market.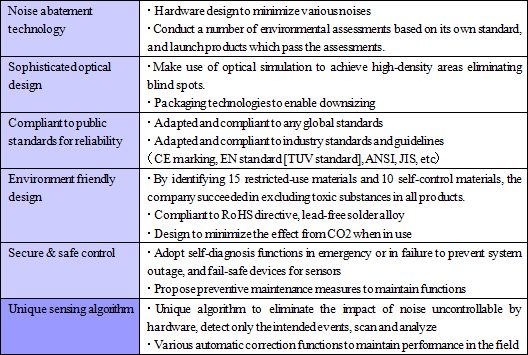 Third Quarter Fiscal Year December 2013 Earnings Results

 

Sales Up 12.6% and Operating Profit Up 87.9% Yoy

Sales were up 12.6% yoy to ¥17.226 billion. Although there was a reduction in Contract Manufacturing business at Chinese factories, the Security-related business, both domestic and international, was strong. Sales of automatic door-related products to both North America and Europe also grew steadily, with double-digit growth being recorded in both cases. The FA business was also solid.
On the profitability front, due to the impact of an increase in the gross margin ratio within the product mix (+¥418million), and of a weakening yen (+¥1,100 million), etc., gross profit increased by 20.9% over the same period to ¥8.998 billion. This was able to absorb the 11.5% increase in SG&A yoy caused by the impact on SG&A of exchange rates (-¥493 million), an increase in labor costs (¥149 million), and expenses (¥162 million), etc., resulting in a significant increase in operating profit to ¥1.715 billion.
Ordinary profits also essentially doubled due to higher foreign exchange gains (¥27 million

¥186 million), and the application of tax effective accounting boosted net profit for the quarter to 1.253 billion, which represented a 169% increase yoy.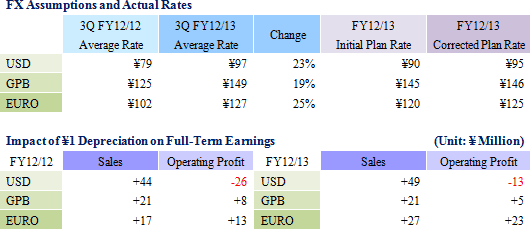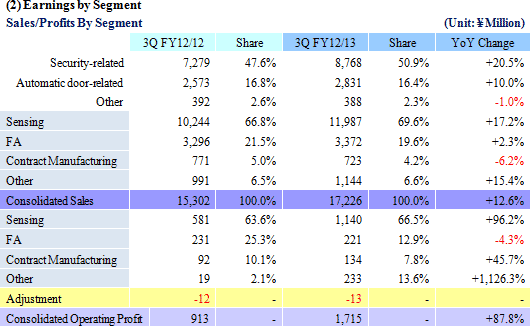 Security-related Business

Sales rose by 20.5% yoy to ¥8.768 billion. Overseas sales were up by 17% . As a result of a recovery in exports to southern Europe, etc., sales of outdoor surveillance sensors were solid. Domestically as well, sales of outdoor surveillance sensors to large critical facilities were steady, recording a 37% increase yoy.

 

Automatic Door-related Business

Sales increased by 10.0% yoy to ¥2.831 billion. Overseas sales increased 27% over the same period. Sales to North America and Europe shifted to stability.
Meanwhile, there was a slight decrease in domestic sales of -1% over the same period. However, recovery of the market is continuing gradually, with future expectations being held, including with regard to reconstruction demand.

 

FA Business

Sales finished at ¥3.372 billion up 2.3% yoy. In addition to the impact of European financial concerns, growth in demand was sluggish due to the impact of inhibited capital investment in China. This meant that overseas sales decreased 6% yoy. By contrast, domestic sales of general-purpose photoelectric sensors for the logistics industry grew by 19% yoy.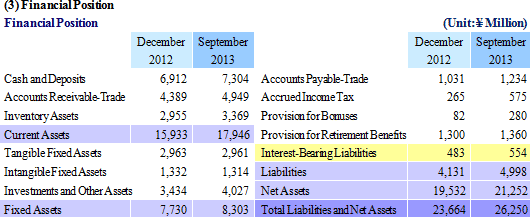 Total assets as of the end of the third quarter increased ¥2.586 billion from the end of the previous term to ¥26.250 billion. Cash and Deposits, Accounts Receivable-Trade, and Inventory Assets all increased, reflecting a robustness of orders, sales, and profits. Furthermore, due to increases in Accounts Payable-Trade, etc., liabilities increased ¥867 million. The capital ratio stood at 76.2%, which was almost an identical level to the end of the previous period. The company is virtually debt-free (Net Cash was ¥6.750 billion = Cash and Deposits - Interest-Bearing Liabilities), with both the solid financial condition and ample liquidity being evidence of the company's strength.

 

(4) Topics
◎Sale of Shares

With a handover date of September 4th, 2013, founding members of the company including Chairman, President and CEO Toru Kobayashi, along with financial institutions holding shares, sold one million common shares. The company hopes this sale of stock will lead to an expansion of share liquidity.

 

◎Establishment of Indirectly-Owned Subsidiary

OPTEX FA CO., LTD., a subsidiary of this company, established SENSOR VISION CO., LTD., a 100% subsidiary, in September of 2013.
Until now, OPTEX FA CO., LTD. only cooperated with SICK OPTEX CO., LTD., a joint venture with SICK AG LTD. (Germany) concerning the development of small photoelectric sensors. However, given the recovery of capital investment motivation both domestically and overseas, in response to strengthening user needs vis-??-vis low-cost, high-quality small photoelectric sensors, a company that could undertake development work was established to specialize in the development of unique small photoelectric sensors for this company. In order to both speed up development and realize early market introductions, it was decided as being beneficial to establish a company that specialized in undertaking development work.
In the future, commencing with Europe, this subsidiary will aim to supply the whole world with new products that are price advantageously.

 

 
Fiscal Year December 2013 Earnings Estimates

 

There are no changes to the full-term estimates. Sales up 15.9% and Operating Profit up 64.5% yoy

Currently, there are no changes to the full-term earnings estimates conducted on July 25th.
In addition to continued expectations regarding the steady growth of Security-related products to Europe, it is expected that the domestic market for Automatic door-related products will recover. Through improved profitability resulting from the effect of increased revenues, etc., compared to the previous period, operating profit ratios are expected to increase by just under three points. Combined, annual and first half dividends are expected to be ¥30 per share.

 

 

(2) Topics
◎Implementation of Organizational Changes for Further Growth

On November 13th, 2013, it was announced that organizational changes for the purpose of commencing globalization in order to achieve further growth shall be conducted as of January 1st, 2014.

(Purpose of Organizational Changes)
*To expand in order to become a more global business, and to promote a business that is more responsive to the cultures and needs of various regions of the world.
*To develop the next generation of management personnel.
*To further accelerate new business segments.

(Content of Changes)
*For the global sales structure, create an organizational system that groups the global sales divisions into the four regional domains of "Europe/Middle East/Africa," "the Americas," "Asia/Pan-Pacific," and "Japan." Develop the "localizing of regional strategies," and bring about active creation of locally-developed business plans.
*For each business segment, continue to establish "business units" that exercise consistent planning, marketing, and development; and while ensuring the consistency of the business roadmaps held by these units, conduct operations via a "business and regional matrix" that facilitates quick and efficient decision-making, as well as implementation for product development purposes.

(1) Concerning OPTEX (EUROPE) LTD., which until now has acted mainly as a sales office servicing England, functional enhancement and organizational restructuring shall be conducted in order to turn it into a regional management headquarters for Europe, the Middle East, and Africa.
Furthermore, for the purpose of establishing a regional management headquarters in the Americas, the company is gearing up to reorganize the functions of an existing sales company in North America.
For Asia/Pan-Pacific, and Japan, the company shall set up different sales divisions in the Head Office to strengthen activities.
To oversee and manage everything, the company will set up a Global Sales Headquarters in the Head Office.

(2) Within the Corporate Business Management Headquarters, establish the SEC (Security) Business Division, the ETR (Entrance) Business Division, and the SSI (Security Sensing Innovation) Business Division. Furthermore, deploy consistent strategies within the existing core businesses and aim to further expand them.

(3) Within the Corporate Business Strategy Headquarters, establish the NSS (Next Social Solution) Business Division, and build pillars for new businesses based on a medium/long-term outlook.
Also, integrate strategy and promotion functions for the entire group in the same Corporate Business Strategy Headquarters.

(4) Across the company, cross-functional management processes, including production strategy and quality management, etc., will be handled in the Administrative Headquarters. The company will aim to improve customer satisfaction, strengthen management foundations, and maximize corporate value.

 

 
 

Business seems to be progressing well in accordance with the company's plans. Although there is a sense that domestic sales of automatic door-related products are somewhat slow, due to apparent reconstruction demand and a heightening of motivation regarding infrastructure investment, etc., there are future expectations that a sharply increasing sales curve might be drawn.
While it is felt that domestic and international security needs will continue to increase steadily, the "hosting of the 2020 Olympics in Tokyo," decided upon in October this year, has the potential to be a significant additional boost.
Against the backcloth of future infrastructure development allowing for the peaceful, safe and comfortable holding of the Tokyo Olympics, in that security infrastructure and automatic doors represent indispensable facilities, without a doubt there will be a wider opportunity for this company to act. Of course, the details still need to be decided upon, however, as a medium-term theme, the company would also like to place emphasis on the development of markets in newly-developing countries.

 

Disclaimer

This report is intended solely for information purposes, and is not intended as a solicitation to invest in the shares of this company. The information and opinions contained within this report are based on data made publicly available by the Company, and comes from sources that we judge to be reliable. However we cannot guarantee the accuracy or completeness of the data. This report is not a guarantee of the accuracy, completeness or validity of said information and or opinions, nor do we bear any responsibility for the same. All rights pertaining to this report belong to Investment Bridge Co., Ltd., which may change the contents thereof at any time without prior notice. All investment decisions are the responsibility of the individual and should be made only after proper consideration.

Copyright(C) 2013 Investment Bridge Co., Ltd. All Rights Reserved.