Toru Kobayashi
Chairman, President and CEO
| | |
| --- | --- |
| Company | OPTEX CO., LTD. |
| Code No. | 6914 |
| Exchange | TSE 1st Section |
| Industry | Electric equipment (manufacturer) |
| President | Toru Kobayashi |
| HQ Address | 5-8-12, Ogoto Otsu, Shiga |
| Year-end | December |
| URL | |
Share Price
Shares Outstanding
Market Cap.
ROE (actual)
Trading Unit
¥1,584
16,549,994 shares
¥26,125 billion
8.2%
100 share
DPS (Est.)
Dividend Yield (Est.)
EPS (Est.)
PER (Est.)
BPS (actual)
PBR (actual)
¥30.00
1.9%
¥105.74
15.0x
¥1,269.42
1.2x
* Stock price as of the close on March 4, 2014. Number of shares at the end of the most recent quarter excluding treasury shares.
| | | | | | | |
| --- | --- | --- | --- | --- | --- | --- |
| Fiscal Year |   Net Sales   | Operating Profit | Ordinary Profit |   Net Profit   |   EPS (¥)   | Dividend (¥) |
| December 2010 | 17,395 | 1,705 | 1,761 | 981 | 59.30 | 30.00 |
| December 2011 | 18,502 | 1,677 | 1,830 | 1,033 | 62.45 | 30.00 |
| December 2012 | 20,699 | 1,398 | 1,680 | 825 | 49.88 | 30.00 |
| December 2013 | 23,582 | 2,108 | 2,628 | 1,620 | 97.90 | 30.00 |
| December 2014 Est. | 26,700 | 2,600 | 2,700 | 1,750 | 105.74 | 30.00 |
* Estimates are those of the Company.
This Bridge Report presents OPTEX's earnings results for the fiscal year December 2013.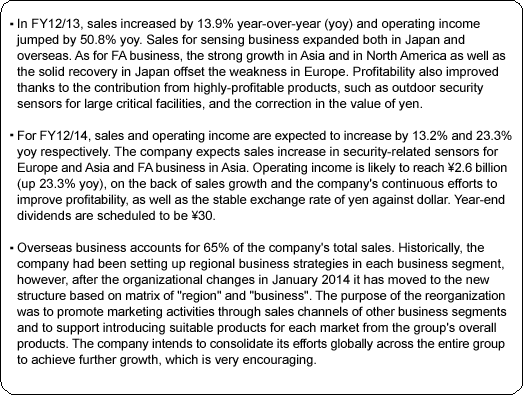 OPTEX is a leading manufacturer of infrared ray sensors for security equipments and automatic doors. The company manufactures and sells security-related products such as outdoor sensors, for which it maintains top share of 40% in the global markets, automatic door sensors, for which it maintains a 30% share of the global markets and a 60% share of the domestic market, and environment-related products. It forms a group consisting of 22 subsidiaries and 2 affiliate companies and deals with sensors for industrial equipments through its subsidiary OPTEX FA CO., LTD. Other group companies include RAYTEC LIMITED (UK), which has attained the largest global share (about 50%) for supplemental lights for CCTV, and FIBER SENSYS INC. (US), which deals with optical fiber intrusion detection systems. The company is also focusing on the development of solutions for large critical facilities (intrusion detection systems). The group seeks for the synergy effects from FIBER SENSYS and RAYTEC LIMITED, developing solutions for large critical facilities. OPTEX CO., LTD. has a competitive advantage in Japan and in EU, and same applies to FIBER SENSYS in North America centering US, and Middle and Near East, while RAYTEC'sales are mainly derived from UK and EU. In light of the business area, these three companies complement each other, gradually leading to the deployment in Middle East by OPTEX and development in North America, Latin America and Middle East by RAYTEC.

 
Business Description
The company is comprised of business segments such as Sensing (security-related, automatic door-related, others), FA, EMS and Others, and conducts business both in domestic and overseas markets through its 21 consolidated subsidiaries and 2 equity method affiliates. By region, Japan accounts for 35% of sales, North America 11%, Europe 35%, Asia 15% and other regions below 5%. Overseas sales accounts for up to 65% and sales currency is comprised of yen, dollar, pound, Euro and others, accounted for 52%, 18%, 12%, 15% and 3%, respectively. While China accounts for 55% of production, domestic cooperating factories 45% as remainder. Currency composition for the costs is yen 46%, dollar and pound 54%. (The above amounts are based on actual sales of FY12/13.)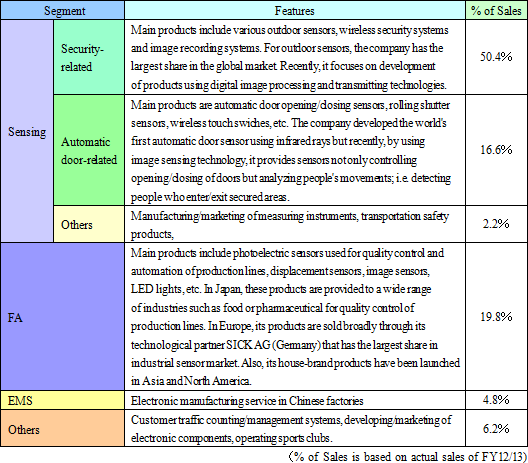 Advantages :Diversified Technologies/Expertise on Sensing and Unique Sensing Algorithm
Physical changes detected by sensors are minimal and normally unperceivable by human. Therefore, to produce precise and consistent sensors, it is essential to build on a number of elemental technologies and expertise, as well as 'algorithms' to control physical changes. The company takes advantage of its technologies/expertise suitable for intended applications and its unique sensing algorithm to secure the largest share in global market.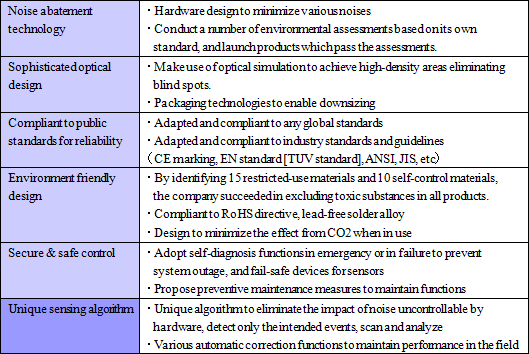 History
OPTEX was established in 1979 and developed the world's first automatic door sensors using infrared rays in the next year. Back then, most of the automatic doors were using pressure sensitive rubber mats, which contain sensors, and sensors using infrared rays were very innovative. The company also showed unrivaled abilities in product maintenance and implementation, and captured the top share in the automatic door sensors market in only three years since its inception (currently, about 60% share in the domestic market). The company expanded operations and listed on the over-the-counter market (equal to listing on JASDAQ) in 1991. Then it listed on the second section of Tokyo Stock Exchange in 2001 and moved to its first section in 2003.
In 2004, the company acquired GIKEN TRASTEM CO., LTD., which dealt with customer traffic/parked car counting and management systems, as a subsidiary. Recently, it has been working on enhancement of solutions based on image processing technologies and high-end security systems. In 2008, it acquired ZENIC INC., which specialized in contracted development of IC/LSI for image processing systems. Furthermore, it acquired FIBER SENSYS INC. (US) in 2010 and RAYTEC LIMITED (UK) in 2012 respectively. The former has abundant experience in high-end security systems (fiber-optics intrusion detection systems) for critical sites in US and Europe. The latter deals with supplemental lighting systems using infrared rays for CCTV installed in high-end security systems for large critical sites.

 

Growth Strategy and Progress
 

The company's business policy is "to strengthen its competence by doubling productivity" and "to achieve its business targets with a particular focus on expanding profits". It then strives its growth strategy in line with its "matrix of business development"' In this matrix, the company presents its business targets such as (1) expansion of core businesses, (2) development of new applications, (3) exploitation of emerging markets, (4) entry into new business areas, to be achieved through market and product development.

The near-term target is to achieve sales of more than ¥30 billion and ordinary profit of more than ¥4.1 billion in FY12/15. While the above (4) is a medium-term target, the company has already making some progress for the other three targets.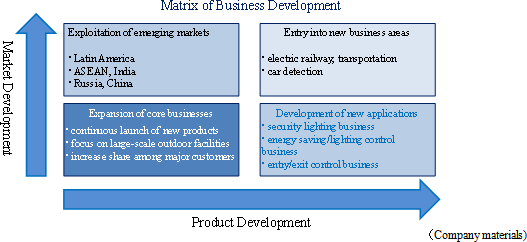 (1) Expansion of Core Businesses - Strengthen product line-up and seek added value through rollout of new products

According to World Market for Intruder Alarms 2011 Edition (IMS research), global security market (intrusion detection) is growing at the steady pace of 5.0% p.a. and the current market size is $2.7-2.8 billion (¥270-280 billion). Sub-market for sensors is estimated to be around $1 billion.

The company launched new products both in low-end commodity zone and in high-value-added differentiated zone in security-related and automatic door-related businesses, in order to respond to broader needs and to provide added-value. In FY 12/13, it launched 22 different new products mainly in security-related area and also received new orders for outdoor sensors from large critical facilities in Japan.

 

(2) Development of New Applications - Focus on capturing needs for lighting with the spread of security cameras

World Market for Intruder Alarms 2011 Edition (IMS research) reported that security camera market has been growing steadily at the annual rate of 13%, driven mainly by Network (IP) cameras, and the market size is expected to expand from $4 billion in 2010 to more than $7 billion in 2015. Market growth of IP camera has been driven by demand for IC's in smaller-size and with higher-resolution, which also has a negative effect that the amount of light each IC can receive has decreased. To offset this disadvantage, supplemental lighting has become indispensable for security cameras.

In this regard, the company strives to foster security-related lighting business as a part of new application development. In this business, the company can utilize existing technologies within its group, such as lightings, sensors and image processing software (advanced software is vital to capture clear images). The company's UK subsidiary RAYTEC, which has the largest share of 50% in global supplemental lighting market, deals with supplemental lightings for CCTV cameras. Its products contribute to achieve higher resolution of images taken by these cameras and have been adopted by a number of large critical facilities. In Japan, OPTEX has launched sensor lights (lighting with dimming control functions) which detect intruders by sensors and issue warning by light. These products are being adopted by parking lots.

 

 

(3) Exploitation of Emerging Markets - "Current status of Security Market"

Security needs in emerging counties and resource-rich nations remain robust. According to World Market for Intruder Alarms 2011 Edition (IMS research), the average growth rate of security market from 2010 to 2015 is estimated to be 16.9% in Brazil, 13.7% in China and Hong Kong, and 13.5% in India.
In Brazil, a locally incorporated company by OPTEX has started expanding sales, and in India, its joint venture is now drawing up specs for governmental projects. In addition to these two countries, the company plans to launch products to match local market environment and to accelerate marketing activities in Southeast Asia and China.

 

Activities in Brazil

OPTEX established a locally incorporated company in Sao Paulo in December 2012, and started selling security products provided by its group company to large critical facilities. In FY 12/13, the company received orders for high-end security projects from oil refining facilities in Colombia/Mexico and an airport in Mexico, resulting in 45% increase in sales from the previous year. In Brazil, the number of large projects is expected to increase in approach to 2016 Olympic Games.

 

Activities in India

The company set up a joint venture in the suburb of Delhi in December 2012 and started drawing up specs for governmental projects in collaboration with a local system integrator (SIer). It is now launching door-to-door sales route to expand sales of home security products and is developing new products to match local culture and customs.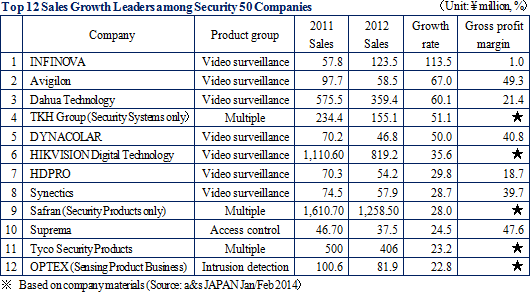 Fiscal Year December 2013 Earnings Results

 

Sales Reached New Record High: Operating Profit Up by 150% due to Weaker Yen and Growth of Profitable Products

Sales for FY 12/13 rose 13.9% yoy to ¥23.582 billion and reached new record high. Domestic sales increased 12.4% driven by security-related business (sensing), where the company received new orders for outdoor sensors from large critical facilities, and FA business, which enjoyed a benefit from the recovery in capital spending. Overseas sales also grew by 14.8%, on the back of strong sales of automatic-door related sensors to major automatic door manufacturers and weakening of yen.

In terms of profits, operating profit surged by 50.8% yoy to ¥2.108 billion. Sales growth (¥125 million), the correction of yen appreciation (¥567 million), and the improvement of sales cost ratio (¥534 million) due to better sales mix for relatively profitable outdoor sensors absorbed increases in labor cost and variable cost. Net profit expanded by 96.3% to ¥1.620 billion thanks to larger interest income/dividend and foreign exchange profit as well as the positive effect from deferred tax accounting.
Capital spending turned out to be ¥444 million (¥514 million in FY 12/12), which was in line with normal year. As for operating expenses, the company booked ¥469 million (¥538 million in FY 12/12) for depreciation cost and ¥1.735 billion (¥1.722 billion in FY 12/12) for R&D cost.

 

 

Looking at the company's sales by region, domestic sales account for 35% and overseas sales 65% (of which US is 11%, Europe 35%, Asia15%). By currency, yen-denominated sales account for 52% and local currency-denominated sales 48% (of which USD 18%, Euro 15%, GBP 12%, other currencies including Korean won 3%). Settlement currencies for overseas sales in Europe, North and South Americas (now mainly US), Asia/Oceania (sales to local distributors) are now being switched from yen to local currencies. Local currency is already used for the settlement with sales subsidiary companies in Europe. Meanwhile, 55% of the company's production facilities are in China, and the remaining 45% are allied factories in Japan. The company purchases products from Chinese factories in USD. Looking at costs by currency, 54% is denominated in USD/GBP and 46% in yen.

In FY 12/13, exchange rates of yen against major currencies have weakened by 21-26% compared to FY 12/12. As a result, yen-denominated gross profit was pushed up by ¥1.26 billion. On the other hand, yen-denominated purchasing costs and SG&A at overseas subsidiaries increased by ¥693 million. As part of the purchasing cost is denominated in USD, depreciation of yen against dollar caused a negative effect on profit. However, weaker yen against GBP and Euro boosted profit by ¥567 million.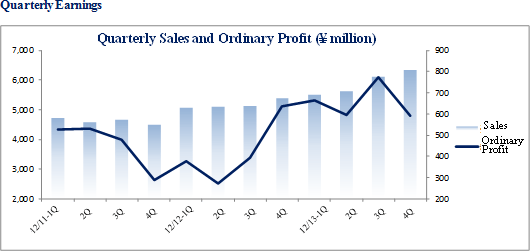 As the above chart shows, the company's sales are growing at a solid pace and strong earnings momentum continues. Although profits shrunk in 2Q and 4Q despite of the strong sales growth, it happened only temporarily due to the shift in sales mix and swings in R&D cost. The impact was particularly big in 4Q of FY 12/13, but it is unlikely to be the profit trends after FY 12/14.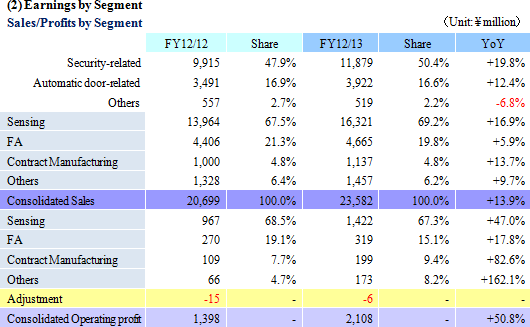 Sensing Business

Sales rose 16.9% yoy to ¥16.321 billion and segment profit increased 47.0% yoy to ¥1.422 billion in this segment. Of this, ¥11.879 billion came from security-related business (up 19.8% yoy). Domestic sales for this business rose 29%, on the back of robust sales to security companies as well as additional orders for outdoor sensors from large critical facilities. Overseas sales were also strong, recording growth in every region. Sales in Europe expanded significantly by 24% thanks to strong sales of outdoor sensors for ordinary homes in Southern Europe. Sales in North America, Asia and other regions also rose by 14%, 9% and 9% respectively. This was partly supported by yen's depreciation, but largely driven by growing security needs from wealthier segments globally in the middle of widening economic disparity.

Automatic door-related sales rose 12.4% to ¥3.922 billion. Domestic sales remained unchanged from the previous year due mainly to a delay in construction work caused by short of manpower. However, reconstruction demand and last-minute demand before the rise of consumption tax in April have become apparent since 3Q (Jul-Sep). Overseas sales increased, as the company's sensors for automatic doors were evaluated positively (for their safely and credibility) by leading automatic door manufacturers in North America and Europe. By region, sales in North America grew by 39% and Europe, Asia and other regions also expanded by 27%, 20% and 17% respectively.

 

FA Business

Sales finished at ¥4.665 billion (up 5.9% yoy) and segment profit at ¥319 million (up 17.8% yoy). Domestic sales increased 24% due to a recovery in capital spending by logistics, machine tools and automobile industries. Sales of both general-purpose equipments and application equipments grew significantly. Meanwhile, sales of application equipments remained robust in Asia and North America, but sales of general-purpose equipments to SICK (Germany) slumped because of a delay in economic recovery in this region. Sales in North America and Asia increased 11% and 4% respectively, while sales in Europe dropped 5%.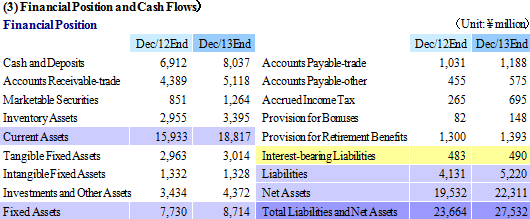 Total assets as of the end of FY 12/13 increased ¥3.868 billion from the previous term to ¥27.532 billion. Cash and deposits increased reflecting the abundant cash flow and marketable/investment securities also expanded due to an increase in surplus fund. Furthermore, accounts receivable-trade, inventory assets, accounts payable-trade as well as net assets increased thanks to a recovery in order/sales. Other notable changes regarding net assets are (1) higher retained earnings (2) currency adjustment account recording valuation profit of ¥623 million compared to loss of ¥803 million in the previous term. The most of the company's assets are highly liquid and the company is virtually debt-free with very low level of interest-bearing liabilities. Capital ratio was 76.3%.

 

 

Cash flow from operating activities increased in accordance with an increase in profit. Cash flow from investment activities grew due to the more active investment of surplus fund (marketable/investment securities purchased). Free cash flow turned out to be ¥922 million, but the actual surplus is estimated to be more than ¥2 billion.

 

 
Fiscal Year December 2014 Earnings Estimates
 

The company's management policy for FY 12/14 is to create "the New", which means continuing to build the base for the new OPTEX and to create businesses that will contribute to achieve at least 15% of sales growth.

 

 

Sales and Operating Profit Up 13.2% and 23.3% yoy

Sales are expected to increase 13.2% yoy to ¥26.7 billion. Sensing business in Europe and Asia (driven by security-related products) and FA business in Asia are likely to grow. In terms of profits, operating profit is expected to expand 23.3% yoy to ¥2.6 billion, thanks to an increase in sales and the company's continuous efforts to improve profitability, as well as the stabilization of yen rate against dollar. On the other hand, the company assumes ordinary profit to grow only by 2.7% as foreign exchange profits are unlikely to be gained. Yen is expected to be only slightly weaker against dollar compared to the previous term, and the positive impact on earnings should be minimal. The company normally allocates ¥400-500 million to capital spending, however, it now pencils in about ¥1 billion in FY 12/14 in order to refurbish a plant in China.

Annual dividends are scheduled to be ¥30 per share, comprising an interim and year-end dividend each ¥15 (dividend payout ratio is estimated to be 28.4%). In determining dividends, the company follows the basic policy of distributing profits according to earnings, takes into account the strengthening of its financial ground in preparation for the future business developments and carefully weighs the balance between internal reserves and the stable and sustainable profit sharing.

 

 

(2) Promote "Localization of Regional Strategy Planning"

The company pushed through the organizational changes in order to achieve "Localization of Regional Strategy Planning", and the new organizational structure took effect as of FY 12/14. Key changes are (1) Move to an organizational structure that groups the global sales divisions into four regional domains: "Europe/Middle East/Africa" "North/South America" "Asia" and "Japan" (2) Establishment of the organizational structure where each "Business unit" (Security, Automatic door, etc.) conducts marketing, product planning and developing in a consistent way under the control of "Corporate Business Management Headquarters" to support the above four regional domains horizontally (3) Establishment of "Corporate Business Strategy Headquarters" to create new business opportunities based on the mid- and long-term standpoint and promote strategic plans for the overall group. The company intends to accelerate the global business expansion and the development of businesses to match regional cultures and needs under the new organization.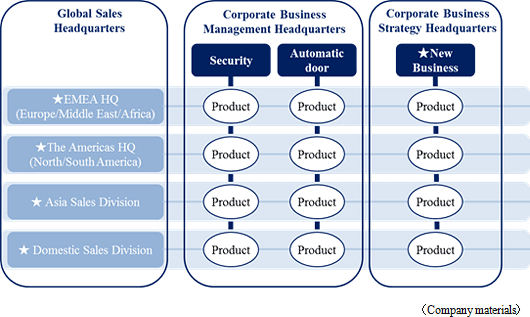 After the organizational changes in January 2014, the company moved to the new structure, where its global sales divisions are grouped into four domains ("Europe/Middle East/Africa" "North/South America" "Asia" and "Japan"). The purpose of this move is to expand market shares in Europe and US, and to understand / match the market environments and specific needs in emerging markets. These markets have relatively high growth potential and are different from advanced markets. Furthermore, each "Business Unit" conducts product planning, marketing and development in a consistent way and then provides horizontal support to the above four regional domains. This will enable the drawing-up of consistent business road maps as well as quick and efficient decision-making or execution of product development.
The company has been implementing its regional strategies by business segment, but it is now seeking group synergy under the new structure using matrix of "business" and "region" and tries to provide a wide range of proposals utilizing other segments' sales channels and existing products offered by its group companies in order to meet the unique market characteristics of each location. It intends to consolidate its efforts globally across the entire group to achieve further growth, which is very encouraging.

 

Disclaimer

This report is intended solely for information purposes, and is not intended as a solicitation to invest in the shares of this company. The information and opinions contained within this report are based on data made publicly available by the Company, and comes from sources that we judge to be reliable. However we cannot guarantee the accuracy or completeness of the data. This report is not a guarantee of the accuracy, completeness or validity of said information and or opinions, nor do we bear any responsibility for the same. All rights pertaining to this report belong to Investment Bridge Co., Ltd., which may change the contents thereof at any time without prior notice. All investment decisions are the responsibility of the individual and should be made only after proper consideration.

Copyright(C) 2014 Investment Bridge Co., Ltd. All Rights Reserved.