Toru Kobayashi
Chairman, President and CEO
| | |
| --- | --- |
| Company | OPTEX CO., LTD. |
| Code No. | 6914 |
| Exchange | TSE 1st Section |
| Industry | Electric equipment (manufacturer) |
| President | Toru Kobayashi |
| HQ Address | 5-8-12, Ogoto Otsu, Shiga |
| Year-end | December |
| URL | |
Share Price
Shares Outstanding
Market Cap.
ROE (actual)
Trading Unit
¥1,999
16,549,774 shares
¥33,082 billion
8.2%
100 share
DPS (Est.)
Dividend Yield (Est.)
EPS (Est.)
PER (Est.)
BPS (actual)
PBR (actual)
¥35.00
1.8%
¥111.78
17.8x
¥1,269.42
1.6x
* Stock price as of the close on June 16, 2014. Number of shares at the end of the most recent quarter excluding treasury shares.
| | | | | | | |
| --- | --- | --- | --- | --- | --- | --- |
| Fiscal Year |   Net Sales   | Operating Profit | Ordinary Profit |   Net Profit   |   EPS (¥)   | Dividend (¥) |
| December 2010 | 17,395 | 1,705 | 1,761 | 981 | 59.30 | 30.00 |
| December 2011 | 18,502 | 1,677 | 1,830 | 1,033 | 62.45 | 30.00 |
| December 2012 | 20,699 | 1,398 | 1,680 | 825 | 49.88 | 30.00 |
| December 2013 | 23,582 | 2,108 | 2,628 | 1,620 | 97.90 | 30.00 |
| December 2014 Est. | 26,700 | 2,900 | 3,000 | 1,850 | 111.78 | 35.00 |
* Estimates are those of the Company.
This Bridge Report presents OPTEX's earnings results for 1Q of the fiscal year December 2014.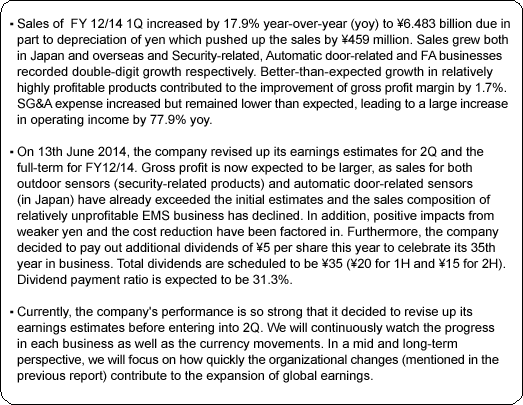 OPTEX is a leading manufacturer of sensors such as infrared ray sensors for security equipments and automatic doors. In addition to its flagship products such as outdoor security sensors (its global share is 40 %) and automatic door sensor (domestic share of 60%), the company also engages in manufacturing and distributing environment-related products. The entire group is comprised of 22 subsidiaries and 2 affiliated companies. Its main subsidiaries include OPTEX FA Co., Ltd.., which deals with sensors for industrial equipments, FIBER SENSYS Inc. (US), which develops fiber sensor intrusion detection systems, and RAYTEC Ltd. (UK), which maintains global top share of 50% for supplemental lights for camera.
In coordination with FYBER SENSYS and RAYTEC, the company has developed solutions for large critical facilities (intrusion detection systems), by combining strength of these two companies. Moreover, OPTEX (has a strong presence in Japan and Europe), FYBER SENSYS (its home ground is Americas, especially North America, and Middle East etc.), and RAYTEC (most of its sales derive from UK and EU countries) can complement each other in terms of business areas. This is making some achievement in business activities utilizing the group's distribution channels, such as penetration into Middle East market by OPTEX or into North/South Americas and Middle East by RAYTEC.

 
Business Description
The company's business is divided into Sensing (security-related, automatic door-related, and others), FA, EMS and Others. The description and the share in total sales of each business are shown in the table below. By region, Japan accounts for 35% of total sales, North America 11%, Europe 35%, Asia 15% and other regions 4%. 52 % of sales is denominated in yen, 18% in USD, 12 % in GBP, 15% in Euro, 3% in other currencies. Meanwhile, 55% of the company's products are manufactured in China and the remaining 45% is produced in affiliated factories in Japan. As for cost of sales, 54% is in USD/GBP and 46% is in yen (both are FY 12/13 actual figures).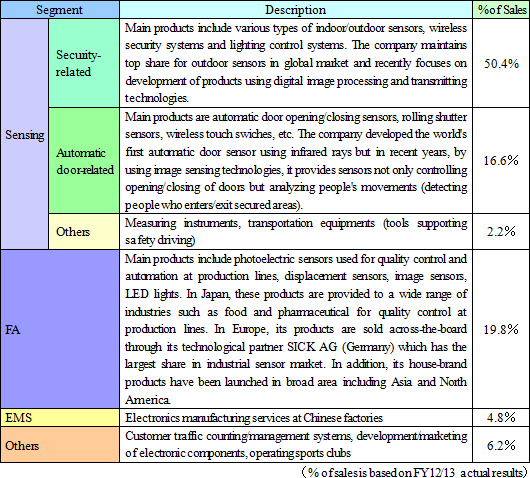 First Quarter Fiscal Year December 2014 Earnings Results

 

Each Business Expanded Both in Japan and Overseas Recording Double-Digit Earnings

Sales increased by 17.9% yoy to ¥6.483 billion due in part to depreciation of yen which pushed up the sales by ¥459 million. Sales grew both in Japan and overseas and Security-related, Automatic related and FA businesses recorded double-digit growth respectively. Better-than-expected growth in relatively highly profitable products, such as security-related products and sensors manufactured by its subsidiary Giken Trastem Co., Ltd., contributed to the increase in gross profit by 21.8% yoy and the improvement of gross profit margin by 1.7%.
Although SG&A expense increased by 8.7% yoy (labor, overhead and R&D expenses rose 14%, 5% and 2% yoy respectively), it remained lower than expected, resulting in a large increase in operating income by 77.9% yoy
Ordinary income expanded by 50.3% yoy to ¥998 million after the elimination of FX profit of ¥82 million from 1Q of FY12/13 and the newly incurred FX loss of ¥41 million related to non-operating expense.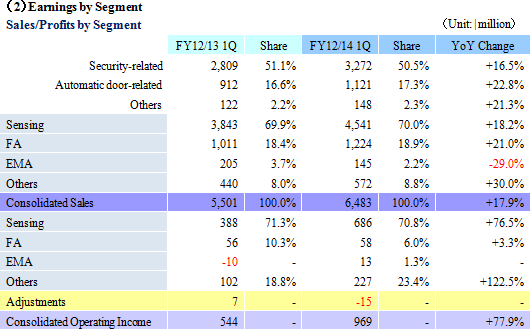 Sensing Business

Sales increased by 18.2% yoy to ¥ 4.541 billion and operating income surged by 76.5% yoy to ¥ 686 million in this segment.
Security-related sales expanded by 16.5% to ¥ 3.272 billion. In Japan, sales for security companies grew at the solid pace and recorded 5% increase from the previous year. Looking at overseas business, the sales subsidiary in Europe, the distributor in Italy and the sales subsidiary in South Korea achieved strong performance. Sales growth rate for each region was generally strong: 14% yoy in North America, 16% in Europe, 47% in Asia.

Automatic door-related sales recorded ¥ 1.121 billion (up 22.8% yoy). Domestic sales exceeded the 1Q of the previous term due mainly to the last minute demand before the consumption-tax hike in April. Overseas sales were also strong including the sales subsidiary in Netherland and the sales growth rate was 20% yoy in North America and 57% in Europe.

 

FA Business

Sales reached¥1.224 billion (up 21.0% yoy) while the segment profit recorded ¥58 million (up 3.3% yoy).
Domestic sales expanded by 21% on the back of the upward capital spending in logistics, machine tools and automobile industries. Meanwhile, overseas business recorded solid performance with an increase in sales for SICK (Germany) and for China. By region, sales increased by 16% in Europe and even larger 60% in Asia.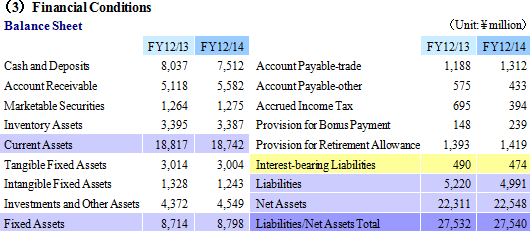 Current assets shrunk by ¥ 75 million compared to the end of previous term due to a decrease in cash and deposits after the payment of dividends and income tax despite an increase in account receivable.
Total assets remain virtually unchanged at ¥ 27.54 billion, as a decrease in intangible fixed assets (due to the depreciation of goodwill) was almost offset by an increase of ¥ 84 million in fixed assets (more investment securities etc.).
While account receivable-trade grew larger, accrued income tax was lower after the payment of income tax, resulting in a decrease in total liabilities by ¥ 229 million from the previous term.
As a result, capital ratio reached 76.8% which is 0.5% higher than the end of previous term.

 

(4) Topics

Ministry of Economy, Trade and Industry has identified 100 companies as "Global Niche Top 100". These are the companies focusing on the exploitation of international markets, where they maintain large shares in niche areas and establish good management practices. OPTEX has been selected to one of them.

METI, when assessing the companies, set up standards for selection based on 1) achievement of top-class global share and profit, 2) creativity and independence, 3) countermeasures to substitution risk, and 4) sustainability of global share. It intends to take support measures for existing and potential Global Niche Top 100 companies in accordance with "Strategy for the revitalization of Japan: JAPAN is BACK" approved by the Cabinet in June 2013.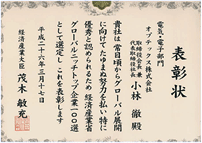 Fiscal Year December 2014 Earnings Estimates

 

Upward Revision to Earnings Estimates and Memorial Dividend Payments

On 13th June 2014, the company revised up its earnings estimates for 2Q and the full-term for FY12/14. Gross profit is now expected to be larger, as sales for both outdoor sensors (security-related products) and automatic door-related sensors (in Japan) have already exceeded the initial estimates and the sales composition of relatively unprofitable EMS business has declined. In addition, positive impacts from weaker yen and the cost reduction should push up operating profit, ordinary profit and net profit above the initial estimates respectively.
Furthermore, the company decided to pay out additional dividends of ¥5 per share at the end of 2Q to celebrate its 35th year in business. Total dividends for the year are scheduled to be ¥35 (¥20 for 1H and ¥15 for 2H). Dividend payment ratio is now expected to be 31.3%.

 

 
 

Currently, the company's performance is so strong that it decided to revise up its earnings estimates before entering into 2Q. We will continuously watch the progress in each business as well as the currency movements.
In a mid and long-term perspective, we will focus on how quickly the organizational changes (mentioned in the previous report) contribute to the expansion of global earnings.

 

Disclaimer

This report is intended solely for information purposes, and is not intended as a solicitation to invest in the shares of this company. The information and opinions contained within this report are based on data made publicly available by the Company, and comes from sources that we judge to be reliable. However we cannot guarantee the accuracy or completeness of the data. This report is not a guarantee of the accuracy, completeness or validity of said information and or opinions, nor do we bear any responsibility for the same. All rights pertaining to this report belong to Investment Bridge Co., Ltd., which may change the contents thereof at any time without prior notice. All investment decisions are the responsibility of the individual and should be made only after proper consideration.

Copyright(C) 2014 Investment Bridge Co., Ltd. All Rights Reserved.