Toru Kobayashi
Chairman, President and CEO
| | |
| --- | --- |
| Company | OPTEX CO., LTD. |
| Code No. | 6914 |
| Exchange | TSE 1st Section |
| Industry | Electric equipment (manufacturer) |
| President | Toru Kobayashi |
| HQ Address | 5-8-12, Ogoto Otsu, Shiga |
| Year-end | December |
| URL | |
Share Price
Shares Outstanding
Market Cap.
ROE (actual)
Trading Unit
¥2,092
16,549,529 shares
¥34,622 billion
8.2%
100 share
DPS (Est.)
Dividend Yield (Est.)
EPS (Est.)
PER (Est.)
BPS (actual)
PBR (actual)
¥35.00
1.4%
¥111.78
18.7x
¥1,269.42
1.6x
* Stock price as of the close on August 6, 2014. Number of shares at the end of the most recent quarter excluding treasury shares.
| | | | | | | |
| --- | --- | --- | --- | --- | --- | --- |
| Fiscal Year |   Net Sales   | Operating Profit | Ordinary Profit |   Net Profit   |   EPS (¥)   | Dividend (¥) |
| December 2010 | 17,395 | 1,705 | 1,761 | 981 | 59.30 | 30.00 |
| December 2011 | 18,502 | 1,677 | 1,830 | 1,033 | 62.45 | 30.00 |
| December 2012 | 20,699 | 1,398 | 1,680 | 825 | 49.88 | 30.00 |
| December 2013 | 23,582 | 2,108 | 2,628 | 1,620 | 97.90 | 30.00 |
| December 2014 Est. | 26,700 | 2,900 | 3,000 | 1,850 | 111.78 | 35.00 |
* Estimates are those of the Company.
This Bridge Report presents OPTEX's earnings results for the first half of fiscal year December 2014.
 

OPTEX is a leading manufacturer of infrared ray sensors for security equipments and automatic doors. The company manufactures and sells security-related products such as outdoor sensors, for which it maintains top share of 40% in the global markets, automatic door sensors, for which it maintains a 30% share of the global markets and a 60% share of the domestic market, and environment-related products. OPTEX deals with sensors for industrial equipments through its subsidiary OPTEX FA CO., LTD. Other group companies include RAYTEC LIMITED (UK), which has attained the largest global share (about 50 %) for supplemental lights for CCTV, and FIBER SENSYS INC. (US), which deals with optical fiber intrusion detection systems. The company is also focusing on the development of solutions for large critical facilities (intrusion detection systems). The group seeks for the synergy effects from FIBER SENSYS and RAYTEC LIMITED, developing solutions for large critical facilities. OPTEX CO., LTD. has a competitive advantage in Japan and in EU, and same applies to FIBER SENSYS in North America centering US, and Middle and Near East, while RAYTEC'sales are mainly derived from UK and EU. In light of the business area, these three companies complement each other, gradually leading to the deployment in Middle East by OPTEX and development in North America, Latin America and Middle East by RAYTEC.

 
Business Description
The company is comprised of business segments such as Sensing (security-related, automatic door-related, others), FA(sensors used for industrial equipment), EMS (in Chinese factories) and Others, as follows,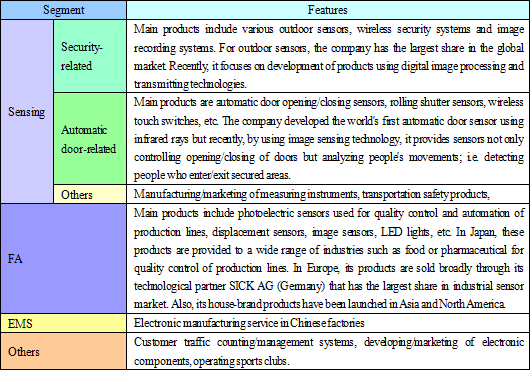 Advantages : Diversified Technologies/Expertise on Sensing and Unique Sensing Algorithm
Physical changes detected by sensors are minimal and normally unperceivable by human. Therefore, to produce precise and consistent sensors, it is essential to build on a number of elemental technologies and expertise, as well as 'algorithms' to control physical changes. The company takes advantage of its technologies/expertise suitable for intended applications and its unique sensing algorithm to secure the largest share in global market.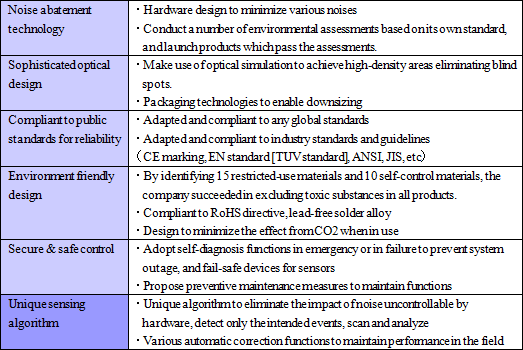 History
OPTEX was established in 1979 and developed the world's first automatic door sensors using infrared rays in the next year. Back then, most of the automatic doors were using pressure sensitive rubber mats, which contain sensors, and sensors using infrared rays were very innovative. The company also showed unrivaled abilities in product maintenance and implementation, and captured the top share in the automatic door sensors market in only three years since its inception (currently, about 60% share in the domestic market). The company expanded operations and listed on the over-the-counter market (equal to listing on JASDAQ) in 1991. Then it listed on the second section of Tokyo Stock Exchange in 2001 and moved to its first section in 2003.
Recently, it has been working on enhancement of solutions based on image processing technologies and high-end security systems. In 2008, it acquired ZENIC INC., which specialized in contracted development of IC/LSI for image processing systems. Furthermore, it acquired FIBER SENSYS INC. (US) in 2010 and RAYTEC LIMITED (UK) in 2012 respectively. The former has abundant experience in high-end security systems (fiber-optics intrusion detection systems) for critical sites in US and Europe. The latter deals with supplemental lighting systems using infrared rays for CCTV installed in high-end security systems for large critical sites.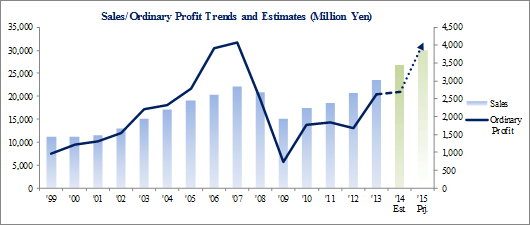 Fiscal Year December 2014 1H Earnings Results

 

Sales Up 12.5% yoy and Ordinary Profit Up 12.9%

Sales for 1H rose 12.5% to ¥12.517 billion. Overseas sales increased 15% due to the correction to yen exchange rate, especially in Europe (up 19% yoy), and domestic sales also increased 8% yoy driven by strong FA Business. Three main business segments recorded double-digit sales growth: Security-related grew 13%, Automatic door-related 15% and FA 17% respectively.

In terms of profitability, the company benefited from the weakening yen and the better sales mix (higher share of profitable Sensing business and lower share of EMS business), which pushed up the cost ratio by 1.3 pp to 46.2%. This has absorbed an increase in expenses at overseas subsidiaries and labor costs as well as an increase in SG&A costs including the sett-up costs of integrated Sales Head Quarters in four main areas under the new organization, exhibition-related expenses in US and UK and various expenses at a joint venture established by a subsidiary. As a result, operating profit rose by 38.8% yoy to ¥1.380 million. On the other hand, ordinary profit grew only by 12.9% due to exchange loss of ¥106 million (compared to exchange profit of ¥178 million in the previous year).

The company revised its earnings estimates on 13 June and now expects sales to be ¥12.6 billion, operating profit ¥1.44 billion, ordinary profit ¥1.46 billion and net profit ¥880 million. As the profits generated by subsidiaries were lower than expected, the deviation from the revised estimates has become larger. Falling profitability due to the unfavorable changes in sales mix and various expenses at joint ventures put downward pressure on profits.

 

 

In FY12/14 1H, depreciation of yen pushed up sales and gross profit by ¥743 million and ¥480 million respectively, while SG&A costs expanded by ¥213 million.

 

Quarterly Earnings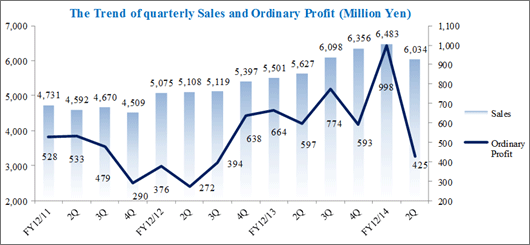 In FY12/14 1Q, sales and profits expanded due to the last-minute demand before the hike of consumption tax, in particular, GIKEN TRASTEM Co., Ltd. (the company's consolidated subsidiary) recorded a significant increase in profits. However, as sales were pushed back lower in 2Q, SG&A costs increased because of the set-up costs of integrated Sales Head Quarters in four main areas under the new organization, exhibition-related expenses in US and UK and various expenses at the Chinese joint venture established by a subsidiary (SG&A increased from ¥2.558 billion in 1Q to ¥2.792 billion in 2Q).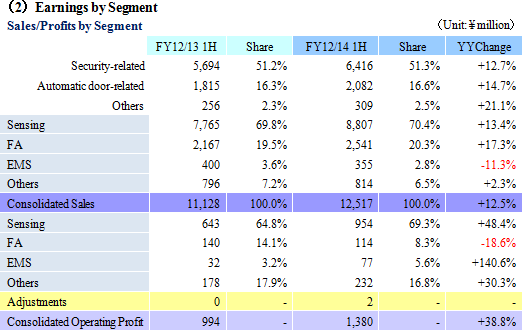 Sensing Business

Sales rose by 13.4% yoy to ¥8.807 billion and operating profit rose by 48.4% yoy to ¥954 million. By segment, Security-related sales were ¥6.416 billion (up 12.7% yoy) and Automatic door-related sales were ¥2.082 billion (up 14.7% yoy). As for Security-related business, overseas sales expanded significantly driven by the robust sales of outdoor security sensors for general residences in Southern Europe and the better performance at the sales subsidiary in South Korea. Domestic sales also improved from the previous year, absorbing a fall in nuclear power plant-related sales by developing new customers in solar electric generation-related business and the solid sales of products for security companies. With regard to Automatic door-related business, overseas sales increased mainly in Europe, where sales to both automatic door manufacturers and distributors recorded strong growth. Meanwhile, domestic sales remained solid as the reverse effect from the last-minute demand before the hike of consumption tax turned out to be minor, while the construction-related demand surged.

 

FA Business

Sales increased 17.3% yoy to ¥2.541 billion, while operating profit decreased 18.6% to ¥114 million. Overseas sales expanded due to strong growth in Europe (mainly sales at SICK in Germany) and in Asia (contribution from a newly established joint venture in China). Domestic sales also increased on the back of aggressive investments by logistics, electronic components and automobile industries. However, profits slumped due to falling profitability after the unfavorable changes in sales mix and the increase in SG&A costs with the start of full operation at a joint venture in China.

 

EMS Business

Sales declined by 11.3% yoy to ¥355 million, while the segment profits surged by 140.6% yoy to ¥77 million. The decrease in orders led to a drop in sales but the improvement in the cost ratio pushed up the profits.

 

 

Total assets as of the end of 1H expanded to ¥27.868 billion, an increase of ¥336 million compare to the end of previous term. Marketable/investment securities (on the asset side) and net assets (on the liability side) increased respectively in a reflection of the strong performance. Capital ratio rose to 76.6% which is 0.3 pp higher than the end of previous term.

 

 

Operating CF suffered from larger deficit (from ¥285 million to ¥707 million) due to the increase in tax expenses. In fact, operating CF before tax was ¥1.627 million which exceeded the previous term (¥1.411 million).

 

 

∗ROE(return on equity) is calculated by multiplying three elements: 'net profit margin' (net profit divided by sales), 'total assets turnover' (sales divided by total assets) and 'leverage' (total assets divided by equity capital). ROE = Net Profit Margin × Total Assets Turnover × Leverage
∗Although the above numbers are calculated based on the summary of financial results and the financial statements published by the company, the numbers of total assets and equity capital used for the calculation are mean values during each term (mean of the balances as of the end of previous term and current term). As the capital ratio stated on the summary of financial results or the financial satetements is calculated using equitiy capital as of the end of the term, its reciprocal and the numbers of leverage on the above table may differ.

 

According to 'Aggregated summary of financial results' published by Tokyo Stock Exchange, which lists up ROEs of all the companies listed on the first section, the second section and Mothers of TSE for the term FY3/14, ROE for all the sectors except financial was 8.65% (4.99% in FY3/13), manufacturing sector was 8.55% (4.53% in FY3/13) and non-manufacturing was 8.79% (5.67% in FY3/13). OPTEX's ROE in FY12/13 was 8.24%, which was a significant improvement from 4.65% in the previous term. This was driven by the higher profitability due to the correction to yen exchange rate. The company achieved almost the same level of ROE as the average of all the non-manufacturing companies listed on TSE both in FY12/12 and FY12/13. To attain even higher ROE, the company needs to capitalize on abundant cash in hand (for example, increasing return to shareholders), while consistently achieving its sales targets (¥30 billion for FY12/15 and ¥50 billion for FY12/19).

 

 
Fiscal Year December 2014 Earnings Estimates
 

No changes for Revised Earnings Estimates as of 13 June: Sales Up 13.2% yoy and Ordinary Profit Up 14.2% yoy

The company expects sales and profits continue to expand in 2H of FY12/14 compared to the previous year and the half-year, however, it has slightly revised down profit estimates for 2H due to 'slower pace of economic recovery than expected'. Year-end dividends are scheduled to be ¥15 (total annual dividends will be ¥35 with ¥20 for 1H which includes special dividends of ¥5 to celebrate the 35th anniversary of the company's foundation).

 

Progress in Business Strategies
 

The company has been conducting businesses under the business segment structure, but it has made organizational changes at the beginning of FY12/14. It has now moved to a cross-business and cross-regional matrix where four Sales Head Quarters -- EMEA(Europe/Middle East/Africa), Americas, Asia and Japan-- deal with Security-related, Automatic door-related and new businesses cross-functionally. The purpose of these changes was to seek for further synergies and to facilitate efficient management and, by further localizing regional strategies, the company intends to promote global businesses as a whole group.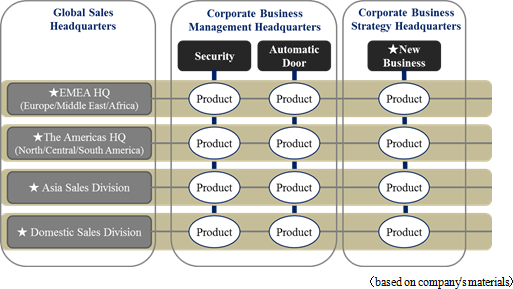 Under the new organization, the company shares resources within the group such as technologies, products and distribution channels and seeks for synergies in order to enhance technical and sales capabilities and to expand its business field. Its short-term target is to achieve sales of more than ¥30 billion and ordinary profit of more than ¥4.1 billion in FY12/15.

Strategies for each business are as follows:

 

Security-related Business

Two pillars of business strategies in EMEA (the company's main focus area) are 1) to maintain the largest share in the outdoor security sensor market and 2) to enter into Middle East and African markets. On the back of heightening security consciousness, outdoor security sensor has now become fast-growing market with high potential. Demand for high-end sensors for oil-related facilities is rising in Middle East, while many projects are in progress in African countries.
Americas are the second important area after EMEA for the company, where it intends to focus on Visual Verification. In US, police normally dispatches its officers to actual sites after confirming intruders on security cameras (some states have revised the legislation in that way), so demand for alarm systems equipped both with a sensor and a camera is growing.
Meanwhile, in Japan, the company focuses on expanding sales of high-end security products for solar power companies as well as promoting system using LED lighting to parking lots and car dealers. In Asia, it tries to enhance sales of high-end products to meet an increasing demand created by infrastructure building as well as self-protection products for residential markets.

According to the company, the security market is worth ¥10 trillion worldwide, of which ¥8 trillion is dominated by cash transport and call for services and the remaining ¥2 trillion is the equipment market. Within the latter, the market for security camera system is said to be worth ¥800 billion and the alarm system ¥300 billion, of which intrusion sensors account for ¥100 billion (¥30 billion for outdoor sensors). Honeywell keeps the largest share of 18.5% within the intrusion sensor market followed by tyco (11.5%), United Technologies (10.0%), OPTEX (7%), and BOSCH (6%). OPTEX plans to meet demand for overall security system by reinforcing products such as sensor cameras and lighting for cameras.

 

Automatic Door-related Business

EMEA is the prime area for the company's automatic door-related business and it focuses on enhancing the product line-up which is compliant to European safety/product standards (enhancement of the product line-up for major sensors have completed). It now plans to enhance peripheral equipments and to build relationships with automobile makers based on trust by sharing business road maps. In Americas, another important area along with EMEA, the company tries to differentiate itself by its superior infrared technology. Specifically, it highlights the reliability of its infrared technology by installing 'doorway detection function' to all models.
Furthermore, the company plans to launch appropriate products to maintain high level of customer satisfaction. And in Asia, where products with high quality and reliability have become widespread, it strives to work together with local makers in order to improve efficiency in sales activities.

 

New Business Fields

The company drives forward its growth strategy in accordance with 'Matrix of Business Development', using matrices of market development and product development to achieve four strategic goals: 'expansion of core businesses', 'development of new application', 'development of newly emerging markets' and 'entry into new business fields'. New business fields include electric railway, public transport and vehicle detecting and the actual business plans for these fields are currently being drawn up in US and UK.

In UK, an increasing number of laser scan sensors have been installed to prevent accidents at railroad crossings.
Meanwhile, sensors for parking meters are under the proving tests in US.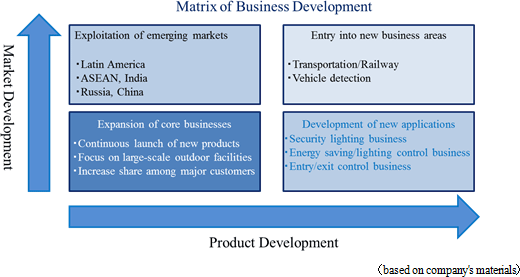 ※ FA Business (scope of business of consolidated subsidiary OPTEX FA Co., Ltd.)

OPTEX FA aggressively offers solutions to automobile, semiconductor, electric/electronics, food/pharmaceutical/cosmetics, logistics and other industries to acquire new customers in Japan and overseas (particularly in emerging markets). As a part of this effort, it intends to reinforce the existing partnership with Mitsubishi Electric and explores other collaboration opportunities in Japan. In China, where production automation is under way, the local distribution company (joint venture) has officially started operation.
Leading Companies in OPTEX Group

OPTEX Co., Ltd.
Development and distribution of infrared ray sensors and systems

In Japan

OPTEX FA Co., Ltd.
Development, manufacturing and distribution of photoelectric sensors, image inspection systems,measuring systems
SICK OPTEX Co., Ltd.
Development of general-purpose photoelectric sensors. A joint venture of SICK AG (Germany) and OPTEX FA Co.,Ltd.
GIKEN TRANSTEM Co., Ltd.   
Development, manufacturing and distribution of people counting systems, customer traffic counting systems
ZENIC Inc.
Contracted development of IC and LSI for image processing, design and sales of FA systems
O'PAL OPTEX Co., Ltd.
Membership-based outdoor sports club and welfare facility for OPTEX employees

Overseas

FIBER SENSYS INC.(US)
Development, manufacturing and distribution of fiber-optic intrusion detection systems
FARSIGHT SECURITY
SERVICES LTD.(UK)
Security company providing remote video surveillance services
RAYTEC LIMITED.(UK)
Development, manufacturing and distribution of supplemental lighting for surveillance cameras
 

Demand for security systems combined with camera is increasing both in Japan and overseas. However, the problem of these systems is high power consumption of the camera. These systems use 100∼200 milliampere of electrical current to activate a camera, which is equal to 25,000∼50,000 times of current used by a sensor (approximately 4 microampere). Therefore, a security system equipped with a camera requires expensive large-capacity batteries which push up the investment cost significantly. In order to reduce the financial burden, one needs a system where a camera works in conjunction with a sensor and activates only when necessary.
Under these circumstances, OPTEX has been providing sensor lights (lights with a dimming control function), which detect intruders by sensors and intimidate them by irradiating light to them, to parking lots at various facilities and toll parking lots. In addition, the company has several leading companies in this filed within its group such as ZENIC Inc. (develops IC and LSI for image processing), RAYTEC LIMITED. in UK (deals with supplemental lights for CCTV cameras to enable high-resolution images) and FIBER SENSYS INC. in US (deals with fiber-optic intrusion detection systems). The market expansion for security systems combining these existing products with cameras should provide major business opportunities for the company and we look forward to future developments.

 

Disclaimer

This report is intended solely for information purposes, and is not intended as a solicitation to invest in the shares of this company. The information and opinions contained within this report are based on data made publicly available by the Company, and comes from sources that we judge to be reliable. However we cannot guarantee the accuracy or completeness of the data. This report is not a guarantee of the accuracy, completeness or validity of said information and or opinions, nor do we bear any responsibility for the same. All rights pertaining to this report belong to Investment Bridge Co., Ltd., which may change the contents thereof at any time without prior notice. All investment decisions are the responsibility of the individual and should be made only after proper consideration.

Copyright(C) 2014 Investment Bridge Co., Ltd. All Rights Reserved.