Toru Kobayashi
Chairman, President and CEO
| | |
| --- | --- |
| Company | OPTEX CO., LTD. |
| Code No. | 6914 |
| Exchange | TSE 1st Section |
| Industry | Electric equipment (manufacturer) |
| President | Toru Kobayashi |
| HQ Address | 5-8-12, Ogoto Otsu, Shiga |
| Year-end | December |
| URL | |
Share Price
Shares Outstanding
Market Cap.
ROE (actual)
Trading Unit
¥2,117
16,549,189 shares
¥35,034 billion
8.6%
100 share
DPS (Est.)
Dividend Yield (Est.)
EPS (Est.)
PER (Est.)
BPS (actual)
PBR (actual)
¥40.00
1.9%
¥145.02
14.6x
¥1,385.78
1.5x
* Stock price as of the close on February 26, 2015. Number of shares at the end of the most recent quarter excluding treasury shares.
| | | | | | | |
| --- | --- | --- | --- | --- | --- | --- |
| Fiscal Year |   Net Sales   | Operating Profit | Ordinary Profit |   Net Profit   |   EPS (¥)   | Dividend (¥) |
| December 2010 | 17,395 | 1,705 | 1,761 | 981 | 59.30 | 30.00 |
| December 2011 | 18,502 | 1,677 | 1,830 | 1,033 | 62.45 | 30.00 |
| December 2012 | 20,699 | 1,398 | 1,680 | 825 | 49.88 | 30.00 |
| December 2013 | 23,582 | 2,108 | 2,628 | 1,620 | 97.90 | 30.00 |
| December 2014 | 25,678 | 2,558 | 3,043 | 1,897 | 114.68 | 35.00 |
| December 2015 Est. | 29,600 | 3,400 | 3,500 | 2,400 | 145.02 | 40.00 |
* Estimates are those of the Company.
This Bridge Report presents OPTEX's earnings results for fiscal year December 2014.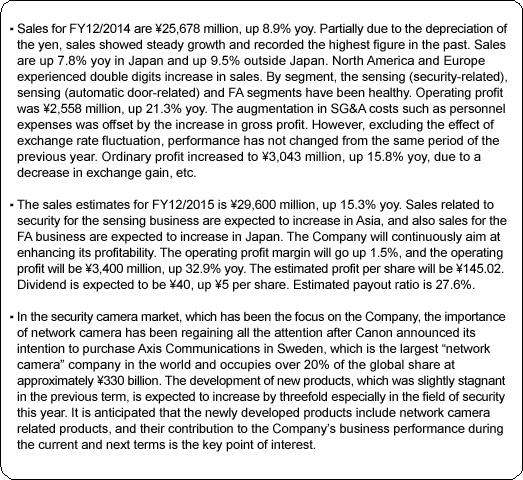 OPTEX is a leading manufacturer of infrared ray sensors for security equipments and automatic doors. The company manufactures and sells security-related products such as outdoor sensors, for which it maintains top share of 40% in the global markets, automatic door sensors, for which it maintains a 30% share of the global markets and a 60% share of the domestic market, and environment-related products. OPTEX deals with sensors for industrial equipments through its subsidiary OPTEX FA CO., LTD. Other group companies include RAYTEC LIMITED (UK), which has attained the largest global share (about 50 %) for supplemental lights for CCTV, and FIBER SENSYS INC. (US), which deals with optical fiber intrusion detection systems.
The group seeks for the synergy effects from FIBER SENSYS and RAYTEC LIMITED, developing solutions for large critical facilities (intrusion detection systems).

Moreover, under its group structure that OPTEX CO., LTD. has a competitive advantage in Japan and in EU, and same applies to FIBER SENSYS in North America centering US, and Middle and Near East, while RAYTECs'sales are mainly derived from UK and EU, these three companies complement each other in terms of business areas. In addition, the group is achieving business results with activities including the deployment of RAYTEC's and FYBER SENSYS's products in Japan, Asia, Africa and the South America by OPTEX.

 
Business Description
The company is comprised of business segments such as Sensing (security-related, automatic door-related, others), FA(sensors used for industrial equipment), EMS (in Chinese factories) and Others, as follows,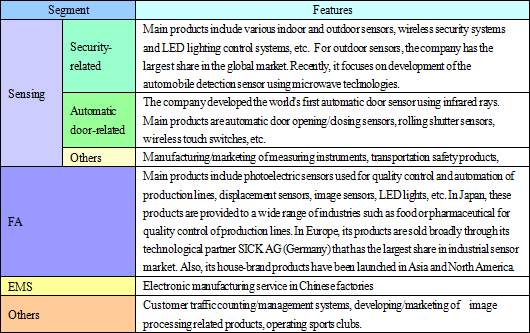 Advantages :Diversified Technologies/Expertise on Sensing and Unique Sensing Algorithm
Physical changes detected by sensors are minimal and normally unperceivable by human. Therefore, to produce precise and consistent sensors, it is essential to build on a number of elemental technologies and expertise, as well as 'algorithms' to control physical changes. The company takes advantage of its technologies/expertise suitable for intended applications and its unique sensing algorithm to secure the largest share in global market.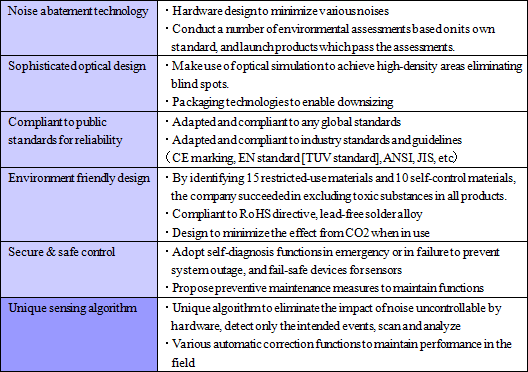 History
OPTEX was established in 1979 and developed the world's first automatic door sensors using infrared rays in the next year. Back then, most of the automatic doors were using pressure sensitive rubber mats, which contain sensors, and sensors using infrared rays were very innovative. The company also showed unrivaled abilities in product maintenance and implementation, and captured the top share in the automatic door sensors market in only three years since its inception (currently, about 60% share in the domestic market). The company expanded operations and listed on the over-the-counter market (equal to listing on JASDAQ) in 1991. Then it listed on the second section of Tokyo Stock Exchange in 2001 and moved to its first section in 2003.
Recently, it has been working on enhancement of solutions based on image processing technologies and high-end security systems. In 2008, it acquired ZENIC INC., which specialized in contracted development of IC/LSI for image processing systems. Furthermore, it acquired FIBER SENSYS INC. (US) in 2010 and RAYTEC LIMITED (UK) in 2012 respectively. The former has abundant experience in high-end security systems (fiber-optics intrusion detection systems) for critical sites in US and Europe. The latter deals with supplemental lighting systems using infrared rays for CCTV installed in high-end security systems for large critical sites.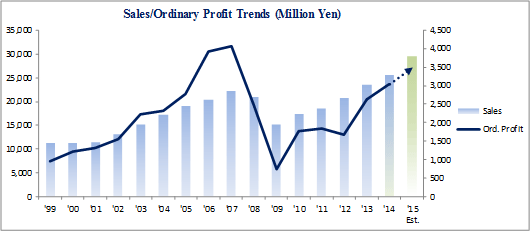 According to 'Aggregated summary of financial results' published by Tokyo Stock Exchange, which lists up ROEs of all the companies listed on the first section, the second section and Mothers of TSE for the term FY3/14, ROE for all the sectors except financial was 8.65% (4.99% in FY3/13), manufacturing sector was 8.55% (4.53% in FY3/13) and non-manufacturing was 8.79% (5.67% in FY3/13). OPTEX's ROE in FY12/14 was 8.63%, which increased from 8.24% in the previous term in succession. OPTEX sets a goal of more than 10% of ROE as an important management index. For further improvement of ROE, the company needs to capitalize on abundant cash in hand (for example, increasing return to shareholders), and to fortify its profitability by reduction of fixed cost mainly.
Leading Companies in OPTEX Group

OPTEX Co., Ltd.
Development and distribution of products and systems using sensing technologies.

In Japan

OPTEX FA Co., Ltd.
Development, manufacturing and distribution of photoelectric sensors, image inspection systems,measuring systems
SICK OPTEX Co., Ltd.
Development of general-purpose photoelectric sensors. A joint venture of SICK AG (Germany) and OPTEX FA Co.,Ltd.
GIKEN TRANSTEM Co., Ltd.   
Development, manufacturing and distribution of people counting systems, customer traffic counting systems
ZENIC Inc.
Contracted development of IC and LSI for image processing, design and sales of FA systems
O'PAL OPTEX Co., Ltd.
Membership-based outdoor sports club and welfare facility for OPTEX employees

Overseas

FIBER SENSYS INC.(US)
Development, manufacturing and distribution of fiber-optic intrusion detection systems
FARSIGHT SECURITY
SERVICES LTD.(UK)
Security company providing remote video surveillance services
RAYTEC LIMITED.(UK)
Development, manufacturing and distribution of supplemental lighting for surveillance cameras
Fiscal Year December 2014 Earnings Results

 

Highest sales in the past, up 8.9% yoy, partially due to the depreciation of yen

Sales are ¥25,678 million, up 8.9% yoy. Partially due to the depreciation of the yen, sales showed steady growth and recorded the highest figure in the past. Sales are up 7.8% yoy in Japan and up 9.5% outside Japan. North America and Europe experienced double digits increase in sales. By segment, the sensing (security-related), sensing (automatic door-related) and FA segments have been healthy.
Operating profit was ¥2,558 million, up 21.3% yoy. The augmentation in SG&A costs (increases of ¥473 million in personnel expenses, ¥25 million in costs, ¥198 million in expenditures for establishing a joint venture, and ¥414 million in the effect of exchange rate change) was offset by the increase in gross profit (increases of ¥366 million in sales, ¥350 million in decrease in costs, and ¥844 million in exchange gain). However, excluding the effect of exchange rate fluctuation, performance has not changed from the same period of the previous year. Ordinary profit increased to ¥3,043 million, up 15.8% yoy, due to the decrease in exchange gain, etc.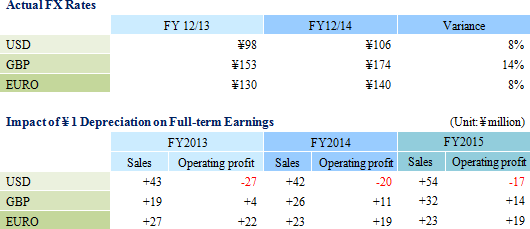 For the sales in Europe, the Company uses yen, in addition to the local currency (e.g. GBP, EURO), but for the sales in North America, South America and Asia, it uses only local currency. For procurement, it uses USD for the procurement of parts at the manufacturing factories in China. The shares of each currency for sales and costs are as follows.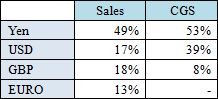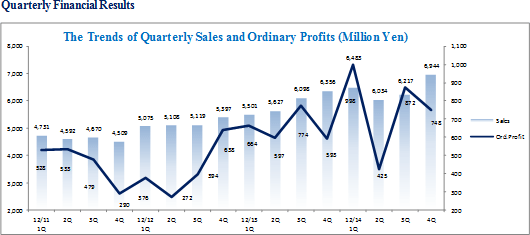 In the first quarter (Jan-Mar), sales and profits increased due to rush demand before the consumption tax hike, but in the second quarter (Apr-Jun), sales declined in the wake of the consumption tax hike. Also SG&A costs augmented in the second quarter, but because the costs for the establishment of headquarters in Americas and EMEA (Europe, Middle East, and Africa), the security-related exhibitions in the U.S. and the U.K., and the foundation of a joint venture in China by a subsidiary were all temporary, sales and profits recovered in the third quarter (Jul-Sep). In the forth quarter (Oct-Dec), SG&A costs increased due to provision of the reserves associated with abolishment of the retirement bonuses for the executive directors. As a result, the profit decreased compared with the third quarter.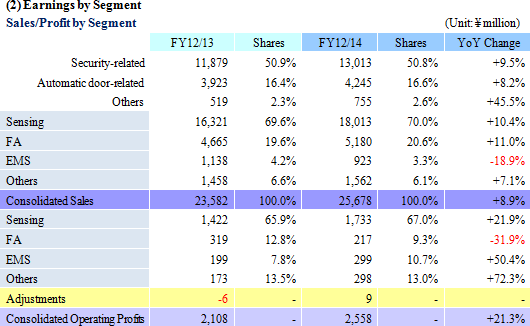 Sensing Business

Sales were ¥18,013 million (up 10.4% yoy), and operating profit was ¥1,733 million (up 21.9% yoy).
The domestic sales of security-related business increased slightly (up 1.7% yoy). Although the number of orders from nuclear power-related business reached a peak and then declined, the number of orders from security firms was healthy.
Outside Japan, sales were strong with year-over-year increases of 8.8% in North America and 13.3% in Europe. The sales for outdoor security sensor for residential market in southern Europe increased steadily because of increasing anxiety among the wealthy class as a result of expansion in the economic disparity. Although some products missed the delivery date due to improvement in quality, the issue has been solved. Although the sales in Asia increased steadily until the third quarter because of healthy sales by the subsidiary in South Korea, they slightly slowed down in the forth quarter.
The domestic sales of the automatic door-related business increased (up 1.7% yoy). Performance has been healthy, as the sluggishness after the consumption tax hike was not so significant and the construction field was lively. Outside Japan, sales increased by 17.8% yoy in North America and 17.6% yoy in Europe. The OEM sales toward large automatic door manufacturers have been healthy based on the high recognition for the safety of the Company's sensor products.

 

FA Business

Sales were ¥5,180 million (up 11.0% yoy), and operating profit was ¥217 million (down 31.9% yoy).
Domestic sales increased 12.5% yoy, thanks to the active equipment investment in the fields of distribution, electronic parts, and automobiles. Outside Japan, sales were healthy in Asia, because the joint venture in China began full-scale operation. Overseas sales were up 60.4% yoy.
However, profit declined because of a decrease in profit margin due to the change in the composition of sales and an increase in SG&A costs by the joint venture company in China.

 

EMS Business

Sales declined to ¥923 million (down 18.9% yoy), while segment profits increased to ¥299 million (up 50.4% yoy). A decrease in the number of orders led to a drop in sales, but the improvement in the CGS ratio to sales, etc. pushed up the profits.

 

 

Total assets as of the end of December 2014 expanded to ¥30,196 million, an increase of ¥2,663 million compared to the end of previous term. On the asset side, Account Payable-Trade and Inventories increased by ¥526 million and by ¥718 million, respectively. On the liability side, Net Assets increased by ¥2,101 million due to an increase of retained earnings. As a result, capital ratio slightly declined to 75.9% compared to the end of previous term.

 

 

The positive range of Operating CF became smaller as a result of an increase in corporation tax amount. Investing CF became positive as a result of sales in securities and an increase in redemption amount as well as an increase from income from investment securities. Free CF also turned positive.
The negative range of Financing CF became smaller as a result of an increase in short-term loans payable.
Cash position increased by ¥1,733 million compared to the end of the previous term.

 

 
Progress of Business Strategies and Future Actions
Security-related Business
◎Market trend

While the annual growth rate of the global intrusion guard market is stable at about 5%, the surveillance camera, especially the network camera using IP, which the Company is focusing on, shows a high annual growth rate of about 13%.
By region, although the largest market is in North America, the market growth is the most significant in Asia. As for the object of security services, about 60% of the demand is for residential and commercial buildings.

 

 

These days, there is an increasing demand for the system called Visual Verification, in which police dispatches its officers to actual sites after confirming intruders on security cameras. According to the Los Angels police in the USA, the arrest rate based on the security system using surveillance camera is much higher compared with the security system using only sensors, and the effect is attracting a lot of attention.
Featuring the cameras with sensor light, which will drastically reduce power consumption of the cameras, the Company is aiming to disseminate the "outdoor security protection" system for residential and commercial buildings.

Furthermore, through the system that uses combination of a laser scan sensor "REDSCAN", "Fiber Defender" which is a fiber sensor sold by its affiliate called Fiber SenSys, supporting lighting specific for surveillance cameras, etc. sold by its affiliate called Raytec, the Company will establish contracts for security projects with socially important facilities such as data centers, water purification plants, and nuclear power-related facilities, etc., in and out of Japan. Through the projects, the Company will expand the sales of laser scan sensor from ¥500 million in the previous FY to ¥4,000 million by FY2019.
In addition, in Japan, the Company is focusing on expanding the "security system for mega solar sites". As of the end of March 2014, out of 8,780 facilities within Japan, 1,110 facilities are operating. However, a spate of thefts of copper cable is occurring frequently, and the needs for security protection are high.
Although the number of sales results were three in the previous FY, the Company is expecting to have larger sales in the coming years.

Meanwhile, the Company is aiming at expanding the "automobile detection system" using a sensor as a new application. In Japan, this system responds to the needs of efficient lighting at public parking spaces (the lighting level increases only when vehicles move in and out) and surveillance needs for illegal parking. Furthermore, in North America, the Company is conducting demonstration experiments to validate sensors for parking meters, and its full-fledged commercialization is expected in the future.

As for the sales ranking among security-related corporations in the world, the Company moved up from 22nd in 2013 to 17th in 2014, and it is considered as the top sales company for one of its product categories, Intrusion Detection.

 
Automatic Door-related Business
◎Market Environment

The market scale and share of various applications in the global market are as follows: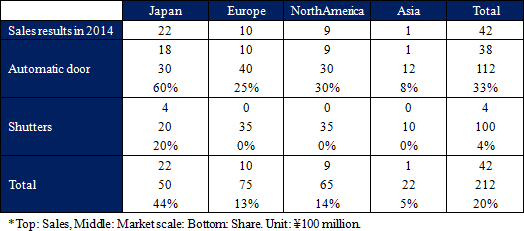 Guangzhou OPTEX Industrial Automation Control Equipment Co., Ltd., the Company's subsidiary that was established in November 2013 in China, conducts purchasing and sales of sensor-related products, control equipment, thermometers and related parts.
It is aiming at expanding its market share in the Chinese market, in addition, switching from the sales by sales agency to the sales by the subsidiary under direct control from the parent company, and obtaining orders from Japanese-owned companies including responding to the demands to replace the products for which specifications are specified in Japan.
The partnership business with Mitsubishi Electric Corporation is also gradually making achievements.

 
Other Sensing Business
SONY Assurance Inc. began offering a PHYD (Pay How You Drive) type of automobile insurance called "Gentle Driving Cash-Back Plan" in February 2015, in which driving behavior sensing technology of OPTEX is incorporated. The policyholders will earn cash back on their insurance premiums based on their driving behavior if they drive cars in safe manners. In Europe and North America, telematics-type vehicle insurance (equipped with a communication function) is introduced, and its expansion is expected. In Japan, with the release of the Plan by SONY Assurance, the PHYD insurance will be widely disseminated.

Users (policyholders) install a drive counter to measure their driving behavior in their vehicles and drive for a certain period. An accelerometer sensor that records only risky driving using driving behavior sensing technology of OPTEX is incorporated in the drive counter. After the test period, policyholders will send the drive counter to SONY Assurance. If the results are over 60 points, they will earn cash back in accordance with their scores.

For the wide dissemination of PHYD type insurance, SONY Assurance had been seeking for a device that was "easy to install and handle", "low operation cost including device cost", and "highly reliable". SONY Assurance highly valued the drive counter of OPTEX for its high-precision sensing technology and no running cost, as it is not using the telematics method that uses a telecommunication function. After about 4 years of demonstration experiments, the product reached the commercialization.

 
Fiscal Year December 2015 Earnings Estimates

 

The double-digit increases in sales and profits are expected.

Sales are estimated to be ¥29,600 million, up 15.3% yoy. Sales are expected to increase for the security-related segment in the sensing business for Asia and in the FA business in Japan. The Company will continue working on improving profitability. It is aiming to increase operating profit margin by 1.5%, and operating profit is estimated to be ¥3,400 million, up 32.9% yoy. Estimated profit per share is ¥145.02. Dividend per share will be ¥40, up ¥5 per share. Estimated payout ratio is 27.6%.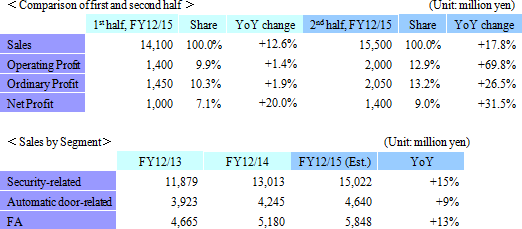 The Company will focus on accelerating new products development. It is expected that they will contribute to the increasing sales as from the next FY.

 

(2) Mid-Term Policy

The Company's catchphrase is "to create 'something new'".
It is going to establish the foundation of new OPTEX while creating businesses that can reach an average annual growth of consolidated sales of over 15%.
The Company's priority is to revive dynamism throughout the Company.

As a mid-term management goal, the Company will also try to achieve "consolidated sales of ¥30 billion in 2015" and to create new businesses and profit to secure "consolidated sales of ¥40 billion and consolidated operating profit of ¥7.5 billion in 2017" to achieve "consolidated sales of ¥50 billion in 2019".

 

 
 

Sales in the reporting period recorded the highest in the past, and operating profit is showing steady recovery. But it is largely supported by the favorable exchange gain. The orders from nuclear power facilities also took around. Therefore, the actual growth may be slower than the forecast and expectation of the Company.
However, in the surveillance camera market, which the Company has been focusing on, the importance of network camera has been regaining all the attention after Canon announced its intention to purchase Axis Communications, the largest "network camera" company in Sweden and occupies over 20% of the global share with approximately ¥330 billion. The development of new products, which was slightly stagnant in the previous term, is expected to increase by threefold especially in the field of security. It is anticipated that the newly developed products include network camera related products, and their contribution to the Company's business performance during the current and next terms is the key point of interest.

 

Disclaimer

This report is intended solely for information purposes, and is not intended as a solicitation to invest in the shares of this company. The information and opinions contained within this report are based on data made publicly available by the Company, and comes from sources that we judge to be reliable. However we cannot guarantee the accuracy or completeness of the data. This report is not a guarantee of the accuracy, completeness or validity of said information and or opinions, nor do we bear any responsibility for the same. All rights pertaining to this report belong to Investment Bridge Co., Ltd., which may change the contents thereof at any time without prior notice. All investment decisions are the responsibility of the individual and should be made only after proper consideration.

Copyright(C) 2015 Investment Bridge Co., Ltd. All Rights Reserved.