Toru Kobayashi
Chairman, President and CEO
| | |
| --- | --- |
| Company | OPTEX CO., LTD. |
| Code No. | 6914 |
| Exchange | TSE 1st Section |
| Industry | Electric equipment (manufacturer) |
| President | Toru Kobayashi |
| HQ Address | 5-8-12, Ogoto Otsu, Shiga |
| Year-end | December |
| URL | |
Share Price
Shares Outstanding
Market Cap.
ROE (actual)
Trading Unit
¥2,442
16,549,001 shares
¥40,412 billion
8.6%
100 share
DPS (Est.)
Dividend Yield (Est.)
EPS (Est.)
PER (Est.)
BPS (actual)
PBR (actual)
¥40.00
1.6%
¥145.02
16.8x
¥1,385.78
1.8x
* Stock price as of the close on May 8, 2015. Number of shares at the end of the most recent quarter excluding treasury shares. ROE and BPS from the last year-end.
Fiscal Year
Net Sales
Operating
Profit
Ordinary
Profit
 Net Profit 
 EPS (¥) 
Dividend (¥)
December 2010
17,395
1,705
1,761
981
59.30
30.00
December 2011
18,502
1,677
1,830
1,033
62.45
30.00
December 2012
20,699
1,398
1,680
825
49.88
30.00
December 2013
23,582
2,108
2,628
1,620
97.90
30.00
December 2014
25,678
2,558
3,043
1,897
114.68
35.00
December 2015 Est.
29,600
3,400
3,500
2,400
145.02
40.00
* Estimates are those of the Company.
This Bridge Report presents OPTEX's earnings results for the first quarter of fiscal year ending December 2015.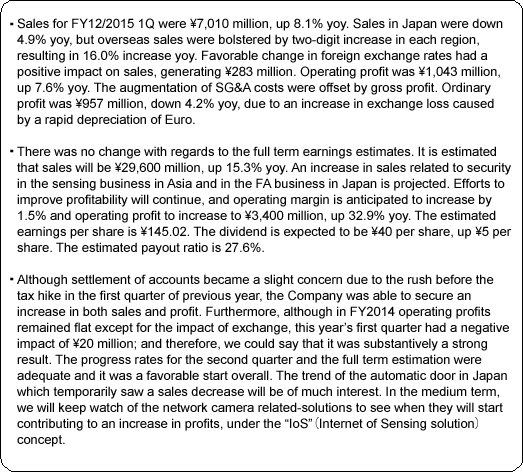 OPTEX is a leading manufacturer of infrared ray sensors for security equipment and automatic doors. The company manufactures and sells security-related products such as outdoor sensors, for which it maintains top share of 40% in the global markets, automatic door sensors, for which it maintains a 30% share of the global markets and a 60% share of the domestic market, and environment-related products. OPTEX deals with sensors for industrial equipment through its subsidiary OPTEX FA CO., LTD. Other group companies include RAYTEC LIMITED (UK), which has attained the largest global share (about 50 %) for supplemental lights for CCTV, and FIBER SENSYS INC. (US), which deals with optical fiber intrusion detection systems.
In collaboration with FIBER SENSYS and RAYTEC LIMITED, the Company offers solutions for large critical facilities (intrusion detection systems). Moreover, under its group structure in which OPTEX CO., LTD. has a competitive advantage in Japan and in EU, and same applies to FIBER SENSYS in North America centering US, Canada and Middle and Near East, while RAYTECs'sales are mainly derived from UK and EU, these three companies complement each other in terms of business areas. In addition, the group is achieving business results with activities including the deployment of RAYTEC's and FYBER SENSYS's products in Japan, Asia, Africa and the South America by OPTEX.

 
Business Description
The company is comprised of business segments such as Sensing (security-related, automatic door-related, others), FA (sensors used for industrial equipment), EMS (in Chinese factories) and Others, as follows,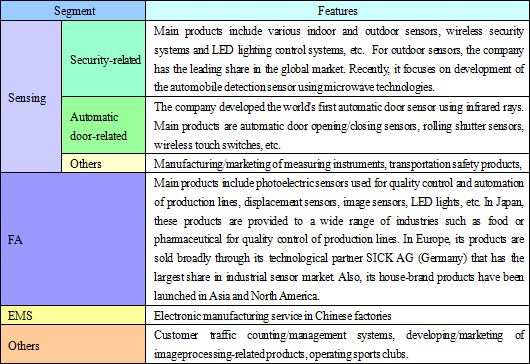 Advantages :Diversified Technologies/Expertise on Sensing and Unique Sensing Algorithm
To produce stable and reliable sensors, it is essential to build on a number of elemental technologies and expertise, as well as 'algorithms' to control physical changes. The company takes advantage of its technologies/expertise suitable for intended applications and its unique sensing algorithm to secure the largest share in global market.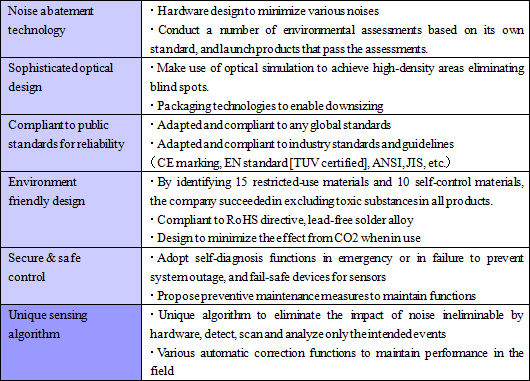 History
OPTEX was established in 1979 and developed the world's first automatic door sensors using infrared rays in the following year. Back then, most of the automatic doors were using pressure sensitive rubber mats, which contained sensors, and sensors using infrared rays were very innovative. The company also showed unrivaled abilities in product maintenance and implementation, and captured the top share in the automatic door sensors market in only three years since its inception (currently, about 60% share in the domestic market). The company expanded operations and listed on the over-the-counter market (equal to listing on JASDAQ) in 1991. Then it listed on the second section of Tokyo Stock Exchange in 2001 and moved to its first section in 2003.
Recently, it has been working on enhancement of solutions based on image processing technologies and high-end security systems. In 2008, it acquired ZENIC INC., which specialized in contracted development of IC/LSI for image processing systems. Furthermore, it acquired FIBER SENSYS INC. (US) in 2010 and RAYTEC LIMITED (UK) in 2012 respectively. The former has abundant experience in high-end security systems (fiber-optics intrusion detection systems) for critical facilities in US and Europe. The latter produces supplemental lighting systems using infrared rays for CCTV installed in high-end security systems for large critical facilities.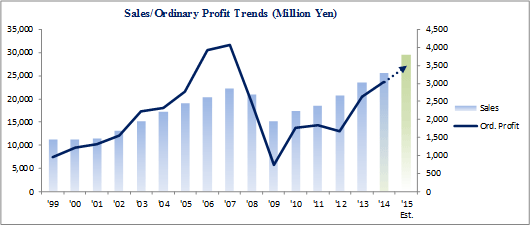 According to 'Summary of Earnings Digests by Listed Companies' published by Tokyo Stock Exchange, which lists ROEs of all the companies listed on the first section, the second section and Mothers of TSE for the term FY3/14, ROE for all the sectors except financial was 8.65% (4.99% in FY3/13), manufacturing sector was 8.55% (4.53% in FY3/13) and non-manufacturing was 8.79% (5.67% in FY3/13). OPTEX's ROE in FY12/14 was 8.63%, which increased from 8.24% in the previous term. OPTEX sets a goal of ROE of 10% or more as an important management index. For further improvement of ROE, the company needs to capitalize on abundant cash in hand, including an increase in return to shareholders), and to fortify its profitability mainly by reducing fixed cost.

 
Major Group Companies

OPTEX Co., Ltd.
Development and sales of products and systems using sensing technologies

In Japan

OPTEX FA Co., Ltd.
Development, manufacturing and sales of photoelectric sensors, image inspection systems, measuring instruments
SICK OPTEX Co., Ltd.
Development of general-purpose photoelectric sensors. A joint venture of SICK AG (Germany) and OPTEX FA Co., Ltd.
GIKEN TRANSTEM Co., Ltd.   
Development, manufacturing and sales of people counting systems, customer traffic counting/management systems
ZENIC Inc.
Contracted development of IC and LSI for image processing, and design and sales of FA systems
O'PAL OPTEX Co., Ltd.
Membership-based outdoor sports club and welfare facility for OPTEX employees

Overseas

FIBER SENSYS INC.(US)
Development, manufacturing and sales of fiber-optic intrusion detection systems
FARSIGHT SECURITY
SERVICES LTD.(UK)
Security company providing remote video surveillance services
RAYTEC LIMITED.(UK)
Development, manufacturing and sales of supplemental lighting for surveillance cameras
1Q Earnings Results for the Fiscal Year Ending December 2015

 

Increase in sales and operating profit, but ordinary profit decreased due to depreciation of Euro.

Sales were ¥7,010 million, up 8.1% yoy. Sales in Japan saw a 4.9% decrease, whereas regions outside of Japan saw a two-digit increase, bringing the overseas sales up by16.0%. Favorable change in foreign exchange rates had a positive impact on sales, generating ¥283 million.
As for each segment, all of sensing (security-related), sensing (automatic door-related), and FA were all robust.
Operating profit was ¥1,043 million, up 7.6% yoy. The augmentation in SG&A costs of ¥224 million (increase of ¥67 million in personnel expenses, ¥33 million in expenses, ¥29 million in R&D cost, and ¥94 million in the effect of exchange rate change) was offset by the increase in gross profit of ¥297 million (increase of ¥133 in sales, ¥90 million decrease in costs, and ¥74 million in exchange gain). Ordinary profit was ¥957 million, down 4.2% yoy, due to an increase in exchange loss of ¥106 million caused by a rapid depreciation of Euro.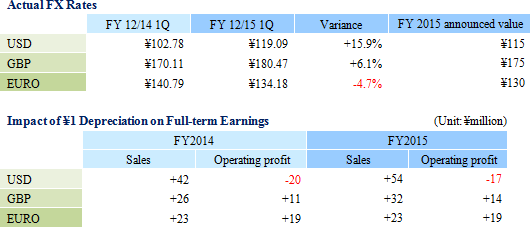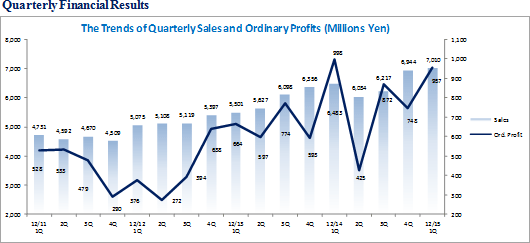 The ordinary profit decreased yoy because the expansion of the loss on exchange had a big impact. However, by looking at the movement of the quarterly base, the performance was robust.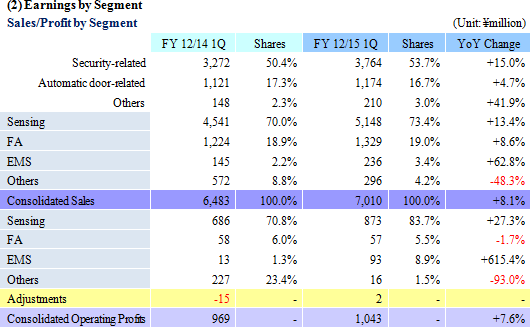 Sensing Business

Sales were ¥5,148 million (up 13.4% yoy), and operating profit was ¥873 million (up 27.3% yoy).
Sales in Japan of the security-related business were up 8.8% yoy. Sales to security companies as well as LED light sales to the public sector (disaster prevention related) were robust.
Outside Japan, sales were strong with year-over-year increases of 16.8% in North America and 15.7% in Europe. The sales of outdoor security sensor for residential market in southern Europe increased steadily, due to deterioration of public order caused by increasing of illegal immigrant from Africa and the Middle east. Sales for North America were also robust. Sales for Asia were doing well at 3.3% increase yoy.
Automatic door-related sales decreased in Japan by 8.3% yoy. As a result of receiving the rush orders before the tax hike last year, sales were down. Sales outside of Japan were strong with a 23.0% increase in North America and a 13.6% increase in Europe. In both North America and Europe the major automatic door manufacturers recognized the company's sensor safety and thus, OEM sales performed well.

 

FA Business

Sales were ¥1,329 million (up 8.6% yoy) and operating profit was ¥57 million (down 1.7% yoy).
Sales in Japan saw a 16.2% increase yoy. Sales of LED lights used in visual inspection of products on production lines of electronic parts and semiconductors were robust.
Outside Japan, although sales in Europe saw a 7.2% decrease yoy, due to full-scale operations by Chinese vendors, sales performance was good in Asia as there was a massive increase of 52.1% yoy.
Due to an increase in SG&A costs of Chinese joint-venture company, profit margins decreased.

 

EMS Business

Sales increased to ¥236 million (up 62.8% yoy) and segment profits increased to 93 million (up 615.4%).
Sales increased due to an increase in order and profits increased due to improvement in cost rates. Due to the impact of the internal sales between segments, the profits increase was much larger than sales increase.

 

 

Total assets at the end of March 2015 decreased ¥202 million from the end of the previous fiscal term to ¥29,994 million. Although the debit side had a cash deposit decrease of 704 million, accounts receivable had an increase of ¥300 million and marketable securities had a ¥249 million increase.
On the credit side, as current assets decreased by ¥273 million from the end of the previous fiscal term mainly due to a decrease in income taxes payable, the total liabilities decreased by ¥414 million from the end of the previous fiscal term. On the other hand, due to an increase in retained earnings, net assets had an increase of ¥211 million from the end of the previous fiscal term. As a result, capital ratio increased by 1.3% compared to the end of the previous term to 77.2%.

 

 
Earnings Estimates for the Fiscal Year Ending December 2015

 

No change to earnings estimates. An increase in sales and profits by two digits is anticipated.

There is no change to the earnings estimates. It is anticipated that sales will be 29,600 million, up 15.3% yoy. An increase in security-related sales of the sensing business in Asia and in the FA business in Japan is projected. Efforts to improve profitability will continue, and operating margin is anticipated to increase by 1.5% and operating profit to increase to ¥3,400 million, up 32.9% yoy. The estimated profit per share will be ¥145.02. The dividend is expected to be ¥40 per share, up ¥5 per share. The estimated payout ratio is 27.6%.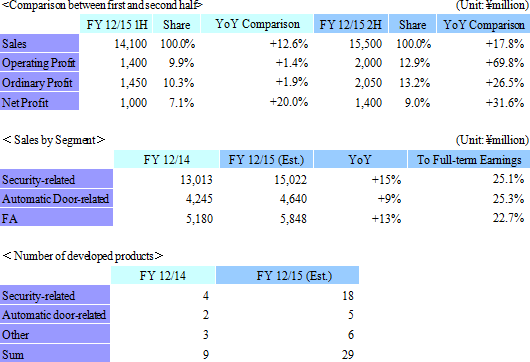 (2) Topics

◎Efforts to Change the Business Model

As a medium term management goal, the Company will try to achieve "consolidated sales of ¥30 billion in 2015" and to create new businesses and profit to secure "consolidated sales of ¥40 billion and consolidated operating profit of ¥7.5 billion in 2017" to achieve "consolidated sales of ¥50 billion in 2019".
Towards that end, the Company is working to change its business model.

The original business was intended to sell various sensing products that could actualize excellent sensing technology; i.e., "Single items". However, going forward, the Company strives to become a "service provider" that provides total solutions.

In the Internet world, the philosophy of the "IoT (Internet of Things)" has recently rapidly increased.
This is referring to connecting various "things" that exist in the every-day world with a communications function to the Internet network that IT related devices such as PC, server or printer, etc. have traditionally been connected, and providing more useful and sophisticated services to the customer by using automatic control, remote control functions, etc.

Based upon this "IoT" thinking, the Company are harboring ideas to have security sensors, sensor cameras, water quality measurement sensors, person counting sensors and other such sensing devices connect to the Internet, to provide crime preventive/security, environmental monitoring, store management and other solutions via cloud computing to customers. This new concept is called the "IoS (Internet of Sensing solution)".

Going forward, under the "IoS" concept, the Company will transfer the business model from selling individual products to ongoing flow of income, and by FY2019 the Company aims to have 30% of sales come from the system solution business and the charging/consumable product sales service business.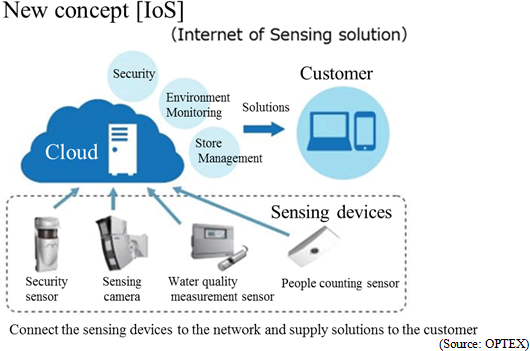 ◎ "China Plus One" Effort

As for the production structure of the Company, 49% is produced in Japan (Group factories and subcontract factories) and 51% is produced by the Company owned factories in China. Nonetheless, due to the rise in currency appreciation of the Chinese Yuan and labor costs in China, the Company is working to ensure other production sites outside of China.
In the future, the Company aims to have the production ratio to be divided between Japan, China, and two locations outside of Japan with a ratio of 40%, 40% and 20% respectively.

 

◎Security Door Effort

While the Company operates in the two fields for the sensing business - the security-related field and the automatic door-related field - effort is being put into production of an automatic door "Security door" which meets crime prevention needs.
In addition to "Prevention of unauthorized persons entering with authorized persons," which prevents access by unauthorized persons who follows through an authorized person, the "Hands free authentication system: ACCURANCE-TAG," which uses the RFID tag, has been released.

When the authorized persons have the RFID tag in their pocket or bag and enter the detection zone, the authentication sensor door will open. Even when their hands aren't free, the authentication device can operate.
Although the hands free authentication system is highly convenient, there had been a concern that due to this function, a door might be unintentionally unlocked, making it possible for an unauthorized person to enter. From a security perspective, this was an issue. Though, with the new technology, the "Hands free authentication system: ACCURANCE-TAG" by the Company, the tag area can be controlled. Thus, while ensuring smooth passage in and out, it prevents the loss of security due to unnecessary openings.
In addition to this, the installation is simple and quick, and it can be implemented at a low cost, all of which are defining characteristics of the product. Furthermore, as a product that has a healthy balance of convenience and security, the Company will propose it to condominiums, food processing factories, nursing homes/hospitals, warehouses, and other facilities.

 

 
 

Although settlement of accounts became a slight concern due to the rush before the tax hike in the first quarter of the previous year, the Company was able to secure an increase in sales and profit. Furthermore, although in FY2014 operating profits remained flat excluding the impact of exchange, this first quarter had a positive impact of ¥74 million and a negative impact of ¥94 million, in total a minus impact of ¥20 million. We could say the account settlement was substantively healthy. The progress rates for the second quarter and the full term estimation were adequate and it was a favorable start overall. The trend of the automatic door in Japan which temporarily saw a sales decrease will be of much interest. In the medium term, we will keep watch of the network camera-related solutions to see when they will start contributing to an increase in profits, under the "IoS" concept.

 

Disclaimer

This report is intended solely for information purposes, and is not intended as a solicitation to invest in the shares of this company. The information and opinions contained within this report are based on data made publicly available by the Company, and comes from sources that we judge to be reliable. However we cannot guarantee the accuracy or completeness of the data. This report is not a guarantee of the accuracy, completeness or validity of said information and or opinions, nor do we bear any responsibility for the same. All rights pertaining to this report belong to Investment Bridge Co., Ltd., which may change the contents thereof at any time without prior notice. All investment decisions are the responsibility of the individual and should be made only after proper consideration.

Copyright(C) 2015 Investment Bridge Co., Ltd. All Rights Reserved.