Toru Kobayashi
Chairman, President and CEO
| | |
| --- | --- |
| Company | OPTEX CO., LTD. |
| Code No. | 6914 |
| Exchange | TSE 1st Section |
| Industry | Electric equipment (manufacturer) |
| President | Toru Kobayashi |
| HQ Address | 5-8-12, Ogoto Otsu, Shiga |
| Year-end | December |
| URL | |
Share Price
Shares Outstanding
Market Cap.
ROE (actual)
Trading Unit
¥2,906
16,548,771shares
¥48.090billion
8.6%
100 shares
DPS (Est.)
Dividend Yield (Est.)
EPS (Est.)
PER (Est.)
BPS (actual)
PBR (actual)
¥40.00
1.4%
¥145.02
20.0x
¥1,385.78
2.1x
* Stock price as of the close on August 10, 2015. Number of shares at the end of the most recent quarter excluding treasury shares.
ROE and BPS from the last year-end.
Fiscal Year
Net Sales
Operating
Profit
Ordinary
Profit
 Net Profit 
 EPS (¥) 
Dividend (¥)
December 2010
17,395
1,705
1,761
981
59.30
30.00
December 2011
18,502
1,677
1,830
1,033
62.45
30.00
December 2012
20,699
1,398
1,680
825
49.88
30.00
December 2013
23,582
2,108
2,628
1,620
97.90
30.00
December 2014
25,678
2,558
3,043
1,897
114.68
35.00
December 2015 Est.
29,600
3,400
3,500
2,400
145.02
40.00
* Estimates are those of the Company.
This Bridge Report presents OPTEX's earnings results for the first half of fiscal year ending December 2015.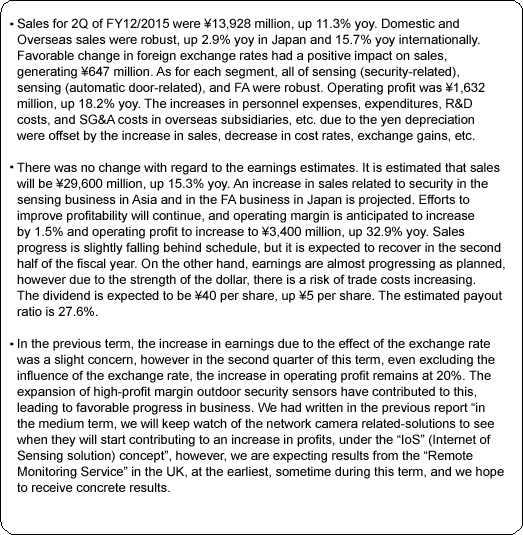 OPTEX is a leading manufacturer of infrared ray sensors for security equipment and automatic doors. The company manufactures and sells security-related products such as outdoor sensors, for which it maintains top share of 40% in the global markets, automatic door sensors, for which it maintains a 30% share of the global markets and a 60% share of the domestic market, and environment-related products. OPTEX deals with sensors for industrial equipment through its subsidiary OPTEX FA CO., LTD. Other group companies include RAYTEC LIMITED (UK), which has attained the largest global share (about 50 %) for supplemental lights for CCTV, and FIBER SENSYS INC. (US), which deals with optical fiber intrusion detection systems.
In collaboration with FIBER SENSYS and RAYTEC LIMITED, the Company offers solutions for large critical facilities (intrusion detection systems). Moreover, under its group structure in which OPTEX CO., LTD. has a competitive advantage in Japan and in EU, and same applies to FIBER SENSYS in North America centering US, Canada and Middle and Near East, while RAYTECs'sales are mainly derived from UK and EU, these three companies complement each other in terms of business areas. In addition, the group is achieving business results with activities including the deployment of RAYTEC's and FYBER SENSYS's products in Japan, Asia, Africa and the South America by OPTEX.

 
Business Description
The company is comprised of business segments such as Sensing (security-related, automatic door-related, others), FA (sensors used for industrial equipment), EMS (in Chinese factories) and Others, as follows,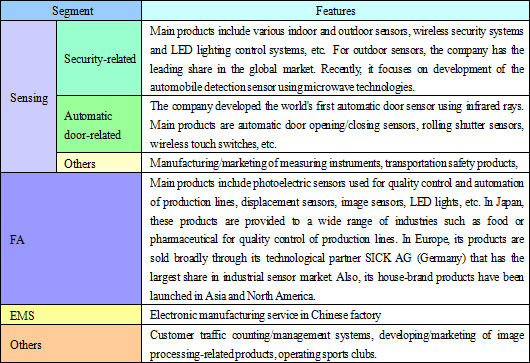 Advantages :Diversified Technologies/Expertise on Sensing and Unique Sensing Algorithm
To produce stable and reliable sensors, it is essential to build on a number of elemental technologies and expertise, as well as 'algorithms' to control physical changes. The company takes advantage of its technologies/expertise suitable for intended applications and its unique sensing algorithm to secure the largest share in global market.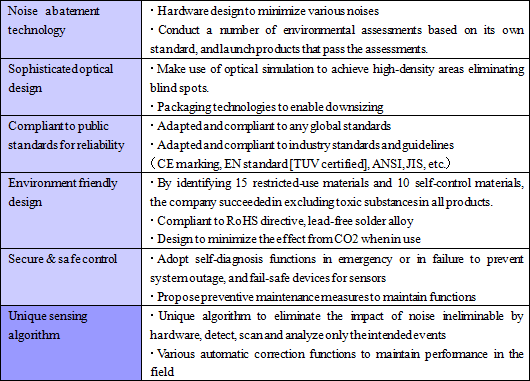 History
OPTEX was established in 1979 and developed the world's first automatic door sensors using infrared rays in the following year. Back then, most of the automatic doors were using pressure sensitive rubber mats, which contained sensors, and sensors using infrared rays were very innovative. The company also showed unrivaled abilities in product maintenance and implementation, and captured the top share in the automatic door sensors market in only three years since its inception (currently, about 60% share in the domestic market). The company expanded operations and listed on the over-the-counter market (equal to listing on JASDAQ) in 1991. Then it listed on the second section of Tokyo Stock Exchange in 2001 and moved to its first section in 2003.
Recently, it has been working on enhancement of solutions based on image processing technologies and high-end security systems. In 2008, it acquired ZENIC INC., which specialized in contracted development of IC/LSI for image processing systems. Furthermore, it acquired FIBER SENSYS INC. (US) in 2010 and RAYTEC LIMITED (UK) in 2012 respectively. The former has abundant experience in high-end security systems (fiber-optics intrusion detection systems) for critical facilities in US and Europe. The latter produces supplemental lighting systems using infrared rays for CCTV installed in high-end security systems for large critical facilities.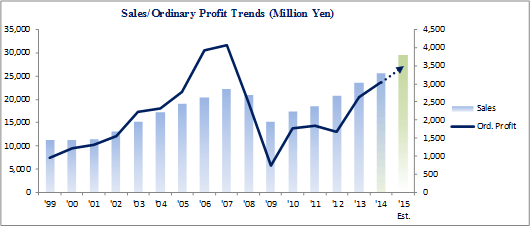 According to 'Summary of Earnings Digests by Listed Companies' published by Tokyo Stock Exchange, which lists ROEs of all the companies listed on the first section, the second section and Mothers of TSE for the term FY3/14, ROE for all the sectors except financial was 8.65% (4.99% in FY3/13), manufacturing sector was 8.55% (4.53% in FY3/13) and non-manufacturing was 8.79% (5.67% in FY3/13). OPTEX's ROE in FY12/14 was 8.63%, which increased from 8.24% in the previous term. OPTEX sets a goal of ROE of 10% or more as an important management index. For further improvement of ROE, the company needs to capitalize on abundant cash in hand, including an increase in return to shareholders, and to fortify its profitability mainly by reducing fixed cost.

 
Major Group Companies

OPTEX Co., Ltd.
Development and sales of products and systems using sensing technologies

In Japan

OPTEX FA Co., Ltd.
Development, manufacturing and sales of photoelectric sensors, image inspection systems, measuring instruments
SICK OPTEX Co., Ltd.
Development of general-purpose photoelectric sensors. A joint venture of SICK AG (Germany) and OPTEX FA Co., Ltd.
GIKEN TRANSTEM Co., Ltd.   
Development, manufacturing and sales of people counting systems, customer traffic counting/management systems
ZENIC Inc.
Contracted development of IC and LSI for image processing, and design and sales of FA systems
O'PAL OPTEX Co., Ltd.
Membership-based outdoor sports club and welfare facility for OPTEX employees

Overseas

FIBER SENSYS INC.(US)
Development, manufacturing and sales of fiber-optic intrusion detection systems
FARSIGHT SECURITY
SERVICES LTD.(UK)
Security company providing remote video surveillance services
RAYTEC LIMITED.(UK)
Development, manufacturing and sales of supplemental lighting for surveillance cameras
Earnings Results for 1H of Fiscal Year Ending December 2015

 

Two-digit increase in robust domestic and overseas sales and profits

Sales were ¥13,928 million, up 11.3% yoy. Domestic and Overseas sales were robust, up 2.9% yoy in Japan and 15.7% yoy internationally. Favorable change in foreign exchange rates had a positive impact on sales, generating ¥647 million.
As for each segment, all of sensing (security-related), sensing (automatic door-related), and FA were robust.
Operating profit was ¥1,632 million, up 18.2% yoy. The ¥99 million increase in personnel expenses, ¥50 million increase in expenses, ¥52 million increase in R&D costs and the ¥226 million increase in overseas sales cost due to the yen depreciation were offset by the ¥411 million increase in sales, ¥105 million decrease in costs, ¥163 exchange gains, etc.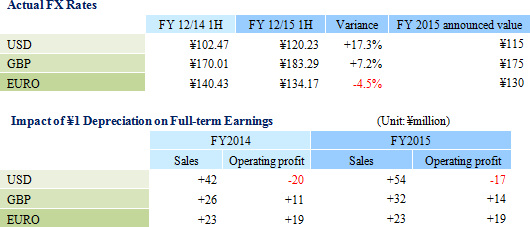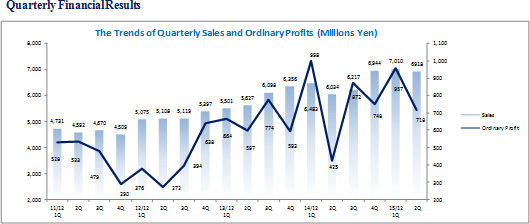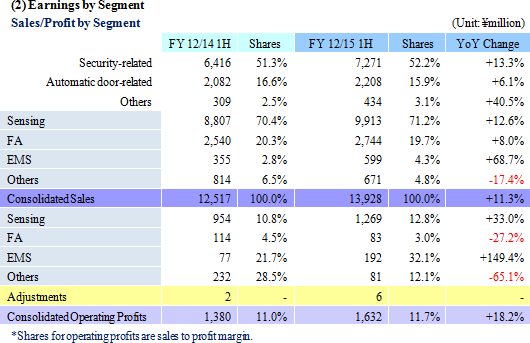 Sensing Business

Sales were ¥9,913million (up 12.6% yoy), and operating profit was ¥1,269 million (up 33.0% yoy).
(Security-related)
There was a 6.9% yoy increase in domestic sales. The demand from large facilities, such as nuclear power plants, was already satisfied, but sales towards security companies performed well.
Overseas sales were favourable with a 30.9% yoy increase in North America and a 10.5% yoy increase in Europe. In the US, the subsidiary FIBER SENSYS has expanded its line of products for large critical facilities, including airports and military facilities. Due to the growing economic disparity in southern Europe, the increase in uneasiness among the wealthy has led to sales of outdoor security sensors for the residential market to continue increasing steadily, but the company will keep a careful eye on it during the second half of the fiscal year. Asia has had a 4.8% yoy decrease in sales.

 

 

Although it is limited to a specific region with the testing of parking meter sensors, the company has accumulated a solid amount of test data, and is aiming to widen usage and implement them for practical use.

(Automatic door-related)
Domestic sales had a decrease of 5.6% yoy. Sales dropped due to receiving rush orders before the consumption tax hike in the previous year and sluggish construction demands.
Sales outside of Japan were strong with a 25.2% yoy increase in North America and a 9.1% yoy increase in Europe. Major automatic door manufacturers in both North America and Europe recognized the safety of the company's sensors and thus, OEM sales performed well.

 

 

FA Business

Sales were ¥2,744 million (up 8.0% yoy) and operating profit was ¥83 million (down 27.2% yoy).
Sales in Japan saw a 14.7% yoy increase. Sales of LED lights used in visual inspection of products on production lines of electronic parts and semiconductors were robust. Sales targeted at the German company SICK AG performed poorly, leading to a 10.1% yoy drop in overseas sales in Europe, however due to full-scale operations by Chinese vendors, sales in Asia remained strong with a massive 62.3% yoy increase. Inventory for SICK AG will be temporarily bolstered and thus, it is expected to recover in the second half of the fiscal year.
Due to an increase in SG&A costs of Chinese joint-venture, profits decreased.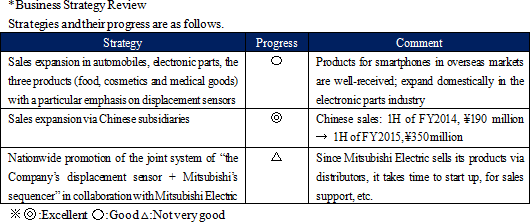 EMS Business

Sales increased to ¥599 million (up 68.7% yoy) and segment profits increased to ¥192 million (up 149.4% yoy). Sales increased due to an increase in orders and the large increase in profits was due to improvements in cost rates. Due to the impact of internal sales between segments, the profits increase was much larger than sales increase.

 

 

Total assets at the end of June 2015 increased ¥1,038 million from the end of the previous fiscal term to ¥31,234 million. The debit side had a cash deposit increase of ¥205 million, accounts receivable had a ¥254 million increase and inventory assets had a ¥216 million increase.
Account payable-trade and short-term debt on the credit side had an increase of ¥313 million and ¥188 million, respectively from the end of the previous fiscal term, while the provision for directors' retirement benefits had a decrease of ¥420 million, leading to total liabilities increasing by ¥24 million from the end of the previous fiscal term to ¥5,808 million. Due to an increase in retained earnings and foreign currency translation adjustments from yen depreciation, net assets increased ¥1,014 million from the end of the previous fiscal term. As a result, capital ratio increased 0.7% compared to the end of the previous term to 76.6%.

 
 

Operating CF had an increase in accounts receivable and a decrease in provision for directors' retirement benefits leading to a smaller surplus. Investment CF had a smaller deficit due to the sale of marketable securities, increase in repayments etc., while free CF surplus remained at basically the same level as the previous year. Financial CF had a smaller deficit due to the increase in short-term debt. Cash position has increased by ¥2,007 million compared to the previous fiscal term.

 

 
Earnings Estimates for Fiscal Year Ending December 2015

 

No change to earnings estimates. An increase in sales and profits by two digits is anticipated.

There is no change to the earnings estimates. It is anticipated that sales will be ¥29,600 million, up 15.3% yoy. An increase in security-related sales of the sensing business in Asia and in the FA business in Japan is projected. Efforts to improve profitability will continue, and the operating margin is anticipated to increase by 1.5% and operating profit to increase to ¥3,400 million, up 32.9% yoy. Sales progress is falling slightly behind schedule, but it is expected to recover in the second half of the fiscal year.

On the other hand, earnings are almost progressing as planned, however due to the strength of the dollar, there is a risk of trade costs increasing.
The profit per share is expected to be 145.02 yen. The dividend is expected to be ¥40 per share, up ¥5 per share. The estimated payout ratio is 27.6%.

 

 
Future Business Strategies
 

The Company has adopted the management policy of "creating something new", and is applying themselves to "creating a new business" as well as continuing with expanding their core business in order to realize a consolidated sales of ¥50 billion by FY 2019.

 

◎Change to Business Model - Ongoing Flow of Income

Including the traditional business model of selling out individual sensor products, the company will expand the business into system solutions, sale of consumable goods etc. and improve the ongoing flow of income.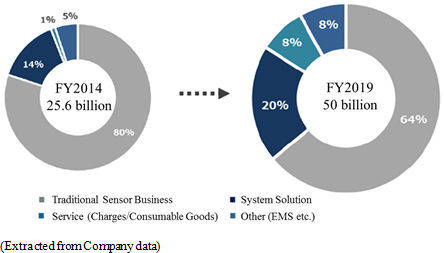 ◎Creation of New Business: "IoS" Service

The center of this ongoing flow of income business model is the "IoS (Internet of Sensing Solution) service." By connecting the sensors into a network and utilizing the company's strengths in "area detection organization", "sensing algorithm", "low power consumption", "environment resistance capabilities" etc., the company will be able to provide a new added value and solution to the clientele in the form of "anti-crime/security/disaster prevention", "environmental monitoring", "operation management" and "facility/asset management".

In particular, the company's sensing algorithm, used in all sensors such as security sensors, driving behavior sensors, automatic door sensors, has high detection capabilities meaning it will react precisely to necessary pieces of information.
By utilizing this strength, the clientele will consist of system operators, and the company will be able to develop applications and sensors to handle different tasks.

In comparison to the general "IoT" service, which is intended for processing large amounts of big data, the "IoS (Internet of Sensing Solution)" service is unique in that it extracts smart data, which are definite sources of information that have been sorted out via an application sensor.

 

◎Three Categories of IoS

At the company, services are provided under the following three categories:
① Complete Solution Package- "sensors, operation servers, supply of operation and services" are all managed by the company
② Alliance Solution Package - "connection to an operation/service provider"
③ Terminal Unit Sale Package - sensors etc. are sold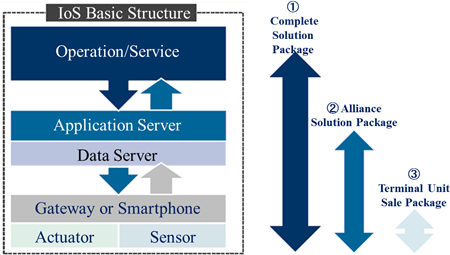 ① Complete Solution Package
The company will use "Remote Monitoring Service (Cloud Visual Verification)" as a representative example.
This uses the company's sensors with the world's largest camera manufacturer, Axis' IP camera to conduct 24-hour surveillance on all types of facilities such as car dealers and construction sites through an online connection to a monitoring center. All sensors, cameras, services and operation will be managed by the company group.
UK subsidiary, Farsight Security Services Ltd., which has experience in long-distance surveillance released the world's first bundled service in the UK in June 2015.
The company is anticipating results this term or in the next, and is expecting to open it up to regions outside of the UK in the latter half of the next term.

② Alliance Solution Package
As a representative example, introduced in the last report was the "careful driving cashback service", the first ever new type of automobile insurance which Sony Assurance Inc. had started selling in February 2015 in Japan.

The user (insurance policyholder) installs the "Drive Counter", a device that utilizes the OPTEX driving behavior sensing technology to measure the driver's characteristics, in their vehicle, and drives for a fixed duration of time. The Drive Counter uses OPTEX's unique driving behavior measurement technology which has accelerometers embedded to record instances of dangerous driving.
At the end, the user sends the Drive Counter to Sony Assurance Inc. If they score 60 or over, then they receive a cashback in accordance with their grade.

Sony Assurance Inc. has thought that in order for this type of insurance to be made mainstream, "the installation of the measuring device and usage need to be simple", "operation costs including the cost of the device need to be low" and "the device must be highly reliable", but the OPTEX Drive Counter uses high precision sensing technology, does not use the telematics system, which has communications functions, and does not have any running costs, meaning that it had met all of their criteria which is why Sony Assurance Inc. evaluated it highly and after 4 years of conclusive data, they went into industrialization.

In addition, the company is progressing with the development of a simple water quality measurement solution via the Alliance package.
Water quality measurement data gathered on-site, user data, usage data etc. will be managed by the operation/service company via the IoS platform. Furthermore, including the system, the company has developed a reagent to conduct simple and prompt measurements of water quality and started selling it in April 2015. The company is aiming for an ongoing flow of income via reagent and system sales. The company believes as a company that has been working on water quality measurement sensors from before as an environment-related business, the company has taken a major step forward in expanding the enterprise.

③ IoS Terminal Unit Sale Package
The company provides near-infrared ray sensors, far-infrared ray sensors, ultrasonic sensors, distance image sensors, fiber sensors, accelerometers, laser sensors etc. through correspondence with an open system which has all the sensor essentials.
Outside of the terminal unit, the partners control the system. However, the company understands all of the specifications of the service and operation of the sensors and thus, will provide the clientele with the optimal specifications.
The company will have a different clientele to that of the past, and therefore, is anticipating an expansion to the business in the future.

 

 
 

In the previous term we had slight concerns over the increase in earnings due to the effect of the exchange rate, however in this second quarter, even excluding the influence of the exchange rate, the increase in operating profit remains at 20%. The expansion etc. of high-profit margin outdoor security sensors have contributed to this, leading to favorable progress in business. We had written in the previous report "in the medium term, we will keep watch of the network camera related-solutions to see when they will start contributing to an increase in profits, under the "IoS" (Internet of Sensing solution) concept", however, we are expecting results from the "Remote Monitoring Service" in the UK, and at the earliest, sometime during this term, we hope to receive concrete results.

 

Disclaimer

This report is intended solely for information purposes, and is not intended as a solicitation to invest in the shares of this company. The information and opinions contained within this report are based on data made publicly available by the Company, and come from sources that we judge to be reliable. However, we cannot guarantee the accuracy or completeness of the data. This report is not a guarantee of the accuracy, completeness or validity of said information and or opinions, nor do we bear any responsibility for the same. All rights pertaining to this report belong to Investment Bridge Co., Ltd., which may change the contents thereof at any time without prior notice. All investment decisions are the responsibility of the individual and should be made only after proper consideration.

Copyright(C) 2015 Investment Bridge Co., Ltd. All Rights Reserved.