Toru Kobayashi
Chairman, President and CEO
| | |
| --- | --- |
| Company | OPTEX CO., LTD. |
| Code No. | 6914 |
| Exchange | TSE 1st Section |
| Industry | Electric equipment (manufacturer) |
| President | Toru Kobayashi |
| HQ Address | 5-8-12, Ogoto Otsu, Shiga |
| Year-end | December |
| URL | |
Share Price
Shares Outstanding
Market Cap.
ROE (actual)
Trading Unit
¥3,350
16,548,311shares
¥55.436billion
8.7%
100 shares
DPS (Est.)
Dividend Yield (Est.)
EPS (Est.)
PER (Est.)
BPS (actual)
PBR (actual)
¥45.00
1.3%
¥163.15
20.5x
¥1,455.28
2.3x
* Stock price as of the close on March 17, 2016. Number of shares at the end of the most recent quarter excluding treasury shares.
ROE and BPS from the last year-end.
Fiscal Year
Net Sales
Operating
Profit
Ordinary
Profit
 Net Profit 
 EPS (¥) 
Dividend (¥)
December 2010
17,395
1,705
1,761
981
59.30
30.00
December 2011
18,502
1,677
1,830
1,033
62.45
30.00
December 2012
20,699
1,398
1,680
825
49.88
30.00
December 2013
23,582
2,108
2,628
1,620
97.90
30.00
December 2014
25,678
2,558
3,043
1,897
114.68
35.00
December 2015
27,793
3,161
3,222
2,051
123.96
40.00
December 2016 Est.
31,000
4,000
4,100
2,700
163.15
45.00
* Estimates are those of the Company. From the current fiscal year, the definition for net profit has been changed to net profit attributable to owners of parent.
This Bridge Report presents OPTEX's earnings results for the fiscal year ending December 2015.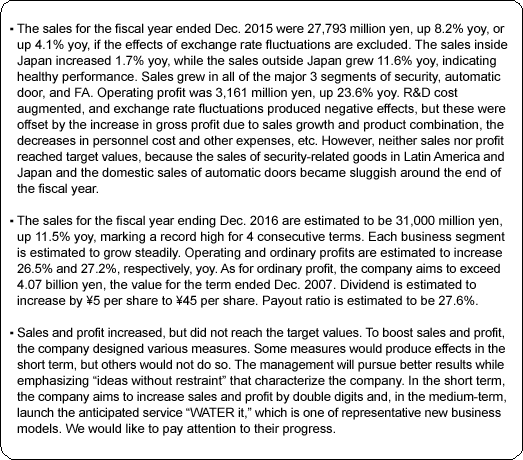 OPTEX is a leading manufacturer of infrared ray sensors for security equipment and automatic doors. The company manufactures and sells security-related products such as outdoor sensors, for which it maintains top share of 40% in the global markets, automatic door sensors, for which it maintains a 30% share of the global markets and a 60% share of the domestic market, and environment-related products. OPTEX deals with sensors for industrial equipment through its subsidiary OPTEX FA CO., LTD. Other group companies include RAYTEC LIMITED (UK), which has attained the largest global share (about 50 %) for supplemental lights for CCTV, and FIBER SENSYS INC. (US), which deals with optical fiber intrusion detection systems.
In collaboration with FIBER SENSYS and RAYTEC, the company offers solutions for large critical facilities (intrusion detection systems). Moreover, under its group structure in which OPTEX CO., LTD. has a competitive advantage in Japan and in EU, and same applies to FIBER SENSYS in North America centering US, Canada and Middle and Near East, while RAYTECs'sales are mainly derived from UK and EU, these three companies complement each other in terms of business areas. In addition, the group is achieving business results with activities including the deployment of RAYTEC's and FYBER SENSYS's products in Japan, Asia, Africa and the South America by OPTEX.

 
Business Description
The company is comprised of business segments such as Sensing (security-related, automatic door-related, others), FA (sensors used for industrial equipment), EMS (in Chinese factories) and Others, as follows,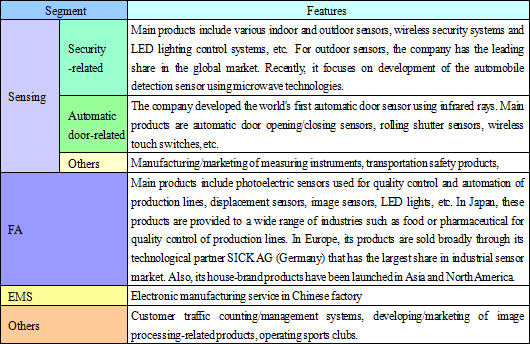 Advantages :Diversified Technologies/Expertise on Sensing and Unique Sensing Algorithm
To produce stable and reliable sensors, it is essential to build on a number of elemental technologies and expertise, as well as 'algorithms' to control physical changes. The company takes advantage of its technologies/expertise suitable for intended applications and its unique sensing algorithm to secure the largest share in global market.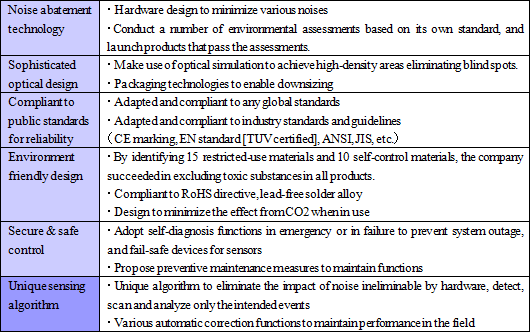 History
OPTEX was established in 1979 and developed the world's first automatic door sensors using infrared rays in the following year. Back then, most of the automatic doors were using pressure sensitive rubber mats, which contained sensors, and sensors using infrared rays were very innovative. The company also showed unrivaled abilities in product maintenance and implementation, and captured the top share in the automatic door sensors market in only three years since its inception (currently, about 60% share in the domestic market). The company expanded operations and listed on the over-the-counter market (equal to listing on JASDAQ) in 1991. Then it listed on the second section of Tokyo Stock Exchange in 2001 and moved to its first section in 2003.
Recently, it has been working on enhancement of solutions based on image processing technologies and high-end security systems. In 2008, it acquired ZENIC INC., which specialized in contracted development of IC/LSI for image processing systems. Furthermore, it acquired FIBER SENSYS INC. (US) in 2010 and RAYTEC LIMITED (UK) in 2012 respectively. The former has abundant experience in high-end security systems (fiber-optics intrusion detection systems) for critical facilities in US and Europe. The latter produces supplemental lighting systems using infrared rays for CCTV installed in high-end security systems for large critical facilities.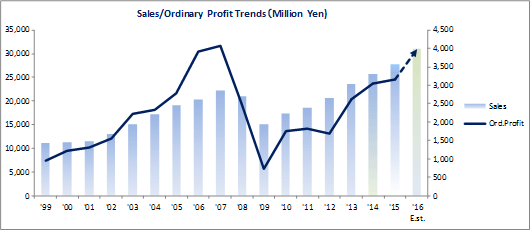 OPTEX's ROE in FY12/15 was 8.7%, which was almost as same as the previous term. OPTEX sets a goal of ROE of 10% or more as an important management index. For further improvement of ROE, the company needs to capitalize on abundant cash in hand, including an increase in return to shareholders, and to fortify its profitability mainly by reducing fixed cost.
Major Group Companies

OPTEX Co., Ltd.
Development and sales of products and systems using sensing technologies

In Japan

OPTEX FA Co., Ltd.
Development, manufacturing and sales of photoelectric sensors, image inspection systems, measuring instruments
SICK OPTEX Co., Ltd.
Development of general-purpose photoelectric sensors. A joint venture of SICK AG (Germany) and OPTEX FA Co., Ltd.
GIKEN TRASTEM Co., Ltd. 
Development, manufacturing and sales of people counting systems, customer traffic counting/management systems
ZENIC Inc.
Contracted development of IC and LSI for image processing, and design and sales of FA systems
O'PAL OPTEX Co., Ltd.
Membership-based outdoor sports club and welfare facility for OPTEX employees

Overseas

FIBER SENSYS INC.(US)
Development, manufacturing and sales of fiber-optic intrusion detection systems
FARSIGHT SECURITY
SERVICES LTD.(UK)
Security company providing remote video surveillance services
RAYTEC LIMITED.(UK)
Development, manufacturing and sales of supplemental lighting for surveillance cameras
Fiscal Year December 2015 Earnings Results

 

Increases in sales and profit due to the healthy business performance inside and outside Japan

Sales were 27,793 million yen, up 8.2% yoy, or up 4.1% yoy, if the effects of exchange rate fluctuations are excluded. The sales inside Japan increased 1.7% yoy, while the sales outside Japan grew 11.6% yoy, indicating healthy performance. Sales grew in all of the 3 major segments of security, automatic door, and FA.
Operating profit was 3,161 million yen, up 23.6% yoy. R&D cost augmented 110 million yen, and exchange rate fluctuations produced negative effects of 136 million yen, but these were offset by the increase in gross profit due to sales growth and product combination, the decreases in personnel cost and other expenses, etc.
However, neither sales nor profit reached target values, because the sales of security-related goods in Latin America and Japan and the domestic sales of automatic doors became sluggish around the end of the fiscal year.

 

Quarterly Financial Results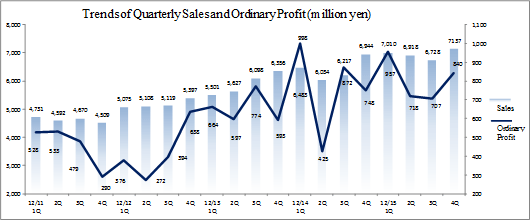 There were increases in quarterly sales and profit, however ordinary profit was sluggish after its peak in the first quarter.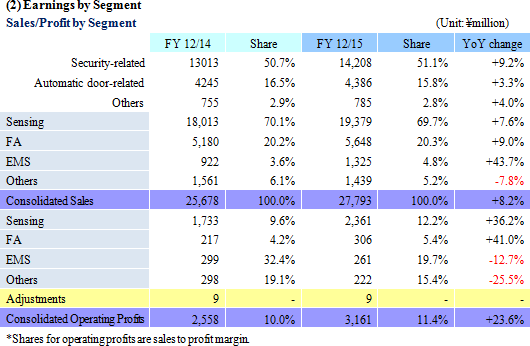 Sensing Business

(Security-related)
Domestic sales increased 3.7% yoy. The company has already satisfied the demand for large critical facilities such as nuclear power plants, however usage of outdoor sensors with LEDs has increased for security companies.
Overseas sales were favorable with a 28.0% yoy increase in North America and a 7.3% yoy increase in Europe. The subsidiary FIBER SENSYS Inc.'s perimeter security system for large critical facilities including military facilities performed well in the U.S. and led to a major recovery in yieldability. Due to the growing economic disparity in southern Europe, the increase in uneasiness among the wealthy has led to the continued growth of sales of outdoor security sensors for the residential market. Sales in Asia have increased 1% yoy.

(Automatic door-related)
Domestic sales had a decrease of 3.2% yoy. The steep rise in the prices of building materials and the delay in construction due to the shortage of workers had an effect on the sluggish demand for buildings.
Overseas sales were strong with a 16.5% increase in North America. The sales for Europe in the cumulative second quarter was favorable with a 9.1% yoy increase, however it became sluggish heading into the latter half of the year and ended with a 1.9% yoy increase for the full business year. OEM sales to major automatic door manufacturers in North America and Europe both performed well.

 

FA Business

Domestic sales had an increase of 10.6% yoy. Sales of LED lights used in visual inspection of products on production lines of automobiles, electronic parts and semiconductors were robust.
Sales targeted at German company SICK AG performed poorly, leading to a 3.4% yoy drop in overseas sales in Europe, however due to full-scale operations by Chinese vendors, sales remained strong within Asia having control of smartphones leading to a 47.7% yoy increase.

 

EMS Business

Increase in product orders led to a rise in sales, however changes in the cost rate caused a drop in profits.

 

 

Total assets at the end of December 2015 increased 411 million yen to 30,861 million yen compared to the end of the previous term. The debit side had increases in cash deposits, accounts receivable in addition to the rise in investment securities and fixed assets leading to the 411 million increase.
Decreases in account payable and provisions for directors' retirement benefits on the credit side led to a yoy drop of 527 million yen in total liabilities to 5,257 million yen. Total assets increased 1,191 million yen yoy due to increases in retained earnings. As a result, equity ratio increased 2.1% yoy to 78.0%.

 

 

An increase in profit and decreases in inventory assets led to a growth in the operating CF surplus.
The acquisition cost of investment securities increased leading to a deficit in the investing CF and caused the surplus of the free CF to be smaller.
Financing CF has barely changed while cash position has risen.

 

(4) Topics
◎Building a production base in Vietnam

The company built a production base in Hanoi, Vietnam to outsource manufacturing to Japanese manufacturers with the aim of establishing a global supply framework.
Operation started at the end of February 2016.
The company predicts the production ratio of sales in 2019 once they reach 500 million yen to be 40% in Japan, 40% in China and 20% in Vietnam.

 

◎Activities to improve production in Chinese factories

Improving productivity and selling capabilities in the company, for which export accounts for over 60% of sales, is becoming an important subject.
Meanwhile, personnel expenses in China are increasing greatly. The company believes it is necessary to further improve production efficiency to enhance the competitiveness of prices and quality, and is making efforts to improve production iat Chinese factories.
The company has an objective of improving productivity 80% between 2011 and 2018. The company achieved 44% of this target in 2015, and continue to produce results.

 

 
Fiscal Year December 2016 Earnings Estimates

 

A double-digit increase in sales and profits anticipated.

Sales are estimated to be 31,000 million yen, up 11.5% yoy, marking a record high for 4 consecutive terms. Each business segment is estimated to grow steadily.
Operating and ordinary profits are estimated to increase 26.5% and 27.2%, respectively, yoy. As for ordinary profit, the company aims to exceed 4.07 billion yen, the value for the term ended Dec. 2007. Dividend is estimated to increase by ¥5 per share to ¥45 per share. Payout ratio is estimated to be 27.6%.

The company has revised each regional segment as an international quadrilateral framework was established, as follows.

 

 

Near and Middle East, which included Asia originally, and South Africa, which was categorized under Other, have been altered to EMEA. Likewise, Central and South America has been labeled under AMERICAs while Oceania has been allocated to Asia and Oceania.

 

(2) Movements of Each Business
①Security-related

The company aims to have sales at 15.3 billion yen and an increase of 7.7% yoy.

 

 

The markets to focus on are "high-end important facilities" and "light commercials".
In addition to accelerating the setting up of social infrastructure in emerging nations, terrorist attacks are increasing which is causing a leap in demand in security services for large critical facilities.
Meanwhile, the influx of immigrants has caused a state of uneasiness leading to increasing demand for a deterrent in the form of outdoor crime prevention.
The company will attack these two markets using the company's strengths which is its world-class reliable "outdoor sensor" complete lineup.

 

②Automatic door-related

The company aims to have sales at 4.8 billion yen and an increase of 11.6% yoy.

 

 

The company will provide new added value by combining cameras with automatic door sensors.
The company will showcase the automatic door's new functions by recording a video of its vicinity, using it to "record automatic door incidents", "prevent crimes", "distinguish people's path and condition", and "count specific shapes such as people".
In addition, the company will enhance the lineup of shutter sensors for food/machine/distribution factories and warehouses, air conditioning in shops, insect repellants, anti-smoke devices, residential use etc.
To do this, the company will collaborate with domestic manufacturers involved with developing new products, making investments and the planning of the items in addition to those outside who work with merchandise procurement.

 

③FA Business

The company aims to have sales at 6.1 billion yen and an increase of 8.0% yoy.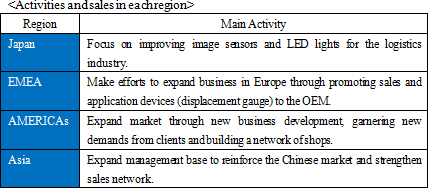 The company will focus on the following three points.

◎Print scanning using cameras
20% of accidents that occur in food manufacturers, such as mixing of foreign substances and substandard quality, are badly printed "best-before dates" and "use-by dates".
The company will focus on a print scanning system that will contribute to reducing recalls and enhance the product line.

◎LED lighting
This improves the precision and stability of the scanning process as a light source for the image scanner. Specifically, the company will focus on developing new products for the LED in addition to elevating the solution capabilities of the product, making efforts to enhance the lineup and the sales capabilities of strongholds and personnel through collaboration.

◎Reinforcing the Chinese market
The company aims to acquire customers by investing in low cost products in addition to opening new business developments through Chinese subsidiaries which include implementing new strategies towards Japanese firms that have factories in China.
The company will continue developing the five largest strongholds and new sales areas in a three year period.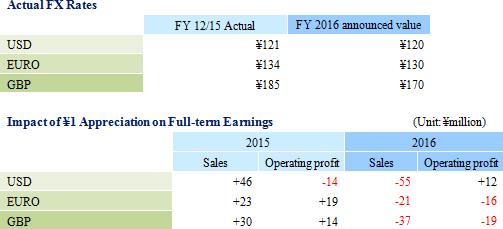 Midterm Objectives and Growth Strategy
 

The midterm business objective is to "create something new and boldly envision the future while acting in a swift manner."
The company is focusing on strengthening two areas - Visual Verification (image recognition) and the industrialization of the IoS business including improving its framework - to achieve the numerical sales goal of 50 billion yen by 2019.

The company aims to reach the goal of 50 billion yen sales by 2019 through evolving the business and switching from a vendor/selling business model to a high value added business that can secure ongoing profit in a stable manner.

 

① Visual Verification (image recognition)

Visual Verification consists of recognizing an intruder using an image and dealing with the situation at the scene. Demand for surveillance cameras, a vital device, is continuing its high growth of 15% per year.
Although surveillance cameras have merits such as being able to make verifications while in a distant area, decide whether the person is a perpetrator or not, and take photographic evidence, they also have demerits such as the need to be constantly monitored and the fact that should a problem arise, it can only be handled afterwards.
By adding a sensor function to the cameras, it becomes possible to offer a method of deterrence beforehand rather than dealing with any situations after, and thus, there is great demand for this in countries such as the UK, where efficient dispatch of police officers is required, and the US which has states that impose fines for false notification of police.
In addition, it will only operate when necessary and thus, has been highly recognized for its value in energy conservation.

The company is cooperating with major network camera manufacturers, integrated IT security system manufacturers and VMS (Video Management Software) manufacturers to expand the trade.

 

② Industrialization of the IoS business and Improving its Framework

IoS (Internet of Sensing Solution) is the business model that the company aims to achieve.
By connecting the sensors into a network and utilizing the company's strengths in "area detection organization", "sensing algorithm", "low power consumption", "environment resistance capabilities" etc., it will be able to provide a new added value and solution to clientele in the form of "anti-crime/security/disaster prevention", "environmental monitoring", "operation management" and "facility/asset management".

Although the company is developing all these different solutions, it also focuses on evolving the "Simple Water Quality Measuring System" which was introduced in the last report.
The service named "WATER it" is a business solution - the first of its kind in the industry - where the sensor manufacturer provides an array of services from measuring the water quality to managing cloud data.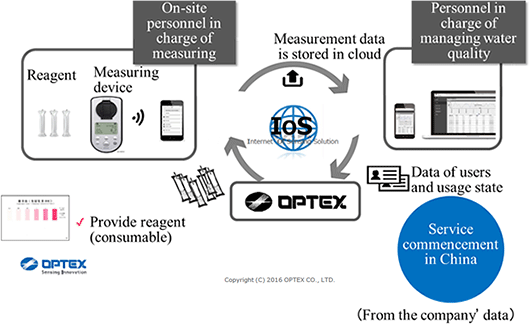 The user is able to easily measure the water quality at the site and ongoing trends can be monitored by storing the data on the cloud
In the past, it would be analyzed in the analysis lab after making observations, and rewritten onto paper or it would be re-inputted onto the computer, however with "WATER it", analyses are conducted on-site and they are sent to the data center from the measuring device using Bluetooth. Many sites can be managed together and efficiency can be greatly improved.
(The company's cloud service will be used in conjunction with Fujitsu.)

In addition to the services offered, reagents for measuring the water quality will be sold as consumables which is one of the business' characteristics.
The quantity of coloring changes due to the concentration of specific substances, and of the items primarily measured in the natural environment, it is possible to measure 30 of them.

First of all, the company will develop the business in China.
Currently, plans consist of building a network of vendors with one distributor per province. Sales will begin this spring.
The company will provide a solution to environmental problems and offer services on-site such as wastewater treatment plants, sewage disposal plants in addition to water quality inspections and school education in times of disasters through collaboration with industry organizations, schools and firms.

The company plans to expand into other emerging countries in the future while achieving numerous results in China.
In addition, the company intends to expand the industry past water quality inspections and into air and soil measurement, with aims of reaching 1 billion yen sales by 2019.

 

 
 

Although sales and profits rose, the company was unable to meet target values. On reflection, the company plans to "train management personnel to improve awareness in regard to the planning system and its success", "reinvigorate discussions to share ideas with young workers and promote proposals that match local needs to open new means of application", "set up nominees to pioneer new divisions within each department in order to reinvigorate challenging new enterprises," etc.
Some effects appear in the short term while others do not. The management will pursue better results while emphasizing "freewheeling ideas" that characterize the company. In the short term, the company aims to increase sales and profit by double digits and, in the medium-term, launch the anticipated service "WATER it," which is one of representative new business models. We would like to pay attention to their progress.

 

<Reference:Future Business Strategies (from the previous Bridge Report)>

The Company has adopted the management policy of "creating something new", and is applying themselves to "creating a new business" as well as continuing with expanding their core business in order to realize a consolidated sales of ¥50 billion by FY 2019.

 

◎Change to Business Model - Ongoing Flow of Income

Including the traditional business model of selling out individual sensor products, the company will expand the business into system solutions, sale of consumable goods etc. and improve the ongoing flow of income.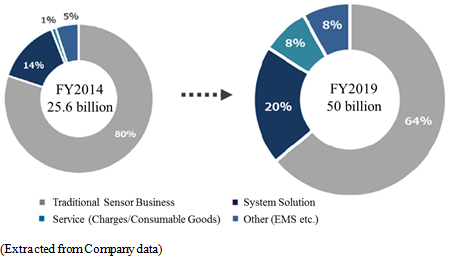 ◎Creation of New Business: "IoS" Service

The center of this ongoing flow of income business model is the "IoS (Internet of Sensing Solution) service."
By connecting the sensors into a network and utilizing the company's strengths in "area detection organization", "sensing algorithm", "low power consumption", "environment resistance capabilities" etc., the company will be able to provide a new added value and solution to the clientele in the form of "anti-crime/security/disaster prevention", "environmental monitoring", "operation management" and "facility/asset management".

In particular, the company's sensing algorithm, used in all sensors such as security sensors, driving behavior sensors, automatic door sensors, has high detection capabilities meaning it will react precisely to necessary pieces of information.
By utilizing this strength, the clientele will consist of system operators, and the company will be able to develop applications and sensors to handle different tasks.

In comparison to the general "IoT" service, which is intended for processing large amounts of big data, the "IoS (Internet of Sensing Solution)" service is unique in that it extracts smart data, which are definite sources of information that have been sorted out via an application sensor.

 

◎Three Categories of IoS

At the company, services are provided under the following three categories:
① Complete Solution Package- "sensors, operation servers, supply of operation and services" are all managed by the company
② Alliance Solution Package - "connection to an operation/service provider"
③ Terminal Unit Sale Package - sensors etc. are sold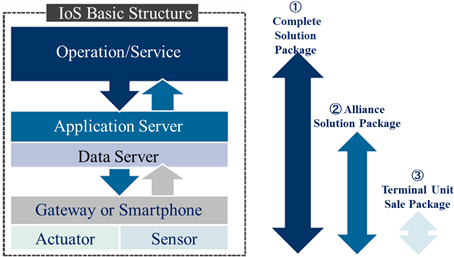 ① Complete Solution Package
The company will use "Remote Monitoring Service (Cloud Visual Verification)" as a representative example.
This uses the company's sensors with the world's largest camera manufacturer, Axis' IP camera to conduct 24-hour surveillance on all types of facilities such as car dealers and construction sites through an online connection to a monitoring center. All sensors, cameras, services and operation will be managed by the company group.
UK subsidiary, Farsight Security Services Ltd., which has experience in long-distance surveillance released the world's first bundled service in the UK in June 2015.
The company is anticipating results this term or in the next, and is expecting to open it up to regions outside of the UK in the latter half of the next term.

②Alliance Solution Package
As a representative example, introduced in the last report was the "careful driving cashback service", the first ever new type of automobile insurance which Sony Assurance Inc. had started selling in February 2015 in Japan.

The user (insurance policyholder) installs the "Drive Counter", a device that utilizes the OPTEX driving behavior sensing technology to measure the driver's characteristics, in their vehicle, and drives for a fixed duration of time. The Drive Counter uses OPTEX's unique driving behavior measurement technology which has accelerometers embedded to record instances of dangerous driving.
At the end, the user sends the Drive Counter to Sony Assurance Inc. If they score 60 or over, then they receive a cashback in accordance with their grade.

Sony Assurance Inc. has thought that in order for this type of insurance to be made mainstream, "the installation of the measuring device and usage need to be simple", "operation costs including the cost of the device need to be low" and "the device must be highly reliable", but the OPTEX Drive Counter uses high precision sensing technology, does not use the telematics system, which has communications functions, and does not have any running costs, meaning that it had met all of their criteria which is why Sony Assurance Inc. evaluated it highly and after 4 years of conclusive data, they went into industrialization.

In addition, the company is progressing with the development of a simple water quality measurement solution via the Alliance package.
Water quality measurement data gathered on-site, user data, usage data etc. will be managed by the operation/service company via the IoS platform. Furthermore, including the system, the company has developed a reagent to conduct simple and prompt measurements of water quality and started selling it in April 2015. The company is aiming for an ongoing flow of income via reagent and system sales. The company believes as a company that has been working on water quality measurement sensors from before as an environment-related business, the company has taken a major step forward in expanding the enterprise.

③IoS Terminal Unit Sale Package
The company provides near-infrared ray sensors, far-infrared ray sensors, ultrasonic sensors, distance image sensors, fiber sensors, accelerometers, laser sensors etc. through correspondence with an open system which has all the sensor essentials.
Outside of the terminal unit, the partners control the system. However, the company understands all of the specifications of the service and operation of the sensors and thus, will provide the clientele with the optimal specifications.
The company will have a different clientele to that of the past, and therefore, is anticipating an expansion to the business in the future.

 

 

Disclaimer

This report is intended solely for information purposes, and is not intended as a solicitation to invest in the shares of this company. The information and opinions contained within this report are based on data made publicly available by the Company, and come from sources that we judge to be reliable. However, we cannot guarantee the accuracy or completeness of the data. This report is not a guarantee of the accuracy, completeness or validity of said information and or opinions, nor do we bear any responsibility for the same. All rights pertaining to this report belong to Investment Bridge Co., Ltd., which may change the contents thereof at any time without prior notice. All investment decisions are the responsibility of the individual and should be made only after proper consideration.

Copyright(C) 2016 Investment Bridge Co., Ltd. All Rights Reserved.