Toru Kobayashi
Chairman and CEO

Isamu Oguni
President and COO

 
| | |
| --- | --- |
| Company | OPTEX GROUP Co., Ltd. |
| Code No. | 6914 |
| Exchange | TSE 1st Section |
| Industry | Electric equipment (manufacturer) |
| Chairman | Toru Kobayashi |
| President | Isamu Oguni |
| HQ Address | 5-8-12, Ogoto Otsu, Shiga |
| Year-end | December |
| URL | |
Share Price
Shares Outstanding
Market Cap.
ROE (actual)
Trading Unit
¥3,315
17,341,997shares
¥57.488billion
7.4%
100 shares
DPS (Est.)
Dividend Yield (Est.)
EPS (Est.)
PER (Est.)
BPS (actual)
PBR (actual)
¥45.00
1.4%
¥144.15
23.0x
¥1,480.66
2.2x
* Stock price as of the close on May 9, 2017. Number of shares at the end of the most recent quarter excluding treasury shares.
ROE and BPS are from the last year-end.
Fiscal Year
Net Sales
Operating
Profit
Ordinary
Profit
 Net Profit 
 EPS (¥) 
Dividend (¥)
December 2010
17,395
1,705
1,761
981
59.30
30.00
December 2011
18,502
1,677
1,830
1,033
62.45
30.00
December 2012
20,699
1,398
1,680
825
49.88
30.00
December 2013
23,582
2,108
2,628
1,620
97.90
30.00
December 2014
25,678
2,558
3,043
1,897
114.68
35.00
December 2015
27,793
3,161
3,222
2,051
123.96
40.00
December 2016
31,027
3,015
3,086
1,809
109.33
45.00
December 2017 Est.
35,600
3,700
3,800
2,500
144.15
45.00
* Estimates are those of the Company. From the current fiscal year, the definition for net profit has been changed to net profit attributable to owners of parent.
This Bridge Report presents OPTEX GROUP's earnings results for the first quarter of fiscal year ending December 2017 and Medium-term Management Policy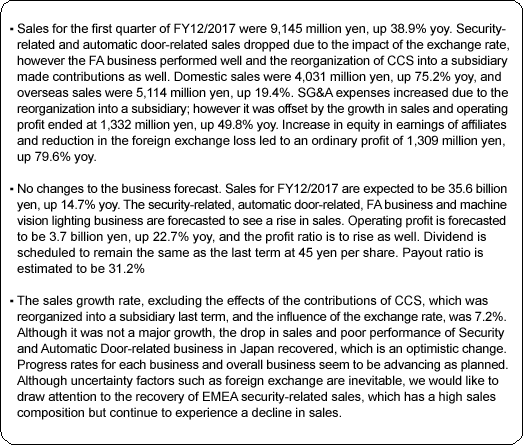 OPTEX GROUP Co., Ltd. is a holding company centered around OPTEX Co., Ltd. that manufactures and sells outdoor sensors (top share of 40% in the global market), automatic door sensors (30% share of the global market and 60% share of the domestic market) and environment-related products.
OPTEX GROUP holds subsidiaries including OPTEX FA CO., LTD., which deals with FA related sensing business, CCS Inc. which holds the global top share in the LED lighting business for image processing, RAYTEC LIMITED (UK), which has attained the largest global share (about 50 %) for supplemental lights for CCTV, and FIBER SENSYS INC. (US), which deals with optical fiber intrusion detection systems.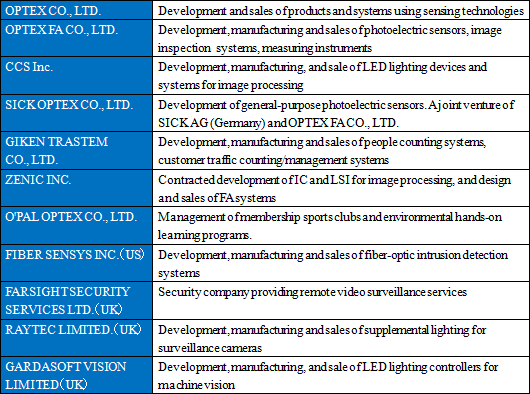 Business Description
The Company's business is composed of its main Sensing Solution (SS) business (security-related business, automatic door-related business, and EMS-related business), Factory Automation (FA) business (sensor for industrial machine), Machine vision lightning (MVL) business (LED lighting device and system for image processing), and Other business (operation of sport clubs). (The names and segment changed when the Company changed its system to a holding company.)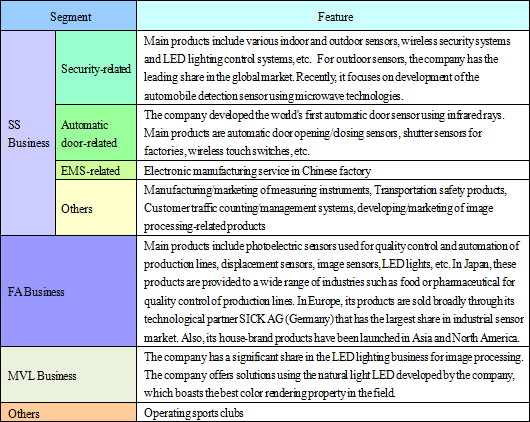 Advantages :Diversified Technologies/Expertise on Sensing and Unique Sensing Algorithm
To produce stable and reliable sensors, it is essential to build on a number of elemental technologies and expertise, as well as 'algorithms' to control physical changes. The company takes advantage of its technologies/expertise suitable for intended applications and its unique sensing algorithm to secure the largest share in global market.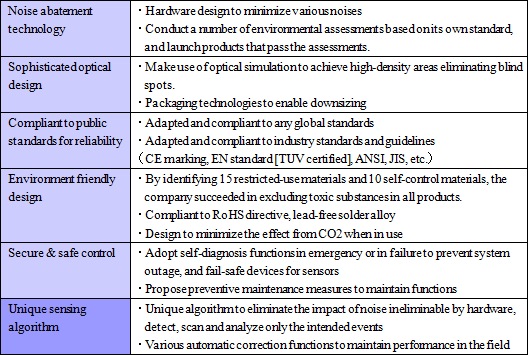 History
OPTEX was established in 1979 and developed the world's first automatic door sensors using infrared rays in the following year. Back then, most of the automatic doors were using pressure sensitive rubber mats, which contained sensors, and sensors using infrared rays were very innovative. The company also showed unrivaled abilities in product maintenance and implementation, and captured the top share in the automatic door sensors market in only three years since its inception (currently, about 60% share in the domestic market). The company expanded operations and listed on the over-the-counter market (equal to listing on JASDAQ) in 1991. Then it listed on the second section of Tokyo Stock Exchange in 2001 and moved to its first section in 2003.
Recently, it has been working on enhancement of solutions based on image processing technologies and high-end security systems. In 2008, it acquired ZENIC INC., which specialized in contracted development of IC/LSI for image processing systems. Furthermore, it acquired FIBER SENSYS INC. (US) in 2010 and RAYTEC LIMITED (UK) in 2012 respectively. In May 2016, the company reorganized CCS Inc. (6669, JASDAQ), which has the largest share in the global industrial LED lighting field, into a subsidiary. On Jan. 1, 2017, the company shifted to the holding company system, with the aim of advancing to next-generation management and pursuing group synergy.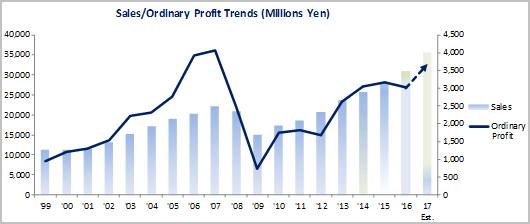 OPTEX GROUP's ROE in FY12/16 was 7.4% and less than 8% for the first time in 4 terms.
The Company sets a goal of ROE of 10% or more as an important management index and aims for recovery to more than 8%.

 

 
First Quarter of Fiscal Year December 2017 Earnings Results

 

Double-digit rise in sales and profit due to the impact of M&A and strong FA.

Sales were 9,145 million yen, up 38.9% yoy. Security-related and automatic door-related sales dropped due to the impact of the exchange rate (minus 255 million yen), however the FA business performed favorably (OPTEX FA: plus 300 million yen) and the reorganization of CCS into a subsidiary (plus 2.3 billion yen) made contributions as well. Domestic sales were 4,031 million yen, up 75.2% yoy, and overseas sales were 5,114 million yen, up 19.4%.
SG&A expenses increased due to the reorganization into a subsidiary, however it was offset by the growth in sales and operating profit ended at 1,332 million yen, up 49.8% yoy (exchange rate had an influence of a 135 million yen deficit).
Increase in equity in earnings of affiliates and reduction in the foreign exchange loss led to an ordinary profit of 1,309 million yen, up 79.6% yoy.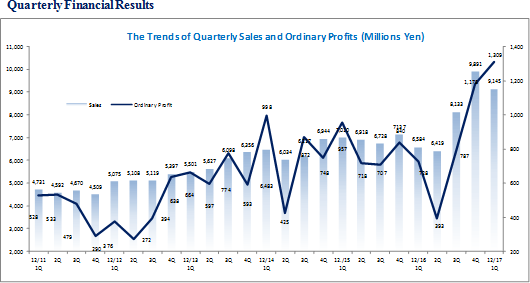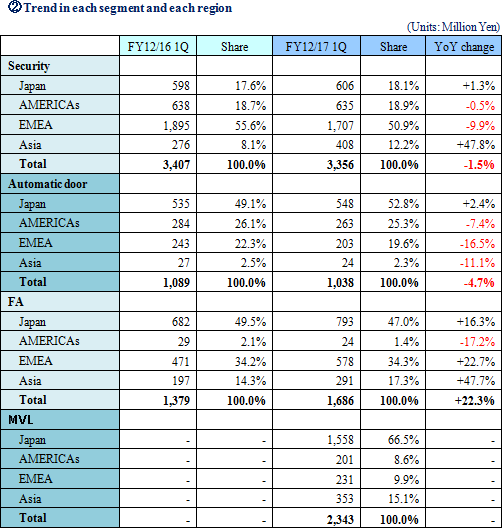 ◎SS Business
(Security-related)

Japan: Sales of outdoor security sensors targeted at security companies were robust.
AMERICAs: Secured a large quantity of orders for new products in North America. Sales of outdoor security sensors targeted at important facilities performed well, however due to the impact of exchange rates, they remained at the same level.
EMEA: Although sales of outdoor security sensors targeted at important facilities and outdoor residential sensors for Southern Europe were strong, overall sales declined due to the influence of exchange rates.
Asia: Sales of outdoor security sensors to distributors in South Korea and Australia were favorable.

 

(Automatic Door-related)

Japan: Sales of automatic door sensors and shutter sensors for factories performed well.
AMERICAs: Sales of automatic door sensors to major North American clients dropped year-on-year.
EMEA: Sales of automatic door sensors to major European clients decreased year-on-year.

 

◎FA Business

Japan: Sales of semiconductors, rechargeable batteries, flat panel displays, electronic components, LED lights for quality testing for the food industry, image sensors, and displacement sensors were favorable.
EMEA: Sales of displacement sensors were strong due to sales promotional activities towards OEM suppliers.
Asia: Sales of displacement sensors mainly for the smartphone industry were strong due to the capital investment boom to save manpower in China.

 

◎MVL Business

Japan: Opportunities to receive orders increased due to the expansion of solutions and improvements to proposals.
AMERICAs: As a result of progressive business activities in North America, new transactions and sales to existing clients increased.
EMEA: An upswing in the semiconductor market in Europe led to strong sales to major clients.
Asia: Sales were strong in Singapore, Malaysia and Thailand.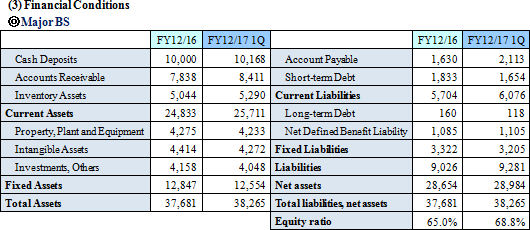 Current assets grew 878 million yen due to the increase in trade receivables from increased sales and inventory assets. A drop in intangible assets led to noncurrent assets decreasing by 293 million yen and total assets rising 584 million yen yoy to 38,265 million yen.
Total liabilities were 9,281 million yen, up 255 million yen yoy, due to increased trade payables.
Due to the strong yen, the foreign currency translation adjustment was a deficit and the non-controlling shareholders' interest fell, however capital surplus and retained earnings increased. As a result, net assets rose to 28,984 million yen, up 330 million yen yoy.
As a result, equity ratio increased by 3.8% from 65.0% at the end of the previous term to 68.8%.

 

 
Fiscal Year December 2017 Earnings Estimates

 

No change to earnings estimates. Double-digit growth of sales and profits in all business segments

There is no change to the earnings estimates. Sales are estimated to increase 14.7% yoy to 35.6 billion yen. All business segments including Security-related business, Automatic door-related business, FA business and Machine vision lighting business are expected to increase sales. Sales from CCS Inc. and Gardasoft Vision will contribute to the growth throughout the fiscal year.
Operating profit is estimated to increase 22.7% yoy to 3.7 billion yen. Operating profit margin is also projected to increase.
The dividend amount is estimated to be 45 yen/share, the same level as the previous term. Payout ratio is projected to be 31.2%.

 

 

◎SS Business
(Security-related business)

Japan: The Company will strengthen the sales of "disaster prevention lighting" products. It will also increase the number of new transactions by promoting sales targeting public agencies.
AMERICAs: The Company will ensure to acquire transactions for "large important facilities". It will also expand the sales of outdoor security sensors for energy-saving and low cost houses.
EMEA: The Company will firmly maintain the market share of outdoor security sensors. It will launch new products related to outdoor security sensors for the residential market targeting Southern Europe.
Asia: It will strengthen the sales of machine security sensor targeting Southeast Asia.

 

(Automatic door-related business)

Japan: The Company will provide a wide range of product lineup that is in compliance with new safety regulations. It will also launch high value-added products equipped with an image sensor.
AMERICAs: The Company will launch new products that are in compliance with new safety regulations which will come into effect. OEM sales of its core sensors to major customers in North America will start.
EMEA: Same as AMERICAs, the Company will launch new OEM devices for major customers in Europe. It will increase product lines that are in compliance with EN regulations.

 

◎FA business

Japan: The Company will focus on expanding sales of displacement sensors, fiber sensors, and LED lighting targeting the electronics industry.
EMEA: The Company will focus on expanding the business in Europe by suppling displacement sensors to OEM and strengthening sales promotion.
Asia: The Company will increase the number of sales offices and strengthen the sales network to fortify its position in the Chinese market.

 

◎Machine vision lightning business

Japan: The Company will further strengthen the capacities of solutions using lens, camera, etc. It will elevate the level of proposals to the customers and strive to be different from the competitors.
AMERICAs: The Company will strengthen the local support system and strengthen the capacities to respond to growing number of custom-orders. It will focus on business expansion in Mexico.
EMEA: The Company will aggressively visit customers to increase new and existing customers. It will strengthen its sales capacities and increase the number of custom-order sales.
Asia: The Company will find sales agents that are influential in China. It will find new markets in Malaysia, Thailand and Vietnam.

 

 
 

From this fiscal year, the Company transitioned to a holding company system. It aims at creating "the new" by boldly depicting the future and acting with speed. Its main growth strategies, "Visual Verification" and "Factory Automation" are considered 2 pillars of the strategies.

 

①Growth Strategy
◎Visual Verification

There is an issue with detecting abnormality just by a sensor from an accuracy point of view (e.g. triggering the false alarm). For example, in UK, the police rushes to the site only after the sensor detects abnormality and a camera image is confirmed. In the USA, there is a false alarm fine system for the police in place in some states.
Furthermore, not only for residential use, the need for high-end visual verification is increasing in the emerging countries where infrastructure development for important facilities is accelerating amid frequent terrorist attacks in the world.

In response to the expansion of the needs for visual verification, it is expected that the global surveillance camera market centered around the network security cameras will grow at an annual rate of 15% by 2018.

The Company Group will collaborate with a major global security manufacturer to develop, launch and sell products equipped with a "sensor" to detect, "camera" to shoot images, and "wireless" function to send the information digitally in the residential market.
In the high-end market, it will promote sales of new solutions for "outdoor security" which they occupy the top share in the global market under the concept of "Internet of Sensing Solution (IoS)".

 

◎Factory automation

In the field of Factory Automation (FA), the Company will pursue a synergy effect of "Sensor business" of OPTEX FA and "Machine vision lighting business" of CCS.

OPTEX FA's strengths lie in their R&D capabilities to produce high quality products at low prices, their global expansion capabilities in selling products to over 60 countries in cooperation with the best in the world -- SICK AG, and fabless management which enables them to specialize in R&D and marketing and achieve high profitability.
Meanwhile, CCS possesses the top lighting solution capabilities which is backed by their extensive knowhow, top world's market share at 30%, and leading manufacturing capabilities.

In selling and presenting offers, by combining the strengths of both companies, they will be able to present complete proposals of high-value added products, jointly increase new clients, and proceed in making new solution proposals.
In addition, they aim to speed up development and production, improve quality, and optimize manufacturing via streamlining development which would include joint fundraising.

OPTEX FA aims to utilize synergy in the group to not only increase new customers in the food, pharmaceutical and cosmetic industry -- their main clientele -- but also in the electrical, electronics, semiconductor and automobile industry and expand their business.

CCS will expand their solutions for customers into not only lighting, but also cameras, lens, and systems to distinguish themselves from their competition. They aim to further increase their market share.

 

②Management benchmarks and performance goals

The management benchmarks for the OPTEX GROUP are "Sales growth rate of over 15%", "Operating profit margin of over 15%" and "ROE of over 10%".
To raise the operating profit margin, the Company will continuously work on reducing costs and minimize the influence of foreign exchange by raising domestic sales ratio and expanding overseas manufacturing system.
The goals of the Company for 2019 are sales of 50 billion yen and operating profit of 7.5 billion yen.
M&A and business collaboration are also under consideration to expand its business.

 

 
 

The sales growth rate, excluding the effects of the contributions of CCS, which was reorganized into a subsidiary last term, and the exchange rate, was 7.2%.
Although it was not a major growth, the drop in sales and poor performance of Security and Automatic Door-related business in Japan recovered, which is an optimistic change. The progress rates for each business and overall business seem to be advancing as planned.
Although uncertainty factors such as foreign exchange are inevitable, we would like to draw attention to the recovery of EMEA security-related sales, which has a high sales composition but continue to experience a decline in sales.

 

 
<Reference:Regarding Corporate Governance>

 

◎ Corporate Governance Report

The latest revision date: April 10, 2017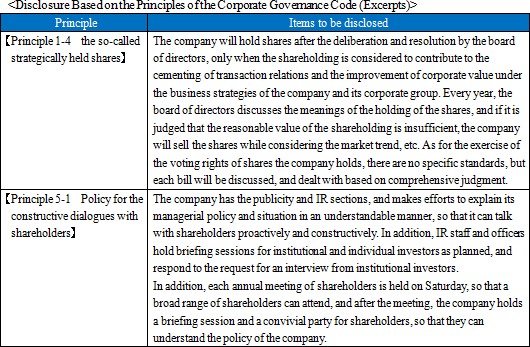 Disclaimer
This report is intended solely for information purposes, and is not intended as a solicitation to invest in the shares of this company. The information and opinions contained within this report are based on data made publicly available by the Company, and come from sources that we judge to be reliable. However, we cannot guarantee the accuracy or completeness of the data. This report is not a guarantee of the accuracy, completeness or validity of said information and or opinions, nor do we bear any responsibility for the same. All rights pertaining to this report belong to Investment Bridge Co., Ltd., which may change the contents thereof at any time without prior notice. All investment decisions are the responsibility of the individual and should be made only after proper consideration.
Copyright(C) 2017 Investment Bridge Co., Ltd. All Rights Reserved.