Toru Kobayashi
Chairman and CEO

Isamu Oguni
President and COO

 
| | |
| --- | --- |
| Company | OPTEX GROUP Co., Ltd. |
| Code No. | 6914 |
| Exchange | TSE 1st Section |
| Industry | Electric equipment (manufacturer) |
| Chairman | Toru Kobayashi |
| President | Isamu Oguni |
| Address | 5-8-12, Ogoto, Otsu, Shiga Prefecture |
| Year-end | December |
| URL | |
Share Price
Shares Outstanding
(Excluding Treasury Shares)
Market Cap.
ROE (actual)
Trading Unit
¥2,371
34,700,907 shares
¥82,275 million
12.6%
100 shares
DPS (Est.)
Dividend Yield (Est.)
EPS (Est.)
PER (Est.)
BPS (actual)
PBR (actual)
¥30.00
1.3%
¥99.78
23.8x
¥1,680.79
2.8x
* Stock price as of the close on August 1, 2018. Number of shares at the end of June 2018 excluding treasury shares. ROE and BPS are the results from the last year-end. On April 1, 2018, a 2-for-1 stock split was implemented. For PBR, the stock split is considered. Share exchange will be implemented on July 1, 2018. For EPS, the stock split and issuance of new shares upon share exchange are considered.
Fiscal Year
Net Sales
Operating
Profit
Ordinary
Profit
Net
Profit
EPS (¥)
DPS (¥)
December 2013
23,582
2,108
2,628
1,620
97.90
30.00
December 2014
25,678
2,558
3,043
1,897
114.68
35.00
December 2015
27,793
3,161
3,222
2,051
123.96
40.00
December 2016
31,027
3,015
3,086
1,809
109.33
45.00
December 2017
37,504
4,885
5,036
3,386
195.25
55.00
December 2018 (Est.)
40,500
5,300
5,400
3,600
99.78
30.00
* Estimates are those of the company. From the current fiscal year, the definition for net profit has been changed to net profit attributable to owners of the parent company. The same shall apply hereinafter. On April 1, 2018, a 2-for-1 stock split was implemented. For DPS, the stock split is considered. Share exchange was implemented on July 1, 2018. For EPS, the stock split and issuance of new shares upon share exchange are considered. Both EPS and DPS are not revised retroactively.
This Bridge Report presents OPTEX GROUP's earnings results for the second quarter of fiscal year ended December 2018.
OPTEX GROUP Co., Ltd. is a holding company centered around OPTEX Co., Ltd. that manufactures and sells outdoor sensors (top share of 40% in the global market), automatic door sensors (30% share of the global market and 60% share of the domestic market) and environment-related products. OPTEX GROUP holds subsidiaries including OPTEX FA CO., LTD., which deals with FA related sensing business; CCS Inc., which holds the global top share in the LED lighting business for image processing; Three Ace Co., Ltd., which specializes in the development of various systems, applications, and digital content; Optex MFG Co., Ltd., which is responsible for manufacturing Group products, RAYTEC LIMITED (UK), which has attained the largest global share (about 50 %) for supplemental lights for CCTV; and FIBER SENSYS INC. (US), which deals with optical fiber intrusion detection systems.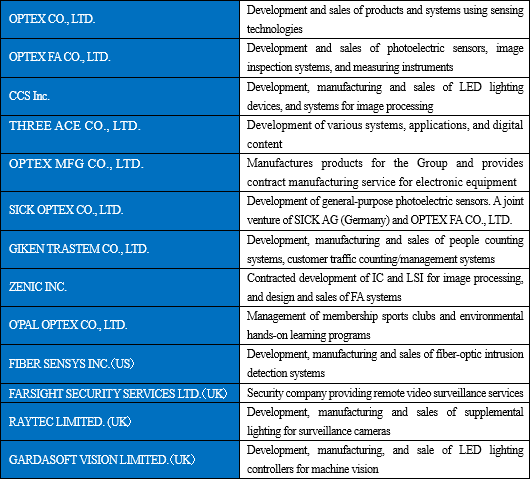 【1-1. Business Description】
The Company's business is composed of its main Sensing Solution (SS) business (security-related business and automatic door-related business), Factory Automation (FA) business (sensors for industrial machinery), Machine vision lightning (MVL) business (LED lighting device and system for image processing), "EMS business," which was included in the SS business up until the previous term and provides contract manufacturing services for electronic equipment in China, and Other business (operation of sport clubs).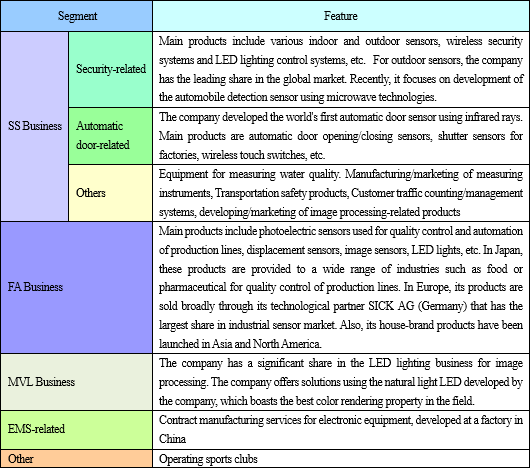 【1-2. Advantages: Diversified Technologies/Expertise on Sensing and Unique Sensing Algorithm】
To produce stable and reliable sensors, it is essential to build on a number of elemental technologies and expertise, as well as "algorithms" to control physical changes. The company takes advantage of its technologies/expertise suitable for intended applications and its unique sensing algorithm to secure the largest share in the global market.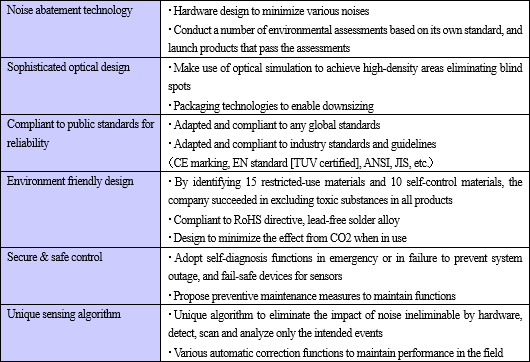 【1-3. History】
OPTEX was established in 1979 and developed the world's first automatic door sensors using infrared rays in the following year. Back then, most of the automatic doors were using pressure sensitive rubber mats, which contained sensors, and sensors using infrared rays were very innovative. The company also showed unrivaled abilities in product maintenance and implementation, and captured the top share in the automatic door sensors market in only three years since its foundation (currently, about 60% share in the domestic market). The company expanded operations and got listed on the over-the-counter market (equal to listing on JASDAQ) in 1991. Then it got listed on the second section of Tokyo Stock Exchange in 2001 and moved to its first section in 2003. Recently, it has been working on enhancement of solutions based on image processing technologies and high-end security systems. In 2008, it acquired ZENIC INC., which specialized in contracted development of IC/LSI for image processing systems. Furthermore, it acquired FIBER SENSYS INC. (US) in 2010 and RAYTEC LIMITED (UK) in 2012, respectively. Also, CCS Inc. (6669, JASDAQ), which holds the largest market share in the world for LED lighting for image processing, was reorganized into a subsidiary in May 2016 (and became a wholly owned subsidiary in July 2018). On January 1, 2017, the company shifted to the holding company system, with the aim of advancing to next-generation management and pursuing group synergy.
【1-4. ROE analysis】

ROE in the FY 12/17 achieved "10% or more" as targeted, for net profit margin improved significantly owing to favorable performance.
Second Quarter of Fiscal Year Ended December 2018 Earnings Results
Sales increased, but operating profit fell due to investments made in the MVL business.
Sales were 19,674 million yen, up 6.3% yoy. All major businesses performed well, driven by the FA and MVL businesses. Domestic sales were 8,190 million yen, an increase of 4.4%. Overseas sales were 11,484 million yen, up 7.6% yoy. Operating profit fell 4.2% to 2,609 million yen. SG&A expenses increased, due to a decline in gross margin resulting from changes in the sales mix, as well as investments toward the growth of the company, such as expansion of testing rooms for the MVL business, development of new products, and increases in manufacturing personnel. Net profit increased 5.2% yoy to 1,950 million yen. 386 million yen gained from the partial sale of investment securities was declared as extraordinary profit. Both sales and profits were mostly in line with initial estimates.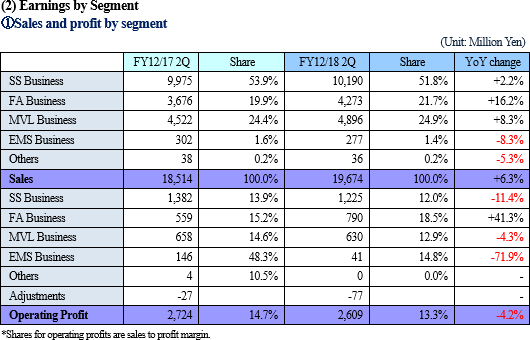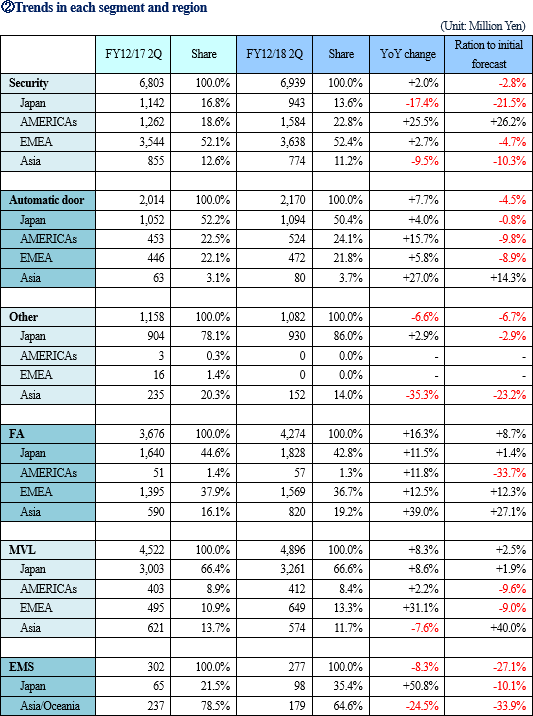 ◎ SS Business
(Security-related)
Japan: The sales of outdoor security sensors for security companies and large-scale facilities such as mega solar power plants were sluggish, and sales declined. AMERICAs: Sales increased due to large-scale transactions involving outdoor security sensors for major facilities in South America. EMEA: Sales increased due to the steady performance of manufacturing subsidiaries in the UK. Asia: Sales of security sensors targeted at Australia and Southeast Asia were sluggish, and sales declined.
(Automatic door-related)
Japan: Sales increased due to strong sales of automatic door sensors targeted at major domestic clients. AMERICAs: Sales grew steadily for outdoor security sensors targeted at key facilities in North America, and sales increased. EMEA: Sales of sensors for automatic doors targeted at major clients in Europe were sluggish, but sales increased due to the effect of the foreign exchange rate.
◎ FA business
Japan: In addition to displacement sensors for semiconductors, secondary batteries, and flat panel displays, sales of displacement sensors for the electronic parts industry were strong, and sales increased. EMEA: Due to the effect of sales promotion toward OEMs, the sales of displacement sensors were steady. Consequently, sales increased. Asia: As the investment in labor-saving equipment was active in China, the sales of displacement sensors were steady. Consequently, sales increased significantly.
◎ MVL lighting business
Japan: Sales increased thanks to a larger sales area, which was made possible by expanding solutions and establishing a testing room. AMERICAs: Performance was healthy, as there were large-scale orders for smartphones and continuous transactions in North America. EMEA: The semiconductor market in Europe was healthy, and sales toward major clients continuously expanded, and sales increased. Asia: Although sales in Southeast Asia were steady, sales declined due to the termination of the joint venture in China.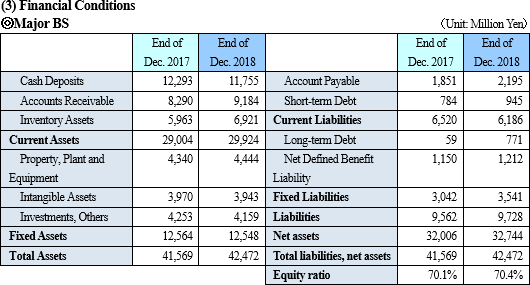 Total assets grew 903 million yen from the end of the previous term to 42,472 million yen, due to increases in accounts receivable and inventory assets. Total liabilities rose 166 million yen from the end of the previous term to 9,728 million yen, due to an increase in long-term debts. Net assets were 32,744 million yen, up 738 million yen from the end of the previous term due to an increase in retained earnings, etc. As a result, equity ratio was 70.4%, almost unchanged from the end of the previous term.

Free CF turned negative due to increases in inventories and purchase of property, plant and equipment. As proceeds from long-term borrowings increased, financing CF turned positive, and the cash position improved.
(4) Topics
◎ Reorganization of a software development company into a subsidiary
In June 2018, the company acquired all shares of Three Ace Co., Ltd. (Kyoto City), a software development company specializing in the development of various systems, applications and digital content, and reorganized them into a subsidiary. (Background and purpose for making Three Ace a subsidiary) Within the OPTEX Group, OPTEX Co. Ltd., OPTEX FA Co., Ltd. and CCS Co., Ltd., companies that are part of the main businesses, securing IT technology was viewed as an important task as part of the "IoT strategy," which involves developing comprehensive solutions while taking communication systems and the end user into account. Three Ace has been developing business systems for roughly 40 years, and has the know-how necessary to provide a one-stop solution for problem solving, system design, installation, and maintenance. The company believes that the "IoT strategy" will benefit from reorganizing Three Ace into a subsidiary through the in-house manufacturing of IT technology and the use of combined know-how to improve comprehensive solutions.
◎ Operations begin at the production control company
OPTEX MFG Co., Ltd., which was established in April 2018 in order to divide and integrate the production segments of OPTEX Co., Ltd. and OPTEX FA Co., Ltd. and to oversee production at these companies, began operations in July 2018. In the future, in addition to integrating overlapped production/management, technology, and purchases functions at both companies into OPTEX MFG, OPTEX MFG aims to improve productivity by taking initiative with the development of production technology and applying innovative production methods cultivated at the company's Chinese factory to factories in Japan, thereby optimizing the production process across the entire Group.
Fiscal Year Ending December 2018 Earnings Estimates

There is no change in the earnings forecast. Sales and profits are expected to increase.
There is no change in the earnings forecast. Sales are projected to increase in all segments and to be 40.5 billion yen, up 8.0% yoy. Operating profit is estimated to rise by 8.5% to 5.3 billion yen. Sales growth in the first half was somewhat slow as procurement of certain parts was delayed and conducted in the second half, but the company expects to see a recovery by the end of the term. Some expenses were dealt with in advance, so the company anticipates a 25% increase in operating profit and ordinary profit. The dividend is to be 30 yen/share. The estimated payout ratio is 30.1%.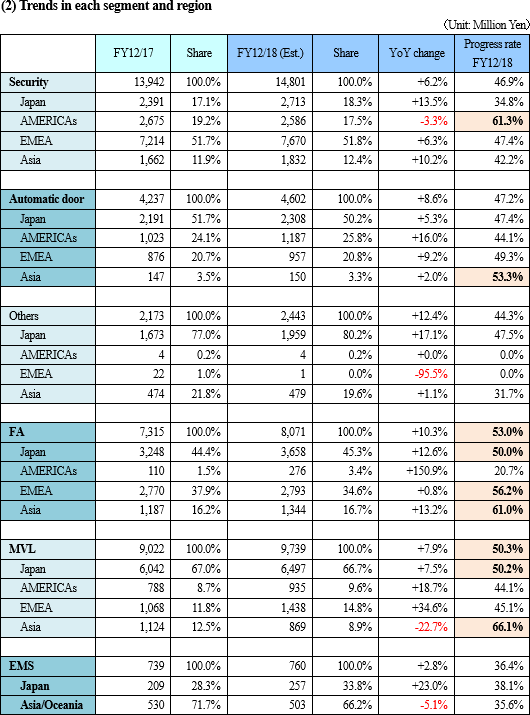 The FA business and the MVL business show a high rate of progress, driving growth for the entire year.

While the SS business (security-related) is somewhat sluggish in the domestic market, the company expects that business will be better in the second half than in the first half.

Although the launch of OPTEX FA's U.S. subsidiary was slightly delayed, the company plans to increase their pace in the second half.
(1) Expansion of FA-related business
Because growth is anticipated in fields such as automobiles (electric cars, advanced driving support systems), IoT (increased demand for data centers), AI (labor saving, working style reforms), and robotics (labor saving, measures to handle a decreasing working age population), capital investment for semiconductors and electronic components is expected to steadily increase in the future, and demand will increase for items like FA sensors, LED lights for image processing, and cameras. Taking the above into consideration, the company established OPTEX FA's first local subsidiary in the U.S. The subsidiary, OPTEX FA Inc., is a wholly owned sales subsidiary that deals in factory automation. It began operations on April 2, 2018. They will fully enter the factory automation market in the U.S., where further growth is expected. They will also switch from agency sales to a consulting method, developing on-the-spot sales. By making strategic use of the highly competitive "displacement sensors," the company will increase new customers and enter new markets such as the automobile industry and IT industry (data centers, etc.). They aim to reach sales of about 400 million yen in 3 years. The company also aims to further expand business by pursuing synergies with CSS Co., Ltd., which deals in LED lighting for image processing and became a wholly owned subsidiary of the company in July 2018. OPTEX FA specializes in general-purpose lighting but has few connections to overseas markets. On the other hand, CCS specializes in custom lighting and has had respectable results overseas. The company plans to combine the strengths of these two companies and use CCS's sales channels to increase sales. They intend to raise the two companies' combined market share to 70% in Japan and 50% overseas (currently 50% in Japan and 20% overseas) in the next five years.
(2) Promotion of the IoT strategy
With the reorganization of Three Ace into a subsidiary, the company will take this opportunity to strongly promote the "IoT strategy." It will become possible to develop communication software for monitoring services using IoT-compatible displacement sensors in the FA business, and remote monitoring services using sensors with built-in cameras in the SS business.
(3) Strengthen manufacturing capabilities
OPTEX MFG Co., Ltd., which began operating in July 2018, will establish a highly competitive production system by cooperating with companies from each business, utilizing their production capabilities. They will refine their manufacturing technology, and begin working on developing new products as a mother factory.
(4) Performance targets
The company's goals for 2019 include sales of 50 billion yen and an operating profit of 7.5 billion yen. In addition to 45 billion yen in regular sales, the company plans to gain another 5-6 billion yen through M&As with four to five other companies. However, rather than going by the numbers, synergy will be their primary concern as they move forward. The company also plans to raise the operating profit ratio on sales from the current estimate of 13.1% to 15%, and they intend to do so through advances in business rather than by cutting costs. The key to accomplishing this is to introduce new products that meet the security field's growing need for visual verification.
Although financial results were in line with estimates, the stock price took a sharp downward turn, recording the lowest amount so far this year. Considering the state of the market for capital investments such as AI, automation, and labor-saving, a strong demand over the medium to long term is anticipated. However, there are also other companies whose stock prices have risen since last year, and it seems that there are many cases where short-term factors such as the fear of bottlenecks due to parts shortages lead to the temporary sale of stocks. Although there are concerns regarding trade friction between the United States and China, we would like to pay attention to the company's progress in the second half in the short term, and the development of M&As, which are indispensable for achieving "sales of 50 billion yen and an operating profit of 7.5 billion yen in 2019" in the medium term.
<Reference: Regarding Corporate Governance>

◎ Corporate Governance Report
The latest revision date: March 26, 2018 <Reasons for Non-compliance with the Principles of the Corporate Governance Code (Excerpts)> It is stated that "Our company enforces all the principles of corporate governance code."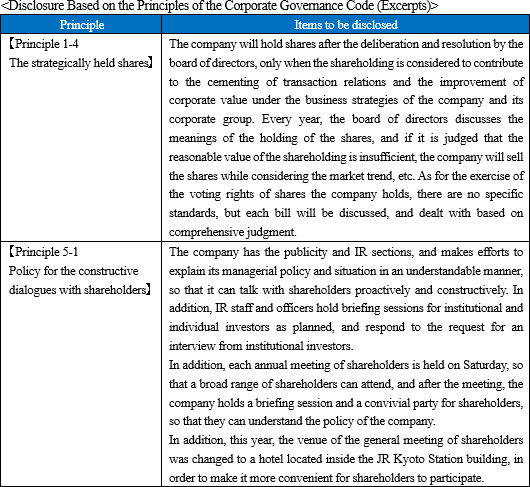 Disclaimer
This report is intended solely for information purposes and is not intended as a solicitation for investment. The information and opinions contained within this report are made by our company based on data made publicly available, and the information within this report comes from sources that we judge to be reliable. However, we cannot wholly guarantee the accuracy or completeness of the data. This report is not a guarantee of the accuracy, completeness or validity of said information and opinions, nor do we bear any responsibility for the same. All rights pertaining to this report belong to Investment Bridge Co., Ltd., which may change the contents thereof at any time without prior notice. All investment decisions are the responsibility of the individual and should be made only after proper consideration.
Copyright (C) 2018 Investment Bridge Co., Ltd. All Rights Reserved.