Toru Kobayashi
Chairman and CEO

Isamu Oguni
President and COO

 
| | |
| --- | --- |
| Company | OPTEX GROUP Co., Ltd. |
| Code No. | 6914 |
| Exchange | TSE 1st Section |
| Industry | Electric equipment (manufacturer) |
| Chairman | Toru Kobayashi |
| President | Isamu Oguni |
| Address | 5-8-12, Ogoto, Otsu, Shiga Prefecture |
| Year-end | December |
| URL | |
Share Price
Shares Outstanding
(Excluding Treasury Shares)
Market Cap.
ROE (actual)
Trading Unit
¥2,042
36,794,153 shares
¥75,133 million
12.3%
100 shares
DPS (Est.)
Dividend Yield (Est.)
EPS (Est.)
PER (Est.)
BPS (actual)
PBR (actual)
¥30.00
1.5%
¥111.07
18.4 x
¥875.98
2.3 x
* Stock price as of the close on February 22, 2019. Number of shares at the end of December 2018 excluding treasury shares. ROE and BPS are the results at the end of the previous term.
Fiscal Year
Net Sales
Operating
Profit
Ordinary
Profit
Net
Profit
EPS (¥)
DPS (¥)
December 2013
23,582
2,108
2,628
1,620
48.95
15.00
December 2014
25,678
2,558
3,043
1,897
57.34
17.50
December 2015
27,793
3,161
3,222
2,051
61.98
20.00
December 2016
31,027
3,015
3,086
1,809
54.67
22.50
December 2017
37,504
4,885
5,036
3,386
97.63
27.50
December 2018
40,113
4,989
5,038
3,775
104.85
30.00
December 2019 (Est.)
43,000
5,300
5,400
4,000
111.07
30.00
* Estimates are those of the company. From the current fiscal year, the definition for net profit has been changed to net profit attributable to owners of the parent company. The same shall apply hereinafter. On April 1, 2018, a 2-for-1 stock split was implemented. For DPS, the stock split is considered. Share exchange was implemented on July 1, 2018. For EPS, the stock split and issuance of new shares upon share exchange are considered. Both EPS and DPS are not revised retroactively.
This Bridge Report presents OPTEX GROUP's earnings results for the fiscal year ended December 2018.
OPTEX GROUP Co., Ltd. is a holding company centered around OPTEX Co., Ltd. that manufactures and sells outdoor sensors (top share of 40% in the global market), automatic door sensors (30% share of the global market and 60% share of the domestic market) and environment-related products. OPTEX GROUP holds subsidiaries including OPTEX FA CO., LTD., which deals with FA related sensing business; CCS Inc., which holds the global top share in the LED lighting business for image processing; Three Ace Co., Ltd., which specializes in the development of various systems, applications, and digital content; Optex MFG Co., Ltd., which is responsible for manufacturing Group products, RAYTEC LIMITED (UK), which has attained the largest global share (about 50 %) for supplemental lights for CCTV; and FIBER SENSYS INC. (US), which deals with optical fiber intrusion detection systems.
【1-1. Business Description】
The Company's business is composed of its main Sensing Solution (SS) business (security-related business and automatic door-related business), Factory Automation (FA) business (sensors for industrial machinery), Machine vision lightning (MVL) business (LED lighting device and system for image processing), "EMS business," which was included in the SS business up until the previous term and provides contract manufacturing services for electronic equipment in China, and Other business (operation of sport clubs).
【1-2. Advantages: Diversified Technologies/Expertise on Sensing and Unique Sensing Algorithm】
To produce stable and reliable sensors, it is essential to build on a number of elemental technologies and expertise, as well as "algorithms" to control physical changes. The company takes advantage of its technologies/expertise suitable for intended applications and its unique sensing algorithm to secure the largest share in the global market.
【1-3. History】
OPTEX was established in 1979 and developed the world's first automatic door sensors using infrared rays in the following year. Back then, most of the automatic doors were using pressure sensitive rubber mats, which contained sensors, and sensors using infrared rays were very innovative. The company also showed unrivaled abilities in product maintenance and implementation, and captured the top share in the automatic door sensors market in only three years since its foundation (currently, about 60% share in the domestic market). The company expanded operations and got listed on the over-the-counter market (equal to listing on JASDAQ) in 1991. Then it got listed on the second section of Tokyo Stock Exchange in 2001 and moved to its first section in 2003. Recently, it has been working on enhancement of solutions based on image processing technologies and high-end security systems. In 2008, it acquired ZENIC INC., which specialized in contracted development of IC/LSI for image processing systems. Furthermore, it acquired FIBER SENSYS INC. (US) in 2010 and RAYTEC LIMITED (UK) in 2012, respectively. Also, CCS Inc. (6669, JASDAQ), which holds the largest market share in the world for LED lighting for image processing, was reorganized into a subsidiary in May 2016 (and became a wholly owned subsidiary in July 2018). On January 1, 2017, the company shifted to the holding company system, with the aim of advancing to next-generation management and pursuing group synergy.
【1-4. ROE analysis】

ROE in FY December 2018 achieved "10% or more" as targeted for two consecutive terms. Net profit margin for the current fiscal year is projected to be 9.3%. It is expected that the high ROE will continue due to accumulation of profits even if total assets and capital increase.
【1-5. Efforts on ESG】
The company actively responds to ESG issues and strives to improve corporate value.
Fiscal Year Ended December 2018 Earnings Results
Both sales and profit increased.
Sales were 40,113 million yen, up 7.0%, year on year, driven by the FA business. Sales from the SS business slightly increased after deducting the contribution of Three Ace Co., Ltd., which was newly acquired by the company. The MVL business was influenced by the Chinese market fluctuation at the end of the year. Domestic sales were 17,159 million yen, up 8.4%, year on year, and overseas sales were 22,954 million yen, up 5.9%, year on yea5. Operating profit increased 2.1%, year on year, to 4,989 million yen. SG&A expenses increased 8.1, year on year, due to increased investment for future growth such as addition of testing room in the MVL business, investment in new product development, and an increase in manufacturing personnel, but it was offset by the increased revenue. Net profit increased 11.5%, year on year, to 3,775 million yen. 390 million yen was posted as extraordinary profit, including gains from the partial sale of investment securities. Net sales for the fourth quarter (October - December) of FY December 2018 marked the record high on the quarterly basis with M&A effects. Ordinary profit increased 10.6%, year on year. Although sales increased and profits declined in the third quarter, the performance recovered in the fourth quarter and landed with increased sales and profits for the full business year. However, the results were slightly below the initial forecasts.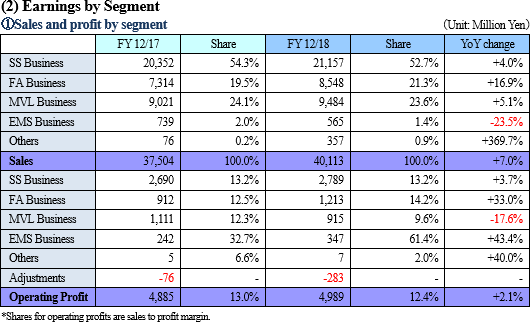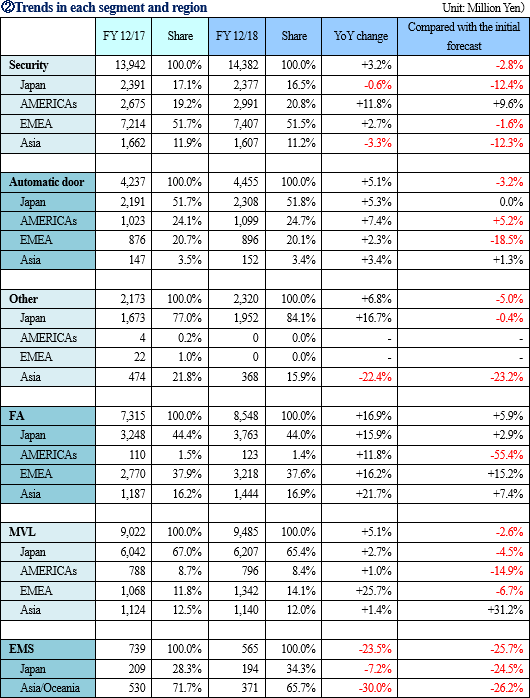 ◎ SS Business
(Security-related)
Japan: Sales declined even though the sales of outdoor security sensors for security companies and large-scale important facilities such as mega solar power plants were on a track to recovery in the second half. AMERICAs: Sales increased due to the steady sale of outdoor security sensors targeting large-scale important facilities in South America by sales subsidiaries in North America. EMEA: Sales increased due to steady performance of sales subsidiaries and manufacturer subsidiaries in the UK. Asia: Sales targeted at South Korea and Australia were sluggish, and declined.
(Automatic door-related)
Japan: Sales increased due to the strong sale of automatic door sensors targeted at major domestic clients. AMERICAs: Sales increased due to the steady sale of automatic door sensors targeted at major clients in North America. EMEA: Sales of sensors for automatic doors targeted at major clients in Europe were sluggish, but sales increased due to the effect of the foreign exchange rate.
◎ FA business
Japan: In addition to displacement sensors for semiconductors, rechargeable batteries, and flat panel displays, sales of displacement sensors for the electronic parts industry were strong, and sales increased. EMEA: As a result of sales promotion to the OEM company SICK AG(Germany), the sale of displacement sensors was strong, and sales increased. Asia: Sales increased substantially as investments into labor-saving equipment in China were very active, resulting in the steady sale of displacement sensors.
◎ MVL lighting business
Japan: Sales increased thanks to a larger sales area, which was made possible by expanding solutions and establishing a testing room. AMERICAs: Although there were large orders from existing customers, the number of consistent orders decreased, and sales remained roughly the same as the previous term. EMEA :Sales in Europe were favorable. New consolidated subsidiaries contributed to the sales. Asia:Sales increased slightly due to full performance of the wholly owned subsidiary that was established in China in the previous year.
Total assets grew 1,724 million yen from the end of the previous year to 43,293 million yen, due to an increase in inventory assets, etc. Total liabilities rose 1,385 million yen from the end of the previous year to 10,947 million yen, due to an increase in long-term debts, etc. Net assets were 32,345 million yen, up 339 million yen from the end of the previous year due to an increase in retained earnings of 2,688 million yen and an increase in treasury stock of 1,485 million yen from the end of the previous year. As a result, equity ratio increased 4.3 points from the end of the previous term to 74.4%.

The surplus in operating CF decreased due to increases in accounts receivables and inventory assets. Meanwhile, the negative balance of investing CF expanded due to an increase in purchase of property, plant and equipment, etc., and the surplus of free CF declined. The negative balance of financing CF dropped due to proceeds from long-term borrowings. Cash position declined.
(4) Topics
◎ Change of Representative Director
In February 2019, the company announced the change of the representative director. Mr. Toru Kobayashi, the founder and current Chairman and CEO, became Director and Senior Adviser and Mr. Isamu Oguni, current President and COO, assumed the position of President and CEO. There will be one Representative Director. As the company celebrates its 40th anniversary this year, it is planning to further strengthen its management structure toward further leaps. The change is expected to be formally resolved at the annual meeting of shareholders to be held on March 28, 2019 and the subsequent Board of Directors meeting.
◎ Acquired 100% ownership of a manufacturer of dimension measurement device.
In January 2019, OPTEX FA CO., LTD., one of the company's subsidiaries, acquired 100% shares of Tokyo Opto-Electronics Co., Ltd. (Head office: Tokyo), which is a diameter measurement device manufacturer, and converted it to a subsidiary company. (Outline of Tokyo Opto-Electronics Co., Ltd.) The company was established in 1969. As the specialized manufacturer of measurement systems, the company developed laser
dimension measurement device
for the first time in Japan. It specializes in precision measurement using laser technologies and is developing and manufacturing laser-micro gauges, roller measurement systems, and optical dew-point hygrometers for many different industrial sectors. Sales for FY August 2018 were 125 million yen. (Future development) By acquiring 100% ownership of Tokyo Opto-Electronics Co., Ltd., OPTEX FA CO., LTD. will complement the product lineup in the non-contact high precision laser measurement field and will further expand its business both in Japan and overseas by integrating the technologies and sales channels of both companies.
◎ Results of acquiring treasury stocks
The content of the purchase of treasury stocks resolved in November 2018 was the maximum acquisition limit of 750,000 shares (2.00% of the total number of issued shares excluding treasury stocks) and the total acquisition price (maximum amount) of 1,500 million yen. The actual total number of shares acquired was 701,600 shares, and the total acquisition price of shares was 1,499 million yen.
Fiscal Year Ending December 2019 Earnings Estimates

Sales and profits are expected to increase.
Sales are projected to increase to 43.0 billion yen, up 7.2%, year on year. Domestic sales are expected to increase 6.6%, year on year, to 18.2 billion yen, while overseas sales are projected to increase 7.7%, year on year, to 24.7 billion yen. The company anticipates increases of sales in all segments. It also anticipates demands for the Tokyo Olympic and Paralympic games that will be coming next year in the security-related and automatic door-related segments of the SS business. Operating profit is estimated to rise 6.2%, year on year, to 5.3 billion yen. The dividend is to be 30 yen/share. The estimated payout ratio is 27.0%.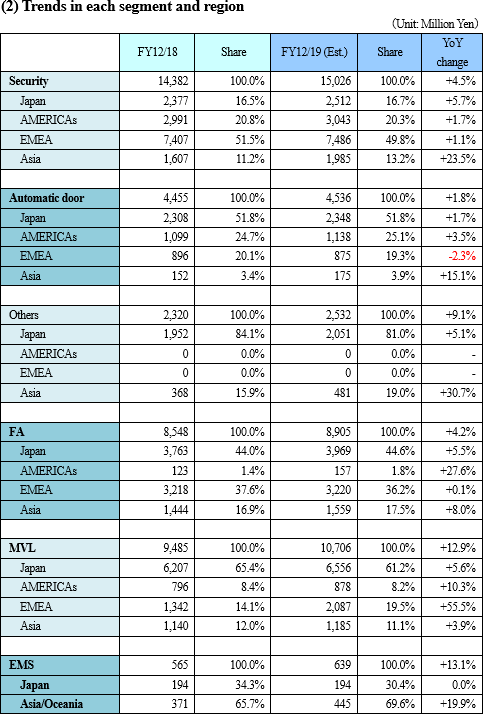 ◎ SS Business (Security Sensors)
(Security-related)
*Priority products The company will promote the visual verification business with interconnected operation of sensors and cameras targeting overseas market. It will begin selling camera-equipped sensors that an OEM began to sell in 2017 in North America by as its own brand in Europe in April 2019. Moreover, in order to capture the demand of the growing camera market, a camera will be installed in all outdoor security sensors in the future. Using them as a strength and feature of the company, it will sell the products as a system solution. *Priority areas The company aims to have the top share in the Japan's high-end market. As measures, in addition to strengthening the product lineup by selling imported products from overseas subsidiaries, it will strengthen the system to obtain projects to secure safety of large-scale important facilities including about 100 airports and 250 defense-related facilities in Japan. It will also improve the repair and maintenance departments.
◎ FA Business
*Priority products The company strives to increase the market share by strengthening the lineup of displacement sensors, which are its primary feature. It will appeal to its strengths such as the world's highest level of measurement accuracy, developed based on expertise accumulated over several decades, and simple equipment configuration and operability satisfying user needs. In addition, as Tokyo Opto-Electronics Co., Ltd. became a subsidiary of OPTEX FA CO., LTD., which is a subsidiary of the company, the Group entered the outer diameter measurement market. It will supplement the lineup in the non-contact high precision laser measurement field. *Priority areas The company will increase the share in the Asian and the U.S. markets, which continue to grow with the needs of automation and labor-saving equipment. In Asia, it will expand the business of the Chinese sales subsidiary OFC (OPTEX FA China). Currently the situation in the Chinese market is not bright, but the company believes that it is necessary to strengthen the sales structure all the more. In Southeast Asia, the company will expand sales targeting Japanese companies. In addition, in the United States, the company will expand the distribution network by its sales subsidiary OFI (OPTEX FA Inc.) that was established in April 2018.
◎ MVL Business
*Priority products The company will focus on the UV-LED lighting business for the products that are used for ink setting of label seals, adhesion/sealing of panels, and adhesion of electronic parts, etc. by using the UV curing principle, which chemically changes liquid into solids with UV (ultraviolet) energy. According to the company's document, the global UV-LED market will grow at an average annual growth rate of 33% from 2017 to 2022 as the capacity of LEDs improves, and the market size in 2022 is expected to be about 1.2 billion dollars. *Priority areas The company plans to expand the European business through Effilux (France), which was acquired by CCS in October 2018. The company develops, manufactures and sells LED lighting for machine vision and offers a wide lineup corresponding to local needs in Europe. It also has a capacity to respond quickly to customer needs through direct sales. In addition to selling the CCS products through sales channels of Effilux, it will sell the products of both companies in North America.
The company has been growing by executing effective M&A projects as well as increasing the market share of existing businesses. For the security-related business, starting with converting FARSIGHT SECURITY SERVICES LTD. (UK) to a subsidiary that offers remote video surveillance services in 2007, the company has been expanding the share in the outdoor security sensor market through synergy effects with new subsidiaries including FIBER SENSYS INC. (U.S.) that carries out development and sales of fiber-optic intrusion detection system and RAYTEC LIMITED. (UK) that handles LED lighting for assisting surveillance cameras. The total sales of three companies at the time of acquisition were about 2 billion yen, but, in 2018, sales grew to 3.4 billion yen. The company will continue to strengthen M&A efforts and aim for double-digit growth. For the MVL and FA businesses, the MVL business, together with the FA business, has become the second pillar of the company's business, after it acquired CCS Inc. that has the top market share of LED lighting for image processing, in 2016, Gardasoft Vision Limited (UK) that handles LED lighting controllers for the image processing, Effilux (France) that has an advantage in special LED lighting for image processing, and Tokyo Opto-Electronics Co., Ltd. which is a diameter measurement device manufacturer. At the time of acquisition, the total sales of CCS, Gardasoft Vision and Effilux were approximately 8.3 billion yen, but, in 2018, sales grew to 10.7 billion yen. The company will also strengthen M&A efforts in the FA and MVL businesses and aim for double digit growth.
Regarding the situation of the current fiscal year, the company expects that "the business environment will continue to be tough in the first half, but change in the second half" and projects challenging figures such as "net sales of 43 billion yen and an operating profit of 5.3 billion yen." In the short term, we would like to pay attention to how much top lines can be secured in the FA and MVL businesses, where the business environment is showing signs of change from the latter half of last year. Meanwhile, from the medium-term perspective, the fields such as automobiles (electric cars, advanced driving support systems), IoT (increased demand for data centers), AI (labor saving, working style reforms), and robotics (labor saving, measures to handle a decreasing working age population) are expected to grow. We would like to see how the two businesses will take advantage of the strengths to capture the demand and watch the elevation speed of the SS business (security-related) that is on the recovery trend.
<Reference:Regarding Corporate Governance>

◎ Corporate Governance Report
The latest revision date: December 13, 2018 <Fundamental concept> As the Group, we recognize that it is our greatest mission to continuously improve corporate value while earning the trust of our shareholders, investors, customers and society. To practice it, we consider enhancement of the corporate governance as one of important management tasks and aim to improve the transparency of management, maintain management systems accompanying fair and prompt decision making and strengthen management monitoring function. <Reasons for Non-compliance with the Principles of the Corporate Governance Code (Excerpts)>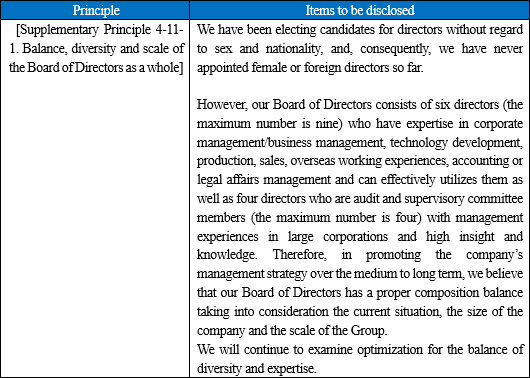 <Disclosure Based on the Principles of the Corporate Governance Code (Excerpts)>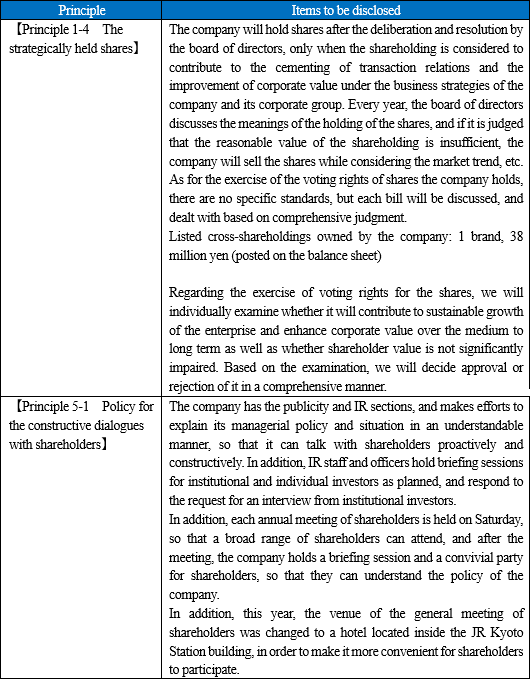 Disclaimer
This report is intended solely for information purposes and is not intended as a solicitation for investment. The information and opinions contained within this report are made by our company based on data made publicly available, and the information within this report comes from sources that we judge to be reliable. However, we cannot wholly guarantee the accuracy or completeness of the data. This report is not a guarantee of the accuracy, completeness or validity of said information and opinions, nor do we bear any responsibility for the same. All rights pertaining to this report belong to Investment Bridge Co., Ltd., which may change the contents thereof at any time without prior notice. All investment decisions are the responsibility of the individual and should be made only after proper consideration.
Copyright (C) 2019 Investment Bridge Co., Ltd. All Rights Reserved.