President
Yukio Hasegawa
| | |
| --- | --- |
| Company | CellSeed Inc. |
| Code No. | 7776 |
| Exchange | JASDAQ growth |
| Industry | Regenerative Medicine |
| President | Yukio Hasegawa |
| HQ Address | R-Bldg., Shinjuku 1F, 33-8, Wakamatsu-cho, Shinjuku-ku, Tokyo, 162-0056, Japan |
| Year-end | December |
| URL | |
Share Price
Shares Outstanding
Market Cap.
ROE (actual)
Trading Unit
¥730
5,325,000 shares
¥3.887 billion
100 shares
DPS (Est.)
Dividend Yield (Est.)
EPS (Est.)
PER (Est.)
BPS (actual)
PBR (actual)
¥0.00
0.0%
-¥189.05
-3.9x
¥430.65
1.7x
* Stock price as of closing on 2010/11/20.
| | | | | | | |
| --- | --- | --- | --- | --- | --- | --- |
| Fiscal Year | Sales | Operating income | Recurring income | Net income | EPS (¥) | Dividend (¥) |
| December 2006 | 23 | -672 | -464 | -470 | - | 0.00 |
| December 2007 | 40 | -809 | -614 | -616 | - | 0.00 |
| December 2008 | 61 | -778 | -644 | -650 | - | 0.00 |
| December 2009 | 87 | -785 | -788 | -790 | - | 0.00 |
| December 2010 Est. | 65 | -1,150 | -940 | -950 | -189.05 | 0.00 |
* Estimates are those of the company. Data for fiscal years December 2006 to 2008 are non-consolidated.
A stock split of 100-for-1 was undertaken in October 2010.

 

We present this Bridge Report along with the third quarter of fiscal year December 2010 earnings announcement for CellSeed Inc.

 

If you have any questions about this report, please contact Invesstment Bridge.
Mail: CellSeed@cyber-ir.co.jp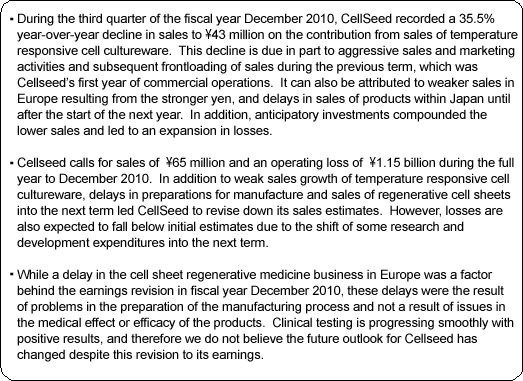 CellSeed seeks to promote the worldwide diffusion of "cell sheet regenerative medicine" that employs "cell sheets" to treat and cure patients, that previously could not be treated, through the use of fundamental technologies of "cell sheet engineering" developed by Professor Okano of the Tokyo Women's Medical University (External Director). CellSeed's business is divided into two divisions including the "regenerative medicine support business," where temperature responsive cell cultureware used in the manufacture of "cell sheets" are manufactured and sold, and the "cell sheet regenerative medicine business," where cell sheets for various applications are developed, manufactured, and sold (Business divisions to become effective from fiscal year December 2011.).

 

Regenerative Medicine Support Business

CellSeed develops and manufactures the temperature responsive cell cultureware and various applications of this product (some of the manufacturing processes that require large capital investments are outsourced) that are the fundamental tool in cell sheet regenerative medicine. These products are provided to universities, research institutions and other institutions around the world. This business is of high strategic importance in developing partners in the cell sheet regenerative medicine business, in addition to the sole purpose of earnings.

 

Cell Sheet Regenerative Medicine Business

Cell sheet regenerative medical products (Cell sheets) and various applications of these products are sold in this business. Currently CellSeed is conducting joint research and development of five different regenerative medical product pipelines with Tokyo Women's Medical University, Osaka University, and Tokai University.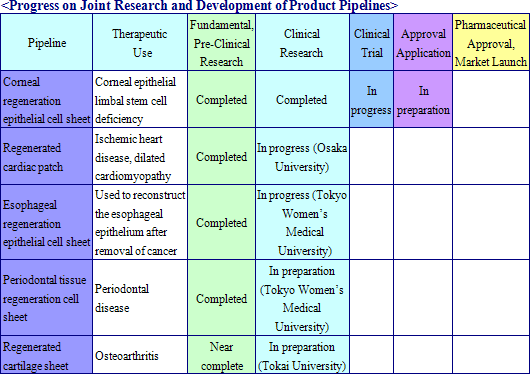 "Corneal regeneration epithelial cell sheet" completed a year of clinical testing at Lyon National Hospital, France in September 2010. In the near future, CellSeed is expected to submit an application for approval for commercial use of this product (Effective for 30 European countries.) to the European Medicines Agency (EMA) after a report to be prepared by Lyon National University on the treatment is received and preparations for manufacture and sales of this product are completed. CellSeed conducts research and development of cell sheet regenerative medicine treatments that can be used to treat and cure patients that previously could not be treated in such applications as ischemic heart disease and dilated cardiomyopathy, esophageal treatments (To reconstruct the esophageal epithelium after removal of cancer), periodontal disease, and regeneration of cartilage in addition to corneal regeneration. In the area of "regenerated cardiac patch" and "esophageal regeneration epithelial cell sheet," CellSeed has already begun clinical testing with Osaka University Hospital of grafts upon multiple patients and obtained favorable results. Currently CellSeed's technologies are considered to be the most realistic and safest form of regenerative medical treatment.

 

 
Third Quarter Fiscal Year December 2010 Earnings
 

Anticipatory Investments Contribute to ¥829 Million Operating Loss

Despite the contribution of sales of temperature responsive cell cultureware in Japan and Europe, CellSeed recorded a 35.5% year-over-year decline in sales to ¥43 million. Front loading of sales resulting from aggressive sales and marketing activities conducted during the previous term, which was Cellseed's first year of commercial operations, and weaker sales in Europe resulting from the stronger yen contributed to this decline. Within Japan delays in sales of products to some of CellSeed's larger clients until after the start of the next year also contributed to the lower sales. With regards to profits, increased marketing and sales promotional costs for temperature responsive cell cultureware, manufacturing consignment support fees paid to Lyon National Hospital, fees for preparation of business in Europe, research support fees to Japanese research institutions, and anticipatory investments relating to corneal regenerative cell sheet applications led to an expansion in operating losses to ¥829 million in the term under review from ¥547 million in the same period of the previous term. CellSeed recorded a lower level of loss at the recurring level of ¥628 million due to the realization of ¥226 million in prepayments associated with the New Energy and Industrial Technology Development Organization (NEDO) as subsidies at the non-operating income level.

By business segment, the regenerative medicine support business recorded sales of ¥43 million (¥68 million during the same period of the previous year), and an operating loss of ¥53 million (¥28 million loss in the same period of the previous year) during the term under review. The cell sheet regenerative medicine business incurred an operating loss of ¥404 million (¥301 million loss in the same period of the previous year) during the current term.

 

(2) Temperature Responsive Cell Cultureware Sales and Market Trends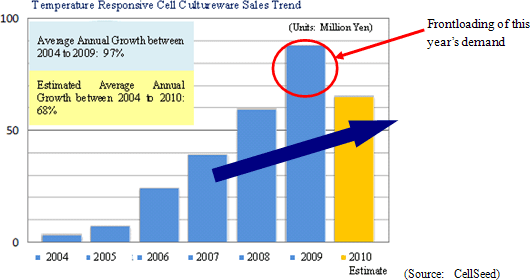 Temperature responsive cell cultureware external sales have grown continuously during the past five years, but the frontloading of some of this year's demand into the previous year due to highly effective sales activities during the previous term contributed to the large divergence from the past sales trend in the current term. Also during the current term, the effect of the frontloading of sales in the previous term was compounded by weaker demand in Europe resulting from the stronger yen. As an essential problem, the demand fluctuation on a single year base seems to be unavoidable, but the market of temperature responsive cell cultureware is expected to expand as a general trend because of support at a national level and wide application of the cell sheets-related research.

 

(2) Financial Conditions and Cash Flow

At the end of the third quarter total assets rose by ¥1.263 billion from the end of the previous fiscal year to ¥2.453 billion. Due to inflow of cash from the initial public offering of CellSeed in March, cash on hand (Cash and equivalents, and short term government bonds) and net assets increased. At the same time, non-operating income increased due to the realization of prepayments. Free cash flow was largely negative due in part to the acquisition of marketable securities (Short term government bonds) as part of CellSeed's short term cash management strategy.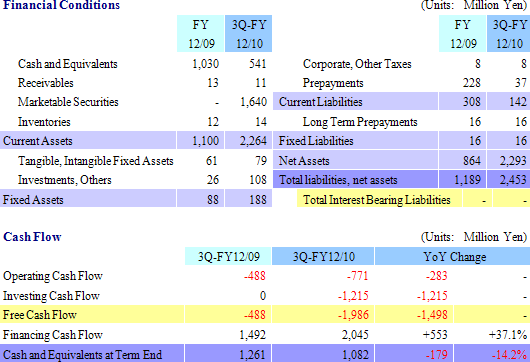 Fiscal Year December 2010 Earnings Estimates

 

Delays in Corneal Regenerative Epithelial Cell Sheet Manufacturing Preparation Cause Downward Revision

CellSeed revised down its sales estimates from ¥106 million to ¥65 million for the full year. Difficult conditions in both Japan and overseas markets for the regenerative medicine support business and delays in preparation for manufacturing of corneal epithelial cell sheets led to a loss of some ¥17 million in anticipated sales of corneal epithelial cell sheet for compassionate use in patients in Europe during the second half.

However, the application for sales approval (Requires that both manufacturing and sales structure be established.), which had been anticipated to be submitted during the current term, will be submitted during the next term due to the delays in preparations of manufacturing of corneal epithelial cell sheets (The completion date of the manufacturing preparations has been revised.), and therefore a portion of the research and development fees associated with the corneal epithelial regenerative cell sheet that had been expected to be booked during the current term will be booked in the next term. Consequently operating losses are expected to fall below initial estimates, and recurring and net loss estimates have been revised accordingly.

Furthermore in compassionate use applications as defined by the European standards for preapproved pharmaceutical and medical products, it is possible to receive payment for the treatments supplied to patients. And while CellSeed has not revised its milestones disclosed in their business plans from the next term forward, they are expected to review their plans and disclose any possible revisions soon after the start of the new fiscal year.

 

(2) European Corneal Epithelial Regenerative Cell Sheet Business Trend

Beginning in 2007, clinical trials of corneal regeneration epithelial cell sheet treatments upon patients with severe sight impediments resulting from corneal epithelial limbal stem cell deficiency have been conducted at the Lyon National Hospital (6,000 beds, over 500 clinical trials per year). In September 2010, all of the follow up to the clinical testing was completed. And while the final report on the results of the clinical trials of Lyon National Hospital has yet to be completed, Professor Carol Bullion, the chief physician responsible for the clinical trials, announced at a medical symposium for cornea studies held in April 2010 that improvements in patient conditions after the product was applied was noted in 14 of the 16 trials (87.5%) conducted (In general, a 30% improvement rate is considered to be effective.). Furthermore corneal epithelial limbal stem cell deficiency is a difficult disease for which there are no established treatments.

While the delays in the corneal regeneration epithelial cell sheets business in Europe were a factor for the downward revision to fiscal year December 2010 earnings, these delays are not the result of any problems with the medical effect or efficacy of the treatments and are merely a problem resulting from the manufacturing processes. The manufacturing outsourcing parties of Lyon National Hospital and TBF Genie Tissulaire (France), a company involved with the manufacture of tissue engineering products used in cartilage regeneration treatments, are currently preparing the manufacturing facilities at Lyon National Hospital with technology transfer to TBF Genie Tissulaire (Responsible for manufacturing technologies). During clinical trials, cells taken from the lining of the mouth used to culture corneal regeneration epithelial cell sheets was the responsibility of Lyon National Hospital and not the manufacturer. Therefore, the preparations for the installation of manufacturing facilities, which must be installed in order to comply with the "Good Manufacturing Practice," a quality standard for medical products, is taking more time than initially anticipated. Furthermore because TBF Genie Tissulaire, a company with a proven track record in manufacturing of tissue engineering products used in regenerative treatments, is dealing with CellSeed products for the first time, more time is required than had been initially expected. However these issues are expected to be resolved shortly.

With regards to sales, CellSeed has reached official agreements with Clonmel Healthcare Limited (Ireland) of the Stada Group in Germany, and GENESIS Pharma S.A. in Greece for them to become the marketing agents (CellSeed Europe will provide their products to these companies).

 

(3) Eurostars Project

CellSeed France, a CellSeed subsidiary, has been appointed by and will receive support of the Eurostars Project for their jointly conducted work with the Lyon National Hospital, Genesis Pharma, and Paracelsus Medical University of Austria. Eurostars Project is the public research and development grant program that is operated by EUREKA (A research and development foundation in which various members of Europe participates.), that is designed to support the research and development activities of small to medium sized companies who base their headquarters in Europe to realize commercialization of technologies.

CellSeed France group's epithelial cell sheet for corneal regeneration business, which has been selected this time, is close to commercialization, and is currently undergoing confirmation of the Good Manufacturing Practice (GMP) in the manufacturing, shipping and other related processes, and multicenter-distributed small-scale experiments with ratings of them over a 30 month period along with final confirmation of these processes using the actual products. Furthermore the project will also be evaluated for its use by various high profile doctors in Europe (Over 10 doctors anticipated).

In other words, the manufacturing and shipping processes established must be evaluated to assess whether they are in compliance with GMP standards to help avoid any potential problems before the actual commercial operations begin, and the creation of a network of high profile physicians (to create a following for corneal regeneration epithelial cell sheet treatment) will be required in order for the subsidies to be received. By creating a network of high profile physicians, positive results of the treatment in compassionate use applications can be promoted, thereby helping to smoothly promote the pricing acquisition and commercialization of this treatment.

 

 
 

Many bio-venture companies, which have gone public ahead of CellSeed, have disappointed their stakeholders, and due to the downward revision many stakeholders may be inclined to think that this is also a case of "lightening striking twice." However the difference with CellSeed and its unsuccessful predecessors is that the results of clinical testing of its treatments, which is one of the highest hurdles to commercialization, continue to be positive. In the instance of stem cell regenerative medicine, success in the clinical research stage of these treatments is usually followed by similarly successful results in the clinical testing stages. And while medical doctors conduct and evaluate the clinical research of treatments, actual results pertaining to the medical effects, efficacy and side effects of treatments upon patients can be derived in the clinical testing process. Unlike the processes in the synthetically manufactured medical products, the processes used in the manufacture of regenerative medicine tend to be more complicated. However as CellSeed gains further experience in the manufacturing processes, the current difficulties being encountered should be overcome in the near future. Furthermore the most difficult process where "many medical treatments encounter a high probability of failure" of clinical testing is close to being completed. And while the point at which CellSeed is expected to turn to profits has been delayed by a slight margin, the key point to bear in mind is that the downward revision in current term earnings does not reflect any change in the efficacy and evaluation of the regenerative medicine treatments proposed by CellSeed.

 

Disclaimer

This report is intended solely for information purposes, and is not intended as a solicitation to invest in the shares of this company. The information and opinions contained within this report are based on data made publicly available by the Company, and comes from sources that we judge to be reliable. However we cannot guarantee the accuracy or completeness of the data. This report is not a guarantee of the accuracy, completeness or validity of said information and or opinions, nor do we bear any responsibility for the same. All rights pertaining to this report belong to Investment Bridge Co., Ltd., which may change the contents thereof at any time without prior notice. All investment decisions are the responsibility of the individual and should be made only after proper consideration.

Copyright(C) 2010, All Rights Reserved by Investment Bridge Co., Ltd.