President
Yukio Hasegawa
| | |
| --- | --- |
| Company | CellSeed Inc. |
| Code No. | 7776 |
| Exchange | JASDAQ |
| Industry | Precision Instrument (Manufacturing) |
| President | Yukio Hasegawa |
| HQ Address | Haramachi 3-61, Shinjuku-ku, Tokyo |
| Year-end | December |
| URL | |
Share Price
Shares Outstanding
Market Cap.
ROE (actual)
Trading Unit
¥1,664
6,985,569 shares
¥11.624 billion
-
100 shares
DPS (Est.)
Dividend Yield (Est.)
EPS (Est.)
PER (Est.)
BPS (actual)
PBR (actual)
¥0.00
0.0%
-
-
¥15.22
109.3x
* Stock price as of closing on 2013/8/29. Number of shares at the end of the most recent quarter excluding treasury shares.
ROE, BPS are based on actual results as of the previous term end.
Fiscal Year
Sales  
Operating
income
Recurring
income
Net
income
EPS (¥)
Dividend (¥)
December 2009
87

-785

-788

-790

-
0.00
December 2010
66

-1,204

-1,002

-1,009

-
0.00
December 2011
86

-1,418

-1,358

-1,442

-
0.00
December 2012
75

-846

-842

-913

-
0.00
December 2013 Est.
530

-245

-215

-230

-
0.00
* Estimates are those of the Company.

 

We present this Bridge Report along with analysis of the first half fiscal year December 2013 earnings results and midterm business plan for CellSeed Inc.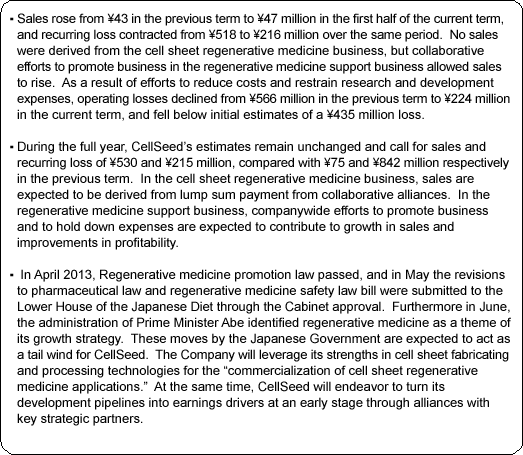 CellSeed seeks to promote worldwide diffusion of "cell sheet regenerative medicine" that employs "cell sheets" to treat and cure patients, who previously could not be treated using conventional treatments, through the use of fundamental technologies of "cell sheet engineering" developed in Japan by Professor Okano of the Tokyo Women's Medical University.

 

<Business Description>

CellSeed's business can be divided into two main divisions including the "cell sheet regenerative medicine business," where various types of cell sheets are developed, fabricated and sold, and the "regenerative medicine support business," where temperature-responsive cell cultureware used in the fabrication of "cell sheets" are fabricated and sold. Currently research and development for five regenerative medical product pipelines is currently being conducted with the help of joint research partners in the "cell sheet regenerative medicine business" (new drug candidate). In the "regenerative medicine support business," various applications of the basic tool of temperature-responsive cell cultureware (CellSeed is the only company in the world capable of fabricating this equipment) used in cell sheet regenerative medicine are developed and fabricated (Some portions of the fabricating process, for which large amounts of capital investment are required, are outsourced.), and provided to various universities and research institutions around the world. The "regenerative medicine support business" also plays a strategic role in the cultivation of alliance partners in the realm of cell sheet regenerative medicine.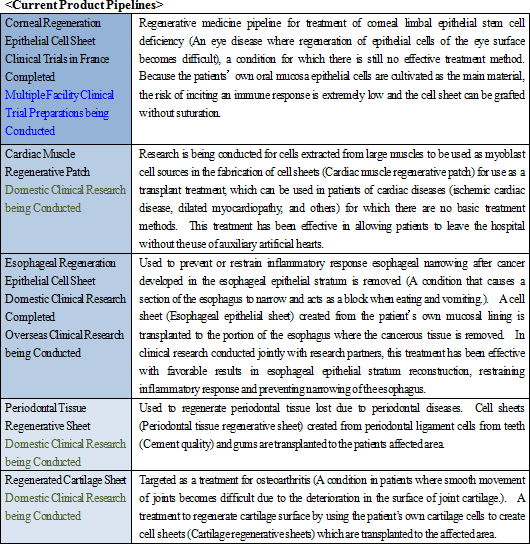 Currently CellSeed is promoting research and development on the above mentioned five pipelines, with each in the clinical research or more advanced stages. Animal testing in the United States of corneal epithelial sheets have been completed, and has received certification as biologics. With regards to cardiac regenerative patch, a basic agreement has been reached with Terumo Corporation for human skeletal myoblast sheet (Announced March 2012), favorable results on the completion of joint clinical research for esophageal epithelial sheet (Announced August 2012) were achieved, and preparations for joint clinical research in overseas markets.

 

<Characteristics of Cell Sheets>

Cell sheets make up the basic unit of living tissue and organs, and they can be transplanted without the need for the suturation process because they have "extracellular matrices." Furthermore, the stratification capability allows for the creation of three dimensional structures and organs.

 

 

Temperature-Responsive Cell Cultureware "UpCell"

CellSeed is the only company able to fabricate cell sheets using temperature-responsive cell "UpCell" cutltureware equipment. "UpCell" was the brainchild of Professor Okano of the Tokyo Women's Medical University and uses the "temperature-responsive polymer" that is a form of poly-N-isopropyl acryl-aramid (PIPAAm) developed in house. "Temperature-responsive polymer" is a polymer that changes its molecular structure in accordance with its temperature. When PIPAAm is covalent bound to the surface of culture dishes using nanotechnology, it has hydrophobic characteristics that allow cells to adhere to the surface of the cultureware at temperatures above 32 degrees centigrade.

 

Ability to Cultivate Cells Fused Organically to Form Tissue

In general, cells are able to proliferate by secreting adhesive proteins that allow them to affix to each other. In other words, unless cells can secrete adhesive proteins they cannot affix to each other and therefore cannot proliferate. Under conventional cultivation methods, trypsin or other degradative enzymes must be introduced when collecting cells to separate these adhesive proteins. Therefore, cells sheets were broken down into fragmented units due to the degradative enzymes introduced when collected, and effective recovery of tissues formed by organically fusing cells was not possible. "UpCell" allows for the recovery of tissue formed by organically fused cells which can be transplanted easily and effectively to the patients' affected areas (Cells transplanted separately and not in tissue form may adhere to each other over time, but may not fuse to the transplanted region.).

 

Moreover, extracellular matrices refer to the super-molecular structure that exists outside of cells. In addition to filling in the spaces that exist outside of cells, they act as skeletal structures and a foothold for cells to fuse to each other, while at the same time controlling the proliferation and splitting of cells. Therefore, they are a substance that is crucial in allowing cells to function as normal tissue.

 

 

Cell sheets are the basic unit of tissue and organs, and in general regenerative medicine applications they are normally used in fragmented form that do not function as living tissue. And while these cells are injected by hypodermic needles, they have lost their "extracellular matrices" and their adhesion is often difficult to achieve.

 

Midterm Business Plan (FY12/13 to FY12/15)
 

CellSeed believe s that "the regenerative medicine industry within Japan is on the verge of entering a period of full scale development and rapid growth." Therefore, the current "Midterm Business Plan (From fiscal year December 2013 to 2015)" represents a large transition from the strategy that CellSeed has pursued until now. Specifically, the main theme is "creation of sustainable business models that leverage changes in the external environment" with a new focus upon "business alliances," "strategic investments" and "financial foundation" needed for the "full scale development of the cell sheet regenerative medicine industry" and "cell sheet fabricating and processing business cultivation."

 

Three Cornerstones of the Cell Sheet Regenerative Medicine:

"Business Alliances," "Strategic Investments" and "Financial Foundation"
| | |
| --- | --- |
| Business Alliances: | Quick commercialization of the first cell sheet regenerative medical product through business alliances (Formation of business alliances, shift in research and development strategy) |
| Strategic Investments: | "Anticipatory investments in strategic realms" for intermediate to long term growth in corporate value (Consideration, selection, investment in "strategic realms"). |
| Financial Foundation: | Improve profitability and establish a "financial foundation" that can support continued growth (Leverage Government subsidies, financial assistance, establish capital funding framework, retrain outlays) |
 

<Business Environment: Government Activities Designed to Support Expansion in Regenerative Medicine>

The "regenerative medicine promotion law," and "revisions to the pharmaceutical laws for the commercialization of iPS cell regenerative medicine" and the "regenerative medicine safety law" were passed by the Cabinet and submitted to the Lower House of the Japanese Diet (Deliberation of these laws is expected to be conducted during the next normal Diet session) in April and May respectively.

The focus of the revisions to the pharmaceutical laws is upon the use of various products including cells as transplants and other regenerative medicine technologies defined as "regenerative medical products," and is designed to allow limited and conditional usage of these products once a minimum level of safety has been confirmed, in addition to introduction of a system that allows for the official approval for sales of products after their safety has been confirmed post market launch. Cell related medical products must undergo the same long and drawn out process of clinical trials and testing to confirm effectiveness and safety as those conducted for conventional medical products. The revisions are designed to help reduce the prolonged time required for approval.

At the same time, the "regenerative medical safety law" proposal will also allow cultivation and processing to be consigned to third party medical institutions other than those institutions which extract cells from patients. Currently, only the medical institutions that extract the cells from patients are allowed to cultivate and process those cells. The revisions being proposed will enable these processes to be outsourced to optimize and expand regenerative medicine technologies and practices. Furthermore, the ability to perform cell cultivation and processing will enable institutions specializing in these processes to offer more rational prices for these services.

In June, the administration of the new Prime Minister Abe made a cabinet level decision to include regenerative medicine as one of the industries within its overall growth strategy, and in July the Government granted approval of clinical research for iPS cells.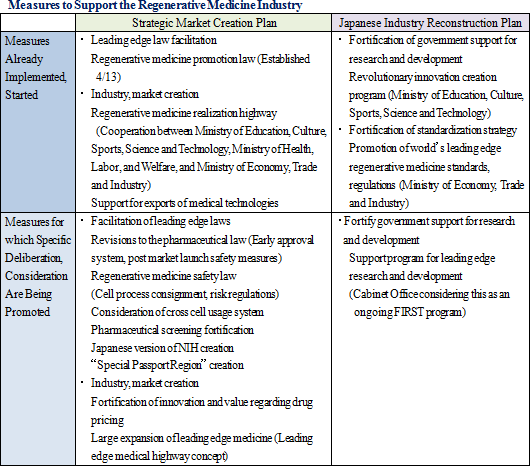 Created by CellSeed based upon the Office of Prime Minister website ( "JAPAN is BACK" Japan Reconstruction Strategy, June 14, 2013)

The third of "three strategic arrows" aimed at the heart of the Japanese economy as a growth strategy that is comprised of 1) reconstruction plan for Japanese industry, 2) strategic market creation plan, and 3) international business deployment strategy.

 

<Three Strategic Cornerstones: "Business Alliances," "Strategic Investments," "Financial Foundation"

With regards to the three cornerstones of CellSeed's business strategy of "business alliances," "strategic investments," and "financial foundation," the Company is promoting a program that includes three "A's," which include automation, allogeneic and alliance.

 

Business Alliances: Quick Commercialization of the First Cell Sheet Regenerative Medical Product through Business Alliance (Create Business Alliances, Transition of Research and Development Strategy)

Issues that need to be overcome in order for the cell sheet regenerative medicine industry to fully develop include the "establishment of an exit for the industry," "break through fabricating (Technological development plus infrastructure facilitation)," and "innovative research and development results that yield products, commercialization." With regards to each of these issues, CellSeed expects to establish alliances with creative "universities," and "leading edge venture capitalists" that have accumulated product knowhow and large "companies" that have experience and resources in industrialization.

With regards to the "establishment of an exit for the industry," CellSeed will endeavor to quickly achieve profitability through licensing out of various pipelines and completion of clinical research that leverages advanced medical technologies (Gain the same classification of "evaluated cure" for advanced medicine so that it is considered for coverage under the national health insurance policy). At the same time, efforts to introduce automated processes for cell isolation, cultivation, quality assessment, and stratification, that require high levels of technologies and craftsmanship, to achieve "break through fabricating" are being implemented. In addition, CellSeed is promoting efforts to eliminate restricted materials and gain recognition of cross cell (Second generation cell sheets) and iPS cells (Third generation cell sheets) as raw materials.

 

Business Development for Corneal Regenerative Epithelial Cell Sheet

Corneal regeneration epithelial cell sheets are being developed in consideration of the positive changes of the operating environment within Japan while maintaining a view to a global strategy. Within Japan, two of CellSeeds's projects have been selected to be a part of the Ministry of Economy, Trade and Industry's (METI) fiscal year 2013 "Regenerative Medicine Industry Promotion Project" including 1) "global standard for corneal regeneration epithelial cell sheet medical products effectiveness evaluation method" and 2) "cell sheet regenerative medical product fabricating cost reduction and quality assurance evaluation methods" (Both of these are research projects which have been created and outsourced to CellSeed from METI). And while some research and development expenses associated with these projects are expected to be booked in fiscal year December 2013, Government subsidies for these projects are expected to be received (As non-operating income) from fiscal year December 2014.

Depending upon the results of these projects, CellSeed will conduct consultations for its pharmaceutical strategy (Consultations in advance of pharmaceutical approvals) in 2014. The results of the first project 1) can be applied to cell sources used in self esophageal regeneration epithelial cell sheets, and results of the second project 2) can be used in creating automated fabricating applications (To reduce fabricating costs, assure quality levels) for use in various pipelines.

 

 

With regards to corneal regeneration epithelial cell sheets being jointly developed and commercialized with Emmaus Medical, CellSeed is endeavoring to acquire investigational new drug (IND) approval (Will consolidate two corneal projects into one) in the United States and is considering alliances for commercialization in Europe.

With regards to the business in Europe, CellSeed decided to review its development and commercialization plans in consideration of consultations with the European Medicines Agency (EMA) and the fast pace facilitation of support measures for regenerative medicine within Japan. While efforts to promote preparation of multiple facility clinical trials called for by the additional data submitted to the EMA by the Company (Approval for clinical trials have been received in four countries), large amounts of expense and time are expected to be required for these multiple facility clinical trials. At the same time, various support measures for regenerative medicine have been quickly created within Japan since the latter half of last year. Therefore, CellSeed recognizes the need to optimize its business resources allocation on a global basis, and has restructured its European development and commercialization plans including cancelation of some its sales approval applications while maintaining those which are close to receiving approval.

 

Strategic Investments: Achieve Medium to Long Term Corporate Value Growth through "Anticipatory Investments in Strategic Realms" (Consideration, Selection, Investment in Strategic Fields)

Patent approvals during the first half include the 1) new temperature-responsive cell cultureware material technology "common cultivation use culture surface" (Europe, May announcement), 2) new cultivation method for epithelial cells using encapsulated cell cultureware (Japan, May announcement), 3) corneal regeneration epithelial cell sheet (Korea, June announcement), 4) transplant use corneal epithelial cell sheet (Korea, January announcement), and 5) cancerous tissue model creation use cancerous cell sheet (Japan, June announcement).

Furthermore, CellSeed has participated in Professor Okano's project called the FIRST Science Forum for the consideration of cell sheet fabrication automation since 2009. Within this Forum, CellSeed has been responsible for automated cell sheet stratification equipment using applications of stamp stratification technologies.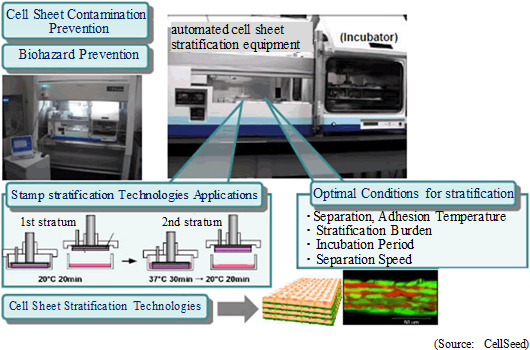 Currently the cultivation and processing of cells taken from patients is only allowed at medical institutions where the cells have been extracted. However a legislative bill calling for the approval of culturing and processing of cells by third parties (Consigned cell processing) has been submitted to the Japanese Diet. CellSeed is considering the strategic applications of this bill.

 

Financial Foundation: Establish a Financial Foundation that Supports Growth while Achieving Profitability Improvement (Government Subsidies, Financial Assistance, Capital Funding, Restrain Outlays)

CellSeed issued a total of 274 stock options in the 10th and 11th stock option issuance (Stock options with conversion price adjustment condition) in a third party placement to UBS AG's London office in September with the funds to be used to fund growth measures. An overview of the stock options and funds sourced are provided below.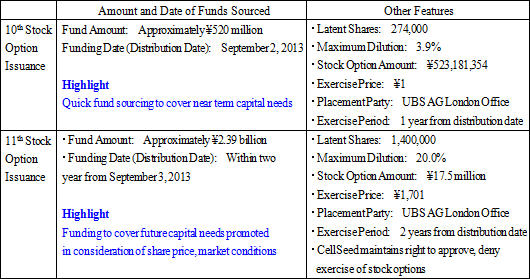 First Half Fiscal Year December 2013 Earnings Results
and Full Year Estimates

 

Sales of ¥47 Million and Recurring Loss of ¥216 Million Recorded in First Half

Despite the lack of sales in the cell sheet regenerative medicine business, the regenerative medicine support business recorded stronger than expected sales of ¥47 million, compared with estimates of ¥35 million and previous year's sales of ¥43 million. With regards to profits, CellSeed's management plan, which included measures to reduce expenses and restrain research and development expenses (From ¥340 to ¥87 million), led to a contraction in losses of the cell sheet regenerative medicine business to ¥118 million in the current term from ¥375 million in the previous term. Consequently, consolidated operating loss contracted from ¥566 million in the previous term to ¥224 million in the current term and fell below initial estimates for an operating loss of ¥435 million.

 


 

Full Year Consolidated Earnings Estimates Remain Unchanged, Call for Sales and Recurring Loss of ¥530 and ¥215 Million (¥75 and ¥842 Million in Previous Term)

Estimates call for sales of ¥460 million in the cell sheet regenerative medicine business in the full fiscal year. The one time lump sum payment from Emmaus Medical (Includes $1.50 million already received as prepayment) and other lump sum payments in the cell sheet regenerative medicine business are included in the Company's estimates. At the same time, sales of the regenerative medicine support business are expected fall slightly below the previous year's levels of ¥75 million to ¥70 million in the current term. However, companywide efforts are being implemented to restrain expenses and increase sales. With regards to profits, the higher sales and continued restraints in expenses is expected to allow operating loss to contract from ¥846 million in the previous term to ¥245 million in the current term. At the same time, a flexible response to anticipatory investments and expenses will be made in accordance with the Company's financial conditions.

 

 

Total assets rose by ¥435 million from the end of the previous fiscal year to ¥809 million at the end of the current first half. Placement of new stock (¥170 million) and stock options (¥650 million) with Milestone Capital Management for a total of ¥820 million in funds sourced contributed to increases in cash and equivalents and net assets.

 

 

The regenerative medicine promotion law established in April is designed to bring about the commercialization of regenerative medicine, and includes various measures to comprehensively promote safe research and development with an eye to bioethics. Furthermore, the Government is expected to create measures to promote regenerative medicine and become responsible for implementing these measures and other activities to support companies participating in cell cultivation and processing for regenerative medicine. The revisions to the pharmaceutical law designed to promote commercialization of regenerative medicine and regenerative medicine safety law bill designed to enable outsourcing of cell cultivation and processing to third parties has been submitted to the Japanese Diet. These developments represent large opportunities for CellSeed to expand business based on its knowhow and track record in the cell sheet fabricating and processing realm and its "UpCell" temperature-responsive cell cultureware which is overwhelmingly superior to conventional technologies. In addition to achieving profitability of pipelines at an early stage through alliances, CellSeed is also implementing measures to leverage its strengths in fabricating and processing technologies for cell sheets within its cell sheet regenerative medicine business.

 

Disclaimer

This report is intended solely for information purposes, and is not intended as a solicitation to invest in the shares of this company. The information and opinions contained within this report are based on data made publicly available by the Company, and comes from sources that we judge to be reliable. However we cannot guarantee the accuracy or completeness of the data. This report is not a guarantee of the accuracy, completeness or validity of said information and or opinions, nor do we bear any responsibility for the same. All rights pertaining to this report belong to Investment Bridge Co., Ltd., which may change the contents thereof at any time without prior notice. All investment decisions are the responsibility of the individual and should be made only after proper consideration.

Copyright(C) 2013, All Rights Reserved by Investment Bridge Co., Ltd.