Masaru Yamada
Chairman

Hironori Yasukochi
President

 
| | |
| --- | --- |
| Company | SHOEI CO., LTD. |
| Code No. | 7839 |
| Exchange | Second Section, TSE |
| Chairman | Masaru Yamada |
| President | Hironori Yasukochi |
| Headquarters | Ueno 5-8-5, Taito-ku, Tokyo |
| Year End | September |
| Website | |
Share Price
Shares Outstanding
Market Cap.
ROE (actual)
Trading Unit
¥1,120
13,772,079 shares
¥15.425 billion
10.6%
100 shares
DPS (Est.)
Dividend Yield (Est.)
EPS (Est.)
PER (Est.)
BPS (actual)
PBR (actual)
¥45.00
4.0%
¥90.76
12.3x
¥548.02
2.0x
* Share price as of close on December 5, 2013. Number of shares outstanding at end of the most recent quarter excluding treasury shares.
| | | | | | | |
| --- | --- | --- | --- | --- | --- | --- |
| Fiscal Year | Sales | Operating Income | Ordinary Income | Net Income | EPS | DPS |
| September 2010 | 10,078 | 898 | 978 | 638 | 46.39 | 23.00 |
| September 2011 | 9,047 | 395 | 371 | 217 | 15.80 | 8.00 |
| September 2012 | 8,606 | 97 | 143 | 65 | 4.78 | 2.00 |
| September 2013 | 11,158 | 1,340 | 1,299 | 799 | 58.04 | 29.00 |
| September 2014 Est. | 12,000 | 2,000 | 2,000 | 1,250 | 90.76 | 45.00 |
* Estimates are those of the Company.
This Bridge Report discusses the fiscal year September 2013 earnings results and fiscal year September 2014 earnings estimates for SHOEI Co., Ltd.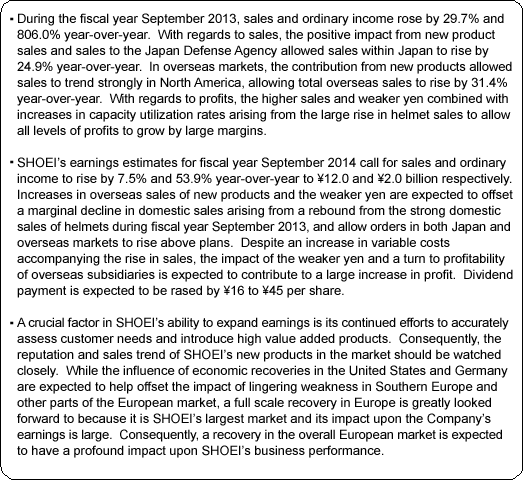 SHOEI is the world's number one helmet manufacturer. While motorcycle use helmets are its primary product, the Company also manufactures aircraft and military use helmets supplied to private industry and the government. At the same time, SHOEI boasts of an extensive sales network not only within Japan, but also in about 60 countries throughout various regions around the world including Europe and North America. The "SHOEI" brand is recognized around the world for its high levels of safety and functionality, beautiful appearance, and is now synonymous with the term premium grade helmets. Superior design is a key strength of SHOEI.

① A global brand "Made in Japan" and synonymous with "World Top Quality" helmets

② The world's only helmet manufacturer utilizing the Toyota Production System to achieve the "World Top Competitiveness in Cost"

③ Achieve the status of "World Top Delightful Company" by endeavoring to satisfy not only its customers, but also its shareholders, employees and management

SHOEI maintains a management policy designed to become the world's leader in the above mentioned three objectives. Another unique characteristic of the Company is its business strategy of integrating "product strategy," "manufacturing strategy," and "market strategy." SHOEI seeks to increase the satisfaction levels of its customers, shareholders and management through the promotion of this three pronged strategy.

<Business Description>

Motorcycle use helmets (Hereafter called premium helmets) account for about 90% of total sales. SHOEI focuses upon high value added "premium helmets" that are manufactured at two plants in Ibaraki (Inashiki City), Iwate (Ichinoseki City) Prefectures in Japan. The Company is able to maintain high quality levels and prevent the leakage of technology by maintaining manufacturing facilities within Japan. In addition, SHOEI is the only helmet company in the world utilizing the "Toyota Production System" to achieve high levels of marginal profitability, inventory turnover and asset efficiency.

<Maintaining Basic Policy for Medium and Long Term Stable Growth and Stable Profit>

1. Protect Own Company by Ourselves

2. Made in Japan and maintaining constant employment (Transmission of Manufacturing)

3. Maintain healthy financial positions

4. Continuation of Investment (Development of new products, Cost saving, Improvement of quality, Firm safety)

5. Targeting #1 in All Premium Helmet Markets in the World

6. Development of New Markets and Deepening of Existing Markets

7. Fair distribution of retained earnings (50% dividend of profit after tax, distribution to employees and distribution to company (proper retained earnings kept))

<SHOEI System Helmets>
<J-Cruise> Open Face Helmet with Sun Visor

<Street, touring use>

・ European sales launch: March 2013
Suggested retail price: 439.00 Euros in Germany, France (Including tax)

・ North American sales launch: March 2013
Suggested retail price: US$499.99 (Excluding tax)

・ Japan sales launch: August 2012
Suggested retail price: ¥44,000 (Excluding tax)
<GT-Air> Full Face Helmet with Sun Visor

<Sports, Touring Use>

・ European sales launch: March 2013
Suggested retail price: 479.00-579.00 Euros in Germany, France (Including tax)

・ North American sales launch: March 2013
Suggested retail price: US$549.99-$760.99 (Excluding tax)

・ Japan sales launch: April 2013
Suggested retail price: ¥48,000-¥56,000 (Excluding tax)
<NXR/RF-1200/Z-7> Full Face Sports Helmet

<Sports Riding Use>

Characteristics: Sporty, lightweight, compact

・ European (NXR) sales launch: March 2014
Suggested retail price: 429.00-529.00 Euros in Germany, France (Including tax)

・ North American (RF-1200) sales launch: October 2013
Suggested retail price: US$485.99-$589.99 (Excluding tax)

・ Japan (Z-7) sales launch: Spring 2014
Suggested retail price: To be announced
Fiscal Year September 2013 Earnings Results

Sales, Ordinary Income Rise 29.7%, 806.0%

Sales rose by 29.7% year-over-year to ¥11.158 billion during fiscal year September 2013. Sales within Japan rose by 24.9% year-over-year due to higher sales of premium helmets on the back of new product introductions and of aircraft use helmets to the Japanese Defense Ministry arising from extraordinary demand. Continued provision of new touring type helmets that satisfy the needs of customers in the European and North American markets contributed to increased differentiation of SHOEI from its competitors and allowed helmet sales to grow despite stagnant motorcycle sales in those markets. Favorable sales of products to other regions including Russia, Oceania, and other parts of Asia allowed total overseas sales to rise by 31.4% year-over-year. Combined with these positive developments, foreign exchange rates trended favorably with the yen weakening relative to the dollar by ¥15.73 per dollar and the euro by ¥19.63 compared with the previous term and contributed to stronger sales.

With regards to profits, higher sales, the weaker yen, and a recovery in capacity utilization rates accompany strong sales of helmets contributed to a large improvement in the parent company's profitability. On a consolidated basis, gross margins rose by a large margin of 6.2% points. Due in part to the decline in insurance fees of ¥117 million, sales, general and administrative expense margins fell by a large margin of 4.6% points, allowing operating income to rise by a large amount from ¥97 million in the previous term to ¥1.340 billion in the current term. The impact of foreign exchange reservations and subsequent foreign exchange translation losses (¥35 million) upon non-operating income and the disappearance of employment adjustment subsidies (¥22 million) booked in the previous term caused the margin of growth in profits from the ordinary level and below to contract relative that of the operating level. In addition, yearend dividend payment is expected to be increased by ¥27 from the previous fiscal yearend to ¥29 per share.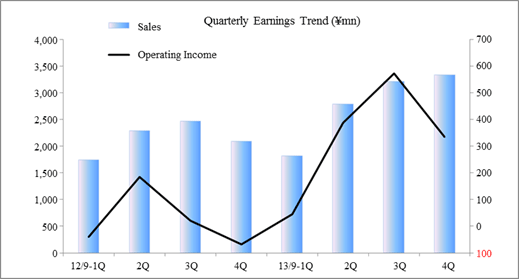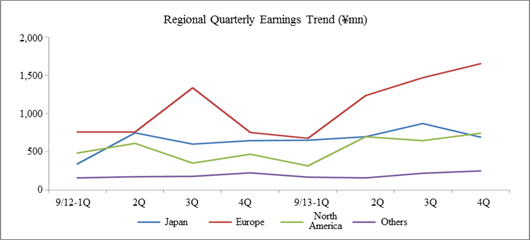 Total assets rose by ¥1.767 billion from the end of the previous fiscal year to ¥9.407 billion at the end of the current fiscal year. An increase in net income accompanying a recovery in earnings contributed to a ¥1.367 billion increase in cash and deposits. SHOEI boasts of high levels of liquidity as reflected by the fact that cash and deposits and current assets accounted for 45% and 83% of total assets respectively, with no debt. Equity ratio remained at a high 80.2%.

The margin of net cash inflow from operating activities increased by a large margin due to the rise in income before taxes. While the margin of cash outflow from investing activities increased by a small margin due to an increase in capital investments, the affect of the higher operating cash flow allowed free cash flow to increase by a large margin. The net outflow in financing activities decreased due to a reduction in dividend payment.
Fiscal Year September 2014 Earnings Estimates

Full Year Earnings Estimates Call for Sales, Ordinary Income to rise 7.5%, 53.9%

SHOEI's earnings estimates call for sales and ordinary income to rise by 7.5% and 53.9% year-over-year to ¥12.0 and ¥2.0 billion respectively. With regards to sales, favorable trends in motorcycle related sales within Japan and subsequent strong order conditions, the influence of new product introductions in overseas markets, and the positive influence of a weaker yen are expected to lead to higher sales in all geographic regions. With regards to profits, the impact of the weaker yen and improvements in profitability of overseas subsidiaries are expected to allow profits to increase by large margins despite increases in cost of sales and sales, general and administrative expenses accompanying the higher sales. In particular, the weaker yen are expected to contribute to improvements in profitability of exports and large improvements in operating profitability of European subsidiaries. Dividends are expected to be raised by ¥16 to ¥45 per share at the term end. During fiscal year September 2014, SHOEI's exchange rate assumptions are ¥98.0 to US dollar, and ¥130.0 per euro. Moreover, the Company has booked two thirds of its US dollar needs at over ¥100, and nearly all of its euro needs at ¥133.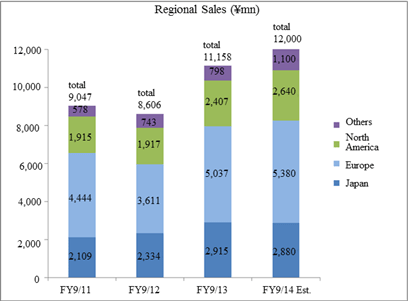 Capital Investments

Capital investment is expected to rise by ¥129 million from the current term to ¥494 million during fiscal year September 2014. This money is expected to be spent upon investments in the production facilities at both the Ibaraki and Iwate factories, and for molds.

Since the "Lehman Shock," the environment surrounding SHOEI's business had been plagued by stagnant personal consumption in Japan as well as Europe and North America, a stronger yen, and increases in inventories at the distribution level. Amidst these trends, SHOEI has endeavored to bring about a recovery in its earnings through increases in market share by introducing new high value added products that achieve high customer satisfaction levels on an ongoing basis, rather than depending upon a recovery in their overall business environment. While the motorcycle markets in Japan, Europe and North America bottomed in fiscal year September 2013, the subsequent recovery lacks strength. Against this backdrop, the rapid recovery in sales volumes is attributed to SHOEI's ability to increase its market share through the introduction of new products. Moreover, ongoing efforts to reduce cost of sales and sales, general and administrative costs have steadily contributed to the fortification of the Company's corporate structure.

Amidst the current trend of quantitative financial easing by governments around the world, recoveries in personal consumption in Japan, Europe and North America, a weaker yen, and resolution of the excess inventories at the distribution level have appeared. The difficult business environment seen until now has contributed to a fortification of the Company's corporate structure and an earnings structure that can more readily produce profits in a recovery in the overall business environment. Therefore, SHOEI's ability to leverage the current recovery to produce higher earnings should be watched closely. Because another key to success in realizing higher earnings is the ability to introducing new high value added products that meet the needs of customers, the reception and sales trends of new products to be introduced into the markets during the coming fiscal year should also be monitored closely. And while economic recovery in Southern Europe remains sluggish, the benefits of economic recoveries in the United States and Germany are expected to spread out throughout Europe. And because Europe is SHOEI's largest market, a bottoming in the market there should have a large impact upon the Company's earnings.

 

Disclaimer

This report is intended solely for information purposes, and is not intended as a solicitation to invest in the shares of this company. The information and opinions contained within this report are based on data made publicly available by the Company, and comes from sources that we judge to be reliable. However we cannot guarantee the accuracy or completeness of the data. This report is not a guarantee of the accuracy, completeness or validity of said information and or opinions, nor do we bear any responsibility for the same. All rights pertaining to this report belong to Investment Bridge Co., Ltd., which may change the contents thereof at any time without prior notice. All investment decisions are the responsibility of the individual and should be made only after proper consideration.

Copyright(C) 2014 Investment Bridge Co., Ltd. All Rights Reserved.