Masaru Yamada
Chairman

Hironori Yasukochi
President

 
| | |
| --- | --- |
| Company | SHOEI CO., LTD. |
| Code No. | 7839 |
| Exchange | Second Section, TSE |
| Chairman | Masaru Yamada |
| President | Hironori Yasukochi |
| Headquarters | Ueno 5-8-5, Taito-ku, Tokyo |
| Year End | September |
| Website | |
Share Price
Shares Outstanding
Market Cap.
ROE (actual)
Trading Unit
¥1,478
13,772,032 shares
¥20.355 billion
10.6%
100 shares
DPS (Est.)
Dividend Yield (Est.)
EPS (Est.)
PER (Est.)
BPS (actual)
PBR (actual)
¥45.00
3.0%
¥90.76
16.3x
¥601.28
2.5x
* Share price as of close on May 2, 2014. Number of shares outstanding at end of the most recent quarter excluding treasury shares.
| | | | | | | |
| --- | --- | --- | --- | --- | --- | --- |
| Fiscal Year | Sales | Operating Income | Ordinary Income | Net Income | EPS | DPS |
| September 2010 | 10,078 | 898 | 978 | 638 | 46.39 | 23.00 |
| September 2011 | 9,047 | 395 | 371 | 217 | 15.80 | 8.00 |
| September 2012 | 8,606 | 97 | 143 | 65 | 4.78 | 2.00 |
| September 2013 | 11,158 | 1,340 | 1,299 | 799 | 58.04 | 29.00 |
| September 2014 Est. | 12,000 | 2,000 | 2,000 | 1,250 | 90.76 | 45.00 |
* Estimates are those of the Company.
This Bridge Report discusses the first half of fiscal year September 2014 earnings results and full fiscal year September 2014 earnings estimates for Shoei Co., Ltd.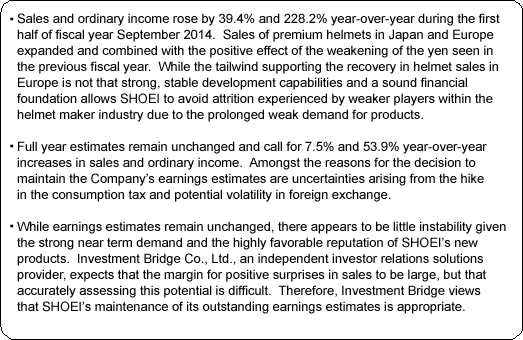 SHOEI is the world's number one helmet manufacturer. While motorcycle use helmets are its primary product, the Company also manufactures aircraft use helmets as well as military use helmets supplied to the government. At the same time, SHOEI boasts of an extensive sales network not only within Japan, but also in about 60 countries throughout various regions around the world including Europe and North America. The "SHOEI" brand is recognized around the world for its high levels of safety and functionality, beautiful appearance, and is now synonymous with the term premium grade helmets. Superior design is a key strength of SHOEI. Furthermore, SHOEI endeavors to raise the satisfaction levels of its customers, shareholders and staff through the implementation of a comprehensive three pronged strategy that covers "product strategy," "manufacturing strategy" and "market strategy."

Management Policy: Achieve World's Top Levels in Three Realms

"World Top Quality": Global brand that is made in Japan


"World Top Competitiveness in Cost" World's only helmet maker to utilize the Toyota Production System for cost management

"World Top Delightful Company" Achieve highest levels of satisfaction of customers, shareholders and employees

<Business Description>

Motorcycle use helmets account for about 90% of total sales. SHOEI focuses upon high value added "premium helmets" that are manufactured at two plants, one each in Ibaraki (Inashiki City), Iwate (Ichinoseki City) Prefectures in Japan. The Company is able to maintain high quality levels and prevent the leakage of its technology by maintaining manufacturing facilities within Japan. In addition, SHOEI is the only helmet company in the world utilizing the "Toyota Production System" to achieve high levels of profitability, inventory turnover and asset efficiency.
<Maintaining Basic Policy for Medium and Long Term Stable Growth and Stable Profit>
(1)Protect Own Company by Ourselves
(2)Made in Japan and maintaining constant employment (Transmission of Manufacturing)
(3)Maintain healthy financial positions
(4)Continuation of Investment (Development of new products, Cost saving, Improvement of quality, Firm safety)
(5)Targeting #1 in All Premium Helmet Markets in the World
(6)Development of New Markets and Deepening of Existing Markets
(7)Fair distribution of retained earnings (50% dividend of profit after tax, distribution to employees and distribution to company (proper retained earnings kept))
<Focus Upon Craftsmanship to Maintain Top Market Share - Two Domestic Plants in Ibaraki and Iwate Responsible for 100% of Products>
SHOEI produces premium brand helmets that are recognized as the highest quality products by motorcycle riders around the world. Their helmets boast of extremely difficult designs that combine to give not only extreme functionality with superior air resistance characteristics while also being very fashionable. SHOEI's persistence in its pursuit of helmet designs that are "comfortable to their users" is the driving force behind its top market share.
Various regulations designed to protect the lives of helmet users exist in Japan, Europe and North America.

Therefore, the Ibaraki plant produces helmets for Japan, and the Iwate plant for overseas markets. And in pursuing this specialization strategy, SHOEI is able to achieve high levels of manufacturing efficiencies.
Aerodynamic Efficiency and Quietness

The ability to achieve high levels of aerodynamic efficiency through superior designs contributes to direct reductions in the burden of riders wearing helmet driving at high speeds. Therefore, SHOEI repeatedly tests its products and the impact of wind resistance upon their design in their large wind tunnel to develop ever more effective aero-form designs for helmets (Data is taken each time modifications are made to test sample helmets, and large amounts of time are devoted to making detailed revisions to designs of helmets to improve their aerodynamic efficiency.).

In addition, multiple efforts are made to reduce the noise created by their helmets at high speeds, which is a source of fatigue and leads to deterioration in concentration of riders. For example, the new product "Z-7" employs a highly tight sealing system to reduce the amount of wind noise produced by the helmet, and further reduce the noise reaching the rider through the use of a tight sealing interior design. In addition, the helmet interior design allows for an ear pad to be used to further increase the comfort of the rider.

Furthermore, detailed attention is paid to the design of the wind screen "shield." When anti-fogging function is chosen, the normal "anti-fogging" function is attached within the "shield" making it double layered and causing it to contact the helmet when it is opened and closed. However, by employing a spring in the opening mechanism, the shield will automatically raise-up and slide clear (Variable double action axis function) of the other parts of the helmet to allow for a smooth opening and closing process.

Fashionable and Safe

Making a helmet fashionable is highly difficult because the strength of the helmet could potentially be compromised, which could make equal rigidity across the entire helmet difficult to achieve. However, SHOEI helmets undergo a crash absorption test process of over 3,000 times per year to ensure that their fashionably designed helmets offer strong rigidity and are safe to wear.

Glass fiber strands (supplied by Nitto Boseki Co., Ltd.) of 10 microns in diameter are bundled together to form the materials used in SHOEI's helmets. This material is far stronger than plastic while still being easy to form. Glass fiber is added to thermo-setting resin to form the basic shell of helmets.

Graphic decorations, which help to make helmets fashionable, use technologies used in pottery art including transfer sheets (A type of printing technology. Transfer sheets are provided by the pottery and ceramics manufacturer Noritake Co., Ltd.). An ultra-thin transfer sheet of less than one micron is used to transfer art to the round surface of the helmet and can only be manufactured by craftsmen with long experience in this technology. When compared to competitors' products at exhibitions, the highly superior variety, design, and color variation of SHOEI's helmets is easily recognized. While people have varying tastes in what may be considered fashionable, the advantage of SHOEI helmets when it comes to being fashionable is clearly reflected in the strong demand for its products and top market share.

In addition, SHOEI products such as "GT-Air," which has an inner visor, employ "SWANS" visors made by Yamamoto Kogaku Co., Ltd., a renowned Japanese sunglass manufacturer. "SWANS" is recognized as a superior brand of sports sunglasses that is popular amongst golfers, marathon runners and other athletes and they boast of extremely low levels of distortion allowing users to wear them for long periods of time without any adverse effects.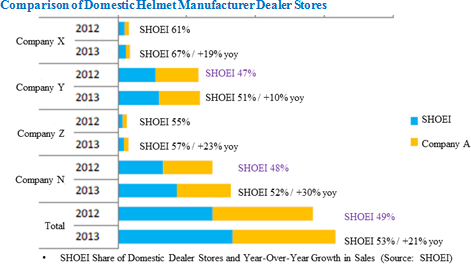 First Half of Fiscal Year September 2014 Earnings Results

Sales, Ordinary Income Rise 39.4%, 228.2%

Sales rose by 39.4% year-over-year to ¥6.424 billion during the first half. In addition to the favorable demand for premium helmets in both Japan and Europe, the weakening of the yen contributed to a recovery in helmet demand in volume terms in North America as well. Orders from Germany increased by 1.5 times year-over-year during the two months of January and February, and sales in both the United Kingdom and France rose on new model introductions. Furthermore, demand in Spain (where sales of motorcycles had dropped to one third) has begun to recover and has bottomed in Italy, two markets that were severely impacted by the "Lehman Shock."

Operating income rose by 3.1 times year-over-year to ¥1.361 billion during the first half. Higher capacity utilization rates arising from increases in production volumes and the effect of the weaker yen contributed to an 8.6% point improvement in cost of goods sold to sales ratio to 59.4%. Gross profit also rose by 76.9% year-over-year due in part to restraint in variable costs within sales, general and administrative expenses, which limited its growth to 19.8% year-over-year.

Foreign exchange rates for SHOEI:
US Dollar: ¥102.43 (A ¥13.14 weakening)
Euro: ¥139.97 (A ¥23.31 weakening)
Foreign exchange rates for overseas subsidiaries:
US Dollar: ¥105.39 (A ¥18.81 weakening)
Euro: ¥145.05 (A ¥30.34 weakening)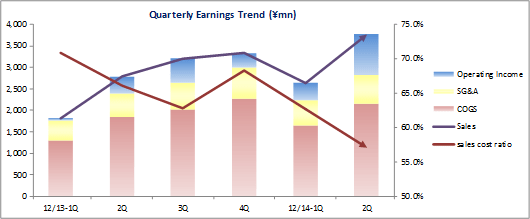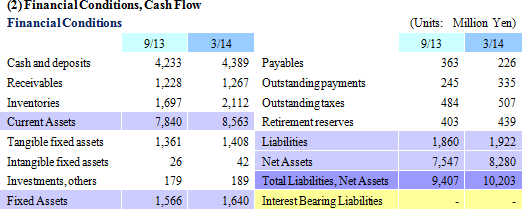 Increases in inventories due to the recovery in sales in both Japan and overseas markets contributed to a rise in total assets at the end of the first half of the current fiscal year of ¥796 million to ¥10.203 billion. Equity ratio improved by 1.0% point from the end of the previous fiscal year to 81.2%. In accordance with the management philosophy of "ensuring the health of our company," SHOEI was able to maintain its healthy financial position with high levels of liquidity and zero debt. Consequently, the Company maintained a balance sheet that is extremely unusual for a manufacturing company.
Fiscal Year September 2014 Earnings Estimates

Full Year Earnings Estimates Remain Unchanged: Sales, Ordinary Income Expected to Rise 7.5%, 53.9%

While both sales and profits are trending above initial estimates, SHOEI has decided to maintain its outstanding earnings estimates due to various uncertainties including the potential negative impact from a hike in the consumption tax and the potential direct and indirect impacts of volatility in foreign exchange upon its business.

Favorable Demand for New Product "Z-7"

The new product "Z-7" (The name of this product varies depending upon the market and is called "NXR" in Europe and "RF-1200" in North America) was introduced ahead of the 2014 motorcycle riding season. "Z-7" is designed with sports bike riding in mind and is designed to be light and compact. This product was initially launched in Europe under the "NXR" name in advance of the launch in Japan and sales have been better than expected.

 

(2) Dividend Expected to Be Raised by ¥16 to ¥45 at Term End

SHOEI views the return of profits to shareholders as a key management issue, and maintains a basic policy of "distribution of profits in line with earnings performance" that focuses upon dividend payout ratio as a guideline. Based upon this policy, SHOEI will fortify its financial and management foundations while at the same time strengthening its shareholder equity. Furthermore, it will endeavor to pay a term end dividend equivalent to a dividend payout ratio of 50% (Currently, dividends are only paid at the yearend). During fiscal year September 2014, dividend projections announced at the start of the term call for a ¥16 increase to ¥45 per share at the end of the fiscal year.

 

 
 

While SHOEI has left its full year earnings estimates unchanged, conditions remain very favorable with near-term demand strong and its products being regarded highly by its customers. Recovery in the Japanese motorcycle market on the back of a recovery in the overall Japanese economy and a bottoming in the downtrend in European motorcycle markets are expected to accentuate the superior development capability and financial stability of the Company. Furthermore, recovery in the labor market is expected to become clearer and consumption is expected to improve due to the disappearance of the negative impact of the massive snow storms that occurred in North America in March. Investment Bridge Co., Ltd. expects that the potential for positive surprises in full year earnings is strong, but the margin of improvements over initial estimates is difficult to accurately assess. Therefore, Investment Bridge agrees with the decision by SHOEI to maintain its outstanding earnings estimates.

 

Disclaimer

This report is intended solely for information purposes, and is not intended as a solicitation to invest in the shares of this company. The information and opinions contained within this report are based on data made publicly available by the Company, and comes from sources that we judge to be reliable. However we cannot guarantee the accuracy or completeness of the data. This report is not a guarantee of the accuracy, completeness or validity of said information and or opinions, nor do we bear any responsibility for the same. All rights pertaining to this report belong to Investment Bridge Co., Ltd., which may change the contents thereof at any time without prior notice. All investment decisions are the responsibility of the individual and should be made only after proper consideration.

Copyright(C) 2014 Investment Bridge Co., Ltd. All Rights Reserved.