Kenichiro Ishida,
President
| | |
| --- | --- |
| Company | SHOEI Co., Ltd. |
| Code No. | 7839 |
| Exchange | First Section, TSE |
| Industry | Other Products (Manufacturing) |
| President | Kenichiro Ishida |
| Headquarters | Ueno 5-8-5, Taito-ku, Tokyo |
| Year End | September |
| Website | |
Share Price
Shares Outstanding
Market Cap.
ROE (Act.)
Trading Unit
¥5,250
13,771,839 shares
¥72.302 billion
20.7%
100 shares
DPS (Est.)
Dividend Yield (Est.)
EPS (Est.)
PER (Est.)
BPS (Act.)
PBR (Act.)
¥88.00
1.7%
¥176.45
29.8x
¥889.93
5.9x
*Share price as of close on December 25, 2017. Number of shares outstanding at end of the most recent quarter excluding treasury shares.
| | | | | | | |
| --- | --- | --- | --- | --- | --- | --- |
| Fiscal Year | Sales | Operating Income | Ordinary Income | Net Income | EPS(¥) | DPS(¥) |
| September 2014 | 13,406 | 2,765 | 2,646 | 1,669 | 121.20 | 60.00 |
| September 2015 | 14,244 | 3,210 | 3,092 | 1,996 | 145.00 | 72.00 |
| September 2016 | 14,138 | 3,145 | 3,244 | 2,192 | 159.22 | 79.00 |
| September 2017 | 15,641 | 3,461 | 3,497 | 2,358 | 171.29 | 85.00 |
| September 2018 Est. | 16,260 | 3,560 | 3,570 | 2,430 | 176.45 | 88.00 |
* Estimates are those of the Company. From the fiscal year March 2016, the definition for net income has been changed to net income attributable to parent company shareholders ( Abbreviated as Parent Company Net Income)
This Bridge Report analyzes the earnings results for the fiscal year September 2017 and full year estimates for fiscal year September 2018 for SHOEI Co., Ltd.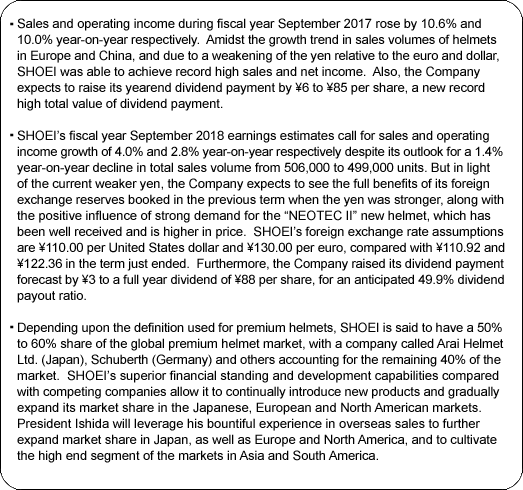 SHOEI is the world's number one helmet manufacturer. While motorcycle helmets are its primary product, the Company also manufactures aircraft and military use helmets supplied to private industry and the government. At the same time, SHOEI boasts of an extensive sales network not only within Japan, but also in about 70 countries throughout various regions around the world including Europe and North America. The "SHOEI" brand is recognized around the world for its high levels of safety and functionality, beautiful appearance, and it is now synonymous with premium grade helmets. Superior design is a key strength of SHOEI. Furthermore, SHOEI endeavors to raise the satisfaction levels of its customers, shareholders and employees through the implementation of a comprehensive three-pronged strategy that covers "product strategy," "manufacturing strategy" and "market strategy." The group consists of SHOEI and five consolidated subsidiaries in the United States, Germany (2 subsidiaries), France and Italy.

Management Policy: Achieve World's Top Levels in Three Realms
| | |
| --- | --- |
| "World's Top Product Quality": | Global brand that is made in Japan |
| "World's Top Cost Competitiveness" | World's only helmet maker to utilize the Toyota Production System for cost management |
| "World's Most Delightful Company" | Achieve highest levels of satisfaction of customers, shareholders and employees |
<Business Description>

Motorcycle use helmets account for about 90% of total sales. SHOEI focuses upon high value added "premium helmets" that are manufactured at its two plants in Ibaraki (Inashiki City) and Iwate (Ichinoseki City) Prefectures in Japan. The Company is able to maintain high quality levels and prevent the leakage of its technology by maintaining manufacturing facilities within Japan.

<Basic Strategy to Achieve Stable Medium Term Growth, Stable Profitability>

(1) Maintain healthy financial conditions (Defend our Company)
(2)Maintain the "Made in Japan" high quality reputation of its products established by creating high value added products and rationalizing its production capabilities
(3) Ongoing investments
(4) Become the number one manufacturer in global premium helmet markets, including newer markets
(5)We will not establish unreasonable targets which could lead to potential illicit acts. We will continue to promote our business in earnest and tackle issues that we confront in the immediate term.
(6)We will maintain our traditional policy for distribution of profits: 50% dividend payout ratio to shareholders, compensate employees, and fortify our company by fortifying retained earnings

At the end of fiscal year September 2016, current ratio, which reflects the Company's ability to meet its short term payment commitments, stood at 533.5%., fixed ratio, which reflects the Company's long term financial safety, stood at 21.3%, and capital adequacy ratio stood at 78.0% with no outstanding debt. SHOEI's balance sheet proves that its management philosophy is successful in achieving its goals of (1) maintain healthy financial conditions (Defend our own Company) and (3) sustained investments.

With the manufacture of all its products at two Japanese plants, one each located in Ibaraki and Iwate Prefectures, SHOEI strives to achieve the (5) number one position in the global premium helmet market by (2) maintaining the concept of "Made in Japan" through high value addition and manufacturing rationalization (Carrying on the tradition of craftsmanship), (3) sustained investments (New product development, cost reductions, product quality improvements, higher levels of safety), and (4) become the number one manufacturer in the world's premium helmet markets, including new markets.
First Half of Fiscal Year September 2017 Earnings Results

Sales Rise 10.6%, Operating Income Rise 10.0% Year-On-Year

Sales rose by 10.6% year-on-year to ¥15.641 billion. While dealer inventory adjustments and subsequent decline in sales volumes contributed to a 13.9% year-on-year decline in sales in the United States, increases in sales volumes and the weaker yen (¥115.05 per euro at the start of the term → ¥132.85 at the end of the term) allowed sales to Europe to rise by 24.1% year-on-year. At the same time, sales volumes to China and other regions (Yen based transactions) rose by 28.3% year-on-year. Sales in Japan remained basically in line with the previous term, due in part to a rise in product pricing.
Operating income rose by 10.0% year-on-year to ¥3.461 billion due in part to higher sales and a subsequent 10.3% year-on-year rise in gross income, which helped to absorb higher labor expenses arising from full capacity production and higher raw material expenses due to a rise in imported materials pricing. Increases in advertising and labor expenses caused sales, general and administrative expenses to rise by 10.6% year-on-year, but the ratio of sales, general and administrative expenses to sales remained in line with the previous year's level at 19.3%. A decline in foreign exchange translation income from ¥89 to ¥31 million caused non-operating income to decline and contributed to lower growth in ordinary income of 7.8% year-on-year.

Foreign exchange rates were ¥110.92 per United States dollar and ¥122.36 per euro (Compared with ¥109.57 and ¥125.15 respectively in the previous term). Foreign exchange rates used by overseas subsidiaries were ¥112.00 per dollar and ¥127.97 per euro as of June 30, 2017 (Compared with ¥102.91 and ¥114.39 respectively). While the foreign currency reservations made at the beginning of the term when the yen was strong worked against the parent company because of the further strengthening of the yen, subsidiaries benefitted from the large weakening of the yen on sales in Europe. Foreign currency reserves for the euro had been made at the start of the term, but SHOEI no longer makes reservations in principle due to recent volatility (Small amount of reservations have been implemented to cover profit and dividend needs for the fourth quarter only).
Capital investments rose by 26.5% year-on-year to ¥1.073 billion, but depreciation fell by 1.5% year-on-year to ¥605 million.



Sales of new motorcycles in Japan are on the decline, but increases in sales of used motorcycles contributed to a rise in total registrations and boosted sales of helmets. In Europe, Germany, United Kingdom, France, Italy, Spain and other major countries are seeing growth in helmet sales on the back of increases in motorcycle sales. However, helmet sales in North America trended sideways due to stagnant motorcycle sales there. The helmet market in Asia is growing due in part to rapid increase in sales of medium to large sized motorcycles in China.

Amidst these trends, SHOEI was able to grow the sales volumes of its helmets by 5.3% year-on-year to 506,000 units. By geographic regions, sales to Europe and other regions rose by 16.1% and 23.2% year-on-year respectively, and sales to Asia rose 21% year-on-year. Sales to China, which were started on a full scale basis in the previous term, rose by 82% year-on-year. At the same time, inventory adjustments by dealers in North America causes sales to decline by 18.9% year-on-year. Despite favorable demand within Japan, tight capacity constraints and the subsequent priority given to exports caused sales in Japan to fall by 4.0% year-on-year.

Moreover, demand for "NEOTEC" helmets with built-in sun visors in Europe was strong due to its adoption by the French Police (Gendaerie), and shipments of 3,500 units to NATO forces. The French Police are expected to order between 8,000 to 9,000 units over the coming three years. And while sales volumes are not expected to be that large, the Barcelona Police in Spain has also decided to acquire premium helmets from SHOEI, and police departments in other EU nations are expected to follow suit.



Total consolidated assets rose by ¥1.550 billion from the end of the previous term to ¥15.003 billion at the end of the current term. Accounts receivables and inventories grew in response to inclement weather and inability to make shipments due to shipping companies' issues, and tangible assets also rose due to strong capital investments. Net assets also rose. Current ratio rose from 533.5% at the previous term end to 609.7% at the current term end, noncurrent ratio declined from 23.2% to 22.7%, return on invested capital (ROIC) rose from 19.5% to 19.7%, and capital adequacy ratio rose from 78.0% to 81.7% over the same period.

Increases in accounts receivables due to delays in shipments and higher inventories caused the net inflow of operating cash to decline. However, capital investments associated with metal molds (¥470 million), mold press equipment (¥143 million), robotic polishing machines (¥67 million), acquisition of tangible assets arising from maintenance and fortification of manufacturing facilities, and acquisition of intangible assets including systems were offset and allowed a net inflow of free cash flow of ¥718 million to be secured.

ROE (Return on Equity) is calculated by multiplying three factors of "net profit to sales margin (net profit/sales)," times "total assets turnover (sales/total assets)" times "leverage (total assets/equity capital, inverse of equity capital ration.)" ROE = net profit to sales x total assets turnover x leverage.
The figures above are calculated using earnings results and assets data from official financial reports (i.e. earnings digest and securities report). Total assets and equity are averages of the balance during the term (average of balance at the end of previous term and current term). Capital ratio on earnings results and assets security reports is calculated based on balance at the end of term. Therefore, its reverse and above leverage may vary.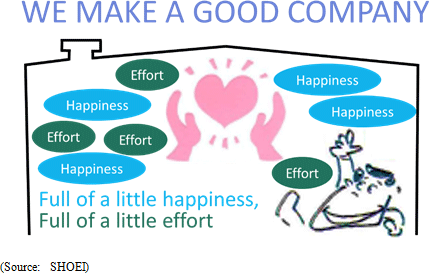 Fiscal Year September 2018 Earnings Estimates

Estimates Call for Sales, Operating Income to Rise 4.0%, 2.8% Year-On-Year

SHOEI adopted a fairly conservative assumption of a 1.4% year-on-year decline in helmet sales volumes to 499,000 units in the assumptions for its earnings estimates in the coming term. However, the inability to derive the full benefit of a weaker yen in the previous term due to foreign exchange reservations are expected to be eliminated during the coming term, and the well received and higher priced new "NEOTEC" helmet is expected to contribute to earnings in the coming term.

SHOEI has established foreign exchange rate assumptions (Average for the coming term for the parent, and conversion rate for subsidiaries) in the coming term of ¥110.0 per United States dollar, and ¥130.00 per euro (Compared with ¥110.92 and ¥122.36 in the term just ended). The currency sensitivity to every ¥1 movement relative to the dollar suggests a ¥19 and ¥7 million changes in sales and operating income respectively, and ¥45 and ¥17 million change for each ¥1 movement relative to the euro.

Measures responding to the need for new facilities to improve productivity and to the outlook for increases in demand are expected to contribute to an 18.2% year-on-year increase in capital investments to ¥1.268 billion. At the same time, a 53.4% year-on-year increase in depreciation to ¥928 million has been factored into estimates for the coming term.

Dividends are expected to be raised by ¥3 to ¥88 per share, for an anticipated dividend payout ratio of 49.9%.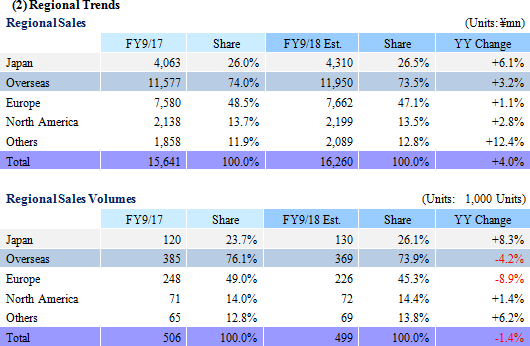 SHOEI seeks to further expand its market share through its plans to sequentially introduce new products to various markets. Sales of motorcycles in Europe are trending favorably, and the helmet market is also expected to follow the same favorable trend. Stagnant sales of motorcycles in the United States are expected to lead to sideways trends in the helmet market there. However, some positive influence of the increase in sales dealers from 1 to 2 in October 2017 has been factored into estimates (The existing dealer made inventory adjustments based upon the outlook for the addition of this new dealer during fiscal year September 2017). SHOEI anticipates helmet markets in Asia to continue to grow overall, with particularly strong growth expected in China. Continued improvements in employment and income conditions, and strong demand from elderly riders are expected to contribute to continued firm sales within Japan.

(3) Important Themes in Fiscal Year September 2018

SHOEI identifies the following six items as important themes during fiscal year September 2018.

① Production capacity will be expanded from the current level of 500,000 to 600,000 over the course of the next 2 to 3 years
② Maintain its high quality reputation of its products "Made in Japan" established by creating high value added products and rationalizing its production capability
③ Capital investments including replacement of existing facilities will be frontloaded. Also, plans to increase and fortify production capacity will be promoted.
④ Continue to cultivate China and other Asian markets
⑤ Cultivate South American markets, including Argentina
⑥ Grow sales under the new sales structure (2 dealers) in the United States market

While SHOEI closes its production facilities two days a week, they have operated their facilities at full capacity utilization rates during the past two years with facilities operating on Saturdays 19 times during fiscal year September 2017 in order to respond to strong demand. While the Company expects to reduce the number of times its runs its facilities on Saturdays to 13 times during fiscal year September 2018, the Company notes that there is a possibility that it may be required to operate almost as many Saturdays as it did in the term just ended given the current strong demand. Therefore, efforts will be made to increase production capacity from its current level of 500,000 to 600,000 per year. As part of this expansion, SHOEI also expects to increase its staffing with 25 new employees (Including 12 new graduating students) joining their workforce during fiscal year September 2018 to help cover the retirement of 6 employees and raising the total number of employees by 19 to 493.

Based upon the strategy of increasing production capacity, updating existing production facilities and fortifying staffing, SHOEI plans on raising capital investments by 18.2% year-on-year to ¥1.268 billion during fiscal year September 2018. Amongst investments expected to be made, metal molds, helmet shell mold press machines, helmet glass fiber open pre-forming machine, and pre-paint helmet shell polishing robots (A first for the global helmet manufacturing industry) are expected to account for ¥399, ¥132, ¥125 and ¥91 million respectively. The pre-paint helmet shell polishing process was performed manually because it was difficult to automate, but SHOEI has become the first company to successfully automate this process. Furthermore, efforts to fully automate the manufacturing plants in Iwate and Ibaragi have been undertaken on a trial basis initially in fiscal year September 2017, and will now be launched on a full scale basis from fiscal year September 2018. SHOEI will maintain the high quality reputation of its products "Made in Japan" established by creating high value added products, rationalizing its production capability, and avoiding overseas and consigned production.

With regards to sales, SHOEI will strengthen its marketing for yet to be developed markets in South America, including Argentina, and Asia, in addition to promoting efforts to expand its sales to wealthier consumers in the Chinese market. Argentina has been noteworthy for its growth from zero helmet sales two to three years ago to between 2,000 to 3,000 during fiscal year September 2017. Furthermore, helmet sales in Brazil have risen from nothing 10 years ago when sales were first launched to its current level of about 3,000 units annually, and with scope for further growth. While helmets priced around ¥10,000 are most popular, demand for high value addition helmets has begun to surface and marketing efforts are being strengthened with a view to expanding sales. As explained earlier, SHOEI looks forward to growth in the United States due to the expansion in the number of its sales dealers from one to two.

(4) New Products Introductions in FY9/18

In addition to the sales launch of the on-road full face type "RYD" helmet within Japan in December 2017, a motocross helmet "VFX-EVO" and "VFX-WR" will be launched in the United States, and Japan and Europe respectively, and a system helmet with built-in sun visor called "NEOTEC II" will be launched during the 2018 motorcycle season from spring to summer.

"RYD"

RYD is an updated version of the on-road full face type premium helmet "QWEST", which was recipient of the "Helmet of The Year" award presented by "webBikeWorld" in 2010. While RYD and RF-SR was sold in Europe and North America respectively in April 2017, sales within Japan were delayed until December due to the tight production capacity constraints. These products have been targeted at younger and less frequent riders, and are priced competitively with rival products.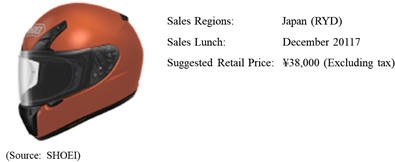 "VFX-EVO, VFX-WR"

An off-road motocross helmet that boasts of a difficult balance between innovation and productivity (According to President Ishida), that can only be achieved by SHOEI. This product was first launched in North America where off-road motorsports is very popular, and will be introduced in Europe in spring and Japan in summer.

"NEOTEC II"

A popular product that is manufactured in numbers of between 60,000 to 70,000 units annually, NEOTEC II is an updated version of "NEOTEC" that has been adopted by the French Police and has a built-in sun visor system. This helmet has been designed with long touring and daily city driving usage in mind, and to provide riders with a comfortable fit in various conditions. It can also be worn with the face cover opened so it can be used like an open jet helmet.

Depending upon the definition of premium helmets, SHOEI is said to have a 50% to 60% share of the global premium helmet market, with a company called Arai Helmet Ltd. (Japan), Schuberth (Germany) and others accounting for the remaining 40% of the market. SHOEI's superior financial standing and development capabilities compared with competing companies allows it to continually introduce new products and gradually expand its share of the Japanese, European and North American markets. President Ishida will leverage his bountiful experience in overseas sales to further expand market share in Japan, Europe and North America, in addition to cultivating the high end segment of the markets in Asia and South America. The market looks forward to the deployment of SHOEI's various business strategies.

Moreover, SHOEI's the unrevised forecasts of its sales dealers have been reflected as is in its own figures. Therefore there is a tendency for actual earnings to exceed estimates due to its use of conservative dealer forecasts, and has led to the two upward revisions to the Company's earnings estimates at the time of the first half earnings announcement (From sales and operating income estimates of ¥14.4 and ¥2.42 billion to ¥144 and ¥2.6 billion respectively) and at the third quarter earnings announcement (To ¥15.7 and ¥3.14 billion) and the ultimate results for operating income of ¥3.46 billion, which exceeded the second upward revision by over 10%. While SHOEI appears to have adopted a conservative stance to its fiscal year September 2018 earnings estimates, the actual orders booked during the October to December period have exceeded the company's projections for sales volumes by 11.8%.
<Reference: Regarding Corporate Governance>

◎ Corporate Governance Report Updated on December 25 ,2017

Basic Views

Our company considers it as the most important issue in corporate management to seek steady growth and profit in mid-long term, improving the company value. To realize this, we think it is important to build good relationships between us and our shareholders, client companies, employees, and each stakeholder and supply good products that can make our clients satisfied. This view is written on "World's Top Levels in Three Realms ( World's Top Product Quality, World's Top Cost Competitiveness, World's Most Delightful Company" and "Basic Policy" to let all of us know. We are going to carry out various measures to enhancing our corporate governance.

<Disclosure Based on the Principles of the Corporate Governance Code (Excerpts)>
Principle 1-4
Strategically held shares
We do not hold the shares of other companies in a strategic manner or conduct any risky securities investment.


Principle 1-7
Transactions among parties concerned
Our company has no plans to make transactions with parties concerned other than the transactions for distributorship, outsourcing of distribution and marketing with subsidiaries and related transactions, and has not made such transactions so far. In addition, the "action guidelines" in the compliance regulations stipulate that personal matters shall be distinguished from business matters in the transactions with the company that are handled by executives, employees, or related personnel. We will not make any transactions among parties concerned other than the transactions with subsidiaries.


Principle 5-1
Policy for constructive dialogue with shareholders
Our company always tries to communicate with shareholders and investors in a fair manner, and promote active dialogues with them through one-on-one meetings, including the briefing sessions for individual investors and the financial results briefing sessions for institutional investors, the mass media and financial institutions, which are held by executives and the section in charge of IR (the business administration division).
In addition, the shareholding ratio of foreign investors is 32.3% (the term ended Sep. 2015). We continue highly transparent, sincere dialogues with foreign investors, and IR activities.

 

Disclaimer

This report is intended solely for information purposes, and is not intended as a solicitation to invest in the shares of this company. The information and opinions contained within this report are based on data made publicly available by the Company, and comes from sources that we judge to be reliable. However we cannot guarantee the accuracy or completeness of the data. This report is not a guarantee of the accuracy, completeness or validity of said information and or opinions, nor do we bear any responsibility for the same. All rights pertaining to this report belong to Investment Bridge Co., Ltd., which may change the contents thereof at any time without prior notice. All investment decisions are the responsibility of the individual and should be made only after proper consideration.

Copyright(C) 2018 Investment Bridge Co., Ltd.